Along with a body image post, intuitive eating during pregnancy was the most requested blog topic after I shared our news a month ago. I hope post helps you cultivate a peaceful relationship with food and nourish your body while pregnant. And no matter what life season you're in, I hope this post helps you nourish your body when body signals are confusing. Stress, exercise, illness, lack of sleep, etc can all cause our body signals to become confusing and hard to read. I want to be as sensitive as possible around pregnancy posts and write more from an educational and helpful place for women. If reading about pregnancy in any form is hard for you, my hope is that you'll skip over these occasional posts if you need to, be kind and compassionate with yourself and know that I'm thinking of you <3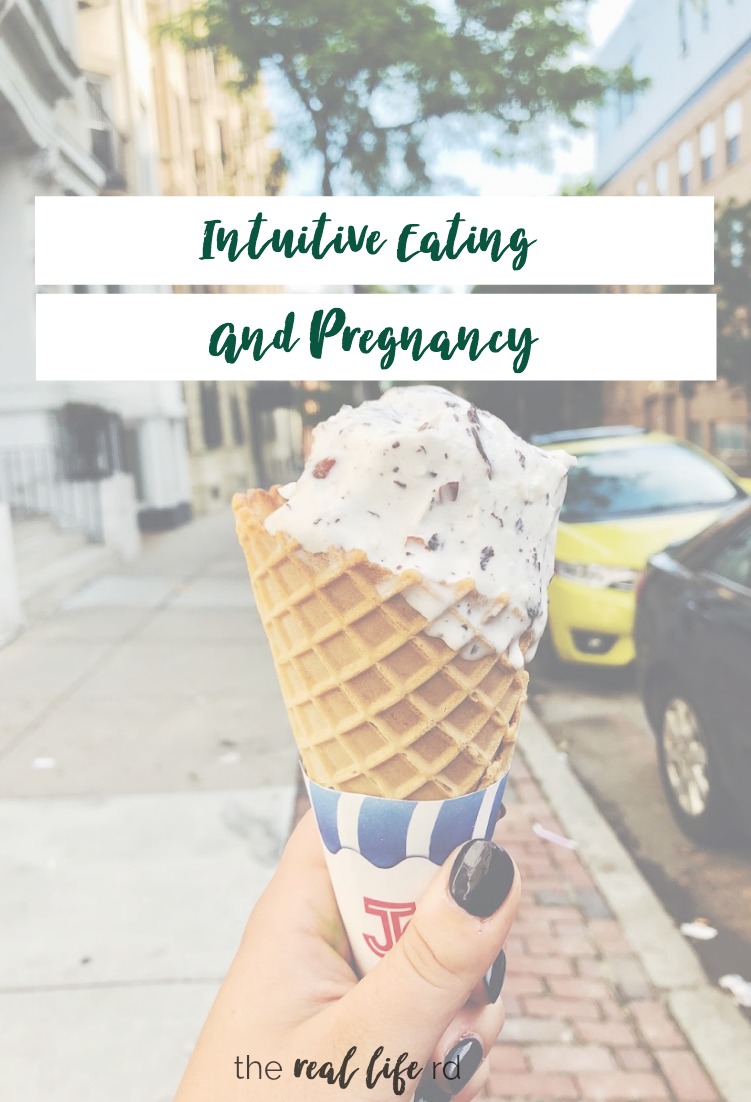 An intuitive eater is defined as a person who, "makes food choices without experiencing guilt or an ethical dilemma, honors hunger, respects fullness and enjoys the pleasure of eating." There is not one right way to be an intuitive eater. It can look SO MANY different ways depending on your body and the variety of environmental factors that could exist at any one time. Our body's needs change and environmental factors change. So if you identify as an intuitive eater, the way you eat will therefore change over time. If I hadn't already spent the last 4+ years letting go of food rules and diet culture and building skills to become an intuitive eater again (we are all born intuitive eaters) I would have probably had a hard time figuring out how to feed my body while pregnant. Food would have been stressful. So if you're pregnant and feeling any level of distress around food, I hope this post is helpful for you.
I feel like I had a pretty textbook first trimester. What I mean by textbook, is that I wasn't on the extreme of throwing up daily and battling exhaustion to the point of barely being able to move from the couch (I have so much empathy for those women) but I also wasn't part of the small handful to escape the constant nausea, food aversions, fatigue and overall blahhhhhh-ness.  Around 7-8 weeks I started to feel "morning sickness" but it was all throughout the day – by evening it usually lifted. Vegetables were out, although I did find romaine lettuce, bell peppers and cucumbers refreshing so on occasion I'd eat those. My version of a salad was romaine, feta cheese, cucumbers and creamy dressing. I remember being in client sessions feeling overwhelming nausea and hoping I didn't yak on my keyboard. I felt tired, but nothing that was all consuming. A lot of days I took an afternoon nap. Walking outside always made me feel better so I did that often for daily movement. I couldn't fathom the idea of exercising inside. So while thankfully, I feel like my symptoms could have been much worse…I did feel pretty crappy. But to receive the gift of growing a human, I'd do the first trimester for months on end even if I had the worst symptoms ever.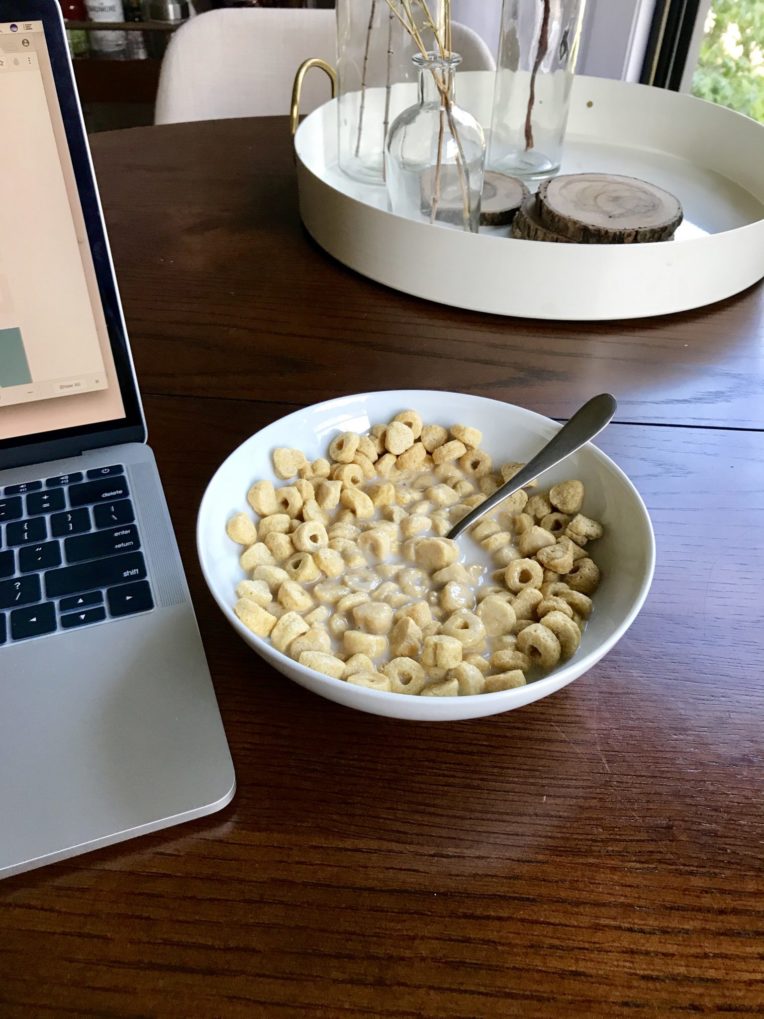 I've been pregnant for almost 25 weeks now so I can only speak to what I've learned so far. Perhaps I'll have more to add by the end of the these 40 weeks. Here's what I've learned so far:
1. let go of expectations
Figuring out how to feed myself during pregnancy was a whole new learning curve – particularly during those first 15ish weeks until the nausea went away. I felt so unlike myself and most of the time I was hungry, but didn't want to eat anything. Food sounded gross. But what kept nausea at bay was eating. It was a catch 22. There were a lot of atypical body signals happening. Being pregnant has given me so much more gratitude for intuitive eating. If I would have still had expectations to eat veggies at lunch and dinner, crave my normal foods and still want to engage in exercise like I did pre-pregnancy I would have been stressed out and unable to enjoy and embrace pregnancy to it's fullest. For me, it was all about flexibility. There was no "normal" and I just tried to listen to my body and make the best decision I could given the moment's circumstances.
I remember thinking in the beginning, around 6ish weeks, before the nausea set in, that I could just drink veggies in smoothie form if I felt nauseous. Cover up the veg with peanut butter and chocolate and I'll be good to go. OH NO. I gagged at the thought. There was nothing going through a straw and into my mouth that involved vegetables or protein powder. Most days I didn't eat any vegetables – as long as I was taking my prenatal vitamins, I was 0% worried about the baby getting enough nutrients. I was eating carbs, proteins and fats and that's what mattered most – giving my body the major building blocks it needed to grow a human.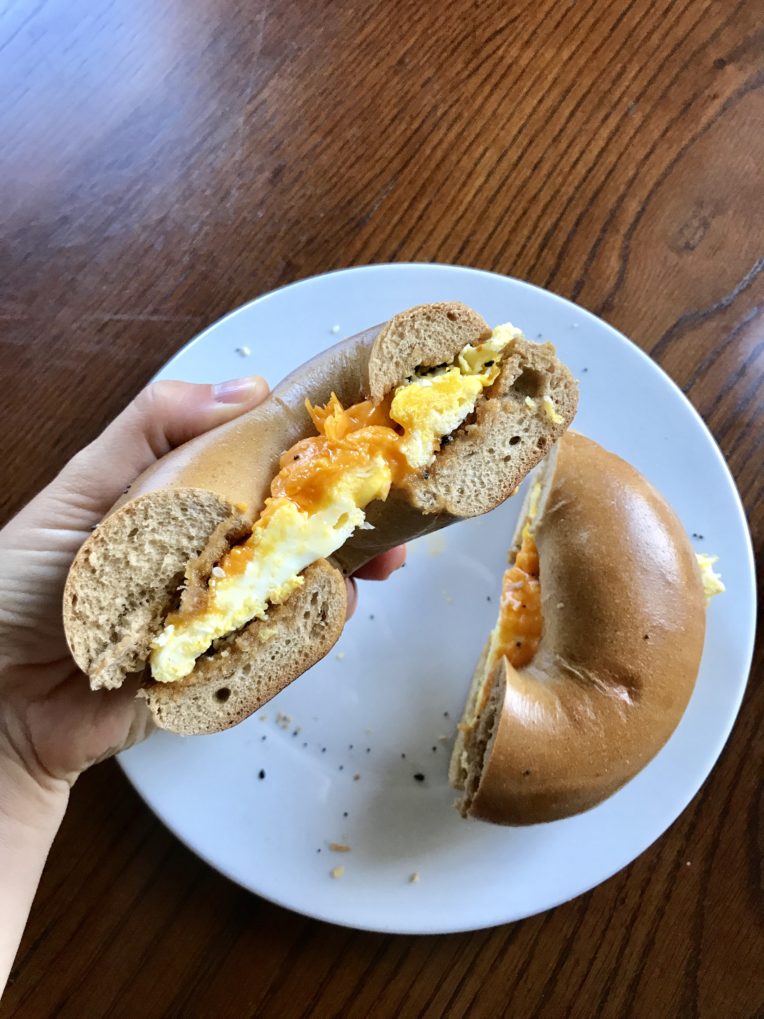 Coffee was gross. Chocolate was gross. Nut butters were gross. Anything spicy or heavily seasoned was gross. I ate what sounded good and moved on. I'm positive I'm not the first pregnant woman to subsist off carbs and cheese and ice cream for a couple months and I won't be the last. Carbs are readily available energy. During a time when you are growing an entirely new organ (hi, placenta) and all of baby's organs …it makes total sense to me that a woman's body would crave carbs all the time.
2. The glory of cheese + pepperoni + bread
I ate so much pepperoni pizza in the beginning and I still eat pizza quite frequently now. Whole Foods sells huge one topping pizzas for $15 and I can't tell you how many of those I bought, brought home and told Nick, "this is what's for dinner." Bless him. We ate pizza for nights on end. Doughy bread always sounded good. And pasta with olive oil and sea salt. The pizza train is still going (now with toppings other than just pepperoni) and I'm finding it quite convenient to be craving pizza all the time since each slice has carbs + protein + fat. Gang's all there.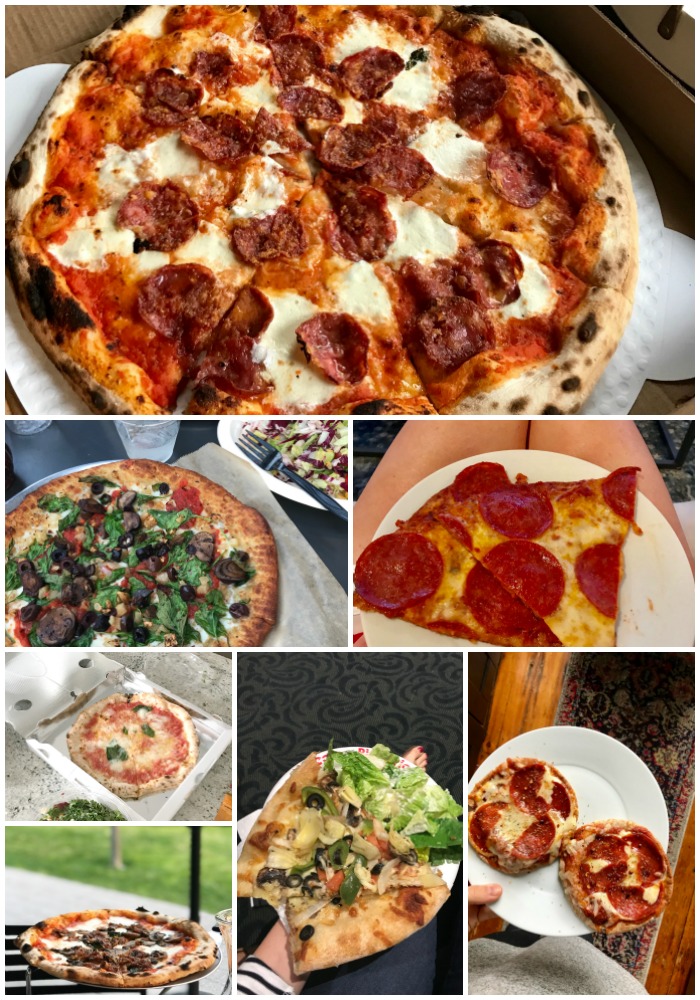 3. Just because your body signals don't "feel" normal doesn't mean they aren't valid and trustworthy
Normal means a lot of different things when it comes to eating. What is normal for me might not be normal for you. But everything is relative, so compared to what you are used to, your eating patterns and body signals might feel all sorts of "not normal." Letting go of expectations on what I should feel or what I should crave or how many naps I should or shouldn't take really allowed me to just do what was best for me. Easier to write than to actually do. Just because my body signals felt out of the ordinary didn't mean they weren't valid and true and normal for this season of life.
4. Your body is the pilot, your mind is the co-pilot
Intuitive eating is bridging head knowledge with body knowledge…because sometimes body signals are confusing. Pregnancy being one of those times. I like to think of my body being the pilot and my mind is there as the co-pilot when my body needs some extra assistance. That might mean it's been 4ish hours since my last meal and I don't really feel hungry, but I know I should eat something because my blood sugar and GI system do best when I'm eating every at least every 4ish hours. That might mean I have zero appetite and the only thing that sounds good is popsicles, but I know(sadly) that I won't be satiated on popsicles. So I piece together a meal of fried eggs, roasted potatoes, and if I'm feeling it, some roasted veggies because those foods combined give my body the carbs, protein, fat, vitamins and fiber it needs to function best.
For me, after years of working through the IE principles and coming to a judgement free and full permission place with food, the head knowledge piece means implementing some gentle nutrition. Like choosing whole grains most of the time when all I want it to eat is white pasta with butter all day long. I know the whole grains will still be carby and satisfying, but will keep my blood sugar more stable and help me poop. Constipation in pregnancy is real. If I wanted pizza rolls or sour candy or mac and cheese, I tried to pick up Annie's over Totino's, or buy candy from TJs or the Whole Foods bulk bins most times vs skittles and starbursts or pick up a box of 365 brand mac and cheese over Kraft. As regularly as I was eating some of these foods, I did my best to avoid preservatives and unfamiliar additives. Would they have killed me? Of course not. Are these foods "bad?" No. Food is not a moral thing. But it was an easy swap that was a bit more wholesome and just as satisfying.
5. Stay present
I didn't care what happened prior that day or what may happen tomorrow. I tried to ask myself, "What does my body need RIGHT NOW?" That's what mattered and still matters most. And I think eating based on the present is how we settle into a rhythm of eating that is satisfying and nourishing. Of course, there were times when dinner was going to be ready in an hour so I'd eat something small to tide me over, but not fill me up. Or I had a lunch break at work at a certain time, so I had to eat lunch then. That will always be the case – pregnant or not. Sometimes there are logistical things we account for. But overall, I tried to stay present. This weekly eats post is a good recap of what food looked like for the first half of pregnancy. Now, there might be some roasted veggies thrown in there, but overall I'm finding carbs in the form of pizza, pasta and sandwiches, fats (except nut butter, which I don't crave often), fruits/cold veggies and dairy on a daily basis are foods that often satisfy me and give me energy. That's a little different than before pregnancy where I craved salads for lunch more, peanut butter with almost every breakfast and other foods that just don't sound all that great right now. I'm rolling with it.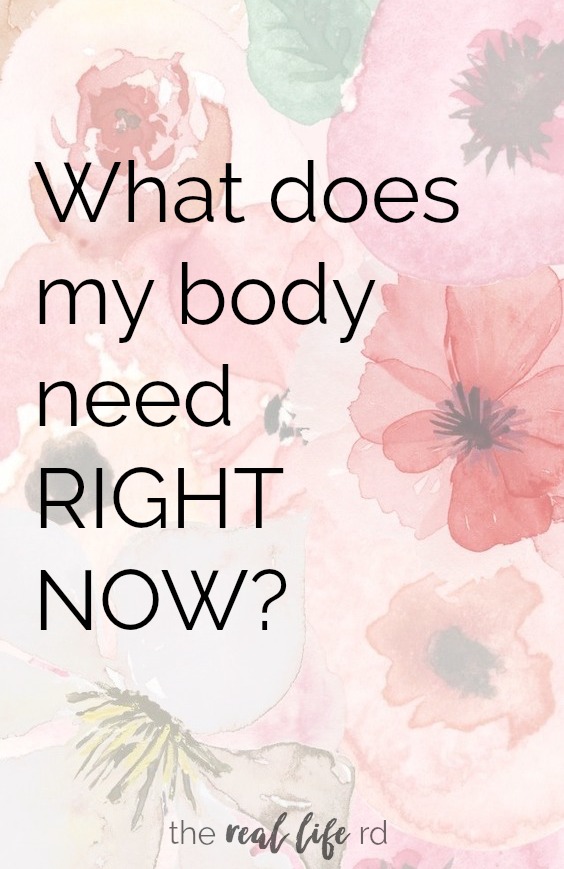 6. It won't be perfect, but it will be one big less in curiosity.
There have been plenty of times that I've eaten what feels like a normal sized breakfast/lunch/dinner and felt fine right when I finished, but then 15 minutes later felt stuffed. Digestion slows, the baby takes up more room as the weeks go on and things just don't work exactly like they use to. That's okay. There will be plenty of times when I eat past fullness even though I tried my best not to. My body is trying to managing digesting food and growing a human in the same small space. Pregnant or not, I'm trying to stay curious over being judgmental. Lately though, I have found myself frustrated with food because nothing sounds good, but if you put something in front of me that I didn't have to cook myself I'll probably eat it. Food just doesn't feel that exciting anymore and that's sad because I love food. But it's all par for the course I think.
Our bodies will go through so much change in our lives, pregnancy being one of those possible seasons. Intuitive eating doesn't look one way and I think there is a zillion different ways to nourish and care for your body during pregnancy. The last thing women need during pregnancy (or anytime) is more judgment or "should haves." I'd love to hear your thoughts in the comments!