Helllooooooooo October! Pumpkin season and all kinds of being basic has arrived.
I'm home in the midwest this week visiting family – on Sunday we drove from Illinois down to Indy to stay with my mama. She stocked the pantry with all kinds of TJs pumpkin goodies. Love her.
I snacked on cereal along with a couple cups of coffee with creamer (I switch back and forth between Nut Pods and Califia Farms) while I wrote this month's newsletter and had some peace and quiet before anyone else was awake. My baby slept like a unicorn after many late night parties the past couple weeks so I felt like I could take on the world at 5am. Baby sleep is a straight up mystery if you ask me. And is continually teaching me patience and letting go and the life sustaining gift of coffee.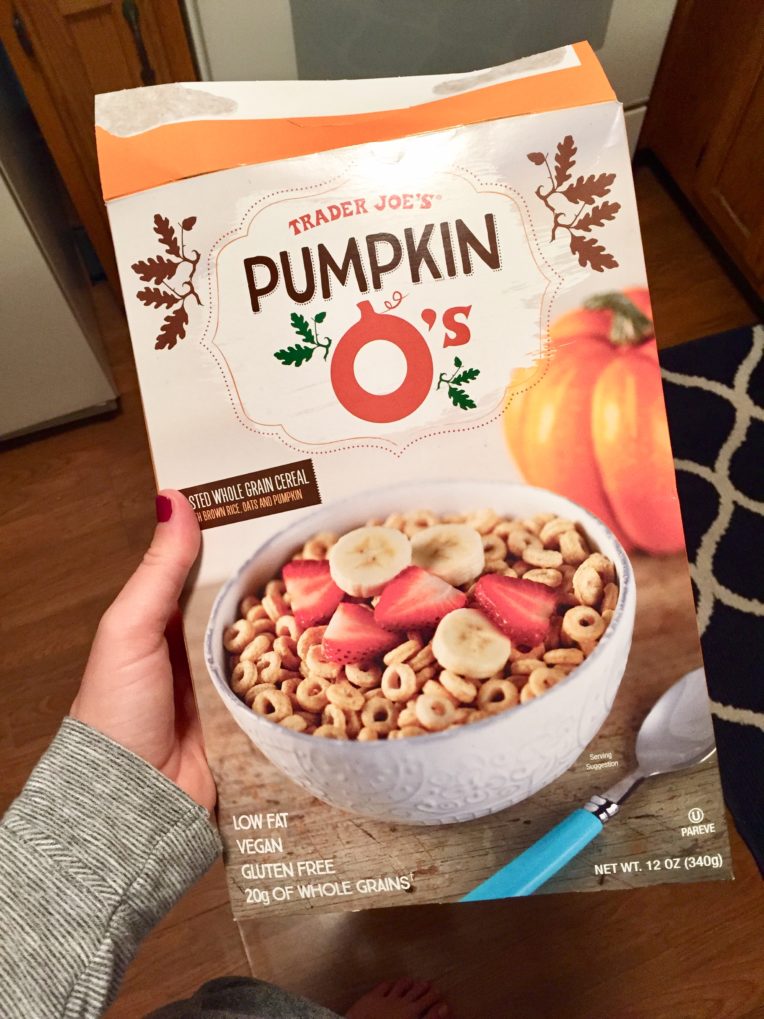 It's been so dang toasty here this week (like in the 90s) that hot oatmeal is not happening. Ew. So instead, I made banana oatmeal in pancake form using this recipe. Topped with banana, pb and maple syrup. A couple weeks ago, I realized I was getting too hungry in the early morning …usually I snack on cereal or granola with coffee for an hour or two while I work and then I eat breakfast with Cal and Nick (I nurse Cal in the morning and he eats breakfast like a hour-ish later around 7:30 or 8) …but I have been MEAL hungry by 6 or 6:30am if I wake up early, not snack hungry. So I started eating a mini breakfast if I'm feeling meal hungry and then eating again with Cal. IE lesson –> if you feel meal hungry a snack is not going to suffice.
I wasn't meal hungry this particular morning so the usual cereal + coffee held me over until we ate pancakes.
I ate an early lunch around 11:30. Turkey + avocado + tomato + lettuce in an Ezekiel wrap along with sweet potato chips, carrots and an unpictured apple. Around 11ish I usually start to get hungry. I used to eat a hearty snack and then eat lunch later on, but I realized the snacks never really satisfied me and what I actually needed was an early lunch. I was meal hungry, not snack hungry.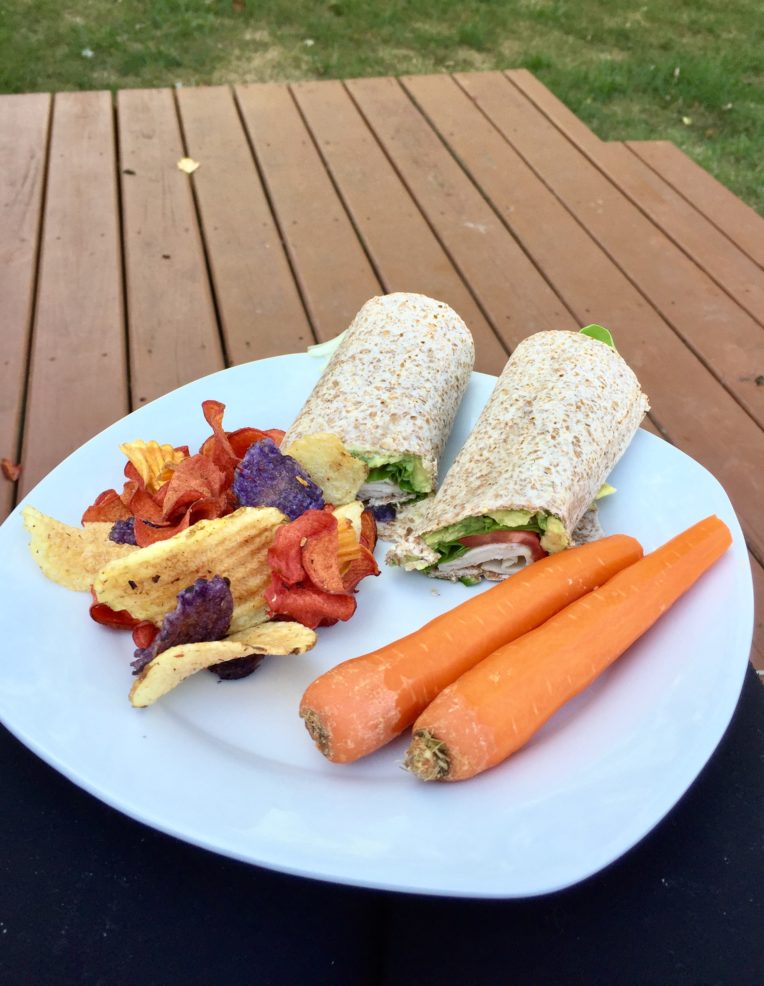 After I put Cal down for his afternoon nap, I ate chocolate + pb while typing up some of this post.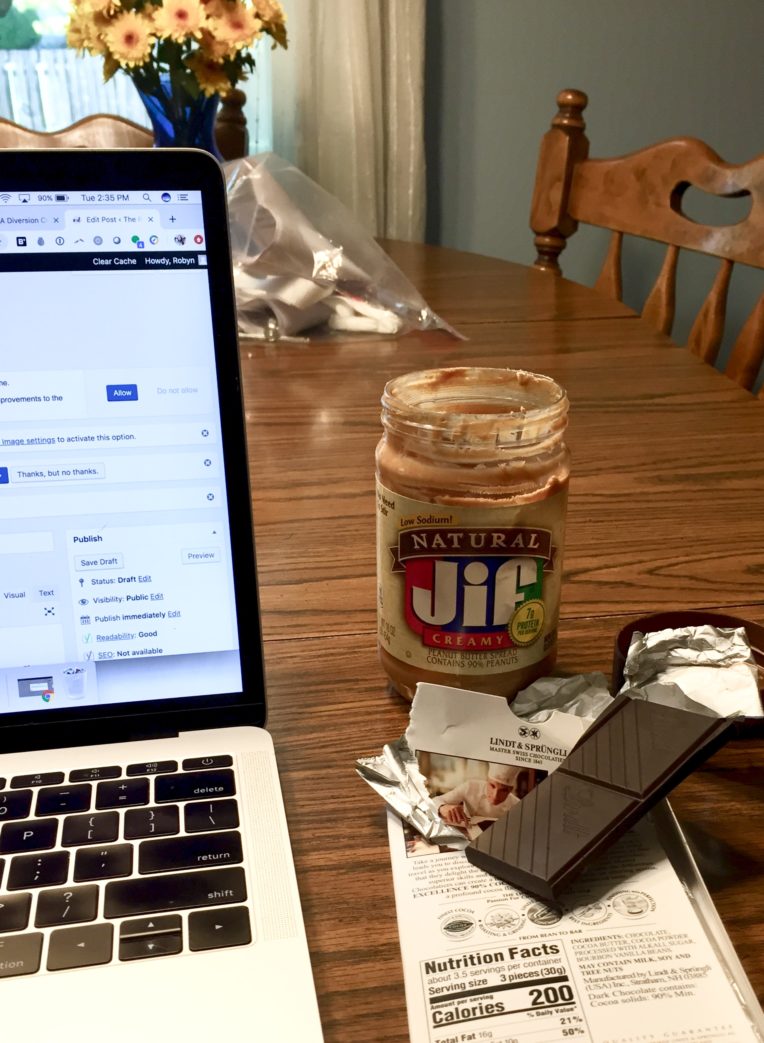 And then a little while later I did a Barre3 video out on our back deck. I didn't do any movement other than daily life for a while and then I started noticing my hips where really tight and my body was aching. Then I did a short pilates video one evening while Nick was getting Cal ready for bed and my body felt soooo much better. I'm realizing that I need to do some sort of stretching/strength/flexibility stuff a couple time a week for 20-30 minutes to feel functional and well physically. So I'm trying to incorporate that back in. I just find a quick video on YouTube and do that during nap time since that's how movement realistically fits into my life right now. I like the morning time to be focused work time and then don't enjoy spending our afternoons at the gym. This is what's working for now. Who knows what it will look like in the future.
My brothers & sister in law were over for dinner.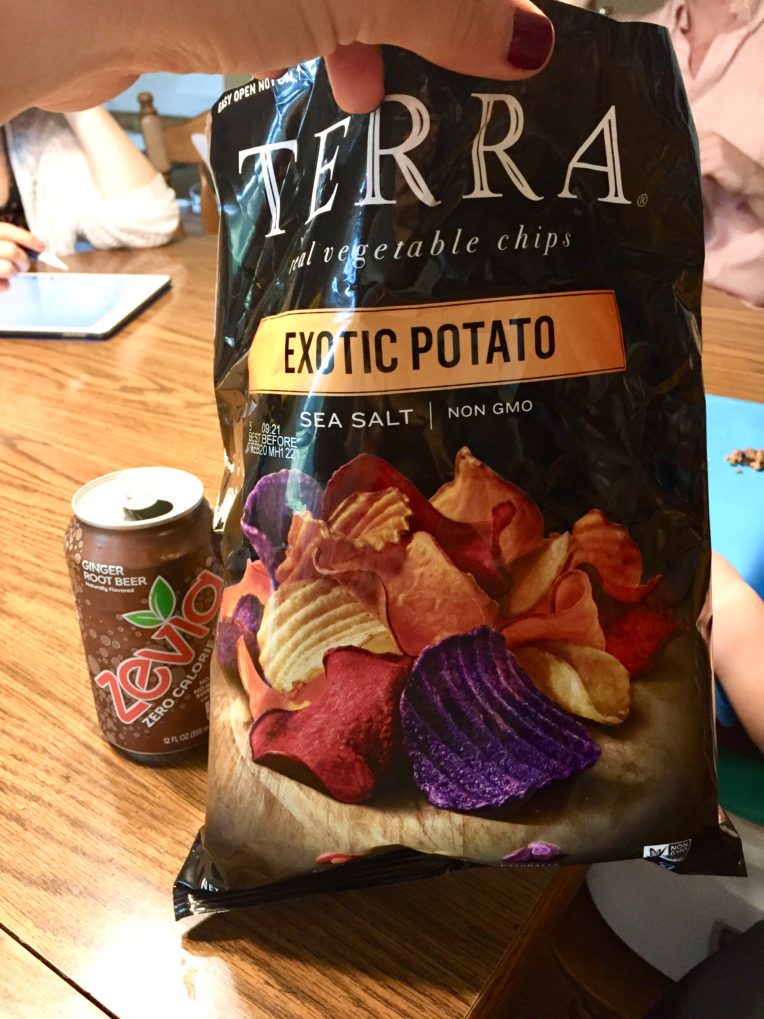 I snacked on sweet potato chips + a zevia my mom had in her fridge while Cal ate dinner.
Plus shrimp cocktail later on.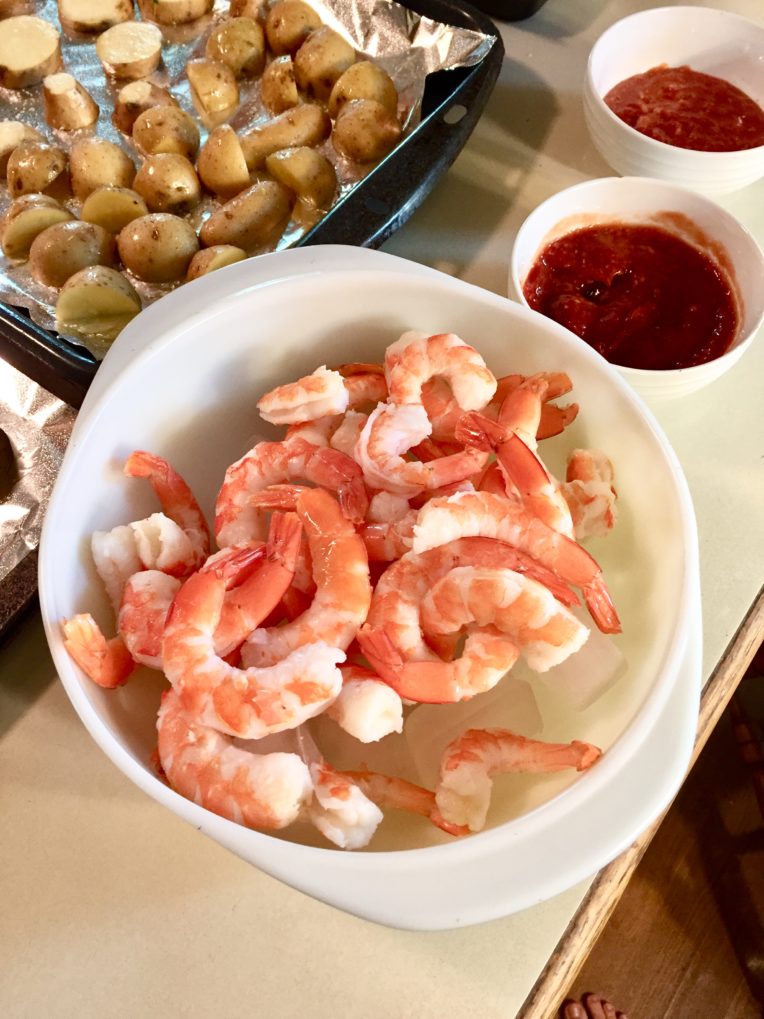 Dinner was grilled pork tenderloin, roasted broccoli and potatoes. Washed down with an IPA.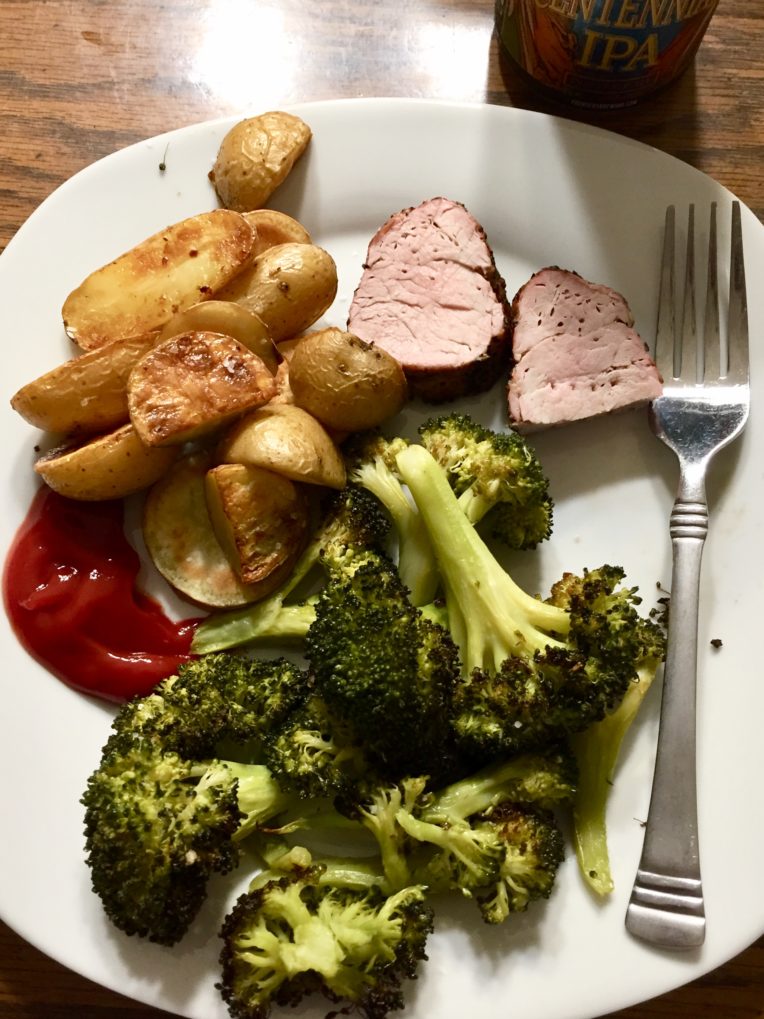 After everyone left my mama and I cozied up on the couch to watch The Voice and eat brownies & ice cream. Ghirardelli is 10000% the best boxed brownie mix. Add in a couple scoops of sea salt caramel cashew ice cream and I was in my happy place.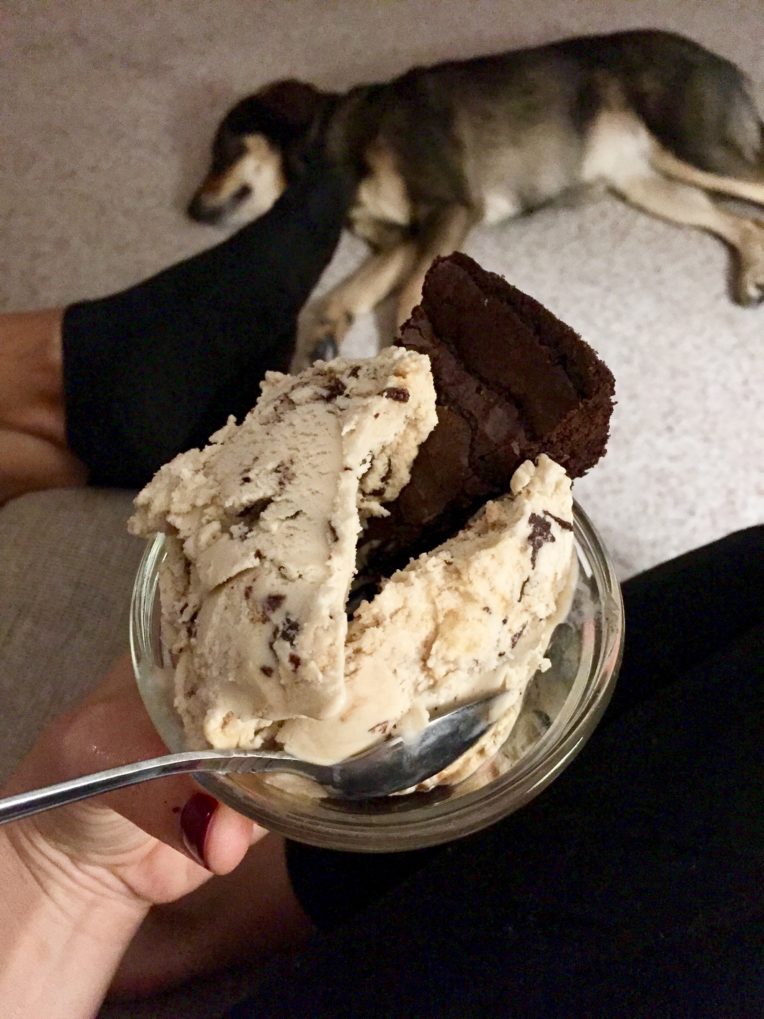 Tell me the delicious things you're eating in the comments!