It's WIAW and I thought it might be fun to do a "day in the life post" so I hope you guys enjoy!
Wednesdays and Thursdays are clinical days so I'm at the hospital from 7am to 3 or so- no 12 hour shifts quite yet! I'm in my pediatric rotation at the Children's Hospital of New York which is right by school and about 1.5 miles from my apartment so I just walk there in about 25 minutes and I can sleep in a bit longer! During my psych rotation I was at Cornell which was only 5 miles from my apartment, but about an hour commute since it was on the east side and I live on the west side. All that to say, a 25 minute walk in the morning for my commute has been amazing!
Alarm goes off at 5:45am- snooze once and then I get up, brew coffee and spend 10 minutes or so reading my bible.
6am – make breakfast which this morning  was reheated pumpkin pancakes from the weekend with bananas and almond butter with maple syrup. (This photo is recycled from the weekend because this morning I took breakfast with me in a tupperware.)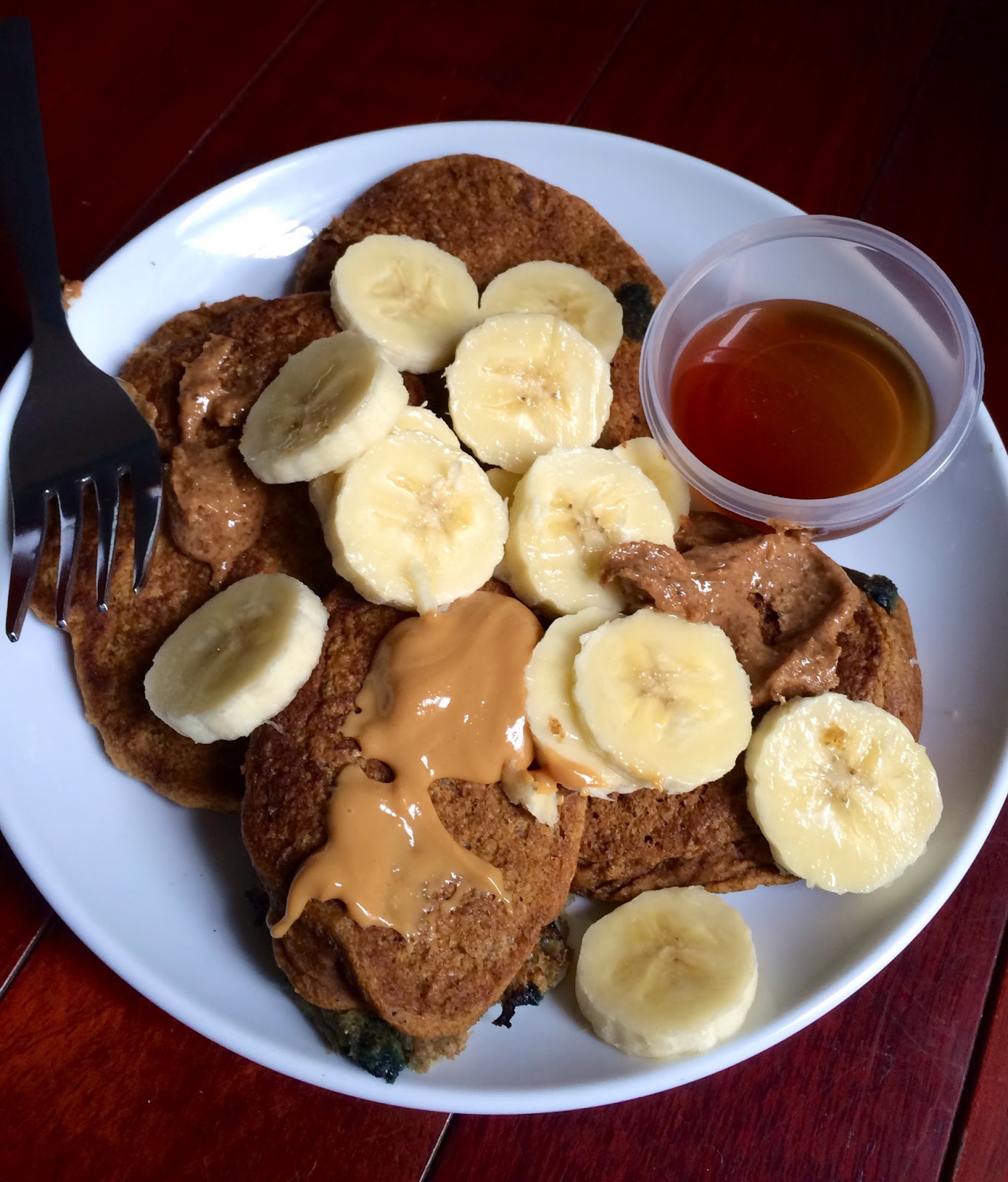 6:10- throw on a few swipes of mascara and put on my scrubs. Everything is laid out the night before on clinical mornings so I know I have everything and I'm not searching for it in the morning since we cannot be late to clinicals.
6:15- I throw my hair up, grab coffee + breakfast to go, get my backpack and leave
6:25ish I'm out the door and walk to the hospital while drinking my coffee and trying to eat breakfast.
6:50ish- get to hospital and chat with my clinical group while most of us finish eating breakfast and wait for our instructor.
7am – the day starts!
Each day is a bit different, but usually we get assigned two patients and then go to rounds where we get report from the nurse. Then we do patient assessments, take 8am vitals and create a plan of care for the morning. Things can be really busy or a little calmer all depending on the type of patients I have. The morning care could range from dressing changes to bed baths to inserting or removing a catheter to lots of other things. Sometimes we get to attend procedures too which is really cool!
11:30 am – wrap up AM care and take noon vitals and report to the nurse and our instructor
Noon or 12:30ish is our lunch break and I'm starving by this point! I'm usually a eat-every-two-hours person so going 5 hours without eating is a big adjustment. But I just add some extra nutbutter to breakfast and the busyness of the morning makes time fly and I'm not even paying attention to hunger. Not ideal, but it's the least of my worries.
Sorry to bore y'all with this same kale salad but it's THAT good. Kale massaged with 1 tsp olive oil + 1 tbsp apple cider vinegar + sea salt and then topped with nutritional yeast, chopped green beans, red bell pepper, roasted butternut squash , and avocado. Plus edamame, a pear and a cinnamon raisin energy ball. Lunches are something I keep repeating because they taste good and its a no brainer so it make life easy!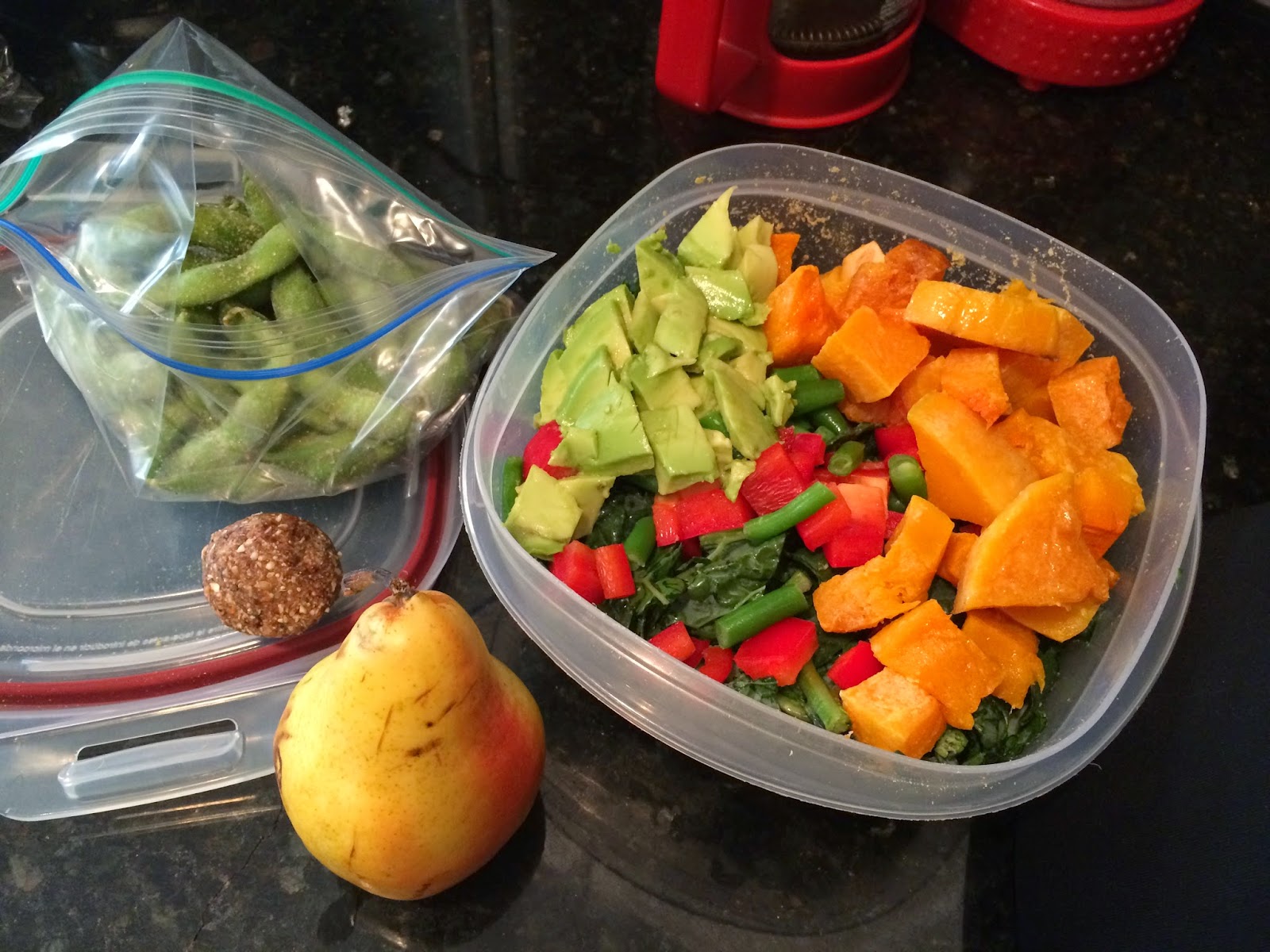 1:30-3ish is post conference with our clinical group and instructor where each of us present our patients and we discuss each case.
3:30-4:30 after clinical I change clothes and go to Columbia's fitness center that's right by the hospital to hop on the elliptical. I elliptical for while studying for pathophysiology. (It's all about multitasking)
4:35-5:10 I walk home while talking to my mom and catching up with a friend and eating some veg and an almond butter packet I had in my lunchbox
5:15- shower and then more snacks! dried pineapple + 2 squares of these chocolate peanut butter oat squares I made yesterday (recipe soon!)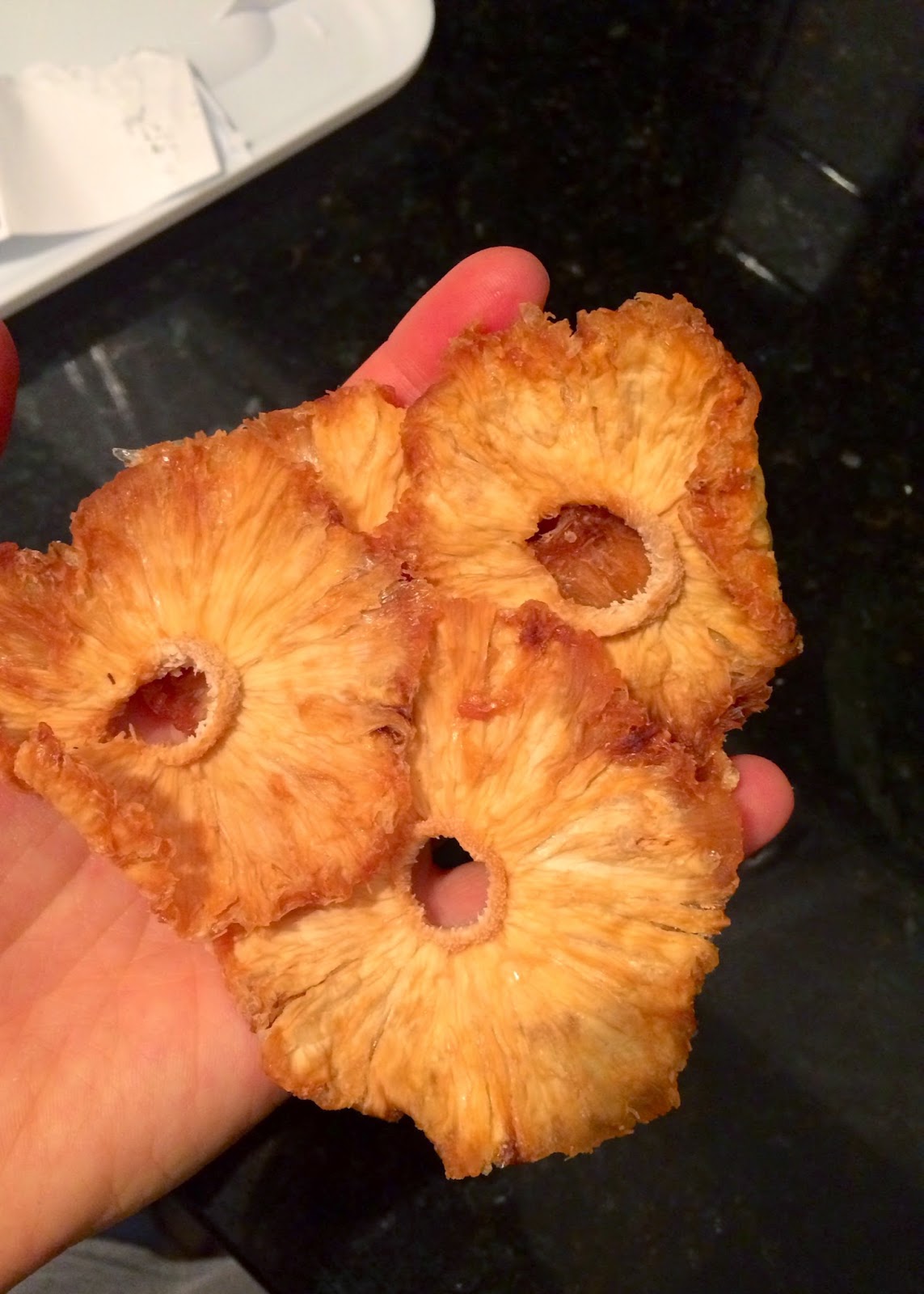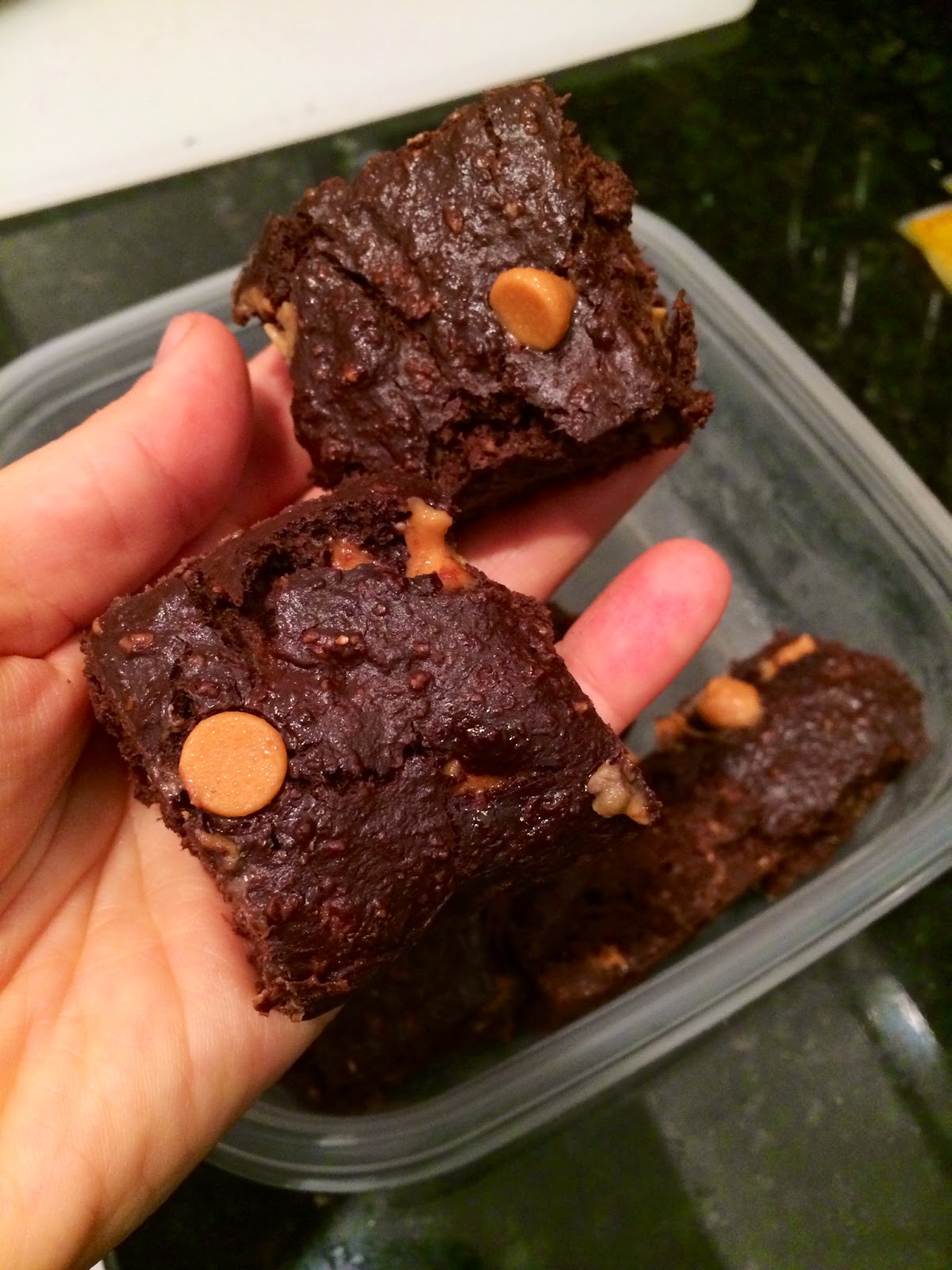 5:30-6:45pm
Study more for pathophysiology and finish up an assignment due Friday.
6:45-7:15pm Skype with a
Nutshell
client
7:15-8pm: reheat leftovers for dinner while catching up with my roommates. (I have amazing + witty + super fun roommates that I am so, so grateful for. They have made the move to NYC so. much. easier.) Brown rice noodles with broccoli and sauteed mushrooms and zucchini all tossed with this quick vegan "cheese" sauce– eaten with a plate of roasted brussel sprouts
8-8:30pm: pack lunchbox and pack up backpack for the next day. Lay out scrubs + other clinical stuff so I'm ready to go for another day of clinicals
8:30-9:15-9:30ish- eat a night time snack of a WF chocolate chewy and a glass of almond milk + some popcorn while answering emails and blog comments as fast as possible in an hour. I give myself certain time limits on email because the inbox can be a black hole.
9:30-9:45- blog reading and recipe perusing (Mimalist Baker is my FAV!)
9:45- in bed and reading but I typically fall asleep within 20 minutes
Unless I have a dinner planned with friends, I'd say that's a pretty typical Wednesday.
Hope you guys have an awesome day!