I really like ethnic food. Particularly thai.
And for the past few months, I've got a hankering for curry at least once a week.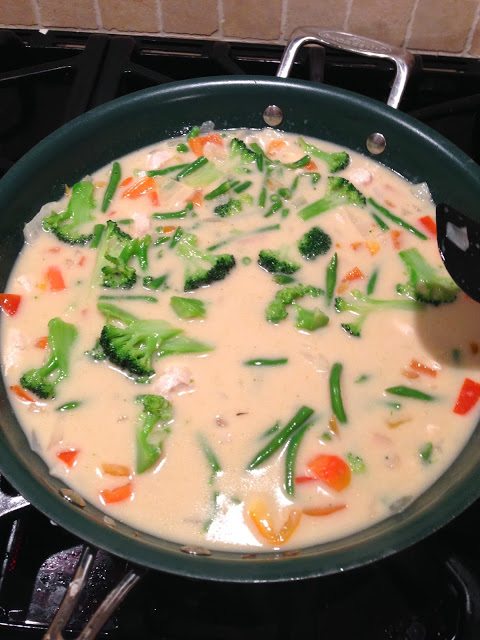 So I bought a jar of green curry paste and keep at least two cans of coconut milk on hand at all times. TJs sells is for 99 cents a jar…steal. Up until a few months ago I always thought curry was one of those hard things to make that you only really ordered in restaurants. Boy, was I wrong. I started searching curry recipes and found that all you really need is some coconut milk and spices and it's really just as simple as stir frying. Heck, I stir fry all the time.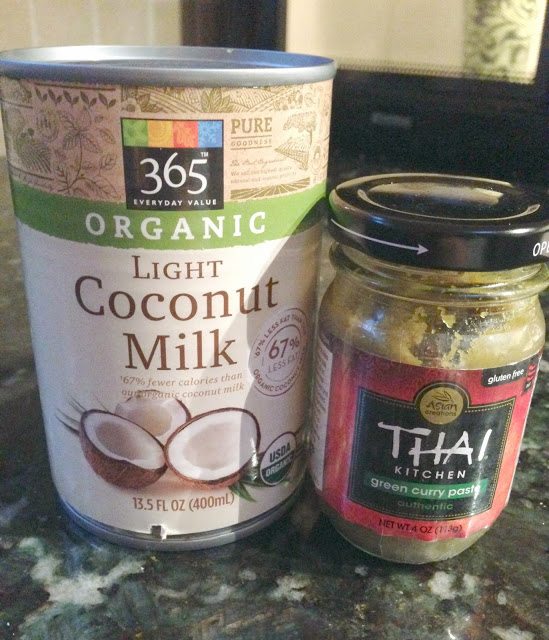 I can make curry.
Besides coming together in a jiffy, coconut milk is packed with good-for-you saturated fats. They're so dang good for you because medium chain triglycerides are smaller then long chain triglycerides so they get metabolized differently. Instead of being transported to the lymph system and then around to the tissues, they go straight to the liver to be burned as an immediate source of fuel, just like a carbohydrate does. Aka they can boost metabolism, keep you satisfied, and it makes your skin and hair all silky smooth.
Yes, coconut in all forms has it going on. Coconut milk, coconut oil, shredded coconut, coconut butter…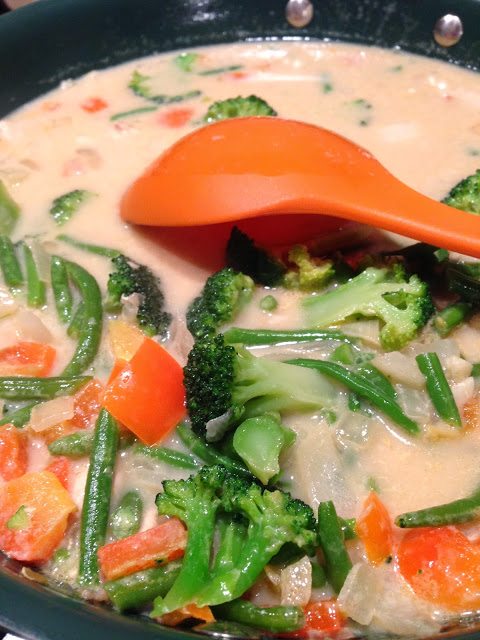 So last week when a hankering hit and I needed coconut curry stat, this veggie curry came together lickety split. Fresh veggies coated in a thick and creamy coconut curry sauce that's mildly spicy. It's comforting without feeling heavy. Flavorful without being too much. And it's easy enough to whip up on a busy weeknight!
I like to eat this curry over chewy brown basmati rice, but quinoa or even spaghetti squash would be delish too. And the leftovers are even better since the flavors have more time to meld together. As a leftover hater, I just love that.
So keep a couple cans of coconut milk on hand, a jar of green curry paste and you've got yourself veggie curry even on the busiest of nights!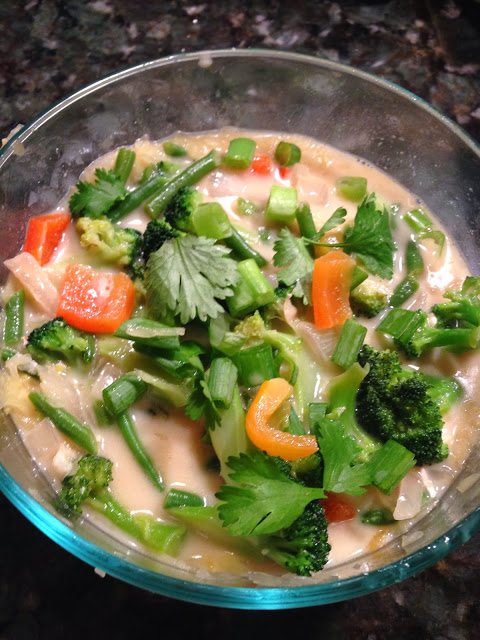 Veggie Curry in a Hurry
1 bell pepper, chopped
1 cup frozen green beans
1 heaping cup of frozen or fresh broccoli
1/2 medium onion, diced
2 cups [or a 15 oz can] of garbanzo beans
1 can of lite coconut milk
2-3 tablespoons green curry paste
cilantro and green onions for garnish 
sea salt and sriracha to taste
1. Heat ~1 tablespoon of coconut oil in a pan over medium high heat.
2. Add the onion and cook for 3-4 minutes until the onion is translucent.
3. Add the rest of your vegetables and cook for 10 minutes or until they are tender.
4. Add in the green curry paste and stir until the paste coats the veggies.
5. Rinse and drain your beans [if using canned] and add those to the pan along with your can of coconut milk.
6. Season with salt and pepper to taste, turn the heat to high to bring the veggie mixture to a boil, reduce to a simmer and cook for 8-10 minutes until the sauce thickens a bit and everything is heated through.
7. Garnish with cilantro and green onions, sriracha if you like it spicy and enjoy!
You can really add any veggies you like! I wouldn't switch up the beans too much though because garbanzo are sturdy enough to hold their shape during cooking. Beans not your thing? Leave 'em out and serve the veggie curry over quinoa for a quick and healthy meal that still has protein from the quinoa. Enjoy!