WIAW is back! These past couple of weeks have been a little crazy. Finals week was crazy in a "just get through this week and then you can sleep all you want" kind of way and last week in Charlottesville was crazy in a "how much can you do in 7 days?" kind of way.
So this week at home is all about rest, rest, rest.
But whether it's finals week or a week in Charlottesville or a week at home in Indianapolis one thing is the same. I'm eating out a lot, I'm not in my kitchen, and I'm out of my "food routine."
I get emails and questions a lot from
clients
about how to eat "healthy" when you get out of your routine. Or maybe it's better put, "how do you maintain a healthy relationship with food regardless of the circumstances?"
Things are much easier when you're in your own kitchen, going about your routine and you have an idea of how the day or week will go. Things get a bit harder when your routine gets thrown off, when your environment changes and when plans are up in the air. Whether you're recovering from an eating disorder or you're trying to reach your healthy, happy weight or you're simply wanting to maintain a happy, healthy balance- it takes a little more thought to nourish your body well when you're not going about your normal routine.
But spontaneity is the spice of life!
And maintaining a healthy relationship with food when you're out of routine just might mean you're not always eating the healthiest.
But sometimes "unhealthy" choices are actually healthy.
And letting go of making healthy choices 24/7 might be a good thing.
Because stressing about not eating the healthiest is probably more unhealthy for you than just eating the dang not-so-healthy food and calling it a day.
There are a few things that I try to keep in mind when I'm out of my normal routine to keep my body feeling good while still going with the flow and enjoying all kinds of delicious food.
A good breakfast is key. Last week I ate my standard oatmeal only a couple of times, the other mornings I was eating omelettes the size of my face or bagel sandwiches. But just because you won't be stirring oatmeal in your kitchen at home doesn't mean breakfast isn't nutritious. Aim for some fruit at breakfast and a whole grain when you can. And then sometimes you just need a greasy egg bagel and that's okay too. That will keep your soul happy.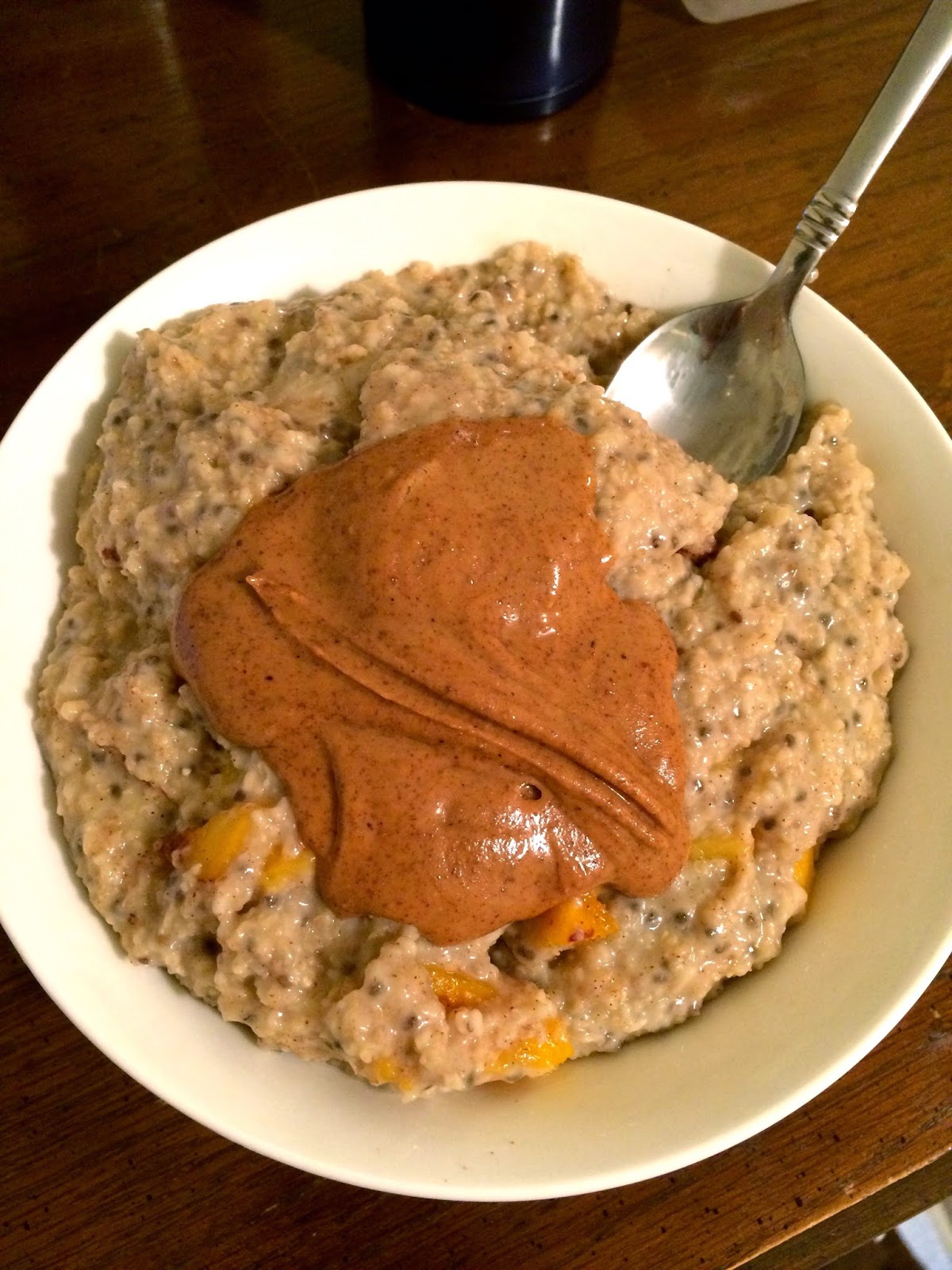 Yesterday morning I was back to good ole oatmeal. This HUGE bowl of oatbran with peaches and chia seeds cooked in coconut almond milk and topped with Justin's vanilla almond butter was everything I'd imagined it would be. I wanted to eat another bowl right after finishing the first.
What about lunch and dinner and snacks when you're not in your own kitchen doing your thing?
One thing that I always try to keep in mind that keeps me feeling good while rolling with whatever comes up is to always aim to make half of what I'm eating fruits and veggies. That's my intention- it doesn't always happen but most of the time it does. And most of the time is good enough. If you shoot for half your plate fruits and veg, then your body is still getting the good stuff regardless of other food choices.
Now that I'm back at home in Indianapolis, my body is craving vegetables like woah. Lunch yesterday was a big salad with TJs champagne vinaigrette + an Ezekial "pizza" with hummus, avocado, spinach and peppers and a sliced apple. Followed by a sliver of chocolate cake because my brother made it and its delicious and I ate my veggies first.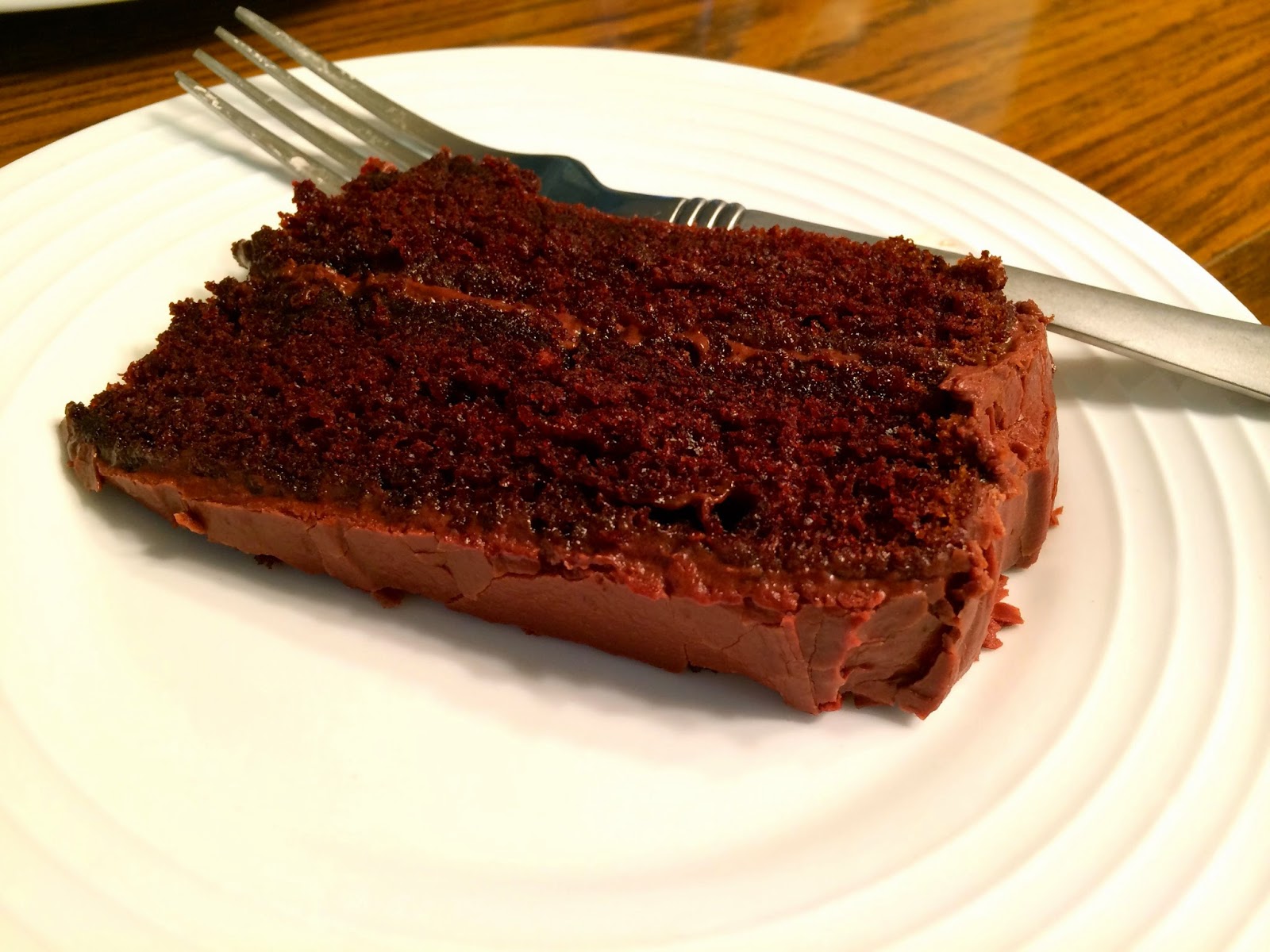 Whenever I'm out and about I also pack a bar or two in my purse just in case. The worst is when you're hungry and stuck with nothing to eat except fast food or gas station snacks. #firstworldprobs
This Renola that Larabar sent me is AWESOME.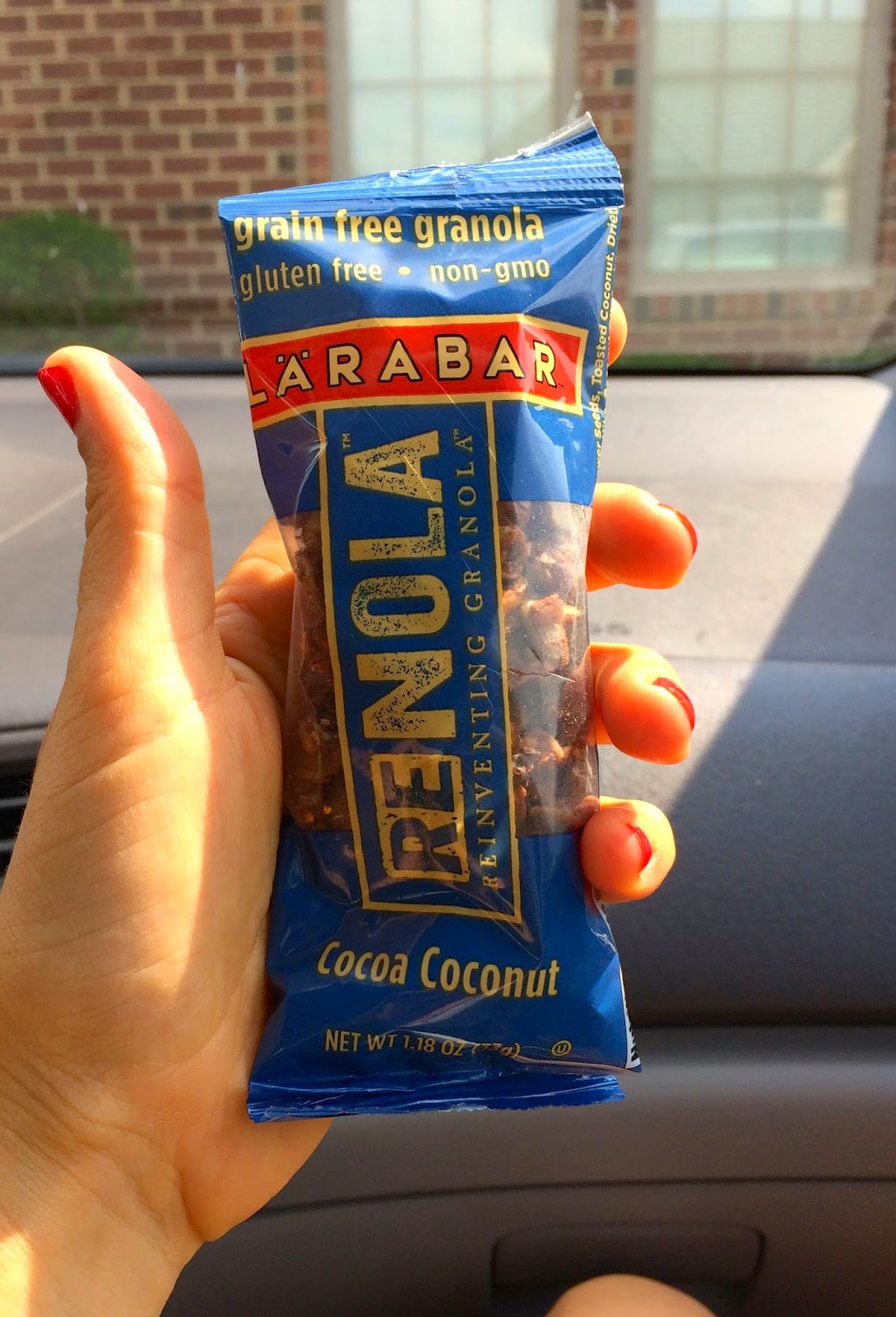 And then when my momma Coale and I got back from shopping we ate chips + salsa + guac + carrots with TJs bean dip (which is surprisingly good!)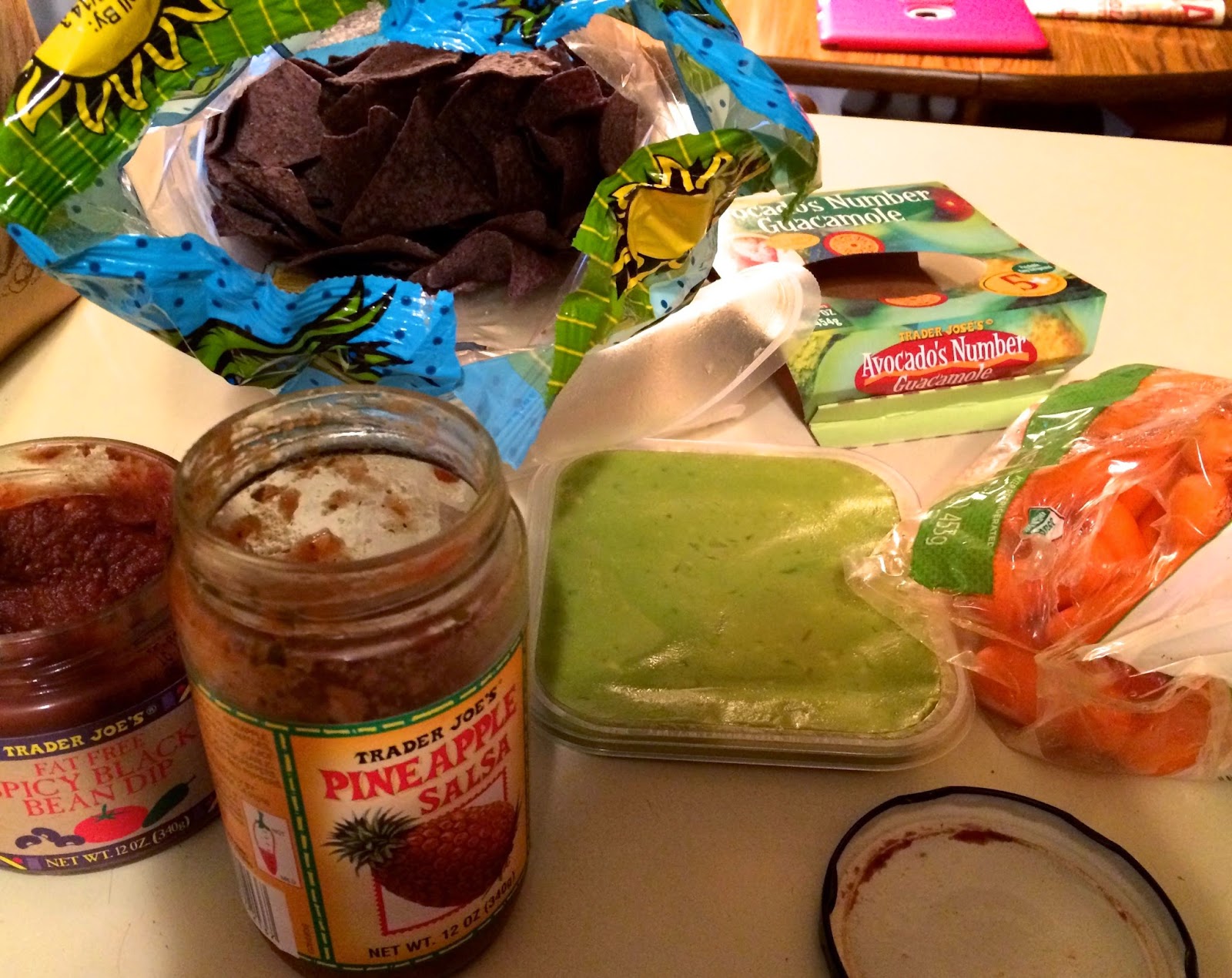 Sometimes we won't eat as many vegetable as we want to and that's okay too. Some dinners last week consisted of a slice of veggie pesto pizza or thai food that I wished had 5x more veggies in it than it did…although it still tasted awesome. But the beauty of breaking routine is that the break isn't permanent, it's just a break. And you can get back to your veggie loving ways in no time. Like breakfast for dinner last night. It was rainy and we were tired from shopping and all I was craving was eggs + carbs.
A veggie egg scramble + steamed broccoli +
whole wheat bagel
with cream cheese on one side and
Melt
spread on the other with jam hit the spot. Side note: go buy Melt, it's absolutely fabulous.
And we ended the day with lots of lounging + tv + chocolate chip cookies.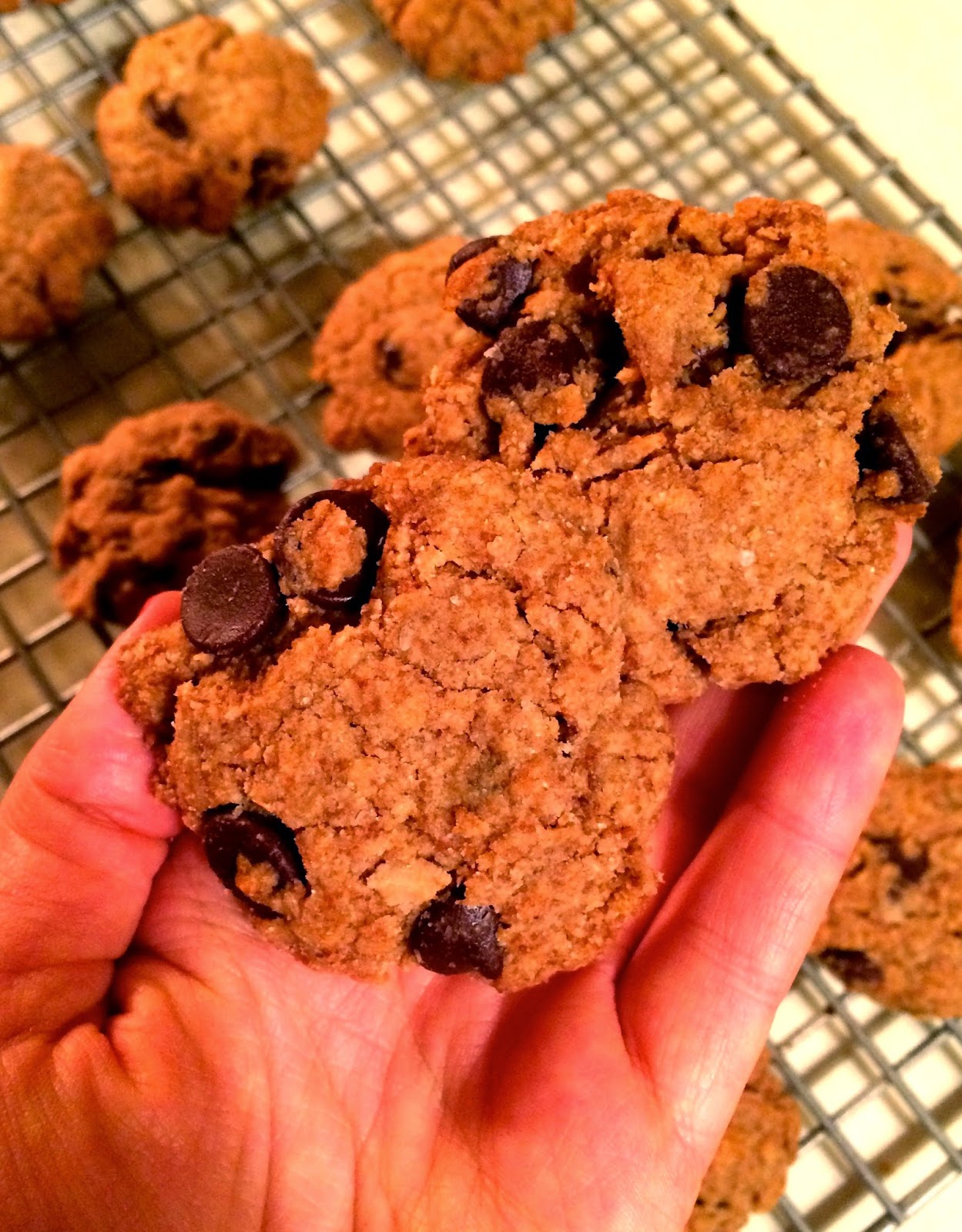 Routine is wonderful and most of the time we thrive on it, but we also need a break from it to breathe and relax and rest and eat some cake.
We gotta balance out the veggies somehow.