We flew back to the city early Monday morning after spending a whole week at home in Indiana.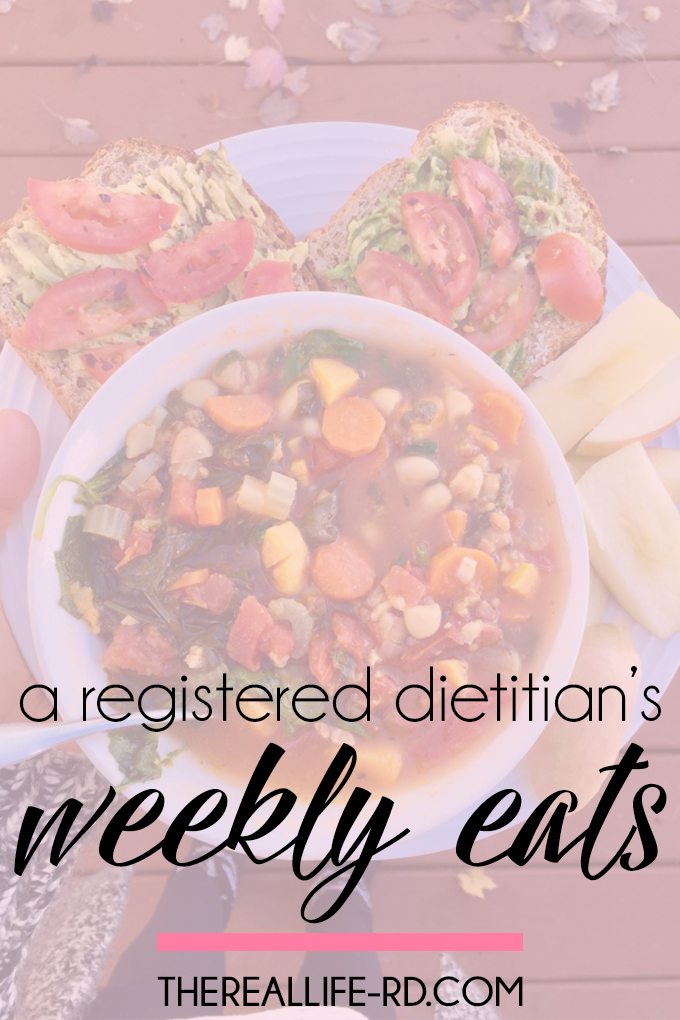 It was glorious. I flew home on the prior Monday and Nick came in Thursday – we did lots of wedding things (we hadn't even seen the venue my mom helped up book yet) like meet with caterers and our wedding coordinator, see the venue, make save the dates, guest list stuff, etc etc.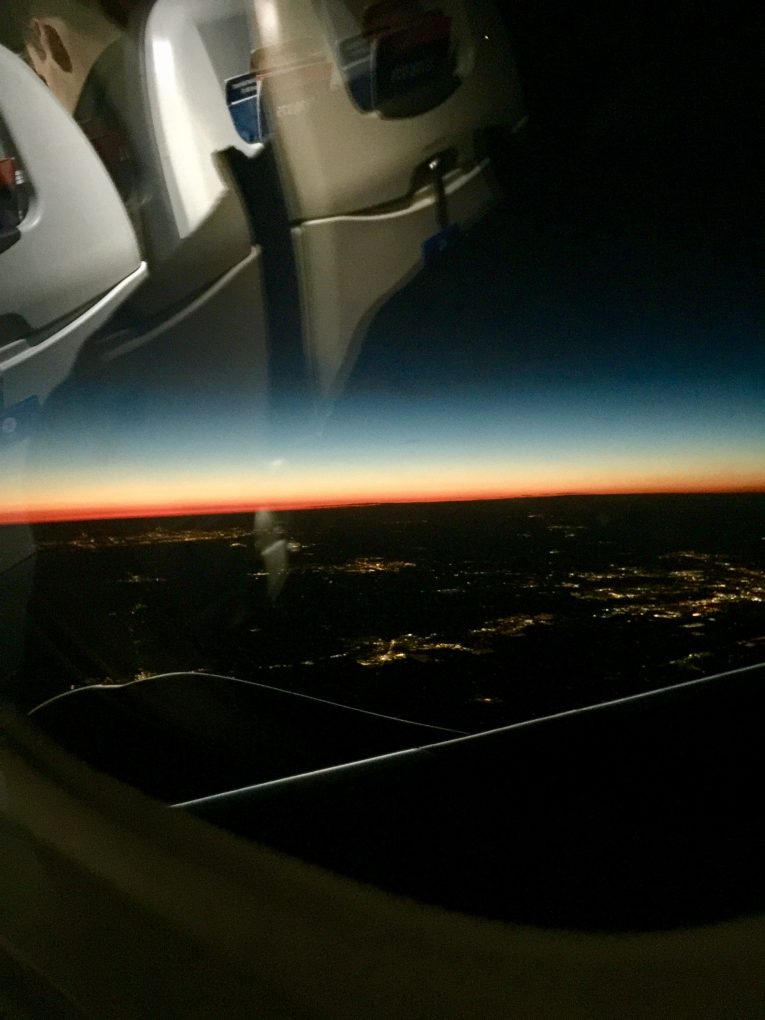 And I found a dress – which is so crazy and weird and awesome and makes things seem all too real. I went with my momma and aunt and grandma and it was the best day with just my family.
Growing up with four brothers, I never thought about my wedding or any of these things…so to be honest, I've felt like a total imposter with wedding planning. But now that we've been to the venue, our wedding party is set, I have a dress, and things are starting to come together I'm like ohhhhhhhhh, I'm getting married?
And there are so many decisions! Thank God for Nick – this whole planning has definitely been a two person shindig. Some decisions, like the florist, Nick's like "um, do whatever you want I don't care" but overall he's been great with all the behind the scenes details….meaning contracts and financial decisions and researching vendors and all the things I don't want to do. I love that man.
But onto all the good stuff like food!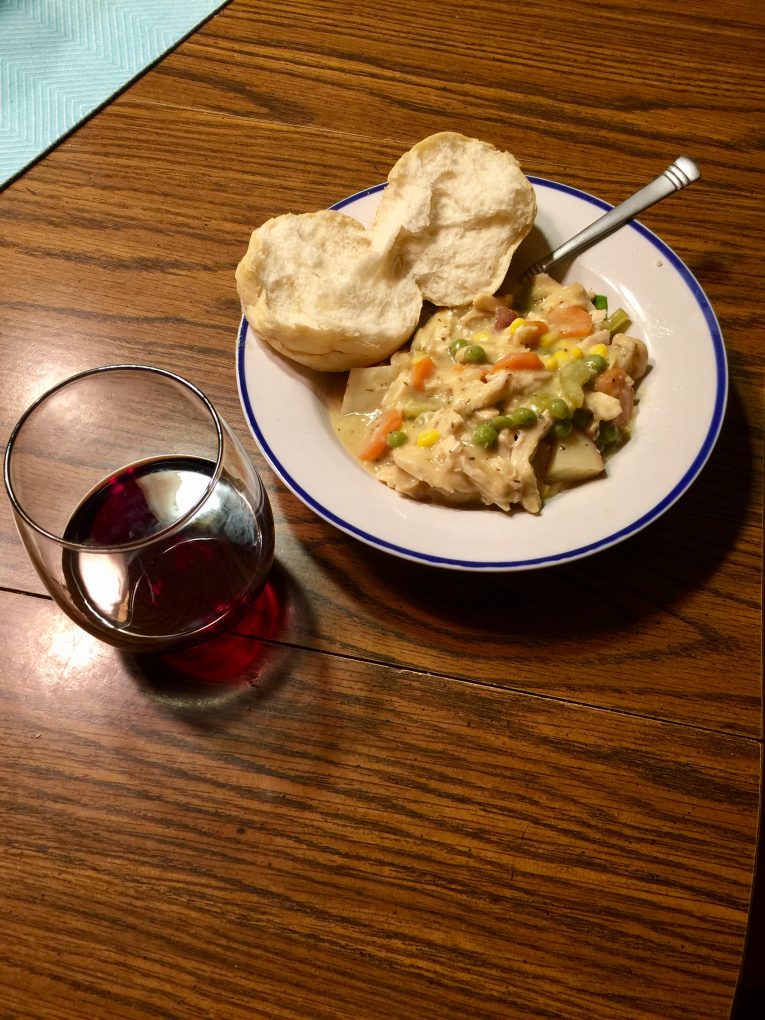 Whenever I'm home I eat like a queen. Because momma Coale is a boss lady in the kitchen.
She picked me up from the airport on Monday night and I came home to chicken pot pie and a glass of cab.
Avocados are either never ripe, out of stock, or expensive as hellllzzz so I never buy them in the city lately. So when I was home and perfectly ripe avocados were always in our fruit bowl, I was all about the avocado toast for lunch.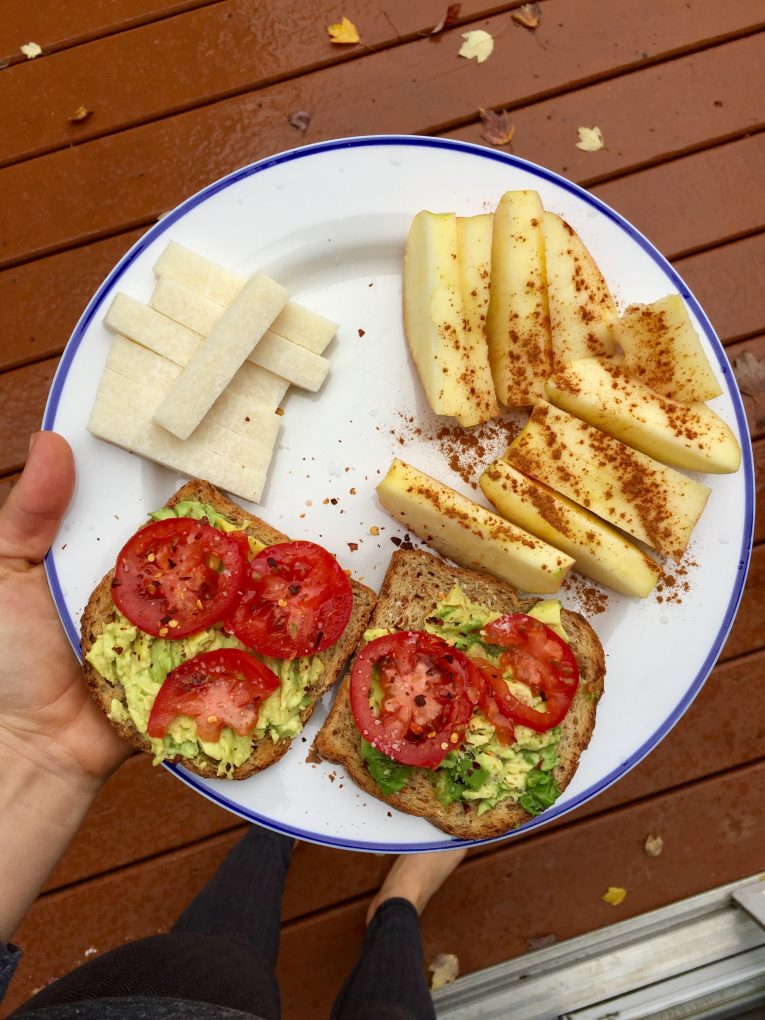 Lunch one day was avocado + tomato + sea salt + crushed red pepper on sprouted wheat with jicama sticks (already cut from TJs!) and cinnamon apples
Wine by the fire made by my little brother Andy was a nightly occurrence.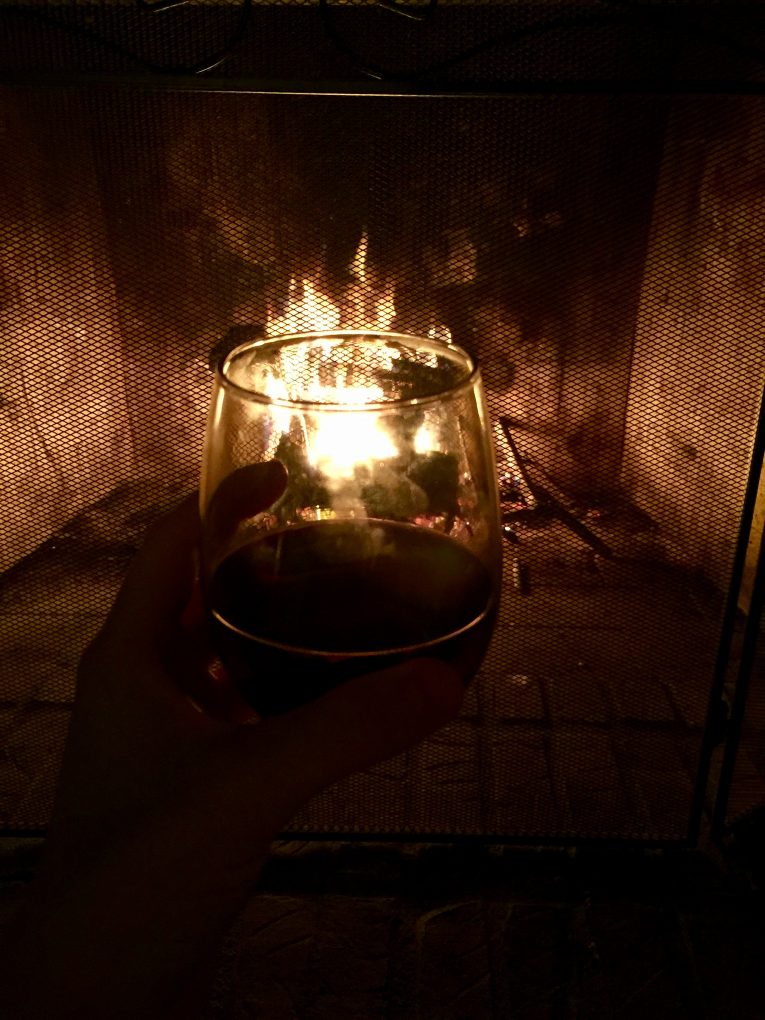 My momma made a minestrone with pancetta and sweet potato one night that we had for dinner and then I ate it the next couple days for lunch…with more avo toast.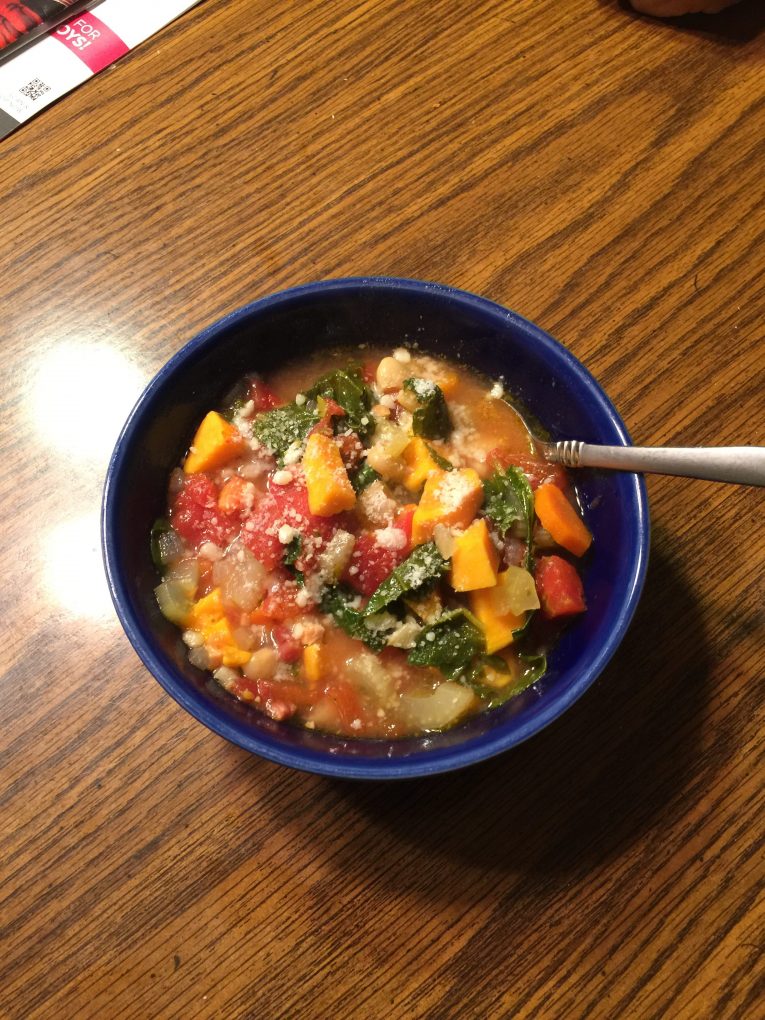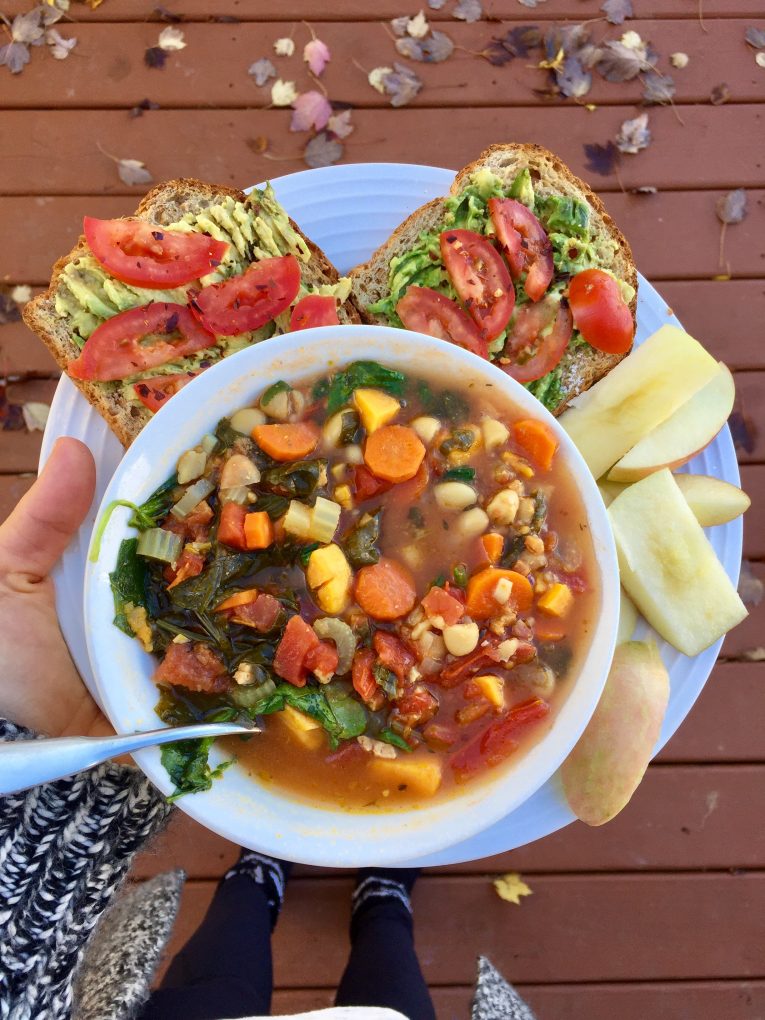 And another breakfast was more avocado toast with fried eggs, tomato, sea salt, hot sauce and a juicy grapefruit.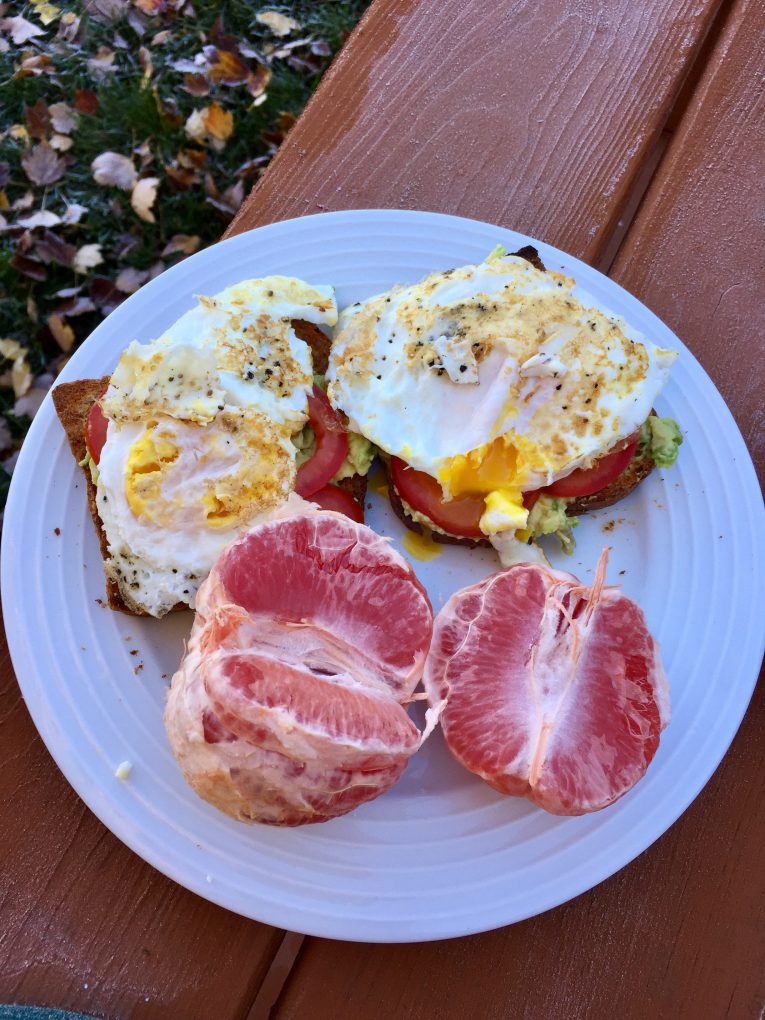 I went on several runs along the Geist reservoir which left me so nostalgic. First of all, the weather all weeks was insane. Like 50s and sunshine with abundant fall foliage.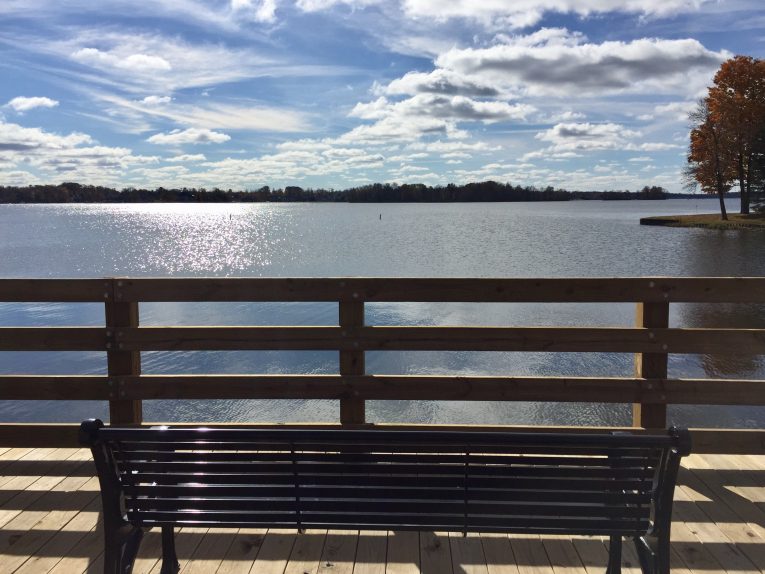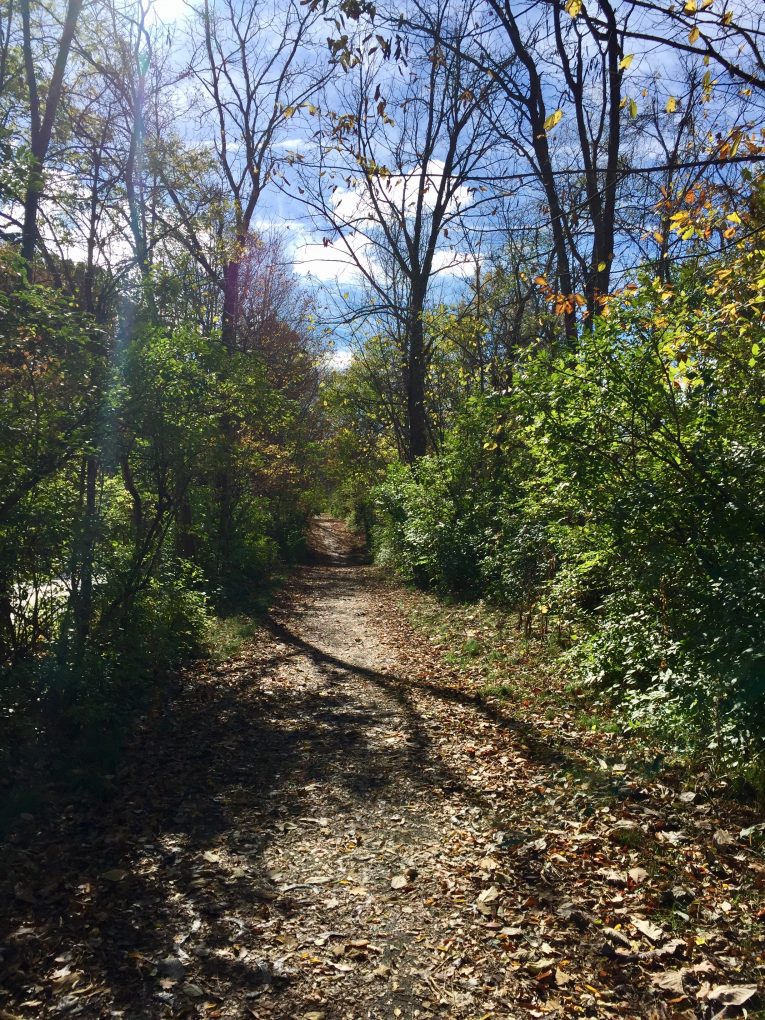 Breakfasts were pumpkin pancakes, or eggs + toast. I get indecisive when it comes to toast spreads so this day is was ¾ TJs pumpkin cream cheese and ¼ butter plus eggs with spinach and banana + PB. Want to know why I often eat half bananas? Because I am so obsessed with banana and PB that I eat it several times a day (and bananas in my smoothies too) and more than 3 bananas a day makes me constipated. TMI? Sorry.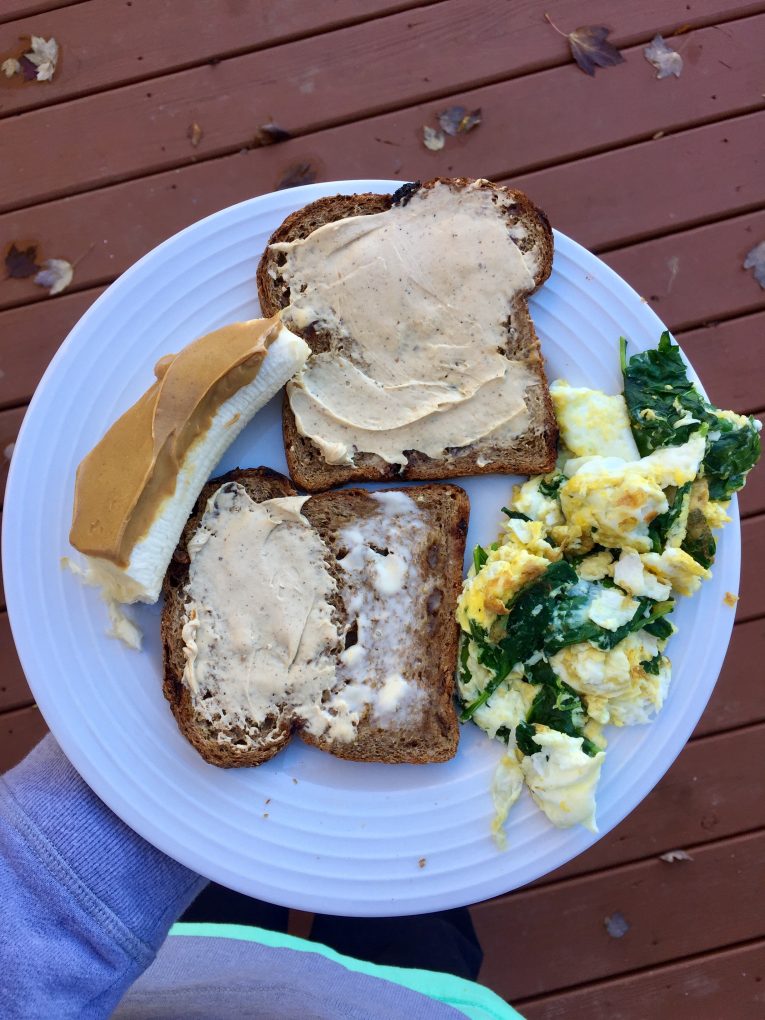 One night my mom made mini meatloaves with some grass fed beef that I ate with roasted yukon potatoes, butternut squash and kale salad.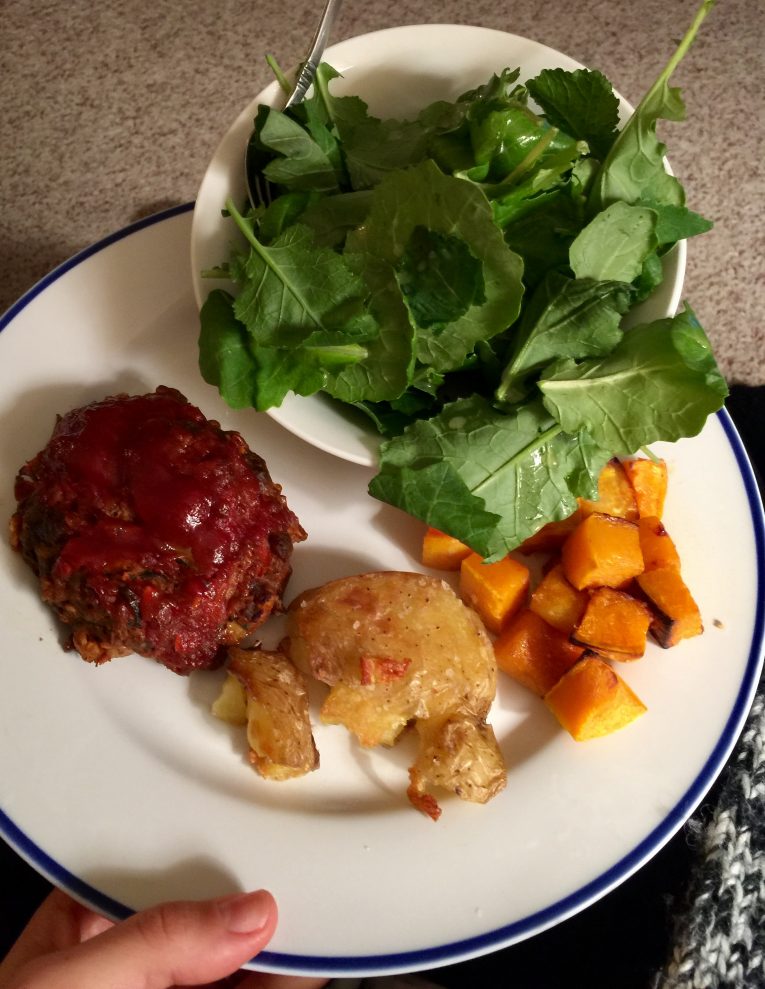 Before dress shopping on Thursday we went to Café Patachou for lunch and I ordered this incredible vegan cauliflower soup + their Cobb salad which is amazing.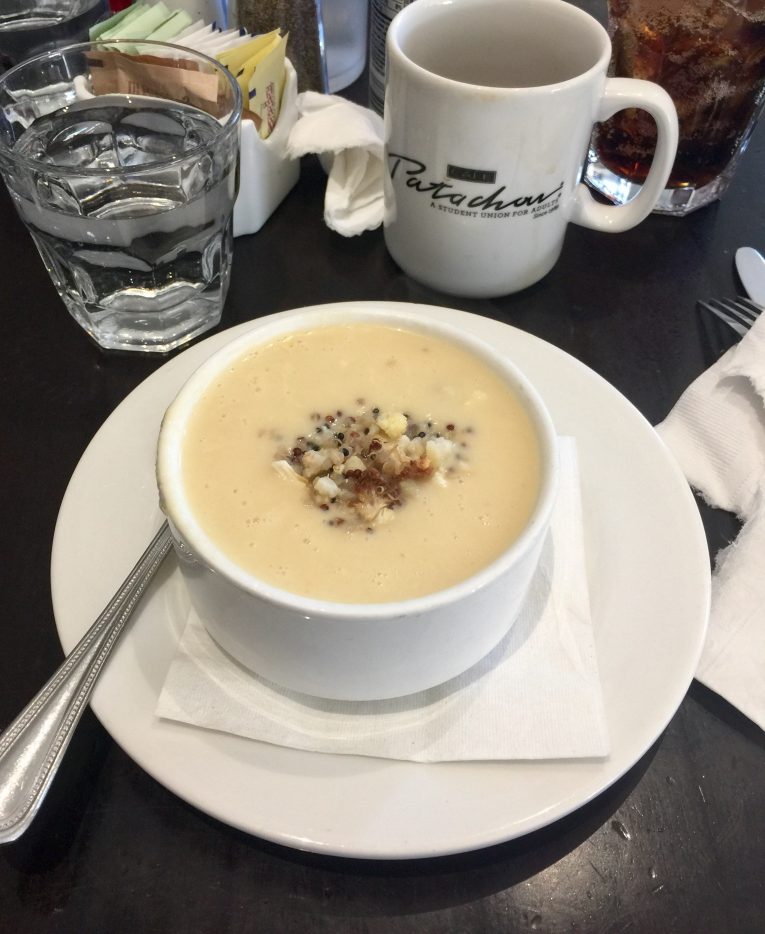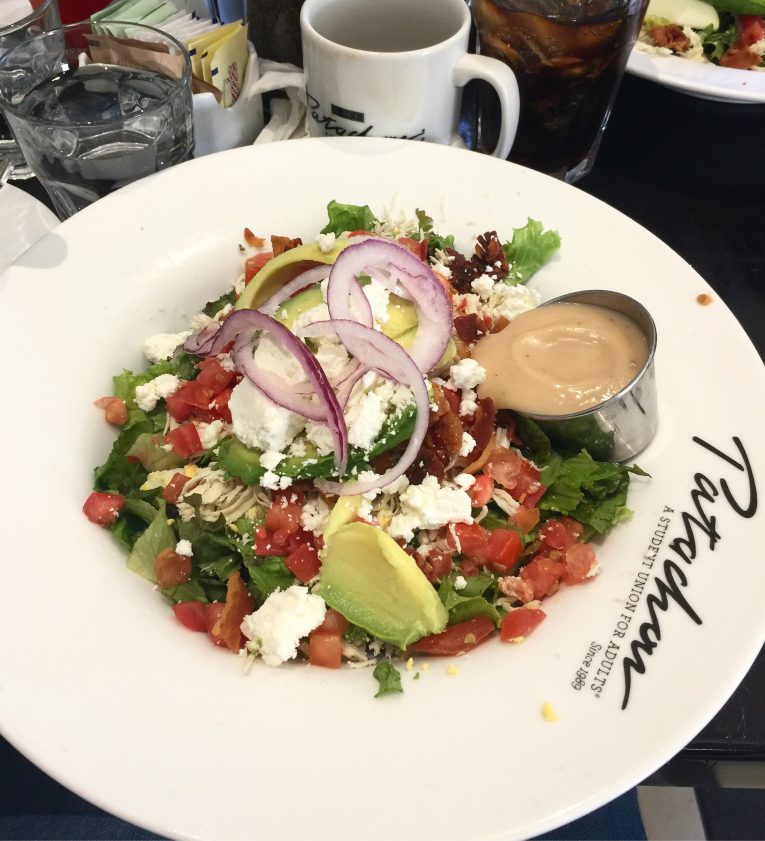 Plus this cookie that we snacked on that was absolutely NOT the best. I hate crispy cookies. Chewy and slightly underdone ftw.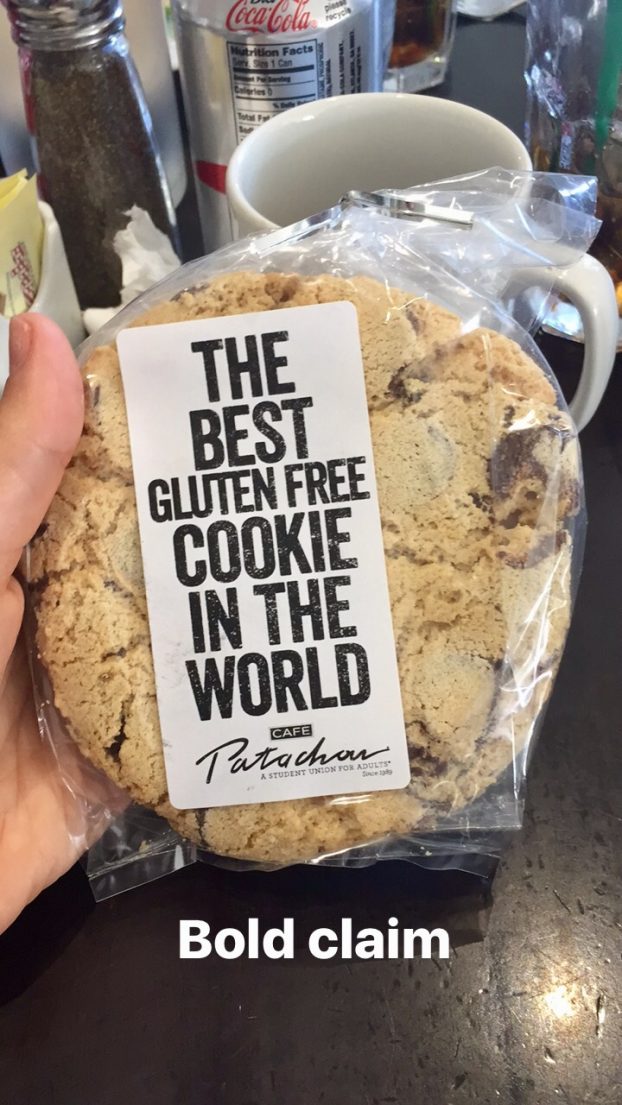 We had taco salads (with jealous pups) one night with leftover roasted butternut and lots of hot sauce. This bowl was proceeded with a glass of cab and many chips + homemade guac.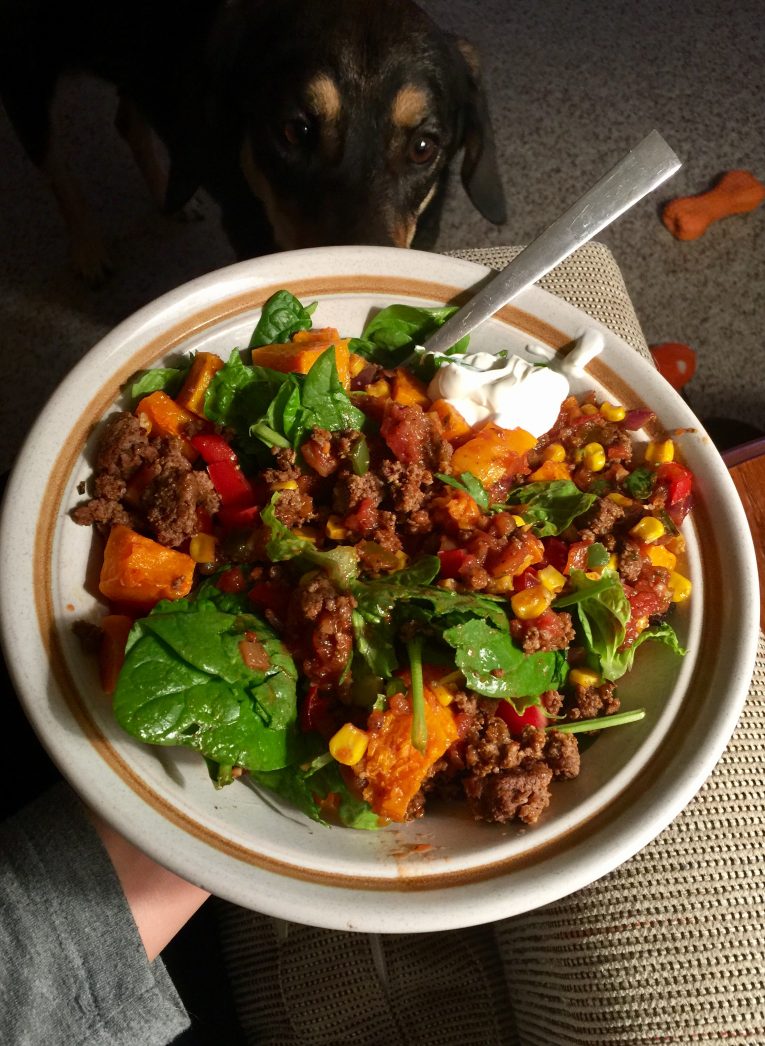 Dessert like 4 nights in a row was homemade flourless brownies with pumpkin ice cream.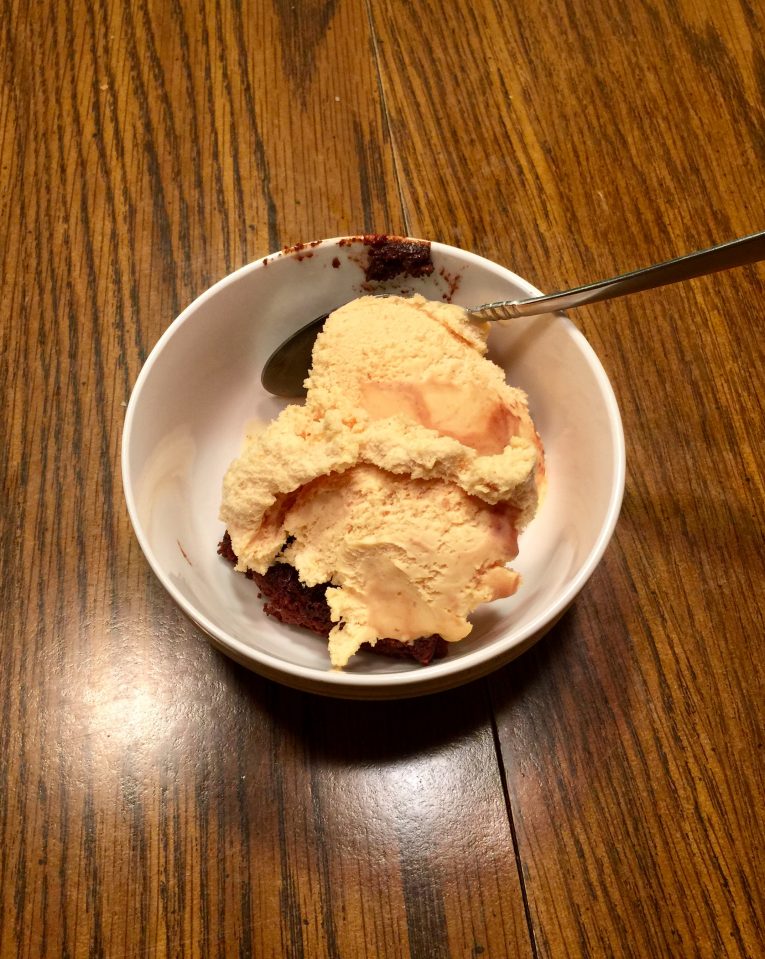 And then I went back to Café Patachou on Sunday for lunch with a few of my high school friends and ordered a bowl of their tomato artichoke soup which was the most fabulous bowl of cozy, creamy deliciousness. I'd have this 500x over. I kept it light since we were having an early Thanksgiving dinner with my whole fam at 4pm.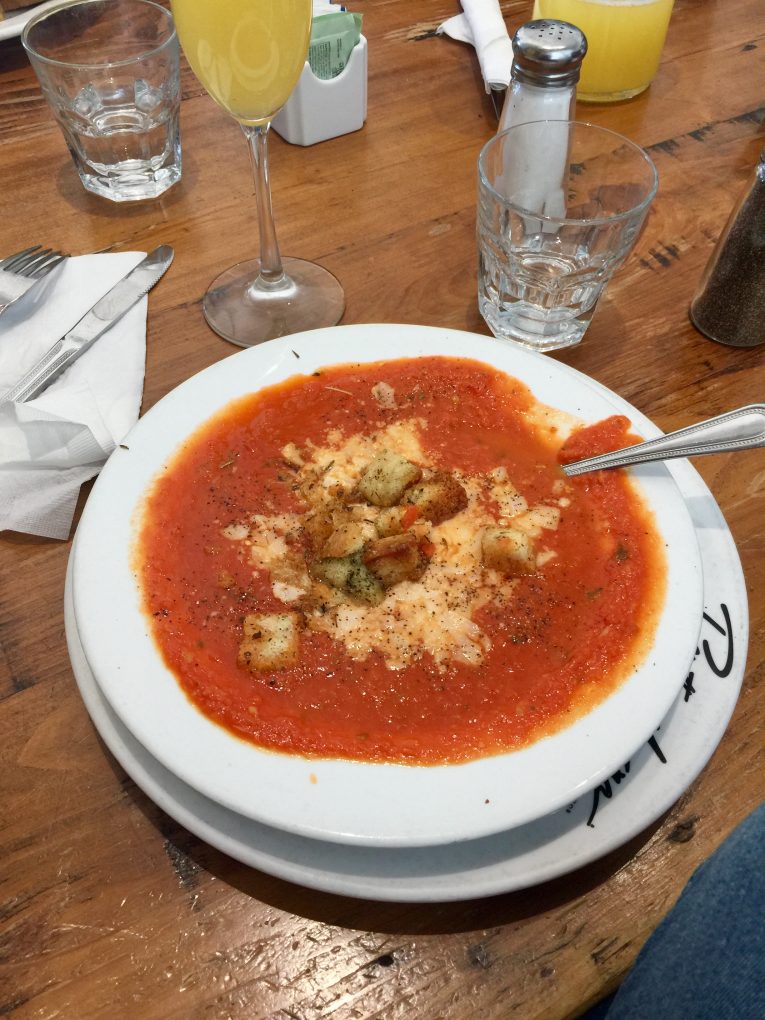 Which began with red wine on our back deck. Then dinner was this plate full of everything that you need in Thanksgiving. Mashed cauliflower potatoes with roasted garlic, from scratch green bean casserole and orange cranberry sauce, grilled turkey, balsamic roasted brussels, sweet potato casserole, and monkey bread…oh my gahhhh monkey bread.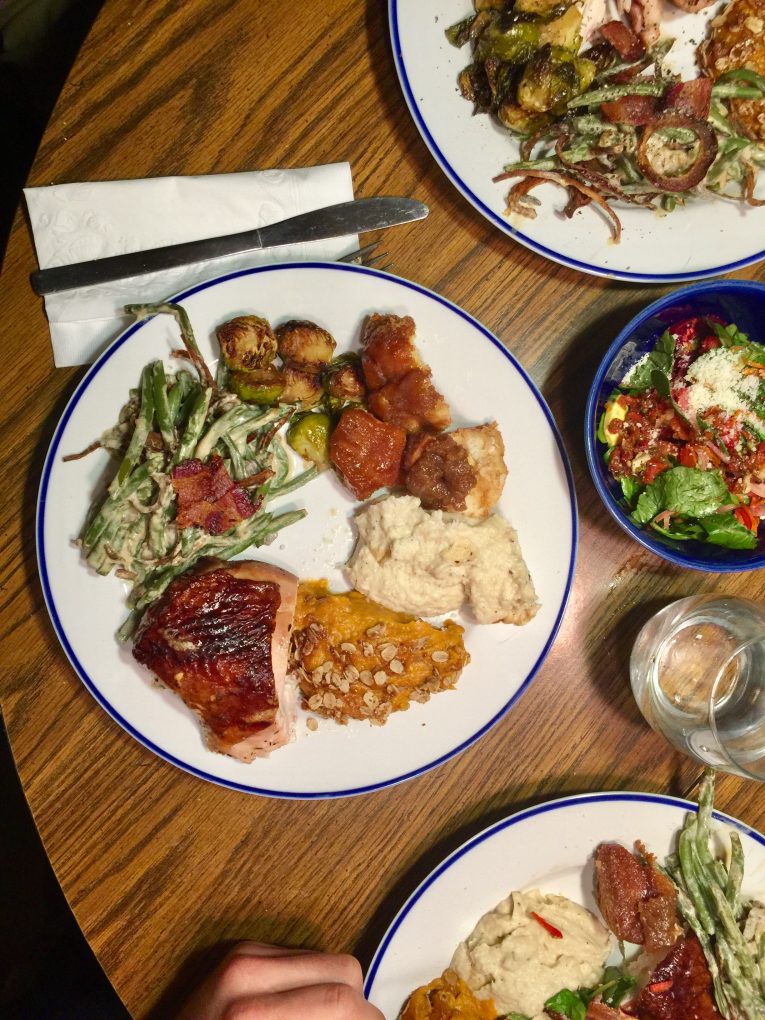 Unpictured dessert was homemade pumpkin pie and a sliver of lemon vanilla cake since it's my brother's fav and it was his 34th birthday. HAPPY BIRTHDAY BILLY!
Nick and I rested a lot which was good. Whenever we leave the city we're reminded of how slower and less inconvenient and quiet life can be. It's so good for me. I miss it already.
My momma is coming to the city in a couple weeks for a quick weekend trip since she's never seen NYC during Christmas and I can't wait. It's my favorite time of year here because the city feels so magical.
Cheers to Wednesday!
SaveSave