A year ago my alarm went off at 5:05 for Wednesday morning track workouts. My Saturday mornings were occupied by 18 or 20 or 22 mile long runs out in the beautiful Virginia countryside. Fifty mile weeks were the "norm" and running 26.2 miles at 8:10 pace was a realistic goal.
Nowadays, running 6.2 miles is a long run….and 8:10 is race pace.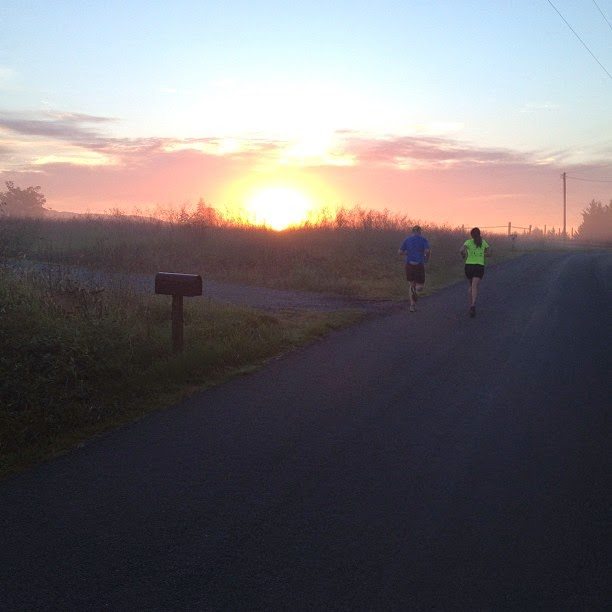 Running looks a lot different than it did a year ago. Actually, running looks a lot different now than it has most of my life. I started running in 5th grade, following in my brothers footsteps. I joined the cross country team in 6th grade and ran throughout high school. In college, while my brothers ran for IU, I joined a sorority and took up long distance running instead. Let's be honest, even of I wanted to, there was noooo way I was fast enough to run for a Big Ten school. And I just wasn't that disciplined.
For much of my adult life, running has been a huge part of my identity. Even too much so at certain times. Taking a rest day was something I dreaded. I loved getting in an early run before anyone had woken up. Long runs with my running buddies were my favorite. Signing up and training for races, particularly marathons, has been a huge part of my early 20s. Running was something I loved. It's how I coped with stress or sadness. It was a way of socializing. It was an outlet.
It's crazy how restless we get when something we put so much of our identity in goes away. Ten days before the Richmond marathon I strained my hip. And since I'm stubborn as hell, I rested for the next 9 days and then with permission from my coach + a doc I worked with, ran the Richmond marathon. It was the most brutal 26.2 miles I had ever run and it left my body absolutely exhausted and beat up. It took me a full 10 days to be able to walk normally and another 3 months to be able to run without pain. And during that time off my entire mindset around running shifted.
My body was tired. I had put so much on my plate that previous fall (nursing school applications, marathon training, building Nutshell, my full time RD job) that I had cortisol levels through the roof, had put on weight despite "eating healthy and exercising" and my sleep and stress levels were not good. I was the antithesis of what I preach. I never said I was perfect, I'm human after all and I had run myself ragged.
And that's when I realized I had to stop all the exercise and rest. And eat good, nourishing food too. Lots of it. And during that rest period, my running identity dissolved. I did some yoga, walked when my hip healed and eventually got back into strength training and then some light cycling and later on some intermittent jogging. Running didn't really come back into my life until May of this year.
But even then, running looked so much different than it had 7 months prior. I didn't care about pace. I had no desire to race. And I had no desire to run longer than 4 miles and often took walking breaks. But I didn't care because running now had become something that I always wanted to do and not something that I sometimes wanted, but always felt I should do. After a long day at class or a day of studying, I craved a evening run along the river. It was a treat to myself.
My pace rarely, rarely goes under 9 minutes and I run slow- because that's what feels good. And that's what my body can handle so running doesn't become a negative stress on my body. If I'm being honest though, for a while it was hard to accept this new "pace" and not having any races on the calendar and not feeling like a legitimate runner. Actually, I felt more like a jogger. And I wondered if I'd ever be "fast" again. Would I ever run a BQ?
I don't know. But really, who cares? Having a healthy body that is well taken care of and is able to run is a really wonderful thing. Running might look at lot different than it did a year ago, but I'm so grateful to have walked a bumpy road to be at a place now where I appreciate this body for what it does…whether that's running 26 or 2.6 miles and whether that's 10 minute or 6 minute miles.
My lovely [and amazing] friend Whitney is writing about her running journey over at her fabulous blog today too. You should check it out and stay a while- she has all kinds of posts full of wisdom that will totally refresh you.