Sunday was one of the best days of my life.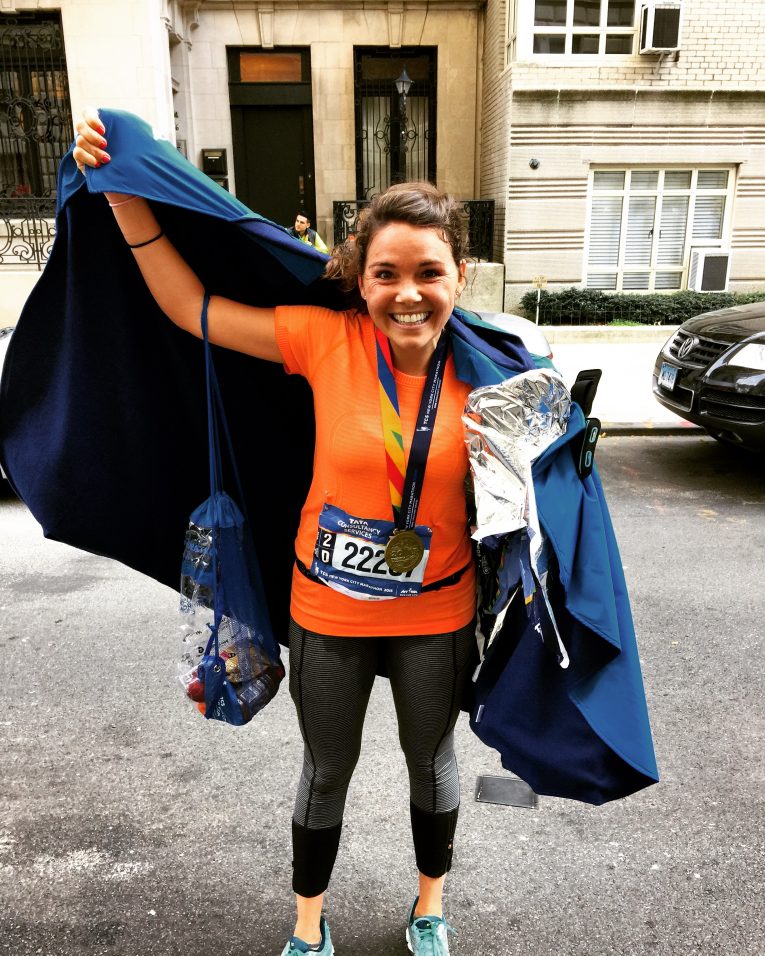 When I got into the NYC marathon through the lottery several months ago, it was totally unexpected. I was also just coming off an IT band injury after training for the DC marathon that I never actually ran because it wasn't worth risking more injury.
So while I was shocked to have gotten in and a little apprehensive given the recent injuries, I was PUMPED. My friend Milam had ran the marathon the previous year and had so many amazing, give-you-goosebumps, things to say about it. And so I had my brother draw me up a training plan and after a few months of relaxed running I began pounding out the miles in July.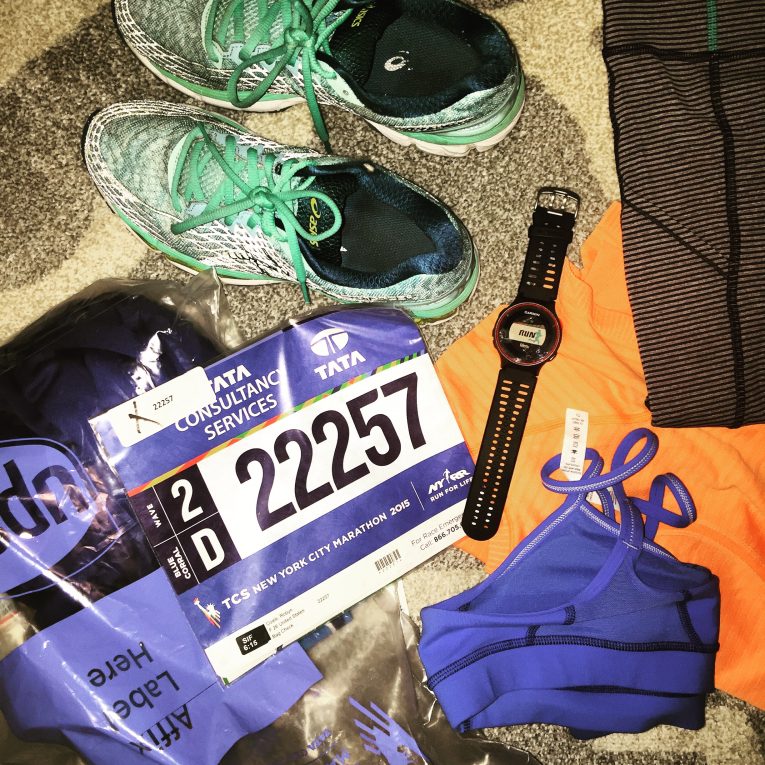 The plan was written on paper and I've somehow lost the papers, but because I've gotten requests for my plan..in essence it looked a bit like this:
Mileage increased from 30 up to 50 miles/week and alternated with a 30ish mile week followed by a 40ish mile week and I topped out at 50 miles/week on a couple weeks throughout the whole training cycle. 
Long runs were every other week and I ran those on Tuesdays since I didn't have class or clinical and things were "predictable" on Tuesdays. I ran a couple 14 milers, one 16, two 18 and one 20 miler. Long runs usually ended with 1/3 of the run at marathon pace. 
One day a week I did either 8×400 meter repeats at 1/2 marathon pace with 15 second rest OR 10×60 second hill repeats that I ran on the Williamsburg bridge. 
Other than those two planned workouts a week, I filled in the other miles however it fit my schedule. I scheduled one full day off and one day of yoga and threw in some core work when I could- so in total, five days of running. Looking back though I think I've realized that my body works best with four days running, and 1-2 days of cross training. 
I was flexible with the plan and didn't sweat it if I missed a workout here in there. I'm also not a morning runner [I though I wished I was!] so ran my runs at various times depending on the day. But even with this more "casual" approach by September, when I was running 40-50 miles a week I was frustrated with IT band issues. And when those resolved after being married to my foam roller, I was hit with what seemed like a stress fracture in my tibia after I ran 20 miles near the end of September. So I stopped running. All I wanted to do was run the marathon and I didn't care if I couldn't run for 5 weeks leading up to the race. So I cross trained and cycled a lot, foam rolled like it was a part time job, and iced my tibia whenever I could. I ate the best I knew how [read: enough calories and carbs/fat/protein], made sleep a priority the best I could, and tried to cut down on the weeknight wine consumption. I don't drink a lot during the week, but Nick and I drink at dinner sometimes or Brit and I can easily drink a glass or two of wine while sitting on our couch on a random weekday night and neither of those were helping matters.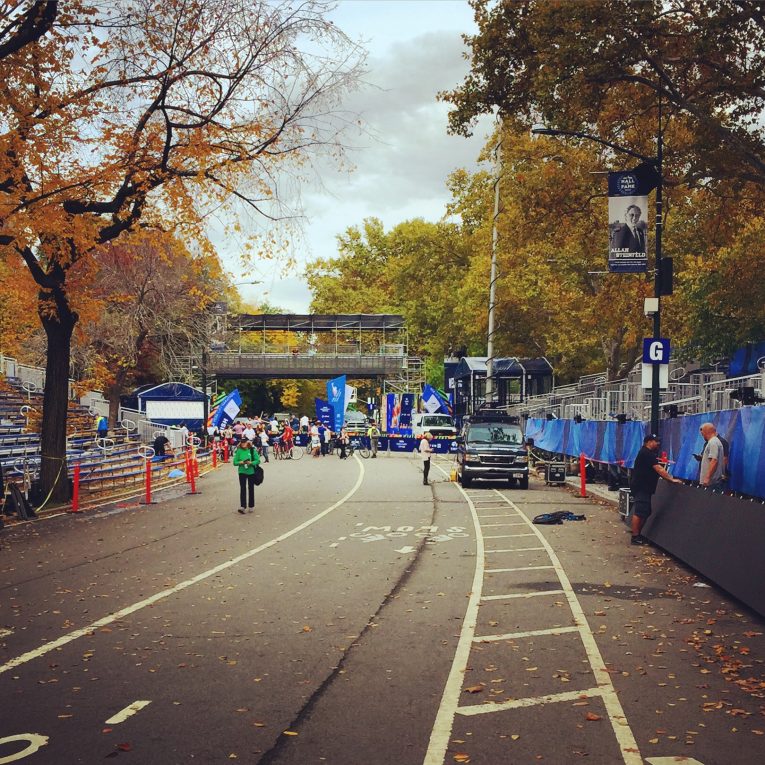 The week leading up the marathon, I went on two 4 mile runs and was pain free, thank GOD. But still wasn't sure how my leg would hold up to 26.2 miles. Sound similar to two years ago when I ran the Richmond marathon? It kind of was.
Ideally I would have loved to PR, would have been happy to run under 4 hours, but given the circumstances – just wanted to finish and soak up the experience knowing that was the most important.
I knew NYC was the world's largest marathon, but I didn't realize the magnitude of it all until I was at the Staten Island Ferry on Sunday morning. This was HUGE. There were people from all over the world – tens of thousands of people. I met people from France, became instant friends with a guy from Australia, and chatted it up with others from Denmark, New Zealand, and several other places. Getting from my apartment to the start line was like herding cattle. I biked down to the ferry at 7:20, caught an 8am shuttle, then we were shuffled along to shuttle buses that drove us to the starting villages. I got to my corral at 9:50 and wave 2 started at 10:15am. I could not believe all the people and all the hype. Friends kept asking me if I was nervous, and I was never nervous for the race (probably because I just wanted to finish and wasn't pressured with a big time goal) but I was just so, so excited.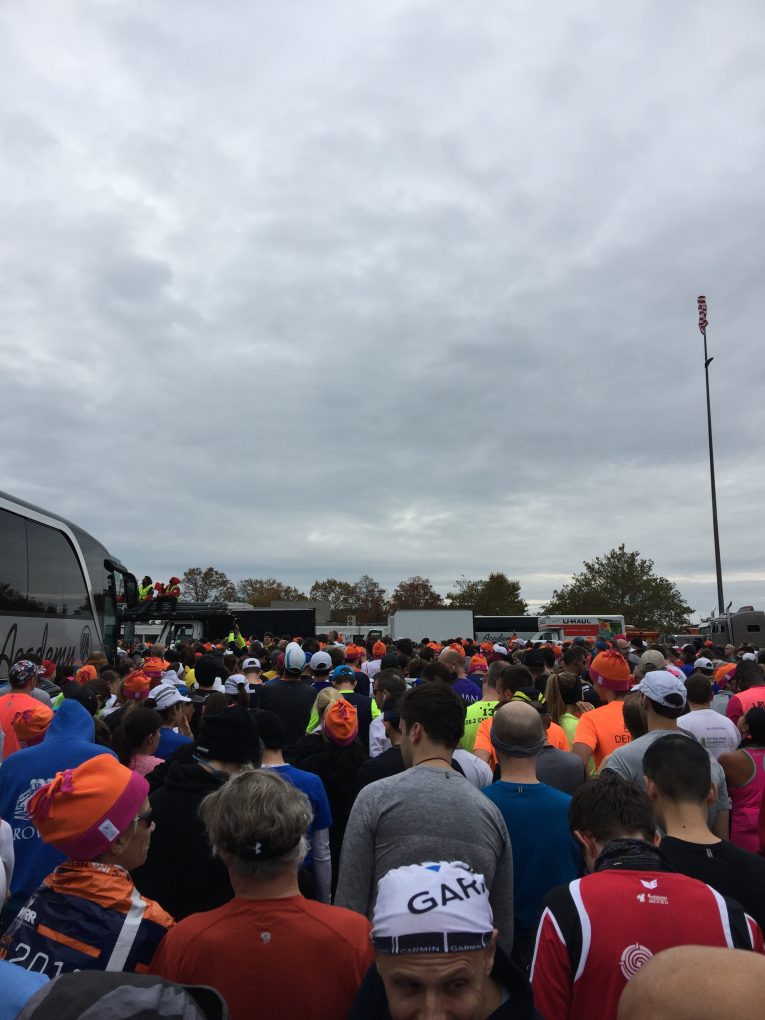 At 10:15 they sang the national anthem and we were off! There were four waves total so the top runners and then the elite in wave 1 had already started. Surprisingly even with 50,000+ runners I never felt bottle necked or trapped. We started in Staten Island for the first couple miles and then crossed over the Verrazano bridge into Brooklyn. We were in Brooklyn for a while, up until mile 13 and the crowds were AMAZING. My friend Sarah was at mile 8, Steph at mile 9 and then a big group of friends and Nick I knew would be at mile 11 1/2. I felt awesome here and was running conservatively to prevent hitting a wall – running 8:50 to 9:10/mile.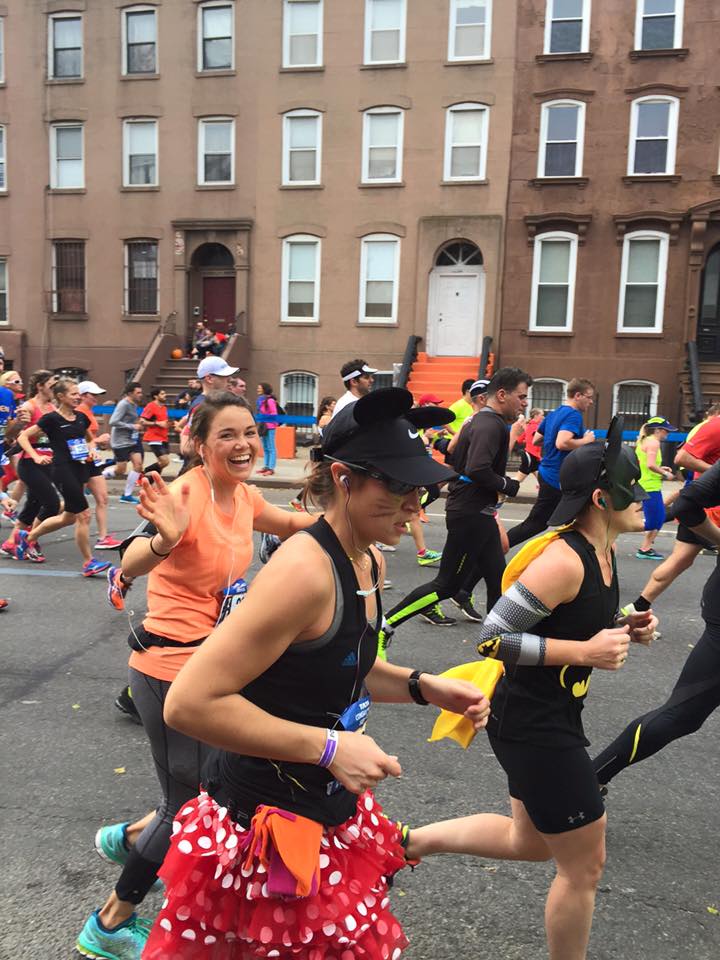 Then we left Brooklyn and ran into Queens where I knew another group of friends was waiting at mile 14 and Brittany was going to run miles 14-17 with me for fun. She came at the perfect time because the only part of the course without spectators is the bridge from Queens into Manhattan and it's steep and windy. We talked and laughed and I barely noticed the uphill, windy climb and before I knew it we were done with bridge three out of five and headed towards Nick and a group of friends at mile 17 1/2 who were screaming. At this point I still felt great and had so much adrenaline.
But my quads started to tighten and I knew things might get rough. But I tried to stay present, focus on the mile ahead and soak up the crowd and people. At this point we were running up 1st Avenue in Manhattan into the Bronx. I saw friends at mile 19 and then headed across bridge 4 of 5 into the Bronx where the crowd was NUTS. I was hurting bad from mile 20-22 and starting to get disheartened as I clung to 9 minute miles hoping to go under 4 hours. But at mile 22 my legs would physically not move faster. From mile 15ish I knew a PR wasn't in the cards and then I knew sub 4 hours was going to cost me my quadriceps so I tried to just let my pride of "you can't ever run over 4 hours in a marathon Robyn!" go (I realize this is ridiculous to think that) and focused on putting one foot in front of the other and keep moving. And to actually enjoy the final miles with all the people cheering! After crossing the fifth bridge from the Bronx back into Manhattan, you have to run down 5th Avenue into Central Park. But from 110th to 90th street is a mile uphill grade that crushed me. All the negative thoughts of "I can't do this" seeped in and all I keep thinking about was "Christ defeated death and he lives in you. This is nothing." And that's what kept my feet moving.
And then at mile 24 I saw Nick and all my friends and knew I was SO CLOSE. Knowing they would be at mile 24 pulled me through. The next two miles to the finish were through Central Park and the crowds were insane. Seeing and hearing all the people cheering continuously sent chills down my body and all I kept thinking was "This is the most epic marathon and the best day EVER." And then there was the 26 mile marker. I could see the finish. I could hear the crowds. I saw the big TV screen and all the flags from around the world. I was almost there. It was totally surreal. I've watched the elite runners cross this finish line so many times on TV and here I was. One of 50,000+ runners crossing that same line.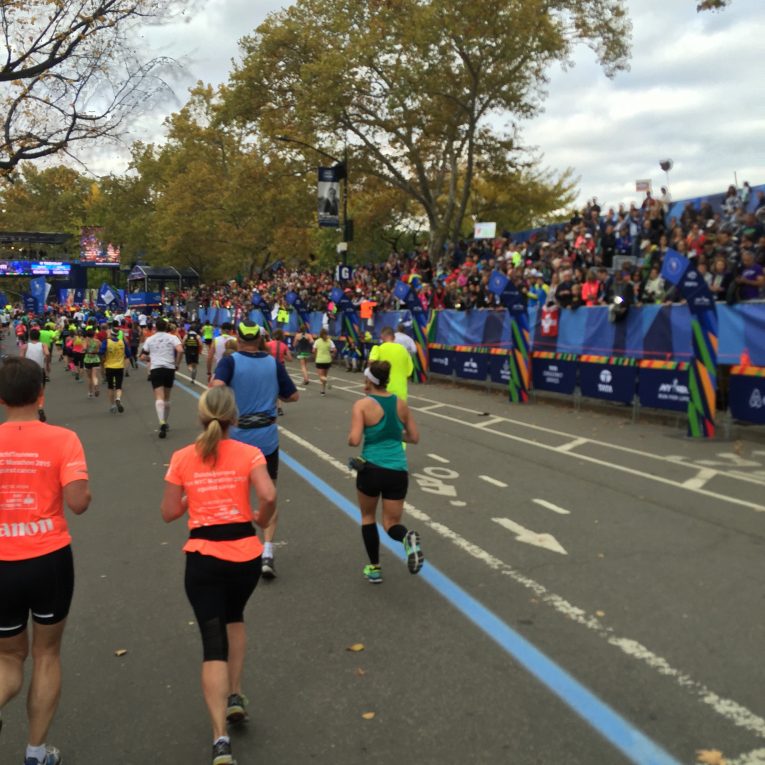 4:08:41
15,312 out of 50,235
4067th female
I didn't care that it was my slowest marathon. All I knew was that I just ran the NYC marathon, didn't stop running once during those 26.2 miles, and had the best time.
I met people from all over the world. Denmark, New Zealand, France, Australia and on and on.
Ran alongside blind runners who nearly brought me to tears.
Saw this entire city come together to love and encourage each other.
Was cheered on as if I was an elite runner crossing the finish line from mile 1 to mile 26.
And realized what I already knew…that I have the best friends around and one all-star of a guy.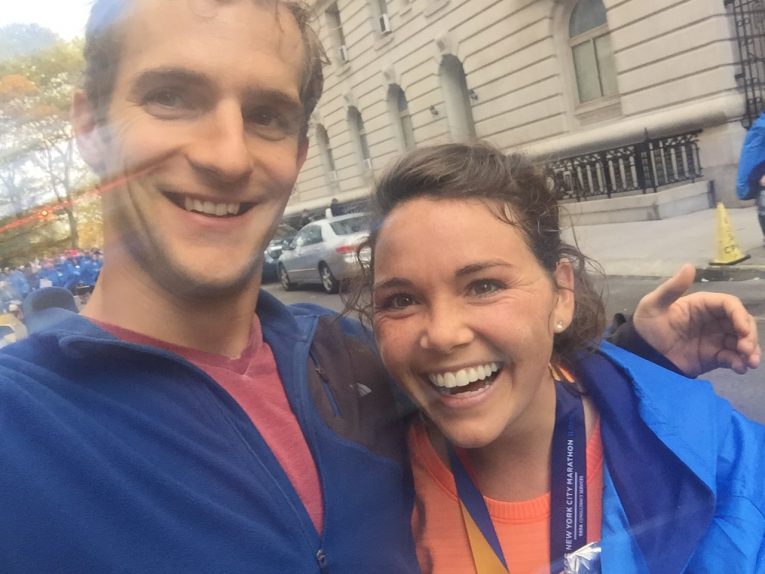 NYC was my favorite marathon yet and I can't wait to be back again next year.
Until then, I have lots of carrot cake to eat, hours to sleep and rest days to take.
But most importantly, many virtual hugs to give to all you guys for all you loving texts, emails, and Facebook + Instagram comments. You all are THE BEST and I love you more than you know!