Our society is obsessed with diet and exercise. We are wildy satisfied and take immense pride in eating less and moving more. Magazines are chock full of articles telling you how to get your beach bod in 8 weeks – eat this and move like that and boom, six pack abs by May.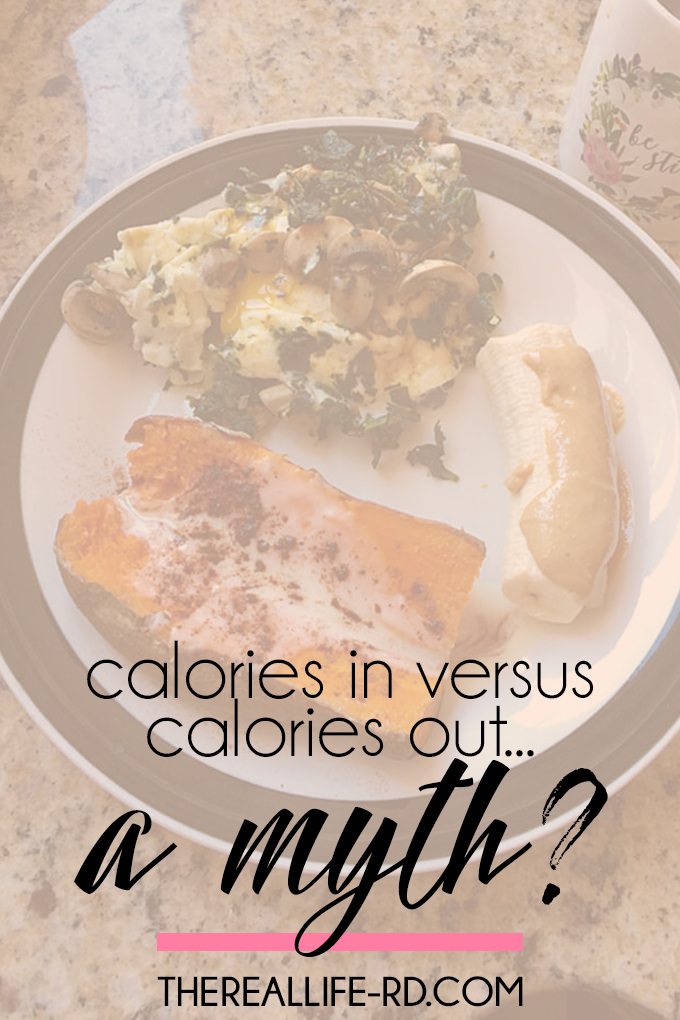 And although I love the classes and steam room and warm towels at the gym I go to in NYC, their marketing is intense. I can totally see how walking into gyms can turn someone into a calorie counting maniac whose on a hamster wheel of beauty perfection.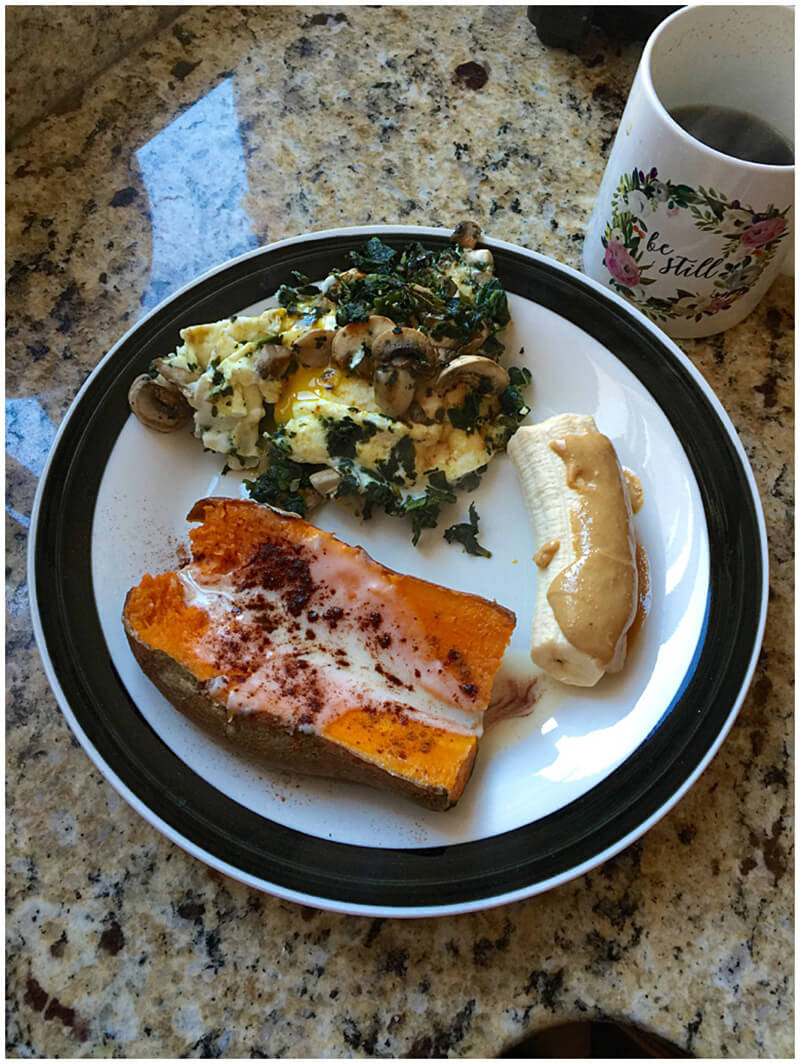 breakfast // 2 eggs scrambled with tomatoes + mushrooms, banana with cashew butter, sweet potato with cinnamon and coconut butter
But the truth is, it's not calories in versus calories out. Just working out more and eating less isn't this direct route to losing weight – and it's certainly not this linear way to maintaining your healthy set point. If it were a simple equation, the weight loss industry wouldn't be worth millions. But it's so not. Most importantly, it's not about the food….really ever. Never have I sat down and chatted with a woman to find out that it's really just about what's she's putting in her mouth. Food is so intricately woven into our emotions, our spirituality, our social lives, and our overal mental health. The posture of our hearts so directly dictates how we view food and our bodies. So really, it's never about the food.
And health isn't about the food either. When I work with clients to restore their menstrual cycle naturally, or to heal metabolism so they can find their healthy set point, or help release them from calorie counting so they can eat more and eat freely without worrying about their body changing — my first questions aren't about what's going into their mouths.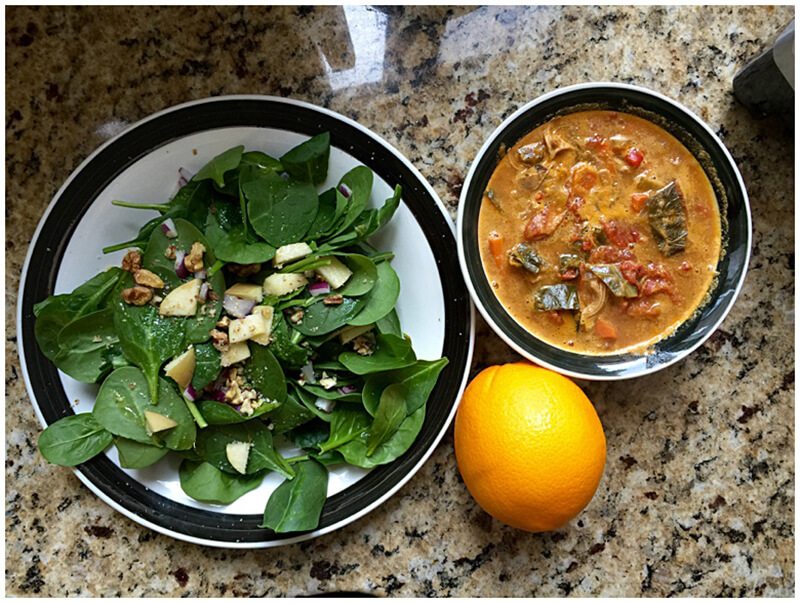 post cycle class lunch // spinach with walnuts + apples + red onion + orange vinaigrette, an orange, creamy 10 spice veggie soup, and dark chocolate dipped in coconut butter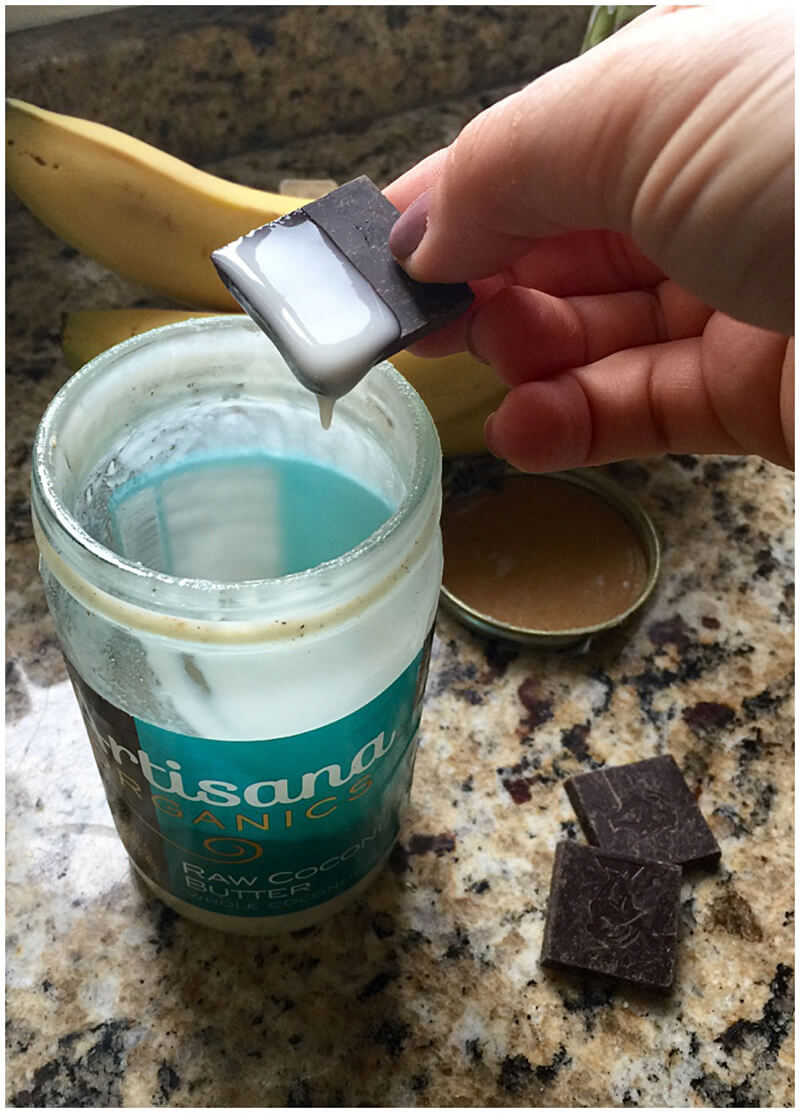 It's about their thoughts about food and how they view food.
It's about how they're sleeping.
And then about the other stressors in their life – like work, or school, or their marriage, or their parent that's dying of cancer.
And then it's about their exercise routine.
And then it's about the food on their plate.
Talking to women about eating more and educating on how the body works and therefore how much energy their body actually needs to function and the energy it needs to support exercise fills me up – because to see the lightbulbs turn on and women in awe of their body's capacity to burn energy is awesome, but it should not be this astounding or life changing.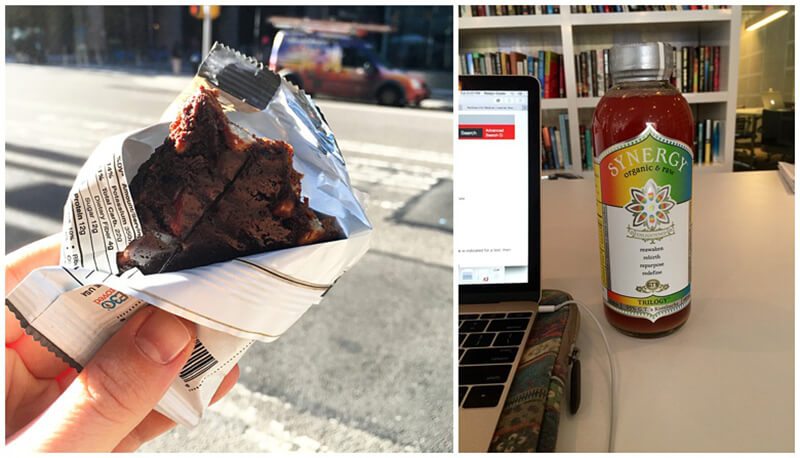 afternoon snacks // chocolate sea salt Rx bar on my walk to the library, kombucha while studying, some almonds on my way back home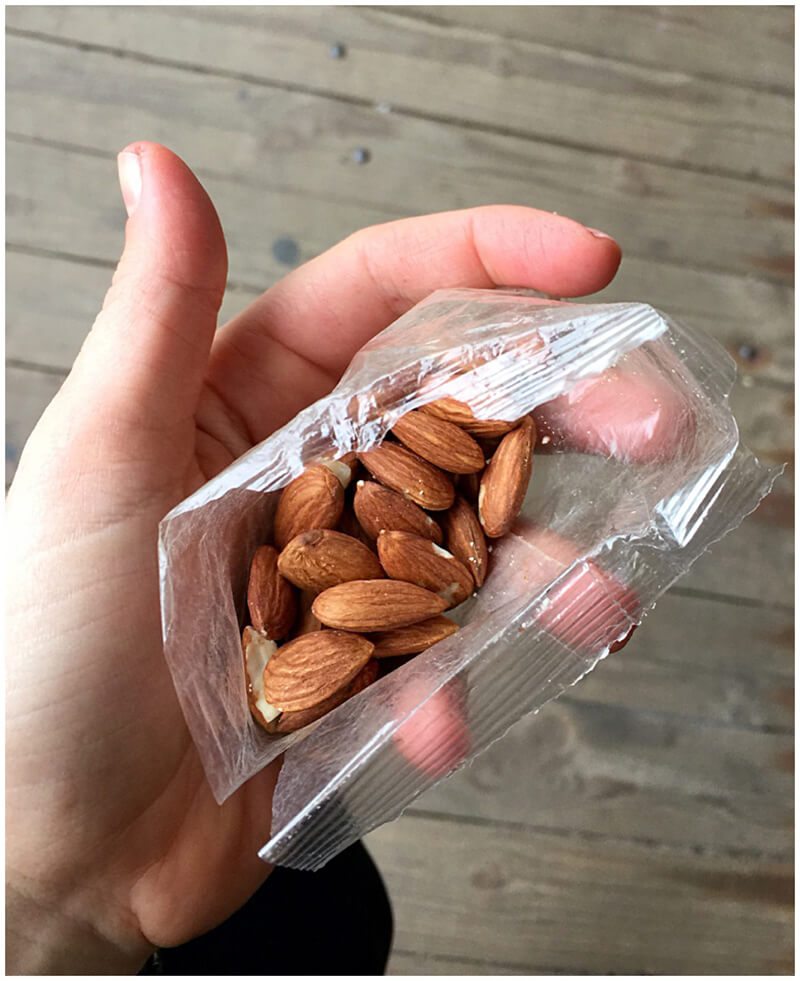 But our culture has made it this way. Our culture has shoved 1,200 calorie diets down our throats and made us believe the more you sweat and the more calories you burn, the fitter you'll be.
And that's exactly how we've wound up here. With so many women struggling to menstruate naturally, yet the only answer they've gotten is to take birth control. Or the woman who keeps eating less, but the scale isn't budging, heck it might even be going up – yet she's told to eat less. To cut back on calories or watch her fats and stop eating real peanut butter. Or the woman who finds herself uncontrollably binging on carb rich foods at night and wondering why she can't just stop – maybe nobody told her that her body was just freaking hungry and she needed to eat more during the day. Maybe her binging isn't just a psychological issue.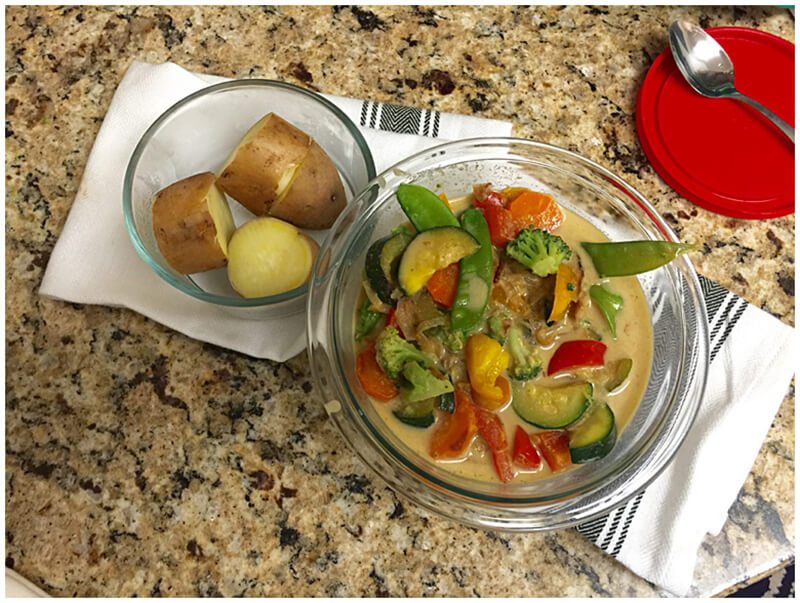 dinner // green veggie curry with a potato + butter taken to eat at my nursing job
But there is freedom from it all – because our bodies were designed to utilize energy, and that includes carbs and fats and foods full of nutrients that nourish us like spinach and chia seeds and foods that also bring us pleasure and satisfaction in addition to nourishment like chocolate and wine and cupcakes.
Seeing women learn to take care of their bodies well and to enjoy food for how it nourishes and also because it tastes good excites me more than anything. It breaks my heart to see women enslaved to food and exericse regimines in fear of gaining weight or to see women in World War III because they're trying to get healthy and lose weight. It shouldn't be like this. Our bodies aren't our own worst enemy.
We should be getting hunger cues, we should be menstruating naturally, we shouldn't have constant carb and sugar cravings, and our weight shouldn't be a ongoing battle.
There's freedom in eating enough, in eating carbs, and in eating fats. Less is not more. And there is freedom in moving in a way that is feels good to you. More is not more.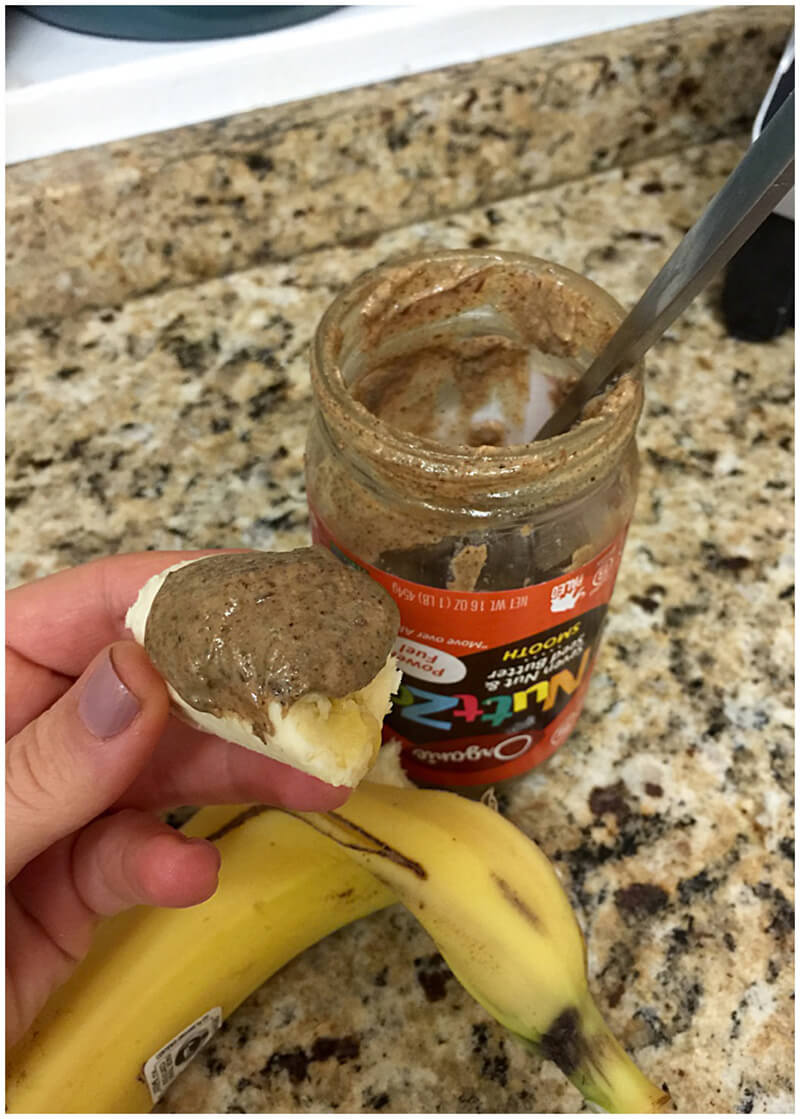 night snacks // banana + nutzo plus a handful of dried figs when I got home before I crashed into bed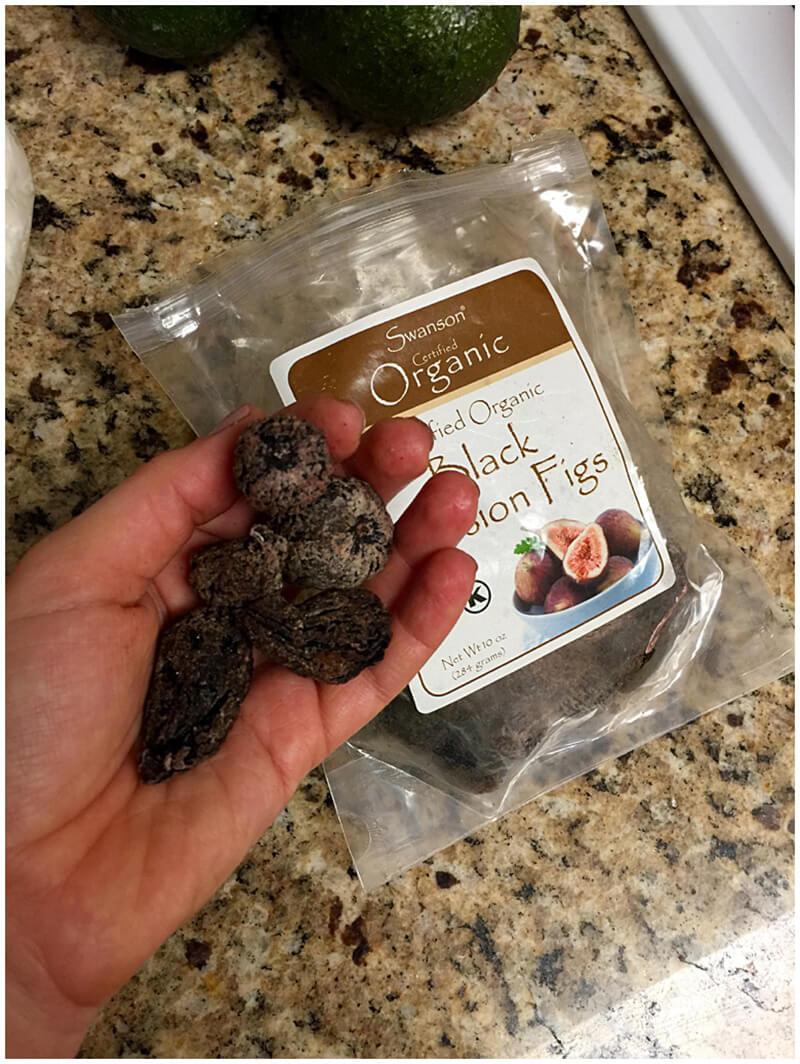 Our bodies are meant to be nourished.
And to thrive,
And to be well.
You don't have to exercise everyday, eat healthy all the time, and deprive yourself of delicious food and spontaneity to be healthy. Let's throw up the white flag and walk away from the fight.