Hi hi hiiiii! I meant to type this post up for Monday, but then I had a complete non-school related emotional breakdown on Sunday (you know the ones where you're dry heaving with never ending tears…yeah, that.) and then I took finals Wednesday so the blog went off the radar. BUT I'm done with finals, I went to counseling on Tuesday and now it's FRIDAY. Helloooooo weekend. You're awesome.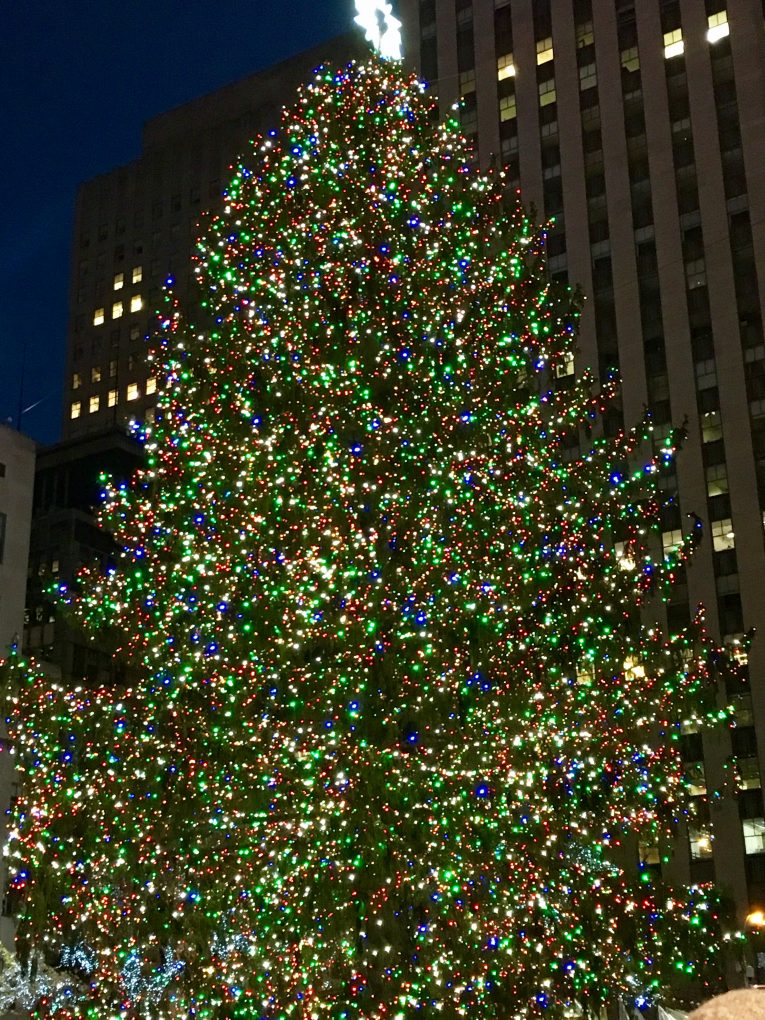 So let's back up to last week and weekend when my momma was here and we did all kinds of pretty NYC Christmas things. My momma has been here several times now since she comes 2-3 times a year and I've lived here for almost three years. So she gets it and can navigate most things are her own. I know, boss lady.
She flew in Thursday and since we were both starving and I needed a few groceries we bopped over to Whole Foods for lunch. I was freezing that day so tomato soup + bread sounded good. I bought this whole wheat loaf from the bakery and went through the whole thing in 5 days. You guys…it was so chewy and fresh. I'll be buying way more. I ate the soup with random green beans, some bbq chicken and other stuff I forget now.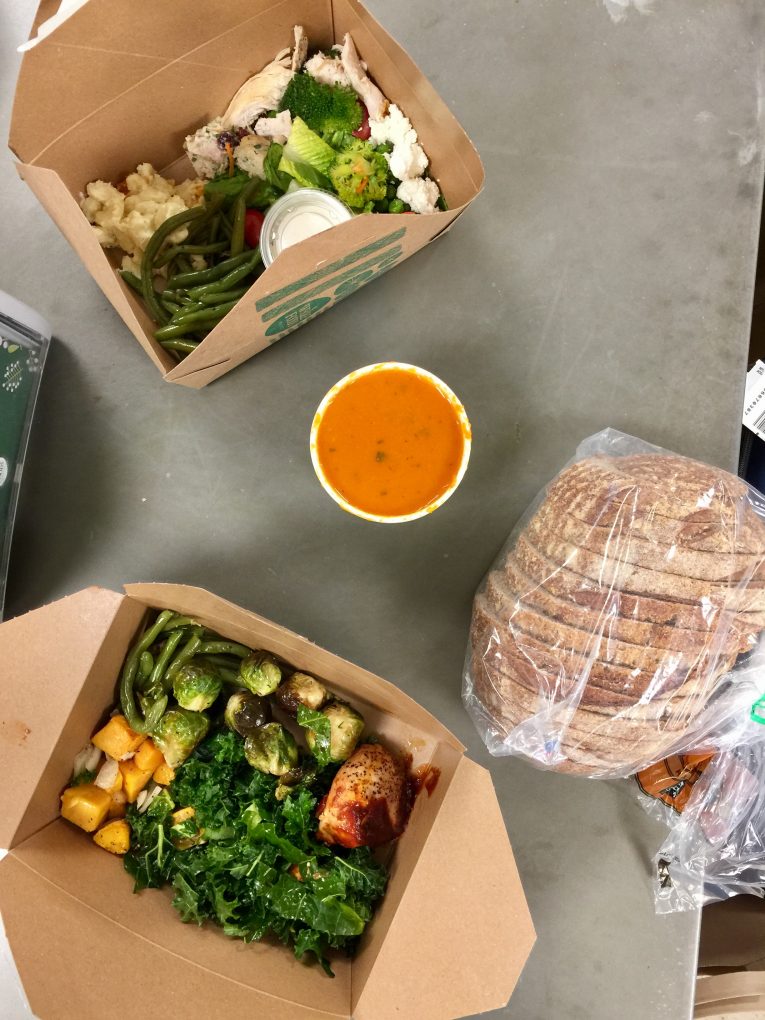 We then went downtown to Brookfield Place (down by the Freedom Tower) to watch a Christmas concert where I spotted Bethany Frankel with her daughter. I never see celebs, but when I do it's like…weird. Because they're just real humans but you only see them on TV. Then we met Nick on the Upper West Side for dinner at Bustan. We were actually in burger moods, but the wait was way too long so Mediterranean it was. But this place was super good for a random pick. We ordered like 8 or 9 small plates to pass around and split + red wine for me and Nick and white for my momma. My favorite was the tempura shrimp with some sort of creamy dipping sauce.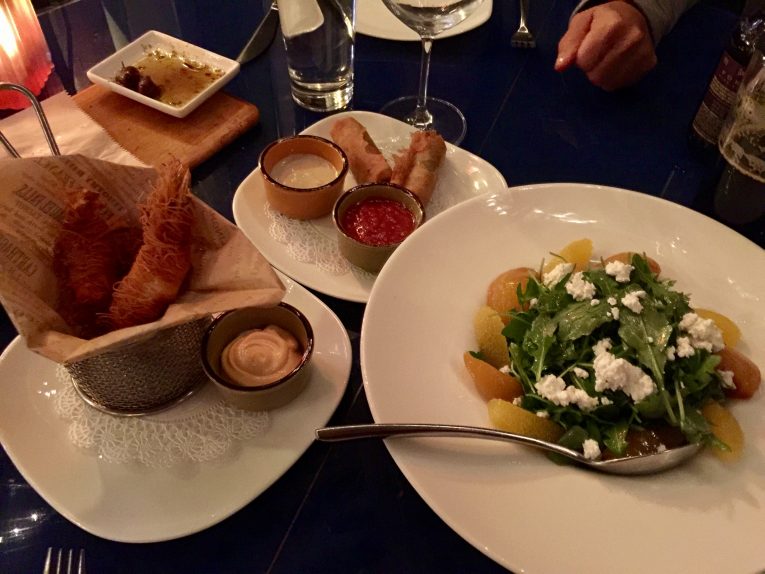 Then I had an intense craving for Peacefood carrot cake, so we stopped in for cake and their mint chocolate sandwich cookie and ate them while watching Gilmore Girls. I made it through 1/3 of each before tapping out and saving the rest for the next day.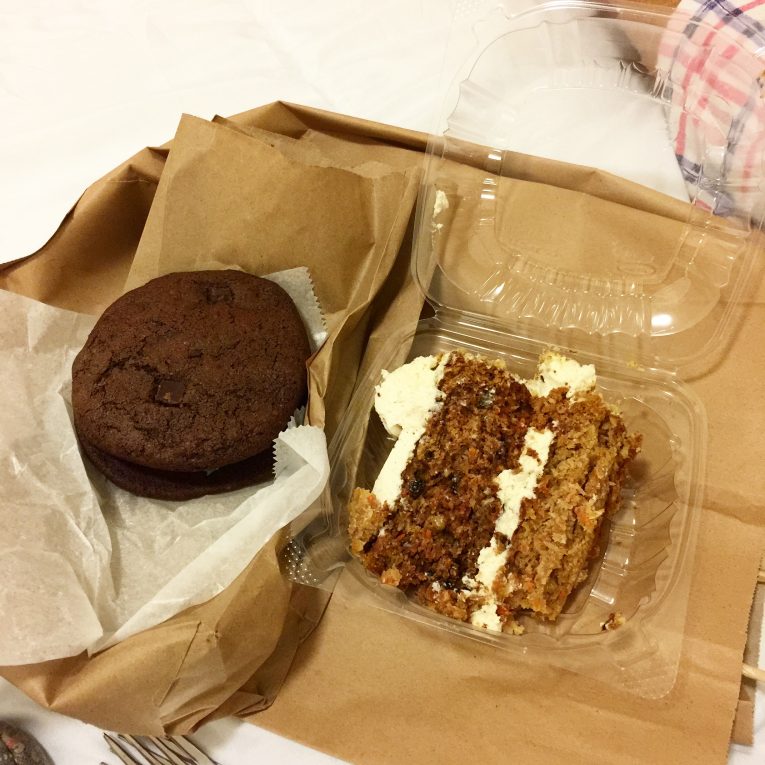 Friday morning was spent studying and going to hot yoga before we headed to Bryant Park for a late lunch at Le Pain Quotidian and the tree lighting! I went with their seasonal salad, kale + arugula + quinoa + goat cheese + pecans and roasted squash and brussels. Plus a couple pieces of bread with jam and an almond milk latte.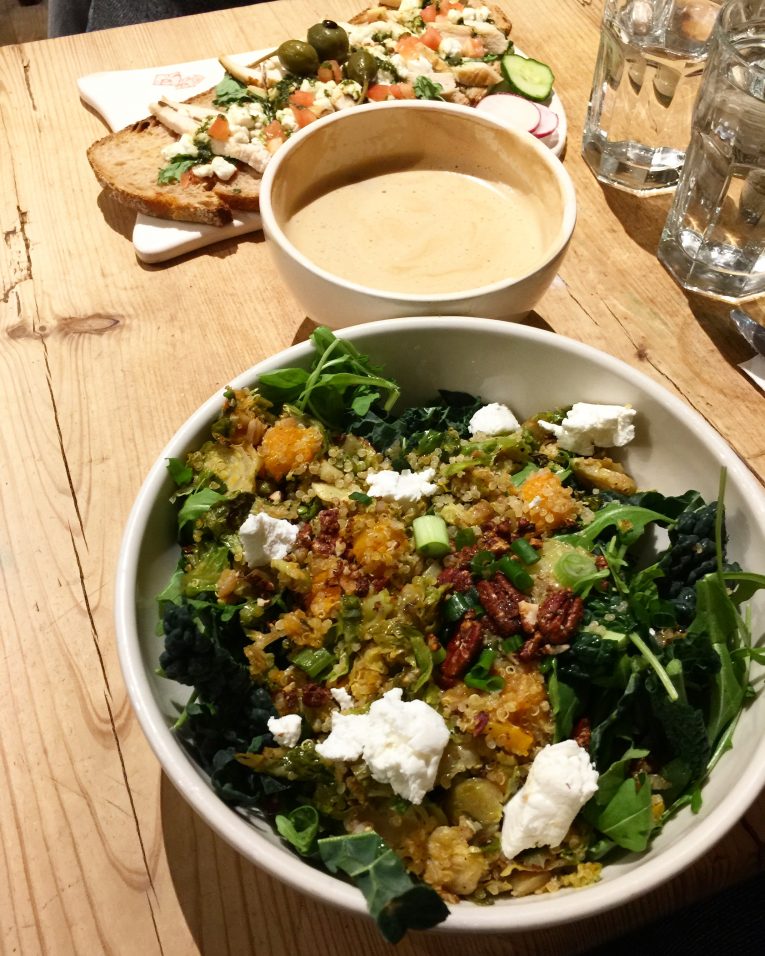 And then we got to Bryant Park an hour and a half early which got us front row seats. Perfect. The show was so well done, way better than expected and totally worth a 90 minute wait for incredible, free entertainment. They had the Olympic synchronized skating team, some other World Championship duo and two other male skaters that were so so good too! Click here for a video –> nycchristmas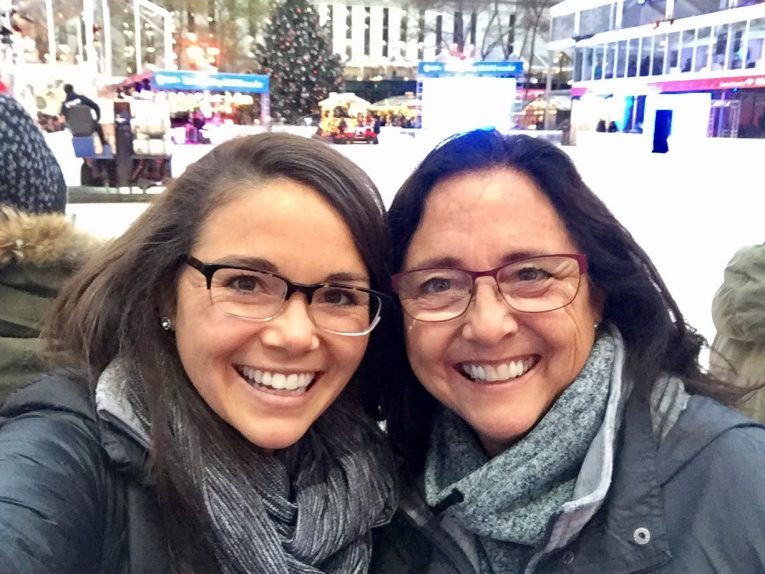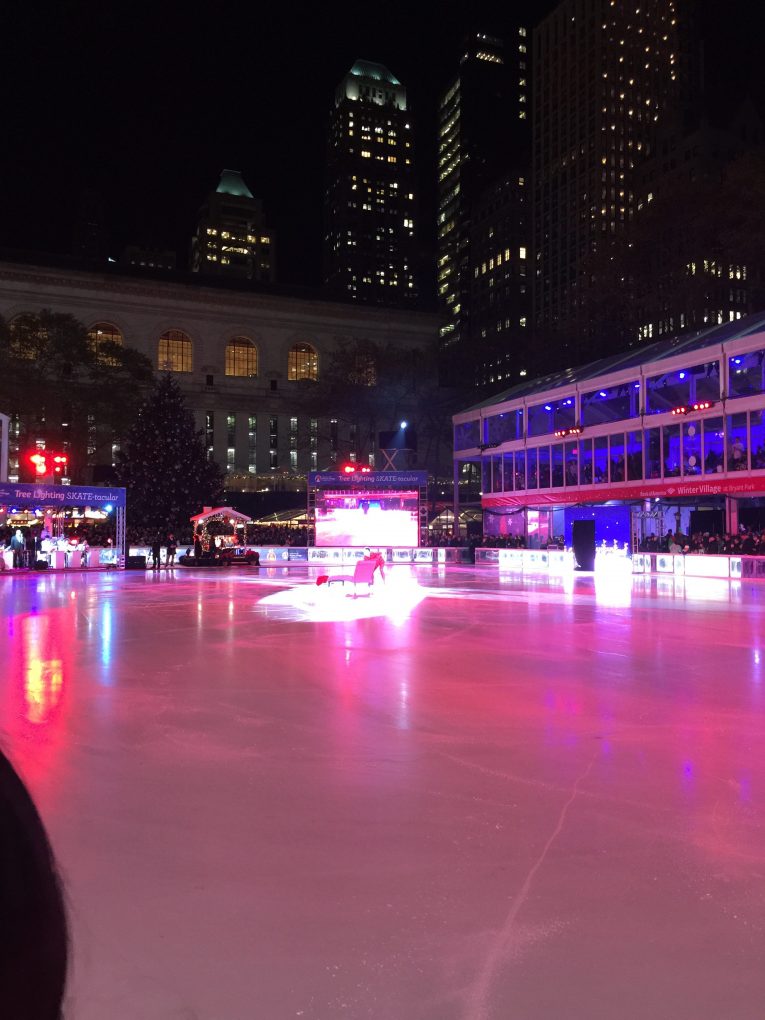 After that ended around 7, we made our way back up to my apartment by walking up 5th Avenue to see the Rockefeller tree, the Saks light show and their windows which are scenes from the Nutcracker.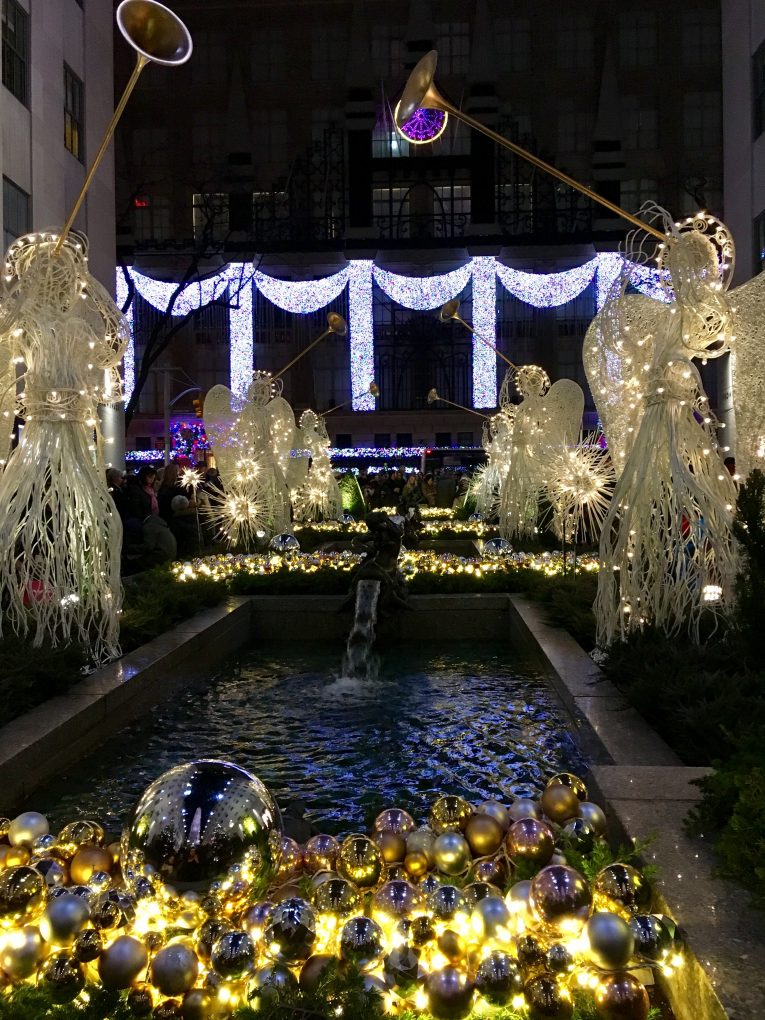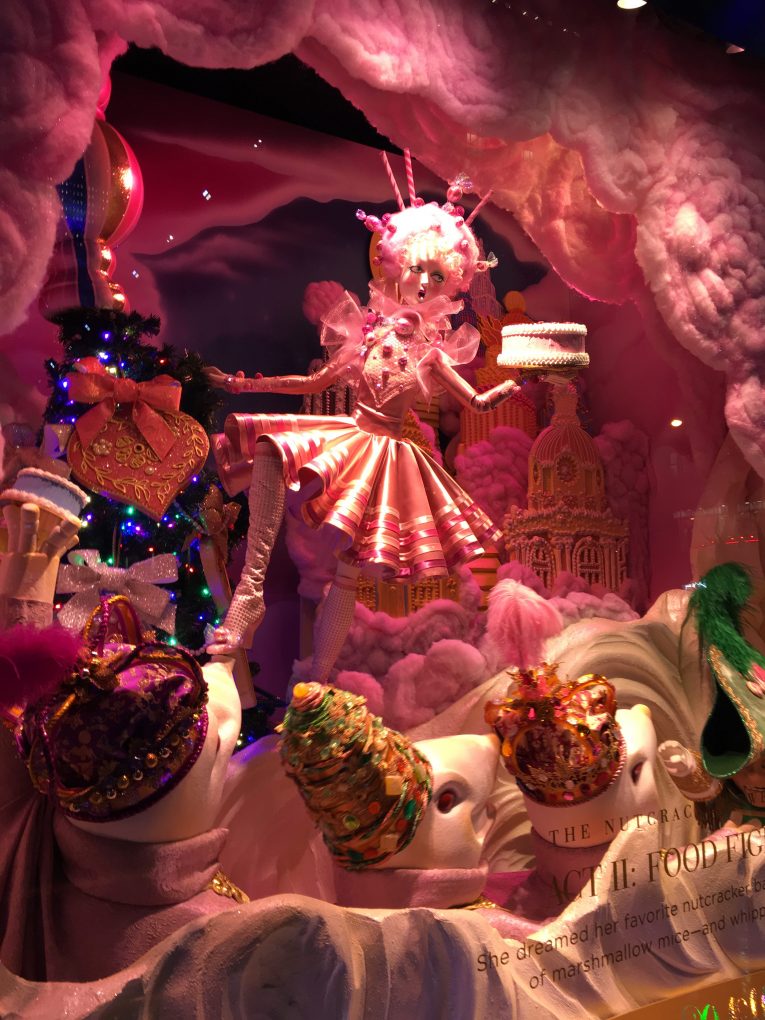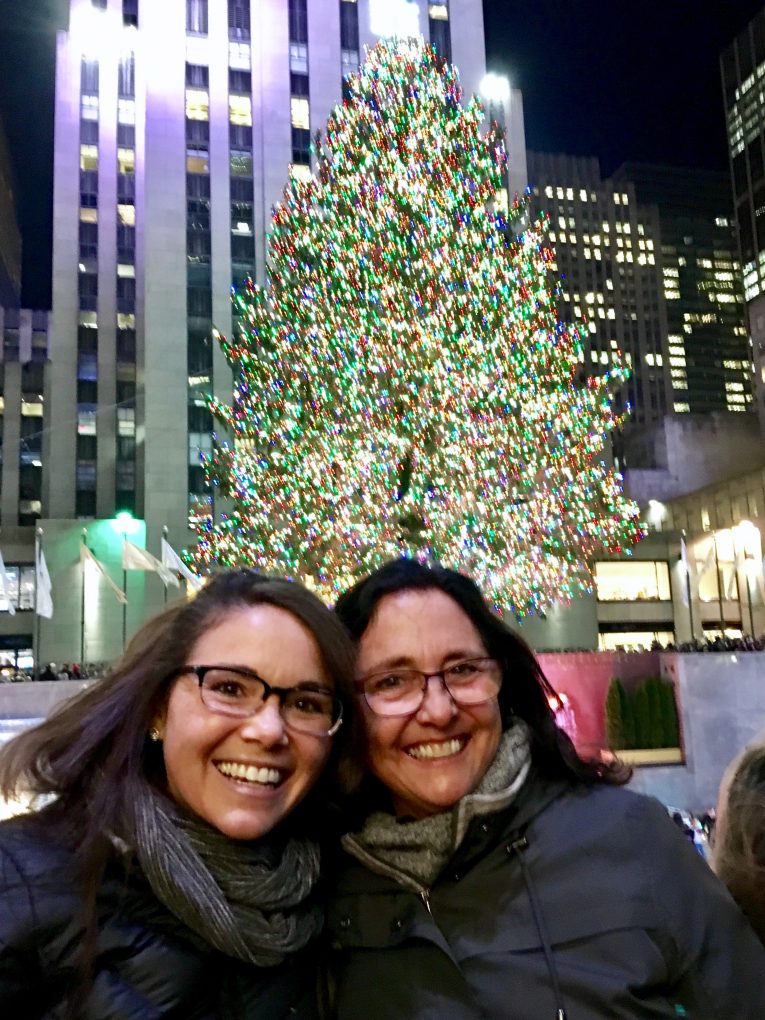 We also say the windows at Tiffany's which are so beautiful and all the other lights as you walk up 5th Avenue. By the time we made it through though I was like, I need lots of personal space. This time of year is absolutely NUTS in that area. By the time we made it back to my apartment we were zonked so we picked up Amy's frozen mac and cheese, a bottle of red wine and watched a couple episodes of Gilmore Girls.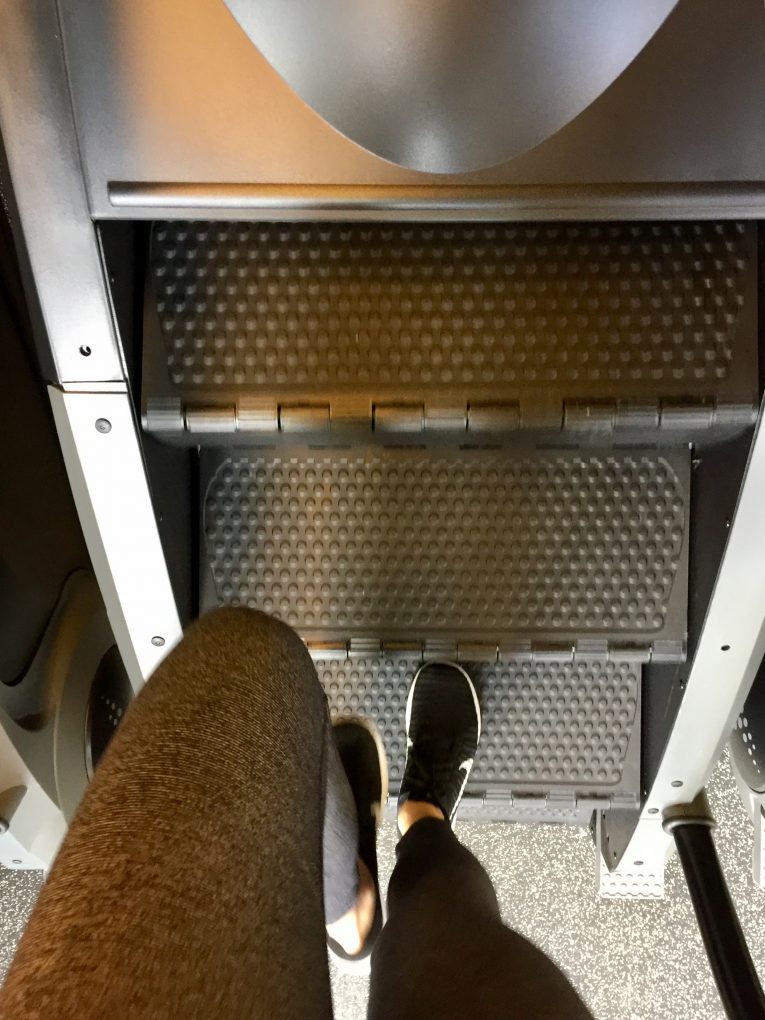 Saturday again started with early studying for finals, I went to the gym for a quick trip on the stair master and then we headed downtown for lunch in Flatiron at By Chloe. If you're in the city and you want awesome vegan lunch, GO HERE. Salads are ginormous, full of satiating and tasty things and the SP fries with spicy aioli are so dreamy. I went with the gf cookie for dessert and was disappointed. Not gooey or chewy and I regretted not going with the cupcake. But everything else was awesome! We split this lunch…aka I ate 75% and my momma was still a little full from breakfast so she helped me finish it off.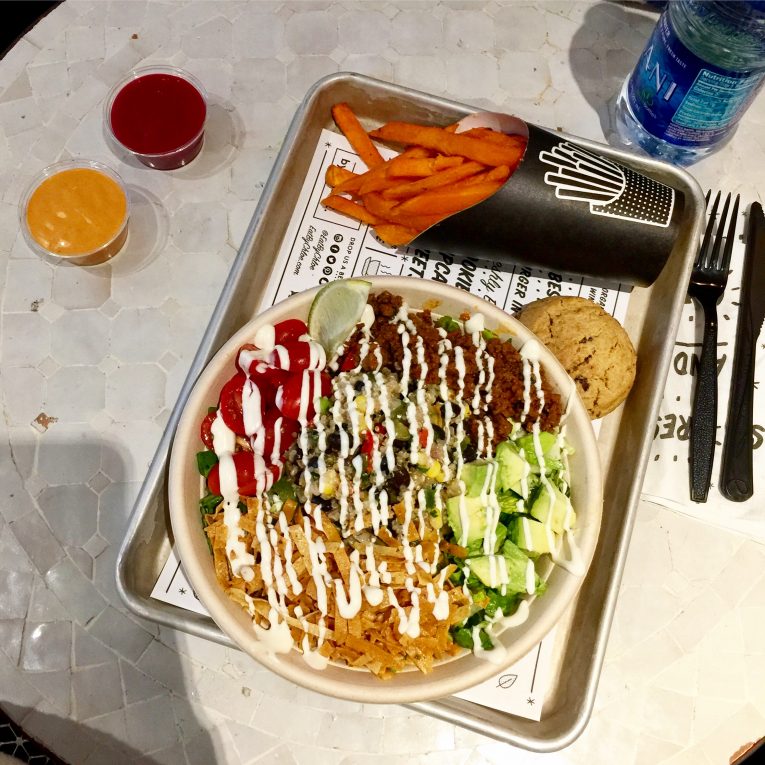 Then we headed to Herald Square since my mom wanted to see Macy's and all the stuff up there. But when we got there, it was like herds of cattle and we lasted 20 minutes before being like…this is crazy. I need wine.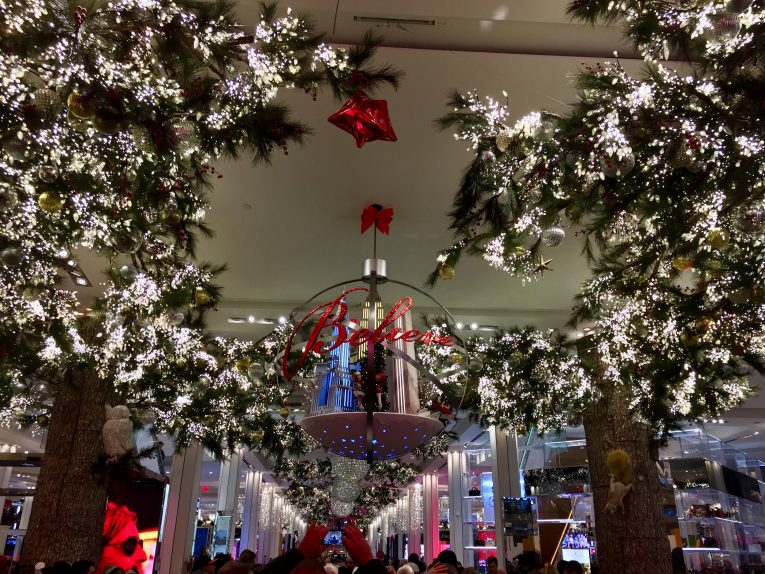 We stopped into the Plaza for coffees and Santa and then headed up to Harlem to meet my friend Jena for dinner.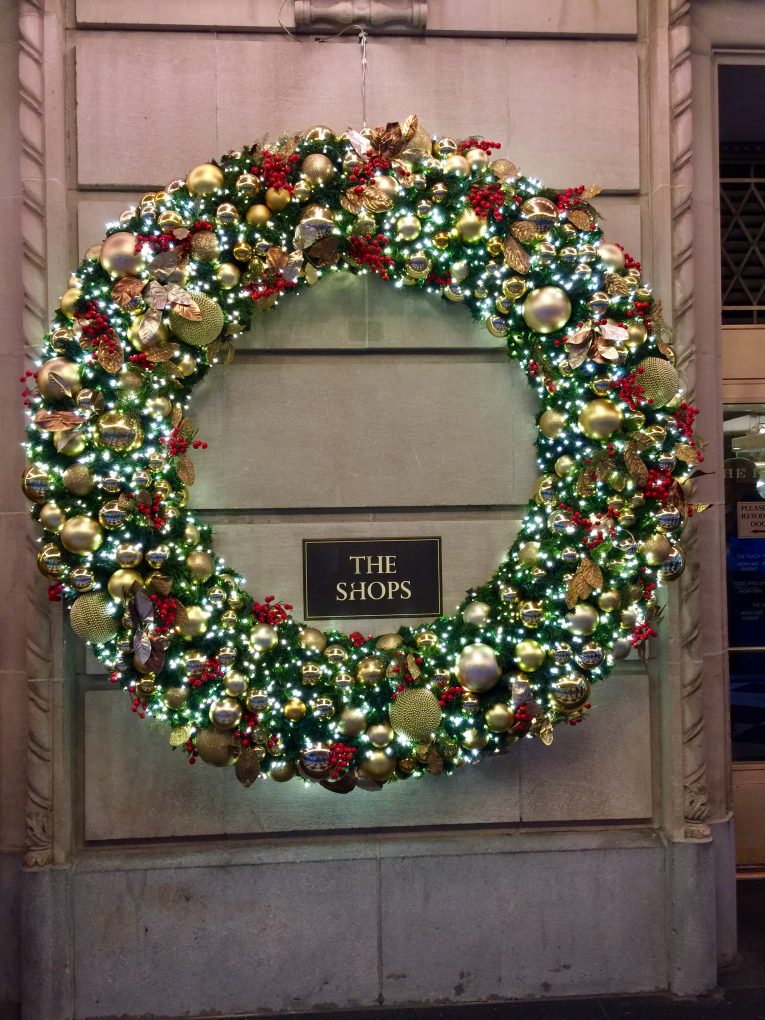 Nick had been at a charity event that afternoon so he joined us a little later for dinner. I ordered a glass of Syrah and then my mom and I planned to split a basket of chicken nuggets and fries. Well, these nuggets were made with chicken thighs and neither of us were into them at all. It was like crispy outside and slimy inside. Gag. So thankfully, they were nice enough to give us rotisserie chicken instead which was nothing exciting but filled us up. And then I got another glass of wine.
The reason we were in Harlem was because we had tickets to the Apollo Theatre Holiday show. The Apollo has been on my bucket list ever since moving here (I actually lived in Harlem my first year here since it's near Columbia). I have heard amazing things about their Amateur Night and Saturday's show was the Christmas version of that. If you're wondering wtf is the Apollo, it's where young performers who are incredible perform in hopes of making it. Like Michael Jackson, Ella Fitzgerald, Billie Holiday, Jimi Hendrix, Diana Ross, Stevie Wonder, Mariah Carey, Marvin Gaye and many more. America's Got Talent is like nothing compared to the talent here.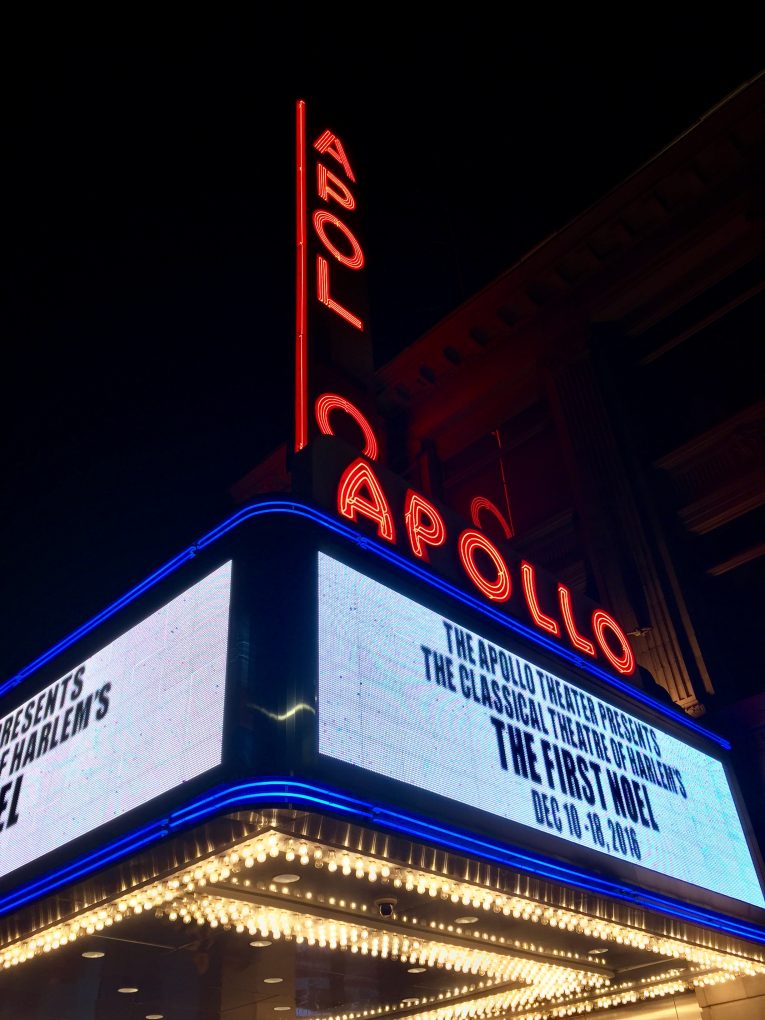 And tickets are like $25…gahhh unbelievable. A few playing that night that had people up in their chairs were Matthew Whitaker (like actually the next Stevie Wonder), Austin Paul Jr. and Alexis Morrast (watch them all here from that night) And they are all like teenagers! Anyways, it was so so sooooo good.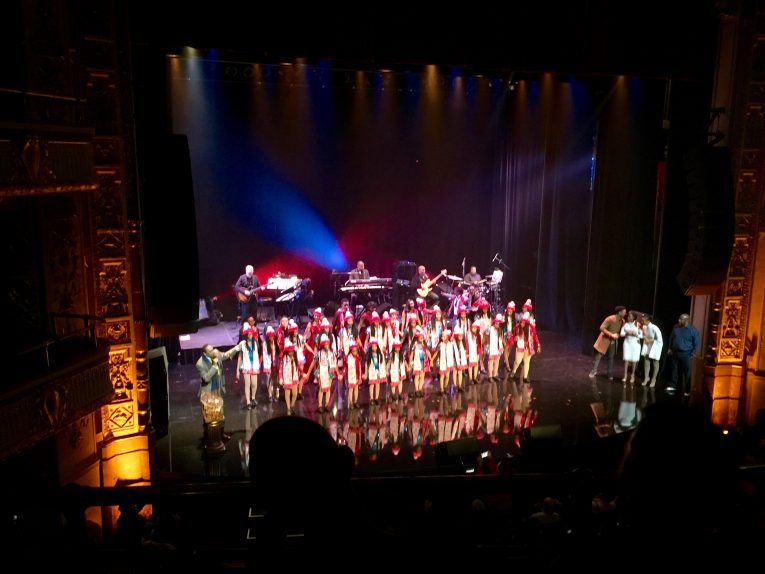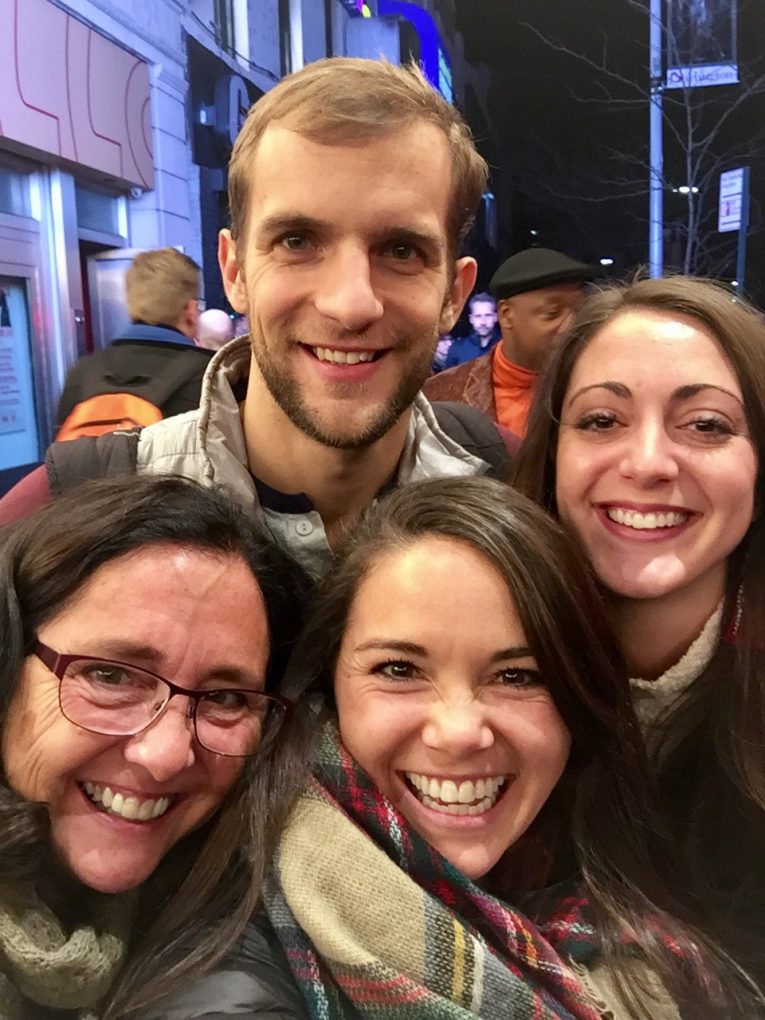 Then everyone went home and we ended the night with peppermint gelato and double chocolate cookies from Levain's Bakery –> I can't even articulate the gooey, perfectly chewy and rich goodness of these cookies. If you're ever here, go get one. It's the best $4 you'll spend in the city.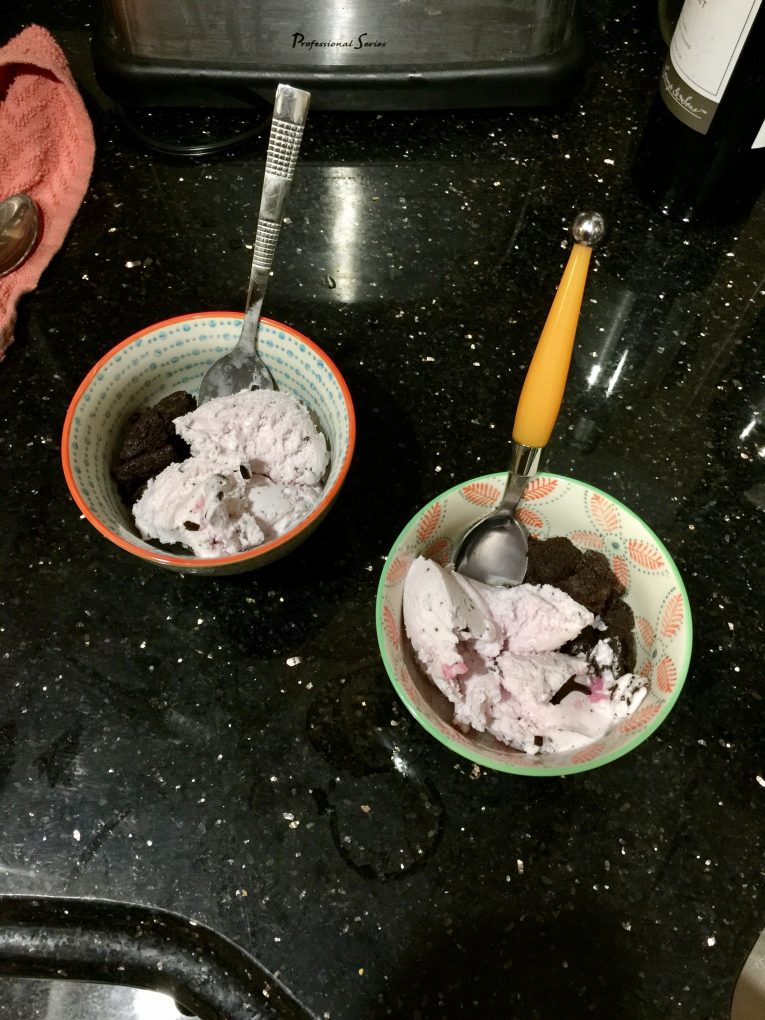 Sunday morning I was up early since Nick and I were registering at Crate and Barrel for our wedding. They open the store for only that from 9-11am which was super nice since there were zero crowds and everyone was so attentive. I left there in SoHo and headed up to meet my mom at Redeemer for church. Tim Keller was preaching that morning and when he does, I love to go hear him. We were right by Peacefood so we bopped into there for lunch. Chickpea fries (order this if you order one thing there) to start and then I went with their pumpkin quiche with a buckwheat crust and sundried tomato pesto that was so so so good.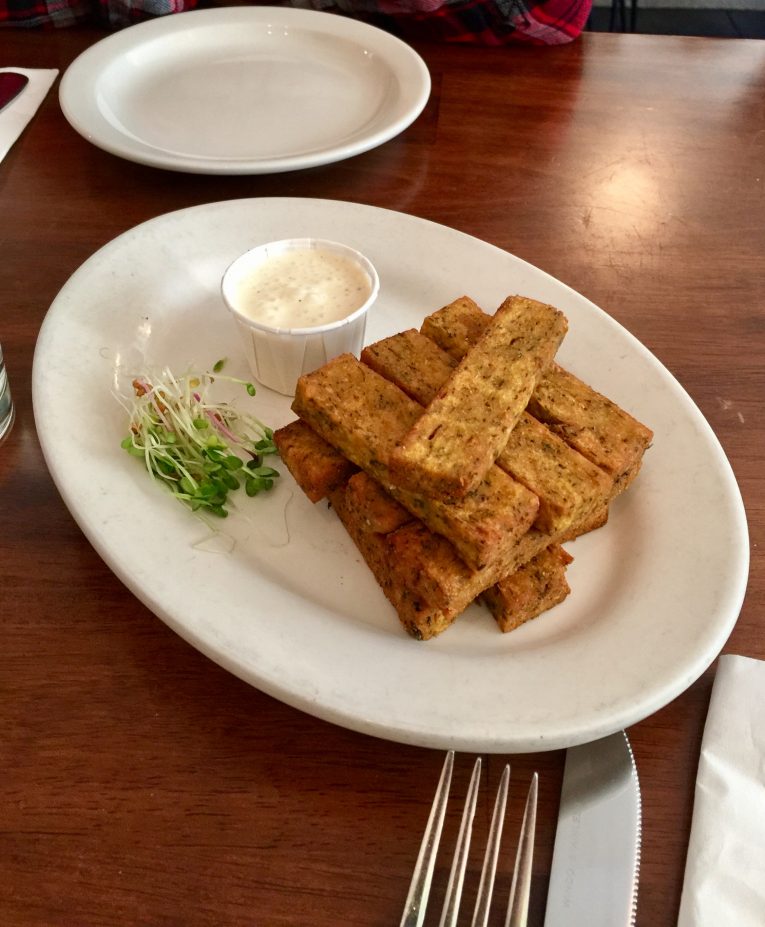 Plus their caesar salad with tempeh bacon. Both awesome. We walked out with more carrot cake and cheesecake.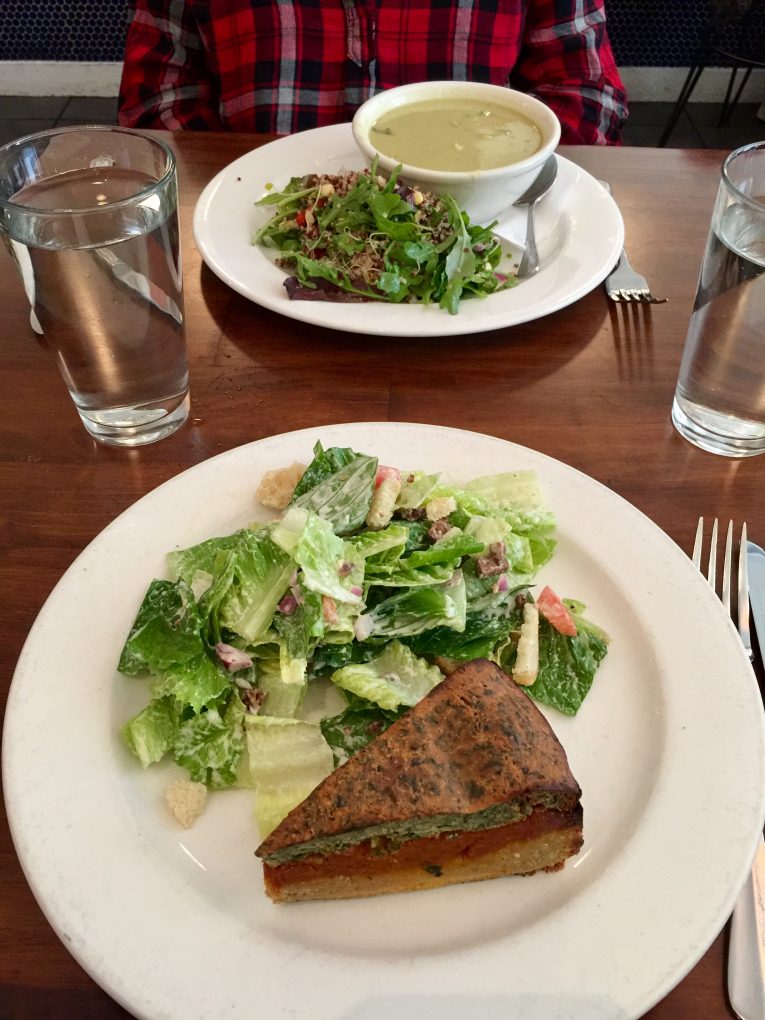 And I'll leave Sunday at that.
My momma left Monday, but thankfully it wasn't a sad goodbye since I go home for Christmas the 18th and Nick comes the 21st. Crazy it's almost Christmas. Like…WHAT?
Ok, this is the longest post ever. Have an amazing weekend. Drink awesome wine. Eat awesome food. Rest a lot in your soft clothes.
I'll be back Monday with a recap on nursing school and plans for the next few months.
Cheers!