The best thing I ate this week/weekend was sausage and arugula pesto pasta at Lupa on Thursday night. Sometimes it feels like the weekend starts on Thursday since that night is always social in the city and Fridays are a mish mash of volunteering, maybe a couple of clients and then usually an early happy hour. So it feels like a pseudo work day. I'm not mad about it.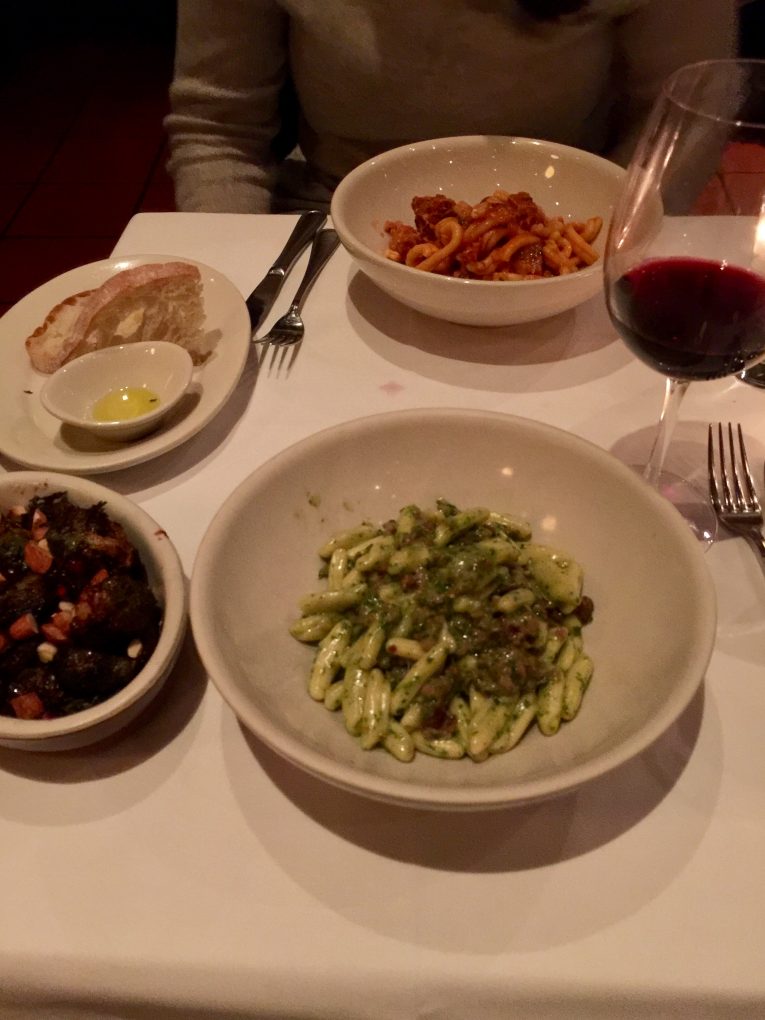 My friend Amanda and I sat at Lupa for over three hours on Thursday. It was one of those dinners that was a total experience. I sipped two glasses of Syrah throughout the night. We ordered an insanely delicious cheeseboard (that I forgot to snap a picture of) to start, two pastas for entrees and a side of brussel sprouts with almonds and pomegranate. The pasta was so good, but so rich. After the meat and cheese board I made my way through almost half before boxing up the rest to take home.
The best part though was the service. Our waiter was not only charismatic, but so attentive and knowledgable. And everything was paced perfectly. And when they pace it perfectly, I have so much respect for you because you know what you're doing. Like…let me sip this wine for a little, then bring out the apps, then let us work with that for a bit, then bring the entrees. And when your glass was getting low, he was always asking if we wanted another drink. Even if I don't want one, I love that I don't have to ask. Good service wins me over all the time because it makes dining out that much more 1) worth my dollar and 2) experiential. So Lupa…a guaranteed good time if you're in the city. I'd go back over and over.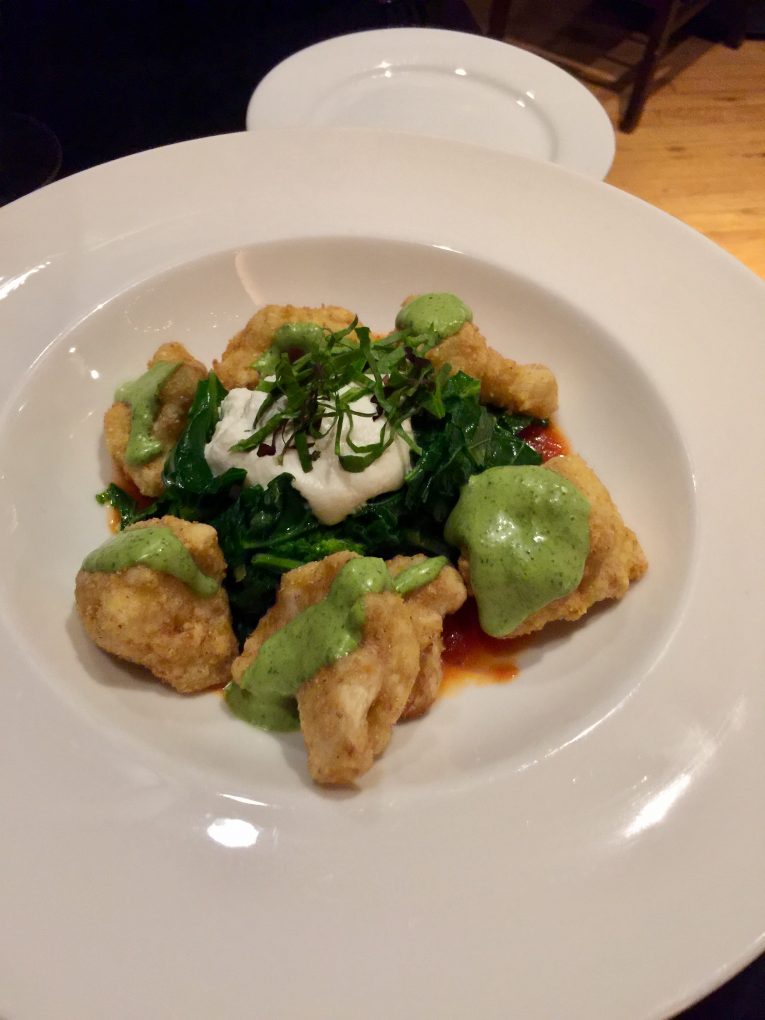 Friday night Nick took me out to Candle Cafe West. I'm not vegan, but I love vegan food because it's so creative. And I take for granted that the city has such amazing vegan restaurants that aren't just cafes. Like you can have a nice dinner out that's full of plants. Crazy awesome. We split a bottle of South African Syrah. I promise I'm not downing half a bottle of wine a night…but, when in Rome.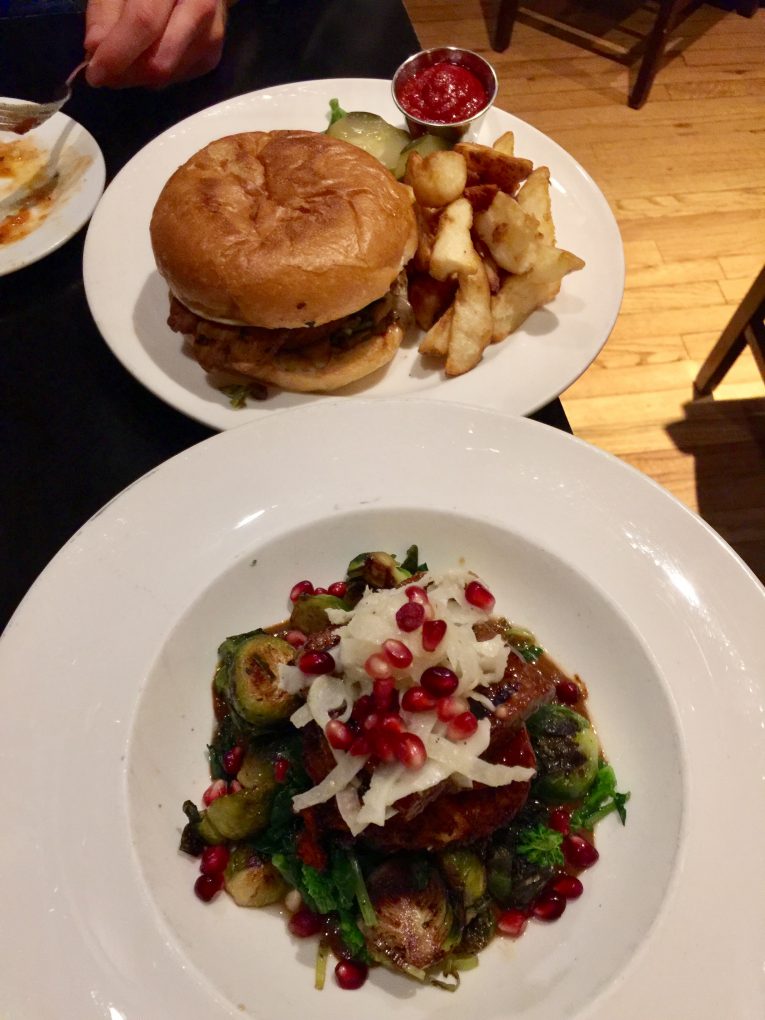 Then we started with the cornmeal crusted fried cauliflower that has a tomato sauce and jalapeño aioli. Amazing. And we split two entrees. Tempeh marinated in a sweet ginger pomegranate sauce with broccoli rabe, brussels, fennel and a chocolate mole sauce. And the "cheeseburger" with sautéed mushrooms and tempeh bacon. Both were really good, but I think the tempeh won.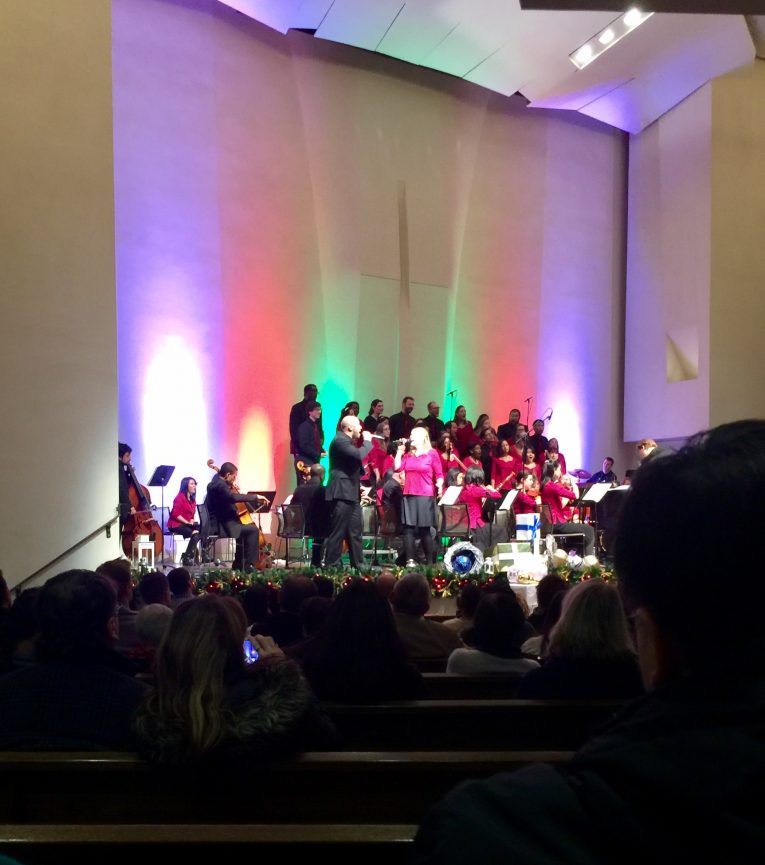 Then we went to see The Symphony Chorus's Christmas concert which was beautiful. Afterward we got decaf coffees and cake at Cafe Lalo on the Upper West Side. Late night (aka 10pm) coffee and cake is my jam. I'm completely oblivious and didn't realize this is the cafe from You've Got Mail until we left. We split oreo cake and apple streusel pie but I didn't think the pie was good at all..apples were too mushy…so Nick ate that and we split the cake.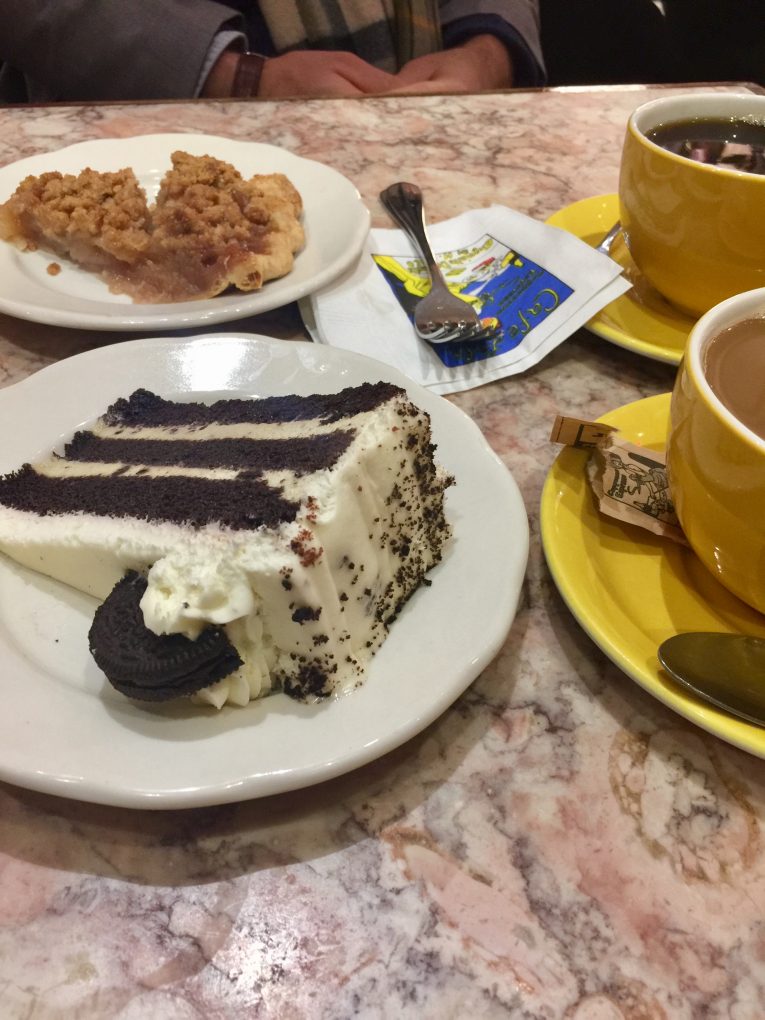 Saturday was spent at an afternoon Christmas party, dancing to 90s music at a bar at 4pm, and then ended with Mulberry and Vine takeout (that I again forgot to photograph) and watching a documentary on Nick's couch before I swung by Whole Foods for almond milk and eggs on my way home and then passed out by 11pm.
And Sunday I breakfasted in bed on a Tal's (arguably the best in nyc) everything whole wheat bagel with veggie vegan cream cheese and butter while watching hours of Gilmore Girls and simultaneously Christmas shopping.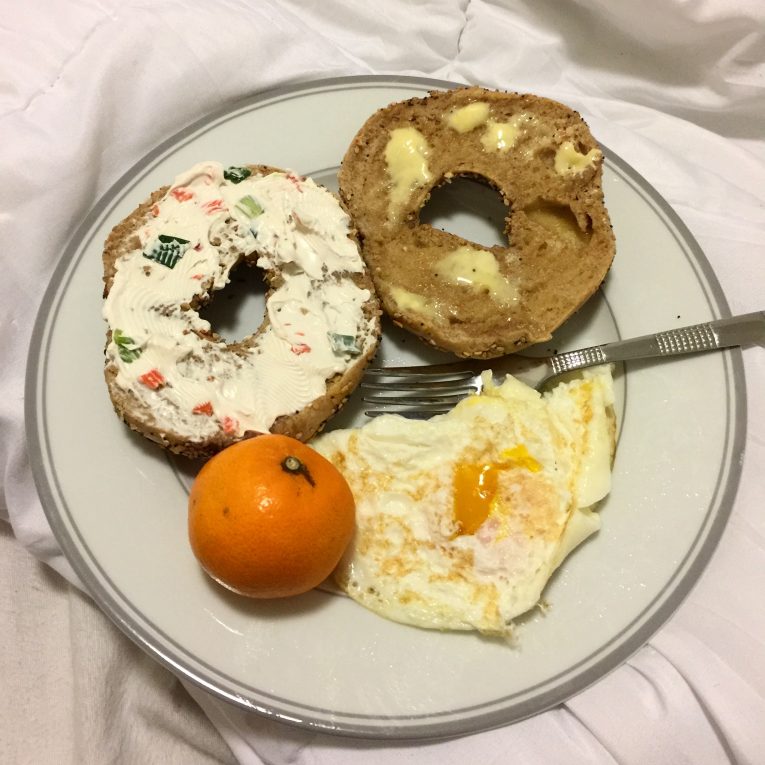 We went to church at 5pm and then grabbed dinner from Dig Inn afterward. I went with farro and greens as the base, braised beef (which I wouldn't do again..I wasn't into it) with maple sriracha brussels and carrots with a kale pumpkin pesto that was bomb. Totally into that. Plus an everything cookie that we split that was also bomb. So soft and chewy. Crazy that these bowls are like $9. I'd pay for that any day of the week.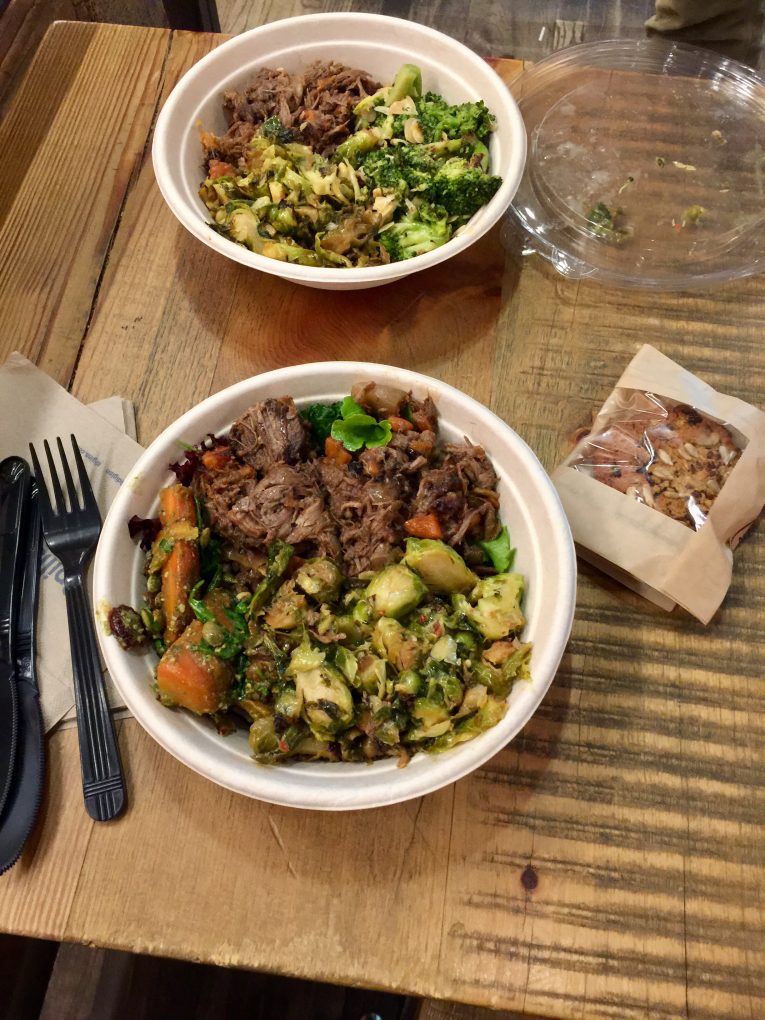 Yesterday was one of those days where I felt like I had a hollow leg despite very little activity. The body does it's own thing sometimes.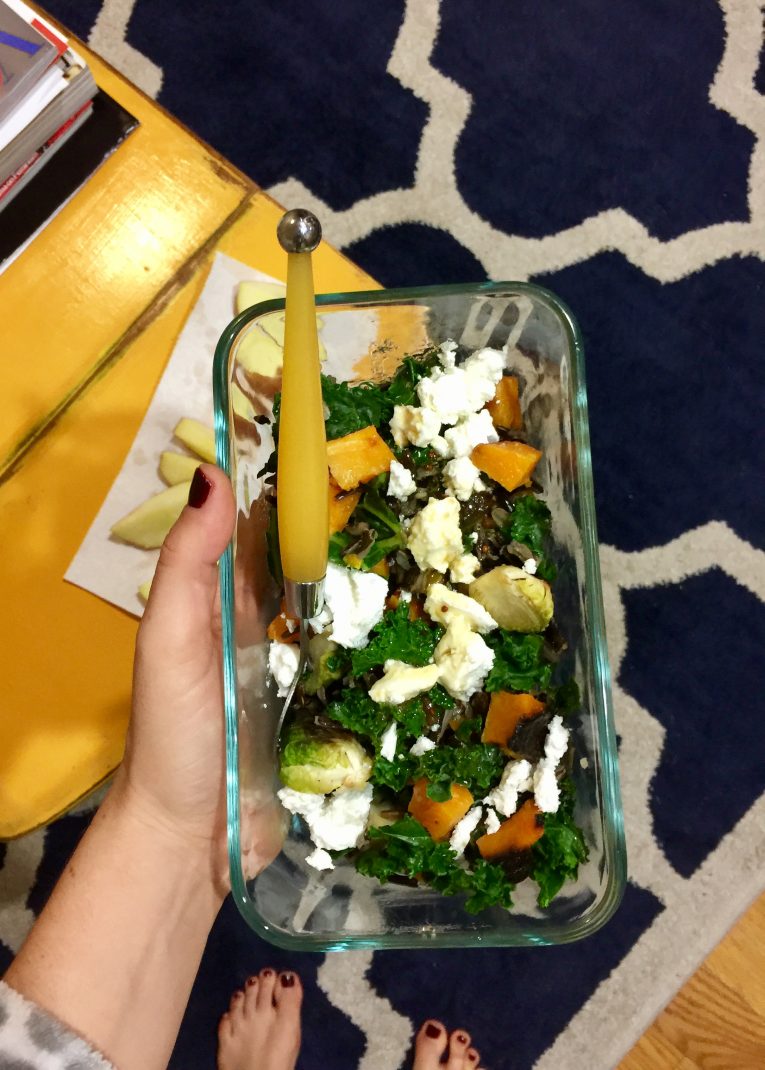 In between breakfast and dinner I ate a PB and banana sandwich, leftover wild rice salad with brussels, butternut squash, goat cheese and olive oil, an autumn glory apple (how adorable is all this packaging) that was super sweet and crisp and a 1/2 of a leftover KIND bar right before walking into church.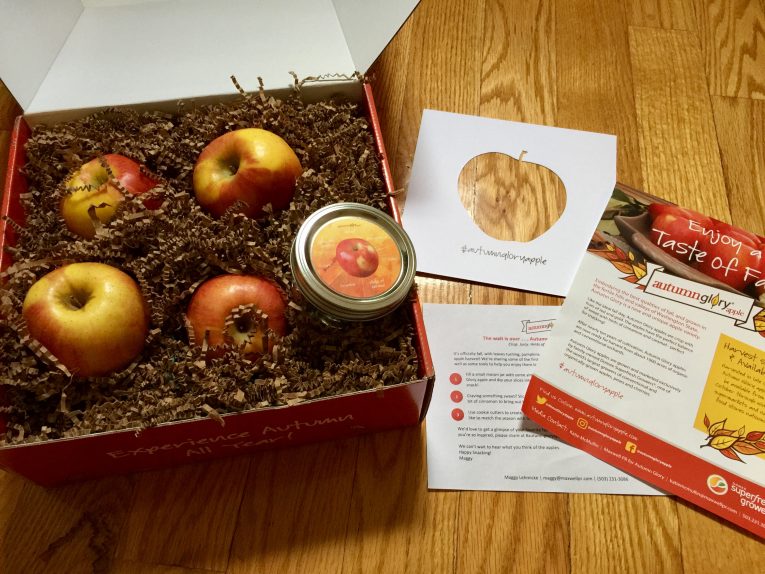 My point: just roll with it, hunger is simply that. Hunger.
Happy week!