Developing positive body image doesn't mean you go from hating to loving your body.
It typically goes like this. You stop hating your body and instead tolerate it. You move from tolerating your body to actually accepting and respecting your body. And then you can begin to like, and even love your body.
There is a whole lot of power in positive affirmations and how that can help you shift your mindset towards food and body freedom. And there's also a lot of deep change that happens when you take actionable steps towards loving your body.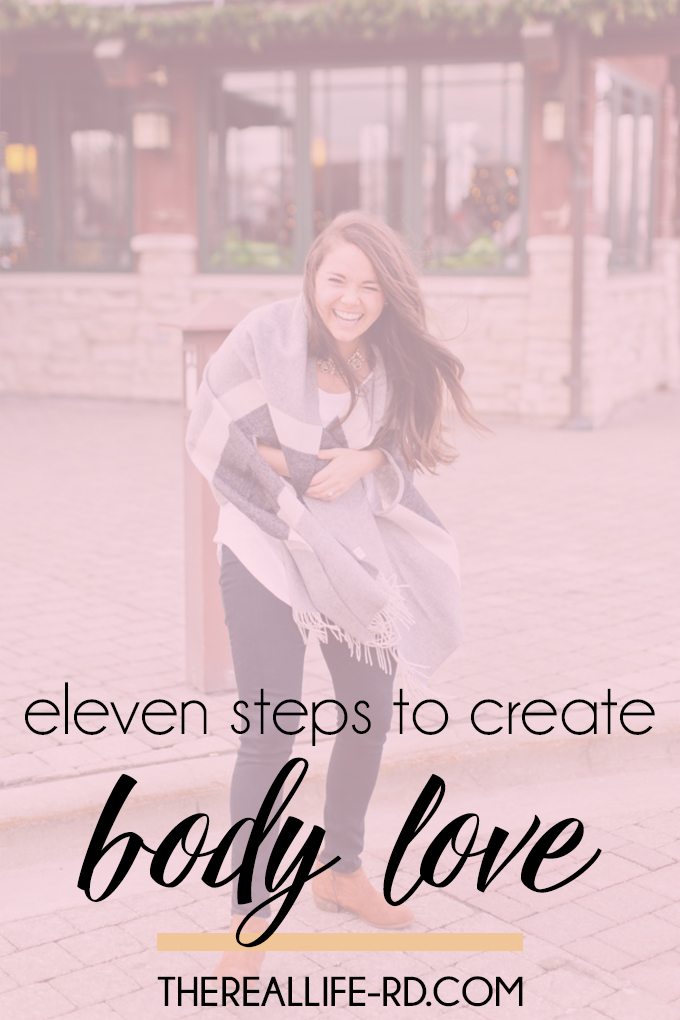 Here's a very non exhaustive list:
Stop body checking. If you need to cover up your mirrors do it. Stop standing in front of the mirror when you get in and out of the shower. Stand in the back of the workout class so you can't see yourself in the mirror. Whatever you need to do to stop body checking, do it.
Create a list of people you admire and respect and think about why you feel the way you do about them. Is it because of their weight?
Continuing from the above task, ask yourself why you would want people to respect and admire you and write that down. If it is in fact because of your weight or pant size, ask yourself why. Is the motive there healthy?
Walk with your head up and shoulders back. Even if you don't feel confident in your body right now, your posture can say something different while you work on your mindset.
Do activities that you enjoy and that make your body feel good. Stop going to that workout class if you're just going in hopes of better abs or to burn calories. That is life sucking.
Start every single morning with three gratitudes. Starting your day in a place of abundance instead of lack can make a profound difference on the posture of your heart.
Every morning when you wake up, thank your body. Every night when you go to bed, thank your body.
Make a list of all the things your body can DO (not what it looks like) and add to it daily.
If you feel crappy in your clothes, go out and buy a few things that you feel awesome in. Jeans that actually fit you well can makes loads of a difference in how you feel in your skin.
Do something kind for someone every day. It can be as simple as smiling at a stranger. Because body shaming is extremely egocentric and when you get out of your own head and focus on serving other people, you stop focusing on yourself so much. There's a lot of beauty in this world and if you don't get out of your head, you'll miss it.
Lastly, a bood I highly recommend –> Body Respect by Linda Bacon