Last Thursday I turned 28. Twenty eight.
That feels ridiculously old. Ridiculous because I know that's not old, but old not because of the number, but because life moves fast. When did I become 28? Last week apparently.
It was a very low key birthday and I was so thankful. Internally, I was hoping nobody remembered. We have celebrated so much with the wedding and the thought of more attention and celebrating was overwhelming to me. Although thank you to everyone for all the sweet birthday wishes and love.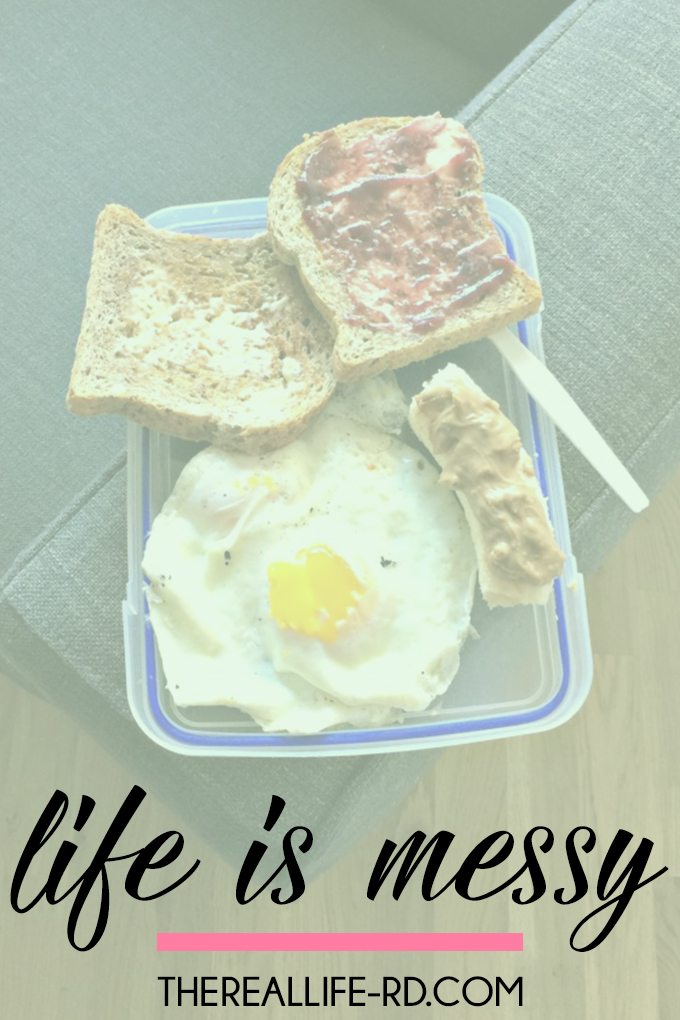 Nick predicted I'd be overwhelmed, so a month before my birthday he made reservations to celebrate with dinner at Gramercy Tavern with just the two of us. I didn't take any pictures except this one as I walked in and it was the most perfect, fully present birthday. Quiet, intimate, special and at a place we've both been really wanting to go for years. The service was unreal and the best food of the night was the wine (of course) the lobster spaghetti and the coconut meringue cake for dessert. Ohhhhh, that CAKE.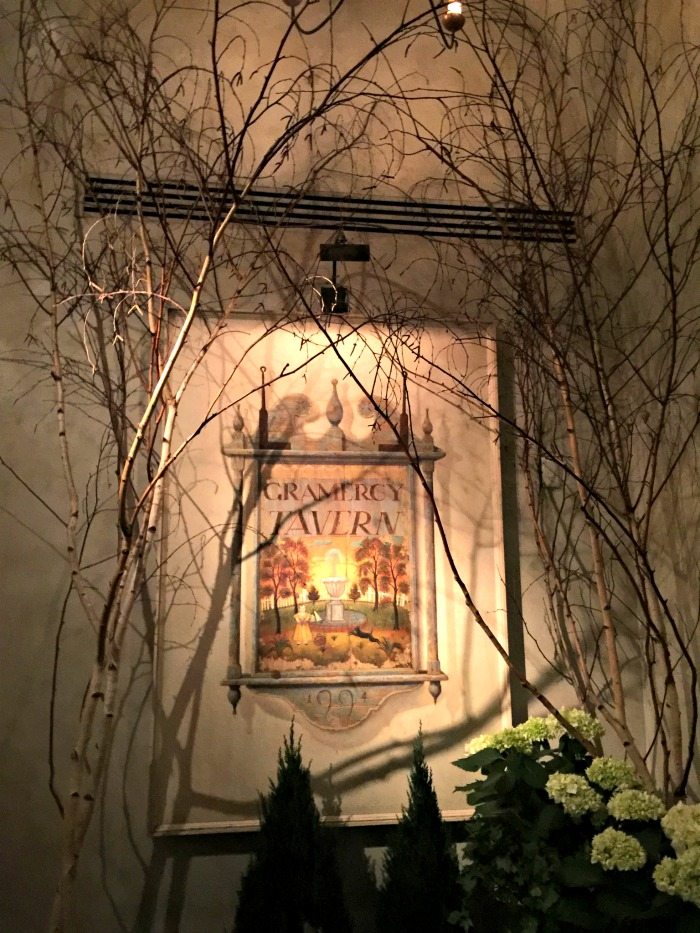 That was Thursday, I worked 10am to 11pm Friday, and then Saturday we stayed around the apartment, built a bar cart, finally moved in some furniture and then I hung out with a couple girlfriends (because we now live in the same building!) while Nick headed back to his apartment to watch the UNC game with some guys. I'm now a Tar Heel because Nick is and I love watching the games, but it didn't start till 9pm and I needed some good gf time. So we ordered Mexican and drank wine instead.
It feels so good to have furniture to sit on! You guys, Craigslist is a total gold mine in New York. We got this coffee table, couch and chair all off Craiglist and paid like 25% of what they cost from places like West Elm, Room & Board and ABC Carpet and Home — so I'm a Craigslist super fan.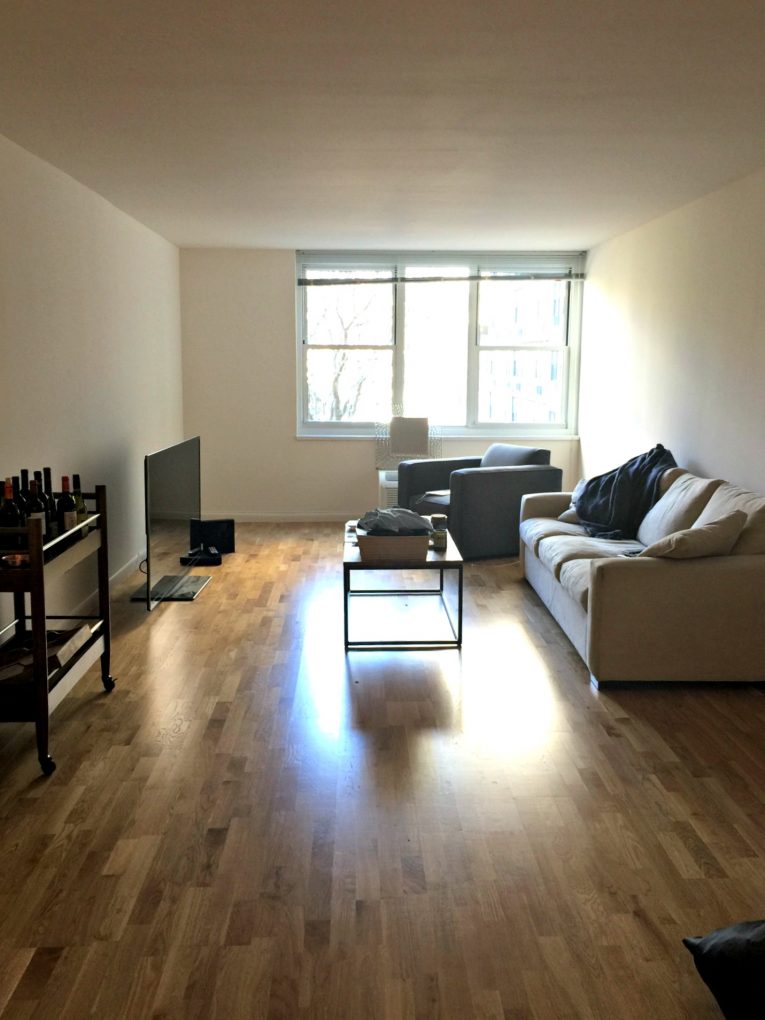 Sleeping in a king bed feels so dreamy, although I can't wait for Nick to get here too. This Restoration Hardware dresser we also nabbed off Craigslist for what feels like pennies.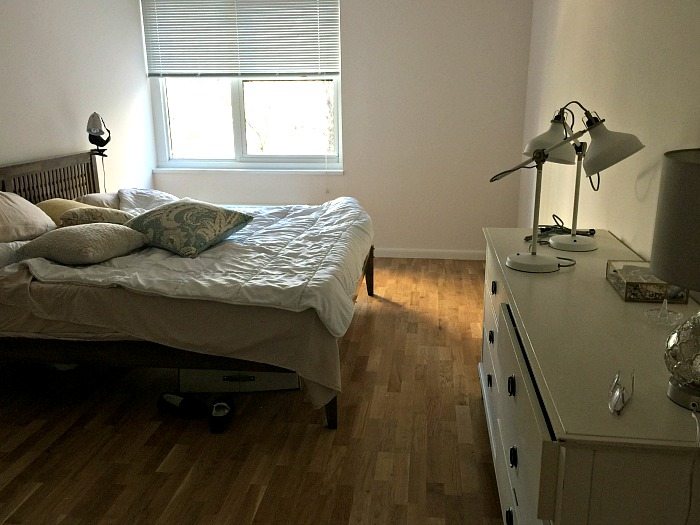 And although I'm eating off tupperware lids currently because we don't have plates, the kitchen is my favorite place. It's only spacious by New York standards, but to us it feels exciting since we both can be in the kitchen at the same time and not be walking all over each other.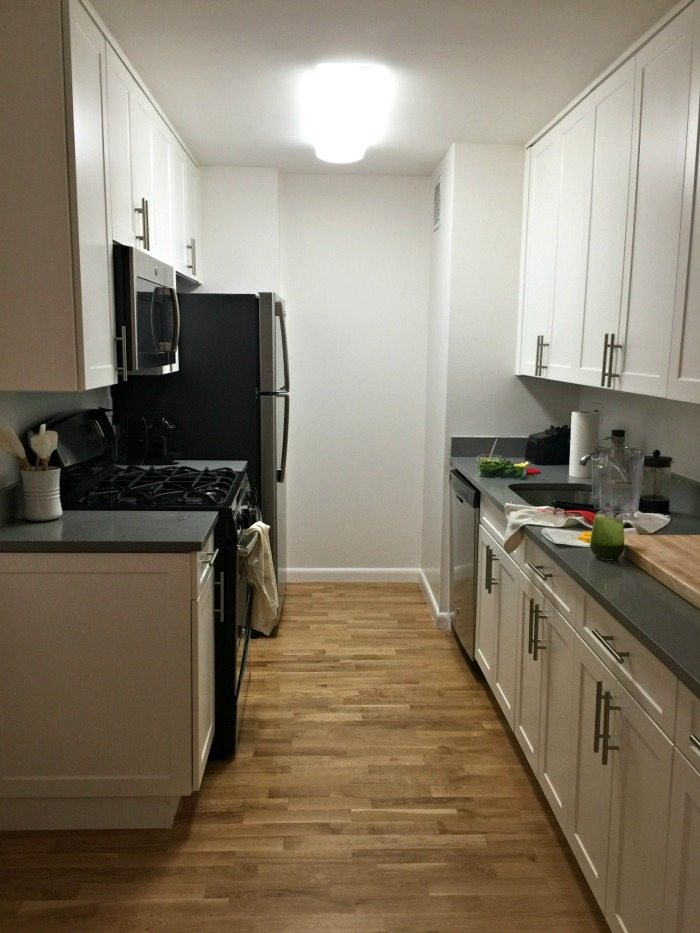 I feel like I need to paint a realistic picture because although yes, this is such a magical season of life and it feels like we're playing house at times and we're so stupid grateful, I always want people to know that life is not rainbows and butterflies. Saturday, before the bar cart building and wine and Mexican, Nick and I had a bumpy afternoon. I was in tears, Nick was frustrated, and there we were sitting on the couch for over an hour trying to solve problems and grow to understand one another better. I say all that because I never, ever, want my life or our life to not show both the lows with the highs. Life's messy and that's okay.
Twenty seven was the most roller coaster year of my life. I experienced the sharpest tragedy of death, yet the fiercest joy of engagement all within a 3 month timespan. Mingled with the best moments of of Nick and I's lives full of pure excitement and love has been moments of deep insecurity, shame, disagreement and lots of growing pains…all that on the other side is good and refining, but in the moment it's….woof.
This world is a mess of imperfection and I'm right smack in the middle, reaching for gratitude at every turn. I'm so thankful for you guys and there's so much to be freaking grateful for.
Since this whole post is a bit of a mishmash, some eats from the weekend included breakfast yesterday of 2 fried eggs, toast with butter + jam and banana + PB.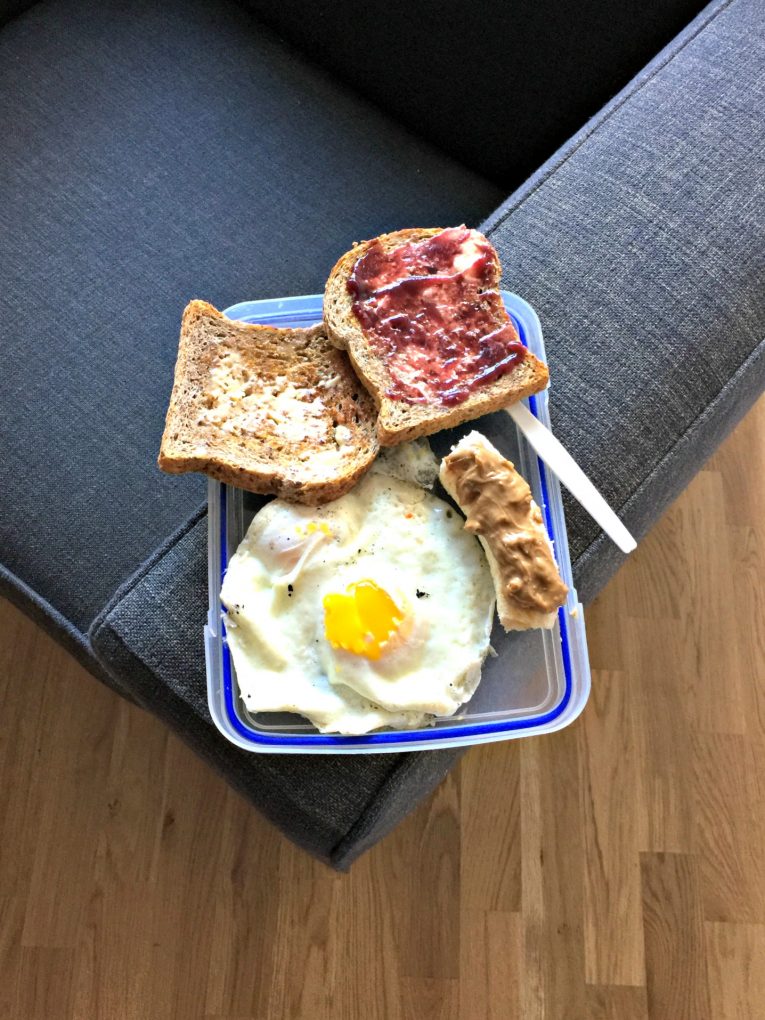 Post workout green smoothies made with almond milk, frozen banana, a scoop of peanut butter chocolate Amazing Grass, frozen spinach and ice.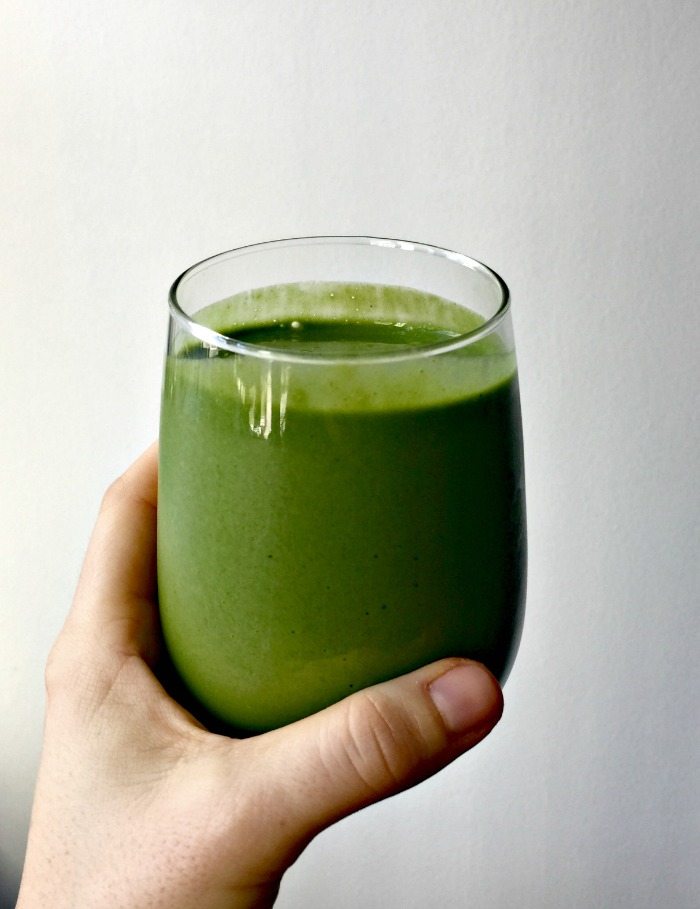 And dinner last night after church was Bare Burger…before church I told Nick I was craving a burger so we needed to find a burger spot instead of our usual Thai.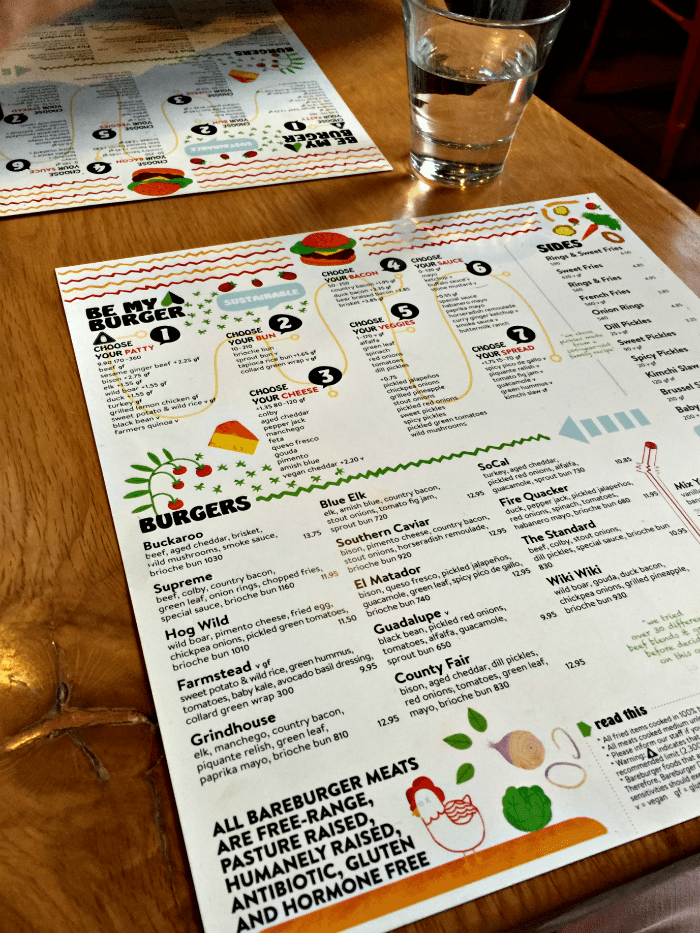 I ordered the Southern Caviar in a steamed collard green wrap. Nick got the same thing on a bun. I went with the greens not because buns or bread are "bad" (see breakfast above) but because I wanted room in my stomach for lots of SP fries since that's what I was craving and buns aren't that exciting for me…the beef and cheese and toppings are. It's all about the motivation for a food choice – are you eating something because you want to or because you think you should?
Prior to the burgers we started with their crispy brussel sprouts…think brussels fried in olive oil and topped with parmesan and lemon. So dreamy.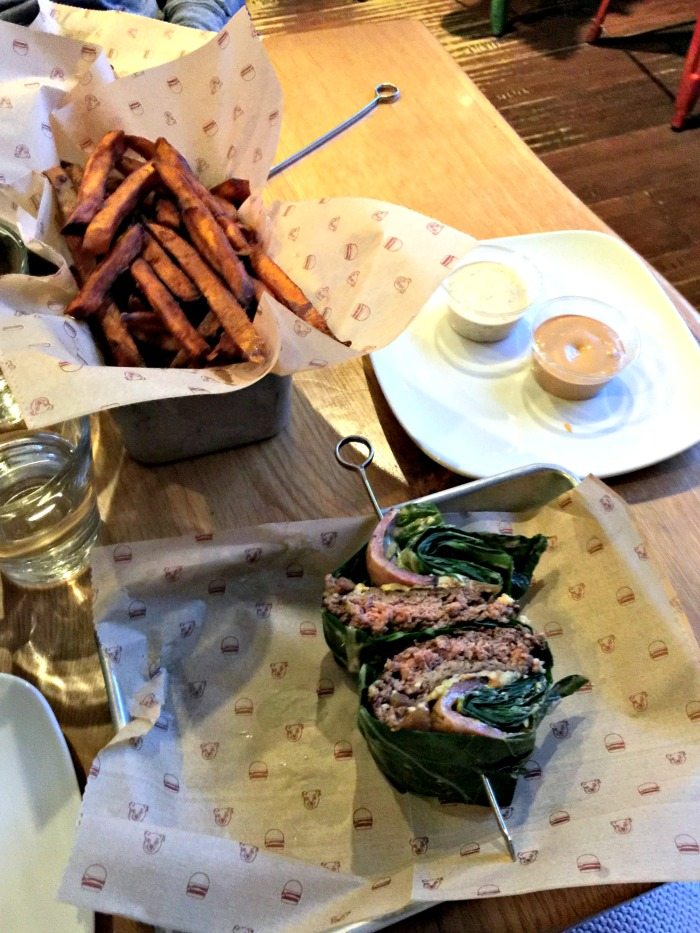 Have the best week no matter how messy it gets.
SaveSave