Anyone else feel a little lukewarm about lunch?
Breakfast is my favorite meal. Like gimme all the pancakes and eggs and coffee and I'm so down. I'll eat breakfast any time of day. If it's brunch….even BETTER. I'm all about it.
Dinner I'm into because wine is usually involved and I love the whole experience of cracking a bottle of wine, sipping slowing, and winding down from the day.
Lunch is like…meh. I'm usually not that excited about whatever I've packed because I've eaten the same thing for the past 13 days, it's being reheated in the microwave, and most of the time I have to eat lunch in a hurry – either in between patients or running from one thing to the next. It is so not mindful. I'm human.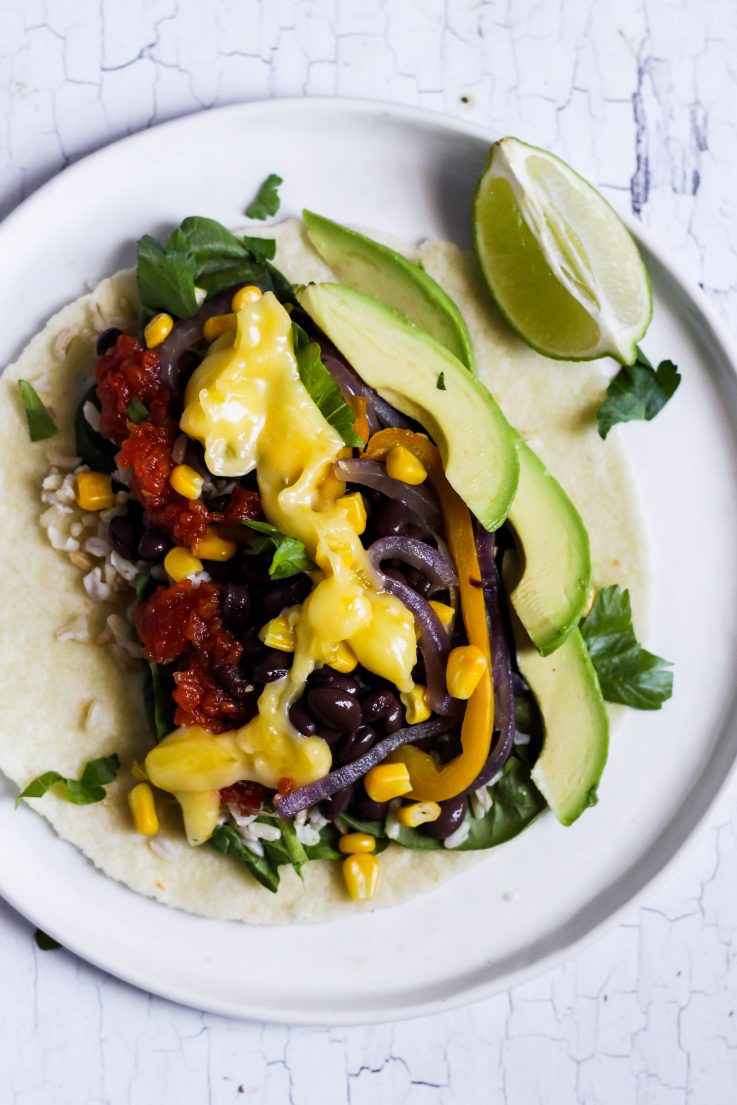 But I want to be more mindful around lunch and I definitely want to be a whole lot more excited about it. If you think I'm this perfect intuitive eater, ohhhh nahhhhh girl. Do I try my best? Yep. But at times do I overshoot my hunger or inhale lunch in five minutes? Um, yes. So in an effort to make more satisfying lunches and hopefully cultivate some mindfulness because I actually am excited about that noontime nosh, I'm bringing back the wrap and making lots of variations to take lunch from lame >>> hell ya.
Amping up lunch does not mean spending more time in the kitchen. I needed a five minute recipe. That's where this little diddy of a recipe comes in.
I sautée up the veggies in the beginning of the week. Then I throw the other ingredients in a pyrex and keep them in the fridge. Quick tip: buy frozen brown rice or 90 second rice if you're lazy like me.
I use whatever wraps are on sale at the grocery store. Sometimes that's the Food For Life GF wraps, sometimes it's Ezekiel, sometimes it's Whole Foods brand wheat or flour tortillas. They're all good, they're all nourishing.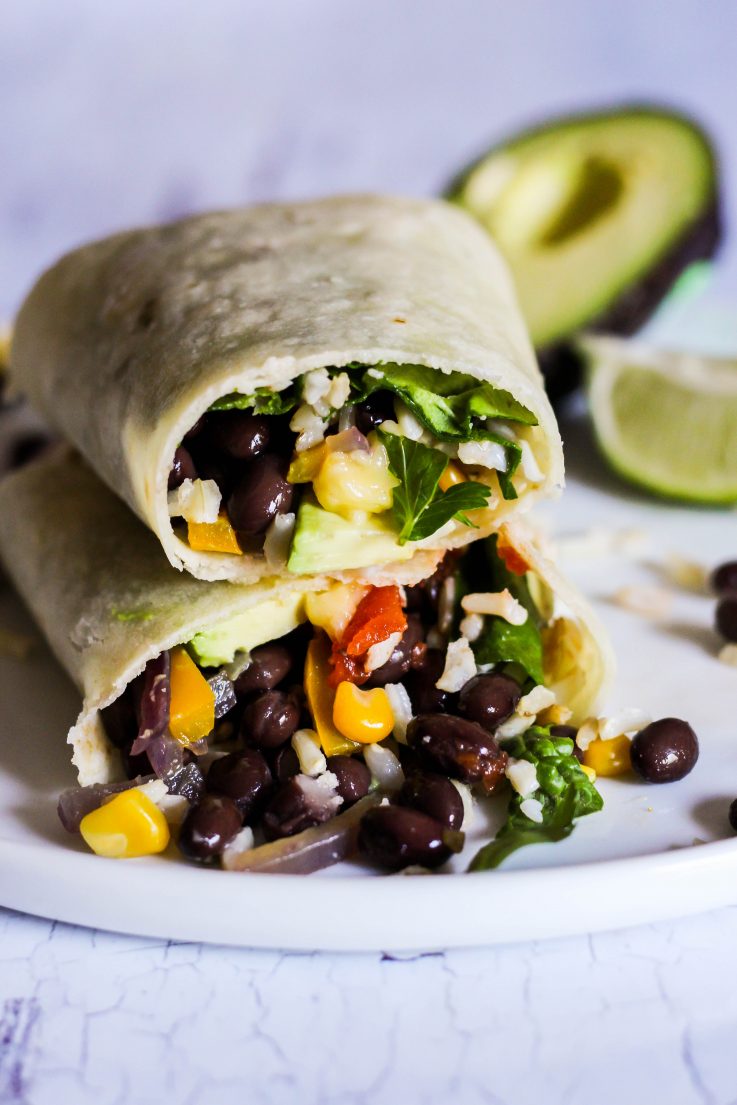 My favorite cheese….sharp cheddar or pepper jack. I'm not into provolone or monterey jack…I wanna taste my cheese! Throw some hot sauce all over this thing too for a little spice. Is that weird I keep a bottle of Frank's Red Hot in my locker at work?
Last lunchbox trick to avoid sogginess, I pack all the filling in a tupperware and then throw it in the wrap and microwave before eating. I nix the romaine since that's too much work to pack separately and then I take an avocado to work, slice it up and stuff it in the wrap before eating. The whole avocado. Fats are awesome and so good for your hormones. Don't skimp on that avo.
You could also make these wraps in quesadilla form. That sounds totally delicious too. Either way, I hope your lunch box gets happier and more satisfying.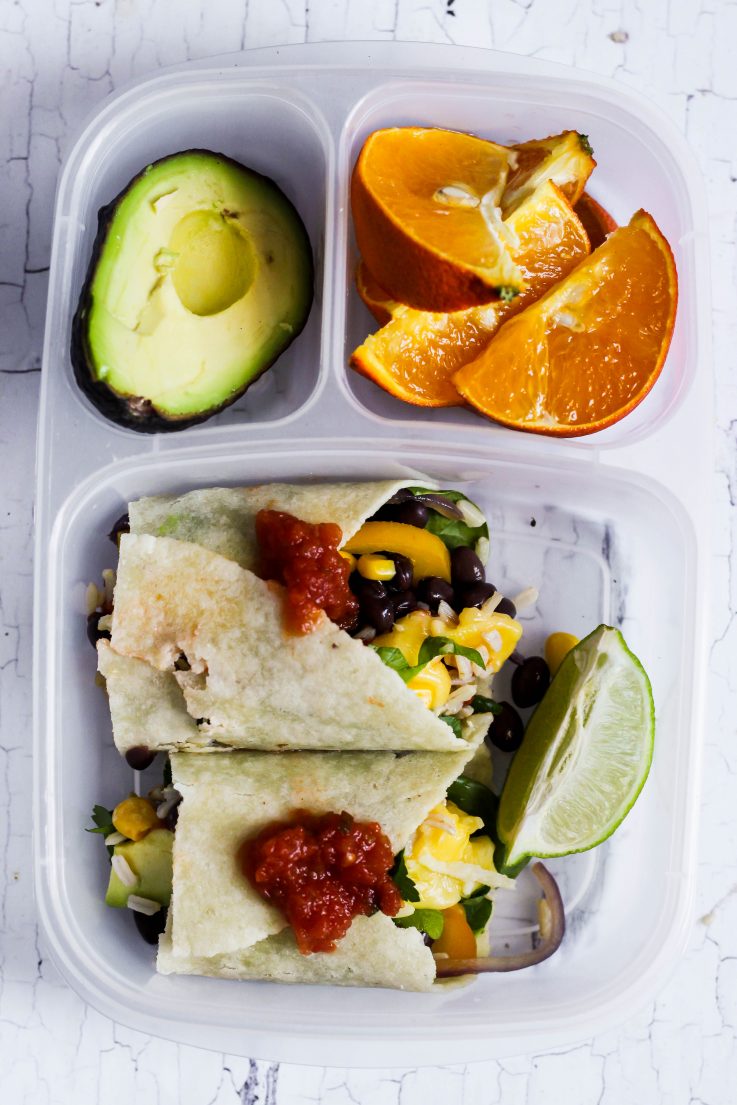 Black Bean Taco Wraps
Serves: 2-3
Oil for cooking
1/2 red onion, thinly sliced
1/2 bell pepper, thinly sliced
1 15-ounce can (1 1/2 cups) black beans, drained and rinsed
1 cup cooked brown rice
1/2 cup corn (thawed if frozen)
1 teaspoon chili powder
1/2 teaspoon ground cumin
1/2 teaspoon salt
1/4 teaspoon pepper
3 whole-wheat or gluten-free tortillas
1 cup romaine lettuce
1/2 – 1 cup shredded cheese
1 avocado, sliced
Salsa and cilantro, for serving
In a medium skillet, heat up oil. Add onion and peppers; cook for 5-7 minutes, until vegetables are tender and slightly browned.
In a medium bowl, add black beans, rice, corn, chili powder, cumin, salt, and pepper. Stir to combine,
Lay tortillas flat. Add a few romaine leaves in the center of each tortilla. Add 1/3 of the beans and rice mixture to each tortilla.
Sprinkle cheese on top of each tortilla. Microwave for 15-20 seconds, until cheese is melted.
Top with avocado, salsa, and fresh cilantro.
Roll up each wrap like a burrito. For easy packing, wrap each tortilla in foil and store in the fridge.