This summer the lunchbox has consisted of a lot of salads. Not because they are "healthy" or because they're what I "should" eat…but because they're quick, involve zero cooking and in the middle of a busy workday when I'm seeing back to back patients, they make me feel damn good both physically and mentally.
Lunch isn't my most mindful meal. Sometimes I can get out to Central Park and sit down for 20-30 minutes, but I often use my 45-60 minute lunch break to do blog work and hammer through a ton of email. All I ever want to do is work on the blog so I look forward to lunch where I can disconnect from talking to people (although I do love patients, woman needs a break) and be behind the screen. So all that to say, I typically eat lunch in about 15 minutes or I eat as I do work (not ideal, but such is life sometimes…)
I loathe spending my Sunday grocery shopping and meal prepping. There isn't a lot of margin for rest in this season, which is okay because it won't last forever, but the moments I do have….I'm not spending them cooking. I order our groceries online through Instacart and then Nick and I usually tag team the meal prep + laundry for the week. I cook most often and rarely touch the laundry. I hate laundry. He does laundry. If I'm cooking for the week, it has to happen in under an hour, 90 minutes tops.
That is where the beauty of the salad comes in. No cooking, simple ingredients, totally customizable, and most days…satisfying. Since lunch isn't always eaten mindfully and it also isn't my favorite meal (hi, breakfast.) I don't need to have a highly pleasurable food experience. I just want lunch to taste relatively good, fill me up, and leave me feeling good. That's part of intuitive eating — I'm no longer living with a diet-y/deprivation mindset so if I have one meh kind of meal, I know there are a zillion others that can involve ANY food I want. And food isn't the most exciting part of my day, so it doesn't have to be perfect every meal.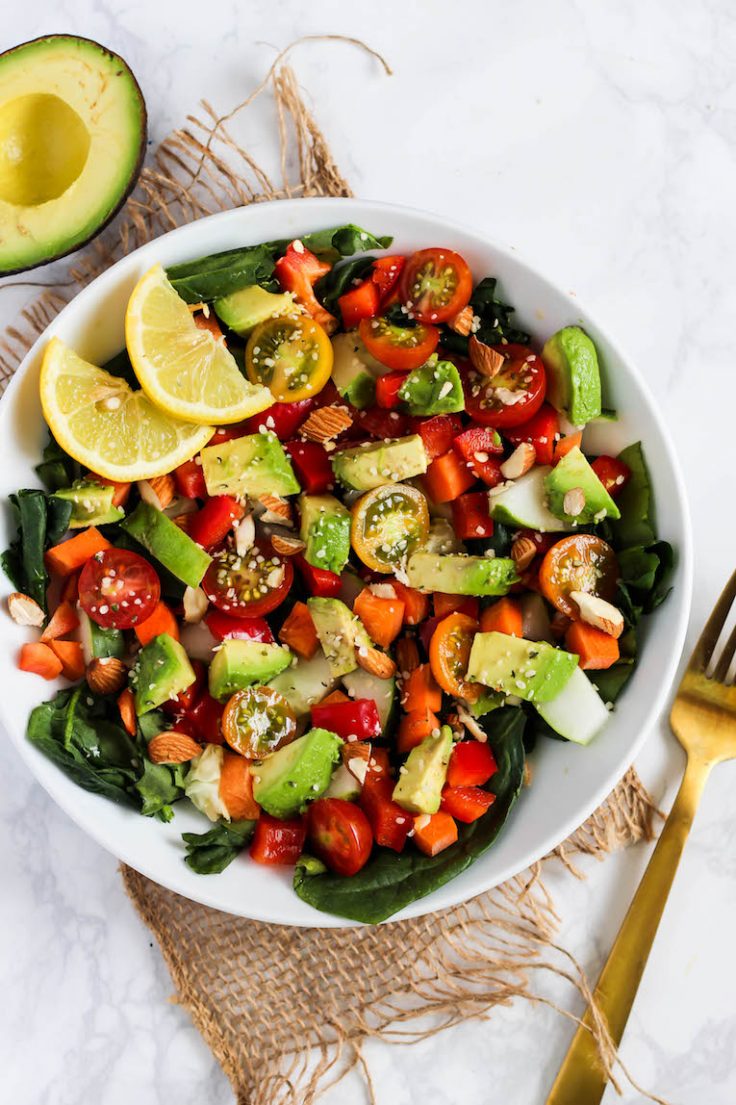 I mix and match the ingredients up to give some variety from week to week, but usually I eat the same salad four or five days in a row because it's easy and simple and lunch then becomes one less thing I have to worry about. If you're newer to intuitive eating, you might need to have more variety and be able to explore your taste buds and cravings in a broader sense in order to neutralize all foods and learn to satisfy your cravings. When I first began intuitive eating I made a lot of new recipes and ate out a lot because I needed that discovery phase.
But if your time or budget doesn't allow for that degree of exploration or life gets in the way and simplicity and convenience are more important in that moment, that's okay too. Pack a wide variety of snacks (crunchy, sweet, chewy, salty) so you can be more intuitive with snacking. It's okay for every meal not to be the most pleasurable and intuitive experience ever.  Because as you move along in this journey you know that you can eat ANY food at ANY time. And you are discovering so many other things in your life that bring you joy and satisfaction that don't involve food or your body.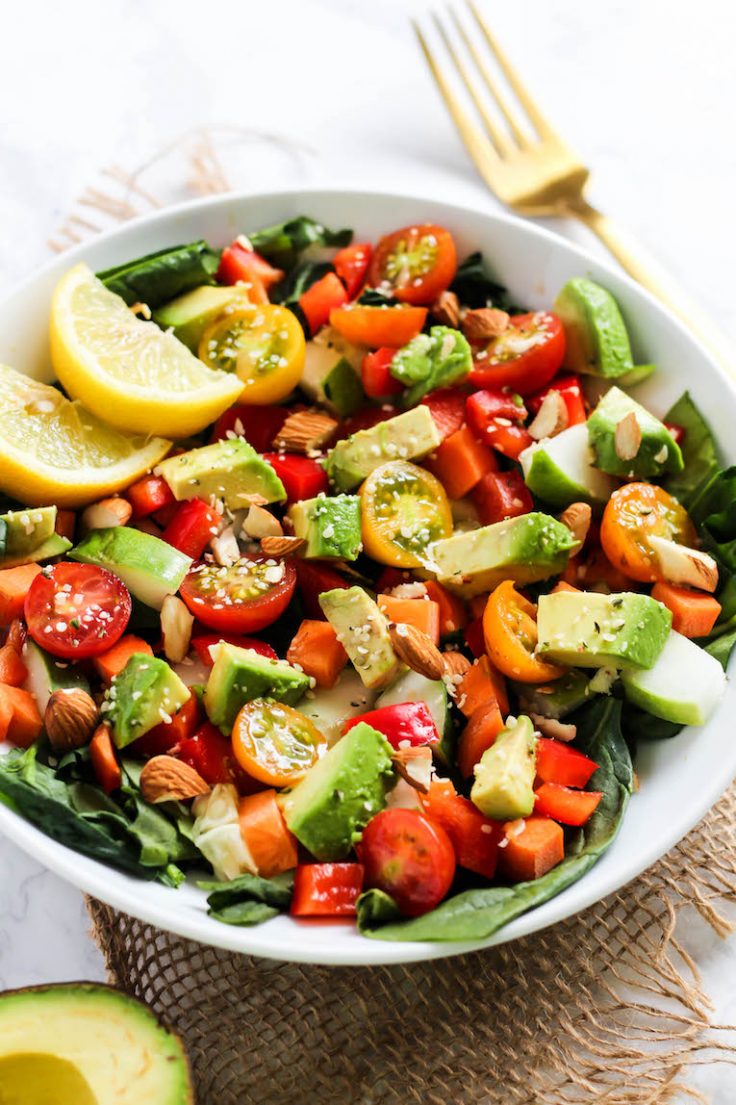 This salad recipe is my go to when my brain isn't creative. Tomatoes and cucumbers and bell pepper are always available (and in season and awesome right now) and I sprinkle on hemp seeds and almonds for satiating and satisfying fats + protein along with a pour of olive oil and lemon juice….because I have zero time to make homemade salad dressing. The avocado is essential. Salads without avocado plummet on the satisfaction scale like 7000 points. If I have pasta or quinoa on hand I add a big scoop of that or sometimes I sprinkle on goat cheese and cranberries. Or sometimes I add rotisserie chicken or some chickpeas or beans. The possibilities are endless!
And I always include a baggie full of crackers or popcorn or some sort of carb along with a piece of fruit and something sweet to end lunch with — usually some form of chocolate. Crushing on Green and Black's new sea salt chocolate bars. Lunch might not be the most exciting meal I eat in a day, but it doesn't have to be complicated. Because food is just food.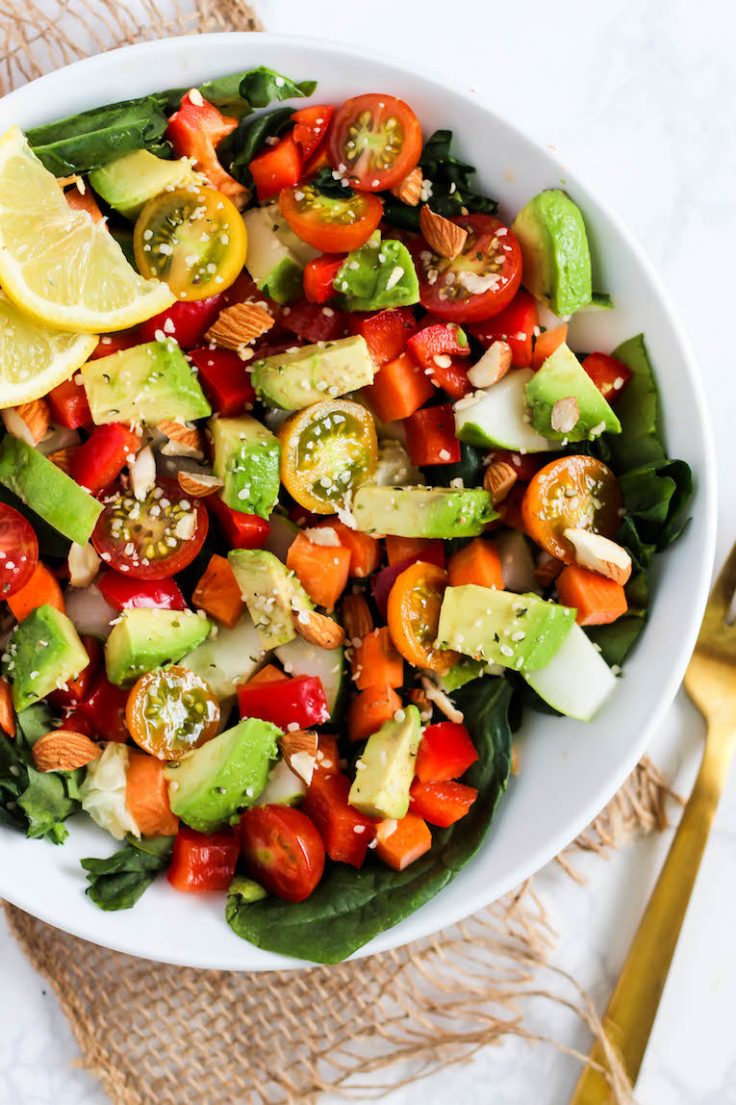 Customizable 5 Minute Lunchtime Salad

Print recipe
| | |
| --- | --- |
| Serves | 1 |
| Prep time | 10 minutes |
Ingredients
~4 cup spinach or romaine lettuce
1/4 cup bell pepper (chopped)
1/4 cup carrots (chopped)
1/4 cup tomatoes (cherry or grape, sliced in half)
1/4 cucumber (sliced)
1 tablespoon hemp seeds
2ish tablespoons slivered or chopped almonds
1/2ish avocado (diced)
1/2 tablespoon olive oil
1 tablespoon lemon juice or vinegar
sea salt (to taste)
add beans, cheese, chicken, etc to your liking (mix it up!)
Note
These are rough portion guidelines - add the amount that will satisfy and satiate YOU!
Directions
Step 1
Throw all ingredients into a bowl. Drizzle with olive oil and lemon juice and sprinkle with sea salt.