Hi! Excited to be guest posting here while Robyn is off honeymooning. I met Robyn a few years ago at the annual dietitian conference, FNCE. Since then, we've become friends, getting to hang out annually at FNCE and chat by phone at least monthly along with a few other like-minded RD's, discussing everything from blogging to the latest research.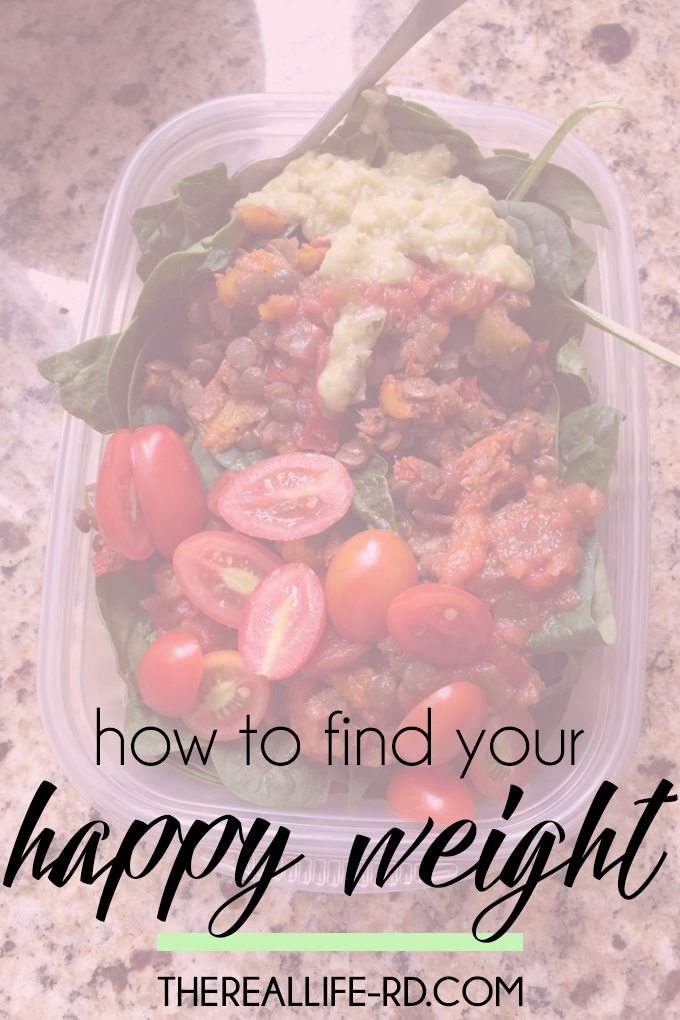 Like Robyn, I consider myself a "real" dietitian. I love food. In fact, I spend most of my day thinking, talking and writing about it. Whether it's seeing clients in my private practice, researching for a column or working as a recipe developer, food is almost always in my focus. I eschew diet talk and try to focus on what foods make me feel amazing and nourished- not on fat grams or calories. Of course, this took a while to get here. Like most, I've been on my fair share of diets. Yo-yo'ing back and forth on just about every plan through most of high school and college. I'm grateful for that experience; that path now allows me to appreciate food, my body and balance in an kinder, more appreciative light.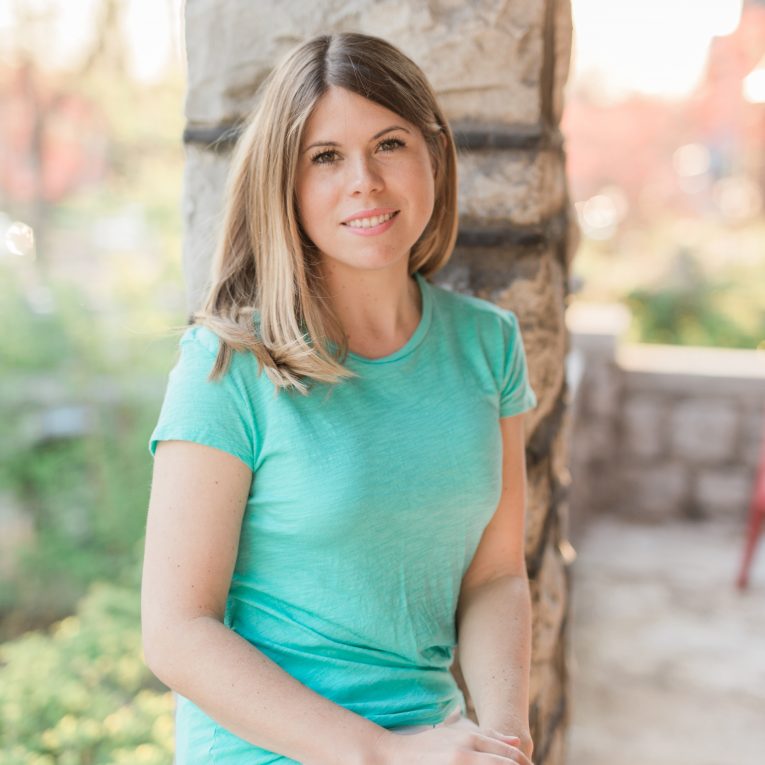 It's this journey that led me to throw away any preconceived ideas of what I'm supposed to weigh and instead focus on my happy weight. Most of us have a happy weight. That weight where you're comfortable in your clothes, you don't hate your closet every time you get dressed, you're happy when you head to the gym, and you don't deny yourself the brownie, croissant, or piping hot bowl of mac-and-cheese. You're, you know, happy.
Which may or may not be your ideal body weight. Your ideal weight is what you will most often get when you ask a medical professional that wonderful question, "how much should I weigh?" Why does this exist? Why do so many of us focus on a specific place on a scale instead of where we are most content?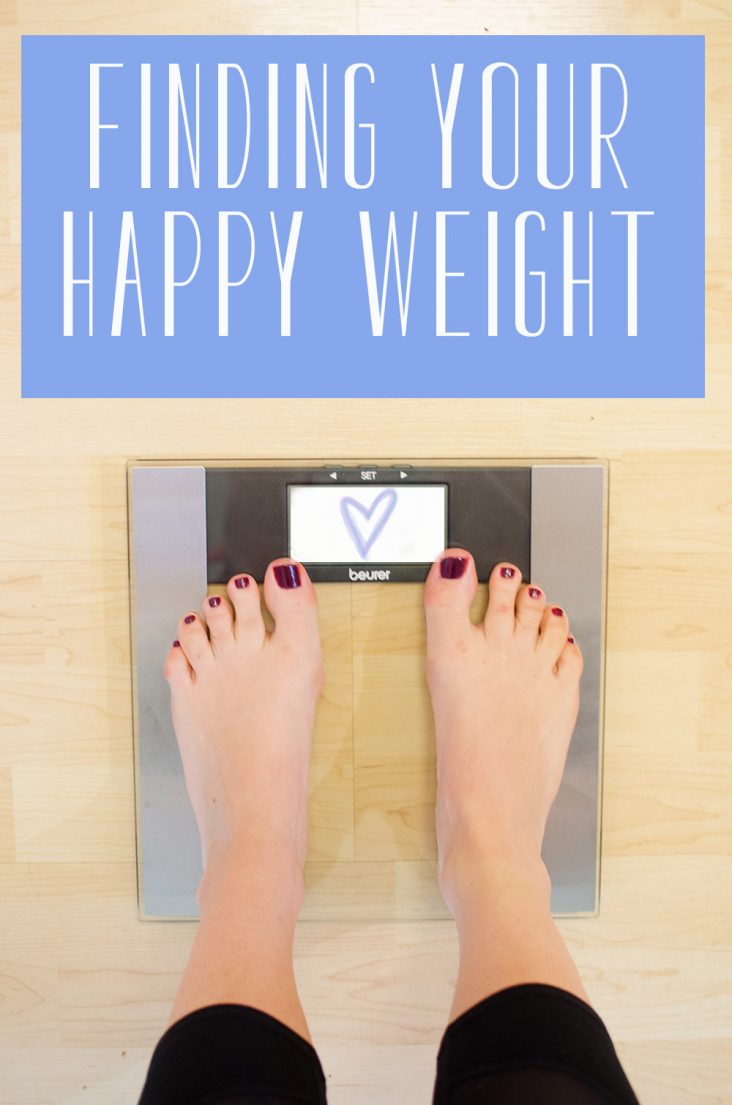 Instead, I'd like you to try to think about your happy weight. This may or may not be a number.  More than likely, it's a feeling.
For me, at 5'4″, my "ideal body weight" is 120. 120! I'm not 120. Even in my days of extreme diet restriction, I wasn't 120. It's just not how my body is put together.
To get close to 120, I would need to take out dessert, red wine with girlfriends, rest days, and avocado on my sandwiches. I could try and be 120 if I spent 2 hours a day at the gym and kept my calories under 1400. I could try do it, sure. But I won't.
I'm not happy at 120. I've tried to get to 120 and…. well, I was miserable. Not only was I miserable, but I'm pretty sure I made everyone else around me miserable, too.
My husband wanted a date night? Not if I didn't get to the gym earlier in the day. Girlfriends want to meet for happy hour drinks? If my calorie total for the day was already too high, I skipped it.
Somewhere in grad-school it clicked.  In order to be happy, I couldn't be my ideal weight. An ideal weight that I should point out was not chosen by me, but by a textbook.
Instead, I asked myself, where am I most happy? While the only time I really know my true weight is at the doctor's office once a year, I know that my happy weight is somewhere a pant size or two above that 120. That's my happy place, my happy space. I don't share that to reveal a specific size, just to show how different my happy weight is compared to where an ideal height and weight chart put me at. That didn't work for me, and it's okay if it doesn't work for you either.
Girlfriends want happy hour? Of course! I'd rather sacrifice any ab ambition for quality time with my best friends. My husband wants a date night? Of course! I'll balance my nutrient-dense entree with wine and split dessert. If I start to not feel as comfortable in my skin, it's OK. I'll modify my habits based on how I am feeling, not because I feel any pressure to do so. There's nothing wrong with exercising and eating nourishing foods, as long as the intention isn't punishment.
I encourage my clients, especially my weight loss clients, to aim for their happy weight over their ideal weight. As long as you are healthy, it really doesn't matter what you weigh…AT ALL. Bodies come in all different shapes and sizes. Whatever you're goal or your journey, I encourage you to switch the focus to whatever makes you happy.
For more musings on nutrition (and lots of recipes!), follow my blog, or follow me on Pinterest, Instagram, Twitter, or Facebook. Thanks again to Robyn for letting me hang with ya'll today!
SaveSave