Hi friends! It's Cody here just popping in to share some recent eats while Robyn is away honeymooning 🙂 Now that I am 24 weeks pregnant (how crazy is that?!) my food aversions have pretty much gone away. Yay! With this baby growing in my belly, I'm finding it hard to eat quickly and eating a lot at one time is sort of uncomfortable. That being said, I'm not adjusting how much I'm eating AT ALL, I'm simply slowing down, taking my time and eating very frequently throughout the day. This is just me listening to my body and my baby's growing body.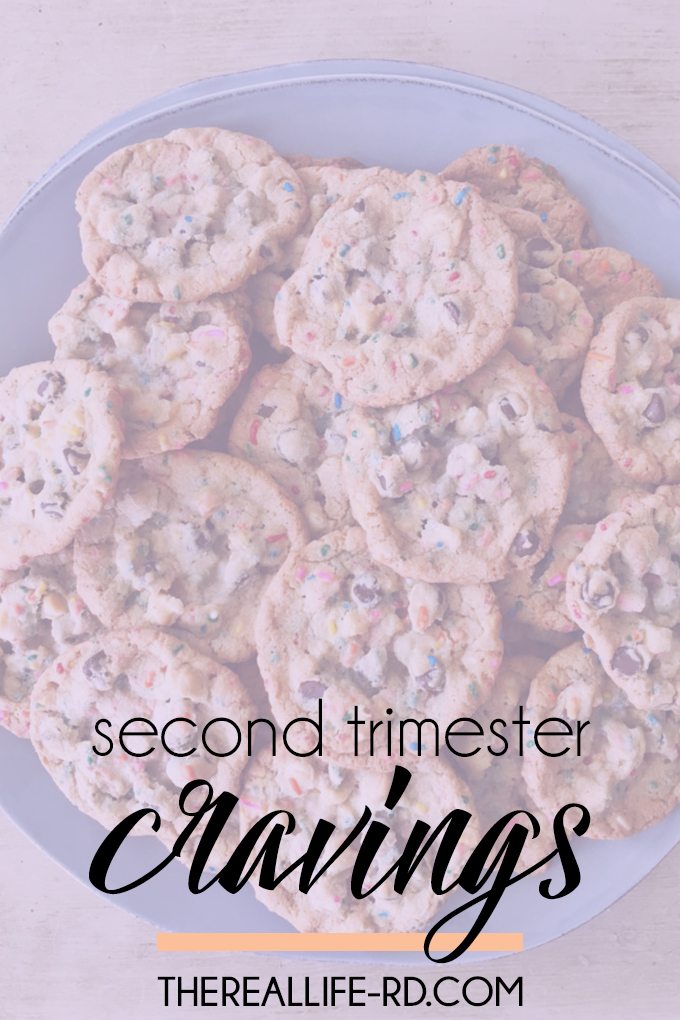 My parents came to visit us over Easter weekend so we had a ton of yummy leftovers. Now this is what I call a lunch. I love mixing together a million different flavors. I'm definitely not one of those girls who can't stand their food to touch. As a result of this meal, I discovered a new favorite flavor combination: salt and vinegar chips with mashed avocado. Maybe its just me being pregnant or maybe not but everyone needs to try this combination! I'll be honest, my husband thought I was crazy but go ahead and give it a try, promise. What are some fun combinations you guys like to eat for lunch!? I'd love to hear!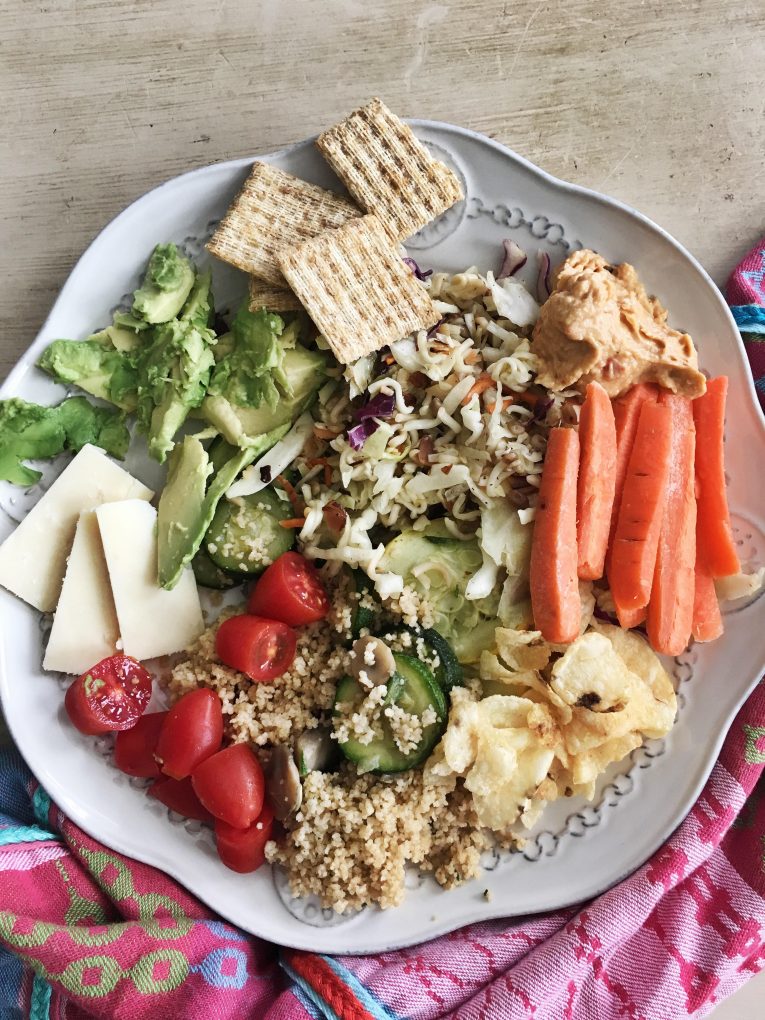 couscous + tomatoes + sauteed zucchini, squash, and mushrooms + white cheddar cheese + ramen noodle coleslaw + carrots and hummus + Triscuits + avocado + salt and vinegar chips.
Our friends threw a Master's Sunday party and I decided to bring some springtime inspired chocolate chip cookies. These were so so good. The baby kicked every time I ate one and I loved that so I saved a batch for JB and I to keep in our freezer. I also ate several cookies over the course of the weekend. Cookies before breakfast is one of my favorite things! Who else loves a frozen chocolate chip cookie like I do?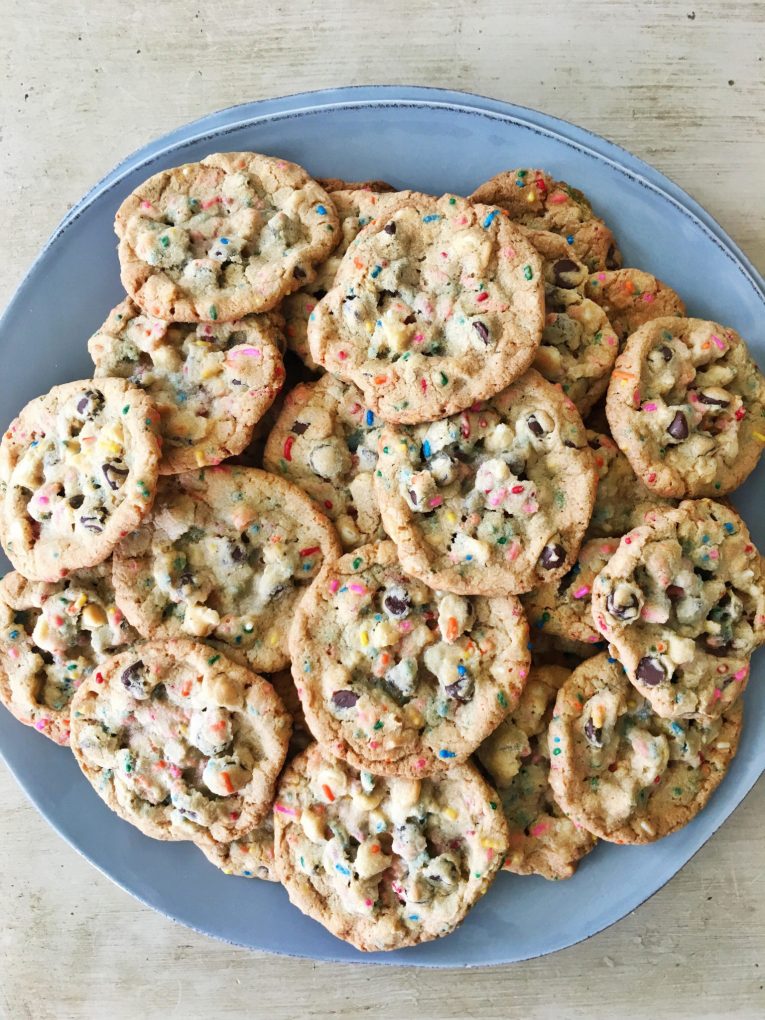 homemade chocolate chip cookies + white chocolate chips and sprinkles
I'm not craving sour candies as much as I was in the first trimester but a good sour flavor is still so delicious to me. I picked up this delicious lemonade at the store and I now I'm sad I keep forgetting to buy more. It's so good you guys! It also paired well with these KIND chocolate breakfast bars (topped with PB of course).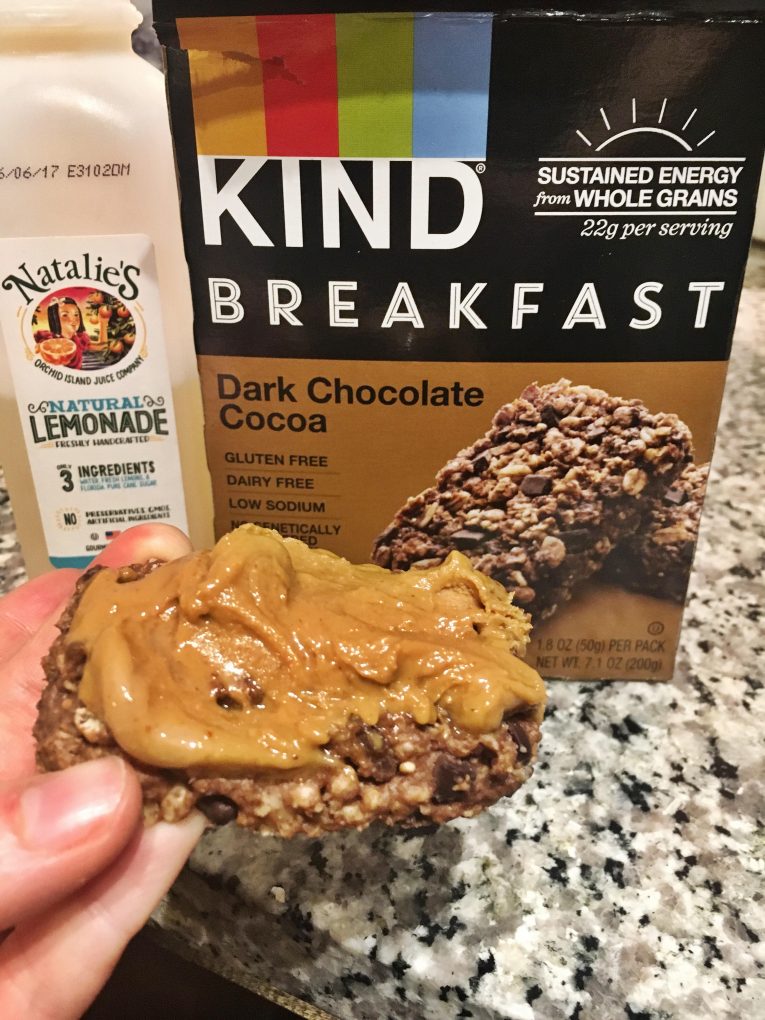 lemonade + chocolate breakfast bars topped with PB 
For breakfast, I've definitely been on an oatmeal kick. This has been fun with the leftover white chocolate chips I have in my pantry. White chocolate chips + strawberries are such a good combo. YUM.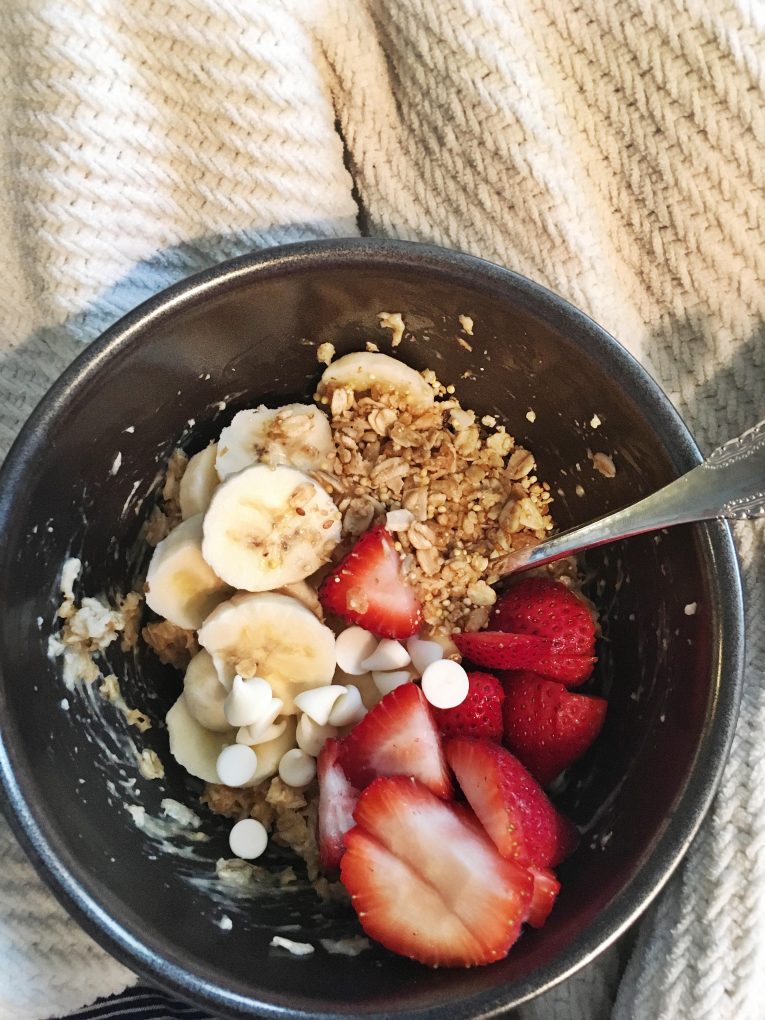 oatmeal made with a lot of PB and pure maple syrup topped with strawberries + banana + granola + white chocolate chips
On Saturday, JB and I had a slow morning so I decided to make pancakes. I used this recipe. We topped them with PB, butter, syrup and fruit. I also had 2 fried eggs. This breakfast hit the spot.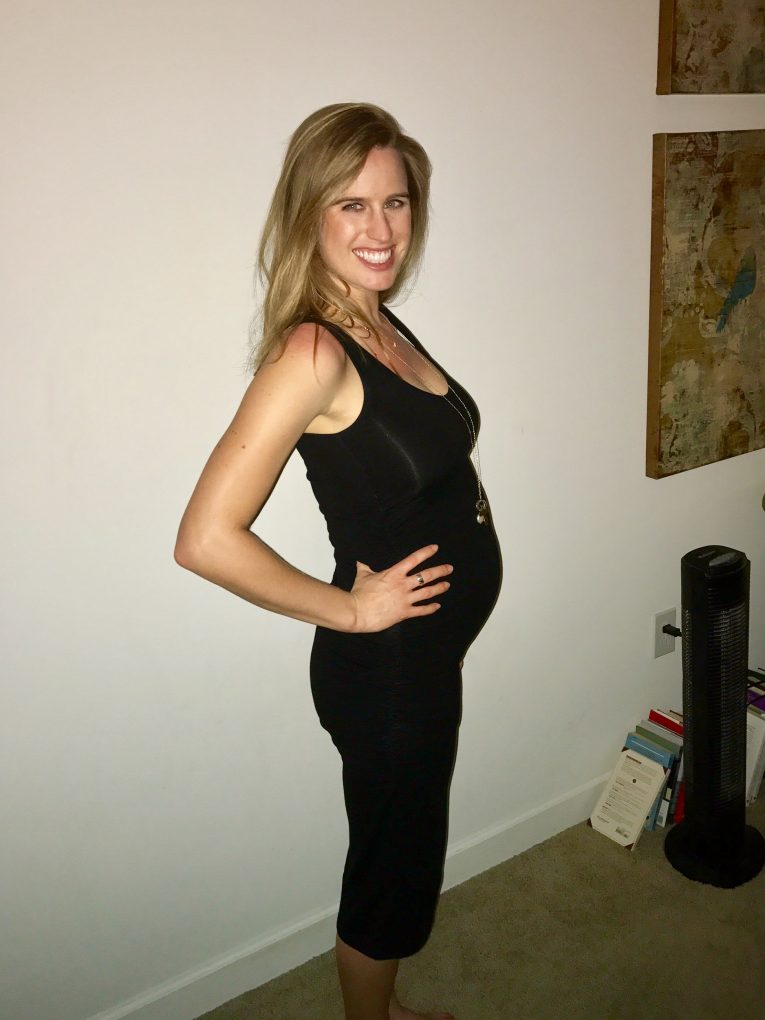 A few weeks ago, I made some salsa verde chicken to eat with lunches. This salad was simple but tasted great! When I make salsa verde chicken, I put frozen chicken + a jar of salsa verde in the crockpot and let it cook all day. It is so so simple and you could really do a lot with this.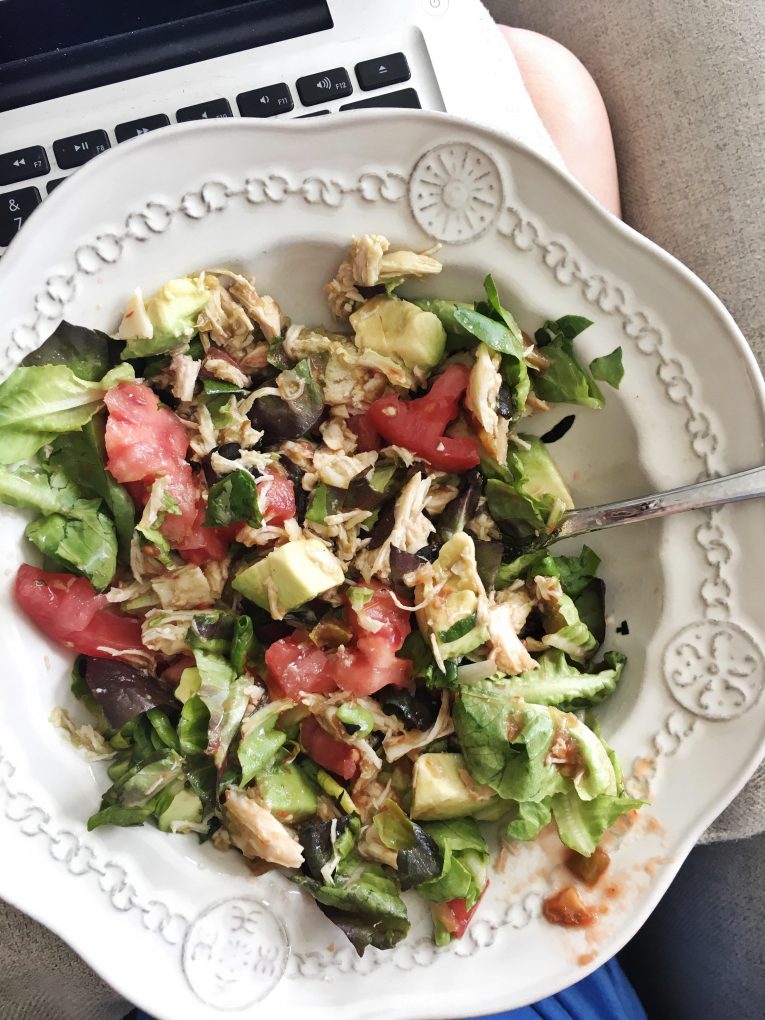 salad + salsa verde chicken +  tomatoes + avocado + salsa
On Saturday night, I made this amazing salmon. It was super easy and tasted great leftover as well. Not too long after eating this, I believe we each had a bowl of some chocolate Frosted Mini Wheats. They were really good.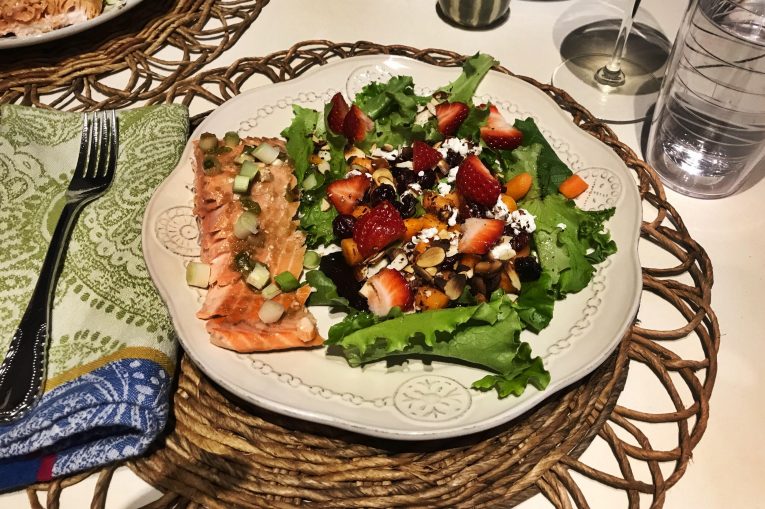 salmon + salad with strawberries, dried cranberries, goat cheese, toasted almonds and carrots.
For a quick and easy breakfast, I've been loving Kashi frozen waffles. I love the cinnamon flavor and also the blueberry. They are really good with lots of butter, syrup, and fruit! And yes- I'm reading this hilarious book. Anyone who is pregnant should check it out! So far, I've found it both helpful and entertaining.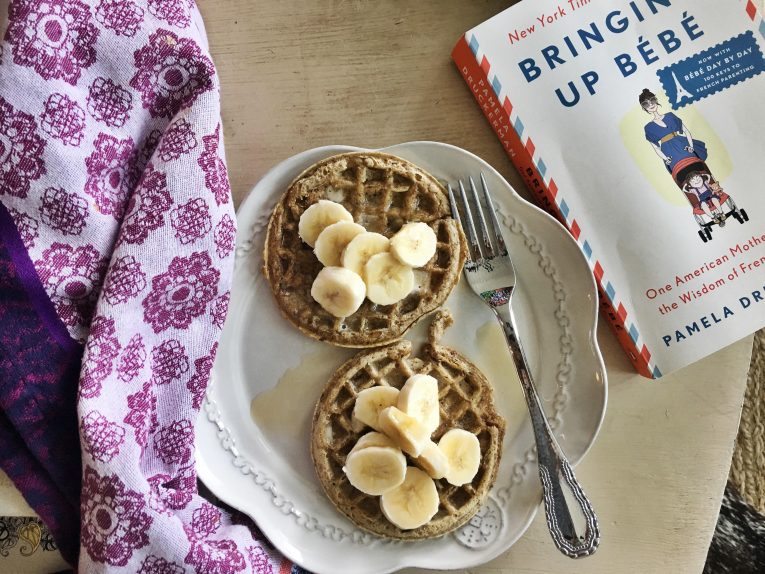 Kashi frozen waffles topped with butter, syrup and bananas.
I hope you guys feel inspired by my recent eats. Have a lovely day friends 🙂
Save
Save
SaveSave