I haven't unloaded my camera roll in a while to share some eats with you all so I figured it was about that time. I tried to remember what meals I've shared on insta so if I double post..whoops.
I hope these posts never make you feel like you should eat this or should eat that, but rather I hope they inspire you to eat satisfying foods – whatever that is for you!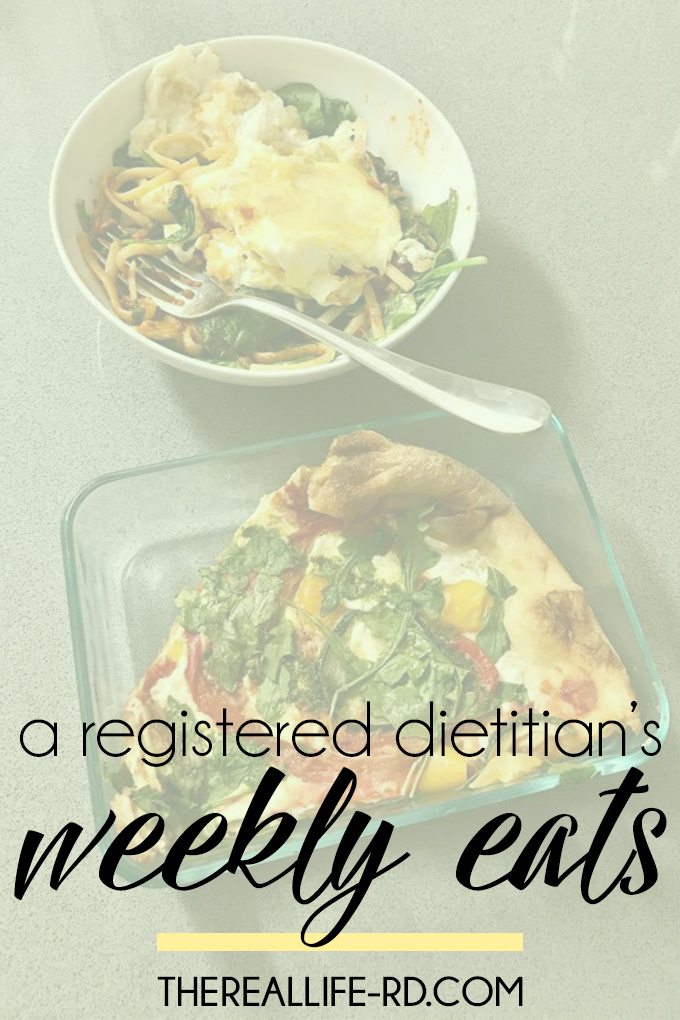 Two night ago for dinner I got home from an evening outdoor workout class with one of my girlfriends, Nick was out to dinner with his old roommates and so this is what I came up with….leftover vodka sauce pasta from the weekend heated up with some spinach and then I topped it with scrambled eggs and melted cheddar…weird, but surprisingly good. I knew that wouldn't be enough so I also heated up the last slice of leftover pizza from Friday night and called that dinner.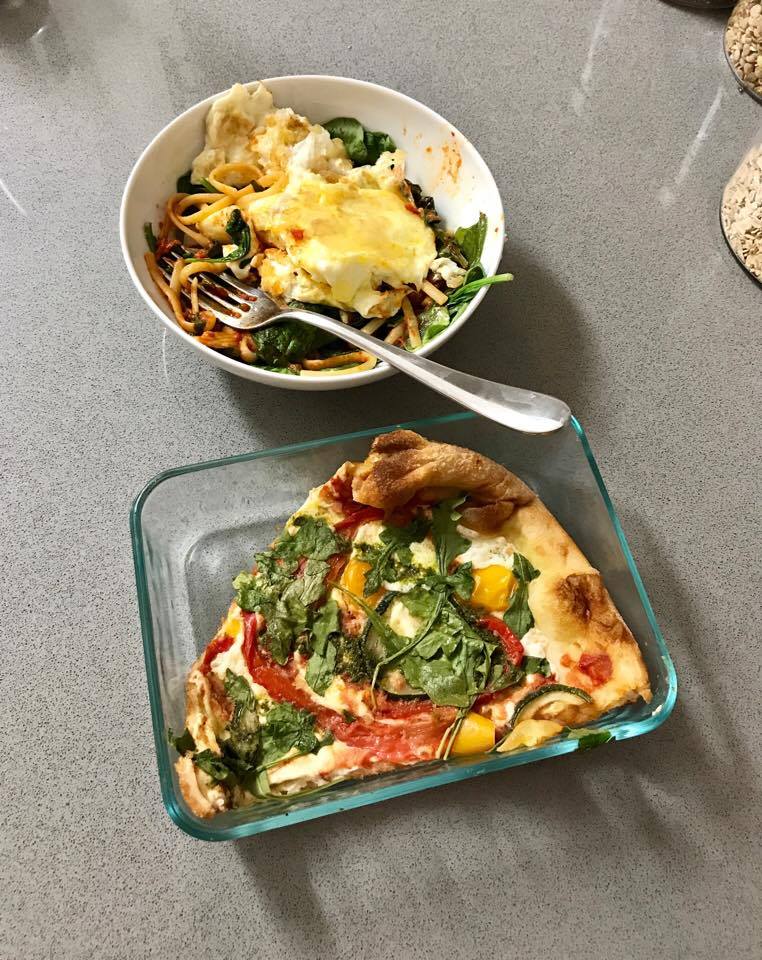 I made a big batch of banana blueberry baked oatmeal for breakfast this week so we've been reheating and eating that most mornings, topped with banana and nut butter and eaten with eggs or greek yogurt. I love the doughy chew of baked oatmeal!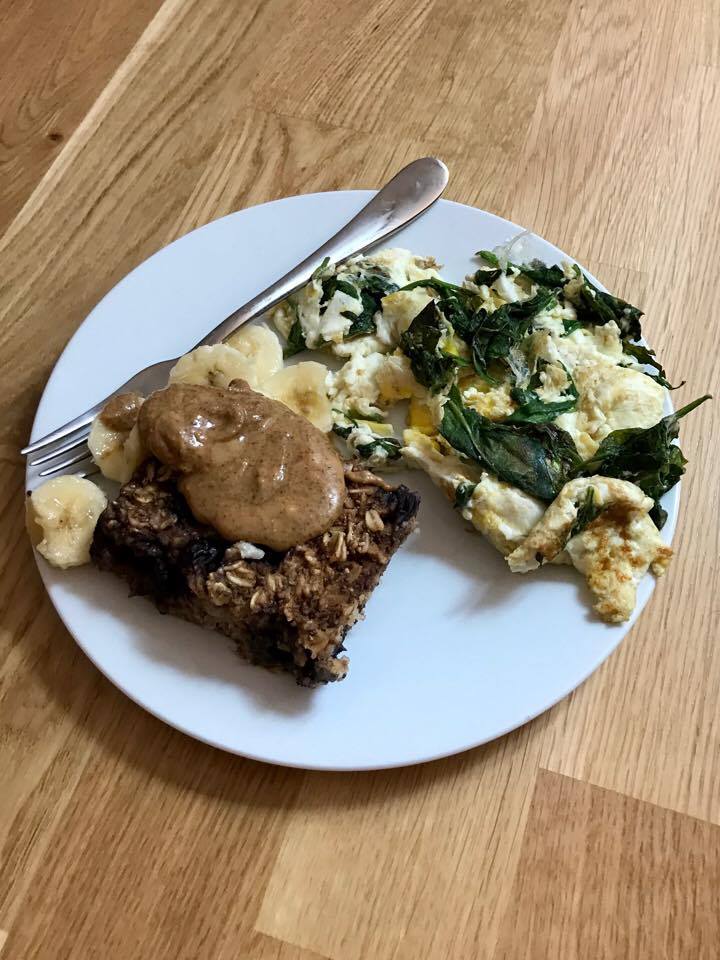 On Monday night we went out to Ilili for Nick's birthday. YOU GUYS. The brussel sprouts were the most heavenly thing that has entered my mouth in months. Yes, brussel freaking sprouts. Because they are carmelized to the max with fig jam and then mixed with walnuts, grapes and mint yogurt sauce and the combination is unflippinbelievable. Go there for these alone. We also started with the babaganoush + pita and arugula salad. And then split a beef + lamb skewer entree with roasted vegetables and thick cut fries with a garlic aoili that was so fab. Plus two glasses of wine, hayyyy. Happy bday love!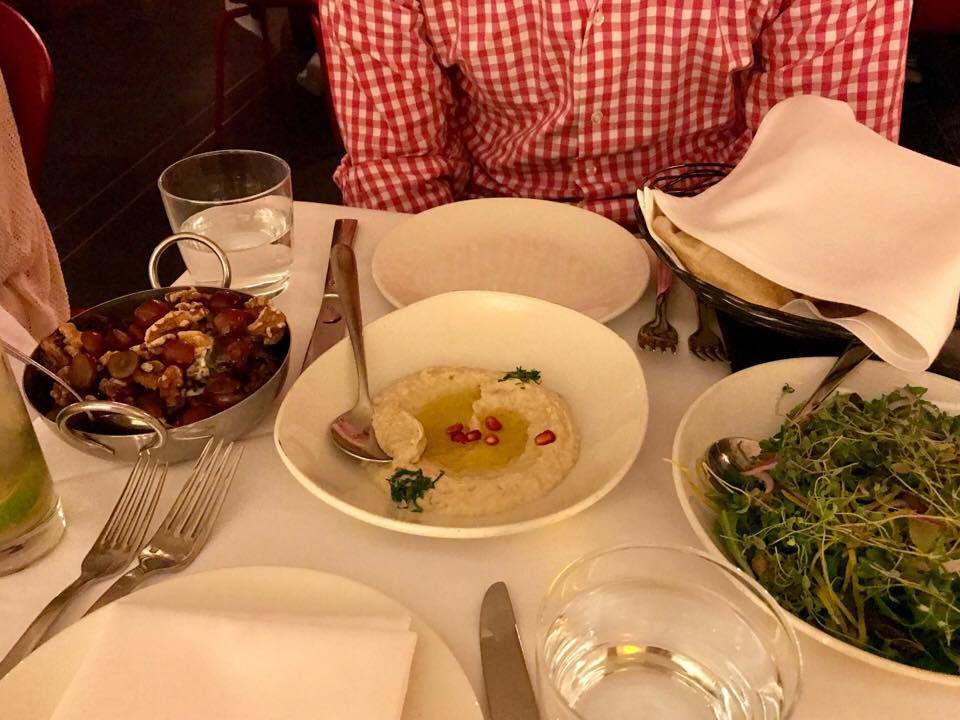 For lunches this week I've been doing a bento box of sorts. I've been mixing it up from day to day but below is spinach/cranberry/sunflower seed salad, veggies + crackers with hummus, edamame and strawberries dipped in pb (for real, try it. like super fresh pb + j)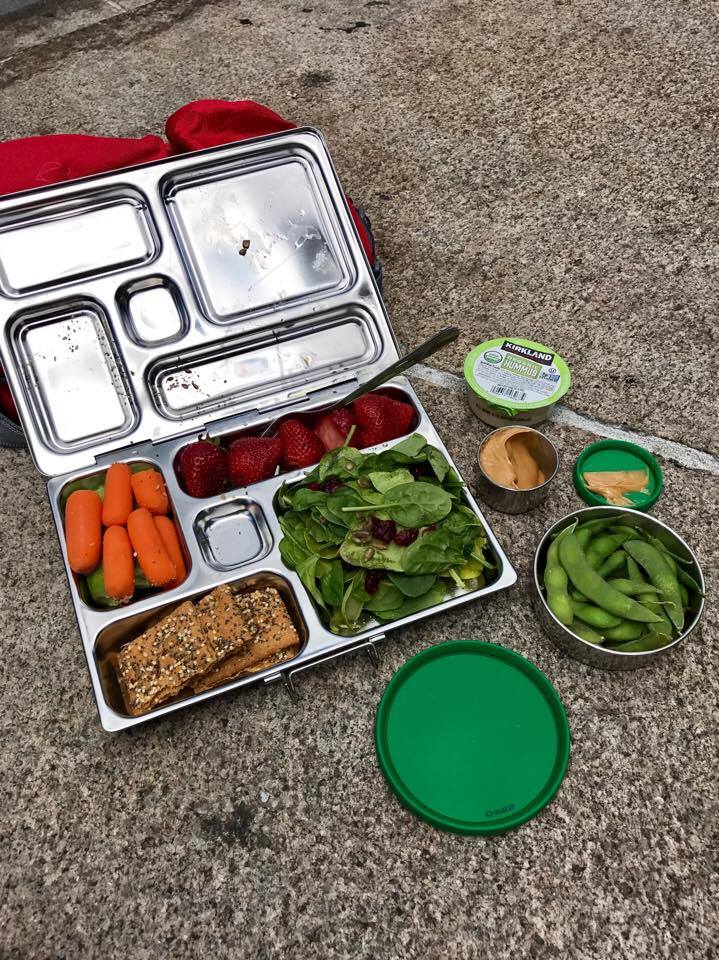 I use to drink green smoothies almost every day because I would drink them while getting ready for clinical or work and then eat breakfast on the train. Well since graduating from school I was either working late hours (11am to 11pm) or now, I eat breakfast with Nick wayyyy earlier than I use to at 7:15am so I just kind of stopped drinking green smoothies. But I do love them! This past week I've made a couple if I go on a run in the morning because the thought of solid food makes me gag right after running so I'll drink a smoothie and then eat breakfast when I get to work. This was a mixture of frozen banana, Amazing Grass, frozen spinach, almond milk, 1 tsp-ish maca and a big scoop of chia (<– side note: this is the best deal on pesticide free chia ever)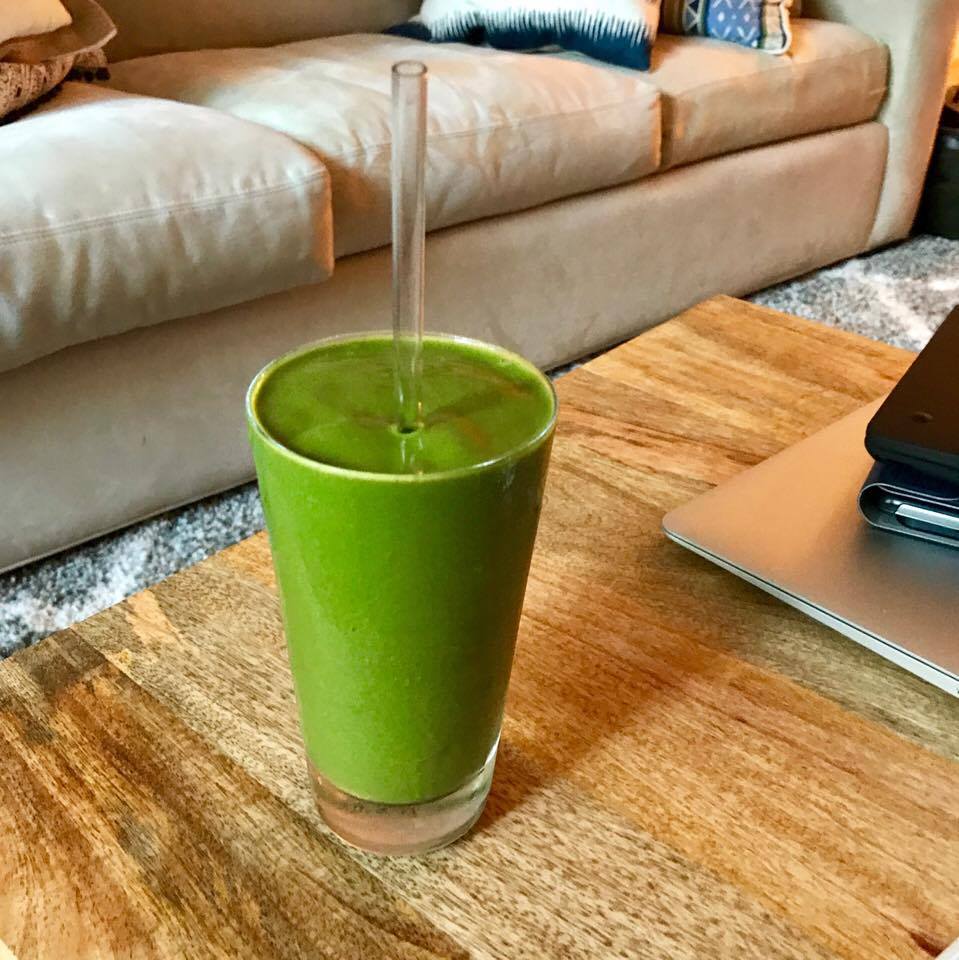 I made double chocolate cupcakes on Saturday for Nick's birthday and we had leftovers so we've been eating them with vanilla ice cream all week and I'm so happy we had extras. It makes every day feel like a celebration. How's that for happy.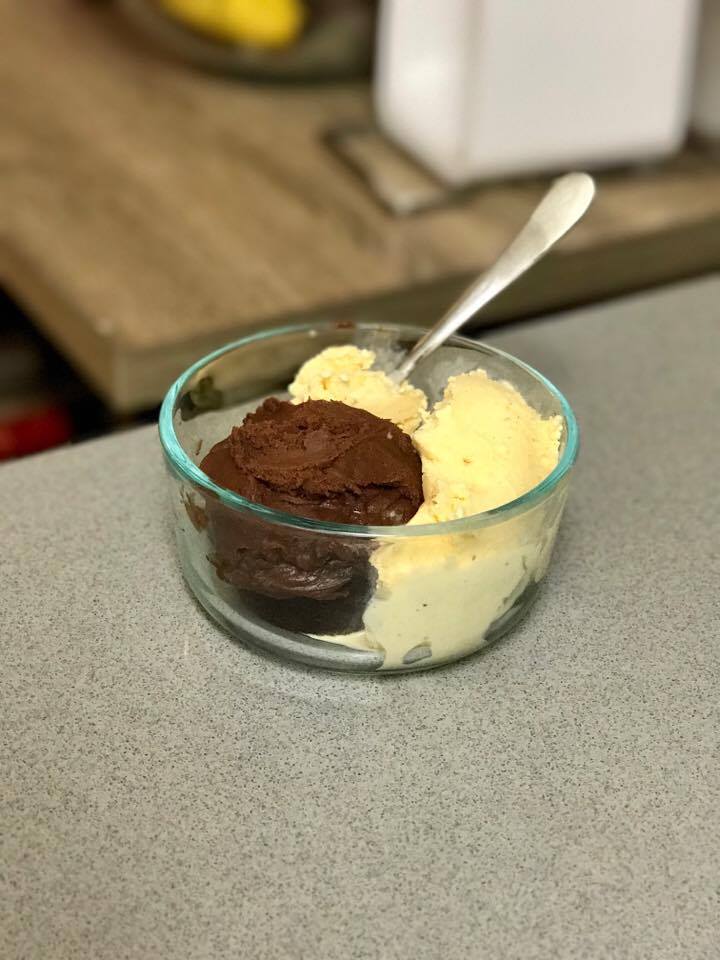 I posted this dinner on insta, but it was tasty so here it is again. Plus dinners out on our terrace have been sooooo relaxing.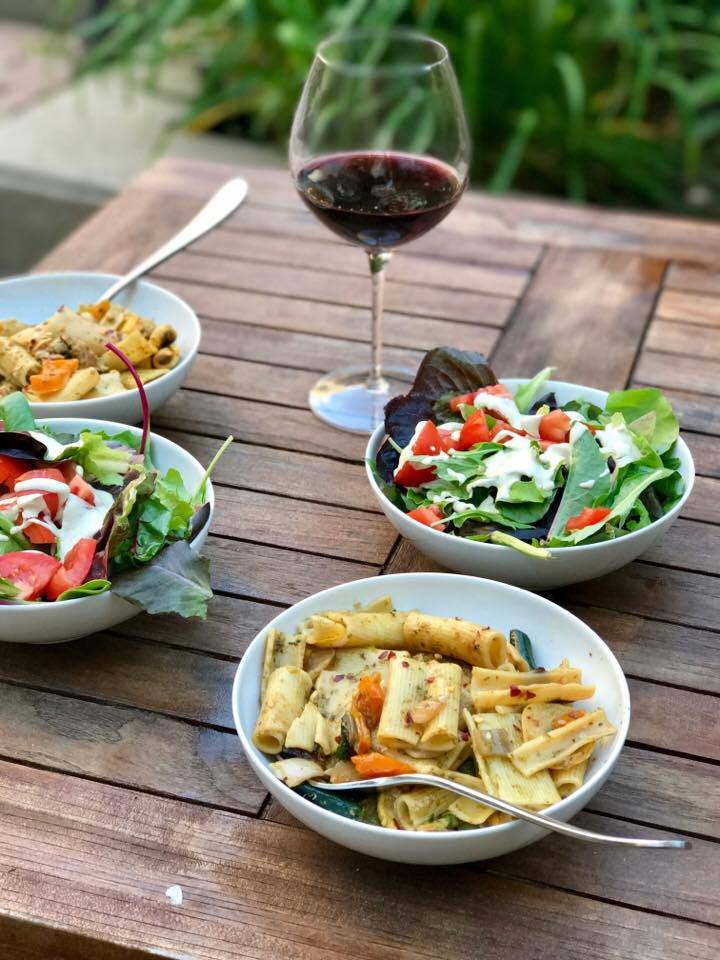 Sunday we ate from food trucks on Governor's Island and split these greek chicken pitas and a hot dog…Nick loves hot dogs. I could go either way. Don't hate em, don't love em, but they feel so summer.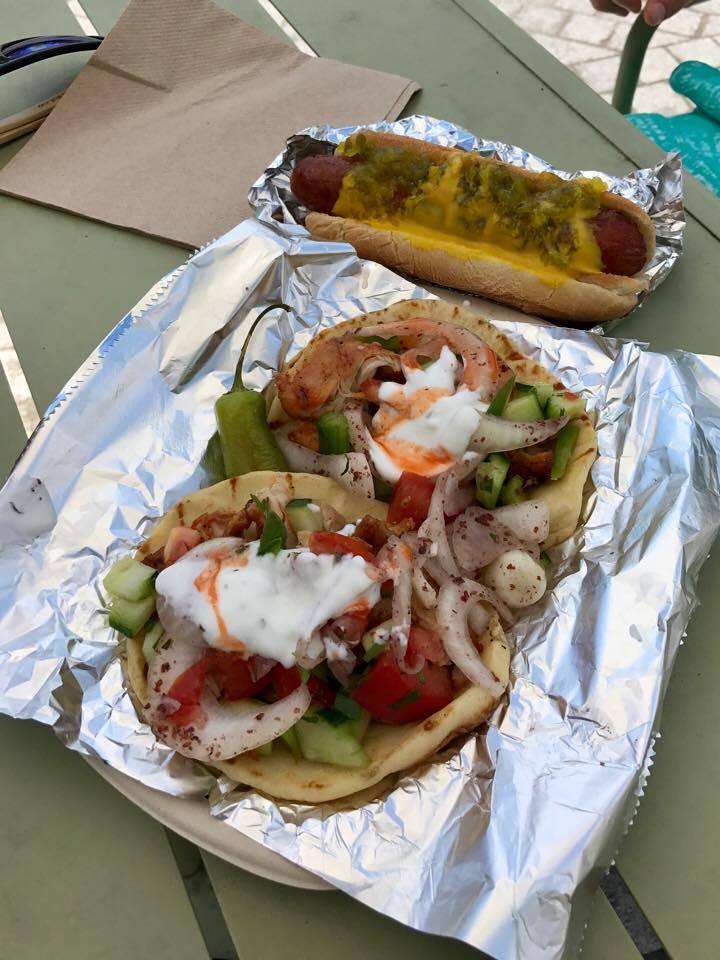 Almost every Friday starts with a glass of wine and a cheese + cracker board and then later on we decide what we want for dinner. Sometimes we're with friends and sometimes it's just us. Last Friday it was rainy so we ordered in pizza. And I can now say we've found our neighborhood pizza place. Which is really important to know.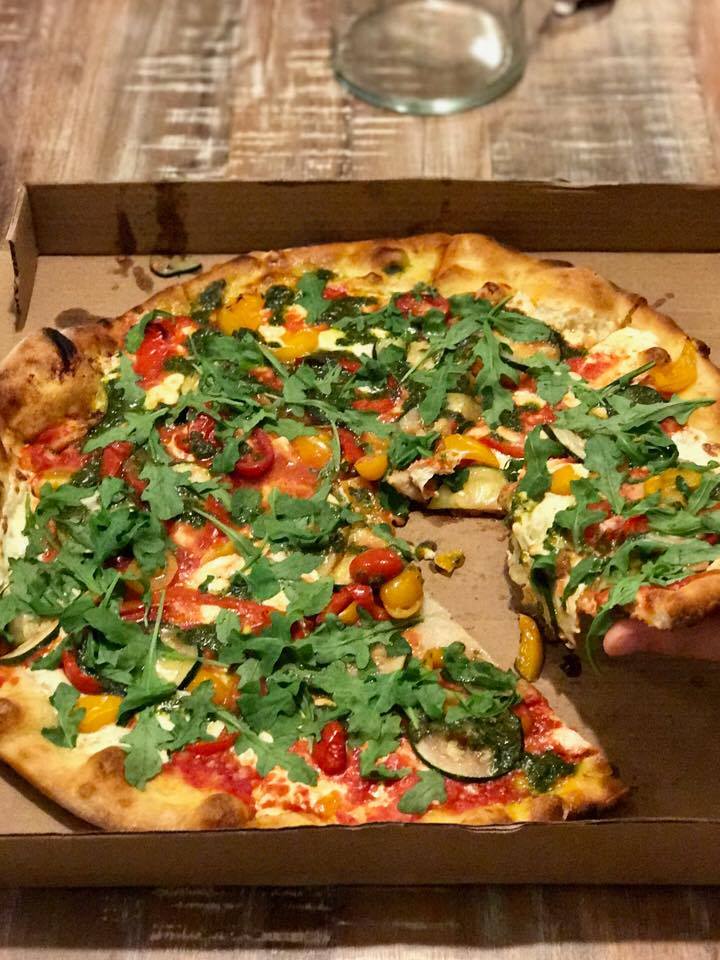 In between the cupcakes + ice cream, night snacks have been an alteration of Talenti and banana bread smeared with leftover chocolate frosting.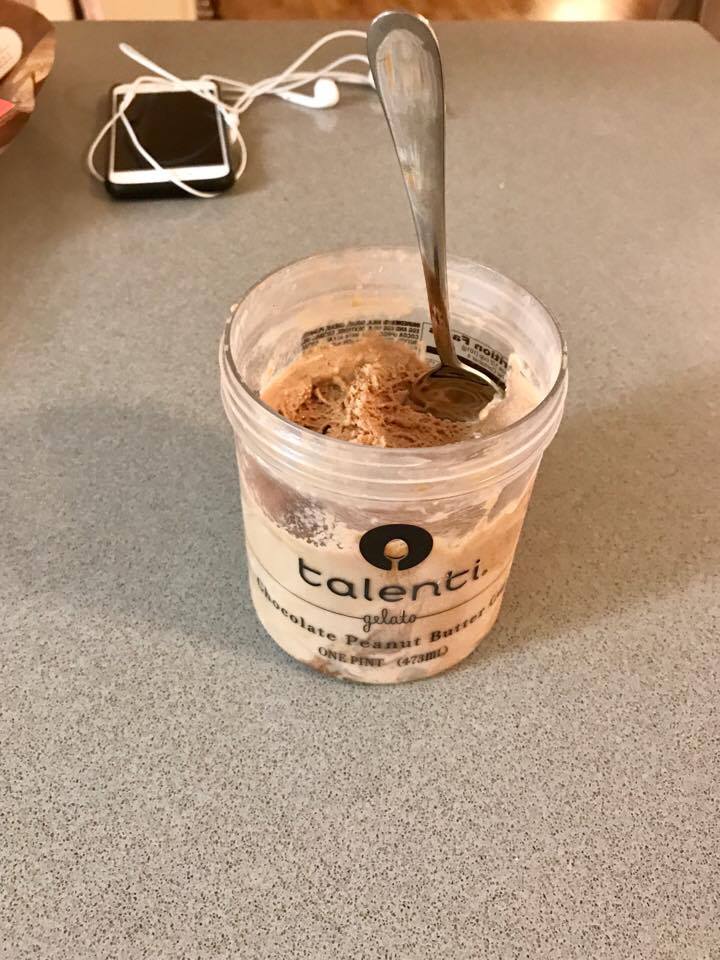 dinner one night was a conglomeration of leftovers – egg roll in a bowl and a mixture of chicken, kale, broccoli sauteed in a pan that we ate with potatoes + butter.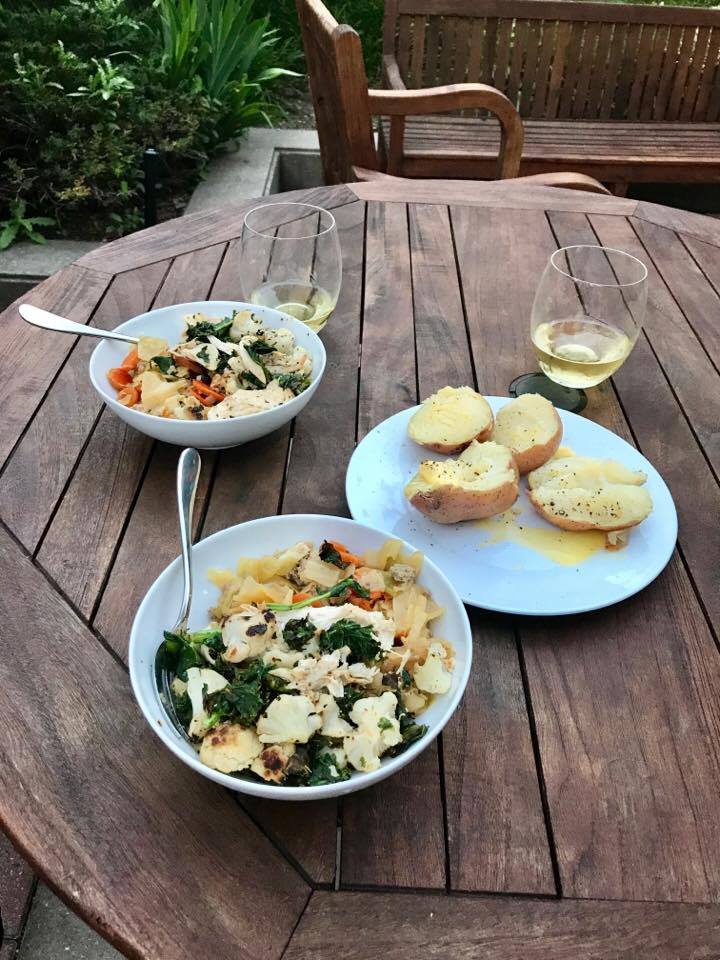 CHIPOTLEEEEE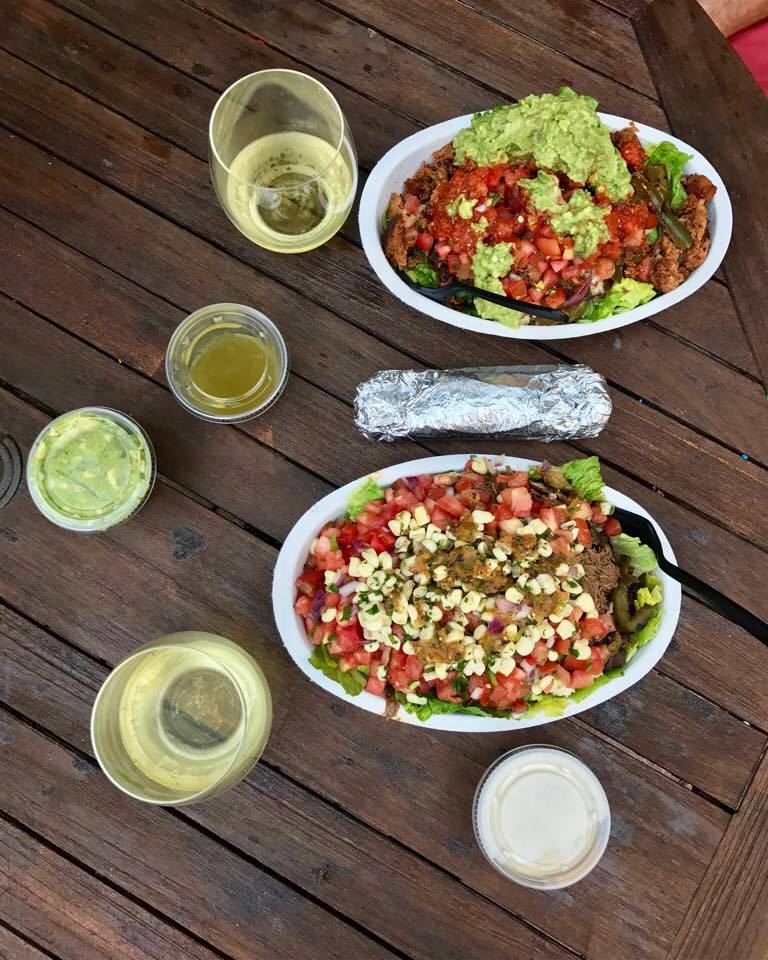 breakfasts was eggs + spinach and sourdough toast with butter + jam a lot of mornings.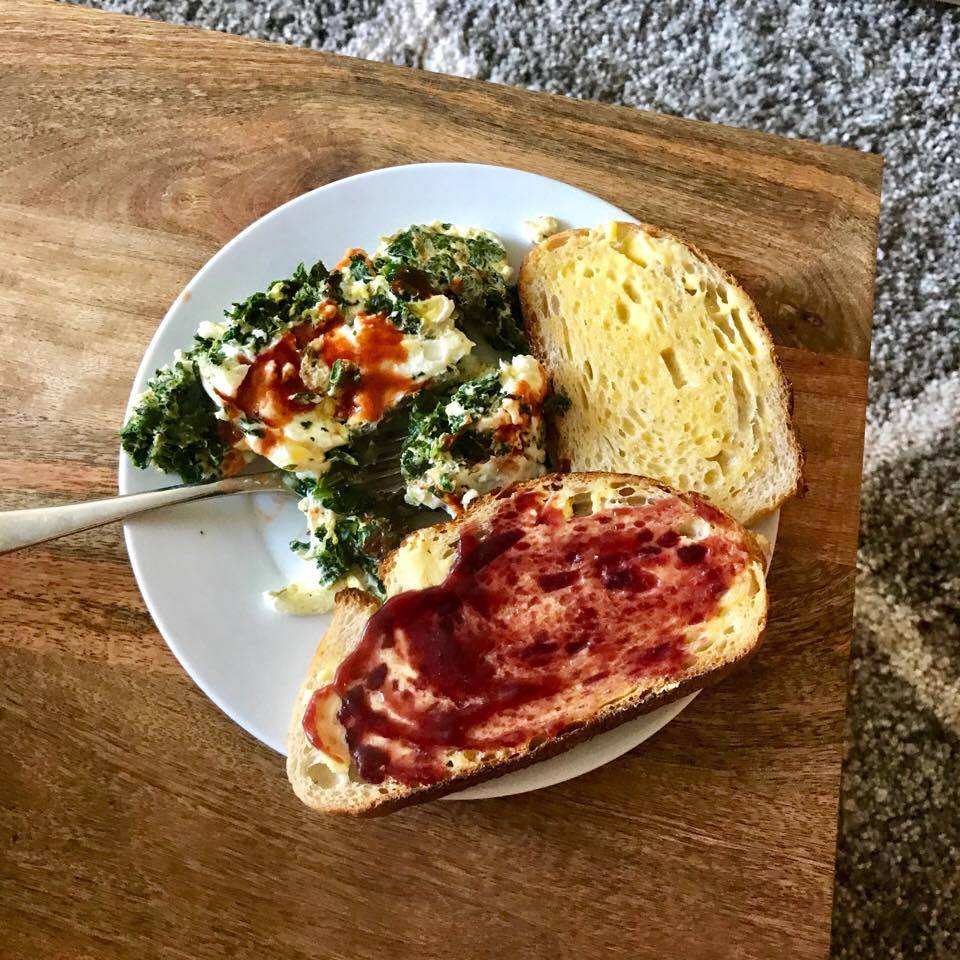 vanilla ice cream + banana bread some nights….ice cream is part of almost every evening snack I feel like..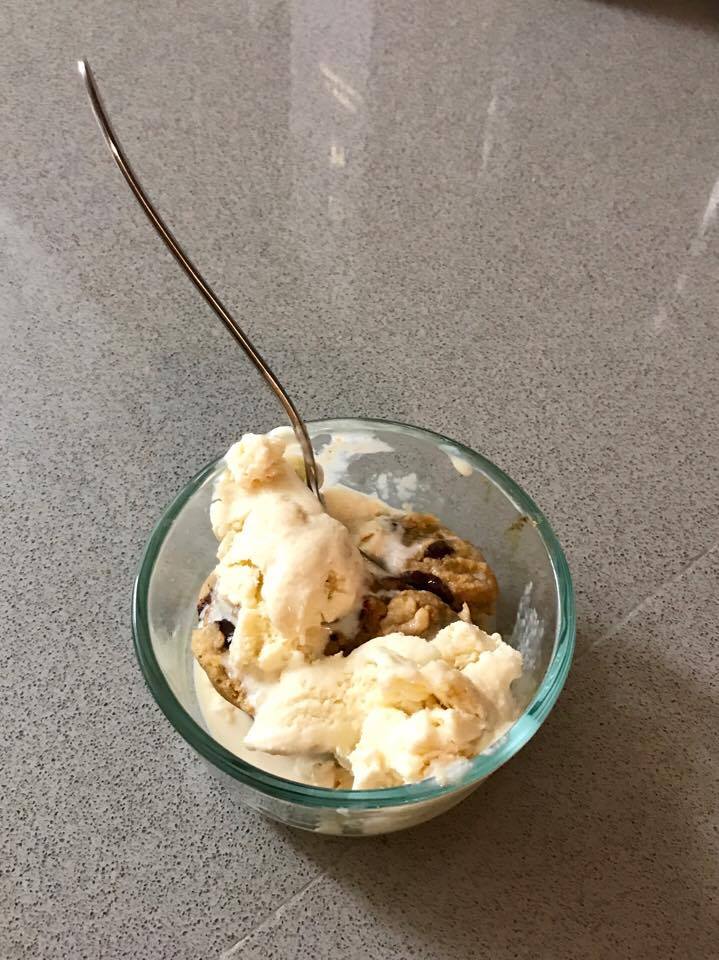 Another breakfast I found on my phone…whole milk greek yogurt with strawberries + granola and a piece of pb + j toast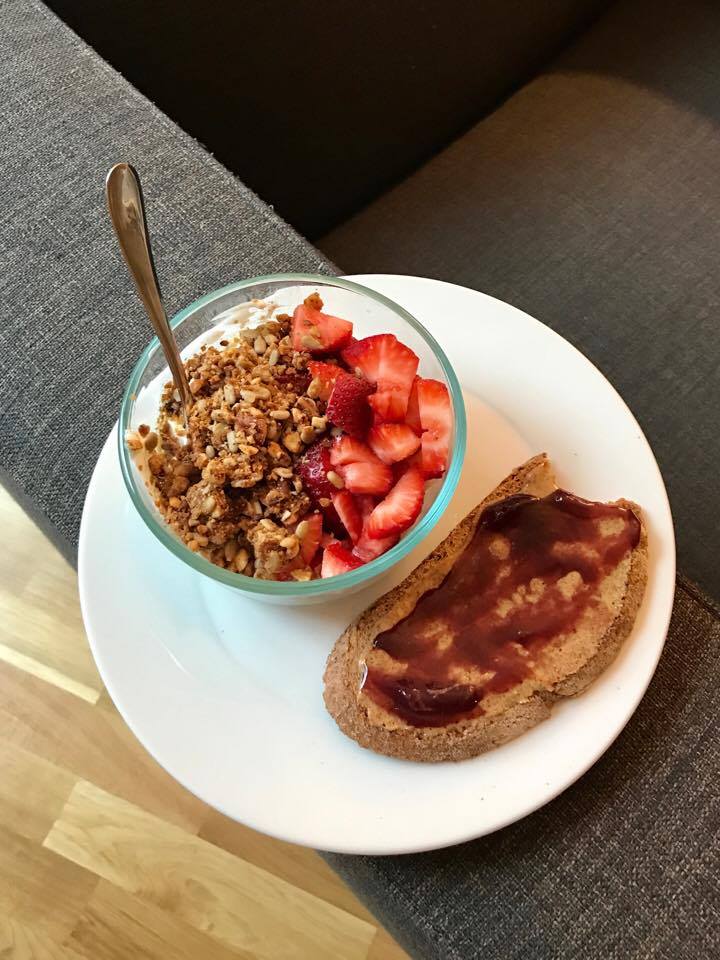 more ice cream while watching the OJ Simpson documentary.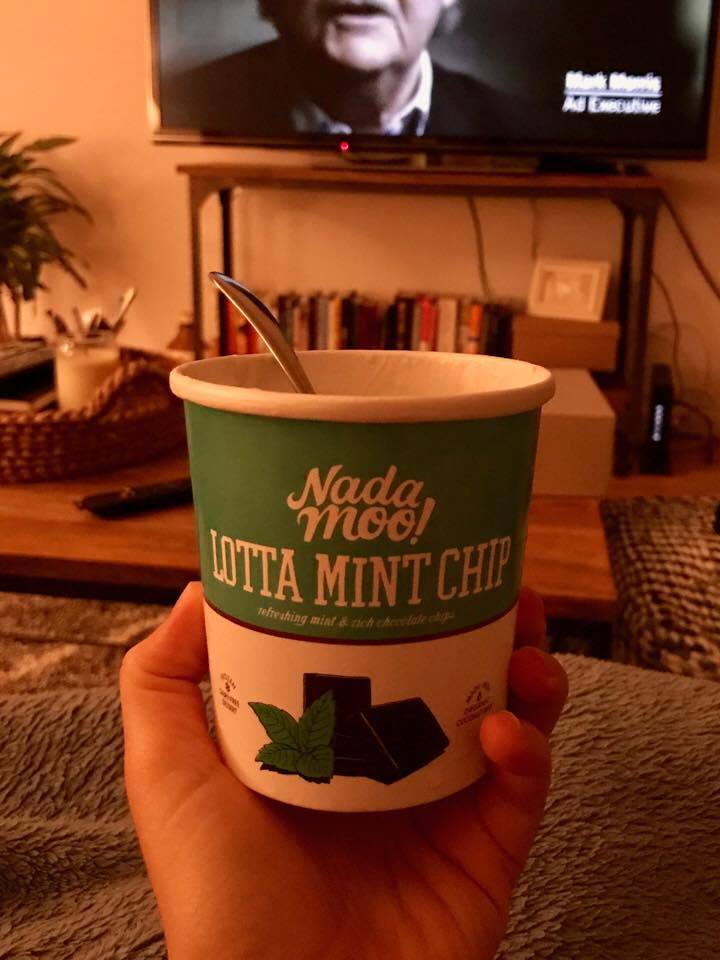 lunches a couple weeks ago was pasta salad with a ton of chopped veggies and balsamic dressing + hard boiled eggs and fruit + larabar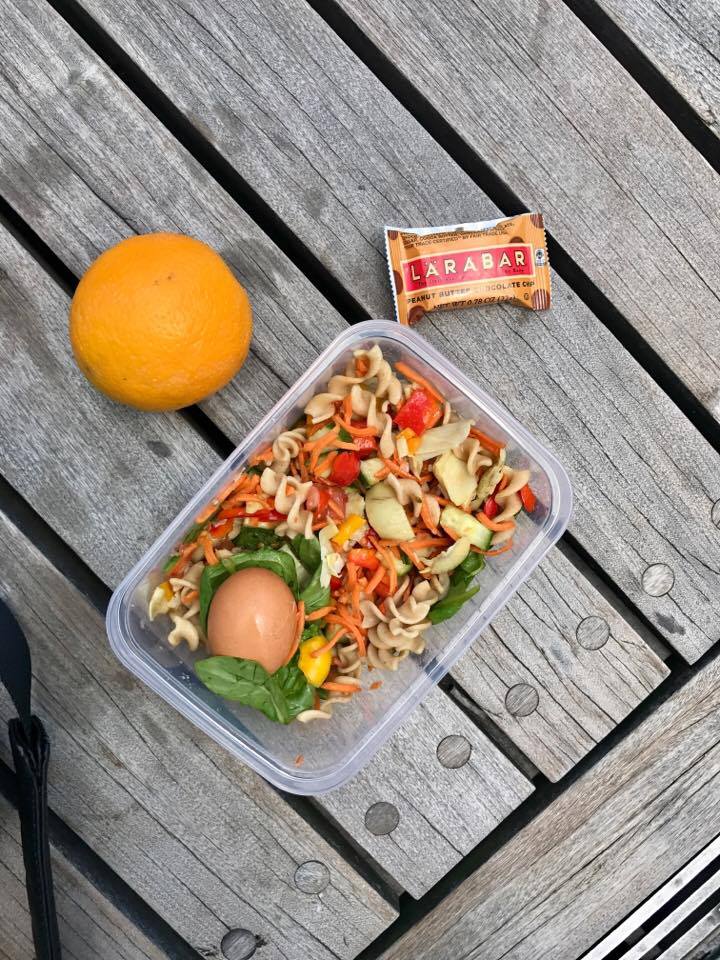 That same week at work we had a few lunch time webinars so the office ordered lunch which was pizza one day. I'm always down with free food.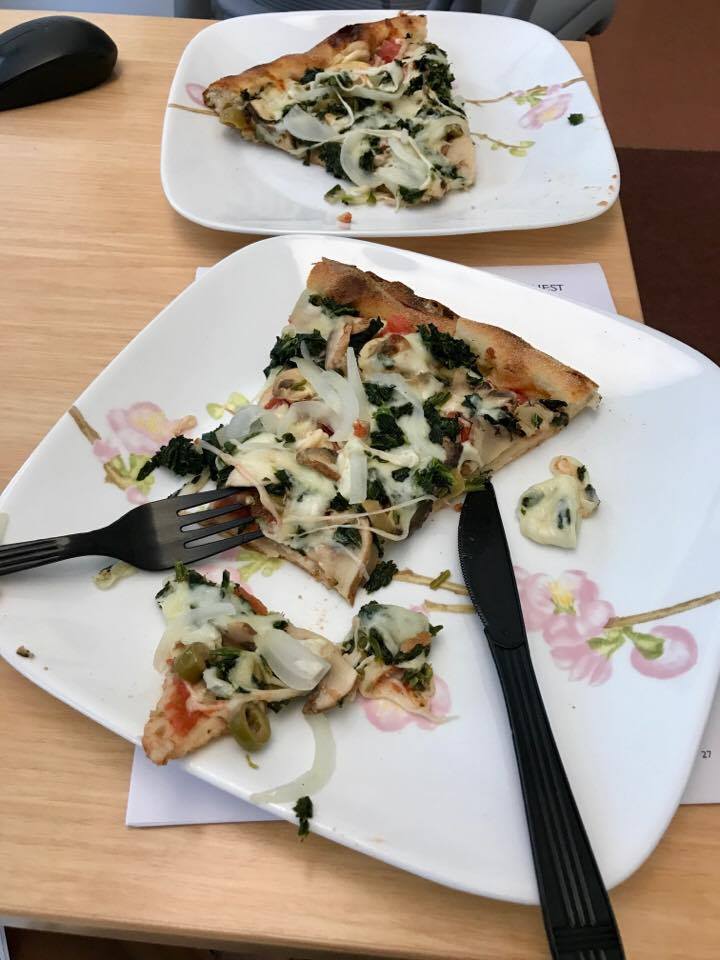 And lastly, Nick grilled burgers one night that we ate with sp oven fries and grilled veggies. There was probably a glass of wine involved in there too..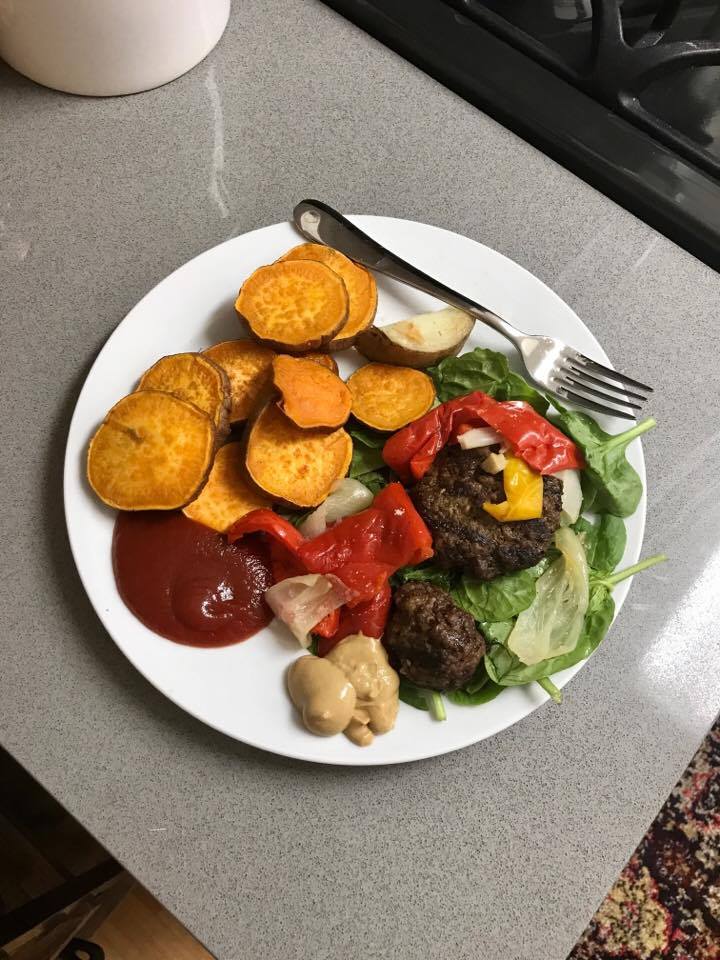 SaveSave