I've been in a somewhat rhythm with cooking meals, grocery shopping and stocking a pantry/fridge for almost 7 years now since graduating college. I say that because I think it can feel defeating when you're beginning to do some meal planning and cooking and it feels hard. It still feels hard for me sometimes! And my definition of cooking has continually changed depending on how crazy life feels.
The first few years post college that meant cooking really simple stuff every night because I hated leftovers. My nursing school definition was often scrambling eggs or heating up a frozen meals. And now post grad school and into what I feel like is finally my attempt at adulting…cooking right now means making one big recipe for dinners and lunches throughout the week. Although I still don't love leftovers, I've come to accept they make my life infinitely easier. Learning to meal plan for two after getting married was another learning curve as well. I am lucky that I can cook anything and Nick will eat it, so he's not really that involved in the grocery shopping and meal planning. He's really good at doing dishes, being handy and doing the laundry 🙂
As I've moved further along into this journey of intuitive eating, it's been a lot of trial and error to figure out what works well for my schedule, wallet, and taste buds. Ideally, I'd eat every dinner out or at least pick up Whole Foods hot bar. That would be awesome for my taste buds and schedule, but not financially sustainable. I also don't have time to cook a new dinner recipe every night of the week. Hi, stress. That would also be good for my taste buds and better for wallet but not my schedule and sanity.
So what I've landed on is a mixture of all the above. And what I've learned is that intuitive eating and some loose meal planning can go hand and hand. Intuitive eating doesn't necessarily mean always having the most satisfying, craving worthy food at every meal. I think it's a journey in discovering what foods you enjoy and then making meals that include those foods and flavors. I've found this way I can satisfy 70-80% of my cravings with meals and then snacks are where I feel most intuitive with choosing foods I'm hungry for and craving.
MY LOOSE GUIDE FOR MEAL PLANNING + INTUITIVE EATING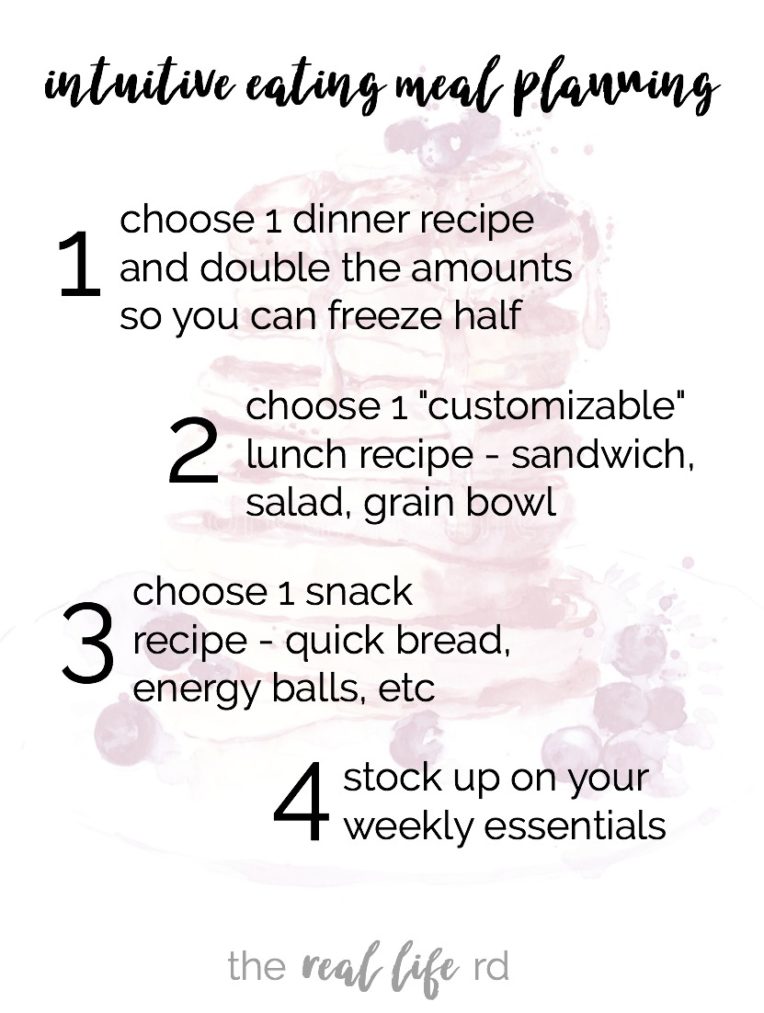 1. I'll peruse some cookbooks and Pinterest if I'm looking for new recipe inspiration. Or if it's a busy week then I think about what I'm craving and just pick something I've cooked before that's easy and familiar. Some usuals are enchiladas, burrito bowls, "unstuffed" cabbage rolls, green curry, and stir fry. Then I write down what I need to buy for that recipe, doubling all the ingredients. I almost always freeze 1/3 to 1/2 half of a dinner recipe when I make it. It only takes a few weeks to have three different dinners frozen in the freezer. Last week I made sweet potato, spinach and chickpea curry and froze half. Then I cooked up a few nights worth of brown rice to eat with it.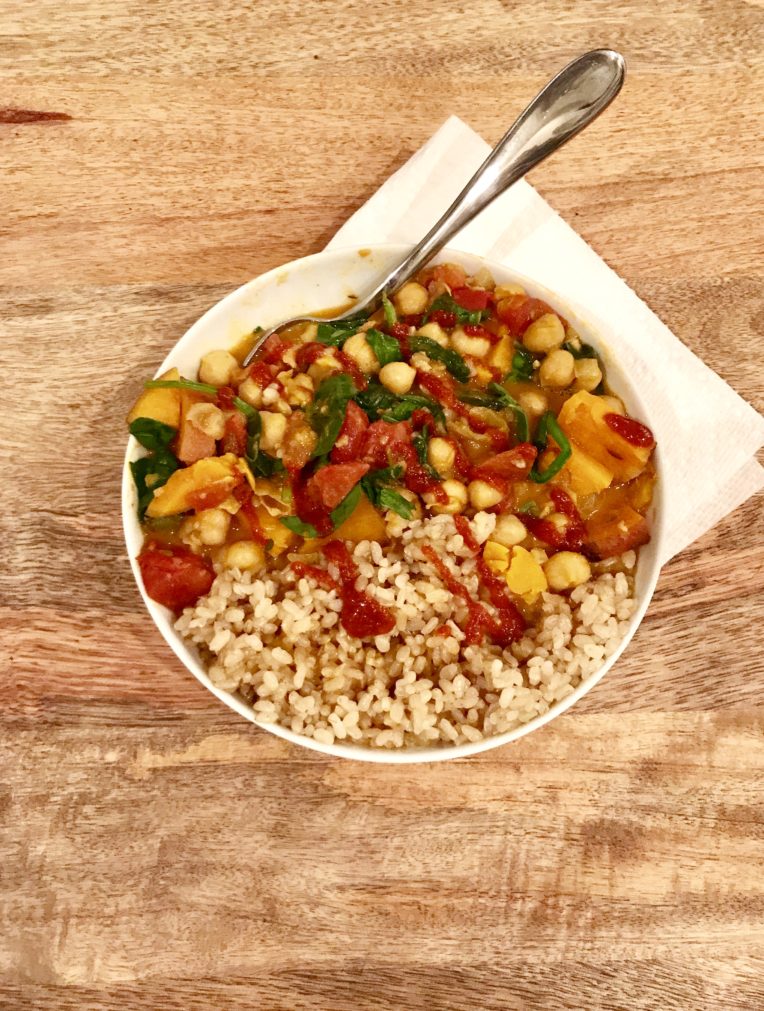 So then in weeks to come you'll either 1) have dinner in the freezer when life gets nuts and you don't have time to cook or 2) you'll have 3 different meals to choose from in addition to the recipe you cook at the beginning of the week so you're not eating the same thing all week. We might eat what I made on Sunday for the first 2-3 nights of the week, then a dinner out of the freezer for a couple nights so we aren't eating the same dinner 5 nights in a row. Or we eat what I made for the week and then mix it up by grabbing Chipotle or grabbing dinner with friends during the week.
2. Again, I look on Pinterest or in cookbooks or dig into the lunch archives in my brain based on whatever I'm craving. I rotate between some sort of salad, sandwich or grain bowl. In the winter salads mean a veggie soup or a bowl of roasted veggies because I don't really crave cold salad in the winter. Salads, sandwiches and grain bowls are super customizable so you can switch up the sauces and add-ins throughout the week to keep it interesting and satisfy your cravings. Use pesto or hummus or mayo on wraps/sandwiches or switch up the dressings or toppings on grain bowls and salads – nuts, dried fruit, cheeses etc.
Last week I made grain bowls based on an idea in my own head. I bought a few winter veggies – delicata squash (or use butternut), sweet potatoes, broccoli and brussel sprouts. I roasted all those up with oil at 350 degrees, picked two dressings, and then cooked up chicken and some lentils for two different proteins. Dressings = hummus thinned with lemon juice and olive oil and sriracha + olive oil + sea salt. Or just buy two dressings! I threw the veggies over kale and picked lentils or chicken, heated it up in the microwave and added on one of the "dressings." I'll usually always add a handful or crackers, piece of fruit or a larabar to mix it up based on what I'm craving and how hungry I am.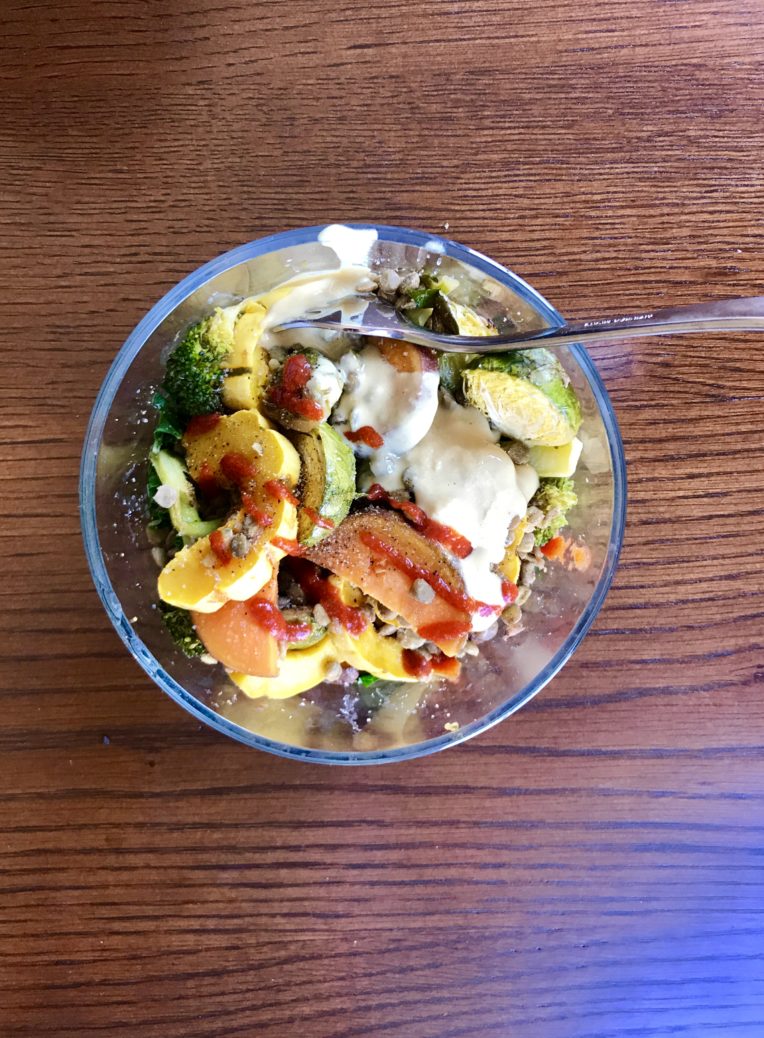 3. I like to make a snack/dessert type thing every week. Mainly because I love baked goods and stuff like that and I get really bored of packaged snacks. At least 75% of the time I'm making banana bread of some variety, but other times I make some energy balls or snack-y cookies. This week I made Alexis's no bake sea salt peanut butter balls. If you wanted to make these simpler, I would just mix the chocolate chips into the ball mixture instead of melting it and drizzling on top.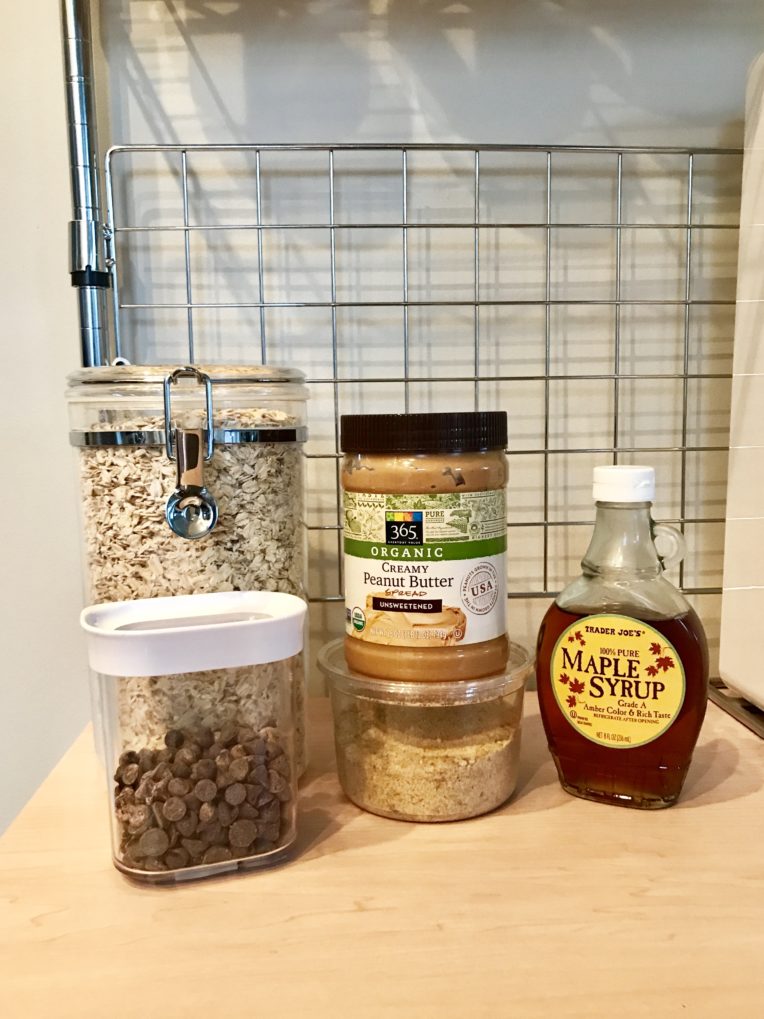 4. Figure out what your weekly essentials are and stock up on them every time you go to the grocery.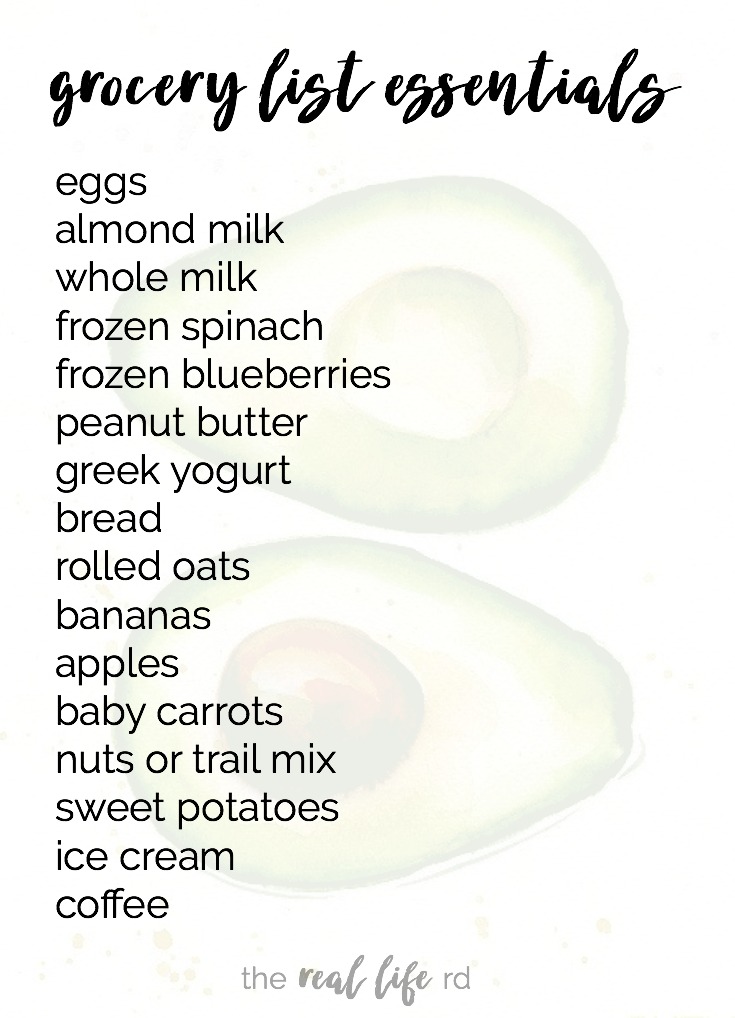 Breakfast is always a rotation of oatmeal, toast with pb or avocado, toast and eggs, yogurt bowls with fruit/granola/nuts and sometimes pancakes if I have time but usually that's for the weekend. I can make any of these things with our essentials.
I use almond milk in smoothies because I use about 1-2 cups of milk in smoothies and have found that much cow's milk makes me nauseous. I also use almond milk in oatmeal for the same reason. I use whole milk in my coffee and for cooking/baking. Frozen spinach, blueberries and bananas are for breakfast and smoothies. Peanut butter (or almond butter or sun butter) is for anything and everything. Eggs are for breakfast or a quick and easy dinner. In a pinch I fry or scramble eggs, bake a sweet potato and steam up some kale for a quick lunch or dinner. Sweet potatoes keep for months in a dark, cool place. Apples are for lunches and snacks and also keep for several weeks in your fridge. Nick snacks on baby carrots like a horse 🙂 I eat them sometimes with hummus. Nuts and trail mix are for snacks and breakfast. And ice cream + coffee are vital to sustaining life and sanity.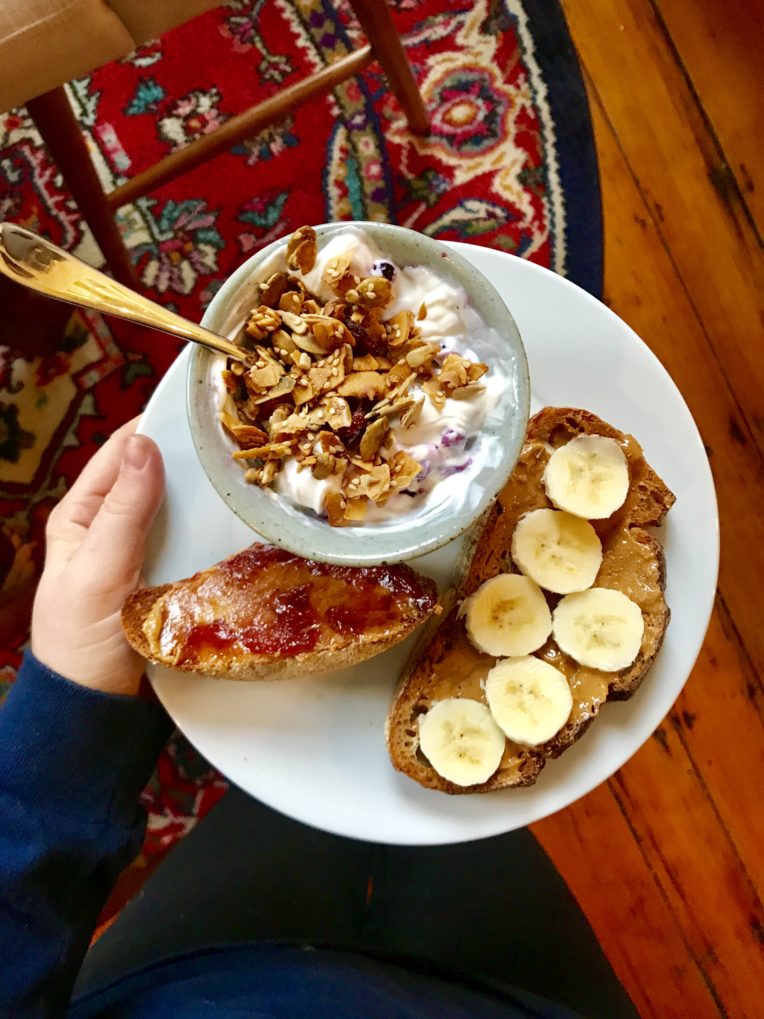 A FEW THINGS I'VE FOUND HELPFUL..
I usually do my grocery shopping on Saturday after making a list. Picking recipes/meal ideas and making a list takes about 20-30 minutes. Then grocery shopping start to finish is about an hour. I find shopping and cooking in one day is just too much for me. I don't want to be doing cooking/meal planning for more than an hour-ish at a time or it becomes a burden and then I start getting frustrated because I want to be doing something else.
Sunday afternoon or evening I cook. I turn on a podcast or talk to a friend or my mom and cook up the dinner recipe, prep whatever I need to for lunches (roast or chop veggies, cook some grains etc) and make a snack recipe. This usually takes about an hour-ish or 90 minutes. Sometimes 2 hours but that's rare.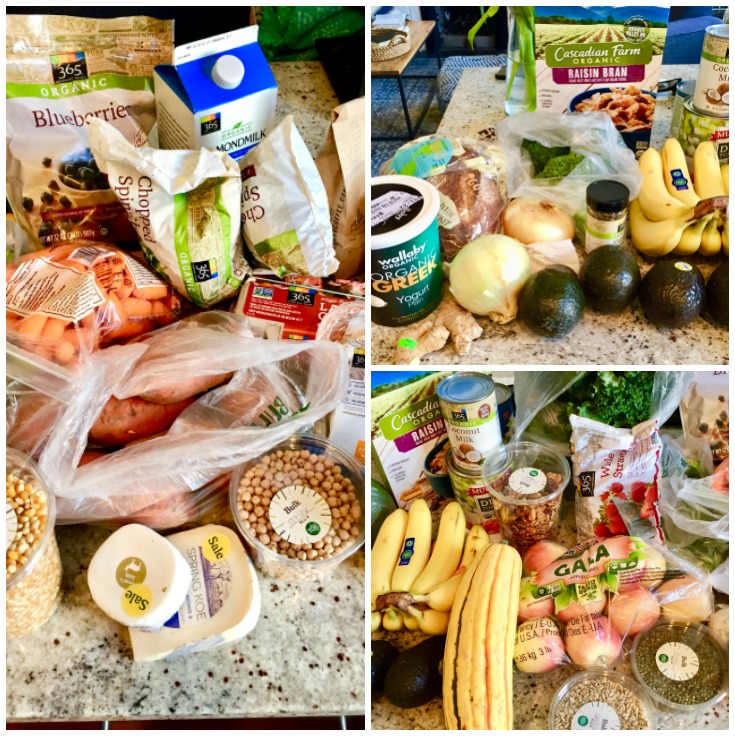 I only shop at one store. In both New York and Boston I've found the the most affordable store aside from Trader Joes to be Whole Foods because we don't have Krogers which I find the most affordable back home in Indiana.  Trader Joe's doesn't usually have everything I need and their produce can sometimes be hit or miss. I make one TJs trip a month to stock up on dry goods and oils and nut butters but I've found shopping Whole Foods 365 brand and the bulk bins affordable. And now that Amazon has bought Whole Foods, prices are way lower on every day things like potatoes, avocado, bananas etc. It's less stressful for me to just pick one store and maybe pay 10% more overall vs going to a few different stores. Although coming from a single mom of five, I am thankful to even have a choice in that. I know budgeting is so so personal and some people allocate more money towards some things and less money towards other things. For us, I try to keep groceries under $140/week for two people with pretty big appetites. Most weeks, we eat out about 2 times a week when we spend this much – usually one nicer meal and then something casual like takeout.
Be flexible. Life is messy. And sometimes shiz happens and you don't grocery shop or cook or meal plan. That is okay. Life goes on. Those weeks we eat a lot of eggs and potatoes. Or boil up some pasta with olive oil and sautéed greens. Or we order takeout or grab Dig Inn and readjust the budget in other places. Life happens.
I hope this is helpful. I by no means have this all figured out so share your tips and things that work for you in the comments! And of course, any questions…ask away!