We are driving up to Vermont after work today to spend the long weekend at a friend's parents house with a handful of good friends from New York. I'm really looking forward to seeing old friends and enjoying a relaxing weekend. I haven't skied in like …10 years. Hopefully I'll come back in one piece. I also plan on cozying up beside the fire, drinking all kinds of hot beverages and eating a lot of good food.
It's suppose to be in the 50s on Friday, but thankfully the temps drop into the teens and single digits for the rest of the weekend so it should be cold enough to do outdoor stuff. I've also never cross country skied or snowshoed so I'm hoping to do that too. I'll report back on my ability (or lack thereof) of these activites. What do you guys have planned??
Onto the food! Here's a roundup of some eats from the past week or so. I hope these posts simply inspire you to eat satisfying foods.
Breakfasts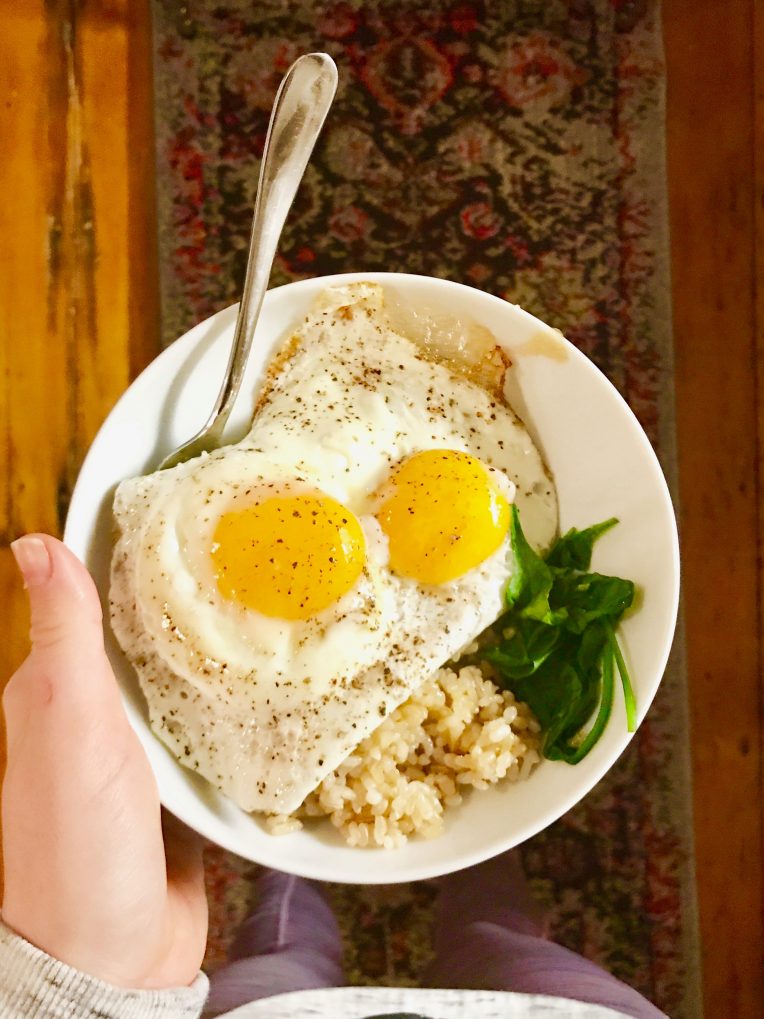 My favorite breakfast this week. I heated up some leftover rice with butter and salt and then topped with sautéed spinach and two fried eggs with salt + pepper. Ate a banana and pb an hour or so later.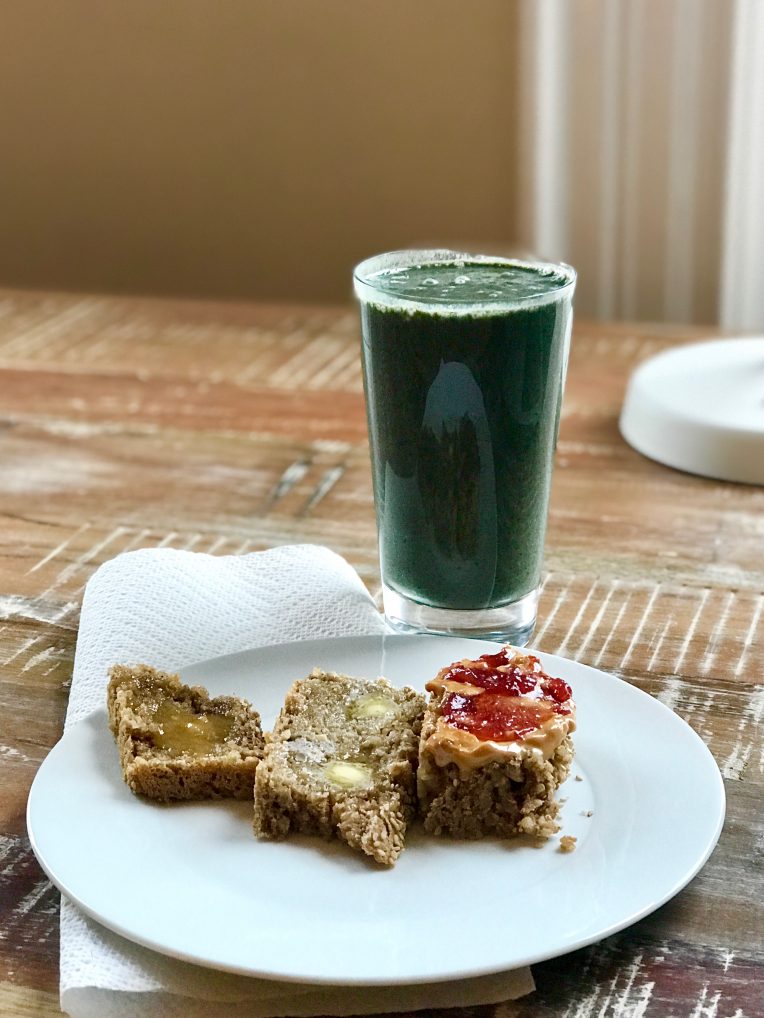 When I didn't want to cook, I had toast + green smoothie (frozen banana, blueberry, spinach and Vega). I made my first ever batch of yeast bread this week! Even with yeast, it's still pretty dense, but super chewy and satisfying. I used a recipe out of this cookbook. It's a blend of whole grain flour, cornmeal and cooked brown rice and is apparently a thing in Amsterdam. Other than the 14 hrs you have to wait for the dough to ferment and another hour to rise, it was super simple. Topped with a variety of things….honey + butter, just butter and pb & j.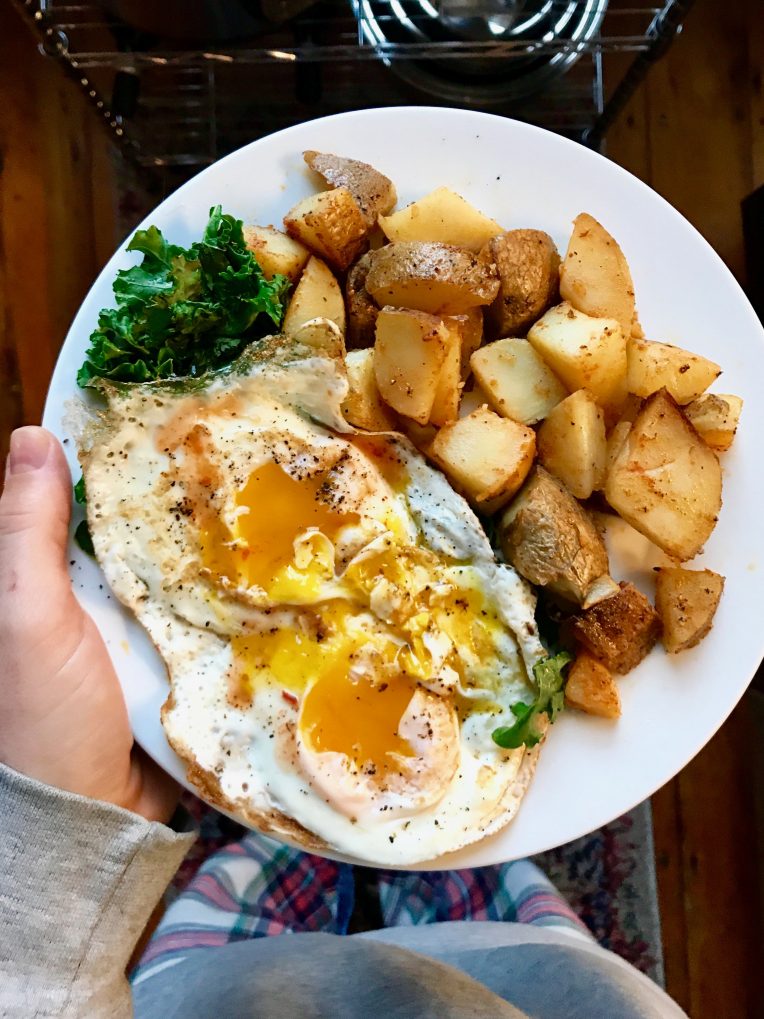 I ate this yesterday morning and posted on Instagram. <3 weekday breakfasts that feel like the weekend but take less than 10 minutes.
Lunches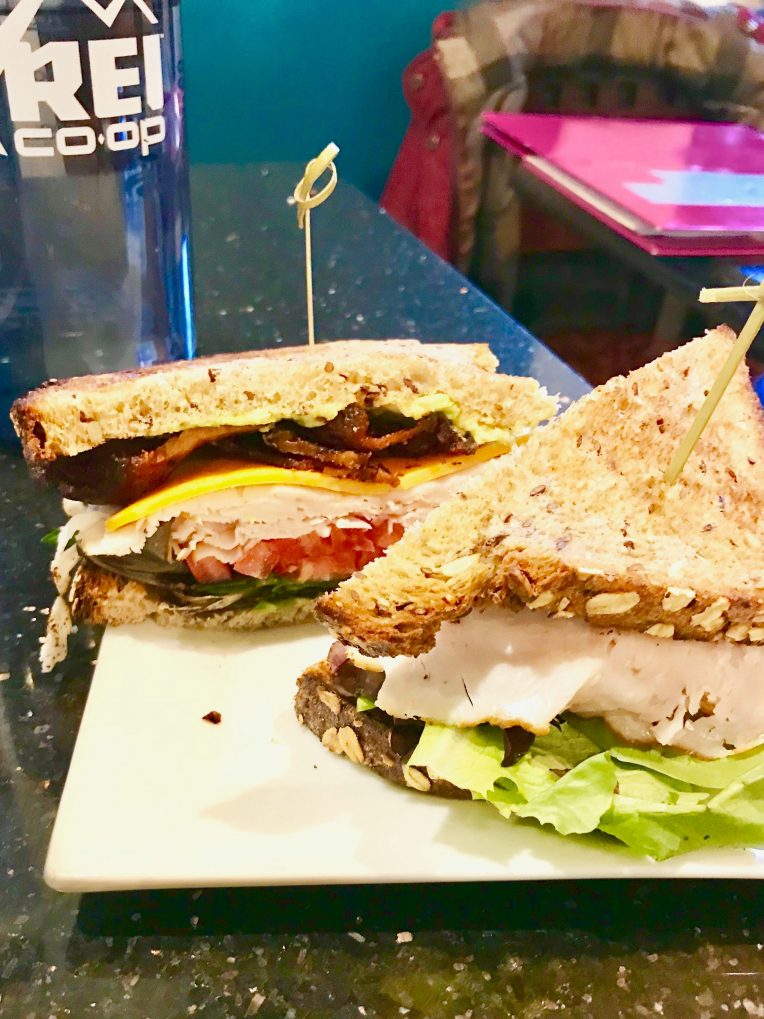 Favorite lunch to order when I'm at the coffee shop is the turkey club. It's made on this fab local Iggy's bread and has so much flavor – bacon, turkey, avocado, mayo, cheddar, lettuce +tomato. And it keeps me full for a while which is a win.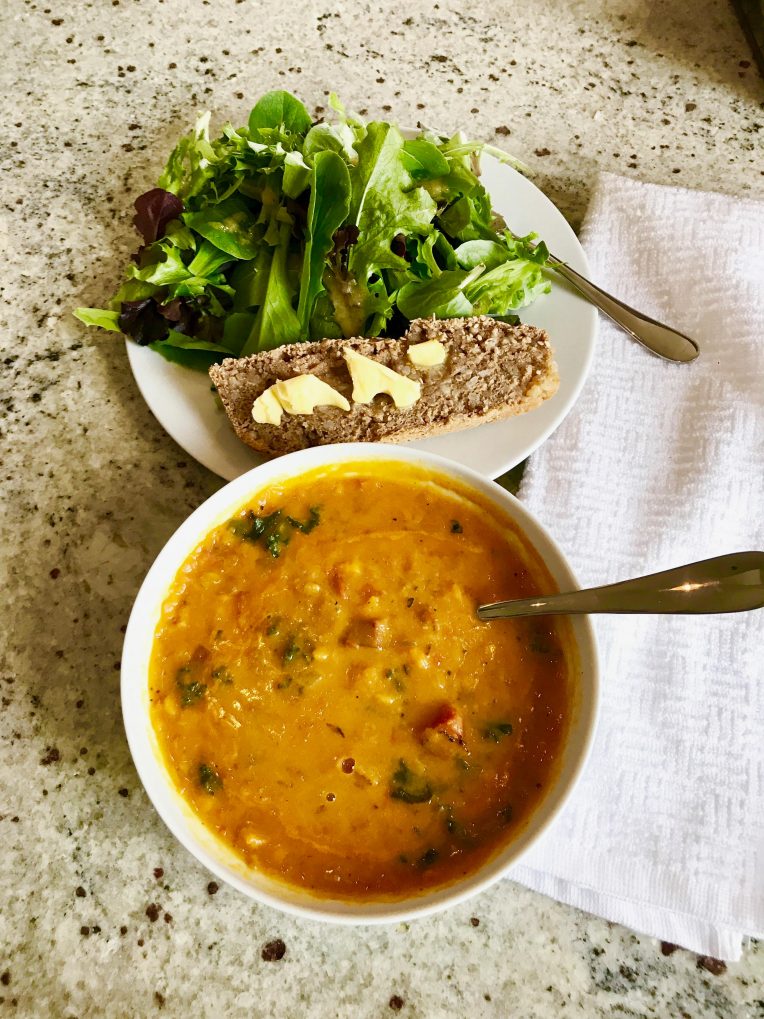 I made a batch of thai peanut soup in the instant pot on Sunday and we've been eating on that all week for lunch too. This hits the SPOT. So creamy and thick and satisfying. I've been pairing it with a slice of the baked bread with butter and some greens or an apple with a couple scoops of pb. Because why not continue the peanut theme?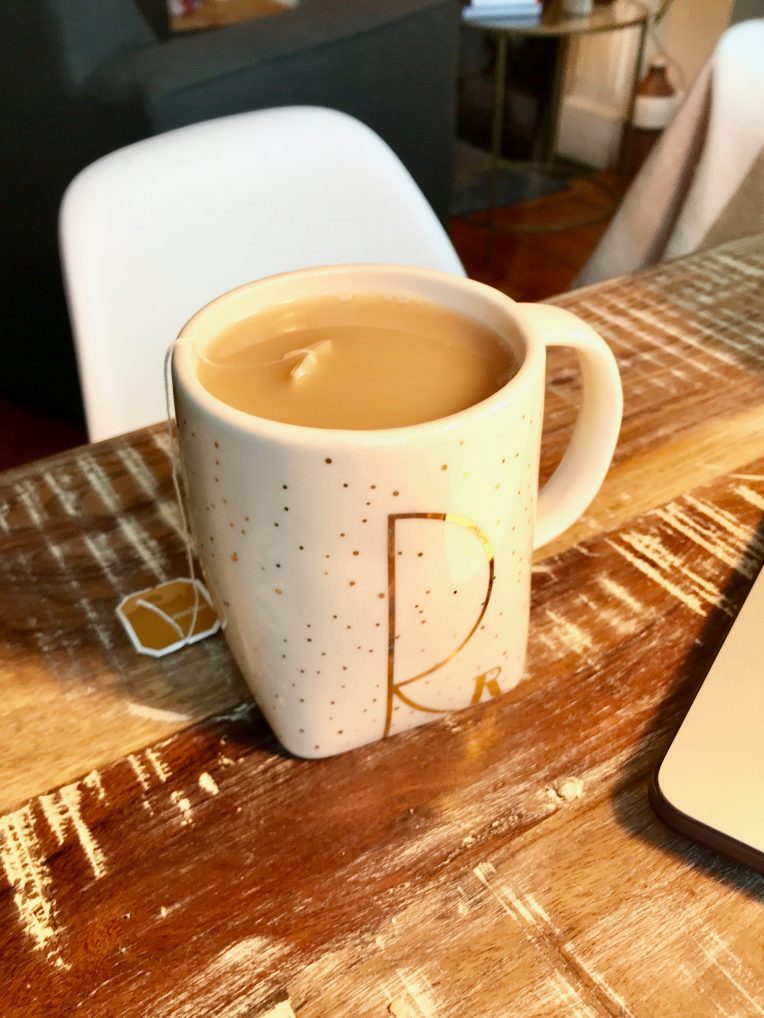 When we were home during the holidays I noticed my sister in law would often drank tea. In the afternoon and then before bed she would drink a nighttime tea. And it looked calming, so I figured it would probably feel even more calming if I actually drank it. I'm probably making zero logical sense, but I bought a few boxes of Yogi and Tazo tea at the grocery this weekend. Tazo chai tea with milk if I want a mild caffeine buzz, peppermint tea if I don't want any caffeine in the afternoon and then a bedtime caramel tea blend from Yogi that is so good. I'm trying to wind down earlier in the evening (I can sometimes be doing something stimulating up until bedtime) so making a cup of tea around 9pm or so helps with that.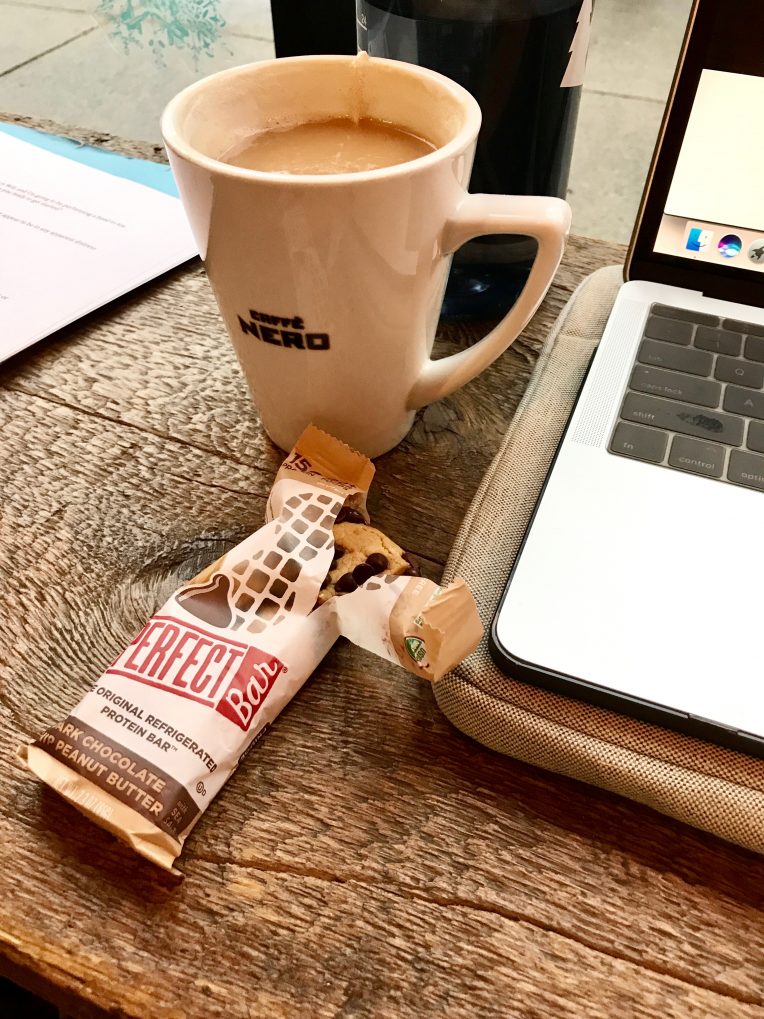 Along the tea theme, when I'm sick of coffee flavor (I know, how is that even possible?) I order a chai tea misto at coffee shops while doing blog/project/writing work in the afternoon. And then snack on some sort of bar. Perfect bars or Rxbars or Larabars or whatever bar I have on hand. Or chocolate.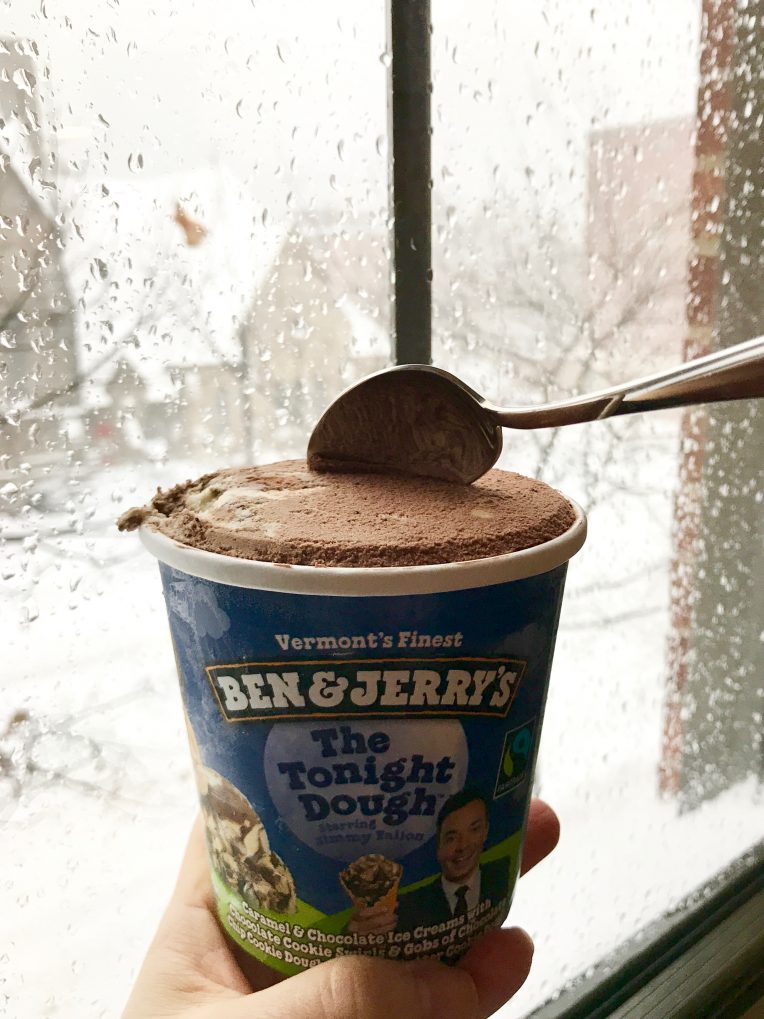 And even though its been freezing cold over the past week or so, the ice cream cravings live on! We currently have a rotation of Ben & Jerry's, Nada Moo cookies and cream and Breyer's vanilla in the freezer. I'll have some in the afternoon for a snack and/or in the evening as a bedtime snack.
Dinners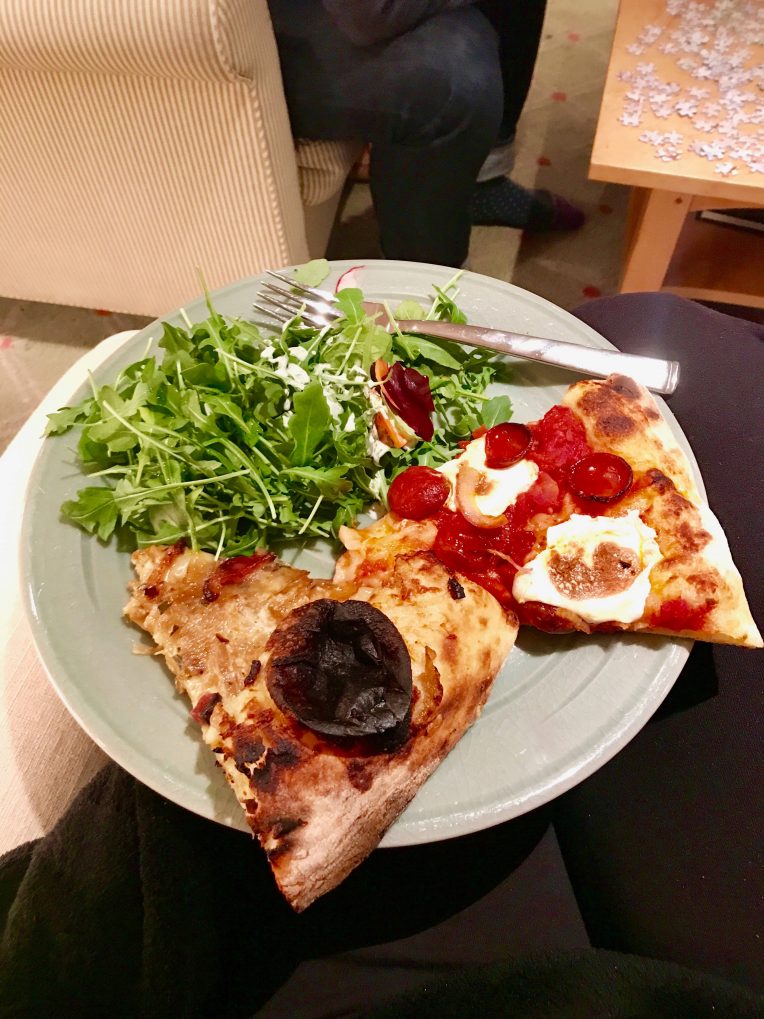 Picco pizza and salad at a friends house. The bottom piece with bacon, gruyere and caramelized onions is UNREAL.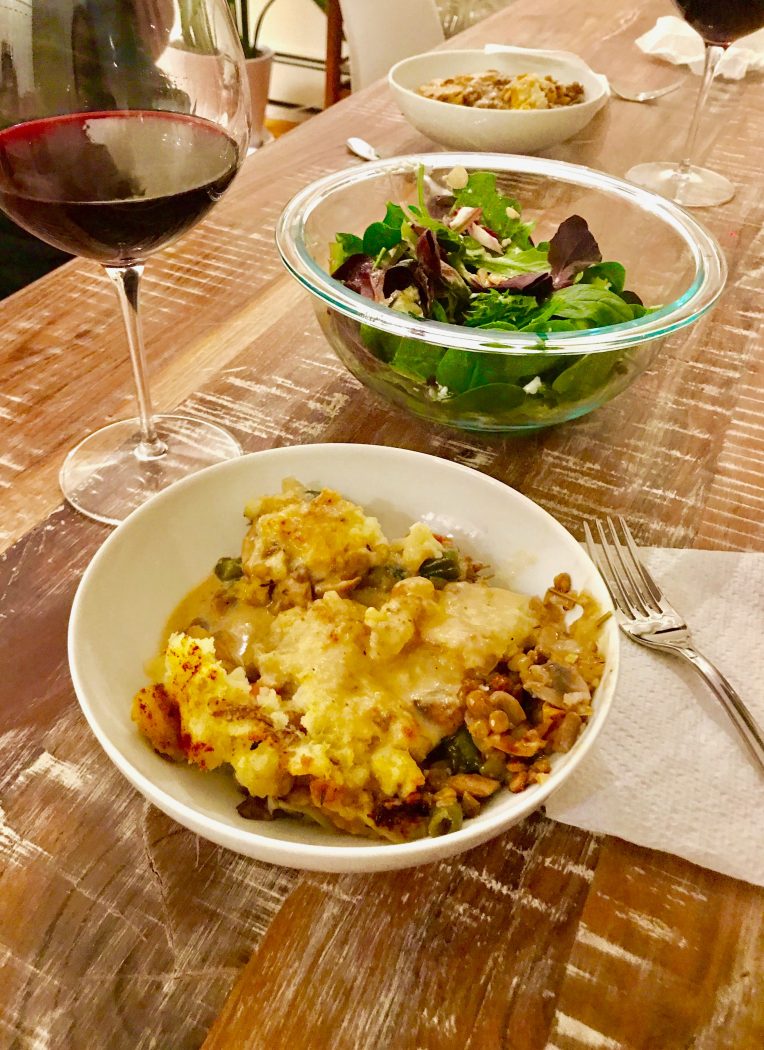 I made a large batch of Oh She Glows shepherd's pie this week for dinner since that sounded cozy. Here is the recipe link for one on her blog, but I make the one in her cookbook since it's simpler. I actually made the gravy this time (the one in the cookbook has a few "normal" gravy ingredients vs the blog one if you're feeling intimidated by the blog recipe :)) and the gravy made this recipe! I find it gets a bit too dry as leftovers without gravy. Plus salad with almonds, goat cheese and cranberries.
And that's that. I hope you have a great weekend! Share some weekly eats in the comments!