Hi everyone! Cody here again 🙂 I'm just bopping on to share some recent eats with you guys today. I hope these meals inspire and encourage you to eat something satisfying today!
Breakfast lately – For the past 2 weeks I have been making these egg cups. I know recipes like these have been floating around the internet for several years now but this was actually my first time making them. I loved these egg muffins because I could easily grab a few out of the fridge or freezer when mornings were crazy. Also, who else doesn't mind a cold slice of cheese with hot eggs?  A little weird, I know…but my tastebuds were into it.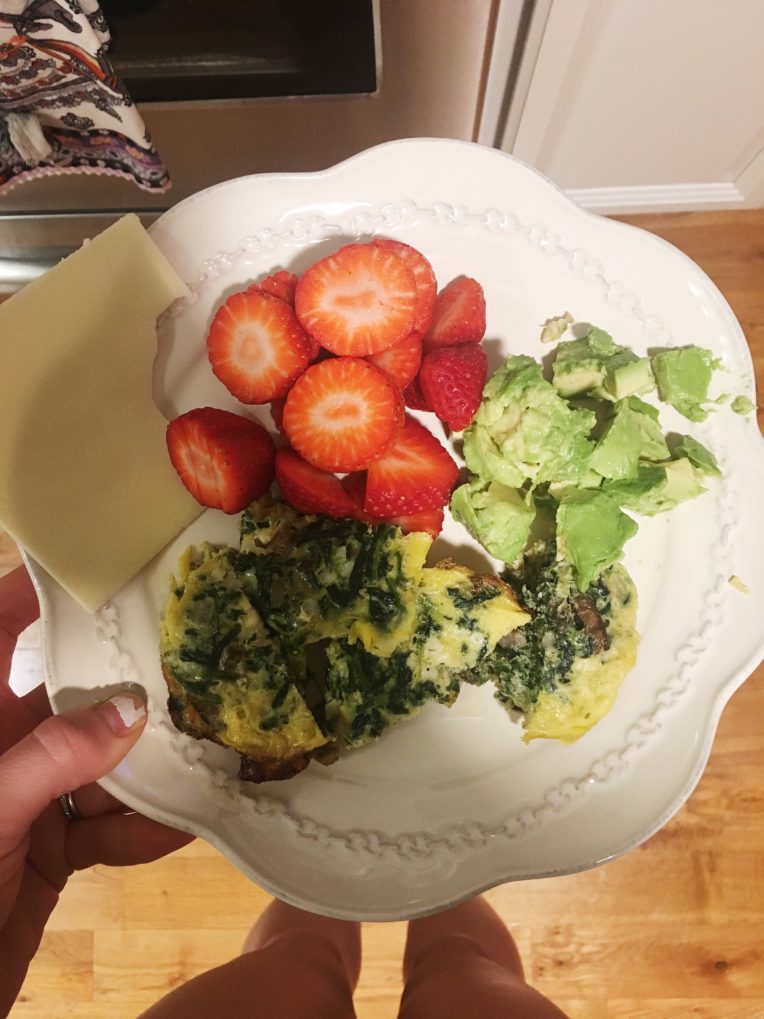 This homemade bread was SUPER simple and fun for me to make! I love a piece of buttery toast with cinnamon sugar for snacks. Also, has anyone had the Key Lime flavor of Noosa yogurt? It was a perfect combination with some fresh strawberries.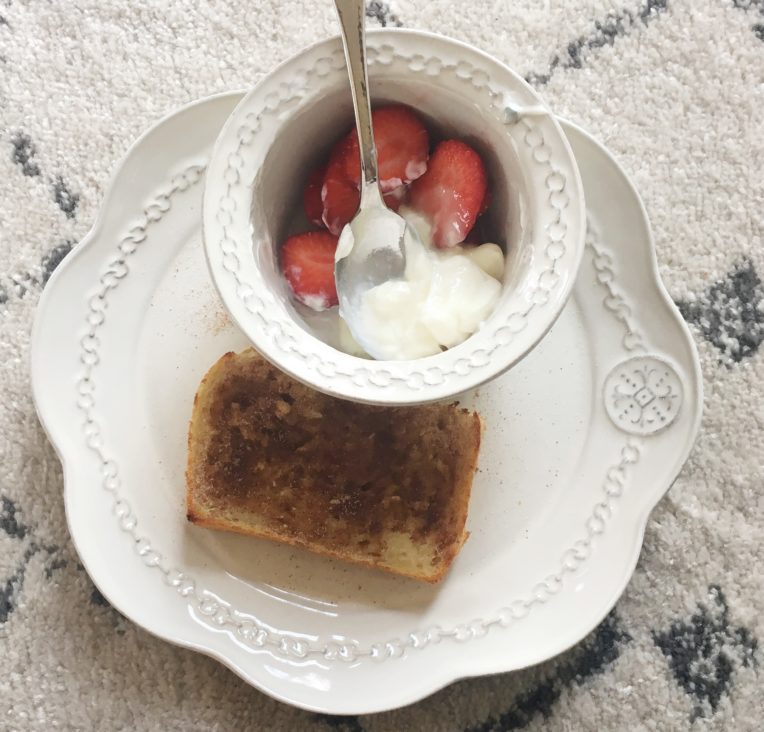 Baby John and I went home to visit my parents last week (super restful and much needed). My Mom is an amazing cook and I'm always wanting to learn from her. She makes the most complicated recipes look so easy…HOW? When she used a recipe, she will simply glance at it then shake a few spices into the dish. Last week was fun when she casually whipped up some chicken piccata on a weeknight. To make it all even better, she made enough for me to take home the next day and serve to JB. Thankful for her. The leftover version included whatever pasta I had in my pantry and stirred it all together with the chicken. The original version was definitely better, but this was still pretty good! Definitely not your average Superbowl meal.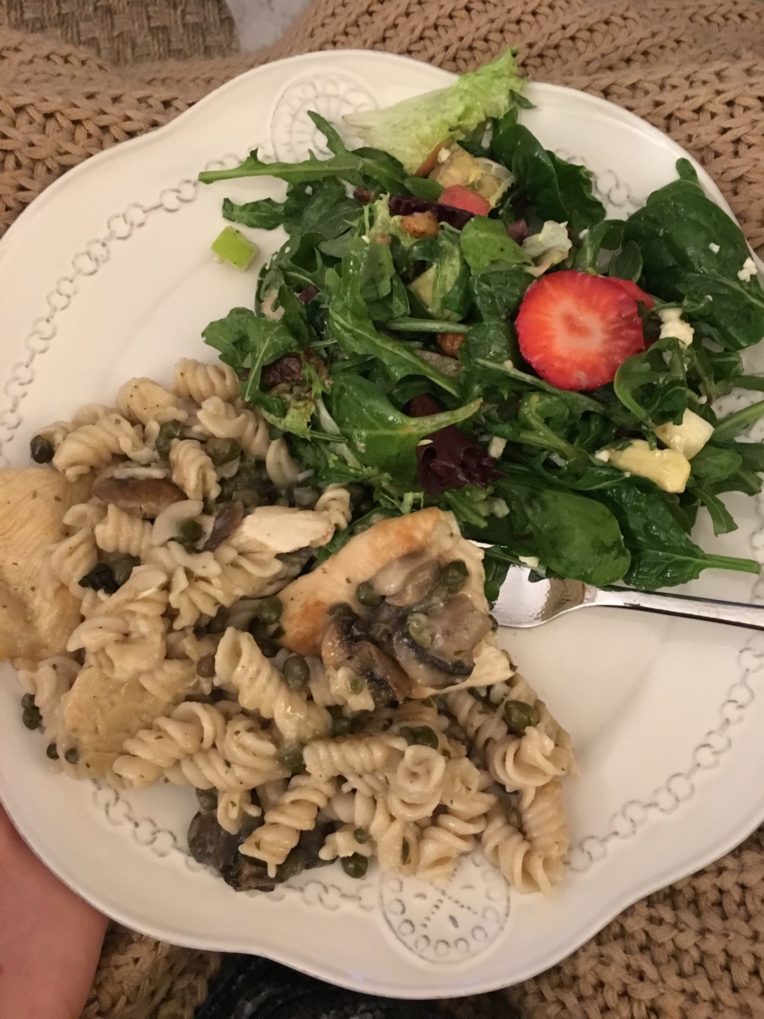 If you read my last post about favorite foods, you may remember that I love turkey and mayo sandwiches. Naturally, this has been on the lunch line-up this week. A sandwich by itself does not typically fill me up so this particular lunch, I had some leftover dinner along with pretzels and hummus. The leftover dinner was a random chicken, cauliflower, and zucchini curry I had made. I really will eat anything leftover and I don't even have to heat it up in the microwave. I honestly prefer my leftovers cold.
I think often we can scroll through beautiful food pictures on Instagram, and while that certainly has a place, it can sometimes paint a picture that "healthy" eating and intuitive eating are suppose to look a certain way. You probably won't see a messy plate like the one below that has little color and was taken without natural light on Instagram. Which is understandable given that Instagram photos are people's best work. It's a highlight reel. But I think it's so important to remember, most meals people eat don't look gorgeous, bright and perfectly plated. That's simply not real life, it's a snapshot. Both intuitive eating and healthy eating can take on a lot of different forms depending on a person's lifestyle, financial situation, access to food, and so many other factors.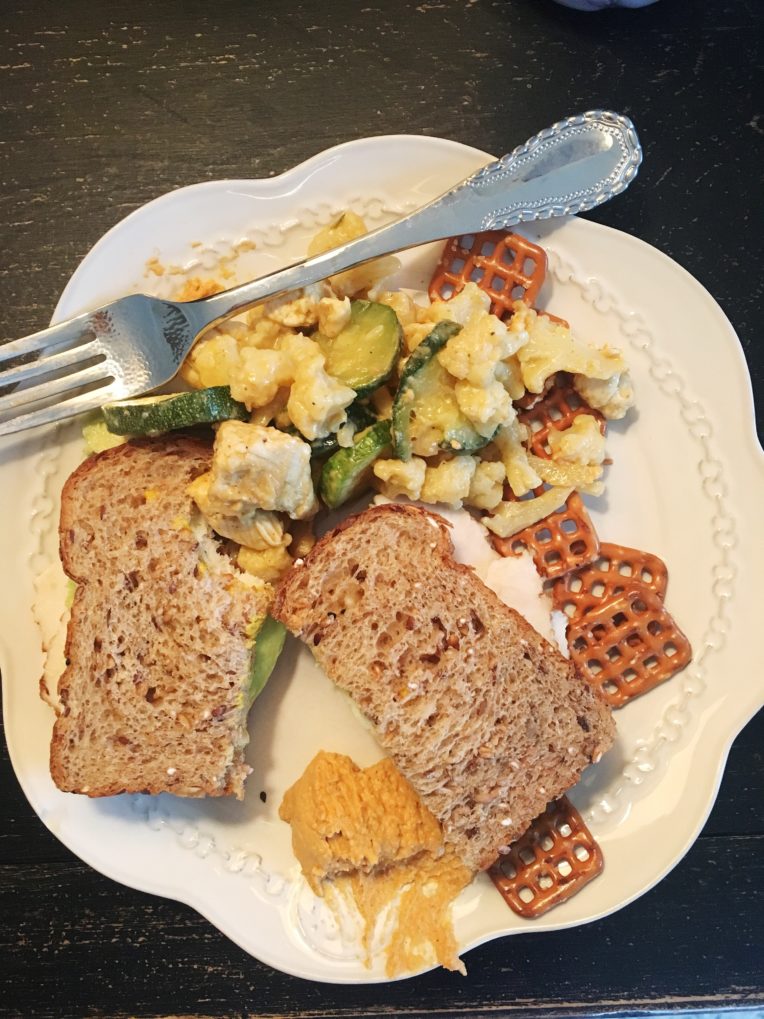 Dinner another night while I was home last week was spaghetti with my Dad. My Mom had plans one night so it was just the two of us for dinner. He made me this delicious spaghetti served with red wine and a salad. It was super cozy and satisfying!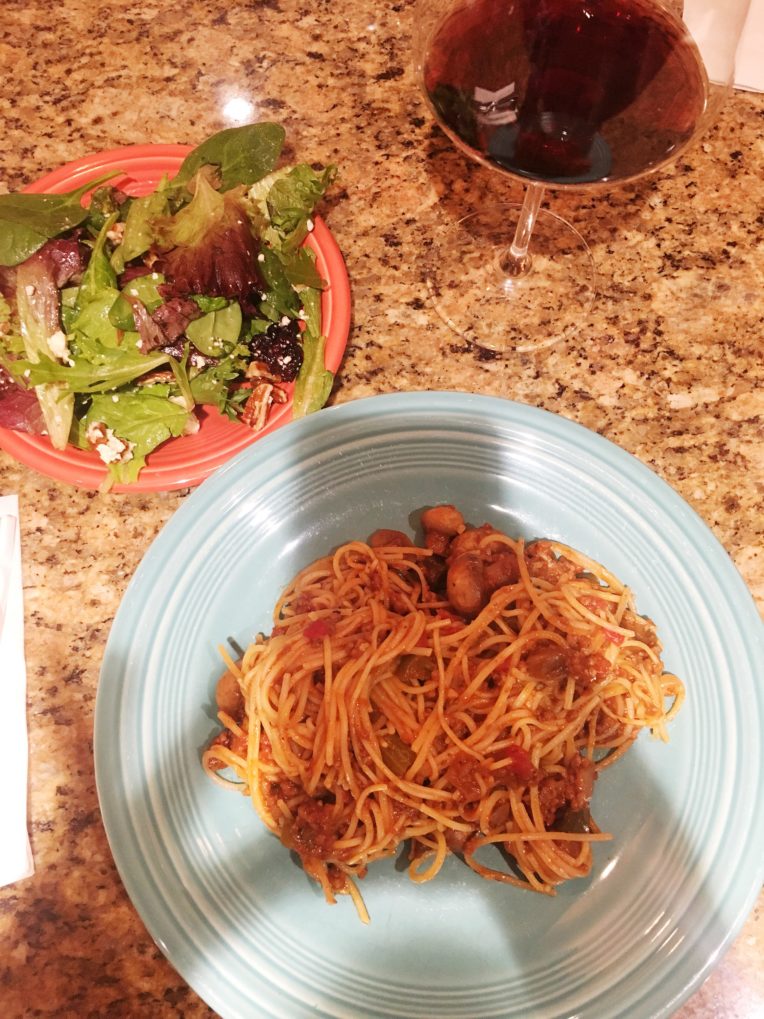 For a quick weeknight meal, I made these baked chicken fingers. I really just made up the recipe and put mayonnaise and italian bread crumbs on some chicken tenders. We also had some frozen Trader Joes potatoes, a "salad kit" salad (you know, the kind that comes in a bag – super easy), and some roasted asparagus. JB's favorite vegetable is asparagus and I feel like it is always on sale, so we end up eating it a lot.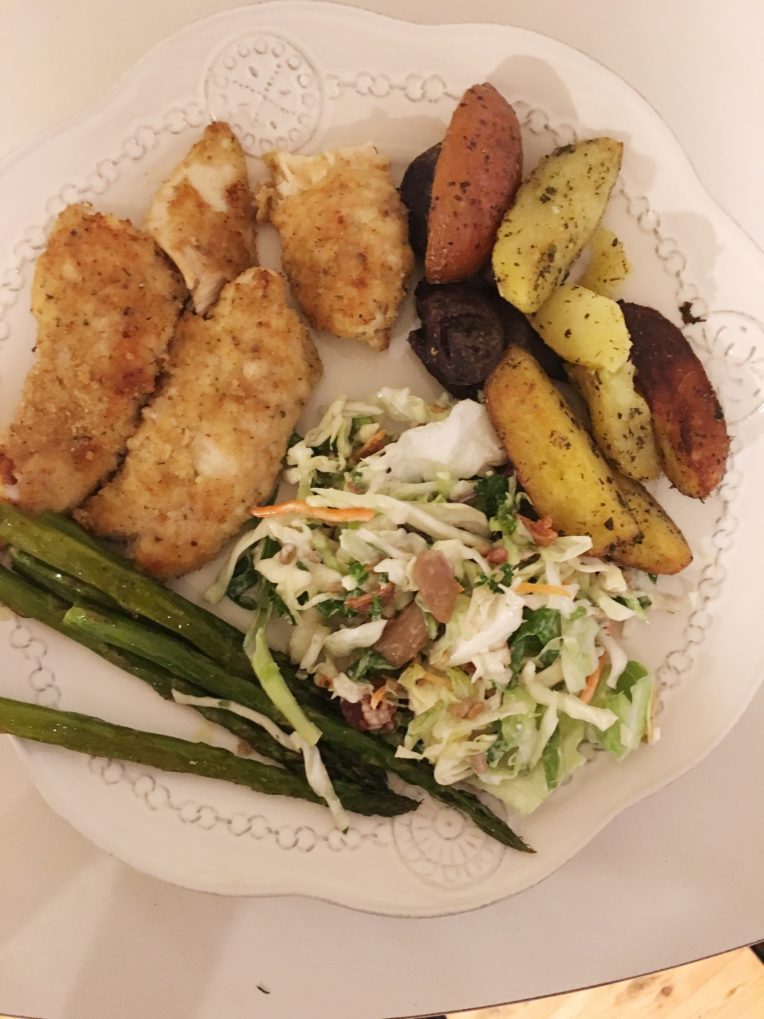 What are your favorite weeknight meals? What meals are cozy and satisfying to you? For me, I feel particularly loved when someone makes a meal for me like my Dad's spaghetti or my Mom's chicken piccata. What about you? We would love to hear from you in the comments!