I use to do Powersheets every month. But then back in August when we got engaged and I was wedding planning, finishing school and running a side business I stopped because I felt like I was in straight up survival mode. And doing all the processing and thinking that came with Powersheets felt really overwhelming. So I quit. Then a couple months ago I realized, "Oh hi Robyn, everything doesn't have to be complicated….just make some simple goals."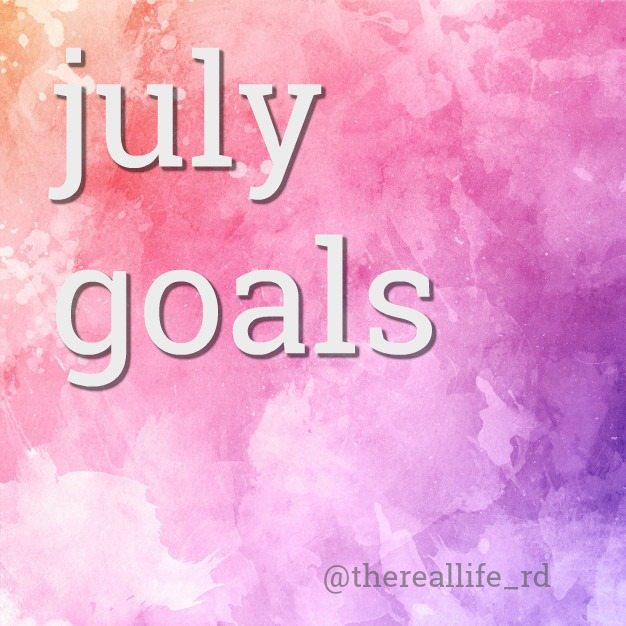 I like goals. I feel like they give me some traction and intention instead of just moving from one day to the next. But here's the thing for me – the goals need to make me feel free and not confined. And if I don't meet them, that is okay. It's not about achievement, but rather having some direction. If things don't work out like I planned then I reroute and figure out what's working and what's not for the next month. Grace abounds.
So I thought it might be helpful…and maybe fun?…to share my monthly, weekly, and daily goals for July. (You guys tell me if you like these kind of posts!) I take about 30 minutes to an hour at the end of each month and jot down some goals for the next month based on what worked and what didn't from the previous month.
June felt a little all over the place with settling into married life and starting a new job, so I'm excited to start fresh in July!
MONTHLY GOALS
Send two cards. I love getting a written card in the mail and I think it makes people feel really loved – so the goal is to send a written card to two people this month.
Finalize blogging newsletter, sign up technicalities and clean up the blog side bar. I'm still learning a lot about newsletters and the tech stuff that goes into it. If you want to sign up – do that here! Thanks for hanging in there with me through the learning process 🙂
Host people in our home twice for dinner. Ideally, we'd love to have at least one of those times be with people we don't know that well. Nick and I love hosting people – especially cooking for others. It's one of the huge reasons we chose our apartment with a bigger living space and more open kitchen.
WEEKLY GOALS 
Do yoga 1x a week. I love the way yoga makes me feel physically and mentally but I always tell myself I don't have enough time. I did a Yoga to the People podcast in my living room Saturday afternoon and was reminded how good an hour of flow feels.
Sabbath hard. And by hard I mean zilch work on Sundays. This is a learning process – how to rest well – but Nick and I want to learn to rest better so we can go into the week refreshed and ready to work well.
DAILY GOALS
Be more patient + full of grace. I can get really inpatient in the city and then that leads to frustration and bitterness towards living here. And when I'm inpatient, my grace pool is basically non existent so I get snippy with Nick (which isn't fair) and I feel depleted. Sooooo plan here is to deep breath and remember that nothing is urgent so I can be more present and appreciate even the little things.
No work or social media past 8pm. Nick would rather me not blog or be scrolling through my phone when we are relaxing in the evening. And I really do want to have clear cut off boundaries with work and rest. So the plan: be and stay unplugged after 8pm.
Pray for 10 minutes. I've gotten in the habit of doing my morning quiet time/devotional and then telling myself "I'm going to pray on my bike ride up to work" …and then I don't. Ummm Robyn, your spiritual life will be dry as dirt if you don't talk to God like you do your friends on a daily basis.
And that's July. Share in the comment any goals you have for this upcoming month!