I've come to realize that there really is no such thing as work life balance. But rather figuring out how to intermingle work and life in a way that allows you to flow, versus plow through life.
This is still something I'm working on, but what I think it means is that some days and seasons will be work work work. But these will follow with a season of a lot more rest. Some days call for more focus and productivity while others have more flexility to choose where you spend your time and energy.
It's easy to plow through my day, checking off tasks but not really doing any significant work. When I think of intermingling work and life in a healthy way, I think about making a conscious choice to do something versus doing something out of habit or to meet somebody else's expectation. When I do this, I feel in control of my thoughts, my schedule and my life.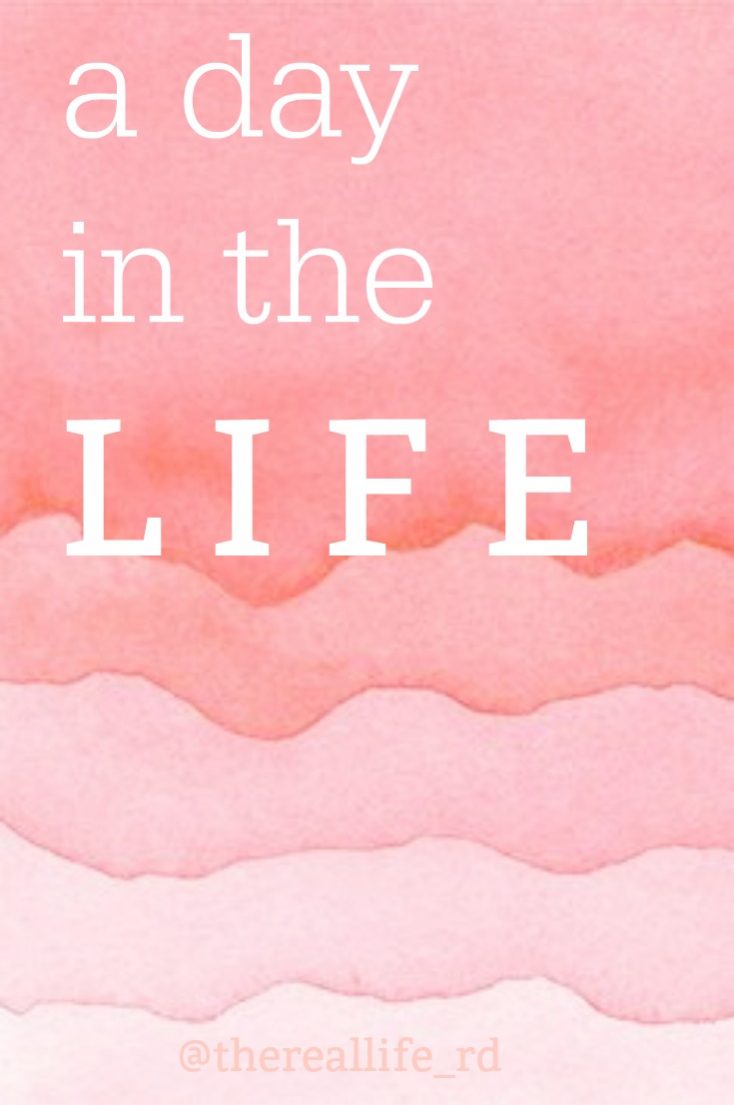 Soooo all that to say, this season has been a lot of work. A lot of long days. Most of my Monday to Thursday looks like yesterday. I might do one social thing during the weekdays but between working 9-6pm five days a week and doing the blog/business in the fringe hours, I'm mentally exhausted by the end of the day. And at 28 I've finally started to realize that I don't need to run myself ragged with being a social butterfly 5 days/week.
Cody is on maternity leave so I've been working with her clients as well. Between that, my full time job and other side projects the days are full. But for some reason, even with an overflowing plate, the day to day feels busy, but I don't find myself stressed (most of the time). And I think that's because I am enjoying the blog and business so much. I know this is a season. It will end. And then there will be more time for rest and other things.
Since I now work a regular 9-6 M-F job, my weekdays feel pretty mundane right now. Not in a bad way, but more in a way that feels less exciting, yet worthwhile.
5:20am – wake up, make coffee, pack lunch. I have learned my brain is sharpest and most creative in the morning and this is when I can get my best blog work done. I only see clients in the morning on weekdays when my brain is fresh. So the early bedtime and wakeup is the opposite of most New Yorkers, but it works best for me during the week.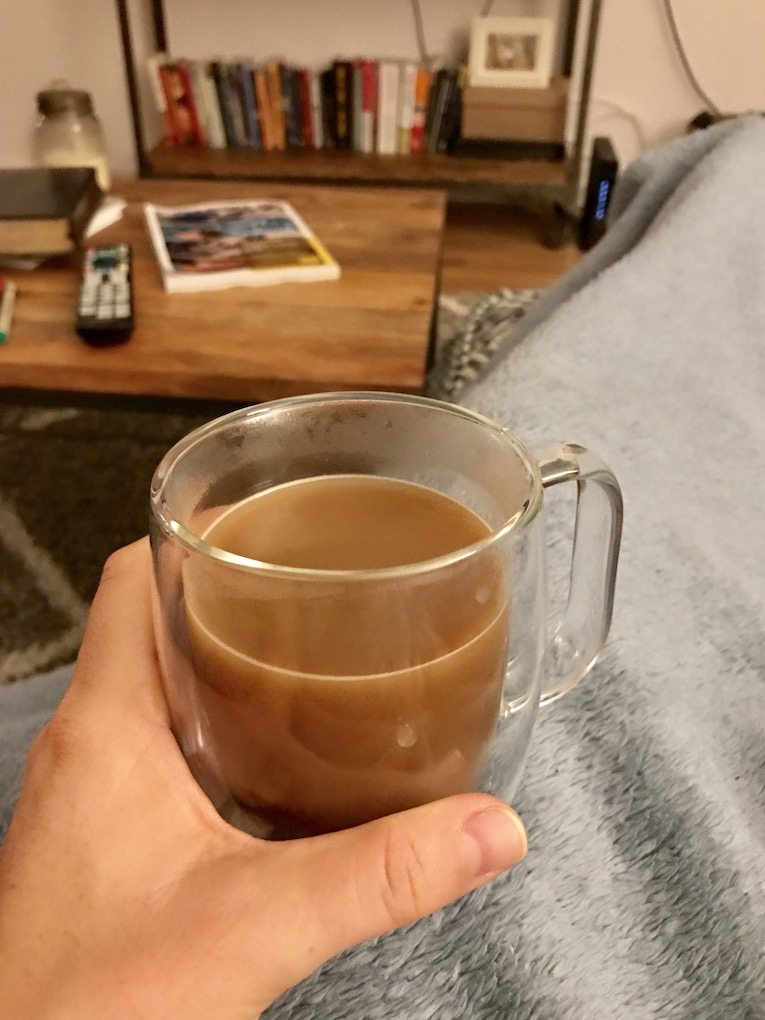 5:30am – 5:45am – drink coffee, read a few pages, journal, ease into the morning and get my head on straight. Currently reading Ann Voskamp's, One Thousand Gifts.
5:50 – 6:50am – blog work and email. I start writing this post for Friday, answer some blog comments, reply to a few urgent emails and work on a few small things for side projects.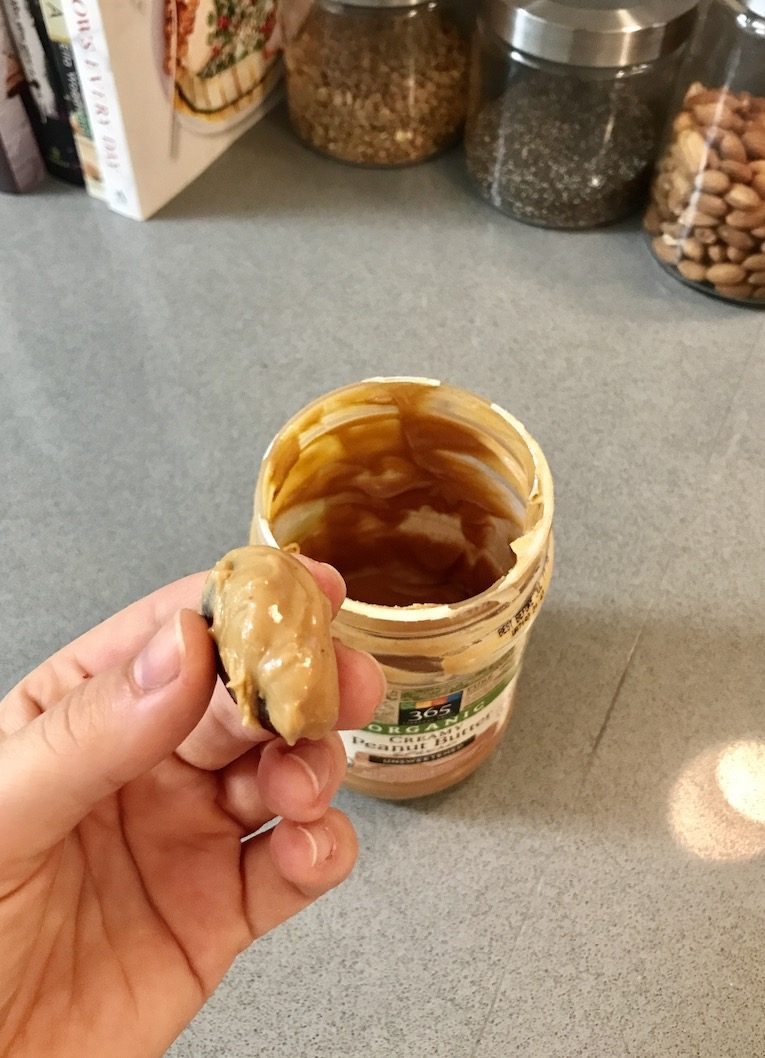 6:50am – eat a date with pb, put running clothes on and head out the door for a slow run. I don't have clients this morning so I have time to run. I try to leave a couple morning without clients because talking to clients in the morning and patients all day five days a week can wipe me out and then I'm not 100% there for when I do have sessions.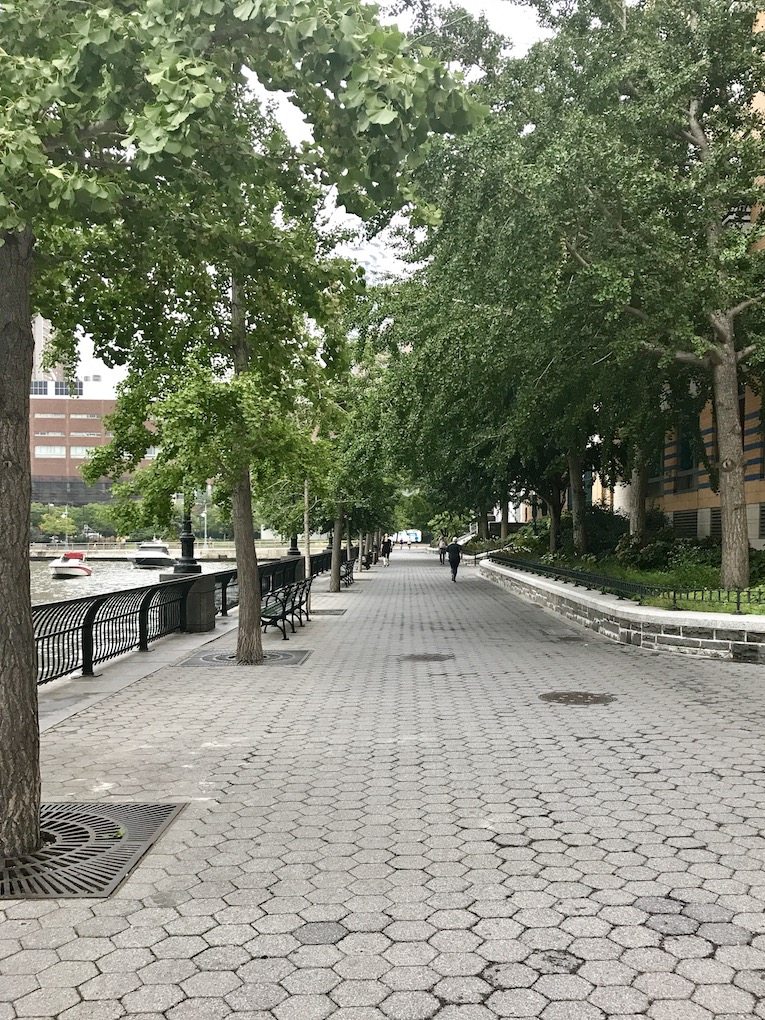 7 -7:45am – get home, shower, make a smoothie (1 cup almond milk, 1 frozen banana, frozen spinach, 1/2 scoop vega one, ice and blend) stretch for a minute or so and start icing my knees.
8:05am – 8:15am – get ready…which means throw on some clothes, put hair in wet top knot and swipe on some mascara.
8:15am -8:25am – Nick leaves at 7:15 and eats breakfast then, so I reheat the other half of the pumpkin oatmeal made earlier in the morning, top with banana and peanut butter and eat it with the rest of the smoothie.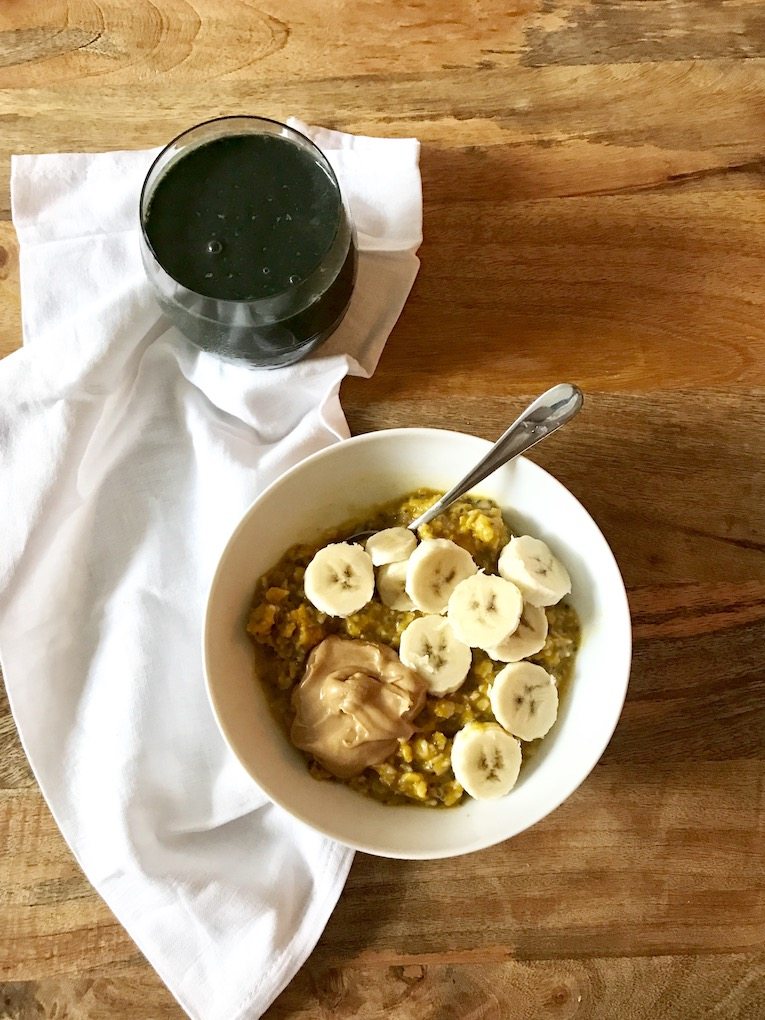 8:25-8:30am – grab stuff and head out the door
8:30am -9:10sih – bike up the west side highway to work, which is basically a paved path that goes along the west side of Manhattan so I avoid all cars, which is nice. I chat with a friend on my way up. I hate how long it takes to get anywhere in New York (although 40 minutes comparatively isn't too long of a commute) so I always try to catch up with friends or my family when I'm biking – don't worry I wear headphones so it's hands free 🙂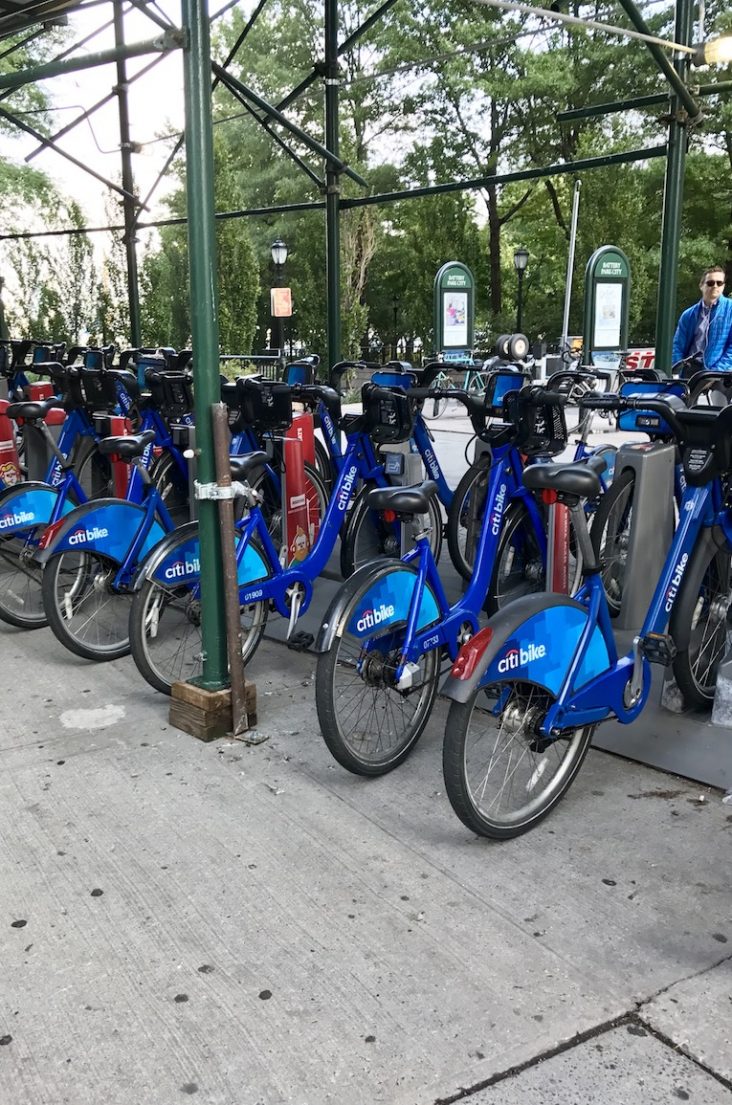 9:10am – get to work and settle in at my desk. I usually will shoot off an instagram post and check a few texts on my walk in since I have zero time to look at my phone during the day.
9:30am – 12:15pm – I see patients. About a third of my patient load on a given day is eating disorder patients. Another third are physicals and well woman visits and another third are patients with anxiety/depression, thyroid/hormonal issues, or high cholesterol with bits and pieces or anything and everything else thrown in there too. Everyday I feel like I learn a jillion new things.
11amish – I have a few minutes in between patients to eat some chocolate almond clusters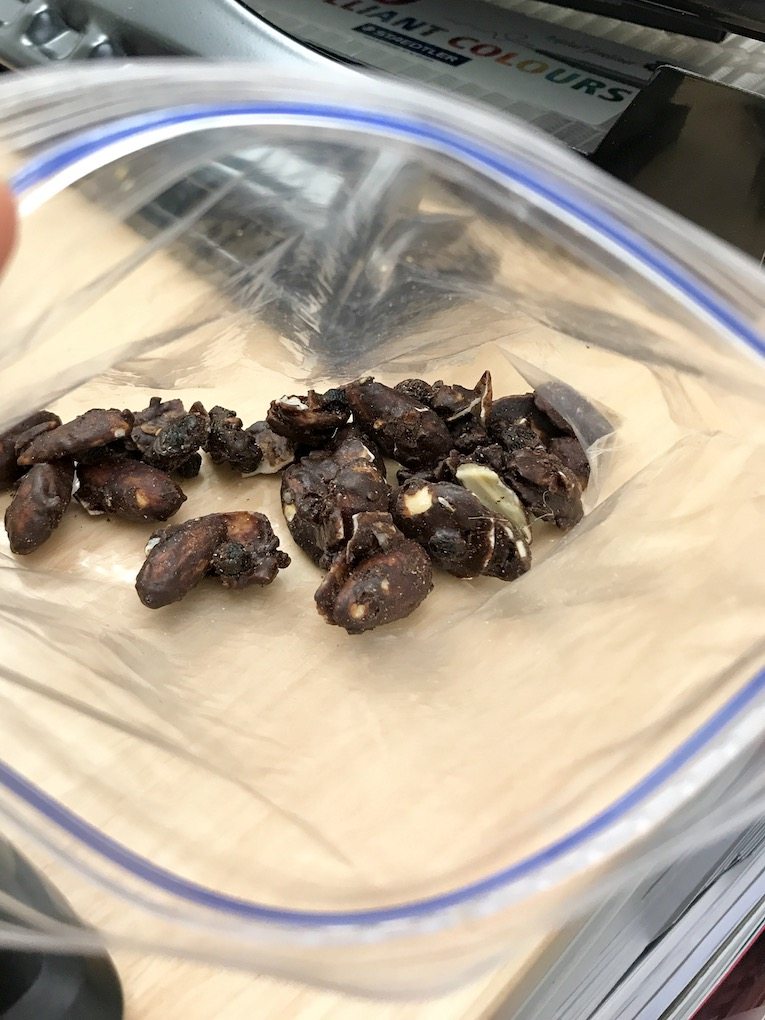 12:15-12:35pm – call another RD to collaborate on a patient, send off an email to another patient's care team, return phone call to psychiatrist concerning another patient. This is my favorite part of what I do – collaborating with other health professionals to help care for women going through eating disorders.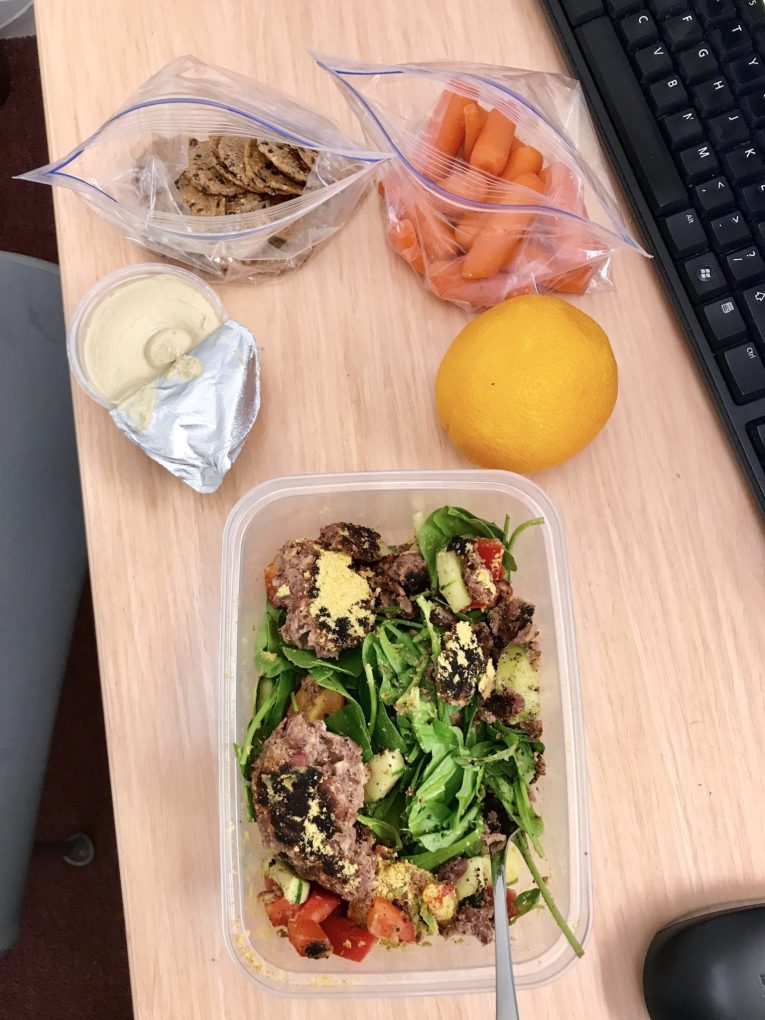 12:35pm-1:25pm – LUNCH. I snapped a picture of lunch (spinach salad with veggie burger + carrots/crackers and hummus and an orange) at my desk and then went outside to hop on a call with five other RDs I'm in a mastermind group with. We have a monthly call and I look forward to it! I eat while strolling around Central Park on the call.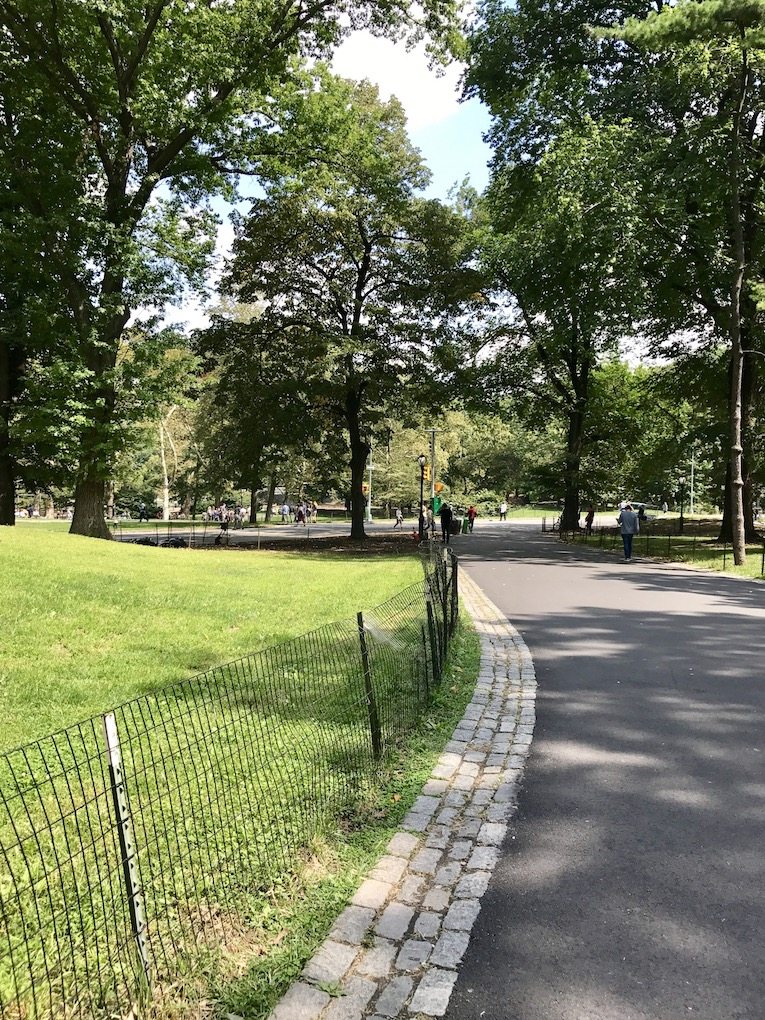 1:30pm – back at work. I see more patients until 5pm.
5:15-6:15pm – go over labs and call to discuss abnormal labs with patients, return patient phone calls, answer work email, fill out paperwork and tie up lose ends. I also eat an Rxbar and some spicy almonds (found in the WF bulk bins) because at this point I realize I'm really hungry.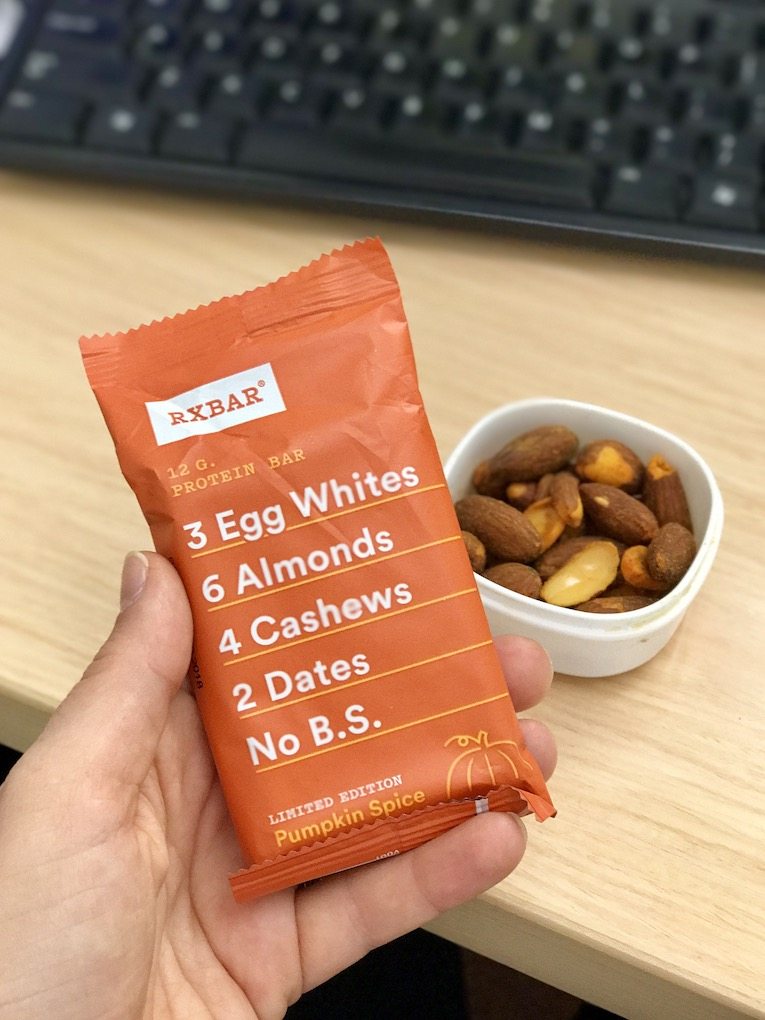 6:15 – 7pm – leave work and bike home! I have a blog business call with Katie and then talk to my brother on my bike home
7 – 7:20pm – Nick is staying overnight in Pennsylvania for a work meeting so I talk with him for a few minutes while unloading my bag for the day and starting to cook dinner. We made lentil chili for the week but that sounds very unappealing and what I'm craving is eggs.
7:20 – 7:45pm – eat a very fancy dinner of green beans cooked in olive oil and two fried eggs over kale with a baked sweet potato + butter while answering emails.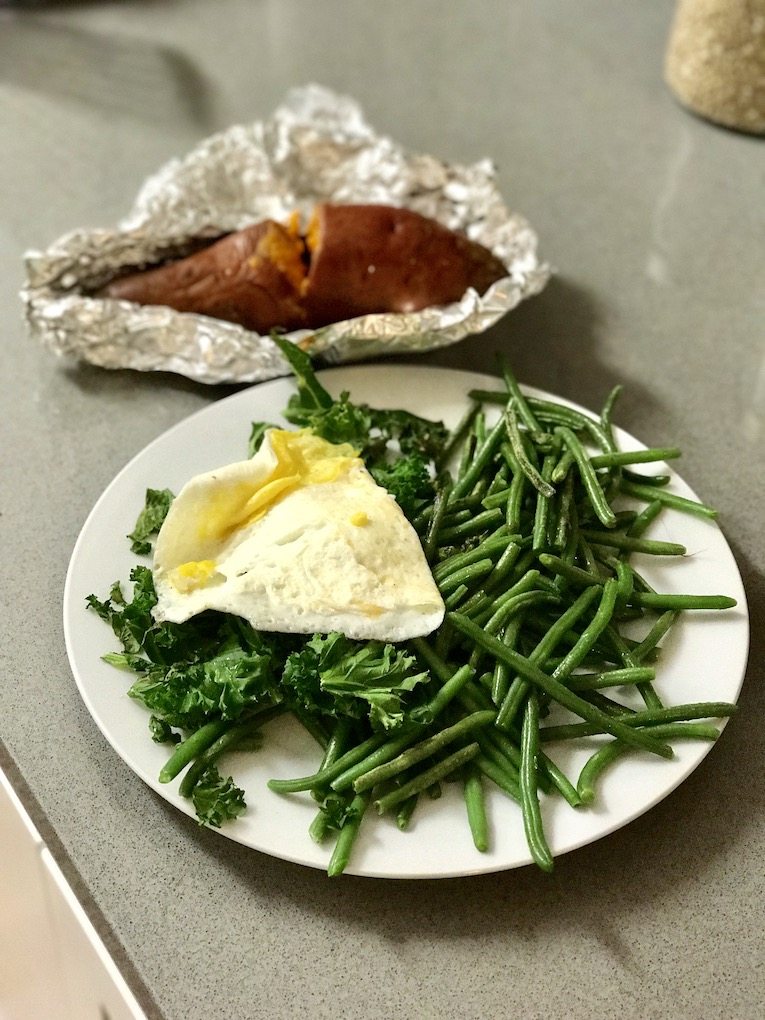 7:45pm – 8:45pm – talk for 15 minutes with one of my clients therapists, answer client emails, start the intake and sign up process with two new clients and tie up a few loose ends with a couple freelance projects.
8:45pm – my brain is dead. get into my PJs and shut down the computer.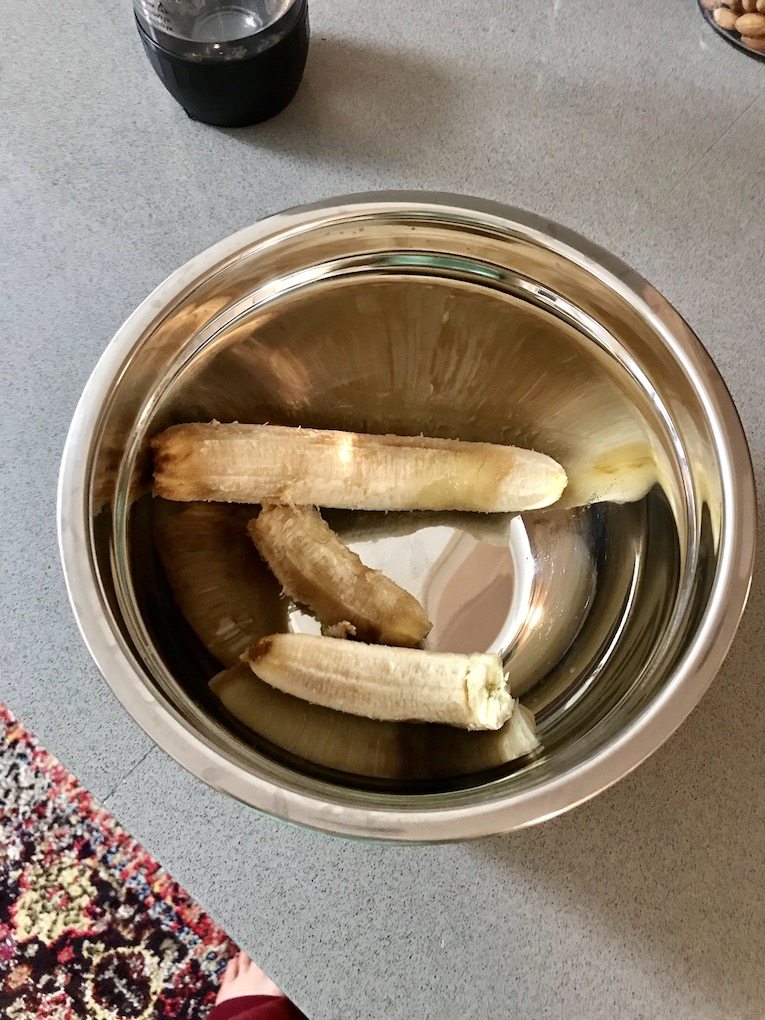 8:50pm – I planned on making some banana bread because we have a ton of rotten bananas, but then I was too tired. Instead I eat some chocolate that we brought back from Switzerland….which if you're wondering, is friggin delicious.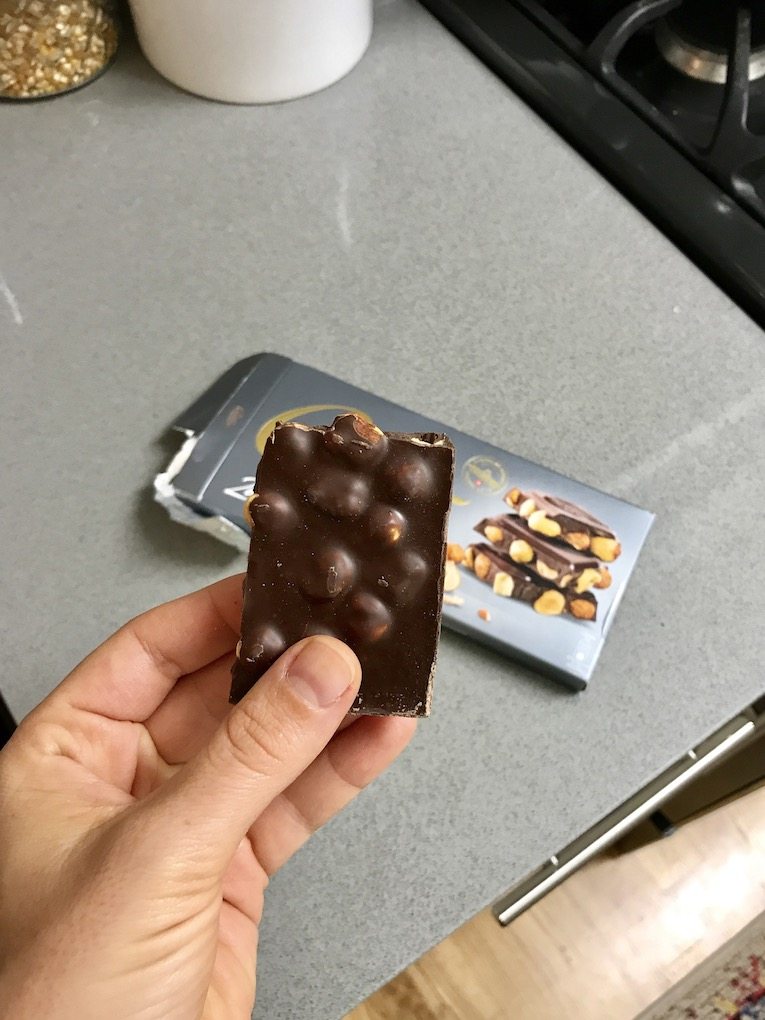 9pm – 9:40pm – scroll on instagram for 5 minutes and then turn on an episode of Grey's Anatomy..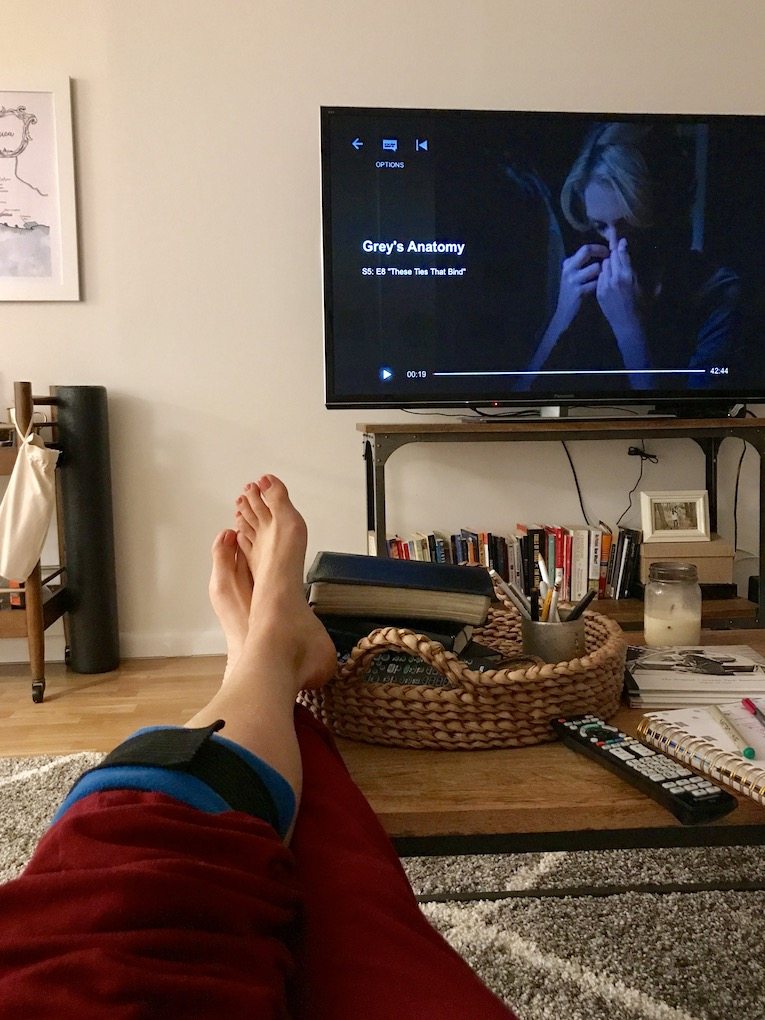 9:45pm – bed. and I'm asleep usually 5 minutes later to get up and do it again
Cheers to FRIDAY.
If you like these posts, here's a few more!
A Day in the Life of Working for Yourself
A Day in the Life of an NP Student
WIAW: Day in the Life {nursing school}