Nick cooked salmon and risotto for dinner on Friday and we laid low at our apartment after a long week and late night working.
Saturday I had clients, worked on the blog, went on a run and then we had a friend over for happy hour before meeting friends for dinner at Barbuto.
We weren't in bed until after 2am on Saturday which meant Sunday morning was slow and lazy. I spent time with a girlfriend in the afternoon before church. And Sunday evening I online shopped a little for my fall capsule wardrobe and prepped things for the week.
I had zero desire to snap pictures the entire weekend so I didn't. Instead of a weekend recap post, I cleaned out my camera roll and gathered all the meals and snacks I've taken pictures of, but haven't shared in hopes or giving you some meal ideas and inspiration!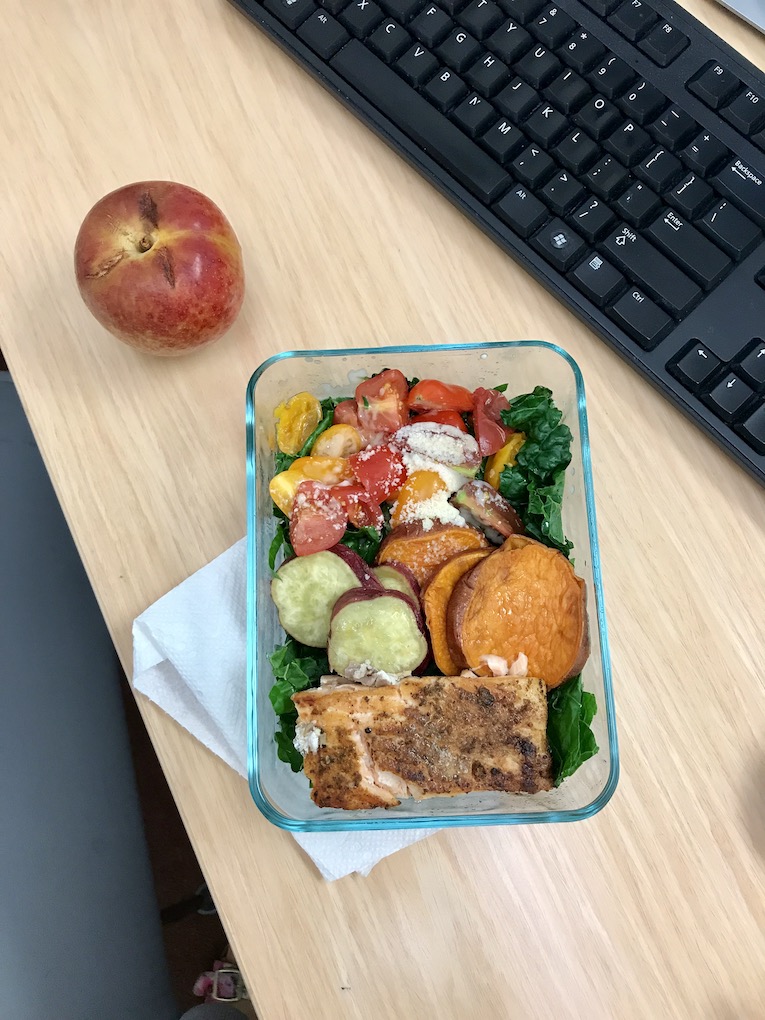 We had salmon one night for dinner, so I took the leftover salmon + sweet potatoes and threw them into tupperware on a bed of kale with chopped cherry tomatoes and parmesean…then reheated it all in the microwave the next day.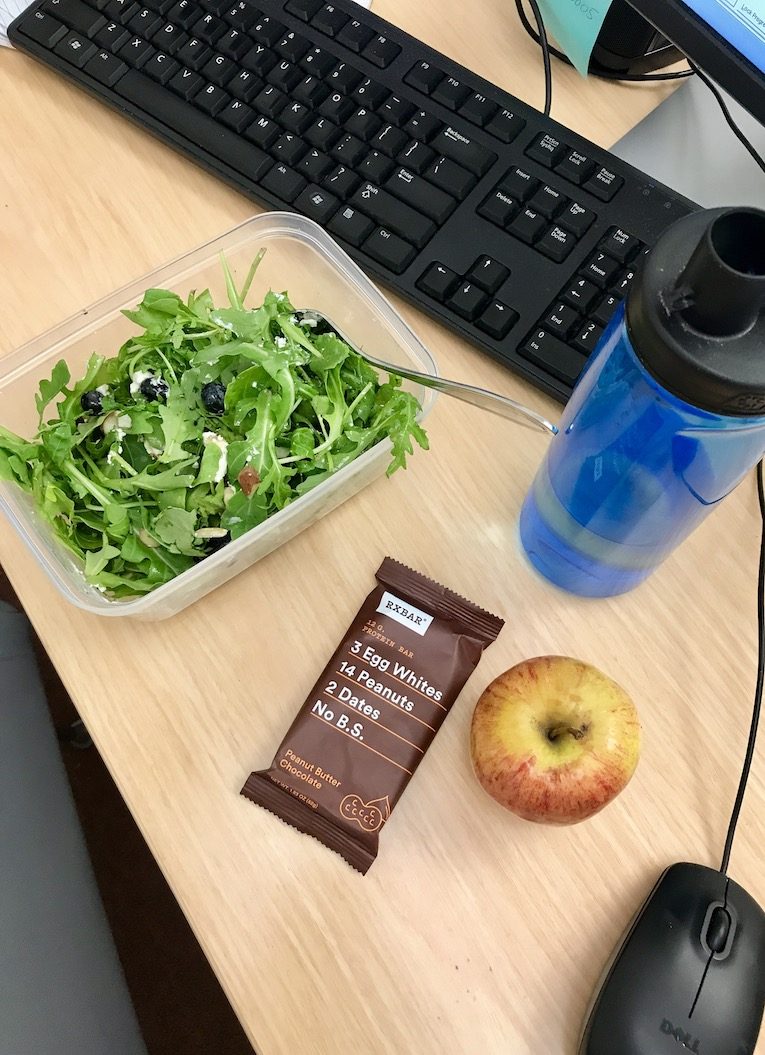 This is a "my fridge is almost bare and it's Friday" lunch. Arugula with blueberries, goat cheese, sliced almonds and lemon vinaigrette  with an Rxbar and an apple.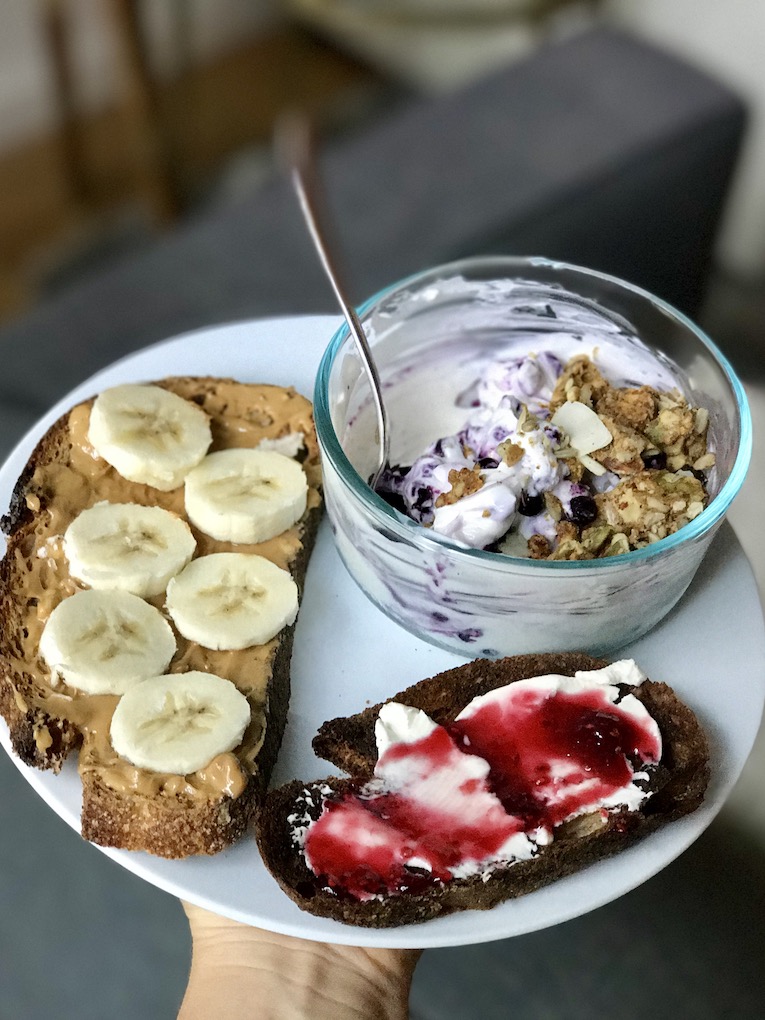 Breakfast for like a week straight was whole wheat sourdough (half with pb + b and half with cream cheese + jam) with full fat greek yogurt, granola and blueberries.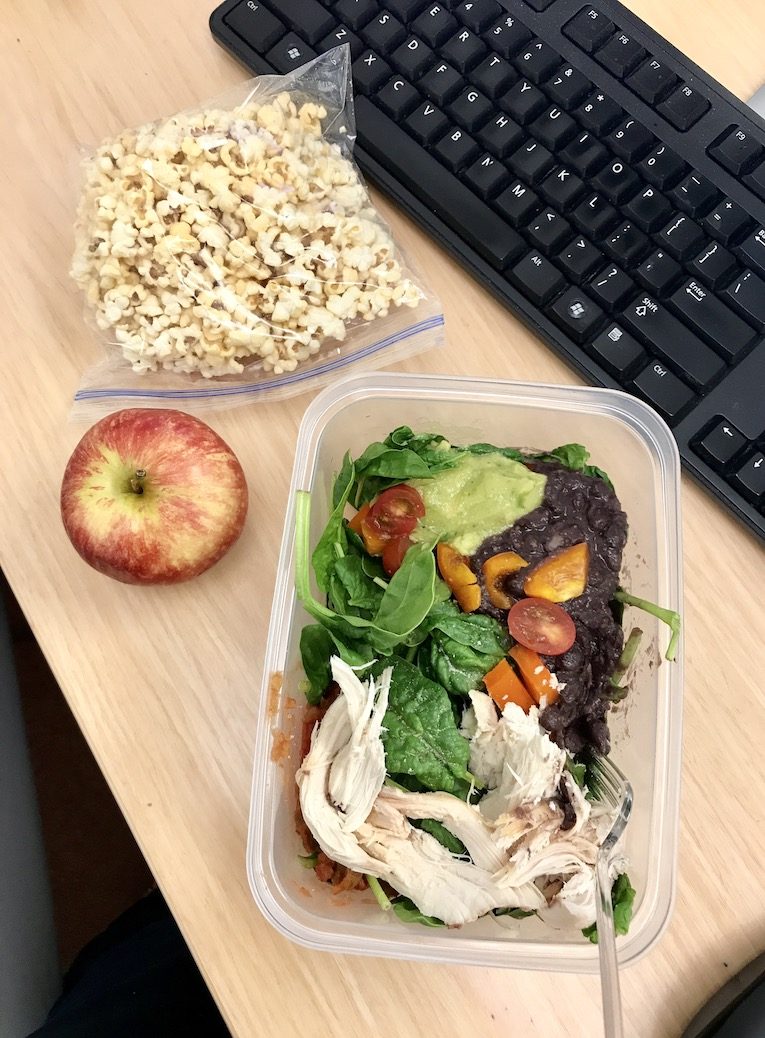 What most lunches look like from week to week is a rendition of a salad – this was spinach, tomatoes and bell pepper with cuban black beans (from trader joe's), rotisserie chicken, salsa and guac….with popcorn for carbs and an apple.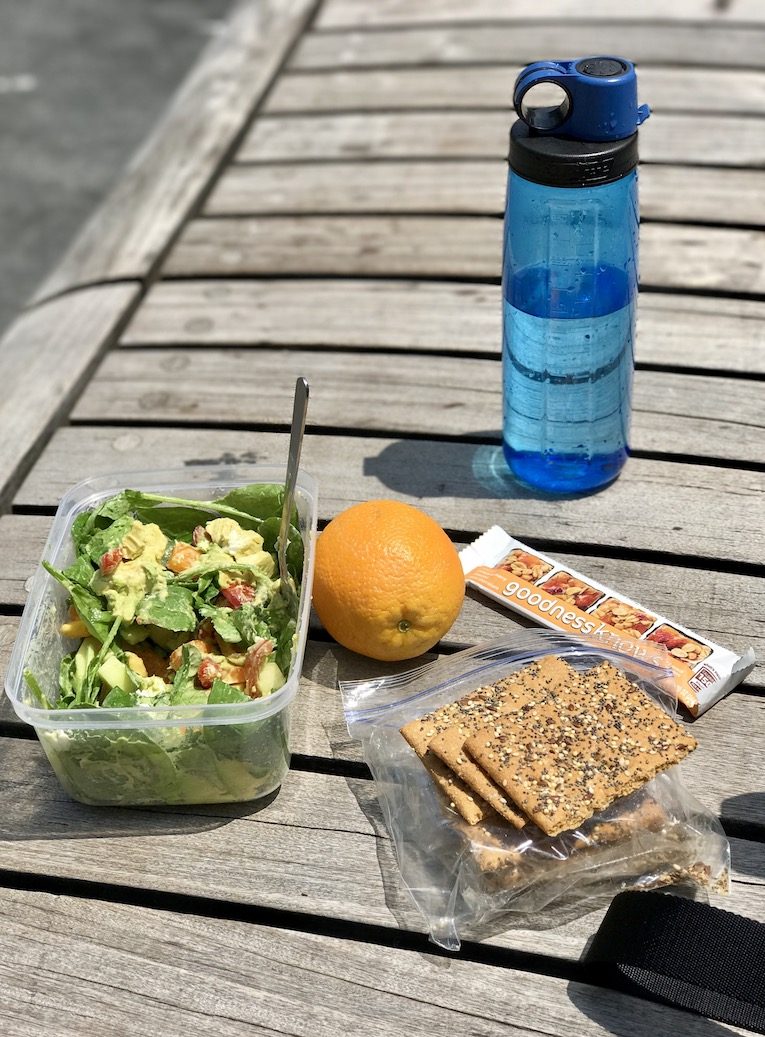 Another lunch salad of the same spinach + tomato + bell pepper in addition to cucumber, rotisserie chicken, nutritional yeast and avocado. Eaten with a few Doctor Kracker sheets, an orange and a Goodness Knows bar. (–> I like these bars but they don't keep me full for long as a snack, but as a sweet ending to lunch, I think they work much better.)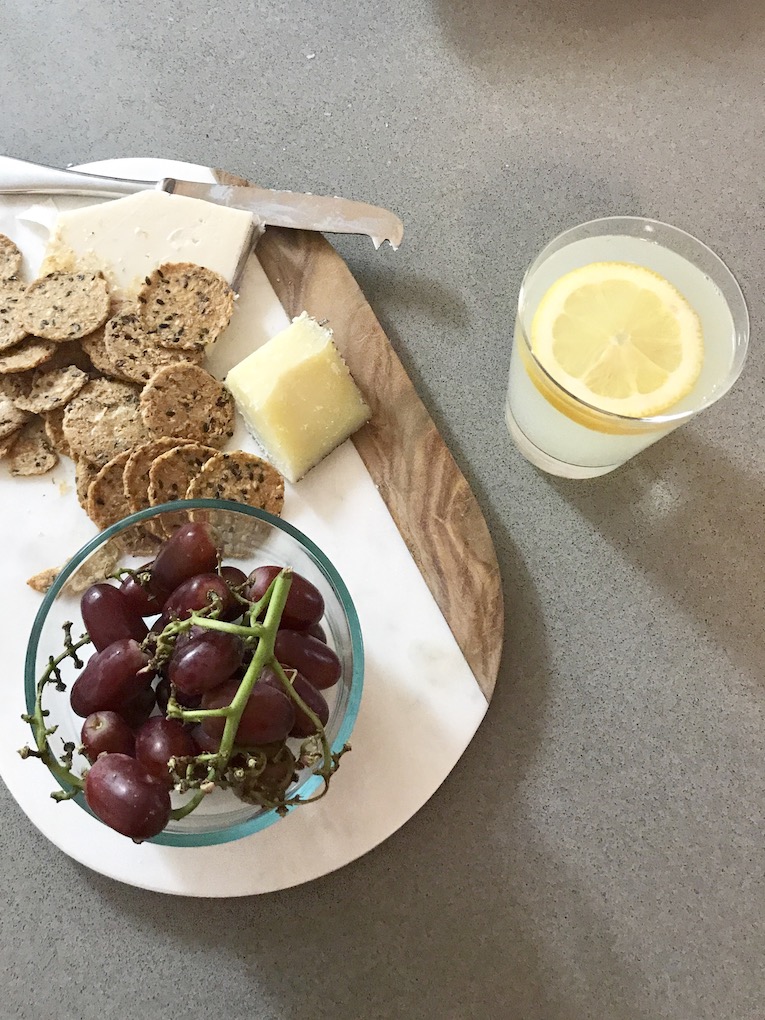 The usual weekend cheese board. Currently loving this goat gouda that is so creamy and delicious. Along with refreshing gin and tonics. Nick made them but I'm pretty sure it was a basic mix of lemon juice, club soda, and gin.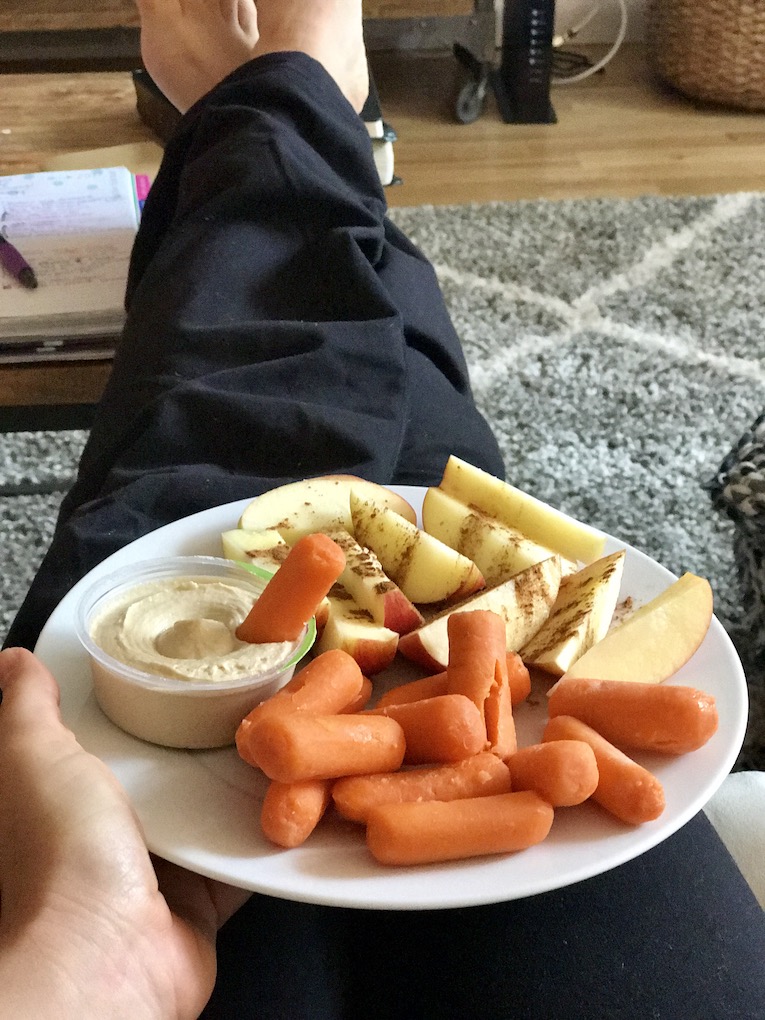 Saturday "lunch" usually consists of a green smoothie, a fruit + veg snack plate and popcorn – popped on the stove with coconut oil. The fridge is usually bare and so I just eat whatever is in there and call it lunch.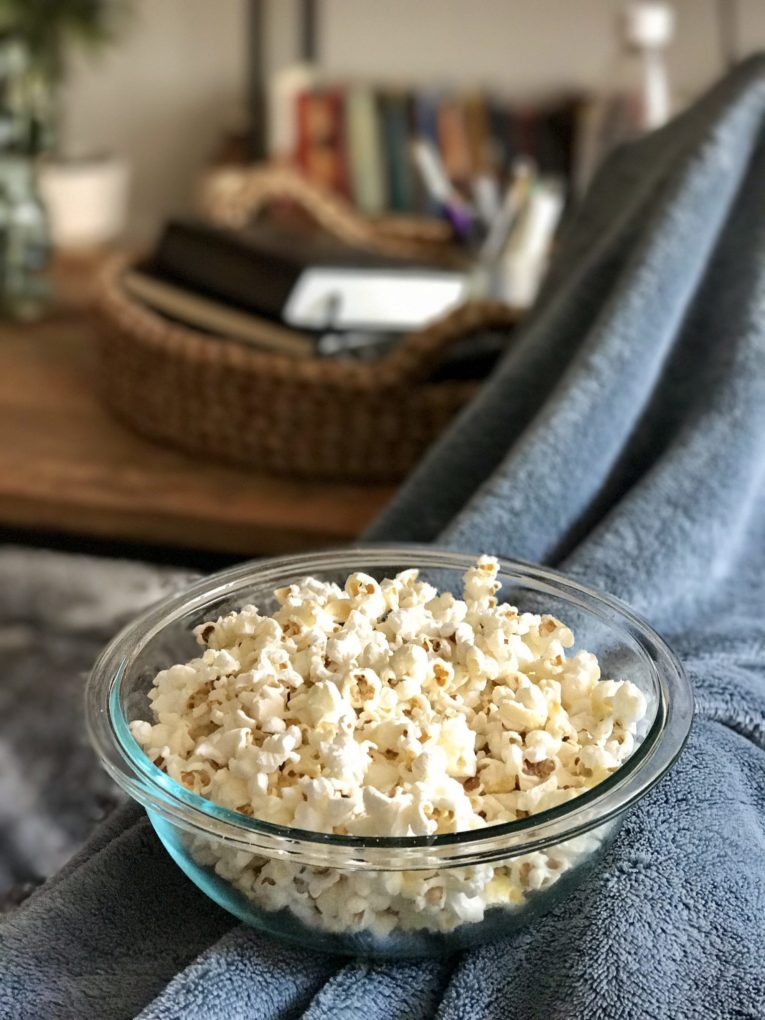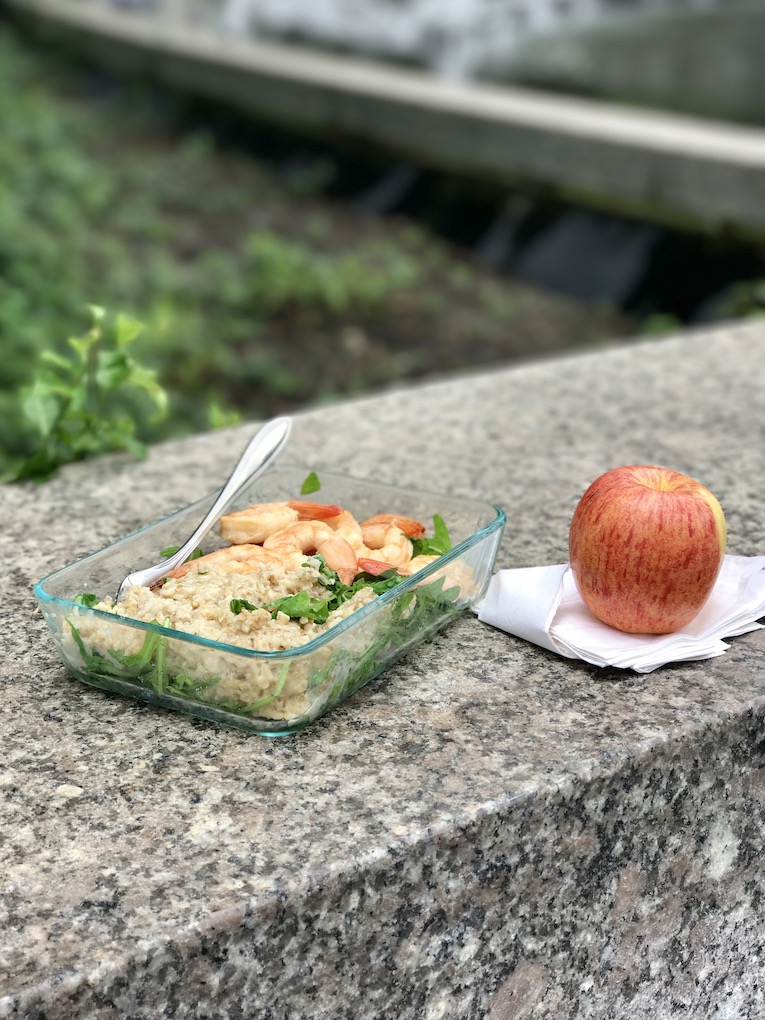 Lunch another day was leftover sautéed shrimp and cheesy risotto that I put over a bed of greens. With any leftovers, I put them in a tupperware over whatever greens are in the fridge and then reheat. I don't love leftovers, but I love the ease of them.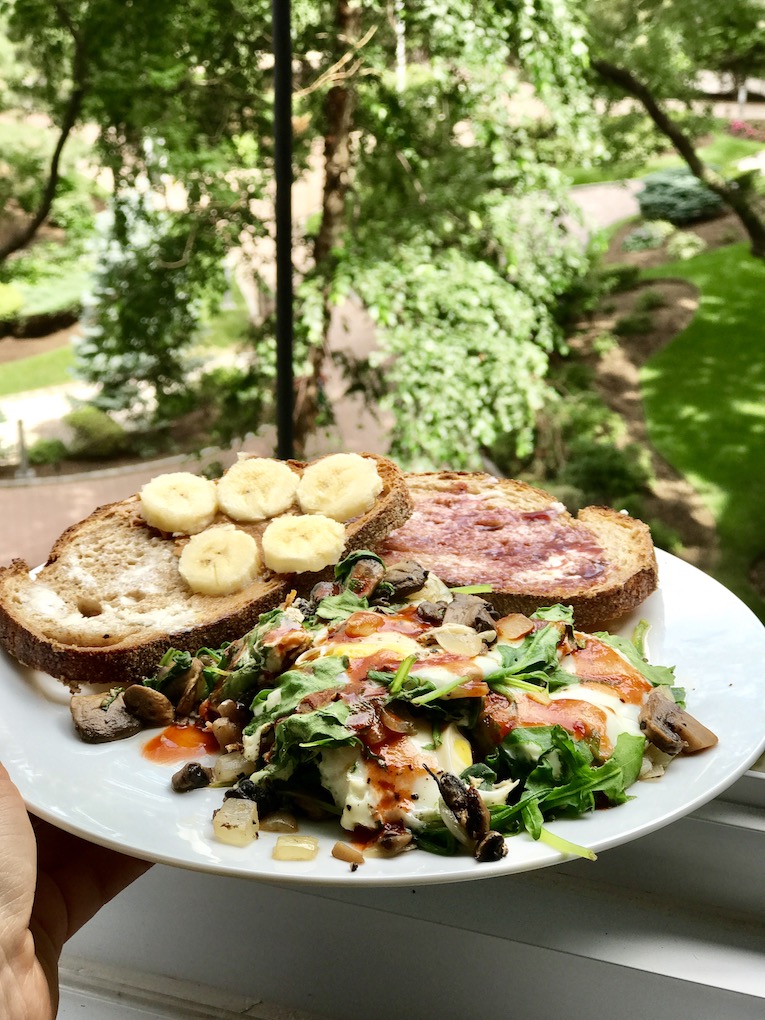 Weekend breakfast – sourdough toast and veggie egg bake. Just sautée mushrooms and onions in butter, throw in some spinach until it wilts and then crack eggs on top. Cook over medium heat until the eggs set and then pop the pan under the broiler until the eggs finish cooking (you want soft yolks)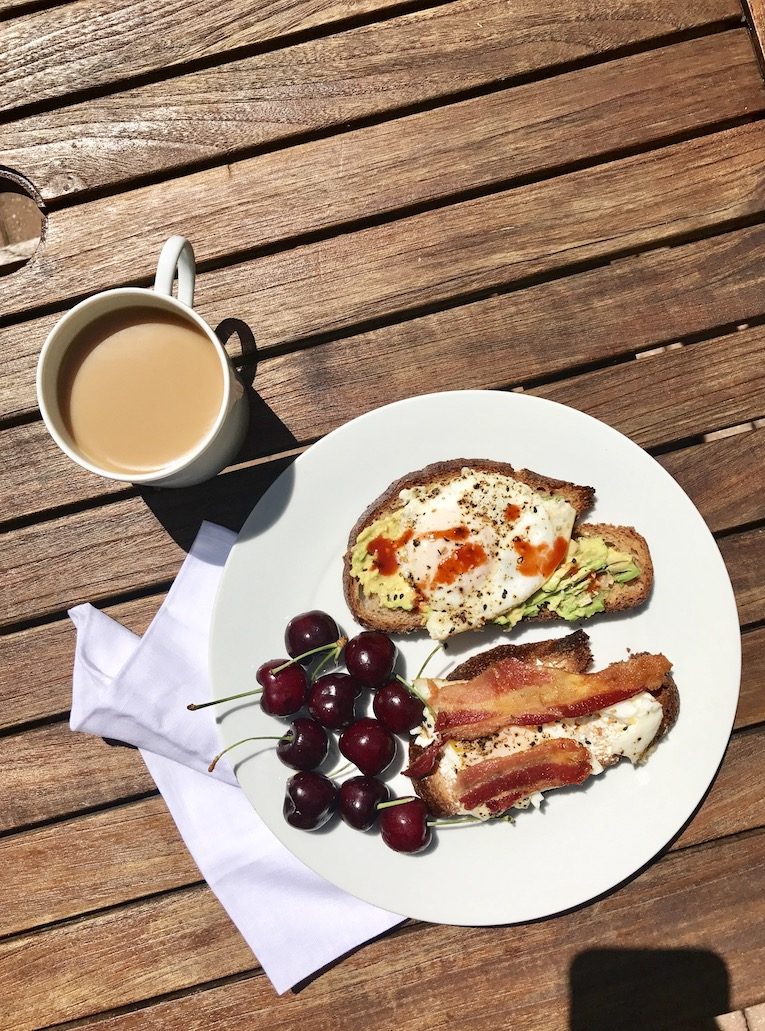 The toast centered breakfasts continue…bacon + egg + avocado on toast with cherries and coffeeeee.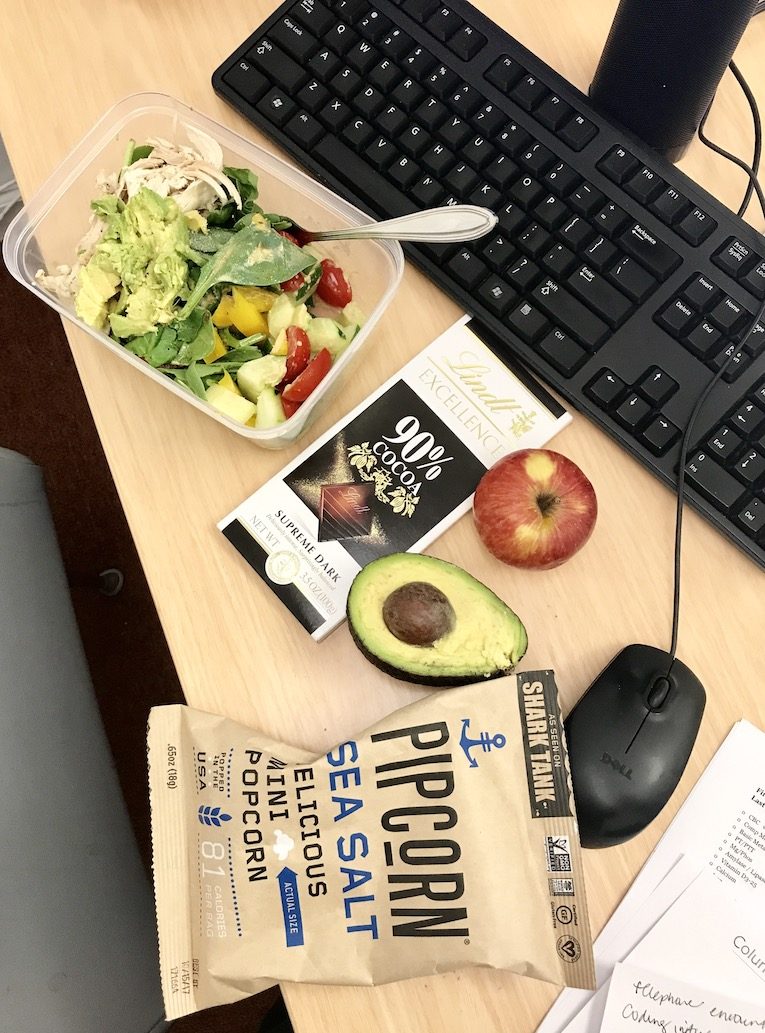 Another lunch salad with the usual chicken + veggies + avocado with popcorn, apple and chocolate. Avocado MAKES a salad. Any veggies + protein can go into a salad and then add avocado and all is right in the lunch world.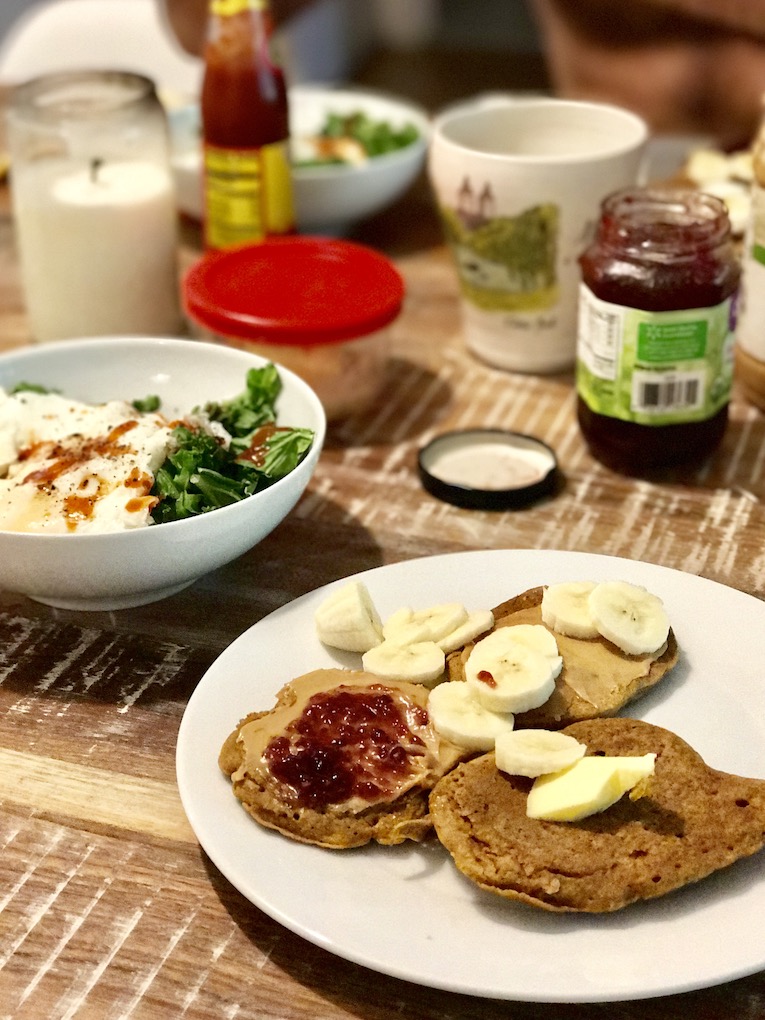 If it's not toast + eggs on the weekend, it's pancakes. And pumpkin is in stock so it's pumpkin pancakes. This is my favorite go to recipe and then I make extra to freeze for the week. We ate these on Sunday morning along with fried eggs over kale.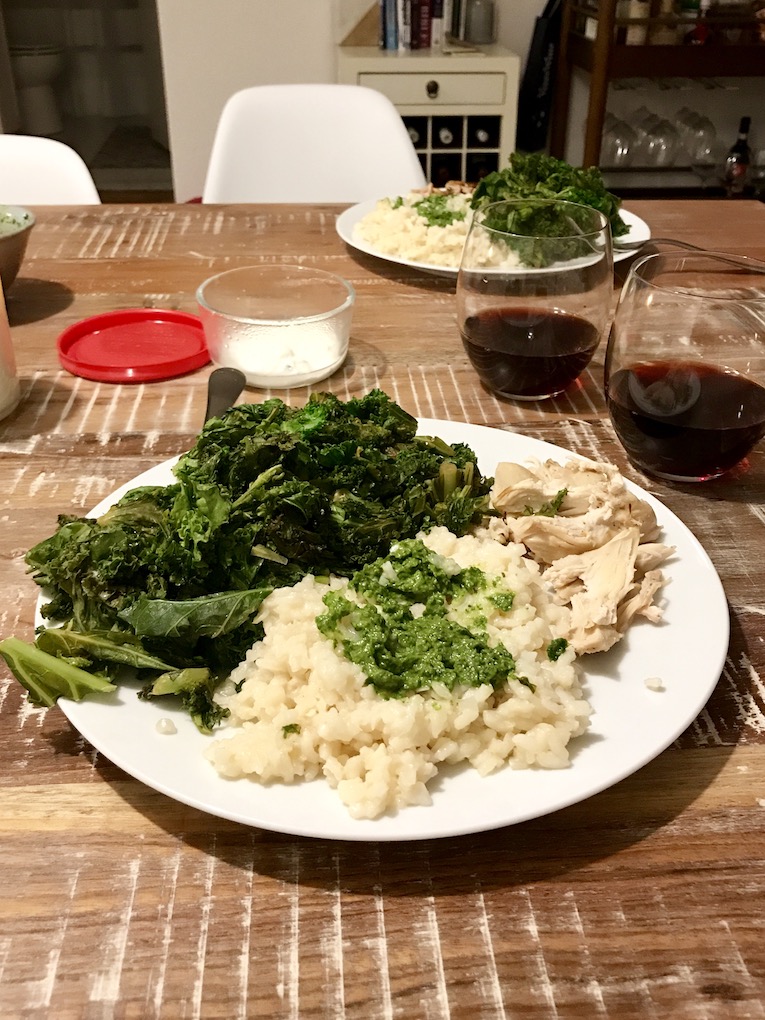 Dinner last night was leftover risotto with pesto from Friday with rotisserie chicken and a ton of sautéed kale that was about to go bad. I sautéed it up in some olive oil with a splash of water to steam, throw the lid on for a few minutes, and then add a splash of balsamic and sea salt.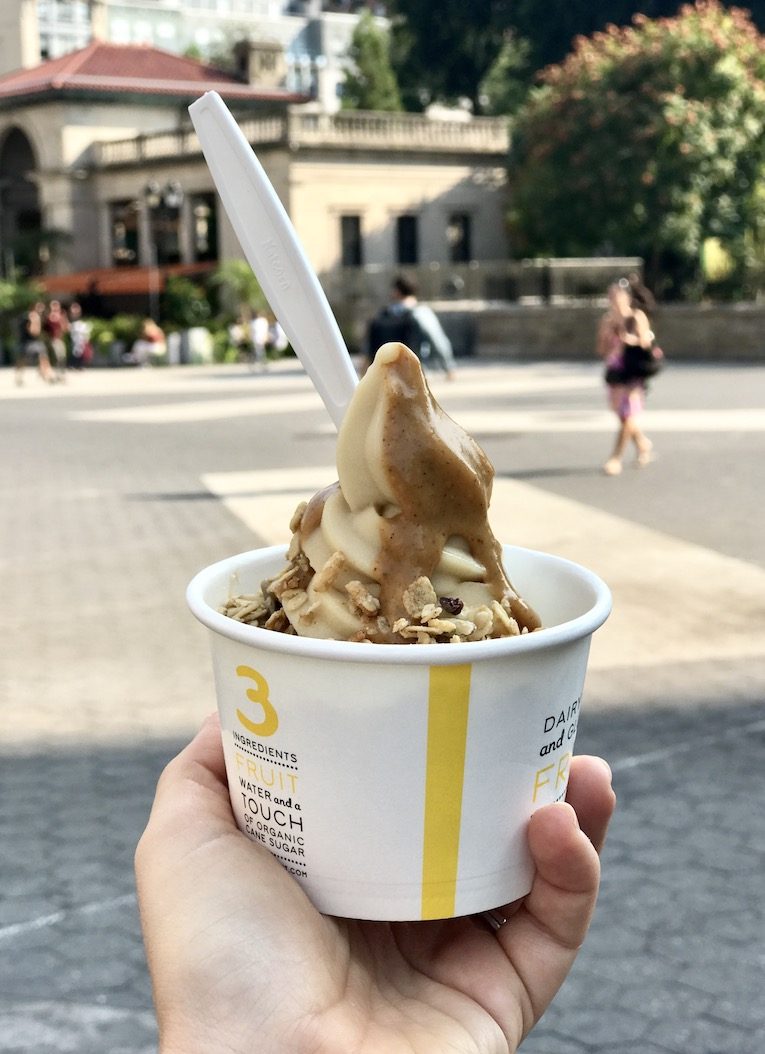 An apple pie sundae from Chloe's yesterday afternoon for a snack. Apple soft serve + granola + pb + maple syrup. This was just as awesome as it sounds.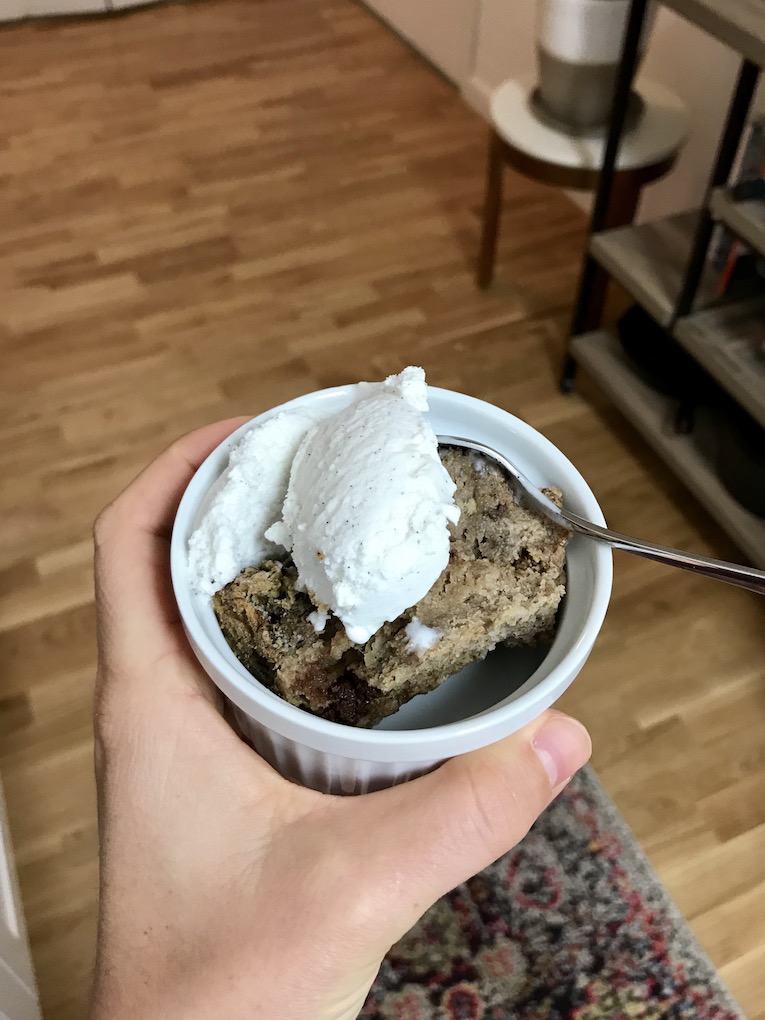 Lately, the snack I'm eating before bed is a slice of banana bread + scoop of vanilla ice cream. Filling + satisfying.
Hope you all have a great week!