I realize that talking about birth control, periods and things related to a woman's reproductive system is not only sensitive, but controversial at times. I write these posts because I wish I would have been more educated on my own body when I was in my teens and early twenties so I could make the best decision that was best for me. I went almost 10 years thinking not having a period unless I was taking hormonal birth control was "just fine" and in retrospect…it was anything but fine.
These posts are not meant to be a sociopolitical or religious conversation, or a position on women's rights or feminism, nor am I trying to tell you what to do with your own reproductive health. My goal is to educate. Because I believe in informed consent and your right to know all your options so you can make a decision that is right for YOU.
This post on FAM (Fertility Awareness Methods) is for your knowledge and education. For a short summary on other methods of contraception (birth control pills, patches, rings, IUDs etc) read here. By reading this post I hope you walk away more knowledgeable about your body, more empowered when it comes to your reproductive health and simply a little more fascinated by the female body…because it is so complex, yet impressive and awesome. 🙂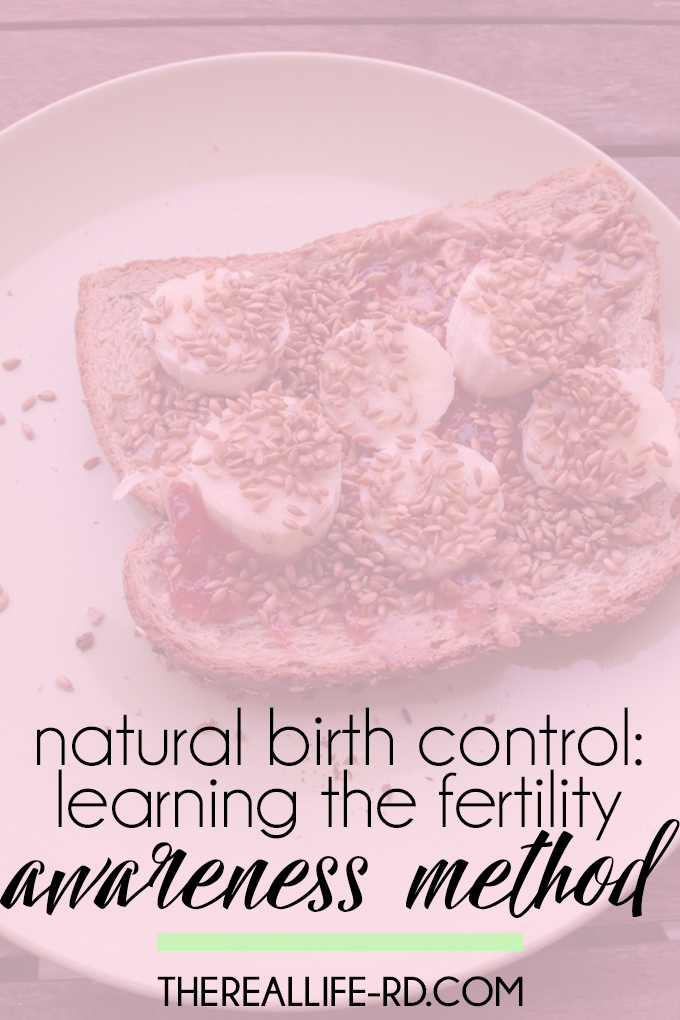 Birth control pills, patches and rings, IUDs, shots and implants are 99% effective (give or take a few tenths of a percent) when used perfectly. Male condom use is 98% effective when used perfectly and FAM is 95-97% effective when used perfectly. Of course, there is always human error, so the more room for error, the less effective these methods become. The efficacy of birth control pills, patches and rings decreases to around 92% when you account for this error…something we call "actual use." The Depo Provera shot and IUDs have minimal error involved, therefore the "actual use" and perfect use efficacy are relatively the same. Male condom use efficacy drops to 85% when accounting for human error and FAM drops to 75% when accounting for error. FAM involves more factors and human interpretation which can create more room for error. So while I think it's really important to know that, I think it's also important to know that the more you learn your body and use FAM accurately, the closer the efficacy of this method is to that 95-97% range.
FAM isn't right for every woman, but it is an option for every woman. My hope is simply to provide information. Regardless of whether you're married or single or a mom or never plan on becoming pregnant, FAM can be a liberating way for us women to learn our bodies and menstrual cycles, enabling us to work with our bodies instead of against them.
Okay, so…
WHAT EXACTLY IS FAM?
In essence, FAM is a method for tracking your menstrual cycle so you know exactly when you're ovulating….aka when you're ovaries release an egg each month.
The days leading up to ovulation are considered "fertile" days and these are the days you're most likely to get pregnant. If you don't want to get pregnant you can either 1) not have sex or 2) use a barrier method, like condoms. There are a handful of different FAMs that can help you in tracking ovulation. You don't have to use all of them, you can use just 1 or a couple, but the more you use the better picture you will have of your fertility so you can predict ovulation. To increase efficacy, I high recommend tracking in an app with both temperature, symptoms and cervical mucus monitoring. Natural Cycles is an app I like. There are many to pick from.
Also important, keep in mind that FAM does not protect against STIs (sexually transmitted infections) and neither do hormonal forms of birth control nor the copper IUD. Use condoms (or of course, don't have sex) if you want protection against STIs.
TYPES OF FERTILITY MONITORING
temperature – this involves taking your temperature with a basal thermometer right when you wake up, before you even step out of bed in the morning
cervical mucus monitoring – this is where you get intimate with your vagina and check your cervical mucus aka your vaginal discharge every day
calendar charting – you chart your menstrual cycle on a calendar…but now that it's 2017, by calendar I mean an app (here is a roundup of several apps to choose from based on your individual needs) or stick with good old fashion paper 
In order to use FAM, you've got to know about your menstrual cycle. This could be something you know, but if you don't…here it is in a nutshell. In order to get pregnant a sperm has to fertilize an egg. There are days when this is possible and those days are called your fertile days. Each month your ovary releases an egg into your fallopian tube, known as ovulation, and that egg hangs out there for 12-24 hours. Sperm can hang out in the uterus/fallopian tube for up to five (yes five!) days after you have sex. And if the sperm fertilizes the egg…that egg makes its way into your uterus and attaches to the uterine wall, and thus pregnancy. No sperm to fertilize the egg and you end up getting your period.
Since an egg sticks around for about a day after ovulation and sperm hang around for up to five days after sex, that means you're potentially fertile for 7-9ish days per menstrual cycle (the five days before you ovulate, the day you do ovulate, and possibly the day after ovulation.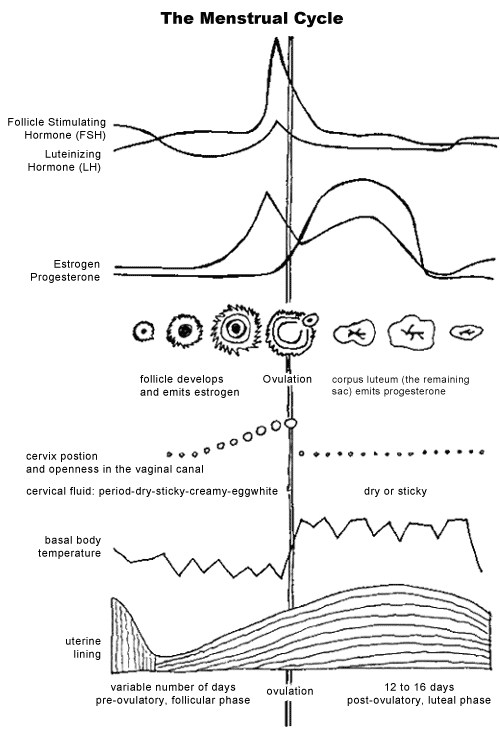 TEMPERATURE METHOD
For this, you'll need a basal thermometer since changes in temperature are very subtle throughout your cycle. Your body temp is lower in the first part of your cycle (the follicular phase) and then you see a slight rise when you ovulate. Typical temps for most women are between 96-98 degrees F and then temperature goes up a touch to 97-99 degrees F when you're ovulating — a small amount so you need a precise thermometer! After ovulation your temp stays higher until your period. If it continues to stay high past a normal luteal phase length (about 16ish days) then you could be pregnant. Progesterone is responsible for this thermal shift.
For this method you have to take your temp at the same time every day before you do anything. Before you even talk or check your phone, take your temp. Then record it in your app. Over time you'll begin to see a pattern within your cycle (because the pattern can change from cycle to cycle) Taking your temperature takes like 60 seconds. Also make a note of other factors like crappy sleep, being sick, drinking the night before, stress etc so you know if abnormal rises in temperature are related to other things.
When you see that rise in temperature, that means ovulation has already occurred – typically the day before. So I would not recommend using temperature as your sole indicator of fertility or not — if you want until your temp rises to avoid sex, you will have already ovulated and therefore, pregnancy could have very much occurred already. Use temp to help you interpret other subjective signs like cervical mucus and cervical position. Keep in mind that you should track your temp for 3 solid months before relying on this method.
CERVICAL MUCUS MONITORING
I find this method to be the most fascinating. Vaginal discharge is thought of as gross, weird, awkward to talk about…. but it can tell you so much about your menstrual cycle. So get cozy.
The hormones that control your menstrual cycle (primarily estrogen) also cause your cervix to produce mucus which then exits your vagina as discharge. This method involves checking your mucus daily and adding it to your app (or paper charting it if you want to be old school) The changes in your mucus let you know where you're at in your cycle.
So how do you check your cervical mucus? Well, you feel (yes feel) and look at your discharge every day. After your period stops completely is when you start tracking. If you don't care to actually touch your discharge, then simply look at the color and texture of the discharge in your underwear. If you really want to get up close and personal with your discharge, you can either wipe before you go pee and then check the color and texture on the toiler paper (use white tp) or you can place your clean fingers into your vaginal opening and check the color/texture of the mucus on your fingers. Any of these ways works.
A few things to note: record everything you see and feel with your mucus and record it in your app or chart. Before relying on this method, chart your mucus for at least one entire cycle. (I prefer 2-3 cycles so you can get the hang of it)
So what should your cervical mucus feel like and what can your mucus tell you?
When you're on your period, the blood flow makes it impossible to notice your mucus. Sperm live for up to five days so if you have sex towards the end of your period and then ovulate on the early side, those sperm could potentially live long enough for you to conceive 5 days later. So all that to say, it's not likely you'd be fertile during your period, but it's not impossible.
When your period ends, there are typically a few days after where you won't notice any discharge and these are called dry days aka non fertile days.
As an egg begins to ripen, your body produces more mucus as ovulation gets closer. You'll notice this mucus is yellow, white or cloudy in color and it feels sticky. Almost tacky. Kind of like drying lotion. Then it transitions to a creamy, milky yellow or white color that looks like hand lotion. You're sightly fertile on these days.
Right before ovulation is when you'll notice the most mucus, it's clear in color and slippery, like a raw egg white consistency that can be stretched between your fingers. These are highly fertile days when you're most likely to get pregnant.
After about 3-4 "egg white" days then you'll suddenly notice less mucus that becomes that yellow, cloudy color and sticky again, followed by 3-4 more dry days with no discharge. These DRY days are again, non fertile days. Then you get your period at the end of these days and the cycle starts again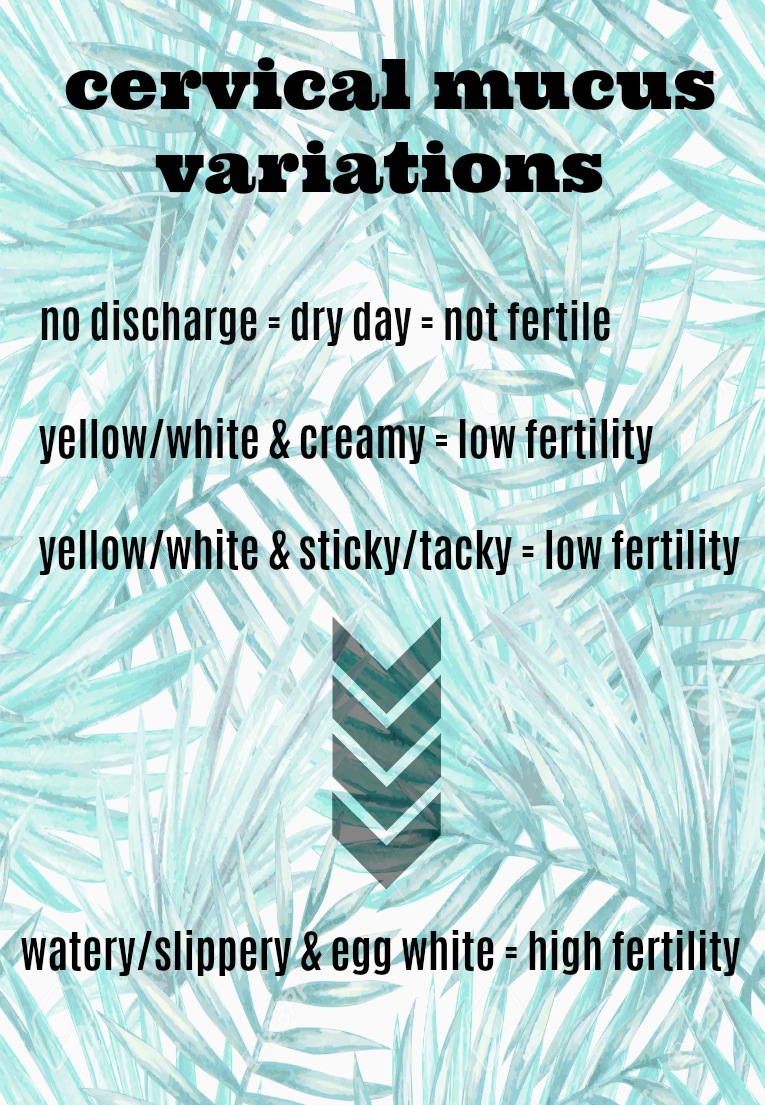 THE KEY with CMM is that no cycle is the same. Your mucus varies from day to day depending on several factors. For example, if you're highly stressed or maybe you ran a half marathon…you might find you ovulate later that month. If you're on vacation or maybe you take a break from formal exercise…you might ovulate sooner. You'll see a later or earlier temperature shift as well if you're monitoring temp.
Also keep in mind that breastfeeding, the morning after pill or other recent birth control, douching, STIs and vaginal infections can cause changes in your mucus and make CMM difficult to monitor.
TAKEAWAY POINT: if you see mucus, you're possibly fertile and need to either use a barrier method or not have sex if you don't plan on getting pregnant. If you want to conceive, then have at it!
THE CALENDAR METHOD
I'm not going to post much about this method here, since I actually find it to involve too much math (I need simple stuff) and not very accurate. The calendar method can only predict days that are mostly likely fertile vs non fertile. Unlike CMM and taking your temperature which tells you exactly what is going on with your body that particular cycle, the calendar method is a predictability method based on previous cycles. Your life changes from month to month (stress, physical activity, eating patterns, sleep, sickness etc) so unless all the variables are the same (which is nearly impossible) the calendar method alone is isn't very reliable. It can help you predict when to look for changes in cervical mucus and your temperature though if you find that helpful!
IN ADDITION to tracking your cervical mucus and temperature, I recommend noting things like PMS symptoms, breast tenderness, exercise, sleep, swings in your food intake etc so you have a better picture of how your reproductive parts are working.
Some of you might be reading this thinking, what in the world Robyn?? This is so gross. I know it might seem that way because we are taught this stuff is shameful and women aren't educated enough on how their bodies work. But I think having knowledge about how your body works isn't gross, but rather empowering. And it's your right.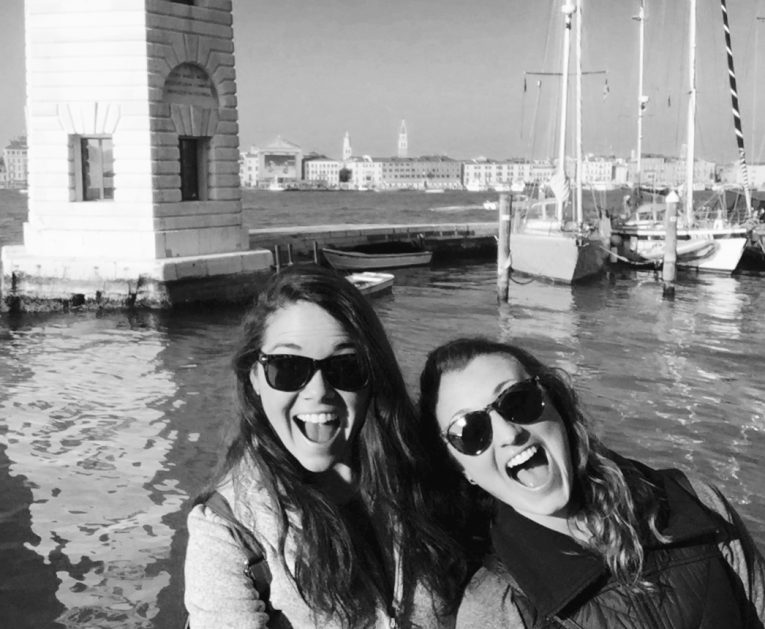 I know and acknowledge that 1) FAM is not right for every woman and 2) there are other non hormonal methods that might be a better option for some women (condoms, copper IUD, etc) and 3) some women feel best with hormonal birth control.
If you want to get to know your body better so you feel more confident knowing what is abnormal vs normal for your body, FAM is a tool out there to connect you with your body and allow you to be more in tune with what's happening from month to month. For some women, this is just what they need. For others, not so much.
I hope this is helpful as you decide what's best for your health!