Back in my early 20s when I was just starting my career as a dietitian I knew very little about my lady hormones. Aka my reproductive system. What I did know is that I never got my period except when I was taking the birth control pill. What I also knew is that after a slew of blood tests, ultrasounds, and multiple rounds of the Provera challenge that didn't induce a period, doctors didn't know why I wasn't getting a period on my own. I was told, "this is normal" and the solution was to take the birth control pill.
I trusted my doctors and so off I went to go pick up my prescription. Looking back I know my doctors had the best intentions and they truly were trying to help. I've never been to medical school, but I have been through nursing school and we receive very little, if any education on treatment for missing or irregular periods outside of medications and birth control. So I don't blame the doctors or nurses. I just think as a healthcare providers we're undereducated. I was too.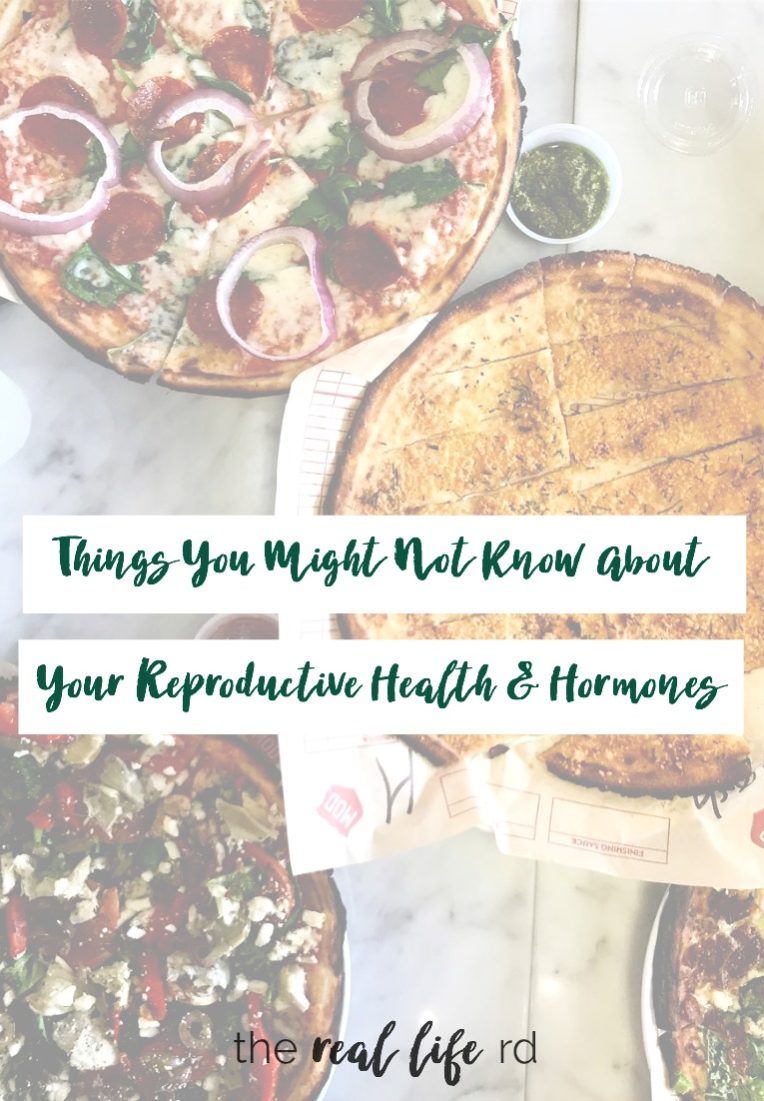 It wasn't until I acted on my gut that had been telling me for years this wasn't normal…that I began to dig into the research myself and was pretty surprised by what I found. I by no means know everything and there are many, many physicians and healthcare professionals out there that could teach me a whole lot. Amenorrhea (not getting a period) and other reproductive hormonal issues are areas we just don't get enough education on and in order to truly understand what's going on in the body and how to treat the root cause…it takes some a comprehensive understanding.
After a lot of digging I realized the solution to my period problems would not be found in a birth control pill. The solution was taking a honest look at my lifestyle and how I was treating my body. What I thought was healthy living – eating "clean" foods, never missing a workout and being productive and go go go every day – wasn't healthy for my body at all. It was scary and uncertain and uncharted territory for me at the time to let go of these engrained "healthy habits" but it was worth it. Having a natural period and being more in tune with my body's needs was worth every ounce of anxiety and fear.
I've only been able to learn what I now know about fertility and hormones because of my healing journey with hypothalamic amenorrhea and through helping other women with reproductive issues heal too. And along the way, there have been many things I realized weren't actually true when it came to female reproductive health.

Weight can certainly play a role in our reproductive health. But it's certainly not the bottom line. While being underweight for your body puts you at greater risk for losing your period, you can definitely lose your period or have irregular periods at a "normal" weight. Weight fluctuations play a key role here too. If you have a history of weight loss (as little as 10 lbs) that can impact your periods. It's easy to get stuck on the thought (maybe because your doctor or someone else told you this..), "I'm at a healthy BMI, so there's no way my weight is a problem." and that just simply isn't true. Adequate energy intake regardless of weight plays a huge role here. Plus BMI isn't an accurate measure of health either. There are a lot of other factors that contribute to menstrual abnormalities than weight itself so we have to look at weight and weight history but also look beyond weight to figure out the problem.

PMS that impacts how you participate in your life is not normal. Sure, we are going to experience different sensations throughout our cycles as hormones fluctuate throughout the month. We might be a little more tired. We might have some mild cravings. We might experience some skin changes. We might have some mild discomfort or bloating. Those are normal. Your body is doing it's thing. Symptoms that leave you out for the count or significantly impact your life like painful cramping, heaving bleeding, mood swings, migraines etc ….these are not normal.
There's something going on and we have to figure out what that is. While there is still room for a lot more research, there is a good amount of research that suggests PMS is correlated with high levels of estrogen. Every month progesterone and estrogen wax and wane to prepare the uterus for a potential pregnancy. More noticeable, impactful symptoms occur when these hormones fluctuate dramatically. I think it's helpful to note as well that neurotransmitters (like serotonin) may play a role in addition to genetics too – something we have no control over. The important thing though, is figuring out what is causing the PMS symptoms that are impacting your daily functioning. That can take some time and digging, but if that's important to you I think it's well worth the effort versus jumping straight to birth control or other medications. Medications have a time and place and can be a very helpful tool…but they aren't always the solution.

This is something I actually thought to be true up until about 3 years ago when I began nursing school and starting looking into the research more. And I found it wasn't that conclusive. Some studies showed birth control might help prevent further bone loss, and some showed some small increases in bone density over various time frames. Overall though, the evidence for birth control's role in bone protection is pretty underwhelming. Actually, oral contraceptives are not recommended to protect bone health in the presence of amenorrhea (not getting a period). BUT supporting your body in finding it's healthy set point weight and restoring your natural period does do wonders for your bone health. You won't be able to reverse the bone loss completely, but you can replace significant amounts of lost bone.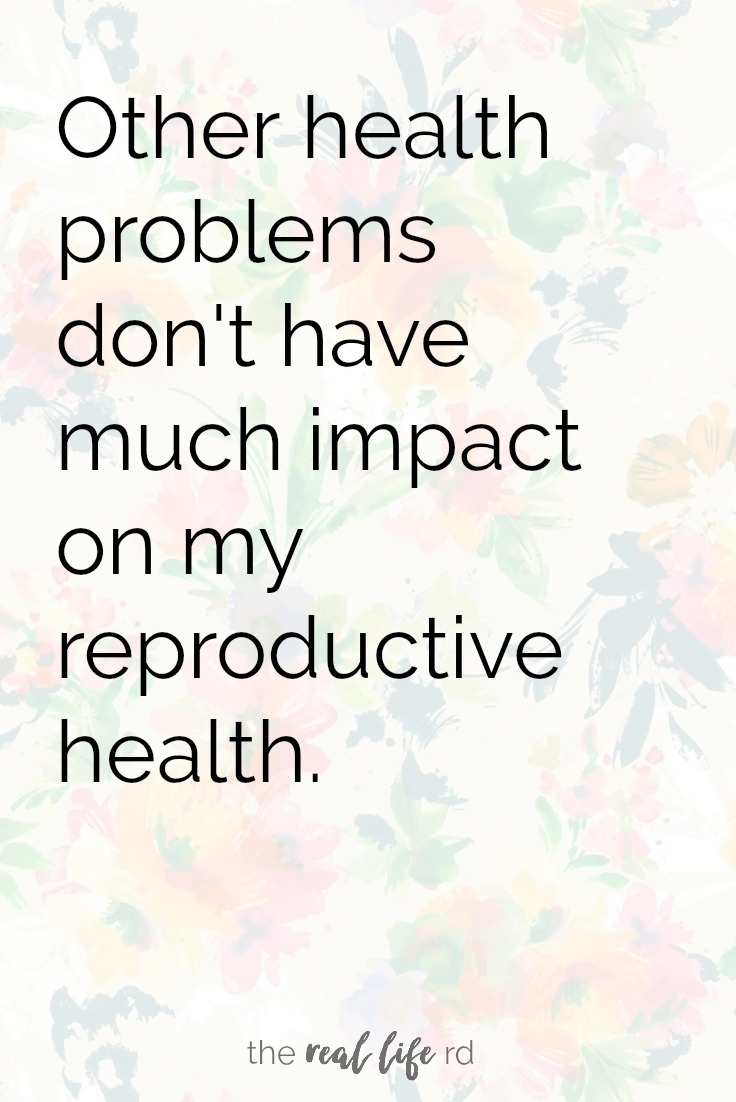 I never really fully understood how the whole body intertwined together and the effect one system could have on the other until I started nursing school. I understood some surface level concepts, but hadn't done much reading or learning to really understand what was going on in the body. It makes total biological sense though that if your body is physically stressed out from disease or other health conditions, it's going to take the energy it does have coming in and use it for survival versus using that precious energy on non vital systems like your reproductive system. Take a look at your overall health…are there areas of physical stress your body is under that could be affecting your reproductive health?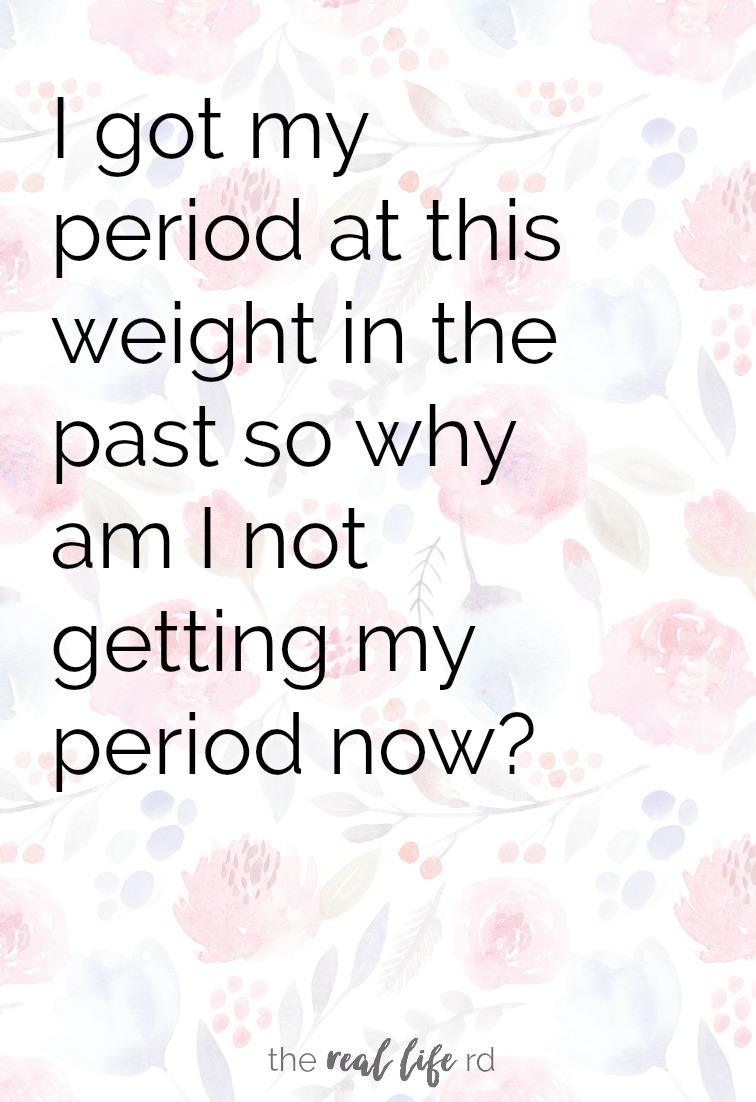 Just because you menstruated at xyz weight or size when you were xyz age does not mean that is the weight your body is going to turn back on it's reproductive system now. Especially if you're thinking about the weight you were when you got your first period in your teenage years – if you're now into your 20s and 30s or 40s ..your body has done a lot of maturing since your teen years and that weight is very likely too low for you now. Additionally, the body is dynamic. Weight and body size change and fluctuate throughout our lives – I know this is hard, but learning to trust your body is so freeing (although hard – I know!) Every woman's body is different. Also keep in mind weight is not the end all be all. There are many factors that contribute to your period going missing. If you can, see if you can create some space to use this as an opportunity for some body image work. Positive body image doesn't mean you have to love your body, but can you focus your time on building a fulfilling life outside of your body?
---
If my own story resonates with you or if you've had any of these similar questions or thoughts, I have created an e-course on healing your hormones and getting a healthy, natural period back. It's been years in the making as I've compiled the work I do one on one with clients into a video course that walks you through the healing process in a realistic, easy to digest way. Beyond talking about what's going on in your body and how to heal, I also walk you through cultivating healthy body image and developing self care for long term health. If this resonates with you, you can read more here.