Our menstrual cycles can tell us women a lot about our health. As someone who went 10 years without getting a period on my own (I never bled unless taking birth control) and was continually told I was "fine" even though I was far from "fine" I've become rather passionate about educating women on their reproductive health. I don't know everything, but I'm building my knowledge daily in hopes of knowing as much as I possibly can.
I feel like as women we don't get educated enough by the healthcare system on our reproductive health so we walk around not really knowing much about our bodies – at least I felt that way through my teens and early twenties. And because of this, it's really difficult for us to make informed, empowered decisions about our health.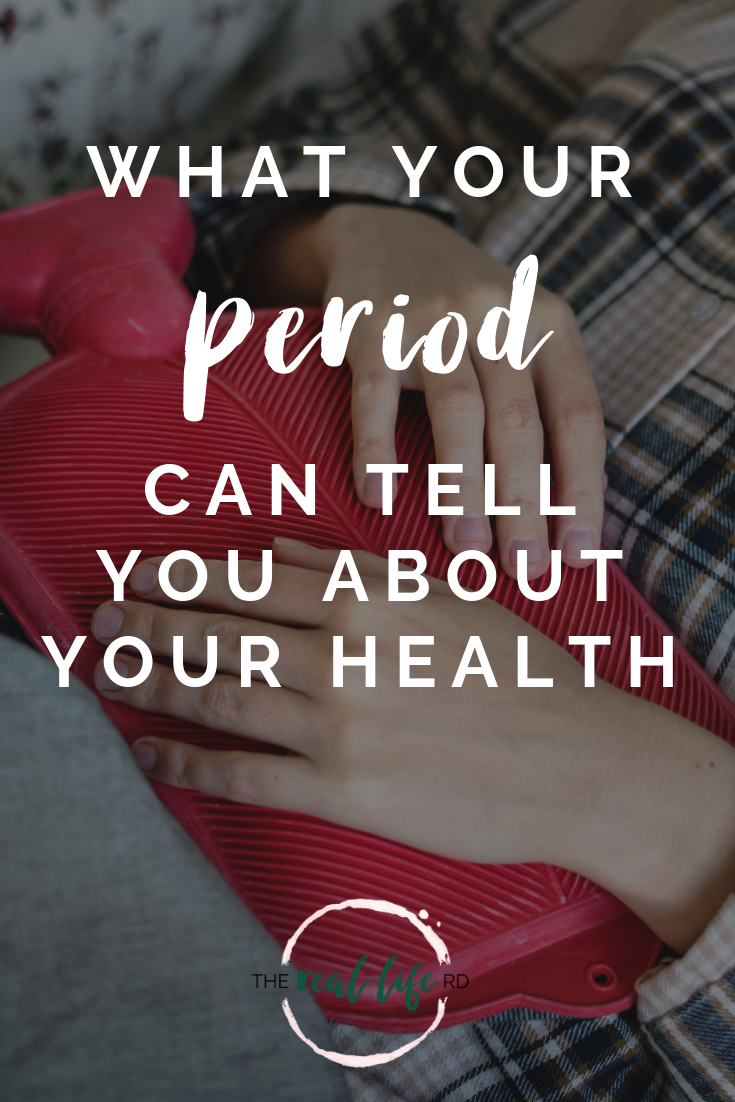 If you're like me, and not getting your period at all, here are several posts in addition to these three posts that I hope are helpful for you. If you're taking hormonal birth control for any reason, unfortunately the bleeding you experience at the end of your pill pack won't tell you much about your health since what you experience is a withdrawal bleed from not taking the hormones instead of an physiological period. Back in my teens and early twenties I thought I was getting an actual period on birth control like you would if you weren't on birth control. I didn't know when I bled on birth control it from the withdrawal of hormones, not from my body going through an actual menstrual cycle.
Also, keep in mind that some forms of hormonal birth control affect your "period" so you don't get in monthly, that can be a normal and expected side effect. But most forms of hormonal birth control work cyclically so you get a withdrawal bleed every month. Whether you are taking birth control or not, my hope is that you find this post informative.
What is considered a "normal" period?
A couple of things to consider…if you're still under the age of 18, you might experience longer cycles (greater than 35 days and even longer than 45 days between your periods) and/or you might not ovulate every cycle. This can be quite normal – your body is still developing and maturing and cycles usually normalize with age. For adults though, menstrual cycles are between 21 and 35 days. So from the time you start your period one month to the time you start your period the next month would be 21-35 days. Every woman is going to have a different "normal" within that range and you might experience some variations in length from month to month. That's okay. But overall, women tend to have an average cycle length plus or minus a couple days.
Ideally, your period lasts two to seven days. Before your period you might experience some mild changes within your body like slight breast tenderness, mild cramping and a little bit of moodiness. But overall, these are very mild and do not interfere with your day to day life. PMS isn't necessarily "normal."
The first few days of your period are probably heavier, but not excessively heavy. You should be able to wear a super tampon for 3-4 hours and not leak. At the same time, bleeding isn't too light for those first few days to where you can simply wear a panty liner and be fine. Blood should be a cranberry red color and should be that color throughout most of your period. You might notice a few small clots (dime sized) but anything larger could signal something else.
One really important thing to remember about your period is that one off changes in your cycle or period itself isn't necessarily a cause for concern. Our bodies just sometimes do different things and we don't know exactly why. It becomes more concerning, if you experience these changes for 3+ months in a row.
Normal vs Abnormal variations
I created this chart below to help illustrate normal vs abnormal changes in menstrual cycle and flow – keep in mind that this is not 100% exhaustive as that would probably be pages and pages long – but I've included the most common reasons for changes in your cycle. As always, check with your health care provider since they will know your individual health and needs – not the internet 🙂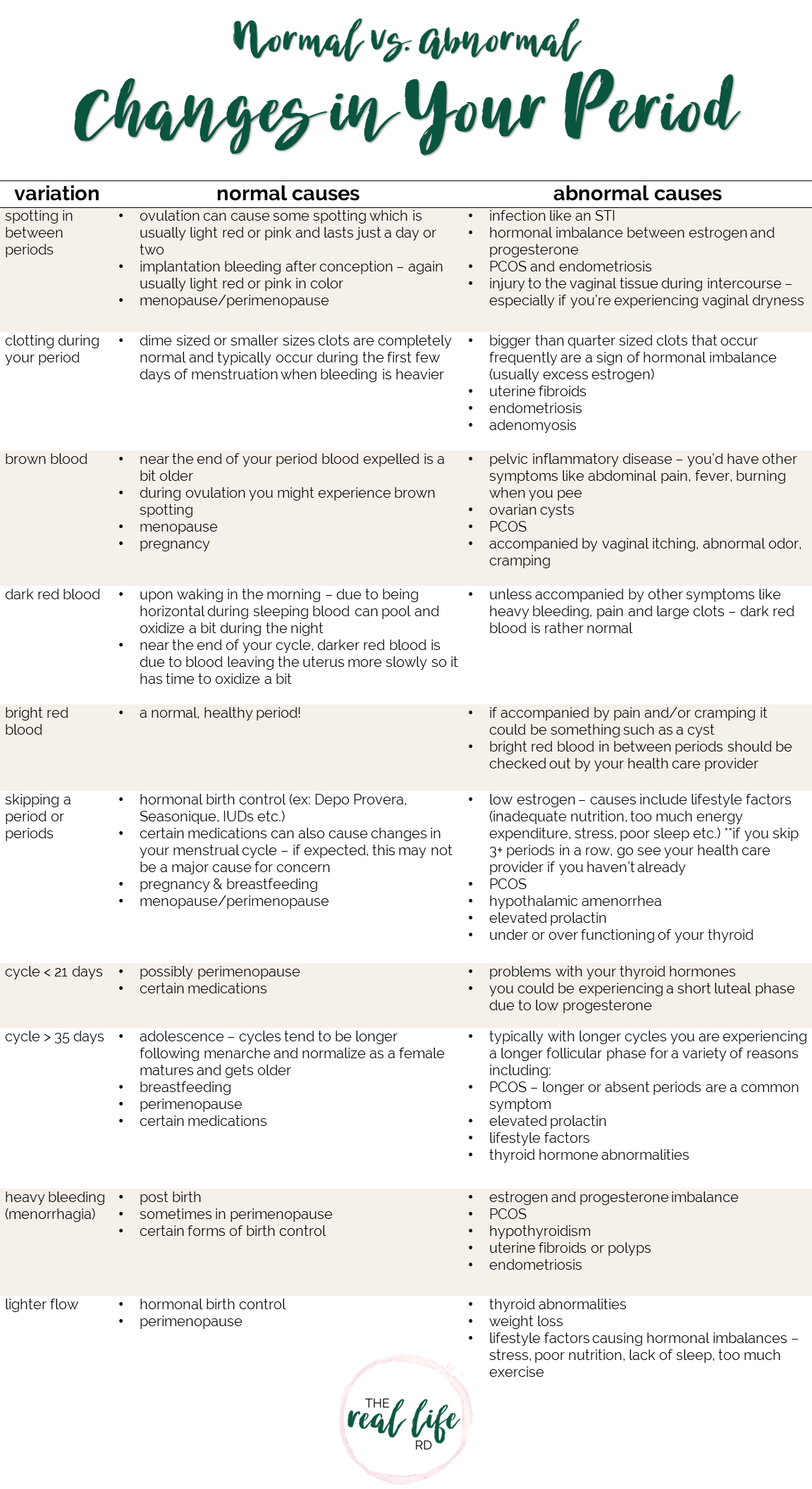 Things to consider that might affect your period
Something you can do right now before getting in contact with your health care provider if you're concerned is to do an inventory of your lifestyle.
Ask yourself these questions! Are you:
getting enough sleep?
nourishing your body with adequate energy and macronutrients?
exercising at an appropriate frequency and intensity for your body?
chronically stressed out?
Sometimes our bodies are resilient enough to handle an imbalance with one of these things, but when they face more than that (for example lack of sleep and stress or stress and intense exercise) our reproductive system is affected.
Consider any medications you might be taking and ask your health care provider if those could be affecting your cycle. Again, remember that one off 'abnormal' variations in your cycle are normal and normally not a cause for concern. But if you're experience recurring symptoms, go see your health care provider.
What to do next if you suspect something might be up
First, get a professional medical opinion before relying on Dr. Google. This post is certainly not medical advice since every body is different. So make sure you're caring for yourself by getting good medical care. From there, depending what might be going on, here are a few resources that might be helpful:
I hope this post has been helpful, I'd love to hear your thoughts in the comments!
References
Bleeding Disorders in Women. (2015, August 28). Retrieved from www.cdc.gov/ncbddd/blooddisorders/women/menorrhagia.html
Women's Health Care Physicians. (n.d.). Retrieved from https://www.acog.org/Clinical-Guidance-and-Publications/Committee-Opinions/Committee-on-Adolescent-Health-Care/Menstruation-in-Girls-and-Adolescents-Using-the-Menstrual-Cycle-as-a-Vital-Sign
Women's Health Care Physicians. (n.d.). Retrieved from https://www.acog.org/Patients/FAQs/Abnormal-Uterine-Bleeding