You are not a sponge. I've mentioned this in several posts in the past, but I think you can never remind yourself enough. You are not a sponge. I am not a sponge. And every thought we have or every thought we hear is not a fact. It's not truth.
I've written about positive body image and how I think having positive body image doesn't necessarily mean loving your body, but rather can you think of your body less. Can you build a fulfilling life outside of your body? In this post I talked a lot about that and specifically about identifying your values and being able to align your behaviors and thoughts with your values.  I think that process is really, really helpful but I also know that the fear of what others think of you – whether specific people or society as a whole – can be crippling when it comes to accepting your natural body size.
Some common fears, among many, that I hear from clients are….
"If I allow my body to change, nobody is going to love me. Who is going to be attracted to me?"
"People will think I've let myself go if I let my body change."
"This is the only thing I'm successful at or that sets me apart. If I let go of this, what will give me recognition from others?"
These are thoughts that you have. And they are real thoughts. But the question is….are they true? What is that thought rooted in that would make it true? What experiences have shaped that belief? Can you take that thought to trial and challenge it? Is it actually true?
Remembering that you are not a sponge allows you to challenge these thoughts instead of passively and automatically believing they are true. There are many thoughts that go through our head during the day that we can observe and just let pass on by. The thoughts to latch onto and grab hold of are the thoughts that align with your values. The goal is to observe the thought, recognize whether or not the thought is true and/or it aligns with your values and then to reframe the thought before it leads to an unhelpful behavior.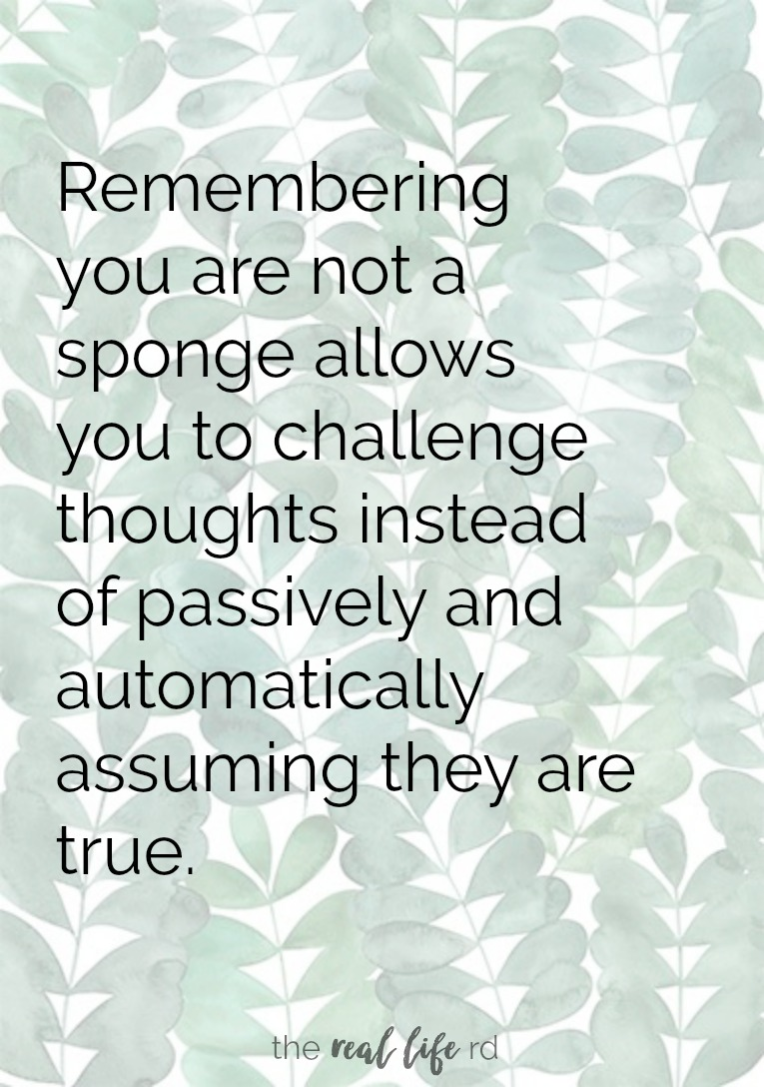 There are a lot of thoughts and beliefs that are shaped by diet culture. And more often then we realize, we passively take them as true. Accept them as fact. This is how the narrative of how we perceive food, our bodies and ourselves develops. And it can stem back years and even decades.
So back to those common fears I hear often from clients. Let's challenge those fears and take those thoughts to trial.
"If I allow my body to change, nobody is going to love me. Who is going to be attracted to me if my body changes?"
When this thought comes up I ask clients to think of their friendships ….are there friends in their lives that are in relationships they admire? Almost always they can identify at least one relationship they look up to and admire. I then ask if those people have perfect bodies. The answer is always no because nobody has a perfect body. If they can't think of a relationship in their life they admire, we then can name some relationships they could relate to via the internet. The point here is that there are many many women in many many different body sizes that are deeply loved by their significant other. You are no exception to that love. **
Perhaps a helpful way to think of this is ….a person that is deserving of the love I could give and is deserving of loving me will be one who loves my heart, not my body. A love that is contingent on your body size will be a suffocating and lonely relationship. I can't imagine emotional and physical intimacy in a relationship that was dependent on body size. Because it's not your pant size that matters. It's your heart. And no pant size can take away from a heart + soul that is loving and living out her values and a fulfilling life.
If we, as women, focused on transforming our hearts + souls as much as we did our bodies, we'd turn the world upside down. When you're focused on living our your values instead of changing your body, you will be your fullest self. This post might be helpful in continuing to dismantle this fear. ** If you have had painful experiences in the past that have shaped your belief around love and your body, I have so much empathy and compassion for you. You were dealt an unfair set of cards and although you have no control over that, there is healing for you. I want you to know that.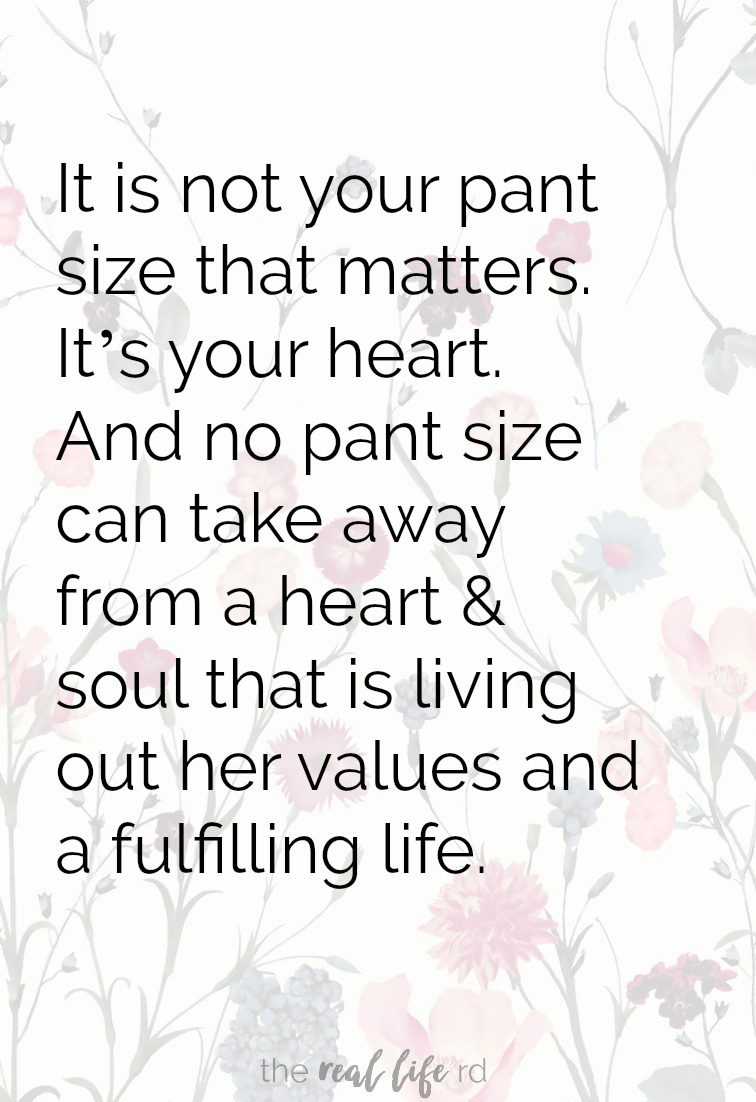 "People will think I've let myself go if I let my body change."
But will they? Is that an internal perception that you've projected onto others?
Maybe there are some people in this world that will think that…people also preoccupied with micromanaging body size. I use to be one of those people, and when I thought "Oh, she must be struggling in some way because her body changed" …really, that was my own issue. That was my own perception and my own problem that I needed to work through. Not the girl who's body had changed. That had nothing to do with her, but everything to do with me. So even if someone has that opinion which you cannot control, is their opinion of your body worth living a life obsessed with food and exercise that keeps your body a certain way? This is your life. If you constantly trying to please other people, you will be miserable and exhausted for your entire life. I've seen that in my own life.
Letting go of micromanaging your body size actually gives you more control over your life. You are in control instead of food and exercise controlling you. Society might say, "She let herself go." "She's not as disciplined." But can you reframe that thought to one that is actually true? Because you haven't let yourself go, you've let yourself let go of life sucking crap that was controlling your life. You've let yourself go from being controlled by food, other's opinions on what you should do and a false expectation of who you should be. Letting your body change can be an external sign of positive internal changes as you learn to advocate for yourself, respect yourself and live your life in a way that allows you to be who you were fully created to be. That's called taking control of your life.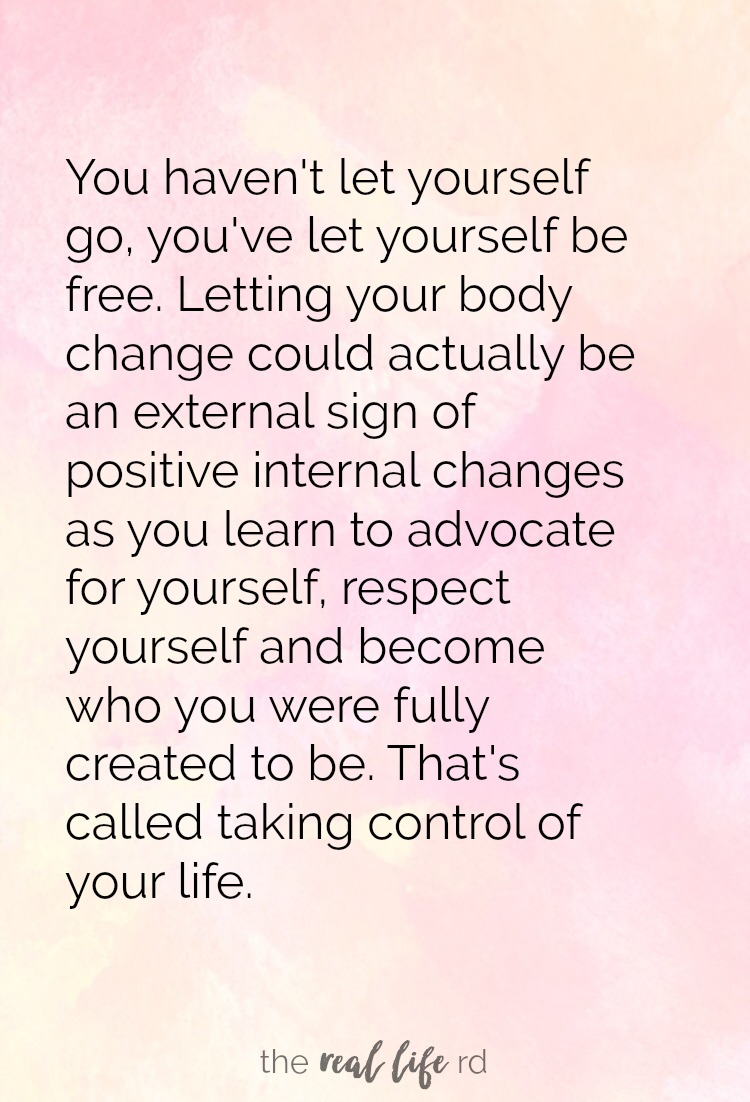 "This is the only thing I'm successful at or that sets me apart. If I let go of this, what will give me recognition from others?"
Controlling food and exercise and micromanaging your body size doesn't make you unique. It makes you like everyone else. The majority of people are trying to control what they eat and fight their natural body size. This might sound morbid…but people don't talk about their loved one's body size or discipline around food and exercise at funerals. They talk about that persons heart and who they were at the soul of their being. How they impacted and loved others. That's what people remember about others.
Micromanaging your body size doesn't help you work through the pain of insecurity that lies in your heart. I have insecurities just like you and just like everyone else. I have doubts and fears about who I am and what others think about me. But no matter what my body size or what types of food I eat or how many miles I run, that doesn't help me heal those insecure areas of my heart and realize truth…it numbs me out.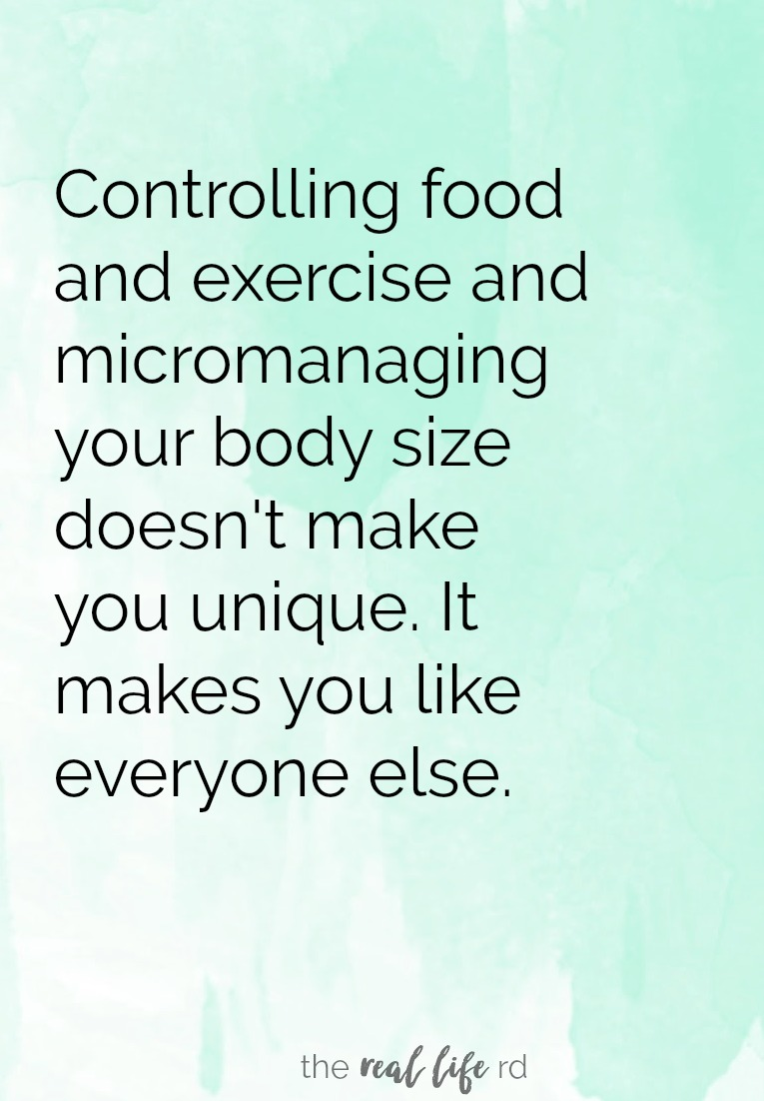 There will be a lot of thoughts that show up in our brains and a lot of thoughts that we will hear from others and the media…but we aren't sponges. The first part of this process is recognizing how certain thoughts influence your behaviors. Then can you take that thought to trial and ask, "Does this thought help or hold me back from living out my values?" If the only value you can think about it being small or fit or anything around food and exercise….stop. Realize that is a complete waste of your time. Make yourself sit down and think about what you value.
You are not a passive victim to every thought that enters your mind. You get to choose what thoughts you engage with because they align with your values and what thoughts you observe and then let pass by because they don't align with your values.