Friday night we stopped by our friends place for a glass of wine. And then Nick and I explored Boston and bopped around to different places. We had no set plans. When we were at our friends, Phil recommend Cafe Jaffa for really good middle eastern food. It was really good! But really casual, so next time I'd go there for either a very chill dinner or lunch.
We started with babaganoush and salad. The pita was perfectly fluffy.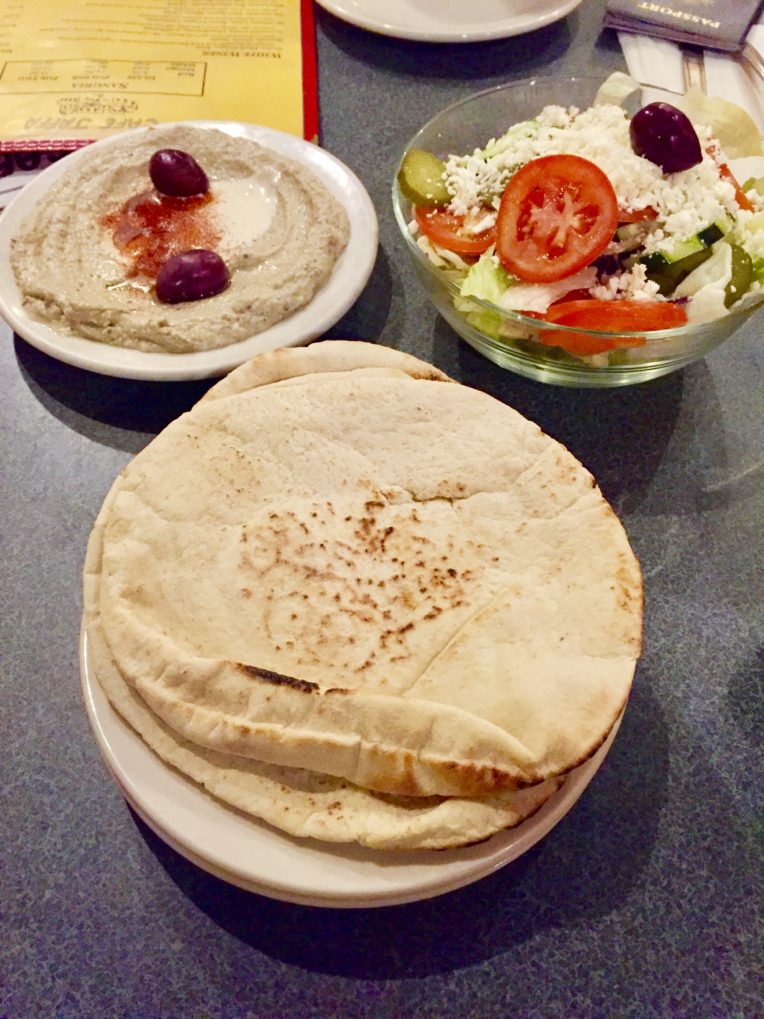 And I ordered the falafel sandwich which was pretty tasty. The falafel was piping hot and crispy on the outside. I was satisfied on pita after eating the babganoush so I ate the insides of the sandwich.
I purposely left some room for dessert after dinner so we walked around in search of something sweet. We strolled through Eataly…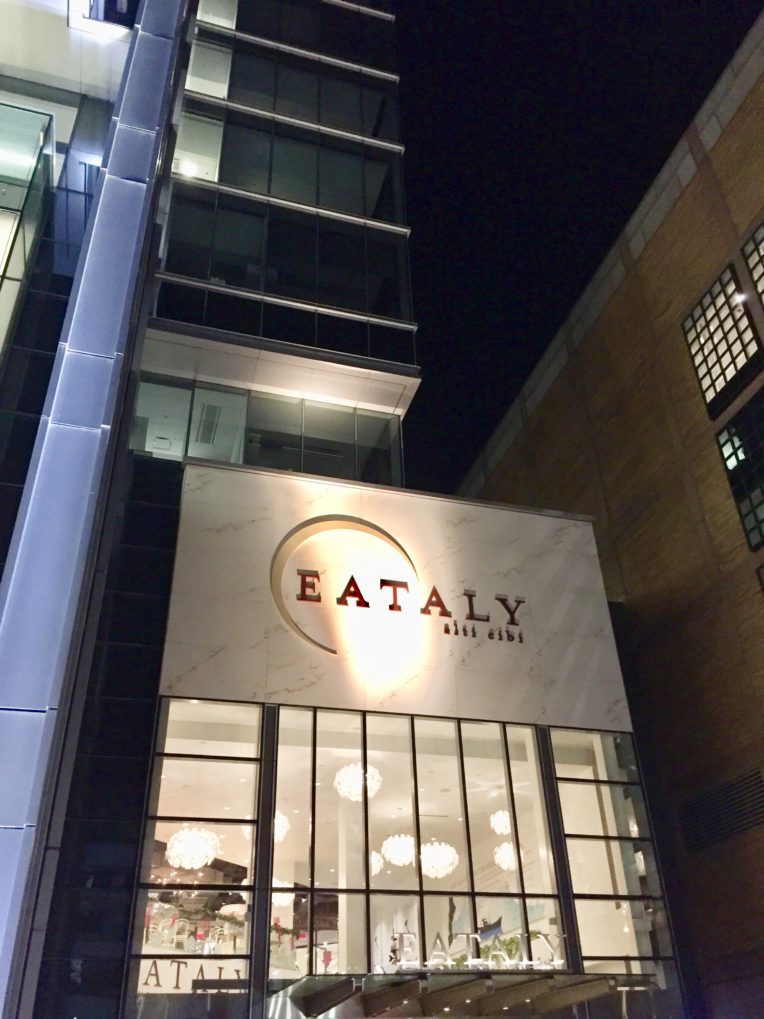 And as we were in there we remembered some people had said the French restaurant right by us, Petit Robert Bistro, had a really good dessert menu. So we walked over to check it out.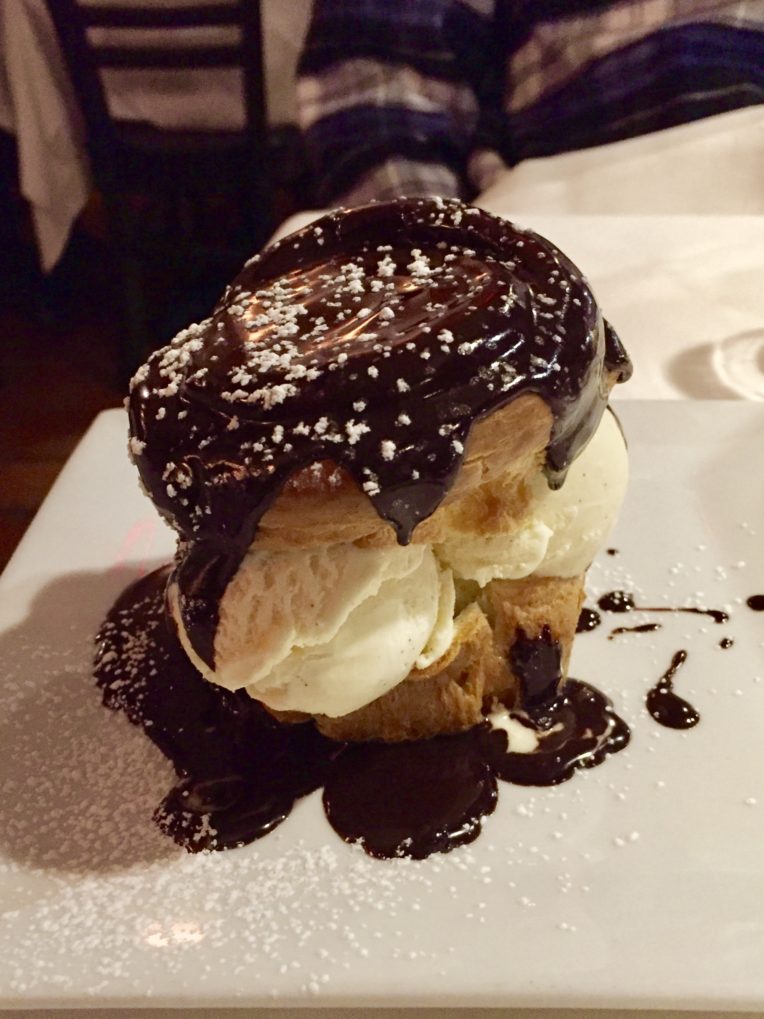 It did not disappoint. We ordered the puff pastry with vanilla ice cream and chocolate sauce. It actually was lighter than I expected – if Nick and I weren't sharing I would have eaten the whole thing.
We headed home, I read a bit and then slept a good 8 hours.
Saturday morning began with coffee.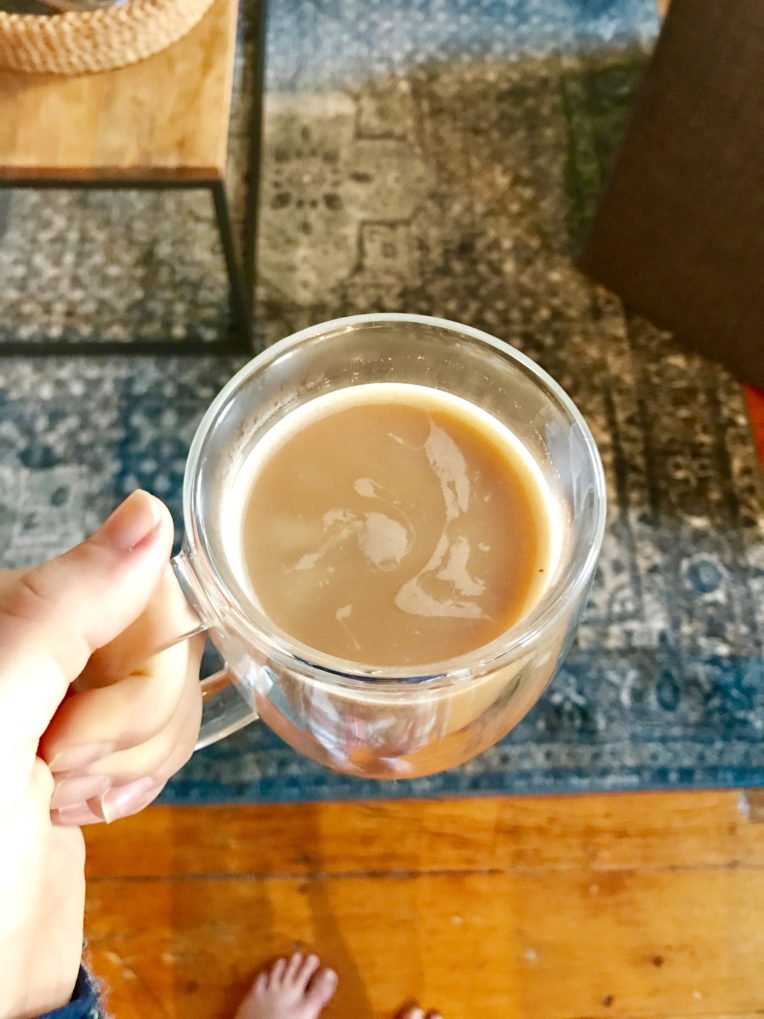 And then a bowl of apple cinnamon oats topped with cranberries and peanut butter. I just cooked regular rolled oats on the stove top and added chopped apple and cinnamon half way through.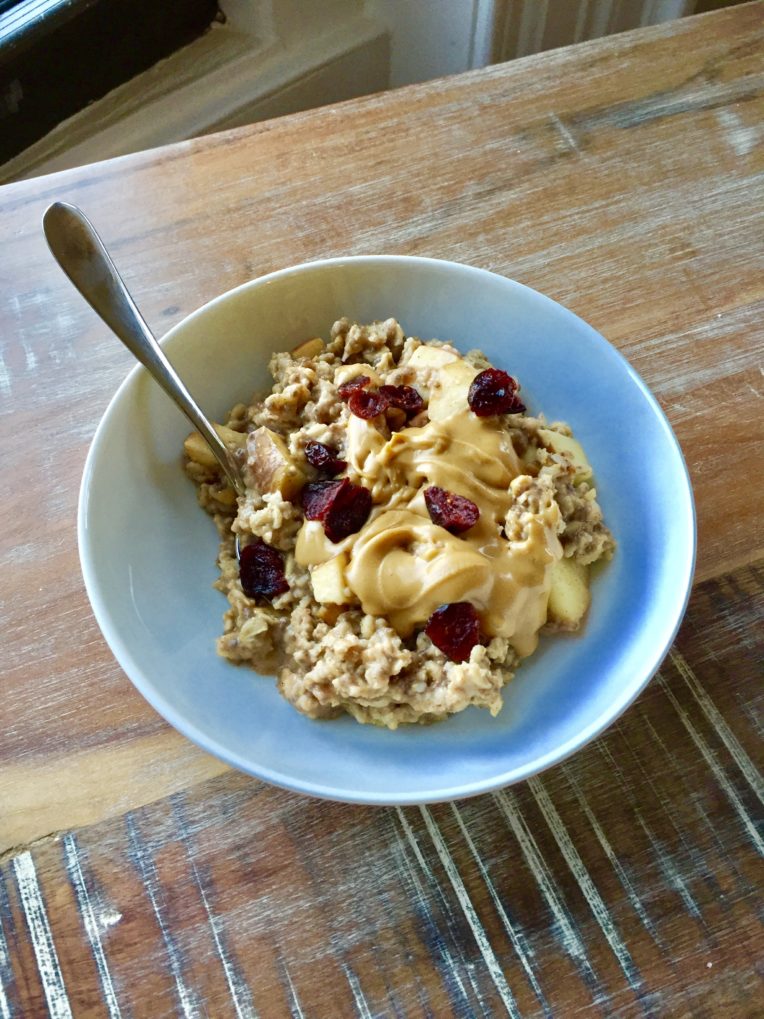 And then, like I talked about in Friday's post, I met up with the Heartbreakers running group for the Saturday morning run. I was a little nervous because 1) I was by myself 2) knew absolutely nobody and 3) didn't really know what this all entailed.
I got there a couple minutes after 9am and saw a lot of people running right by the running store (where we were suppose to meet) so was confused. I knew there were a lot of people who met for this run (like 100ish) but there were people running in a lot of directions and it looked like they had been running for a while. So I basically parked my car and just hopped into the group and started running. But then about 5 minutes into the run I was like, "ummm, let me ask what is going on.." So I asked the people running near me and they were really nice and told me there were a handful of running groups out this morning and the group I was looking for hadn't left yet.
So then I jogged the 1/2 mile back to the running store, but by that time the group I was looking for had left already. So I walked into the running store and was like…."Hi, I'm new here. I'm really confused…how can I catch up with the group?" The guy gave me a welcomed laugh and then pointed me in the right direction and I caught up with the group I was actually looking for.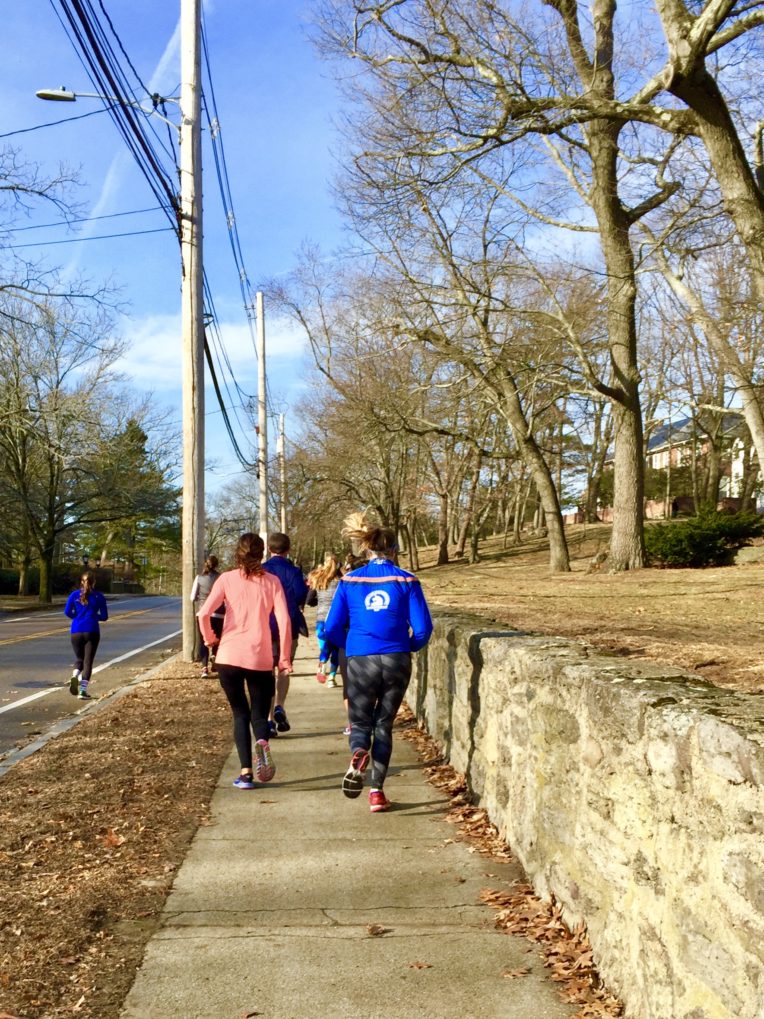 It was a gorgeous morning and my legs felt great (still zero knee or IT band pain which is so crazy to me that getting a more supportive shoe solved my problems) and I ended the run feeling so so happy. Because I was running with people (even if they are complete strangers at this point) in gorgeous weather with zero pain. I turned back way early because the group I was with was running longer than I planned on.
Soooo all that to say, I'll be back. And I'm sure I'll settle in and make some friends after a few weeks. And next time, I'll know where to meet and how the whole thing is organized.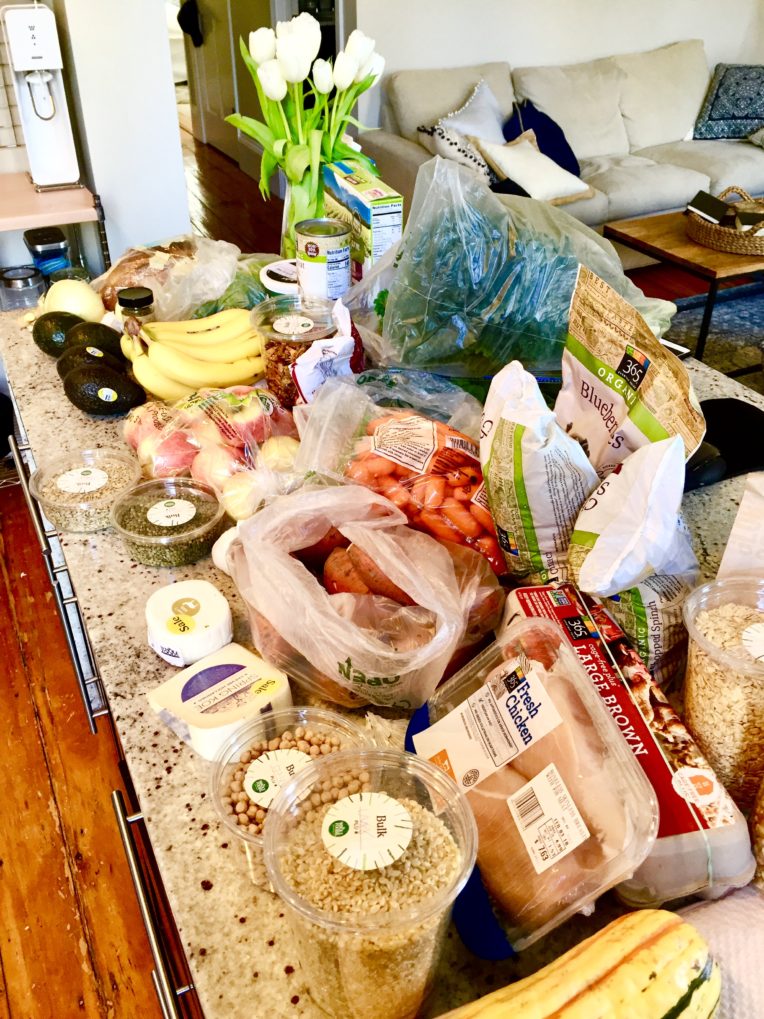 I stopped by the grocery afterward to pick up the week's goods. Drank a smoothie and some samples while grocery shopping.
And then got home and made some epic avocado toast. One of those meals where you have to vocalize, "THIS IS SO GOOD."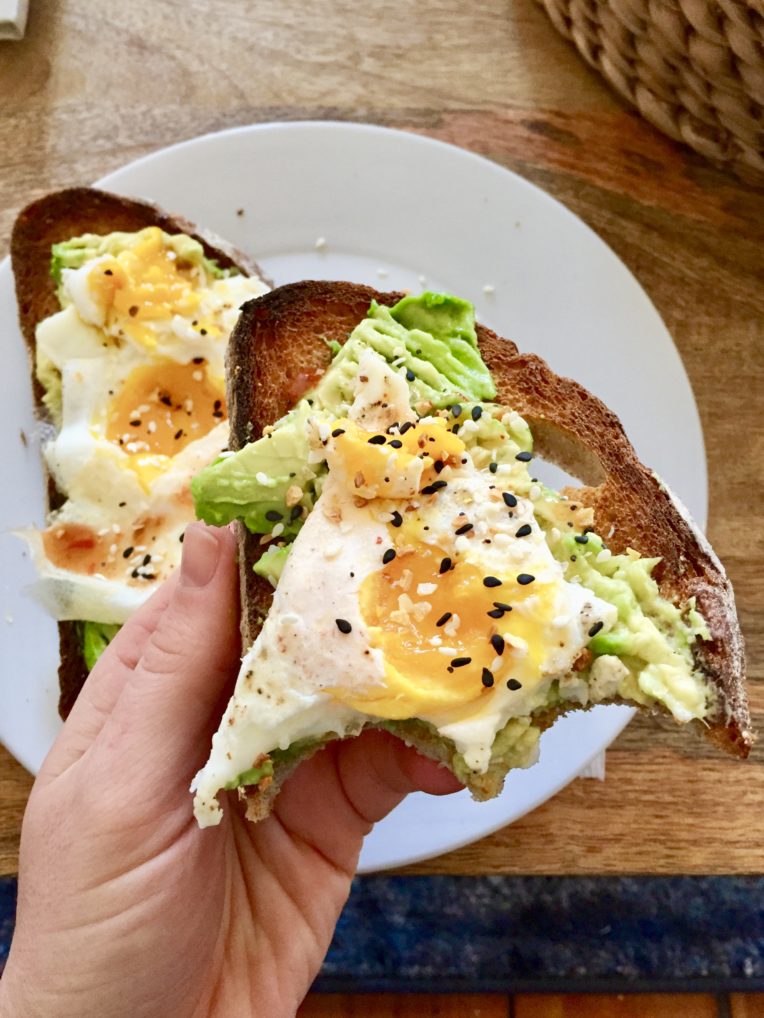 We sold our huge TV and hadn't gotten a new one yet so we watched the UNC game on the laptop…but they lost in a close game so that sucked.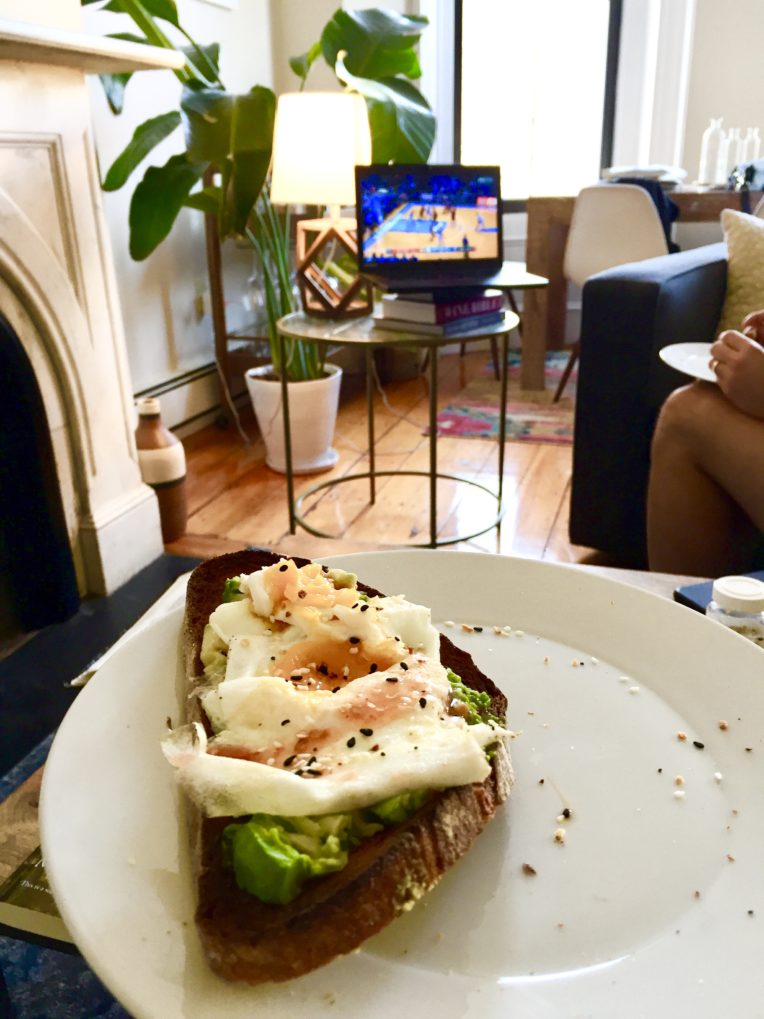 Saturday afternoon I took a hot bath, did a mud mask, read the rest of Letting Go of Leo Simi sent me (such a refreshing and relatable read – highly recommend!) and took a nap.
Then ate a banana and sunbutter. I bought this sunbutter on sale and actually don't really like it but I'm eating it anyways because I don't want to waste it. It tastes too earthy I think. I thought it was going to be sweeter, but it's not.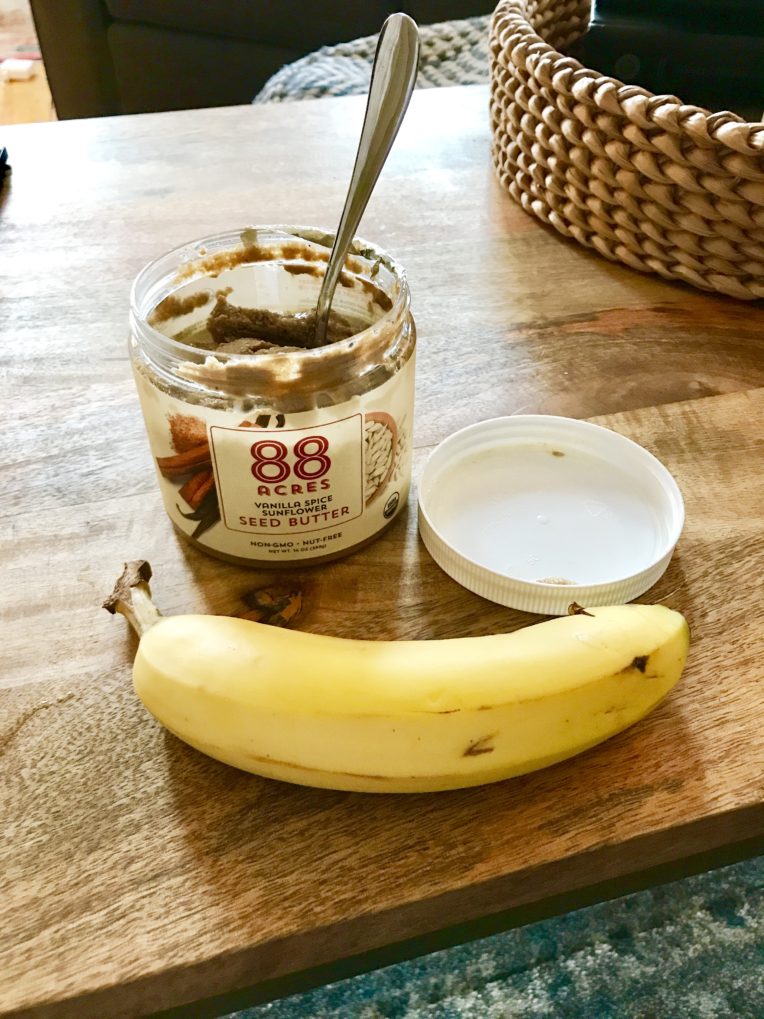 After napping, I put myself together and Nick and I walked down to Urban Grape for a wine tasting. They do tastings from 3-6 so we strolled down there to taste some wines a handful of times. It's also a really social wine shop so we see a lot of the same people each time which is fun.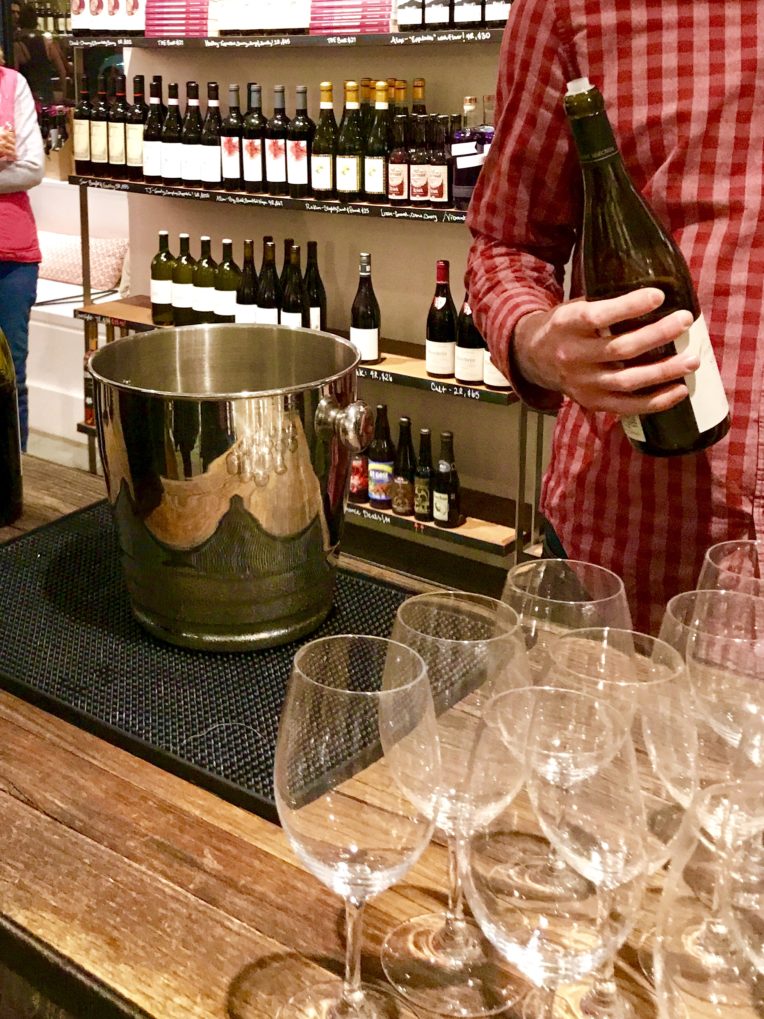 We bought a bottle to take home and pair with a cheese plate I threw together. I bought this goat gouda at Whole Foods and it is insanely good.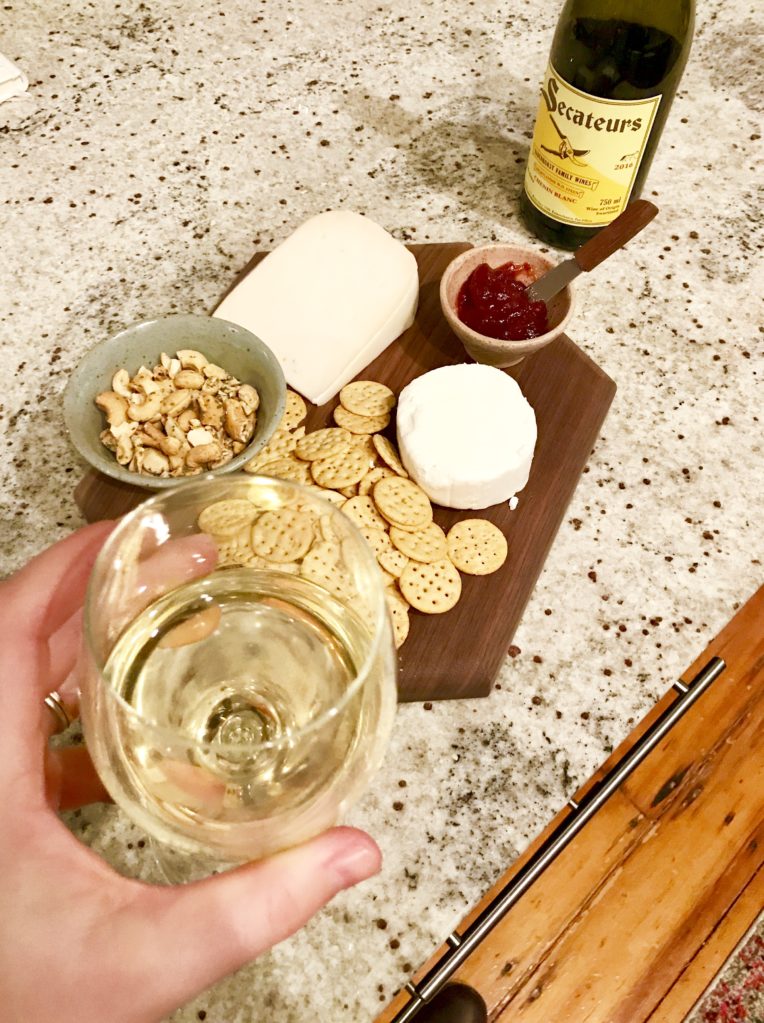 Then we walked over to a friends for Thai takeout. We shared this spread of curry, beef and broccoli, garlic chicken, steamed dumplings and chicken wings.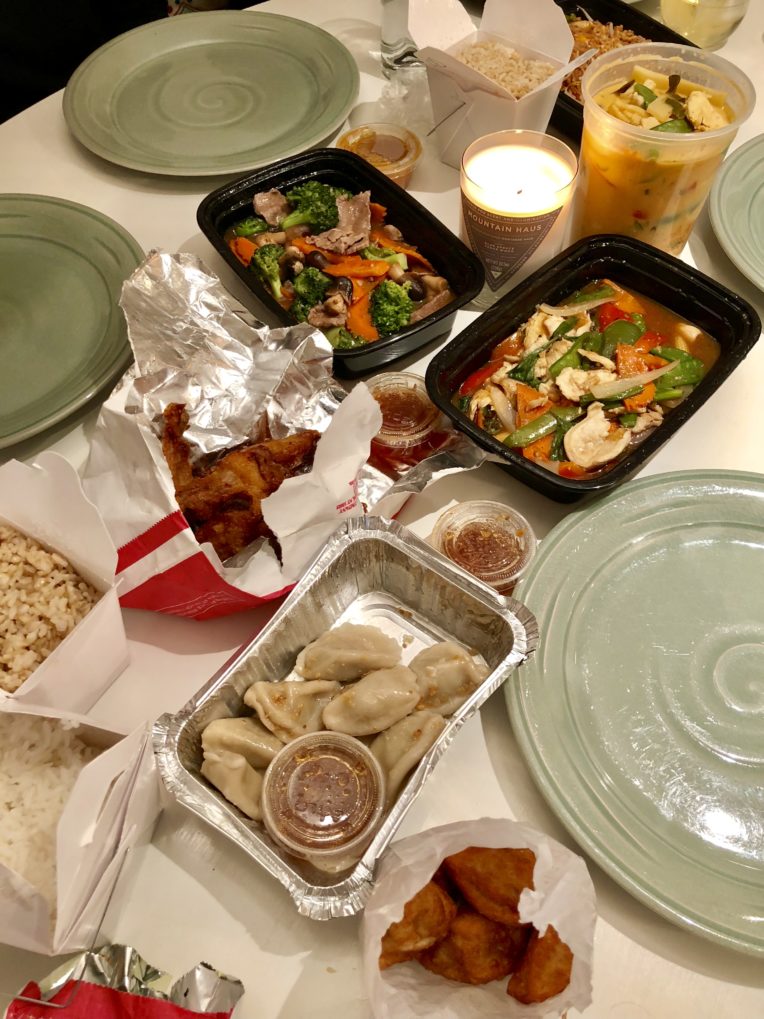 By 10pm I was exhausted and we headed home for bed.
Sunday morning we decided to go to an early church service since we were up by 7…I know I'm 89 apparently.  We stopped by the Thinking Cup for breakfast before checking out Park Street church. Nick went last week when I was in Nashville and really liked it, so we went back together this week.
I went with the breakfast burrito + coffee. The burrito was a little meh. I needed to be hotter so the spinach would wilt and cheese melt and then it would have been great! But it's okay for every eating experience not to be 100% satisfying. I ate it and moved on.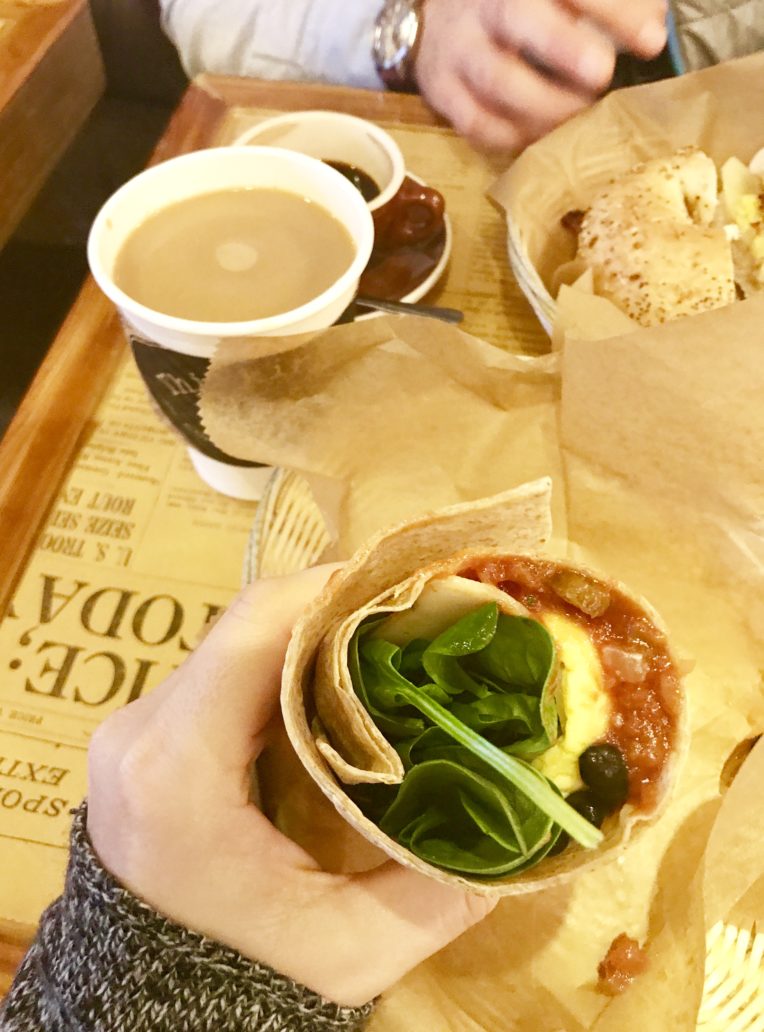 We walked back through the Boston Commons after church. I stopped and shopped for some organization containers at Marshalls on the way home.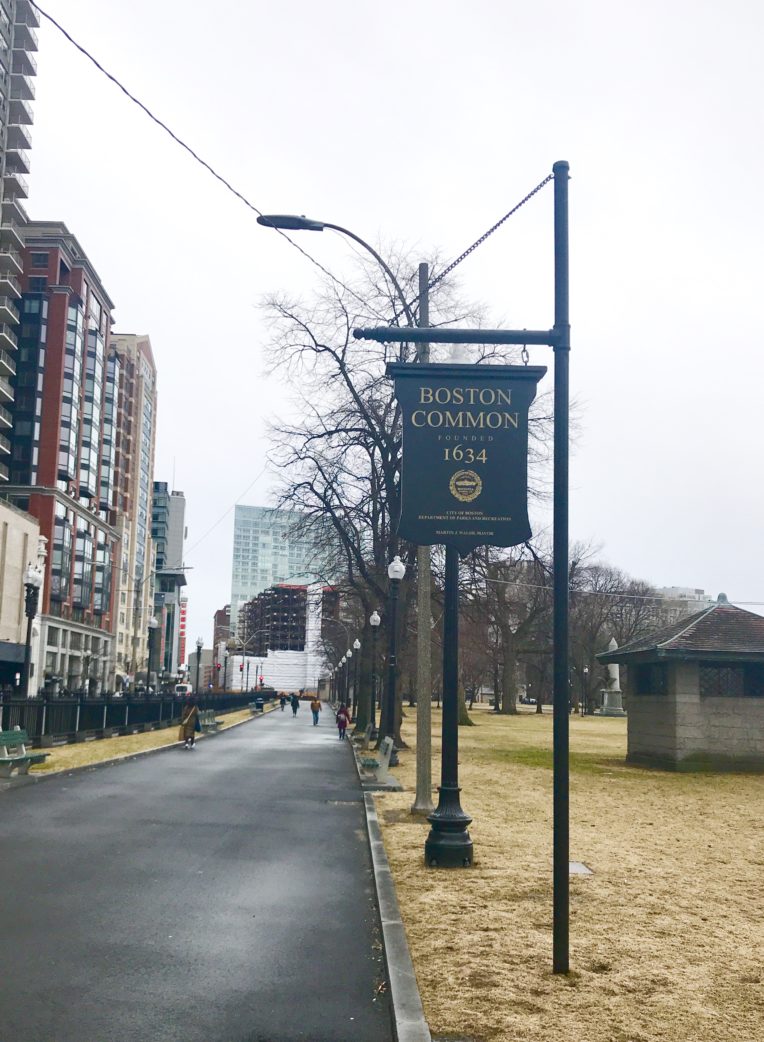 And when I got home threw together a lazy lunch. This is what I do when I don't want to put effort into food. Smoothie with blueberries, banana, peanut butter, spinach.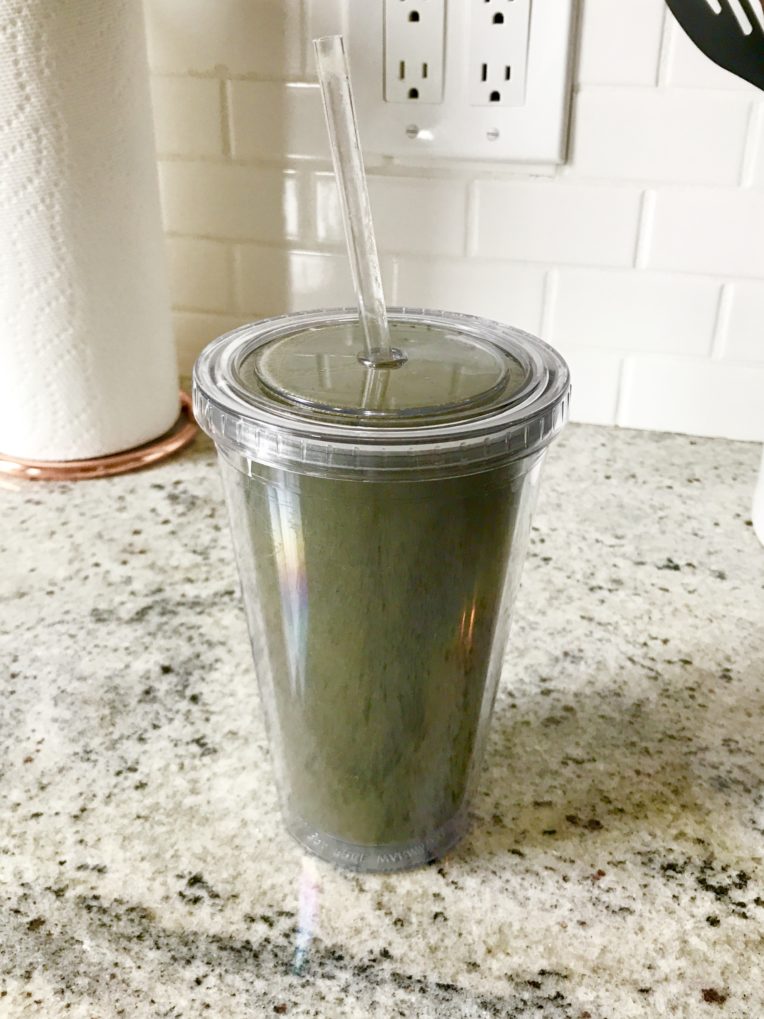 Plus popcorn popped in coconut oil on the stove.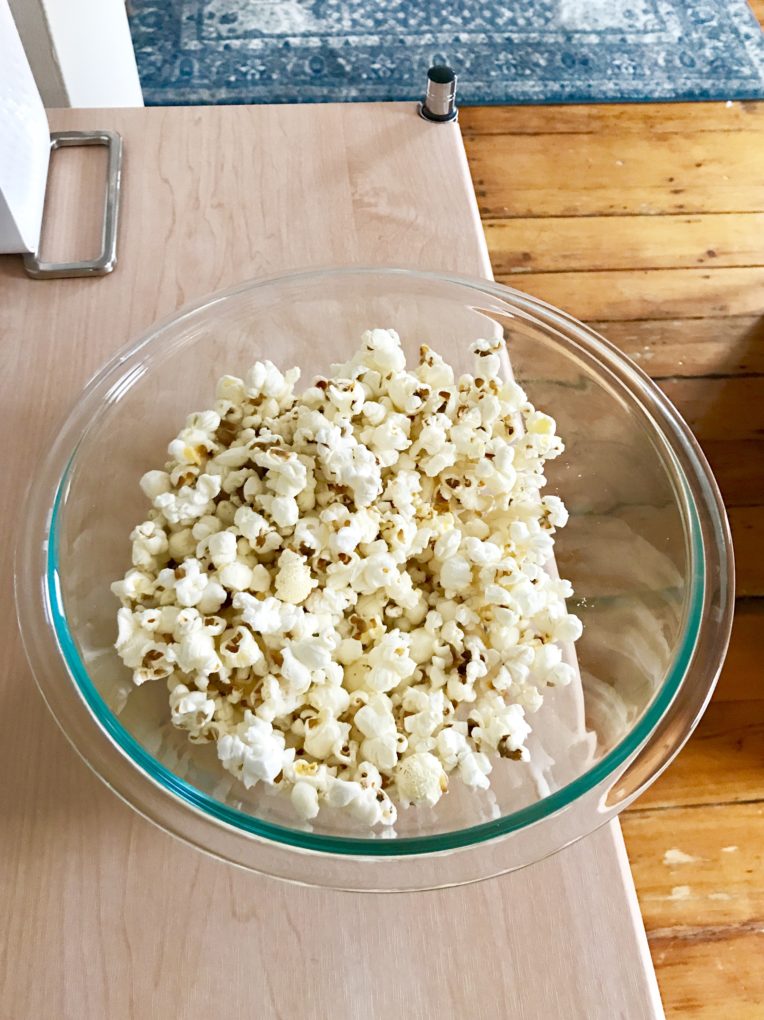 And then a bomb went off in the kitchen as I reorganized a bit.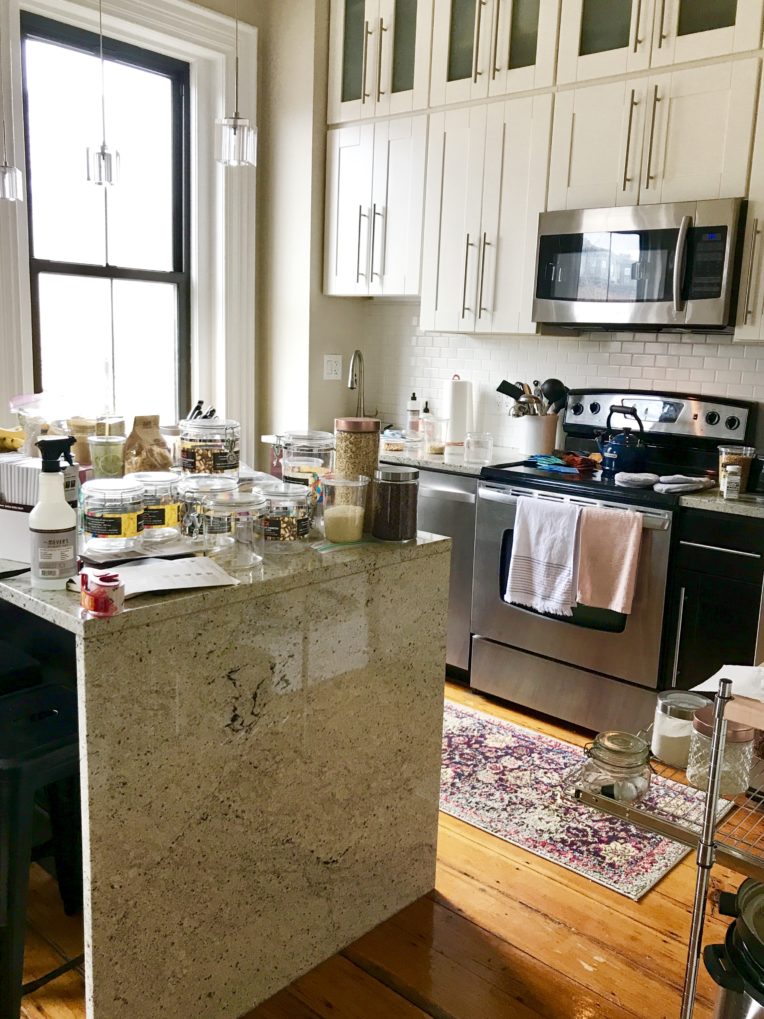 But now I feel like I don't have a zillion bags and boxes of random grains and lentils and pasta…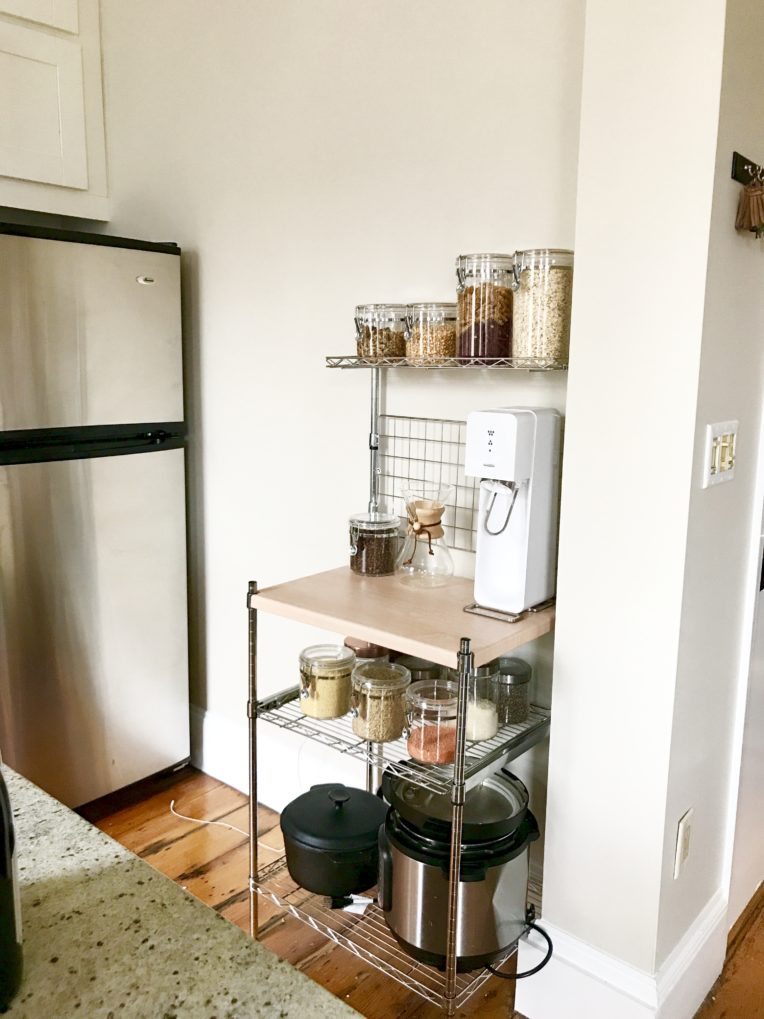 So that's a win. I bought a bun of the plastic containers you see above at Marshalls for like $4-$6 each. I thought that was a pretty good deal!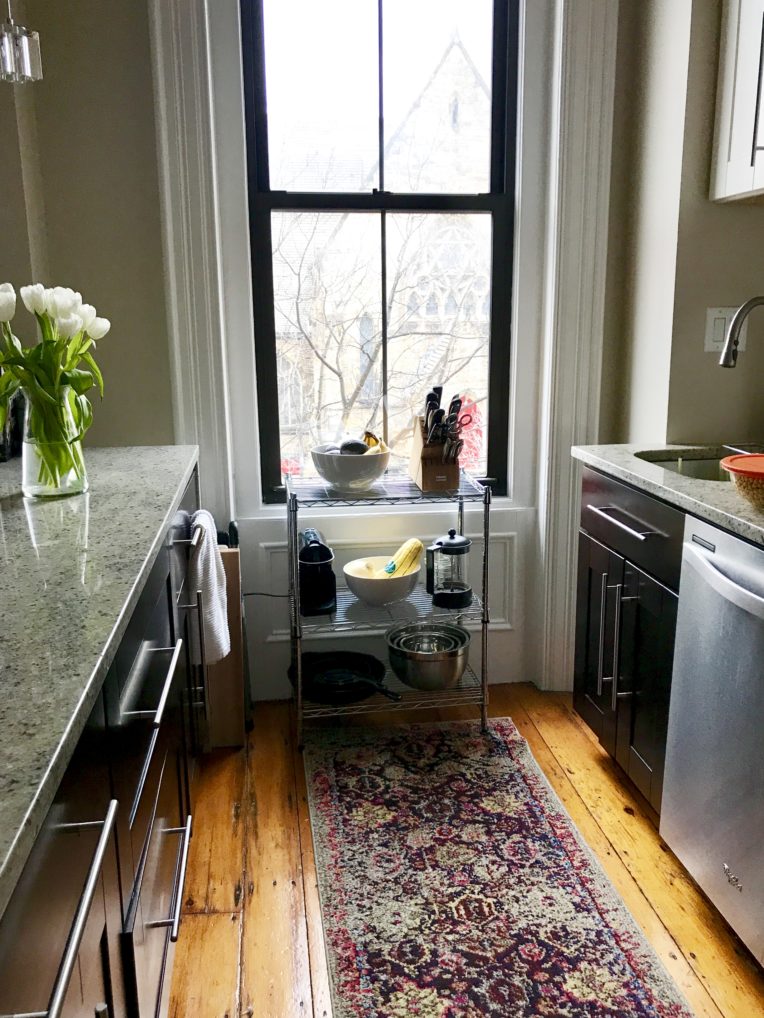 I meal prepped for the week a bit in the evening while Nick delivered our table to a friend who bought it from us. We ordered a smaller, circular one that fits the space better. I loved our old table, so I'm selfishly happy I'll still be able to enjoy it because our friend now has it.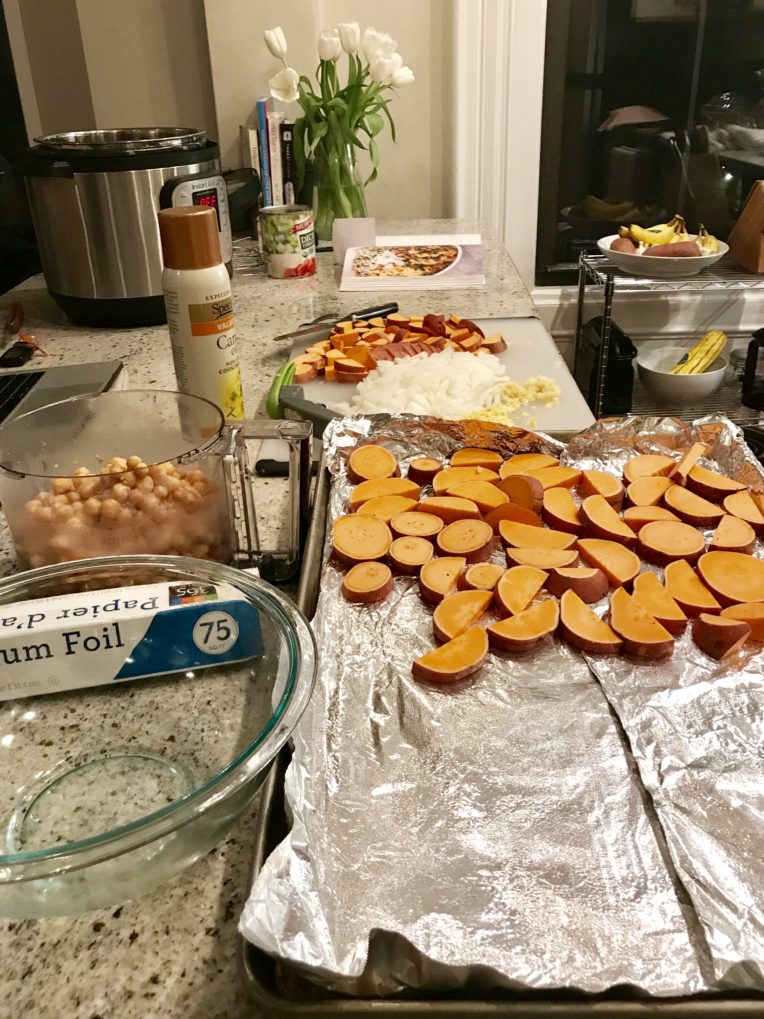 Dinner was leftover stir fry using random veggies we had in the fridge that were on their last leg. I used this leftover sauce I made a couple weeks ago. And cooked up some brown rice for the week. Love when you can use up the fridge and actually make a meal.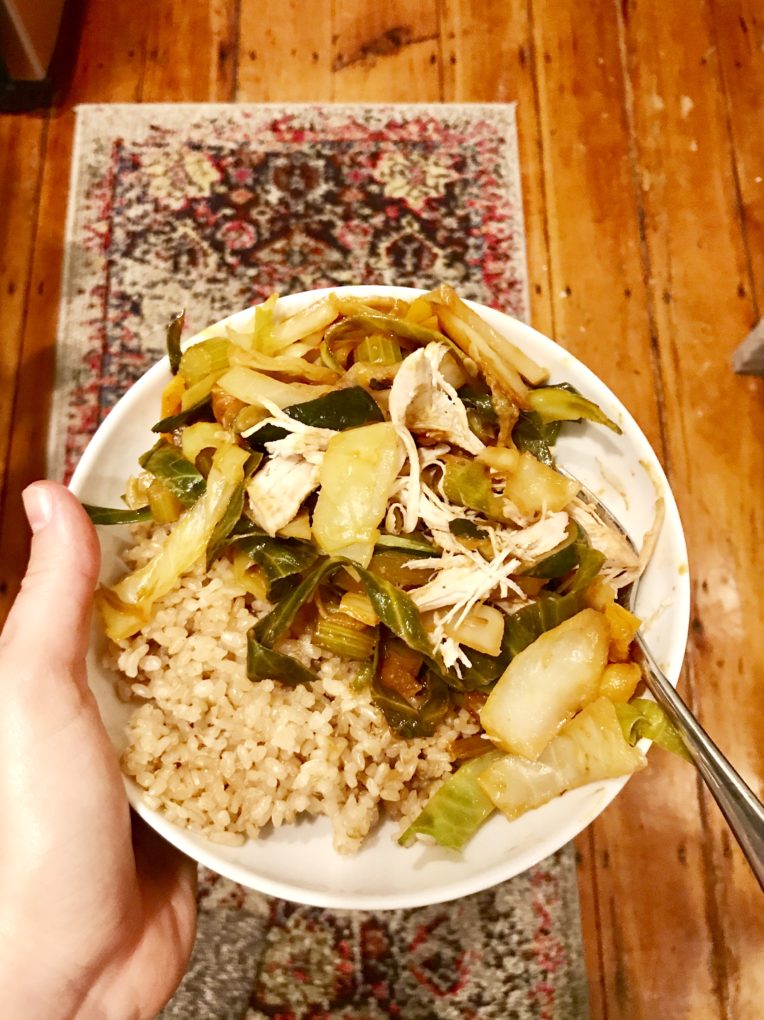 The rest of Sunday night was spent typing up this post, watching This is Us and eating some Breyer's with strawberry crumble bars.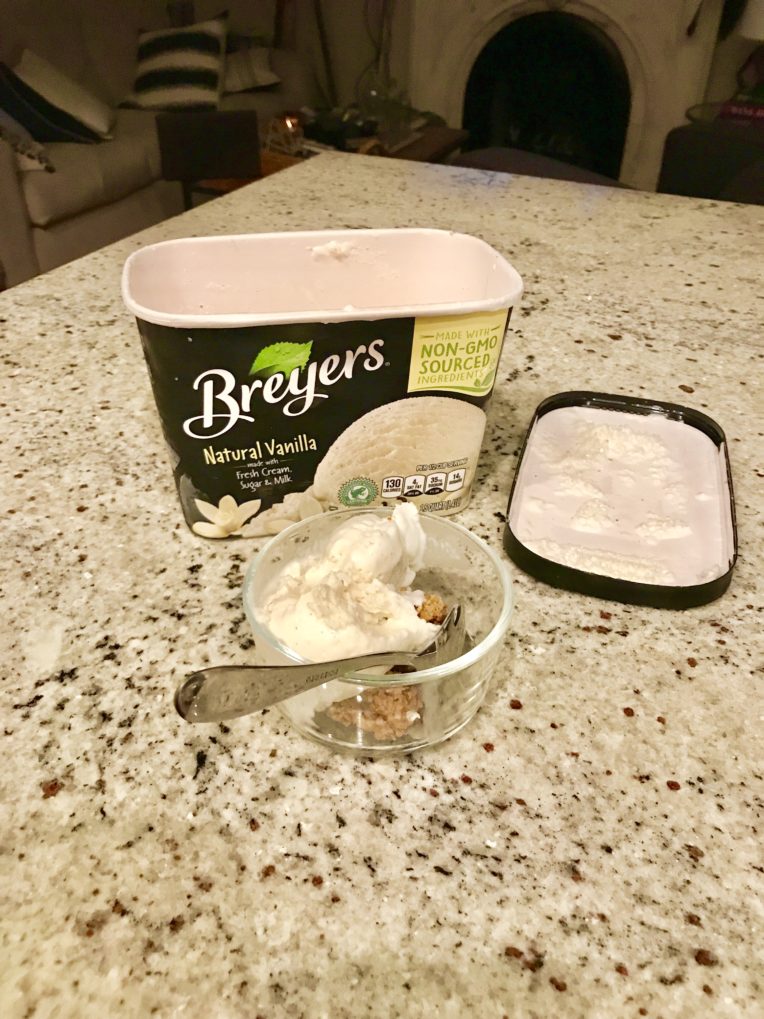 Hope you guys had a relaxing and fun weekend! Share in the comments – I love hearing about your weekends too!