I believe a healthy relationship with food involves eating both physically nourishing and mentally satisfying foods. Sometimes foods are primarily physically nourishing. Take chia seeds or raw broccoli for example. Both are packed with vitamins and minerals, but I wouldn't think of them as mentally satisfying. They don't give me comfort, nostalgia or remind me of family tradition or bring about a fond memory. Sometimes foods are primarily mentally satisfying. Like your mom's chocolate chip cookies. Eating solely cookies though isn't going to be a nourishing choice that leaves you energized and focused, BUT chocolate chip cookies are mentally satisfying, provide gratification, and therefore are part of healthy eating and a healthy relationship with food.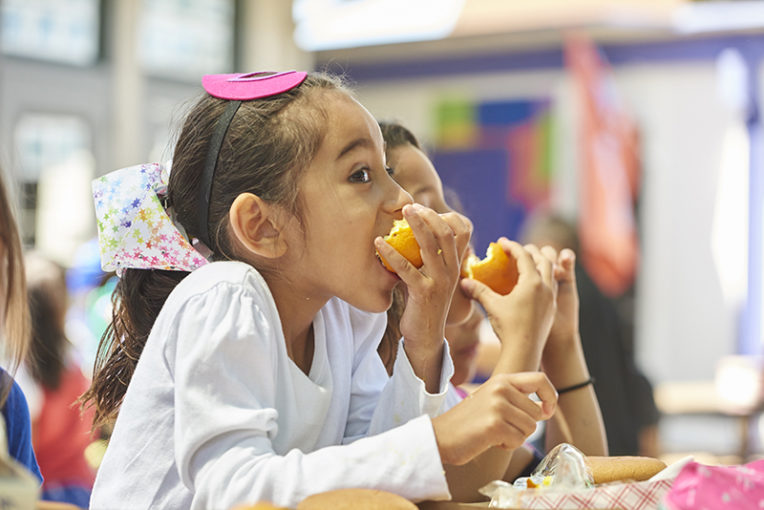 Sometimes, foods can be both physically and mentally satisfying. Maybe think of a dinner your mom made growing up. For me, that was spaghetti and meat sauce with garlic bread and salad my mom made. You know the garlic bread where you butter leftover hot dog buns and sprinkle on garlic salt before popping them under the broiler? For real, hot dog bun garlic bread was what my childhood dreams were made of. I loved that meal and I still do. So while my mom cooked nourishing and satisfying meals that included whole grains, proteins, fats and fiber like spaghetti with meat sauce and salad, my lunches from the school cafeteria weren't quite as great.
However, decades later, and we now have Revolution Foods, a company committed to transforming citywide wellness in NYC as well was nationwide. They arrived on the scene in 2010 and have since changed the game in serving both physically and mentally satisfying meals to students across school and community sites throughout Greater New York and New Jersey. Not only do students enjoy these school lunches, but these nutritious meals are improving academic outcomes. Revolution Foods believes proper nutrition and healthy food can drive positive academic outcomes and help students achieve their true potential and so they're making it happen by transforming the way students experience school lunch. I think that's pretty cool.
I know for me, when I eat both a physically nourishing and mentally satisfying lunch I feel energized, focused and perform better at my job. But it's also important that we enjoy our food so we aren't thinking about food after lunch – that's distracting. And in order for us to want to eat nutrient rich foods that keeps us focused + energized it has to taste good! The same goes for kids. We can't expect them to want to eat vegetables if they don't taste good, just like we can't expect them to perform well in school if we aren't helping to nourish their bodies with balanced, satiating and satisfying meals. If we do provide them with healthy meals that are packed with nutrition and still taste great, we set them up for success in the classroom.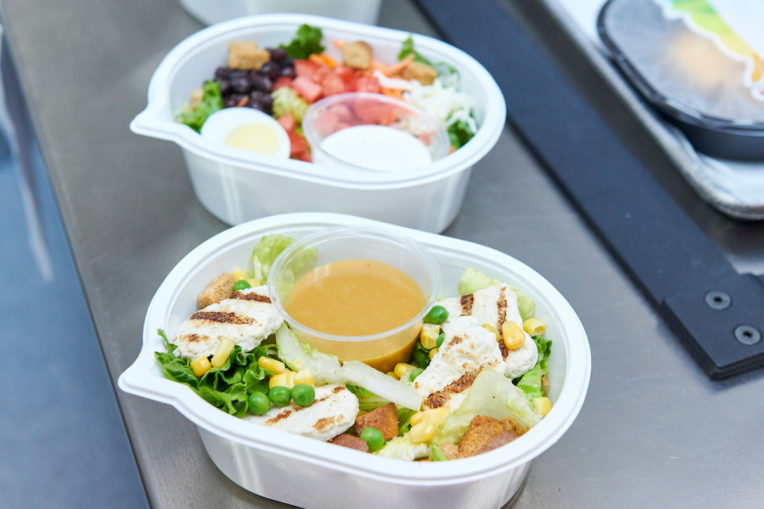 A recent paper was published by UC Berkeley that stated students at schools that contract with a healthier school-lunch vendor perform better on tests. And in this study, Revolution Foods was ranked the #1 healthiest provider of nutritious meals. Think about what would happen in our school systems if we focused on providing students with delicious, nutritious meals. Not that it's the golden ticket, but I wonder how that would affect kid's ability to focus, stay on task, and perform on tests. Not to mention what it would do for the school lunch stereotype.
From policy and food systems evolution to driving positive student academic and health outcomes, Revolution Foods is encouraging the entire food system to change by setting the standard for how businesses can build a brighter future for our nation's youth and families. All kids in all schools deserve access to high quality, delicious food.
I'd love to hear your school lunch experience! Does what you eat affect how you feel both physically and mentally? Have you found that what you eat helps you do your job and/or school work better?
This post was sponsored by Revolution Foods – I love sharing brands with you that I 100% stand behind and support!