Today is an exciting day. I'd been thinking about starting an online learning center for a really long time. But I had NO IDEA how to even go about that. And a lot of fears held me back for a really long time. I'm a big thinker, not a details person, so I had was lost on how this would come to fruition. Eventually I got sick of telling myself "it's too much" and so finally, a few months back, I took the first baby step. Then another. Then another.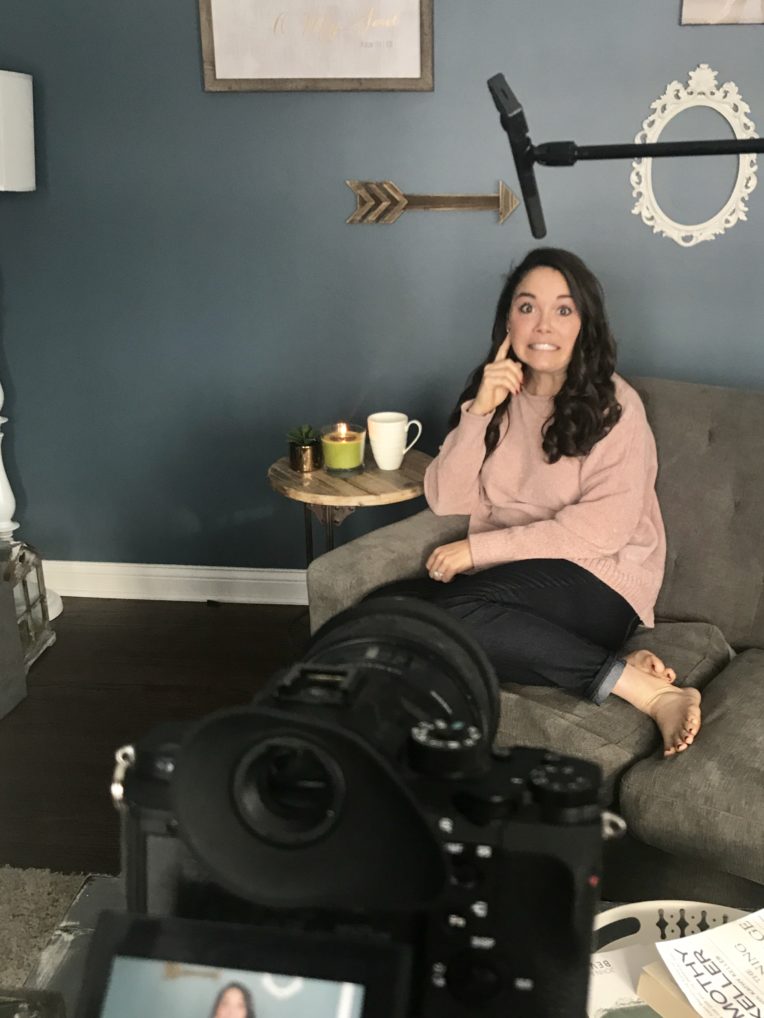 And today is the day. The Real Life RD Learning Center is open to all of you! My hope is that I continue to create more and more online resources and courses to help women find true health and peace with food and their body.
The first course available is the course you've probably heard me talking about for while now on the blog, social media and in some email newsletters. If you're annoyed with me by now, I'm so sorry. It's tricky to balance sharing the information with people who want to hear and then not annoying the shiz out of others who don't care.
If you're someone who is like, "Tell me more!" then keep reading. If you're like, "Not again Robyn pleazzze." come back Monday for regular programming 🙂
When I started out to heal my own hormonal issues, period problems and find peace with my body I had no idea the journey it would take me down. Almost six years later and I've had the freaking joy of working with hundreds of women in helping them do the same. Then Cody came alone and together we've been able to help even more women. Over the years I've been itching to create an online learning program that would make all the teaching, counseling and tools I use 1:1 clients available not only in one cohesive format, but that was more financially feasible than working 1:1 – because I totally get that's a large investment! Time and money are two of your resources I value a ton.
Not only have I walked this own journey myself, but I've had the gift of seeing lots and lots of other women do the same. That's pretty cool. One of the most powerful realizations for me was knowing I wasn't alone…actually many women faced the same health issues I did. AND even more women struggled with food, obsessive exercised body image. This stuff was way more common than I imagined. I wasn't unique in my struggles and my body wasn't broken and I found that so comforting. Maybe you do too?
This new course is a five module, go-at-your-own-pace, online lifetime course. There's no time frame on this because everyone will move through the modules at a different pace. Everyone will make changes differently because everyone's body and life is different. In the course I talk about what's actually happening in your body, what's normal and what's not normal, a healing plan (with customizability based on
your own needs
), how you can tolerate and then come to accept your natural body size and what this all looks like long term – I'll show you how to transition eventually to intuitive eating, moving and living. This isn't about expectations or following a set of guidelines, really this is about empowering YOU with the knowledge and tools to really care for yourself.
In the course, I cover many questions asked by you guys through Instagram messages, emails, the live Instagram Q&As, and blog comments. I also provide you will almost 20 handouts and tools that will help prepare you for making changes, working through any hesitation or uncertainly you have (because that's normal!), implement the healing plan, and cultivate body acceptance, compassion with yourself and self care rhythms.
I'm having the same conversations with you that I have 1:1 with clients and I'm offering you the same handouts and tools I use 1:1 with clients. I'm walking right there with you…either in your pocket via audio, or on your screen via video. You can listen anytime and anywhere for the rest of your life. And you'll also have access to any future updates and improvements to the course – I'm always tweaking, once you're in you're in!
The course is open starting TODAY! You can pay in full or you're welcome to make payments through the payment plan. I've tried to make this as accessible as possible while still maintaining the value of the course.
I'm so excited to share it with you! So, welcome to the Real Life RD Learning Center. To learn more, watch the first introduction video for free, sign up or just see what I've been waiting to share with you…head over to the Heal Your Hormones & Get Your Period Back Course page. Thank you so much for being a part of this vision & community. 🙂 You guys are so awesome.