I reader emailed me and said she'd love to see a post with some daily eats that includes commentary on why I chose to eat that. Like a "behind the scenes of intuitive eating" sort of thing. So here we are! If you email me a blog topic you'd like to see, I promise I listen. I take all reader emails and reply to as many as humanly possible (which actually is almost every single one – I try my hardest. I love you guys.) and then copy your blog topic requests into a sticky note on my computer so I always have a large pool of topics to choose from. So know that I hear you and love to write about what you guys want to read.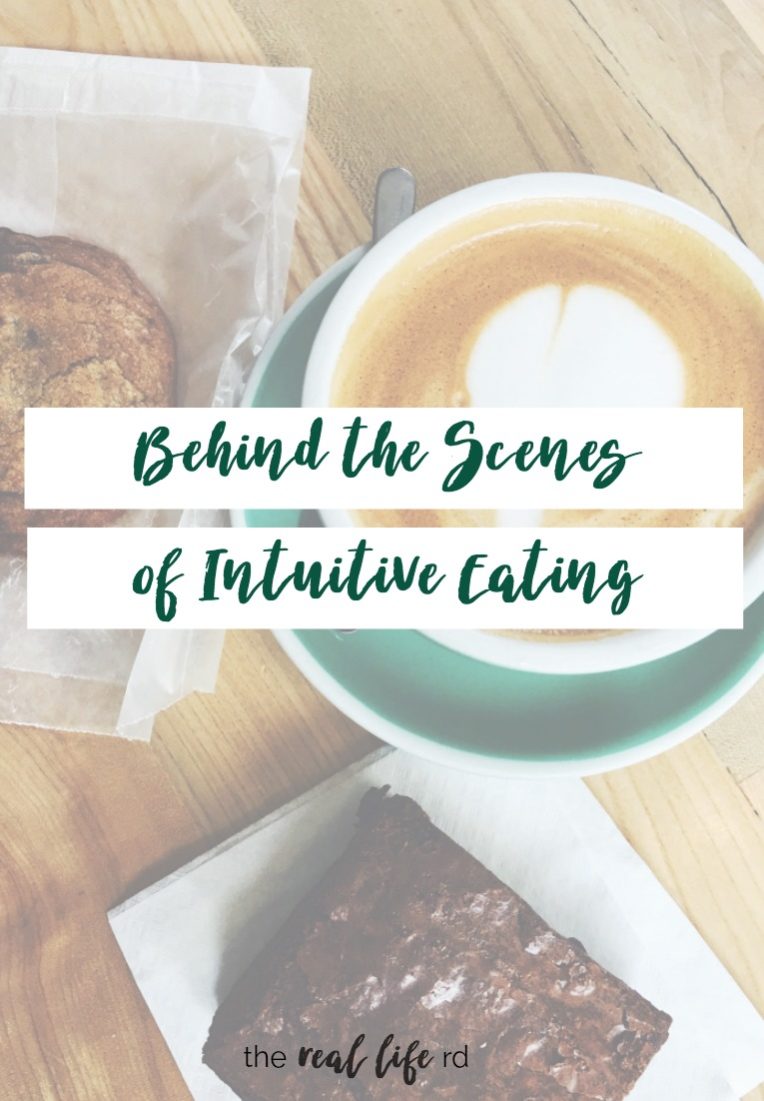 I'm going to run you through what I ate on Tuesday this week. There may have been a taste of this or a lick of that (what…you don't lick the nut butter spoon?) but overall, this is a pretty typical day. With these type of "daily eats" posts plzzzz keep in mind that intuitive eating is going to look different for everyone. My body may or may not need what your body needs – we likely have different needs. The point of this post is not for you to compare what you eat to me or for you to simulate my eating. Rather what I hope you glean from this post is the thoughts that go into making a food decision. When I first began practicing IE, food decisions required a lot more thought and attention as I figured out my body. That's normal. In the beginning it feels hyper focused as you learn this new skill. Over time though, the decision making on what to eat becomes more subconscious and intuitive where it might take me 30 seconds to figure out what to eat.
Ok onto the eats!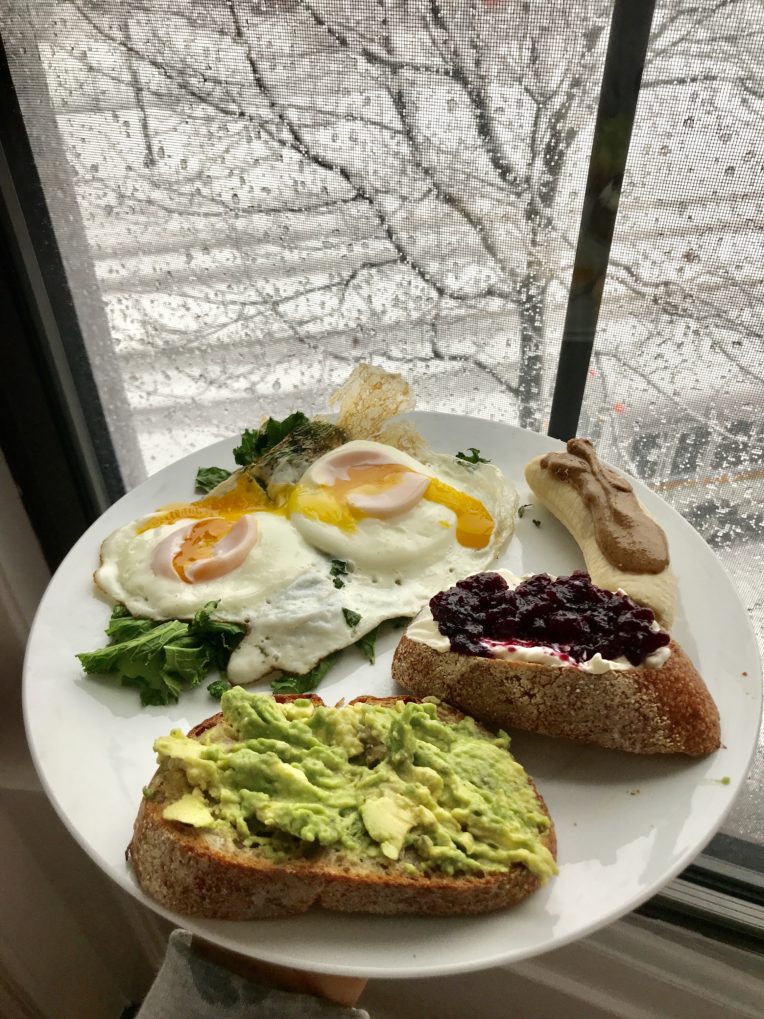 I shared this breakfast on IG yesterday. I use to be really into oatmeal years ago. Like everyday without a doubt I would eat banana oatmeal with peanut butter. Then in nursing school I went through a huge pancake phase. Like almost everyday I ate pancakes. Over the past year or so, it's been all about the TOAST. I mix it up with the occasional bowl of oatmeal or plate of pancakes…but most days I'm eating a rendition of toast – either with eggs or yogurt. Within the first hour waking up, after drinking some coffee, I get hungry. "Toast sounds good. Do I want savory or sweet? Both! Ok so avocado on one half and cream cheese + jam on the other. Eggs or yogurt? I'm craving more savory than sweet this morning so eggs it is. Scrambled or fried? Drippy yolk for sure to dip the avo toast in. What kind of fruit do I want? Well….I am craving some nut butter so let's do a banana and smear almond butter on it."
I've eaten this breakfast often enough that I know this will usually hold me over for 3ish, maybe 4 hours. Somedays it's only 2 hours. I don't know why that is, but my body knows it's hungry in 2 hours and that's all that matters. If for some reason I start feeling really full about 75% of the way through (that's happened, but not often) I either one, finish the breakfast if I know I won't have time to eat before lunch because sometime if logistics aren't ideal, part of intuitive eating is getting a little overly full because you know you won't be able to eat again for a while. If I can snack whenever, I just set the plate aside and finish it in a hour or so.
You might be thinking…wait, there are so many other choices with that breakfast! What about butter on the toast or peanut butter and banana on the toast for sweet instead of cream cheese. Or what about apple and almond butter? As you strengthen your IE skills, you realize that you don't have to ruminate over every food decision because you will have plenty more within that same day where you can eat whatever you want. It's easy to make a decision and move on with your life. But that takes some time so give yourself patience and space to do that.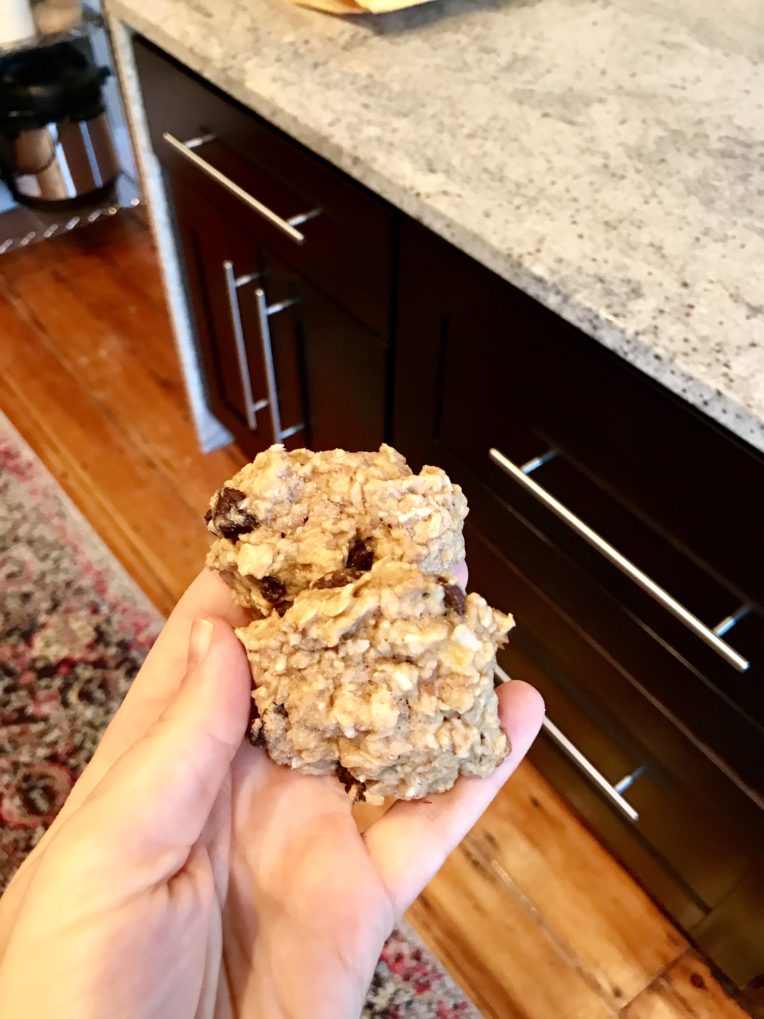 Mid morning snack. I have a growling stomach by 10 or 11am. So I usually need a snack with protein, carbs and fat to hold me 1-2 hours until lunch. Especially if I do 30 minutes of barre3 after I wrap up morning work and clients. And 95% of the the time, I'm craving sweet. So I grabbed a couple banana pb chocolate chip cookies from the freezer.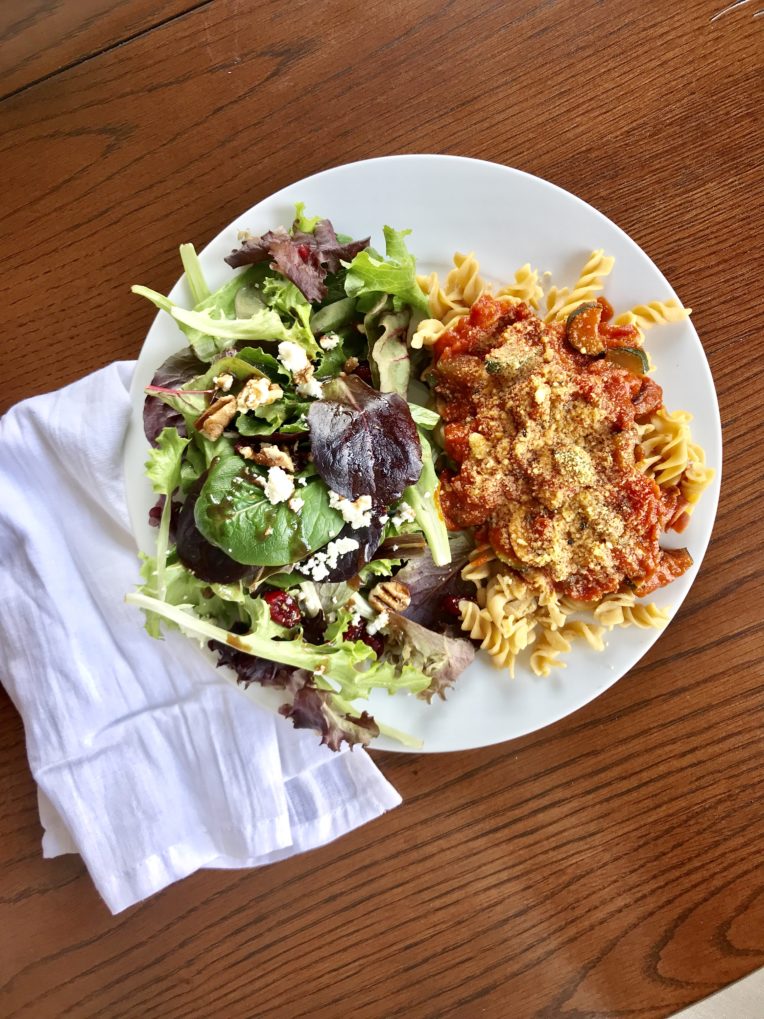 Lunch this week was pasta with Rao's vodka sauce that I added sautéed mushrooms and zucchini to. I prep some stuff for lunch usually every week, which makes it so I'm not making a decision based on my craving in that very moment. I'm eating what I prepped. So I'd say I'm usually satisfying around 70% of my cravings with lunch since I decide what to make on Sunday. That doesn't mean on Thursday I'm like OMG YES PASTA FOR LUNCH. But it's prepped and easy and still tasty + filling. On the side I threw together a quick salad with spring mix, goat cheese, walnuts, cranberries and balsamic. I topped the pasta with cheese. Lunch isn't my most mindful meal. I usually plate what looks like a satisfying + filling portion, eat it while working and finish my plate. I might be slightly full but not satisfied – which means I'll grab something else like an apple or chocolate or a cookie – or I'll be perfectly full and this will hold me for a few hours or I'll be a little overly full. If overly full, I'm a little uncomfortable for about an hour after lunch and then I usually only need a small snack later to hold me until dinner. My days often feel very busy and packed with things to do that I usually don't think much of being a little overly full. All that means is it will take me longer to get hungry, which sometimes is convenient if I'm running around.
If I'm eating pizza for lunch (like I do more regularly when I'm working as an NP because pharmaceutical reps come in all the time with lunch wanting to talk to providers) I'll be more mindful of fullness because heavier foods + being overly full make me feel lethargic. Intuitive eating isn't about always getting it right, it's about doing the best you can to listen to, and therefore care for your body.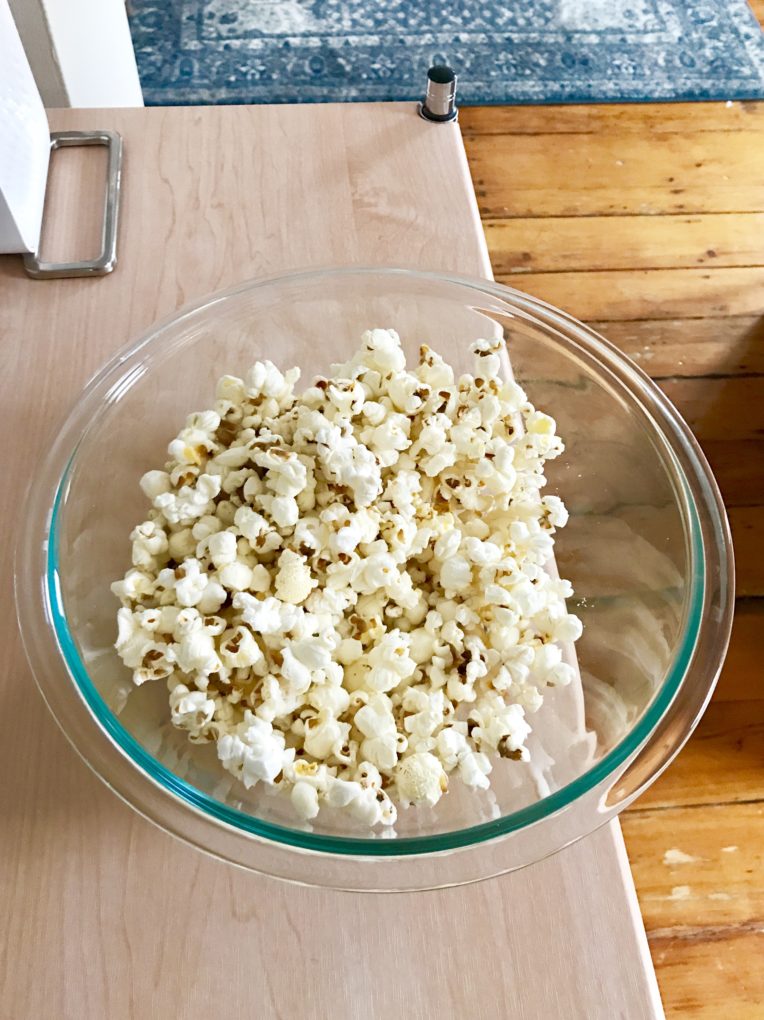 This day I wasn't overly full, but rather satisfied and a happy full after lunch…so a few hours later I popped some popcorn on the stovetop for a snack when I started to notice my stomach was empty and I felt unfocused. I showed you guys how I do this on IG stories on Tuesday – I'll do it again if you missed it! In the afternoon I get snackier because I'm trying to procrastinate and my mind is less focused. I usually start working around 6:30 or 7am (I never use to be a morning person) so by 3pm I'm like ok, I'm done, bye. I try to recognize (try) when I'm procrastinating with wanting to snack vs being hungry and ask myself what I really need. Usually it's a walk outside or 10-15 minutes to lay on the floor and chill out for a sec. Keep in mind though, that's it's important to make sure you're eating enough and eating adequate carbs + fats to make sure that "snacky" isn't coming from being undernourished.
I also ate a couple dates stuffed with pb + chocolate because I wasn't quite satisfied after the popcorn and knew I had a few hours until dinner. If a meal will be in 1-2 hours, my goal is to not feel hungry anymore. If it's longer than 1-2 hours I need to feel satisfied and like my stomach is full. Popcorn hit the salty + savory craving and dates hit the sweet craving. Again, I could have chosen a lot of different sweet and salty foods but these came to mind first so I went with it. I can choose something different next time.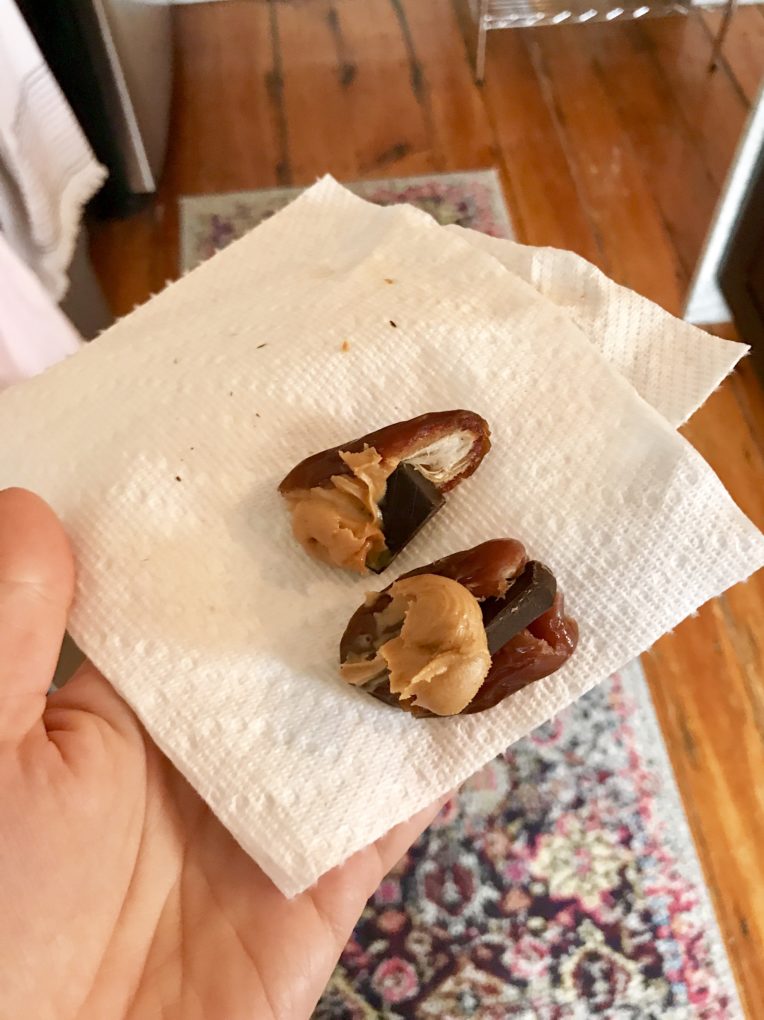 I get less hungry as the day goes on, the majority of what I eat in a day happens before 4pm. Usually, not always. I'm still hungry for dinner, but not the same intensity as lunch or breakfast. I made a big batch of red veggie curry on Sunday and have been eating off that all week. I had dinner with some girlfriends one night so that helped break up the repetitiveness of this dinner. If you want to read a bit more about how I meal plan, but still eat intuitively, you can read all about that here. Similar to lunch, pre planned dinner usually satisfies 70% of my cravings. I used this recipe, doubled it, and added snow peas and broccoli. I was going to add chickpeas but then I forgot so for protein I've been eating some cottage cheese or sliced cheddar from the fridge while the dinner reheats. Real life. Whatever works. I cooked some TJs rice blend on the side.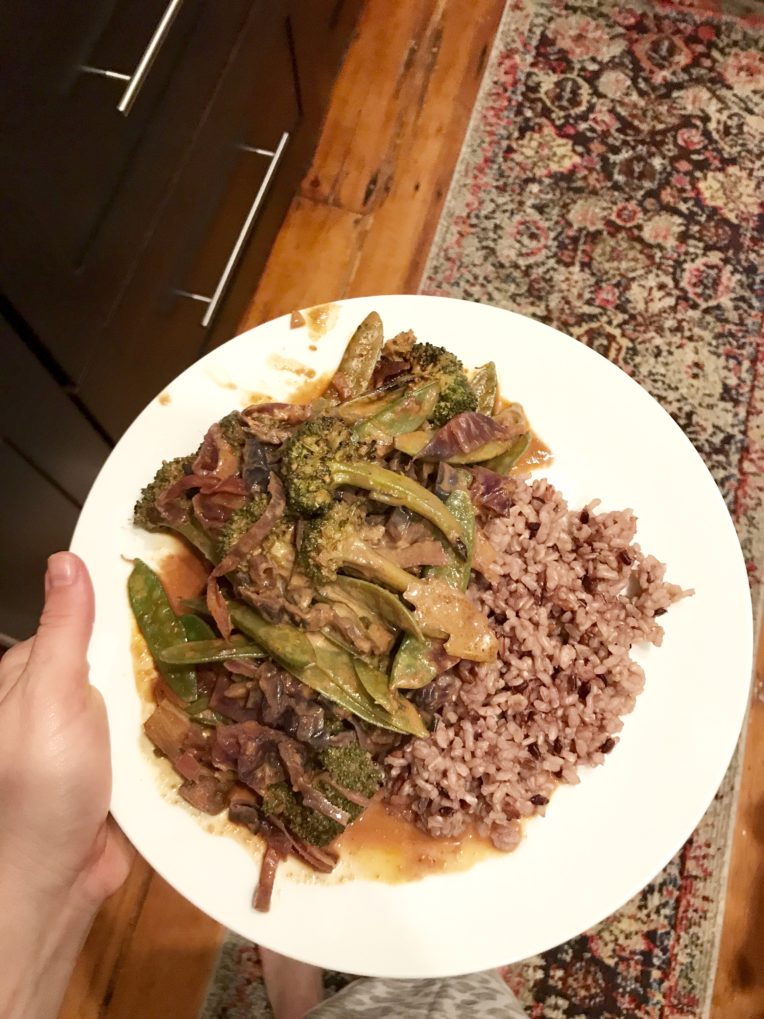 Dinner almost always leaves me full, but not quite satisfied. So an hour or so after dinner when my body has digested a bit, Nick and I will always have something sweet while watching tv or hanging out. We've had graham crackers hanging around forever so I came up with the idea to stuff some ice cream in between two crackers as a DIY ice cream sandwich and it was fab. They taste better after they hang in the freezer for a few days because the cracker softens. I just stuffed Breyer's vanilla in between and wrapped them in plastic wrap. I'm excited to make so many varieties of this!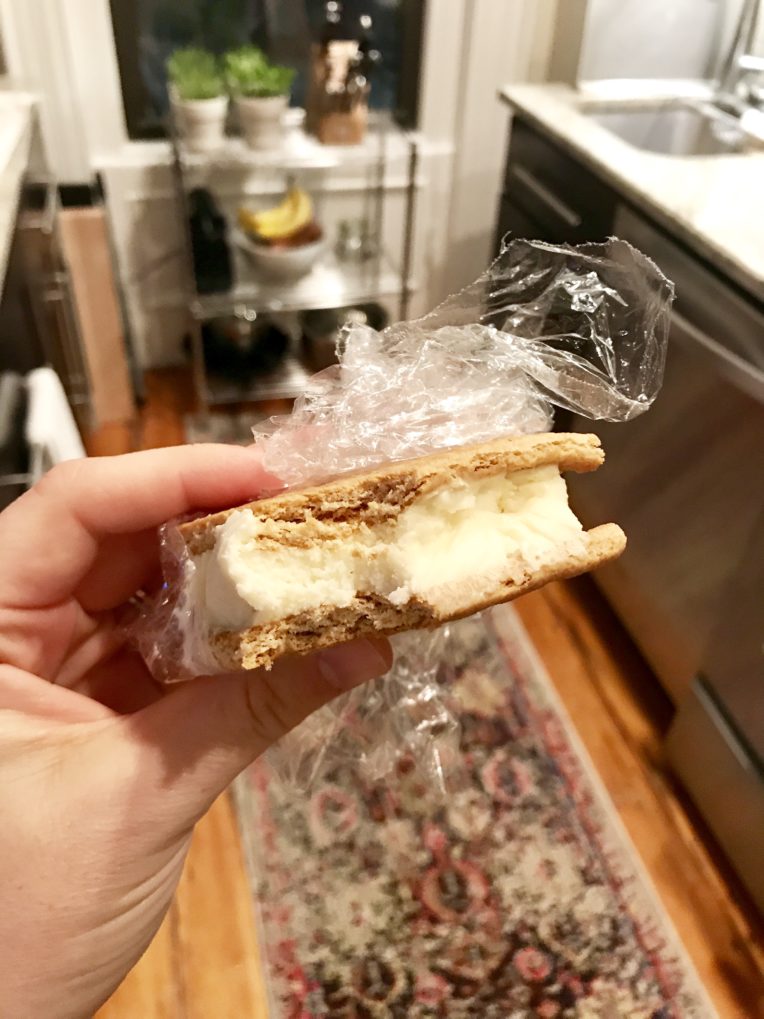 When I eat a bedtime snack, I'm never "hungry" – rather this is for satisfaction and to make sure I don't wake up in the middle of the night hungry or in the morning starving. I hate waking up and feeling like I need to eat breakfast NOW. Dinner gets me full but a bedtime snack takes me from full to satisfied.
Intuitive eating certainly isn't perfect, it doesn't look the same for everyone, and it's an ongoing process of learning to care for your body in different seasons of life and under different circumstances.
I'd love to hear in the comments where you're at with intuitive eating (maybe you're like, Robyn what the heck is intuitive eating?) and what you're learning. Happy weekend!