Intuitive eating is a dynamic concept. It can't be muddled down to eating when you're hungry and stopping when you're full because there are so many other factors that play into our satiation and satisfaction with food. Emphasis on the satisfaction piece.
And although intuitive eating is always the end goal with any client we work with  and the patients I see as a Nurse Practitioner, there's a time and a place for the concept of intuitive eating to be applied. Intuitive eating isn't for everyone in every circumstance….but I believe it is always the end goal.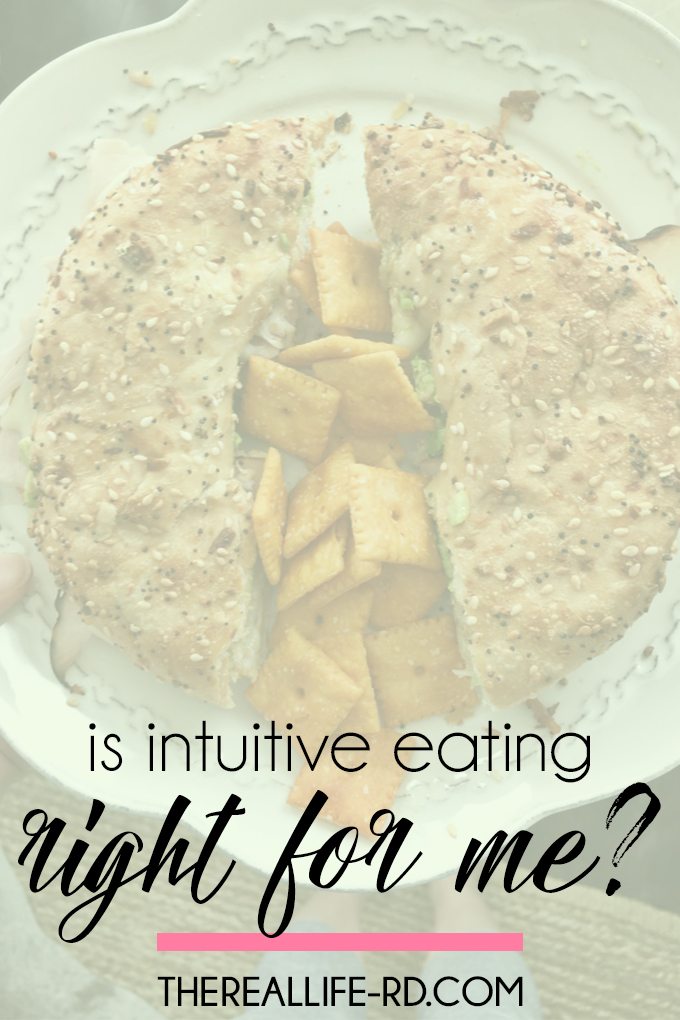 The two main circumstances where I don't direct someone towards intuitive eating first are:
1) when you begin recovery from an eating disorder
2) when trying to break free from dieting (which is a form of disordered eating and possibly an eating disorder
If you're recovering from an eating disorder, the first priority is to stabilize your relationship with food and get your body physically nourished and stop the body and brain starvation.  That means eating frequently (including 3 meals and snacks) throughout the day with adequate carbs, proteins and fats. In order to become an intuitive eater your cognitive function has to be intact so you're able to tease apart a lot of thoughts and feeling and beliefs. If you're not sure how to do that, work with a registered dietitian you trust. After your body is consistently nourished, then you can move onto introducing more intuitive eating principles bit by bit in a way that is best for you.
If you're someone who hasn't had an eating disorder but who has had some degree of a disordered relationship with food (which is like 90% of the population, including myself) then you probably need to learn what it means to adequately nourish your body. After a period of time restricting your food intake, overexercising, restricting and then binging – or some combination of any of those, you become so out of touch with your body that it's difficult to tell when you are hungry and full. With many of our clients, if I encourage them to eat when they're hungry…they might not actually ever eat because they don't feel hunger. They may feel other sensations like lightheadedness, irritability or fatigue…but eating based on physical hunger is really hard. And knowing how to respond to those different sensations within their body to meet a need feels really foreign.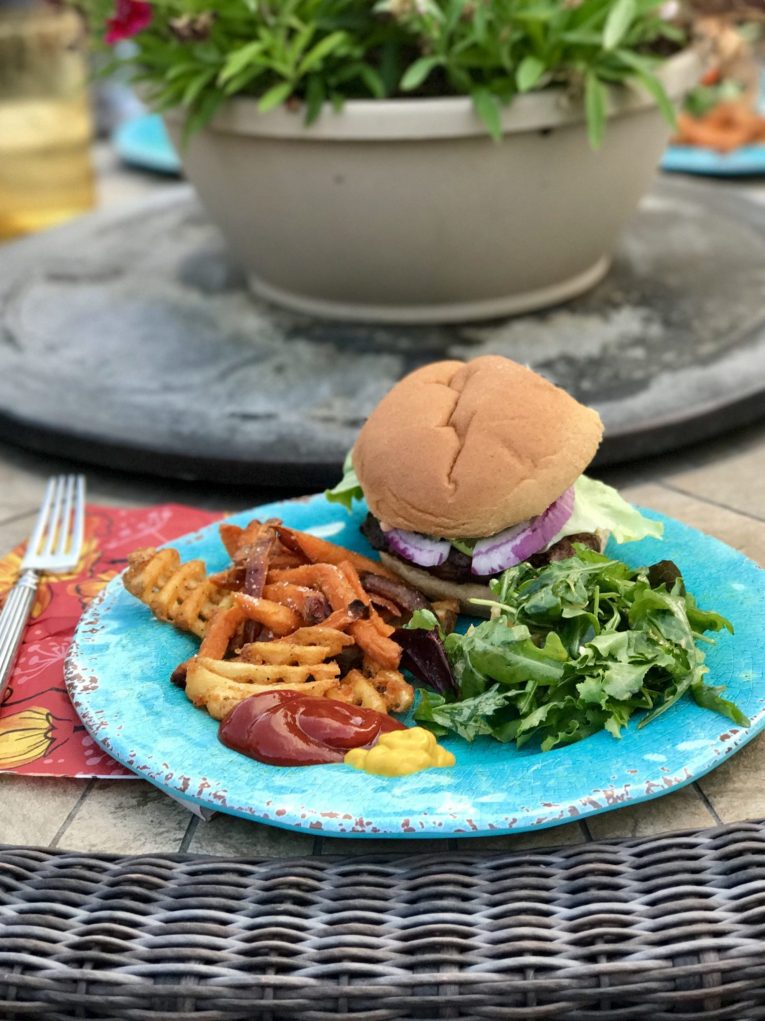 Since we live in a culture where dieting is normal and food restriction is a way of life, it's common to learn that someone has been under eating for a really, really long time which causes your body to compensate and store energy so you don't utilize energy as efficiently. Stress hormones are high, your hunger and fullness hormones – ghrelin and leptin – are out of sync and you have no idea what your body is telling you. So in the beginning stages, learning to feed yourself adequately often means eating when you're not necessarily hungry. But then your body starts to trust you again, hormones settle out (with the help of self care, sleep and non stressful movement too) and your cortisol levels decrease. You learn to begin listening to what your body is telling you instead of eating based on external cues.
Of course certain elements of intuitive eating can be applied during the process of learning to feed your body adequately  –  like eating foods you crave and that have been off limits for so long, rejecting the diet mentality, honoring your body's sensations and so forth. But only after you learn to feed yourself and wake up your hunger/fullness cues do I think the rest of the intuitive eating principles can be explored.
It's a journey and a process that takes total surrender to any particular body size or diet dogma. Often this journey takes years and a lot of hard work. Allowing yourself permission to eat any and all foods, allowing your body to find it's natural size and doing the hard, brave psychological work takes a lot time so give yourself time and patience in this journey towards food and body peace. Intuitive eating is so much more than eating when your hungry and stopping when your full. It's eating out of self care when you're not necessarily hungry, but know your body needs nourishment. It's eating out of pure pleasure. It's eating for convenience even when it might not be the most satisfying food experience. It's learning to become competent around all foods, including highly palatable foods like burgers and cupcakes and candy. It's complex, but it's so worth it.
If you've been stuck in the depths of an eating disorder or a pattern of disordered thoughts around food, you're not alone and it's never too late. Your body hasn't betrayed you…it's been there all along. But it's does need some care as heals from months or years of not being taken care of. Your body is resilient. With the right tools, your body learns how to utilize energy efficiently again and balance hormones so you're more in tune with hunger and fullness. You can get to a healthier place were you can then implement more intuitive eating principles.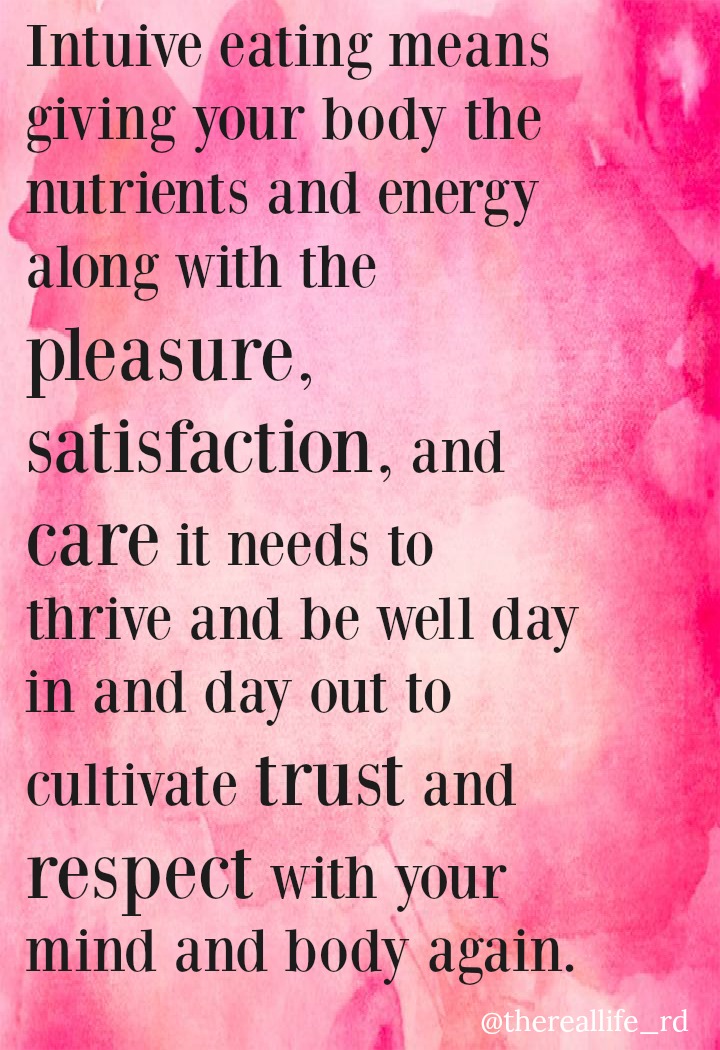 Even when you are in a place to fully practice intuitive eating, I often find that people grow impatient and aren't willing to stick with intuitive eating for the long haul. It's not a quick fix and you won't get instant gratification. It's also not about weight loss. That's called a diet. IE is not a diet. You can't micromanage your body size and be an intuitive eater. It doesn't work that way. It takes giving your body the nutrients and energy along with the pleasure and satisfaction and care it needs to thrive and be well day in and day out. That's hard to cultivate, but so worth it. I can't imagine any other way to live and it's there waiting for you too.
I'd love to hear your thoughts or own personal journey with intuitive eating so share in the comments so others can hear too!
And if you want to read more on this I highly recommend the book Intuitive Eating and Health at Every Size.