This post comes from a reader question I received a while back. Can you train for a race or have exercise related goals and still have a mindful relationship with movement? There's no black and white answer here, but I hope this post helps guide you through some processing that will allow you to discern if your relationship with exercise is healthy and mindful…or not.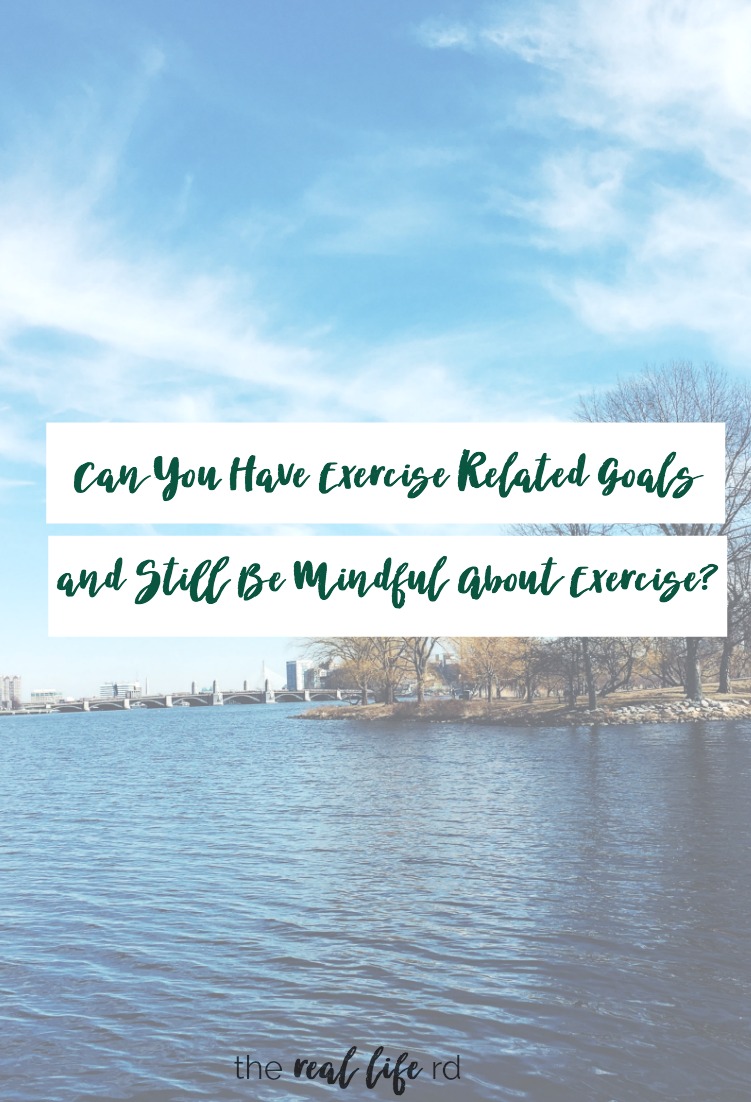 My body used to tense up when I heard the word mindful. For some reason the word almost annoyed me. I am not a naturally chilled out, zen, deep breathing and "connect to your body" kind of person. I like productivity and forward motion and why do I need to be mindful when I could just move through my day in a way that made sense to me? But what I've realized, is that mindfulness doesn't just mean me sitting on my floor with incense burning and taking deep breathes with my eyes closed. No. Mindfulness, is simply a state of being aware of something. Merriam-Webster defines mindfulness as "the practice of maintaining a nonjudgmental state of heightened or complete awareness of one's thoughts, emotions, or experiences on a moment-to-moment basis." I can wrap my mind around that.
I think of mindfulness as essentially being aware of my body and experiences in a way that fosters compassion and kindness towards myself versus shame, guilt and judgment. And cultivating that state of being is going to be different for everyone. What is mindful for one person will not be mindful for another. Yoga could be the most mindful movement for one person, while anything but mindful for another. Running 5 miles could be mindful for one person, while being anything but mindful for another. And also, mindful movement for one person could change from day to day or week to week. Movement will look different as our lives change and it should look different.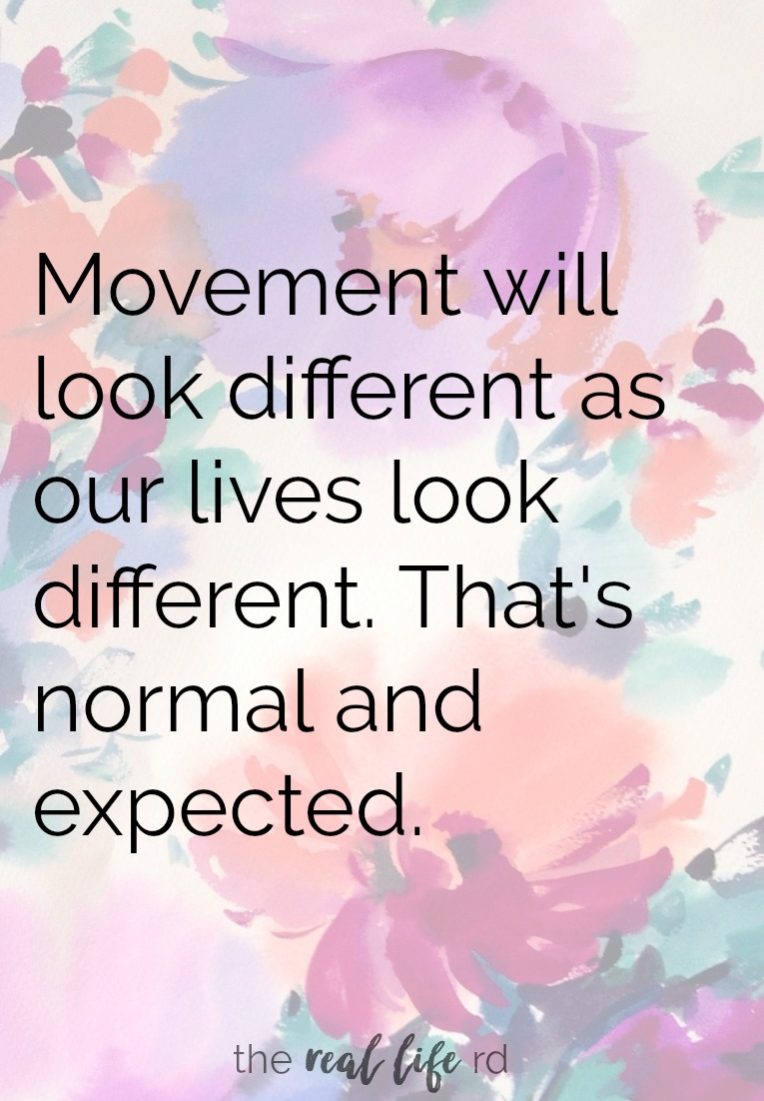 Yoga is usually what comes to mind when people think of mindful movement. At least it does for me. And if you're new to intuitive eating, mindfulness, being kind to yourself and this whole transition from diet culture to being present in your body and practicing self compassion…I think it can be really helpful to practice yoga before you choose to do other forms of movement. I also think it's really important to recognize when you need a complete break from exercise. If you're someone who is intensely preoccupied with having to exercise, I'd strongly suggest taking a step back from formal movement for at least a few months…maybe even longer. This is to help you heal your relationship with exercise and recognize that exercise is something you can enjoy and something you can do to enhance your health…but you do not need to exercise to maintain your body size or eat xyz food.
So all that to say, if you're new to this whole mindfulness idea, I'd give yourself time and space and the appropriate circumstances to practice awareness of your physical and emotional state when it comes to movement. Here are a couple good posts from Kylie that might be helpful for you.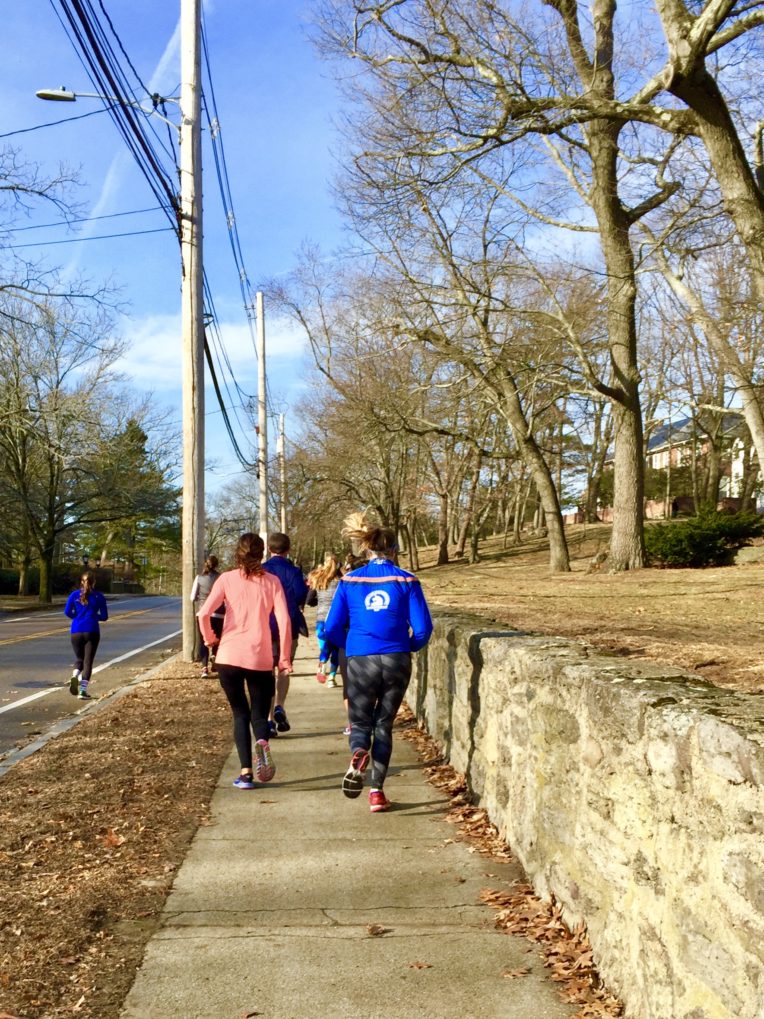 Now let's tease through answering the question of whether or not training for an athletic event or wanting to make some level of progress in any realm of physical activity is considered mindful movement. For me, the things that come to mind that I might work towards are training for a half marathon or a marathon or being able to lift heavier weights or last longer in a group fitness class (for example, not take as many breaks). The activities that come to mind for you might be different. Here are some questions that I think are important to ask yourself when deciding if that form of movement is mindful and healthy for you both physically and psychologically.
What is your motivation for _____ workout?
Before you choose to partake in any race or competition or any sort of workout routine or workout for that day…ask yourself why you are doing it. Are you doing this out of freedom or are you doing this out of fear? Answering that question can be a good barometer in helping you decide weather or not your motivations are healthy. Scroll to the bottom of this post to figure out if the movement you are engaging in is healthy. In short, if you are doing exercise to manipulate your body size, to find value or worth, to justify eating, or to punish yourself than that movement is not healthy.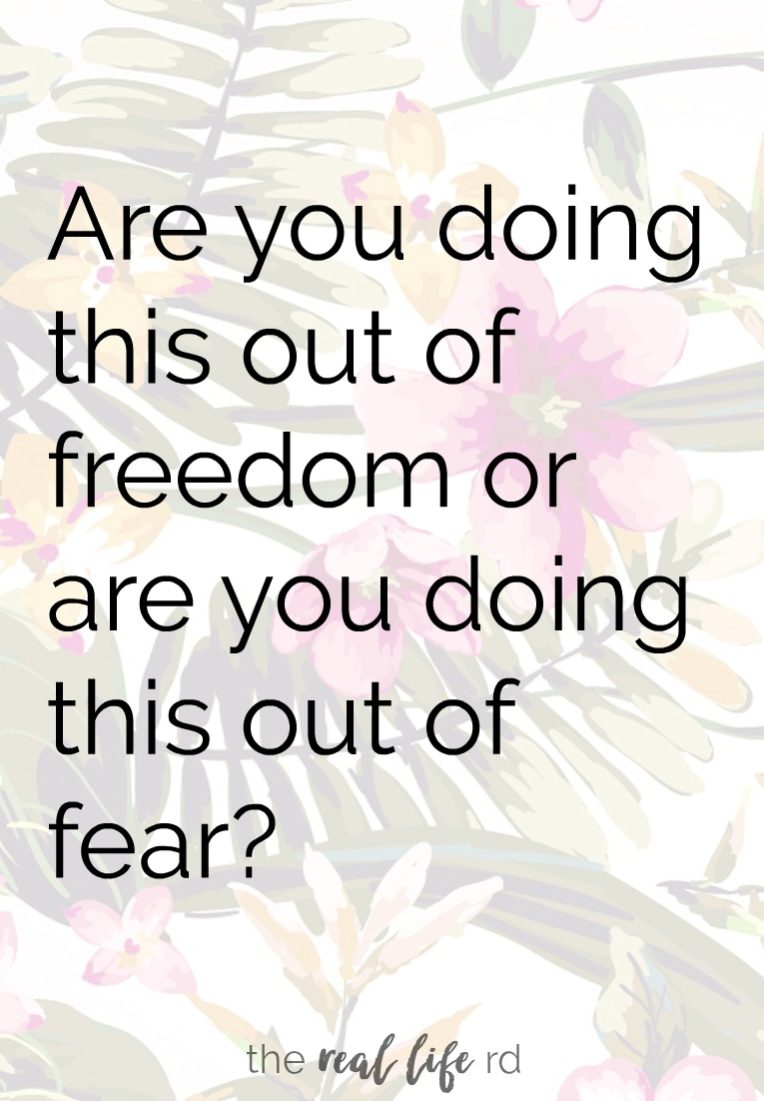 How do you feel in your body when you are moving in ____ way?
Often we just go through the movements – run at x pace or keep up with everyone else in the class or lift x amount of weight because we should – without any consideration of how our body is feeling. It's not about suffering through a workout at any expense. If that's your mindset, I'd strongly encourage you to take a break from intense movement. Before you begin any movement, ground yourself into how you are feeling both physically and mentally. Do you have any aches or pains? Are you low on energy? Are you absent mentally? If you're not mentally and physically prepared to exercise, stop right now. Choose something else that actually helps you care for yourself. Only after you have established a solid awareness (while withholding judgment the best you can) of how you feel in your body should you continue with whatever movement you are about to do.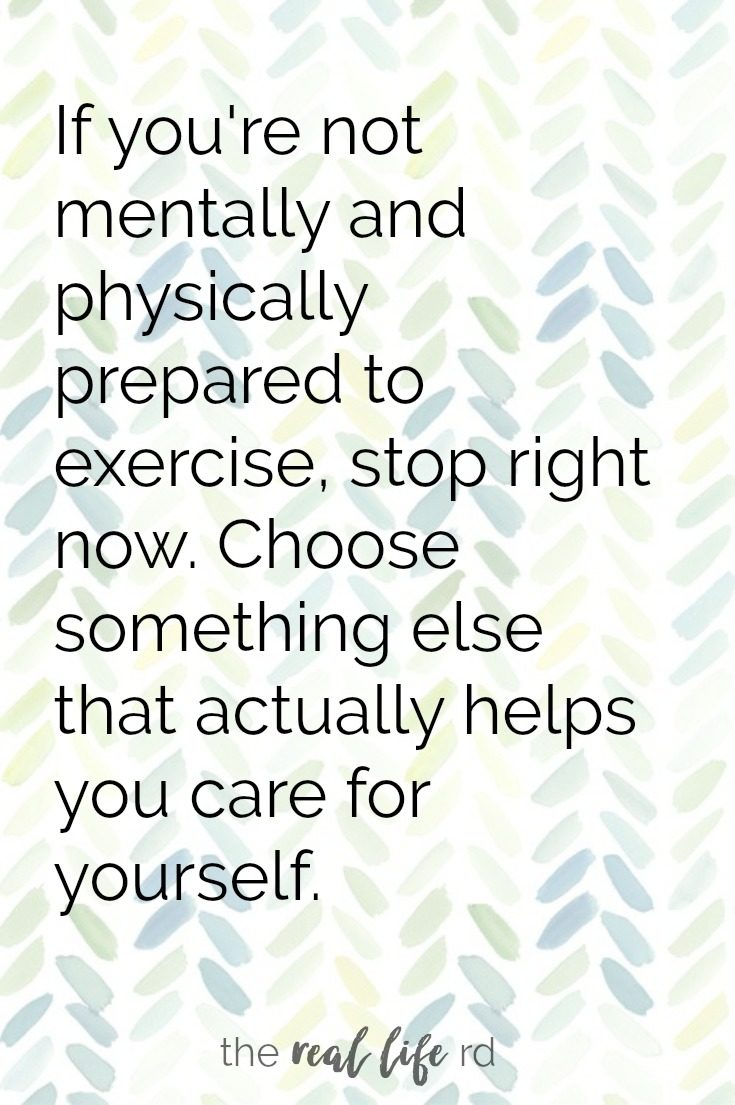 Are you goals and your workout schedule flexible?
If you are training for an event, you probably are following some sort of schedule. That's fine. But is this schedule flexible? Can you switch around days and take unplanned rest days, even rest weeks, without beating yourself up and/or anxiety. Back when I first started running marathons and half marathons, my training schedule was fixed and very rigid. I had to do each workout (preferably on the exact day it was prescribed) and hit the paces suggested or I felt like I wasn't training well enough. There was a lot of negative self talk, guilt and judgment if I didn't follow the plan. Even if I didn't get enough sleep, I woke up to meet my running group on the track. If my body was tired, I pushed through.
I remember back when I was running with the Charlottesville Track Club, I showed up at 5:30am for a speed workout one Wednesday morning. Mark, the guy who has been coaching Charlottesville runners of all paces for decades coached us through 800 meter repeats. I finished the second repeat and he asked me why I was breathing so hard. I told him I didn't know. And he looked straight at me and said, "You shouldn't be breathing that hard, your body is tired and you're done for today…go cool down and then rest up because that's far more important than these speed intervals." He was gentle, yet firm. At the time I didn't know how to care for myself so he needed to make that decision for me. If that story resonates with you at all, you're exercise is not mindful and I'd encourage you to take a step back.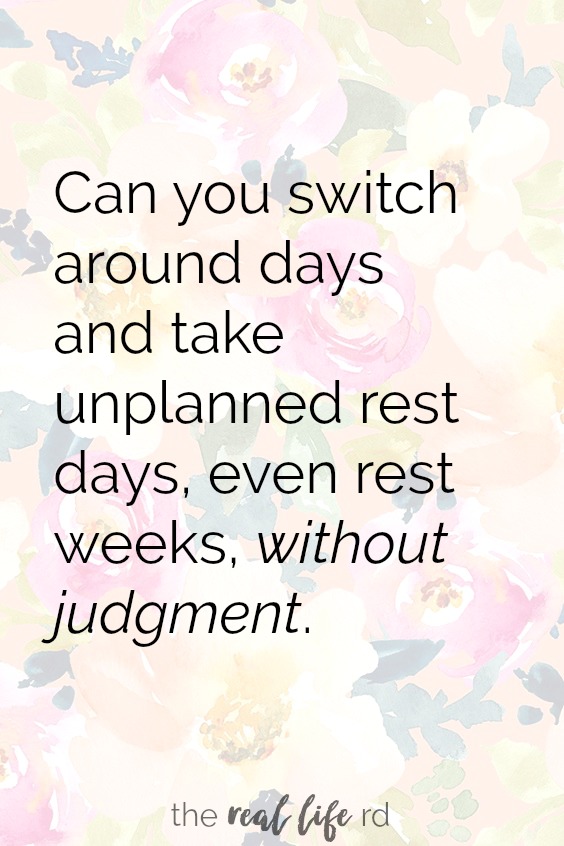 Does the exercise connect you with your body or does it disconnect you from your body?
Whatever the movement, if you find yourself disconnected from your body….that's not mindful. Are you aware of your breathing? Is it rhythmic and can you feel yourself inhale and exhale? Even if you're running or moving fast you can feel your lungs expand and deflate as you inhale and exhale in a rhythmic way. Breathing grounds you. The cadence of your breathing should align with the intensity of the movement. Are you aware of how your muscles and bones feel in your body? Do you feel like you're muscling through the movement with a tensed body and mind that wanders or wishes for it to be over? Or are you aware of your body and how it feels? Do you feel strong, healthy and present while moving? If you find yourself mentally or physically fatigued, dreading a workout or feeling disconnected from your body in any way, that movement is no longer mindful and you should choose either another form of movement or something else that helps you care for yourself.
Is this helping you live a better life?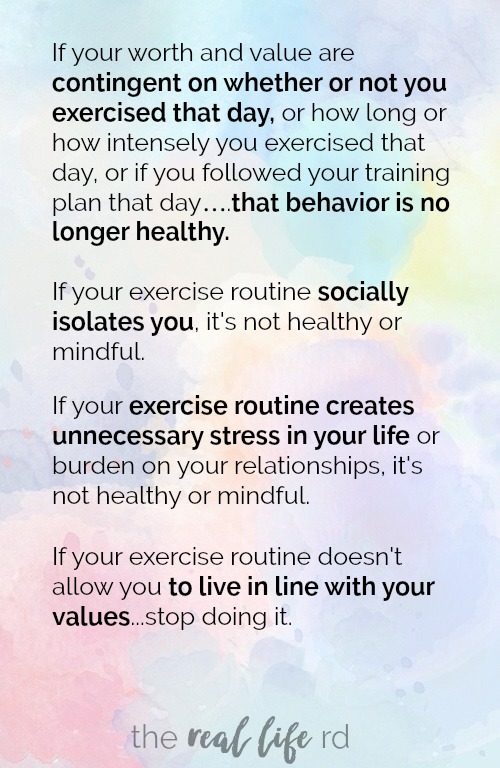 If your primary goal isn't taking care of yourself and feeling good, then that type of movement is a behavior probably isn't serving you. I highly doubt anyone reading this blog is an elite athlete where your career and livelihood is on the line.
If your worth and value are contingent on whether or not you exercised that day or how long or how intensely you exercised that day or if you followed your training plan that day….that behavior is no longer healthy. If your exercise routine socially isolates you, it's not healthy or mindful. If your exercise routine creates unnecessary stress in your life or burden on your relationships, it's not healthy or mindful. If your exercise routine doesn't allow you to live in line with your values…stop doing it. Yes, I love the idea of training for a half marathon with my running friends, but with all the things going on in my life right now, doing that in this season doesn't help me live in line with my values. If the type of movement you choose to do isn't helping you living a meaningful, fulfilling and joyful life…I would highly encourage you to stop doing it.
This list of questions is by no means exhaustive so if you have any insight or a personal experience you're open to sharing please leave your thoughts in the comments!