Thank you so much for all your brave and vulnerable comments on Wednesday's post! I haven't seen a response to a post that incredible in a while so seeing all your comments and conversation made me really excited. I hope we talk a lot more about this stuff. And I'm trying to answer as many comments as I can by the end of the weekend 🙂
Exercise for me has ebbed and flowed depending on what season of life I'm in. If you've been reading the blog for a while you know back in 2013 I was training for marathons and running with the Charlottesville track club. I've done some long distance running since and also higher intensity boot camp style classes and yoga and barre…and what I've realized through all this exploring is how my body loves to move best.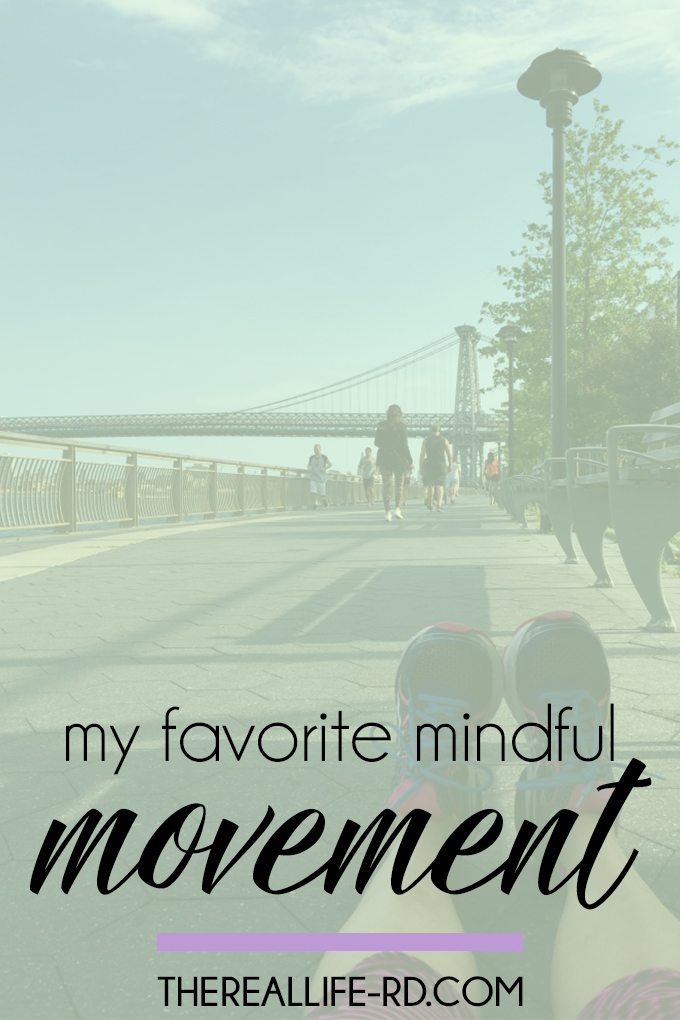 And I think that is at the core of choosing mindful movement best for you. What feels best for your body? What kind of movement nourishes your mind + soul in addition to feeling good physically? And what kind of movement leaves you feeling free?
Do THAT movement.
Sometimes that does mean a higher intensity form of movement that leaves you refreshed, proud of what your body can do (function over form) and in touch with how you feel in your body. But sometimes that's walking or yoga or swimming or jogging or stretching. Sometimes that gentler movement is exactly what your mind and body needs to associate rather than dissociate with your body. And sometimes what you need is a break from movement so you can heal body and mind. Movement should make you feel alive and in touch with your physical body and mental + emotional wellbeing rather than numbed out from your body and your feelings.
If exercising for "stress relief" means numbing out from the world and burning calories….that's a temporary dissociation from your problems which probably isn't beneficial or healthy physically or emotionally. Perhaps reconsidering the type of movement you choose to do would be a good thing.
For me, 90% of the time I hate HIIT classes. All the jumping and rah rah rah don't stop till I say just isn't for me. It's too hard on my body and (at least for me here in New York) those classes tend to be filled with body preoccupation instead of celebration. There are times here and there I do enjoy it if I go with a friend and the instructor is fun and not annoying, but that's on the rare occasion.
I also hate spin most of the time. I haven't been to SoulCycle so maybe that's a different story but most spin classes I've been to include being stuck in a dark room with zero air flow peddling on a bike that goes nowhere with an instructor that wants you peddling intensely for like 90% of the time. It's just not my jam. I feel out of my body more than in it and my mental game is like, "when is this torture over?"
I also don't like heavy lifting. There are a lot of other movements I can do to keep my bones healthy that don't involve dumbbells and squat racks. A lot of people enjoy this, I just don't. And it's a myth that you need to throw around really heavy weights to keep your bones and muscles healthy. I've found other weight bearing movements that keep my bones just as healthy. Side note to dispel myths about needing to lift weights to build and keep good bone mass –> any movement that creates a small, gradual overload reaction on the muscles and bones strengthens them. And that includes using weights, resistant bands OR simply your body weight.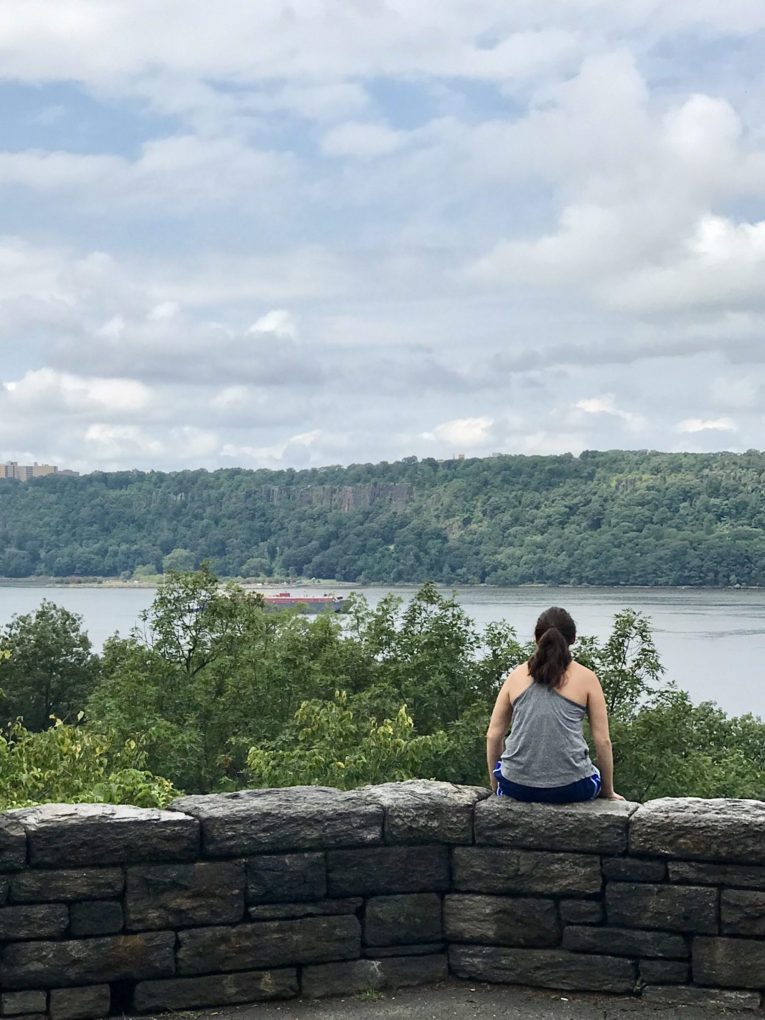 The above are forms of movement I know are not mindful for me most of the time. That doesn't mean they aren't mindful for YOU. Ask yourself these questions I mentioned above. What feels best for your body? What kind of movement feeds your mind + soul in addition to feeling good physically? And what kind of movement leaves you feeling free? 
I've learned over the past few years that my body prefers a rhythm of yoga, barre type movements, running a few days a week max, and active living — so things like walking, biking around the city, and outdoor stuff like hiking, cycling etc when that's available. Anything outside I'm way into versus inside. Here are some of my favorite mindful movements..
YOGA
I don't live near a Yoga to the People studio…which is the best because it's so affordable and welcoming. Every other studio in New York is expensive so I usually do podcasts in our apartment which isn't the same vibe, but I do still enjoy them. I can't wait to belong to a studio one day. Yoga makes me feel and connect to every inch of my body, calms my mind, teaches me slowness and to be okay with still discomfort. Doing yoga mentally challenges me in a good way  because I have to turn off distraction and slow down.
BARRE3
I've done several forms of barre and Barre3 is what I enjoy the most because it includes bigger, more dynamic movements in addition the small movements and my body likes that. There is only one studio in the city and it's way out of budget (maybe when we move from the city it will be more affordable and I'd loveeee to join a studio) so for now I do the online workouts. The 30 minute videos are my favorite. Short and sweet and leave me feeling so strong mentally and physically. I feel so IN my body and feel like YES, I can do hard things after a video. But not in a "I just ran hard for 30 minutes way" but like a more centered, peaceful way if that makes sense? It's that same still discomfort I talked about in yoga. You hold a pose and it starts to burn so you experience stillness and discomfort all at once. Which translates into so many areas of my life and teaches me how to tolerate discomfort and press into that feeling instead of run because I'm afraid to feel. It's also done incredible things for my posture. I'm noticing that I hold my shoulders back and stand up straighter and that feels really good.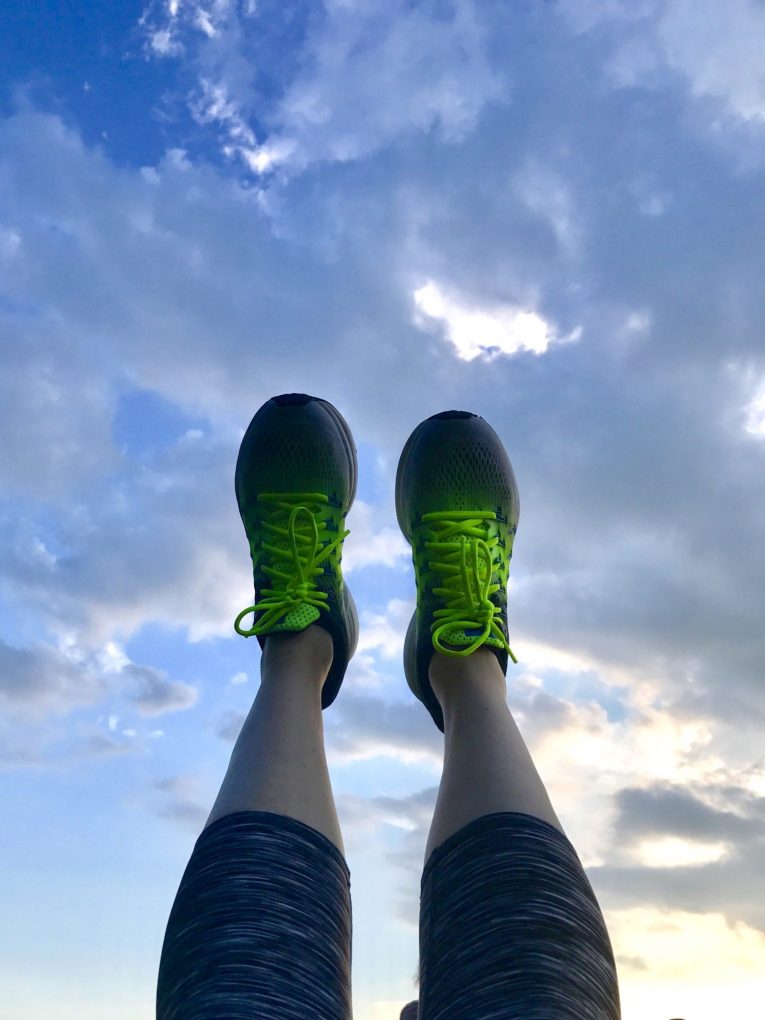 RUNNING
I've ran in years past and it has been far from mindful. In college I ran purely to burn calories. After college I ran for the community aspect and because my mind wanted to but it didn't always feel good in my body. I know for some people running will never be mindful and that is okay. You don't need to like running. Maybe one day I will hate it or it won't feel good and then I'll stop doing it. Over the years I've found my sweet spot. My body feels best when I run 2 to maybe 3 times a week max and runs are spontaneous. If I plan the night before, "oh a morning run sounds nice" and then wake up and don't feel it…I don't go. Slow running and jogging are what feel best both in my body and in my soul. Gently breathing in fresh oxygen, taking in my surroundings, feeling my body move across the pavement. So I always start slow and if and when my body feels like moving faster, I do that. If I feel like I want to stop  and walk, I stop and walk. And when I go about running in that way, it feels really free and fun.
WALKING
Walking with friends or while listening to a podcast is one of my favorite, go to movements. As a whole, I feel like we totally underrate the mental and physical benefits of walking. It's such a natural movement.
ACTIVE LIVING
I think we forget that our day to day life involves movement. I live in a city so my legs act as my car much of the time with walking and biking to and from places. Whether you live in a city or not, walking and biking and carrying groceries and walking up the steps and playing with your kids and cleaning your house and dancing and cooking are all forms of movement. And sometimes the most unintentional movement can actually be the healthiest because we don't think much about it. It's one less thing to fit into the day or worry about – you don't have to make time for scheduled movement if this season of like is busy or stressful.
There's so many fun and mindful ways to move. I also tried Zumba a few times in the spring and LOVED IT. Share your favorite mindful movement in the comments – I'm always looking for new ideas!