I've gotten this question several times from readers or clients… Which I think means….is it possible to want to change your body but also have a healthy relationship with exercise?
I feel pretty strongly that the answer to this question is no.
That's not to say that certain types of exercise that might indirectly change your body aren't mindful, but if the goal of engaging in a type of exercise or movement is to change your body….that almost always leads to an unhealthy place.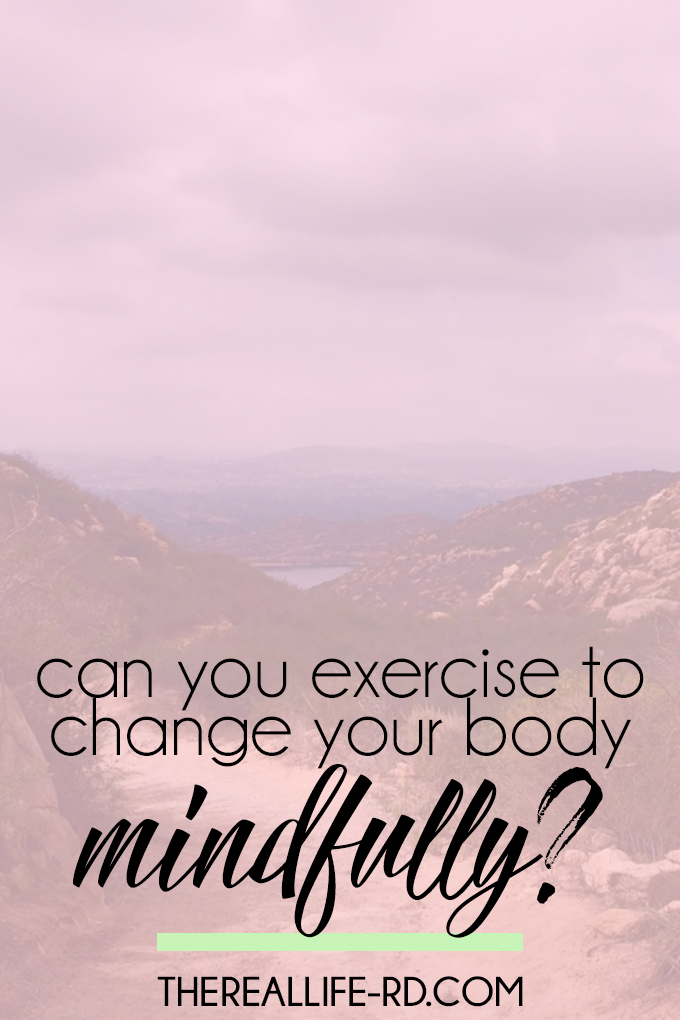 And I think that goes for any food or exercise behavior. It's not so much the behavior itself that becomes unhealthy (although that can happen) but instead the motivation for the behavior. What is the "why" behind the behavior? What influences that behavior?
When it comes to exercise…external motivators tend to disconnect us from our bodies. They lead to doing things we think we should versus things we want to do. And they never lead to sustainable, healthy/mindful habits. We know diets don't work. And just like eating certain foods in hopes of changing your body doesn't work, exercising a certain way to change your body doesn't work in the long term either.
What might begin as a fun challenge to "tone up" can quickly lead to 1) rigid rules around how much, how often or how intensely to exercise 2) guilt or shame when you don't exercise 3) exercising in a way that's physically harmful vs helpful and many other destructive thoughts/behaviors/motivations. What started as a seemingly harmless pursuit to change your body more often than not, leads to a not so harmless place. And usually when we do reach this arbitrary "goal" we set when we began the exercise routine, that goal isn't enough anymore…then there is some other arbitrary goal to achieve. It can become a downward spiral where enough is never enough.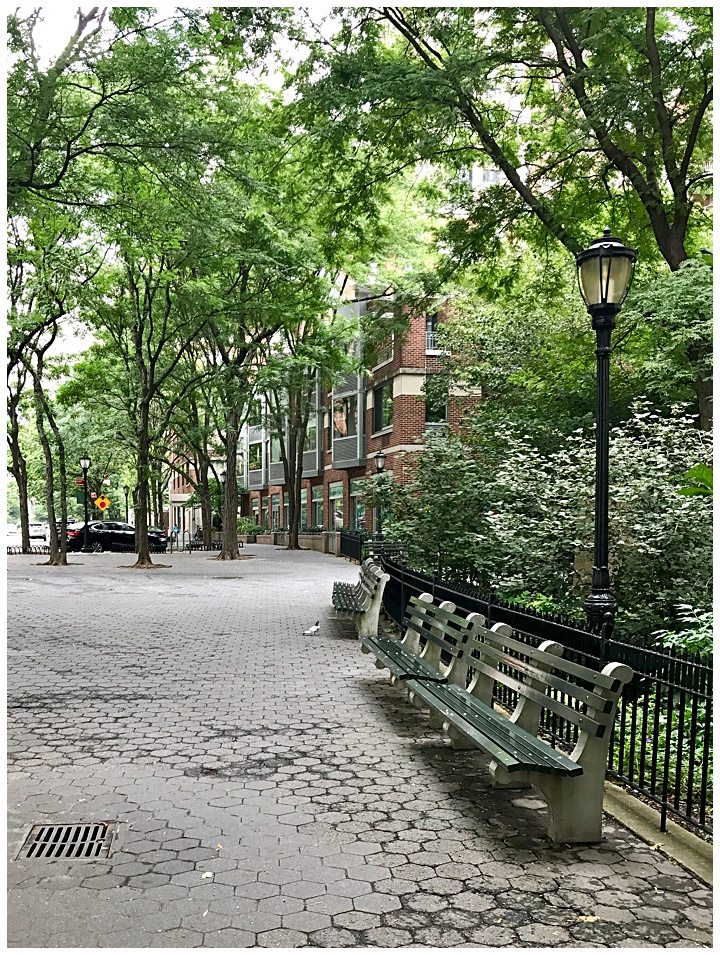 A good way to check in with yourself to guage if the movement you're doing is healthy or harmful could be to ask yourself these three questions:
What is my end goal in doing this type of movement? Is it to feel good?
Is my worth and value contingent on this type of movement?
Does this help me live a better life?
If your goal is anything other than taking care of yourself and feeling good, then that type of  movement might be a behavior that isn't serving you. If your worth and value are contingent on whether or not you exercised that day or how long or how intensely you exercised that day….that behavior isn't healthy. If the type of movement you choose to do isn't helping you live a better life….then that isn't helping you become the person you were created to be. That behavior isn't positive. It's negative.
Are you seeking health or are you seeking appearance?
If you find yourself engaging in any type of movement with the intention of manipulating your body…it might be time to take a step back and reassess. I use to run to control my body. To burn calories so I made sure I didn't gain weight or to make up for the alcohol and three slices of late night pizza I consumed. I use to lift weights or go to a HIIT class in an attempt to carve my body into a shape and size it wasn't genetically designed to be. It wasn't until I got completely burned out and my body actually started to do the exact opposite of what I wanted it to do that I realized….this is not healthy mentally or physically. I had become completely dissociated from my body.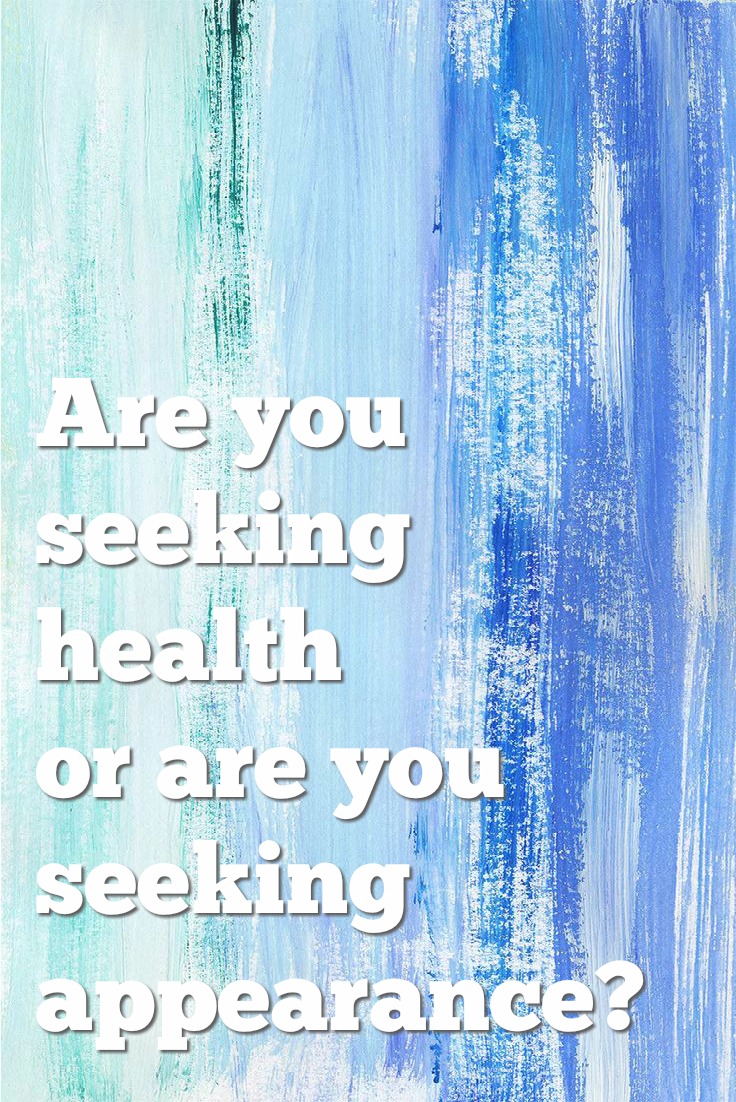 We often get confused with what healthy actually is. The "super fit" person you see on instagram might actually not be that healthy at all….all we get is the outward appearance. But really, true health starts from the inside. Mentally, emotionally and physically. Your health is not contingent on your body size. Body fat and health can and do exist simultaneously.
Before beginning any type of movement, ask yourself…."Am I doing this because I want to feel good and alive in my body…or because I want to change my body"
If you want to read more about this topic, you can check out these posts here, here, and here. The book Body Kindness and Body Respect are also two great resources that might be helpful as well.
I'd love for you to share you thoughts in the comments and perhaps what you've learned about mindful movement. Happy weekend!