I love eating food that tastes really good. So I'm sharing some of my favorite meals and snacks from the past week or so in this post. And we're also going to talk about eating when you're not hungry. I hope some of these meals excite your taste buds and inspire you!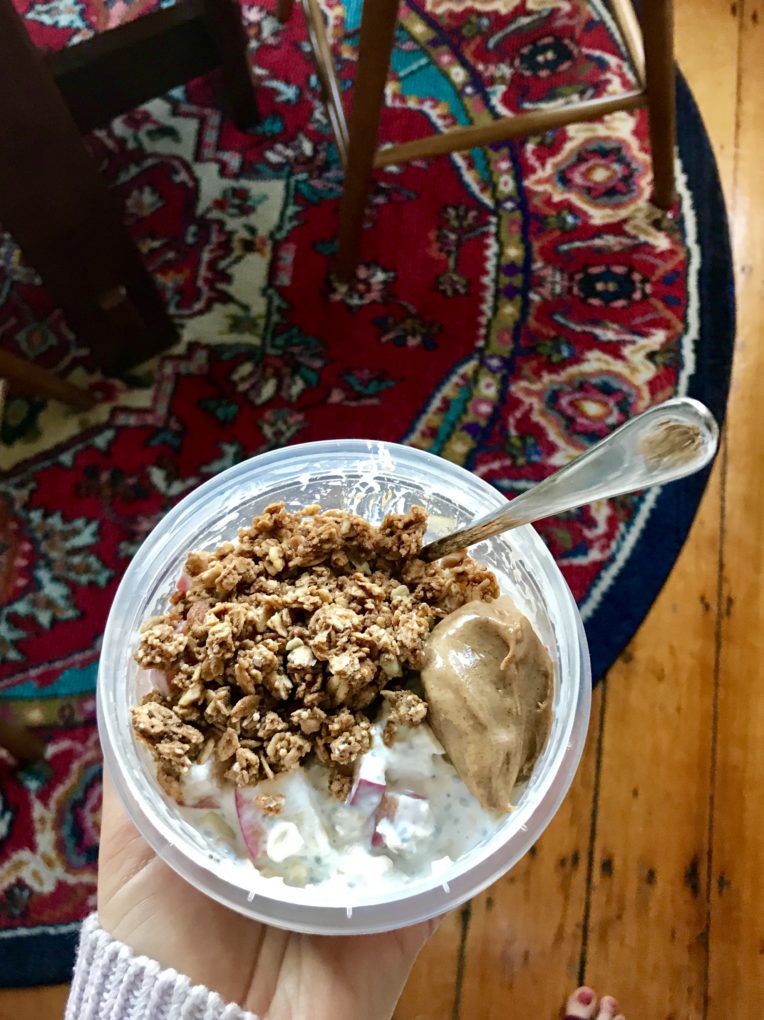 I made overnight oats for the first time in like a year on Monday night for Tuesday breakfast and they were everything I hoped for. I shared this "recipe" on Insta stories but I'll recap it here if you missed it. I like my overnight oats thick, really thick. So I use a heaping 1/2 cup of oats and then a scant 1/2 cup of milk in addition to a 1/2 cup of greek yogurt. A spoonful of chia seeds also helps thicken things up and a splash of vanilla and pinch of sea salt give it some flavor – kind of like when you're baking. In the morning I added in a chopped apple (microwave for 60 seconds with a splash water to soften) and topped with maple granola and a blob of honey almond butter I found at Target (it's their brand) that is LEGIT. I'll be repeating this meal a lot as the weather warms up.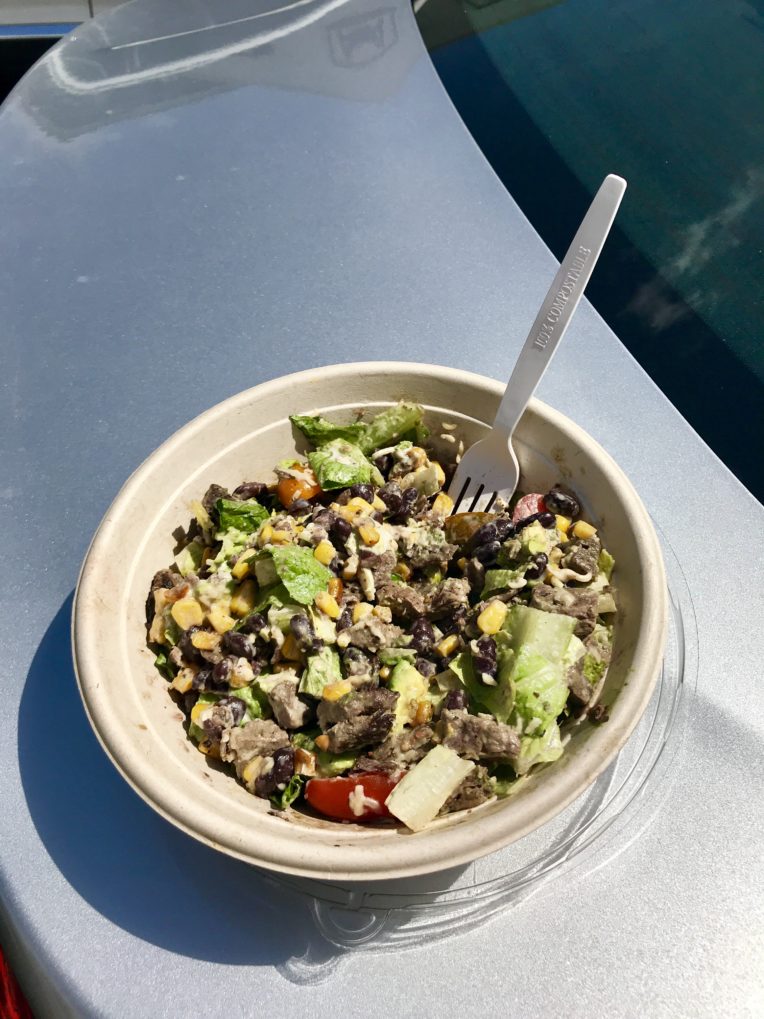 I picked up this fajita salad from Upbeet when we were in Atlanta last Friday. But I swapped the chicken for steak because I was in the mood for red meat. The best part was the homemade ranch dressing that they liberally drizzled on. Between the cheese, avocado, black beans, tortilla chips, steak and ranch dressing this salad was super satisfying. Eaten in the sunshine made it even better.
Let's talk about eating in between meals when you're not hungry. I get this question often and a reader emailed me this question a few weeks ago. If you're somebody new to letting go of food rules and not restricting your food intake or eating based on external cues (calories, macros, certain times of day, etc) then I highly recommend resetting your body with a rhythmic pattern of eating (working 1:1 with a knowledgable RD is also a really good idea) Our digestive systems actually function best when food is coming in every 4ish hours. Eating every 3-4 hours also helps regulate your blood sugar. And to put it simply this builds trust back with your body and then your body says, "oh ok, you're feeding me regularly and feeding me all the macronutrients and feeding me enough energy and I know more food is coming so I don't need to compensate and conserve energy." Eating three meals a day without snacks isn't enough to eat every 3-4 hours unless you sleep 12 hours a day everyday which would be concerning. So snacks are necessary. And over time as you relearn how to feed yourself, you'll find that you need snacks throughout the day. Sometimes you might need two and sometimes you might need six. Each day will be different, but in the beginning, regardless of hunger cues I recommended getting into a rhythmic pattern with eating – practicing intuitive eating isn't appropriate at this stage.
This is an entirely different conversation, but if you ARE a competent intuitive eater there will be times when you will overeat – perhaps unintentionally (which happens and is normal) or perhaps intentionally to enhance an experience and you're full for over 4 hours. You'll find that those times aren't frequent. If you are full for a longer time, that's okay and normal too. You can snack or eat a meal when you get hungry again. If for some reason I don't feel hungry – which isn't often – and it's been more than 5 1/2 or 6 hours since I last ate, I'll always have a small snack to regulate my blood sugar.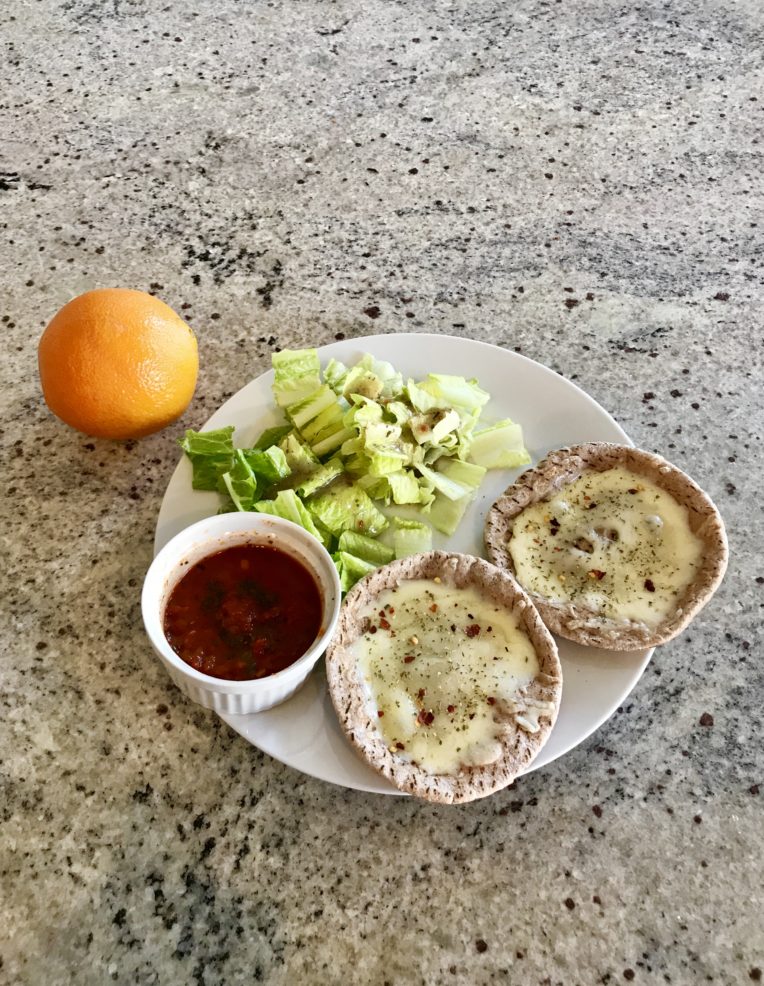 Back to tasty food. The above meal was lunch for the past two days because Nick is out of town this week and so I was lazy and felt like doing zero cooking and minimal grocery shopping for the week. But it actually turned out to be a quick and satisfying meal and now I think I'll be repeating this often. All I did was broil mozzarella cheese on two small pitas until melty and topped with some Italian seasoning. Then heated up some jarred marinara for dipping. The "salad" was romaine with Greek dressing. This actually reminded me of english muffin pizzas my mom use to make me as a kid. Anyone else??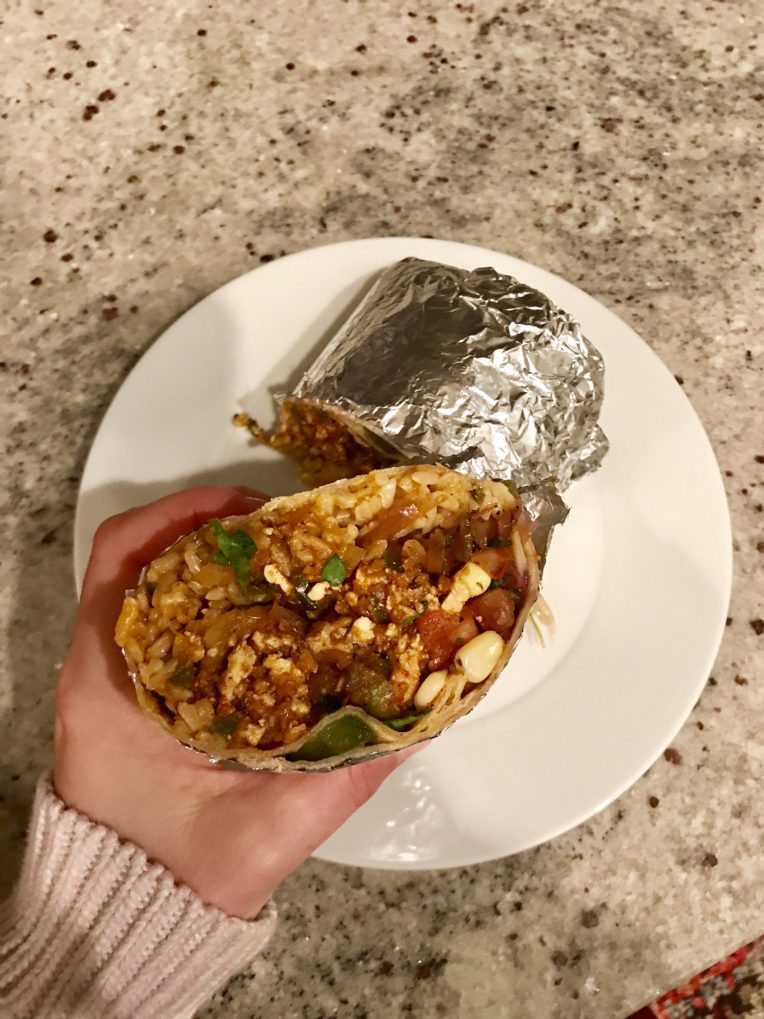 I usually get burrito bowls at Chipotle because the burritos are so messy and they stress me out to eat because they are so messy and fall apart….I know I sound ridiculous. But on Sunday I decided the mess was worth it and got a burrito. It was tasty and awesome and that night, so much more satisfying than a burrito bowl.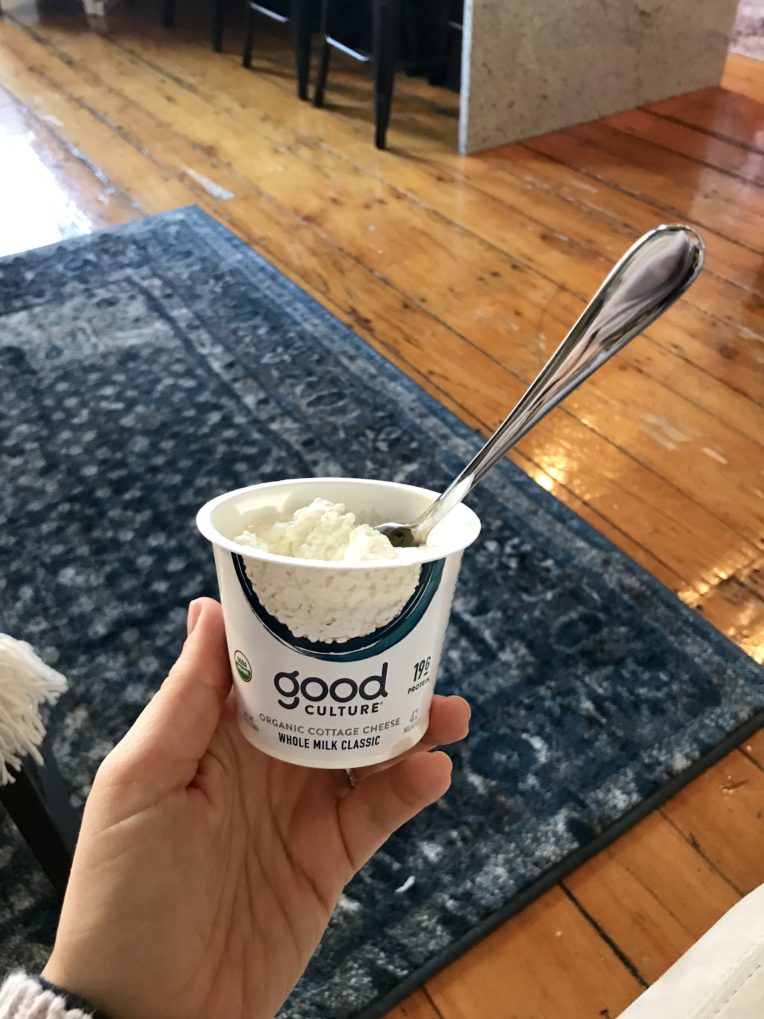 I'm sharing these cottage cheese single serving containers because they were on sale this week at the grocery and I'm finding them so convenient and satisfying! I LOVE cottage cheese. My grandpa use to grow tomatoes and in the summer we would eat cottage cheese with summer fresh tomatoes mixed in and cracked pepper on top. I rarely take yogurt on the go because I like to mix things in like fruit or granola and that's too much of a hassle to pack to go. But these! I can just eat with a spoon.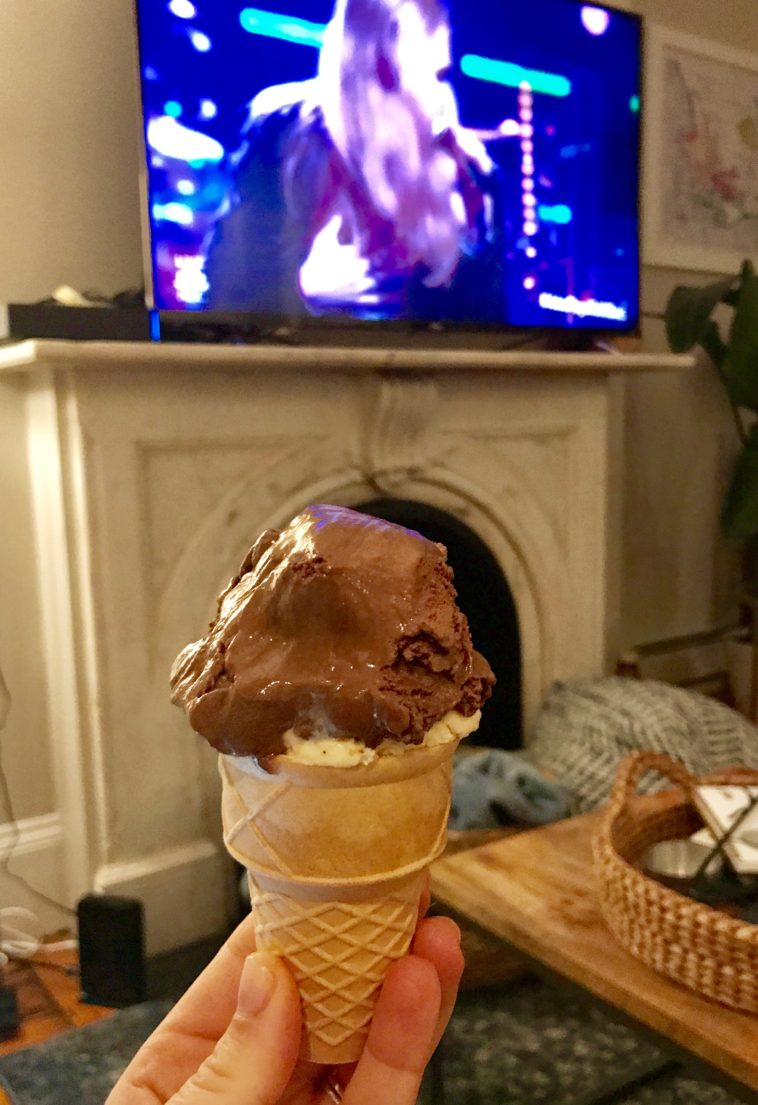 Another thing I spotted at the grocery and bought…ice cream cones! Usually I eat ice cream at night with a cookie or banana bread or something baked, but scooping some Breyer's chocolate and vanilla into a cone has been hitting the spot. And it feels fun.
Share some of your favorite eats in the comments – I want to hear your inspiration too!
Also on Monday, look out for more information about the intuitive eating virtual support groups that are going to be offered in the next month with our new therapist, Liz. We are all so excited for this! If this resonates with you, see you back here on Monday for more details. 🙂
Have a fab weekend!