As you guys might know, Real Life Women's Health has a wonderful new addition, Liz, to add a therapy component to the practice and I think of how this service is going to help so many people. I've been thinking about this a lot and had some thoughts that came up that I wanted to share…maybe some of you can also relate.
So many wonderful things can come out of therapy that can help us live our lives in a more meaningful and intentional way. I think a lot of people are under the impression that going to therapy or nutrition counseling, for that matter, means something is broken and needs fixing. No one is broken beyond repair and I (and we) truly believe that everyone has hope for complete healing from food and body image struggles. And hope for physical healing. Although "broken" isn't a feeling, maybe many of you resonate with the idea of broken as a feeling? The truth is, therapy and counseling don't fix us, but rather help us re-connect and strengthen the part of our brain that we forgot about or re-wired at some point in our life. The strength and wisdom we need is already right within us.
Maybe you trained yourself out of honoring your hunger for the sake of a diet that led to another diet only to be left with feeling like you don't know how to eat or feel hunger and that feels like your body is broken. Maybe you struggle with mindless eating and the connection between your head and your body feels broken. Maybe you gave your brain too much power with catastrophic thinking or worst care scenario thinking or black and white thinking and you now experience various situations in life that are riddled with fear because you don't feel good enough/pretty enough/smart enough and you can't for the life of you get your brain to think nicer thoughts to yourself…and that feels broken.
I felt broken these past few months being unable to focus on my graduate course work feeling incredibly burned out because I was too busy ruminating on everything… at the same time. I would think about my future as an RD, my friendships and relationships, what I want my social media/internet presence to be, if I am doing well enough, my volunteer work, trying to rest, and MORE. I couldn't focus on one thing at a time and I knew that this wasn't a fulfilling way to be living my life, spending all my time with my brain "on" even when I designated time to be "off". Time to be resting. Why couldn't I shut my brain off? So, I started therapy.
In just a few sessions I have been able to learn some tools on how to combat negative thoughts about myself with a more positive or rational thought. I've been able to distinguish between pressure I can't avoid, like school, and pressure I put on myself, like trying to figure out what I'm going to be like as a practitioner. I am starting to see that some of the pressure I put on myself is totally unnecessary and is preventing me from enjoying the ride, from being fully present in my life. I still have 1,200 hours of my dietetic internship ahead of me before I need to even entertain the thought of what my future practice or job might look like as an RD. I still have so much to experience and learn!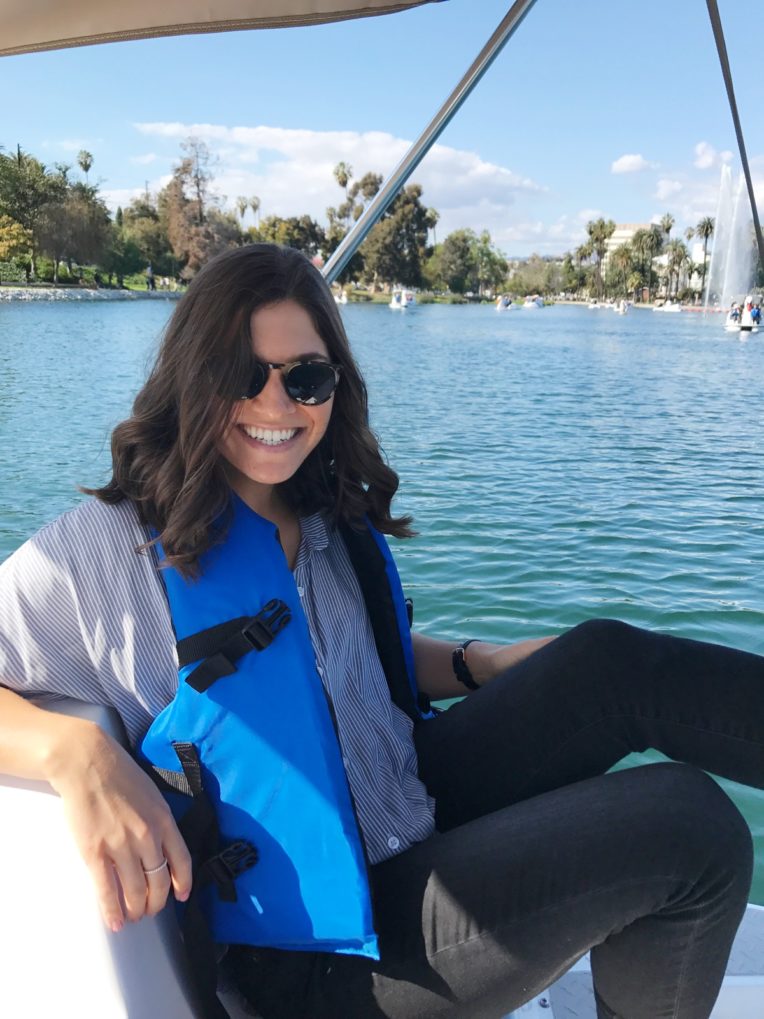 Once I realized that I could table those thoughts or at least give them a less weight, I felt like I could breathe deeply again. It felt like I went from shallow, anxious breathing to relaxed, deep breathing. I feel like I can start to focus on what needs to be done now and do some loose planning for the future, but in a constructive, information gathering way vs a "this is my life track" kind of way. If we simply gathered information and looked at it objectively rather than judging every piece of information or experience..imagine how much more mental effort we could spend on things that brought us joy rather than stress. On things that actually mattered.
When we give into the "shoulds", the "what ifs", and the "but hows" we close off the part of our brain that allows us to be in our own process, a process that ebbs and flows and may not even be what we imagined or stressed about in our heads. Being inside your own head with some external processing in a safe space can be crazytown. For me, I was cutting off creativity or opportunity within myself in the moment because I was wishing to be in another time, place, or situation when I am currently in a different time, place, or situation…and this current place I'm in might end up turning into a different time, place, or situation. Life is uncertain like that, but embracing that can be so wonderful if we are able to embrace the uncertainty.
I think of the brain just like any other muscle in the body. It can be trained and strengthened to think in a certain way, in a more life-giving, gentler and kind way that can help us be better versions of ourselves or remind ourselves that we aren't broken, maybe just a little unsteady and we simply need to tools to move to solid ground.
Therapy certainly isn't a magic cure, but I finding if very helpful and I learn tools and skills to best care for myself. And I am quite enjoying the process of learning how to be kinder in the way I talk to myself. Maybe you to have felt overwhelmed by being "on" all the time or by having anxious, fearful thoughts constantly swimming in your brain or by having negative thoughts constantly there? Maybe you are curious if therapy is the right move for you? I think if we reworded it to be coaching instead of therapy or counseling that would open up the opportunity for more people to step in. Maybe my experience can help give you a little piece of mind that you aren't broken and that asking for help doesn't mean that you are weak. In fact, I think it means the opposite. I think it's brave. And bravery takes strength.
Have a wonderful week!
xx
Connie