Hey guys, it's Cody dropping in again today 🙂 I have some thoughts that may help you today, but first I'd like to tell you something you may not know about me.
I am a worrier.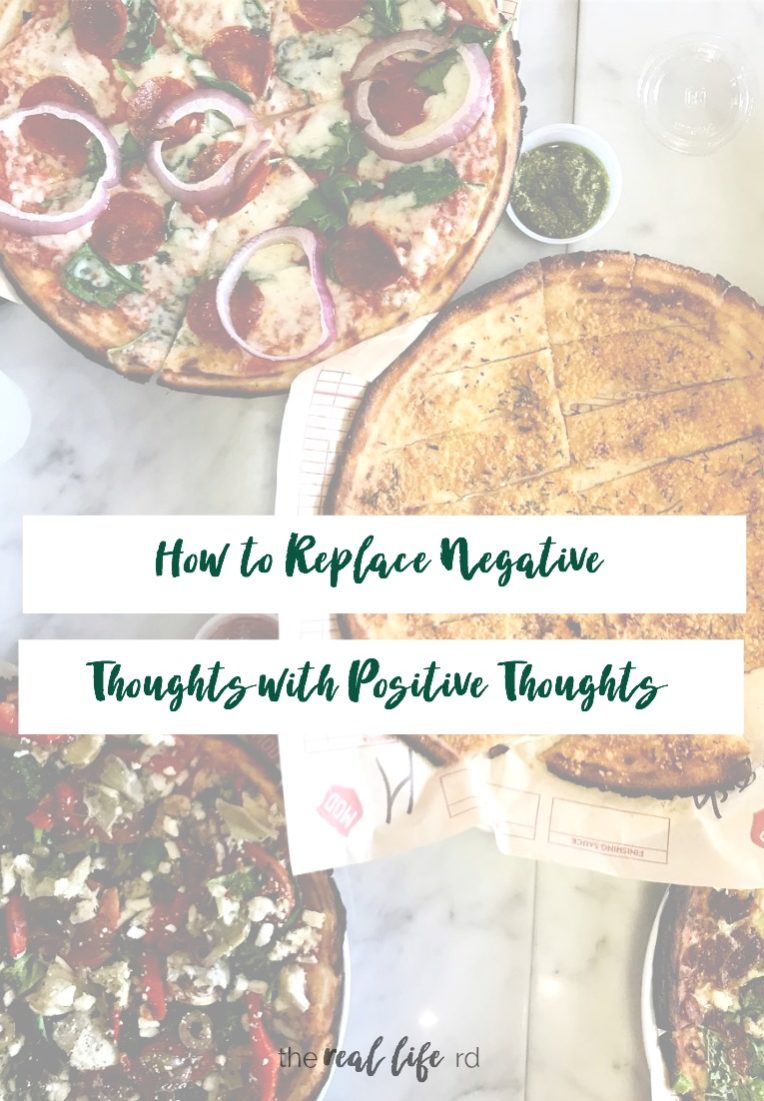 It is very easy for me to get overwhelmed by worry and fear. Anyone else?  I often have to stop myself from going to worst case scenario – no matter what the issue. It could be as simple as my car almost running out of gas. Case in point: last weekend I was driving to meet some girl friends for breakfast and my car started out with 13 miles till empty (I know, not ideal in the first place), then it quickly went down to 6 miles and then I was thinking "goodness, is this thing even right? I could be at zero any minute!" Sure, if I ran out of gas it wouldn't have been the end of the world. I was in a safe area and I knew someone would likely come help me. Either way, the frustrating part was where I let my brain take me. This 15-minute drive to breakfast was one of the only moments I had to myself all weekend long. I could have enjoyed it much more if I hadn't been tied up in a worry ball. I could have listened to music or prayed or just simply enjoyed some peace and quiet… but instead I was literally staring at my gas light non-stop. STARING. My brain was consumed with negative thoughts so much so I was anxious rather than relaxed for those precious 15 minutes. Frustrated and sad were what I felt.
Maybe I'm not alone? Maybe some of you have had some of these moments too? Sometimes it's a small moment like my 15-minute drive this past weekend or some bigger life changing seasons. Either way, I don't think (or I hope) I'm not the only hard core worrier. I recently wrote a post on my relationship with exercise. As I was experiencing my attitude around exercise shifting one of my huge realizations was that exercise should be something I want to do and not always something I felt like I should do. Backing up that new found belief with action though was when all the pep talks came in. These pep talks were often in the form of daily gratitude.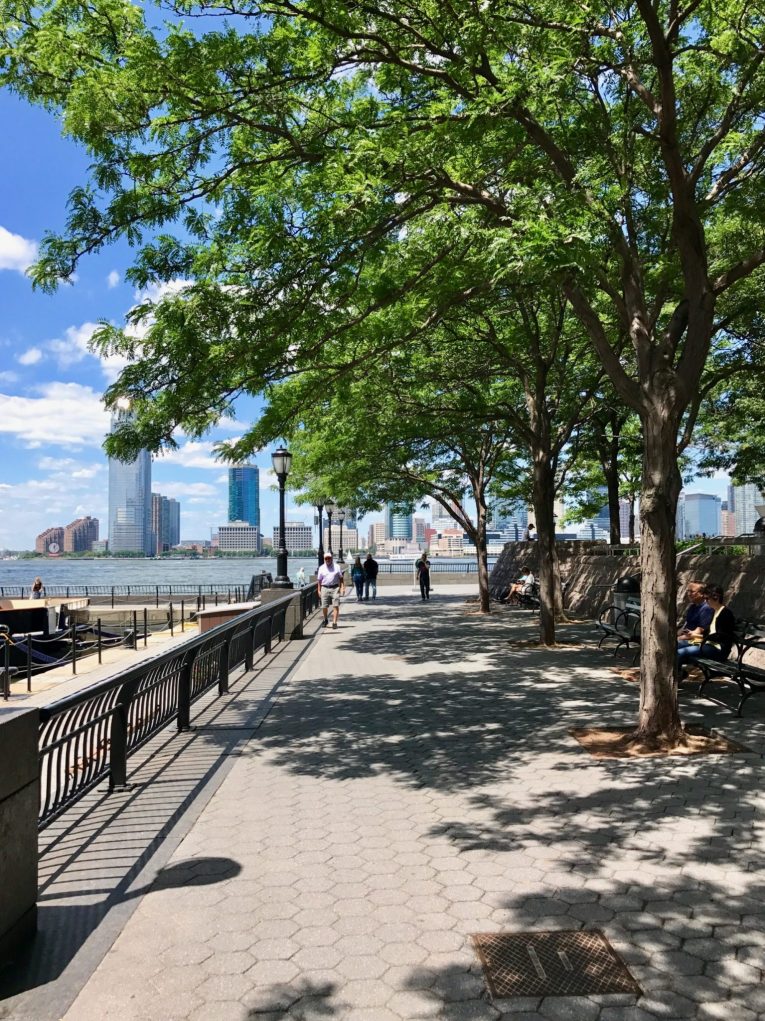 "At least I have the option and freedom to run!"
Or on a day when I needed to tell myself a short, one mile walk was enough…something like, "It's so nice to be outside and smell the fresh air"
Sometimes, some positive thoughts such as, "I am thankful my body is capable of doing X" or "My time will be best spent today by resting my body or grocery shopping in order to have food in the morning." or some truth like, "My body does not HAVE to do this every day, it can rest and rest is good." really helped.
These pep talks, truth bombs or positive thoughts were things I had to tell myself over and over again. Repeat repeat repeat. I had to form new pathways in my brain and rewire unhealthy thoughts. Eventually the worry and the "what if's" didn't have any power over me. I was able to just live and move on.
This whole idea reminded me of something I've been told before. Your brain only has so much space. When we fill it with negative thoughts and worries, there is simply not enough room for the good, positive stuff. Think of this like penguins standing on an iceberg. There is only so much room on the iceberg. In order to fit more penguins on the iceberg you have to kick some off. Same thing with your thoughts. If you fill your brain with negative thoughts and feelings, there isn't as much room (if any) for positive thoughts. And if you fill your brain with more and more positive thoughts, there is less room for the negative thoughts to hop onto the iceberg and to stay there. That's not to say the negative thoughts will just go away, but they don't stick as easily. Think of the negative thoughts as a penguin who tried to jump onto a crowded iceberg….he can't fit so he falls off.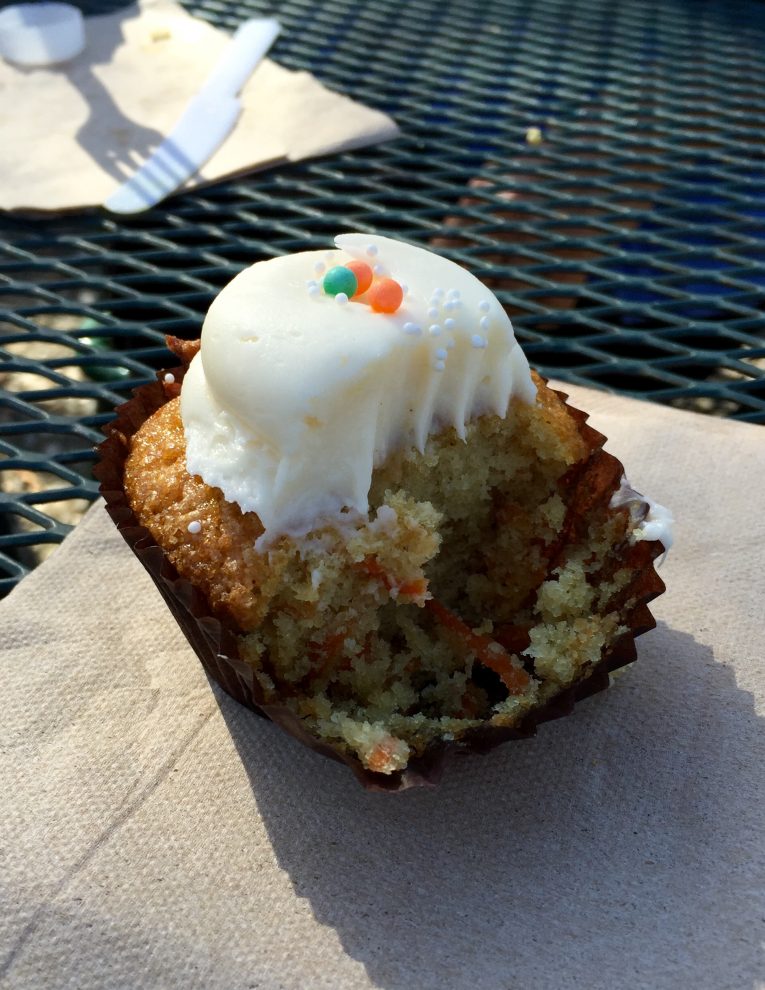 I tell my clients this a lot when they are going through a tough transition. It can be hard when you are reversing years of the diet mentality and trying to think positive thoughts about any and all foods, your body, or your lifestyle. Change is hard and it is uncomfortable. When you are in those murky waters of letting go of food and exercise rules it can be really easy to worry and let fear take over in your brain. Then all of a sudden you have lost sight of your "why". You've lost sight of your motivation, your values and why you wanted to make a change in the first place. It is so important to stay rooted in your values, keep remembering why you want to change and ground yourself in that so fear and anxiety don't win. Often we have to make change in the midst of anxiety. If we wait until we feel ready, change will never happen. Anxiety is your bff. Sometimes, even if you are a worrry-wart like me, you have to trust your head knowledge and not your heart knowledge. Logic over emotion sometimes. Not to say emotions are bad, they are good and allow us to experience life in the richest ways…but sometimes they allow us to get carried away with our thoughts in an unhealthy way. The heart knowledge, what you feel and believe inside of you, sometimes has to follow the head knowledge. So you might know that you should eat three meals a day that include proteins carbs and fats in your head, but it might take a while of doing that for the head to connect to your heart so you can become rooted in that knowledge and internalize it.
Are you or have you ever been in a season where you needed to fill your mind with positive to eliminate the negative? Of course, I'm not saying…"Fill your mind with positive thoughts and you'll be all good!!" Not at all. Sometimes our fears and anxieties are deep rooted, complex and too much to handle on our own. Sometimes it takes a team of skilled professionals to get us through these things. That's okay and normal, so I surely don't want to minimize someone's thoughts and feelings. But I do think that it's important for us to recognize that we have so much more power over our thoughts and feelings than we realize. Thoughts are not truth or facts, they are just what our brain is offering up in any moment. We get to choose which ones we engage with.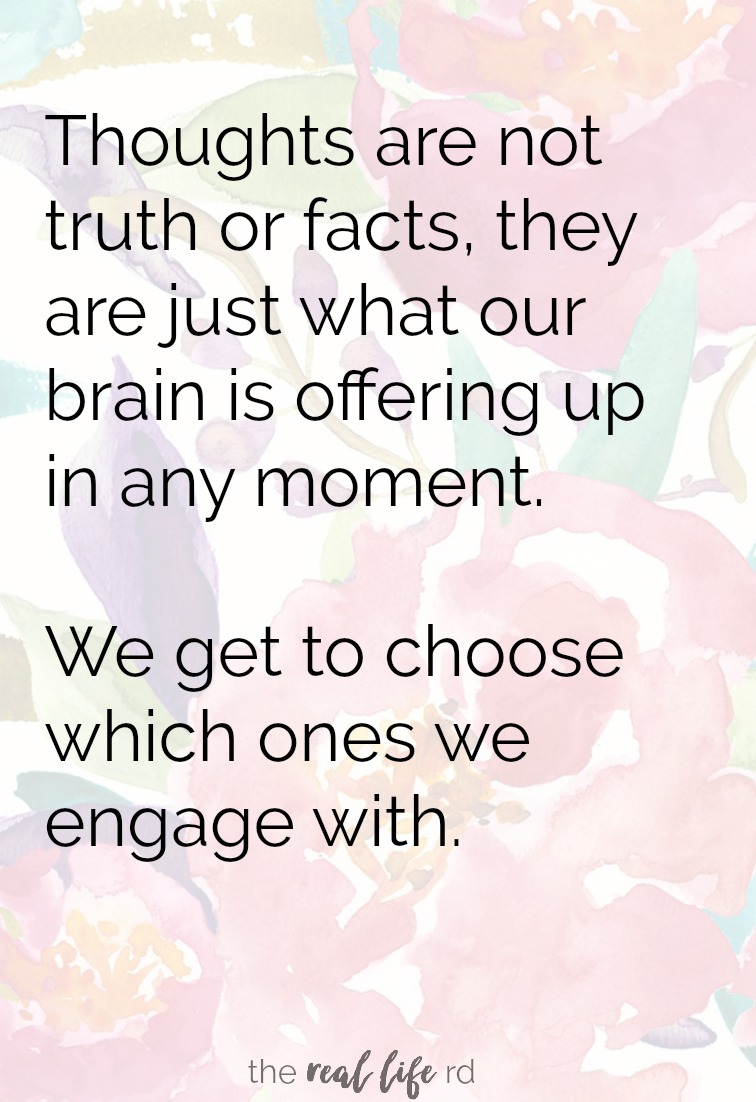 There are probably a million and one other tactics to fill your mind with positive thoughts, but sometimes I give clients this idea that might be helpful. Despite our best efforts to free ourselves from screen time and be present, it's inevitable and to a certain extent, we are going to use our iPhones and computers. It's just how the world functions and we can't always totally and completely "unplug." Maybe give this a try. Every morning, sit for a minute and reflect. Give yourself a positive thought for the day. It could be something you admire about yourself or something you respect about your body. Or it could be something you are grateful for. If it feels uncomfortable to say nice things about yourself, that's okay. Starting with gratitude can be a good place to begin. Whatever it is, write it down in a note on your phone. Then, take a screenshot and make that note your phone background for the day. Every time you pick up your phone to make a call or send a text, you will be forced to read that positive thought. Maybe you don't want your mantra to be your lock screen? No problem. Set several reminders throughout the day to read your mantra. Write it on post its and stick them in noticeable places like your steering wheel, your bathroom mirror or inside your wallet. You may not believe what it says and it may be a bit uncomfortable to read something positive about yourself, but do it anyways. The more you read it, the more you will believe it. Also, the more you soak in those positive thoughts, the less room there is for any negative or worrisome thoughts to sink in. Remember the penguins. 🙂 REST in what you know to be true, give yourself time to rewire those brain pathways and eventually, if you choose to do this hard work, your head will connect with your heart.
This is just one idea. What about you guys? Do you have any suggestions for how to fill your brain with positivity? What are your tactics? I would love to hear! Also, maybe we can all encourage each other by throwing out some ideas.