I was wildly confused by what comprised a "normal" period all throughout my teens and early twenties. Confused or I didn't think much of it at all. Actually, I didn't realize how much my menstrual health could tell me about my overall health until I healed myself from a 10 year history of hypothalamic amenorrhea – aka I didn't get a period on my own, without birth control, because my body was stressed out from too much exercise, not enough nutrition and too much life stress. The more I've studied and researched the menstrual cycle, the more fascinated I've become with every little detail that goes into preparing your body for ovulation and therefore a potential pregnancy each month. THE FEMALE BODY IS INCREDIBLE. The entire menstrual cycle is such a complex process that I find to be very interesting. So many things click into place to create a regular, healthy menstrual cycle each month.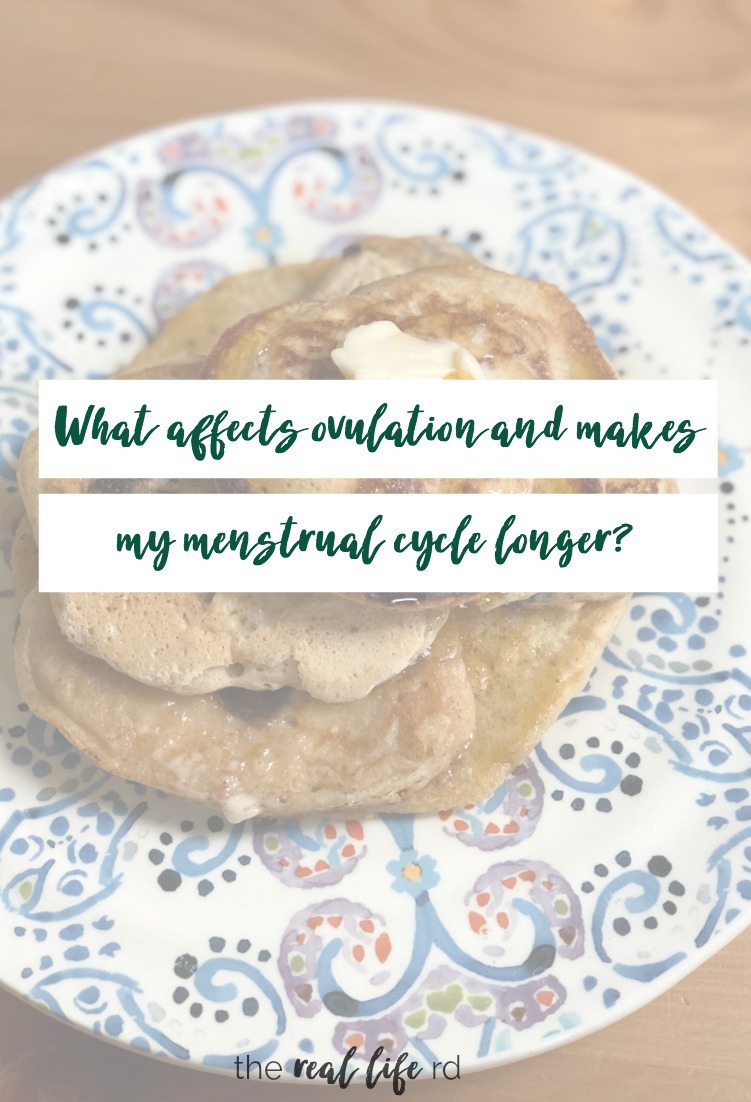 A few weeks ago I got the following question from a reader. "What causes shorter and longer lengths of the follicular and luteal phases of the menstrual cycle, and are these variations in length indicative of anything significant?"
Before we begin to answer this question, let's talk about what defines a "normal" period. Ideally, your cycle lasts two to seven days. When you first notice bleeding, it's a bright cranberry red color and for the most part stays that color throughout your entire period. You might experience brown spotting at the beginning or end of your cycle and that could be normal too. Blood has the consistency of agave or maple syrup and there are a few small clots, if any at all. Flow isn't super light but it's also not super heavy. You can wear a regular to super absorbency tampon or pad for about four hours without leaking. You do not experience PMS that interferes with your life – you might get some mild symptoms and sensations, but nothing that inhibits your ability to participate in your daily life. You should also see your cervical mucus change throughout the month, meaning the white/yellow discharge you find in your underwear. If you're like, "ewww" …that's okay. You'll get comfy with your body in time. Your cervical mucus changes as your hormone levels fluctuate throughout your cycle – you can read more on that here. And lastly, you shouldn't be spotting in between your periods. For some women it is normal to notice some light spotting around ovulation and that can be completely normal, but overall you shouldn't be bleeding in between periods.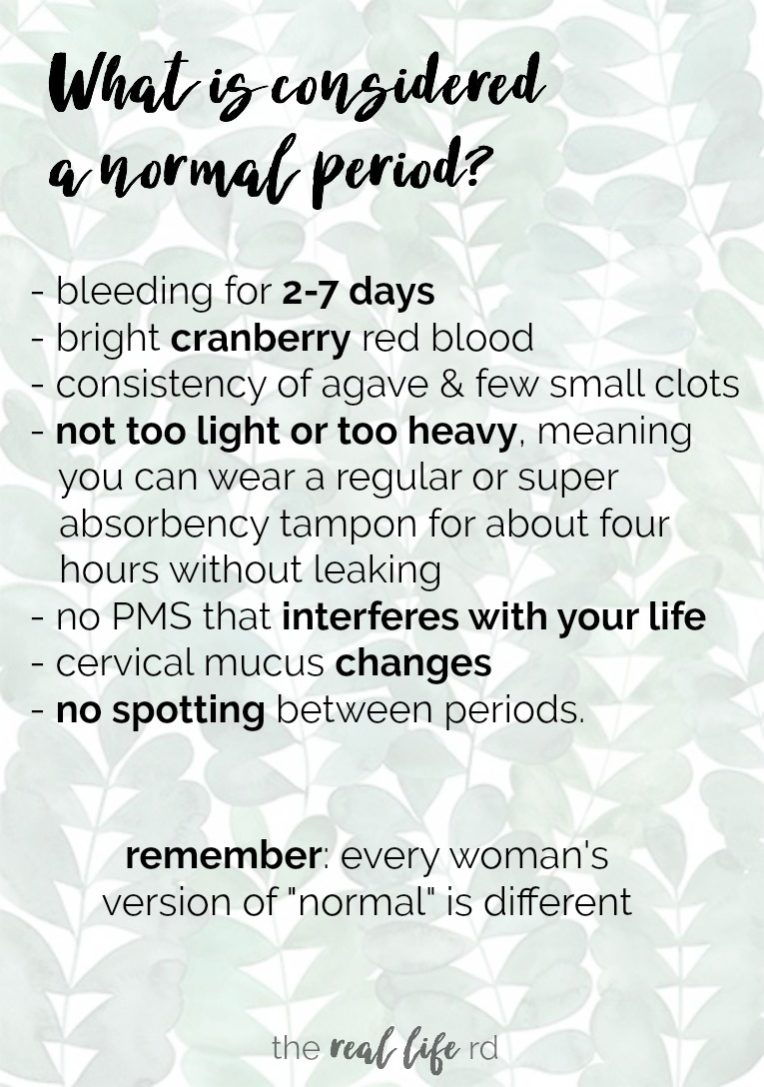 It's important to remember that every women's period is different. For some a 2 day period and 35 day cycle with a lighter (but not too light) flow is totally normal, while for others a 7 day cycle every 28 days with a heavier flow (having to change a super tampon every 4ish hours) is totally normal too. You will experience subtle changes in your body as your hormones fluctuate throughout the month and that's totally normal. Often, women feel more energetic, creative and have a higher sex drive around ovulation due to the surge in estrogen. You might feel slightly more tired right before your period as estrogen and progesterone plummet. Those are just a few examples. So while the goal is to keep yourself healthy so you don't experience huge fluctuations that interfere with your life…women are more complex beings than men when it comes to reproductive health. Men function on the same 24 hour cycle day after day, whereas women function on a monthly cycle that ebbs and flows from day to day.
Let's lay down the foundation. The menstrual cycle is divided into two phases, the follicular phase and the luteal phase. The follicular phase begins on the first day of your period and ends just before you ovulate. The luteal phase begins right ovulation and ends when you bleed again…meaning your next period starts. Here is an easy to understand video on the menstrual cycle that I love. The timing of ovulation can be extremely variable – a woman can ovulate on different days from month to month depending on a variety of factors that I'll talk about that would affect the length of her follicular phase. And from woman to woman, there is a lot of variety with the day of ovulation. In contrast, the time between ovulation and the onset of your next period – the luteal phase – is relatively stable. Once you ovulate, your period begins roughly 14 days later, give or take. So it's really the follicular phase, not the luteal phase that has more influence on the number of days between your two periods. Here is a photo of the phases below that I like because it's so dang simple.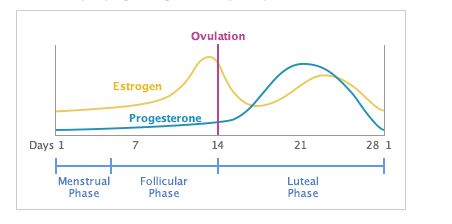 In this post we're going to talk about the follicular phase and then in a follow up post I'll write about the luteal phase. Before we talk about lifestyle things, it's important to first talk to your health care provider (HCP) if you're having irregular cycles. They know you best, not the internet. Your HCP can also check if medications you're taking are affecting your cycle. Anti-depressants like SSRIs can be very helpful for some people, but they can affect your reproductive hormones. Anti-psychotics, steroids, thyroid medications, pain medications are just some that can affect your cycle. That does not mean stop taking your medications, not at all – these can be helpful and sometimes necessary. Talk to your HCP and together you can figure out what's best for you.
Let's talk about some other things that could potentially make your follicular phase longer. If your follicular phase is longer, your overall cycle will be longer. And if you don't ovulate at all, that can cause longer and irregular cycles. You might be wondering…ok, if I don't ovulate how can I have a period? If a follicle in your ovaries does not mature and therefore you do not ovulate, progesterone is never released and the lining of your uterus (called the endometrium) continues to build in response to the estrogen that is being released. Eventually, the lining of your uterus gets so thick that it becomes unstable and heavy and eventually falls and then bleeding occurs. Think of it like a tower of blocks. The point at which it becomes unstable and falls can be unpredictable so you end up with irregular, longer cycles and typically with heavier bleeding.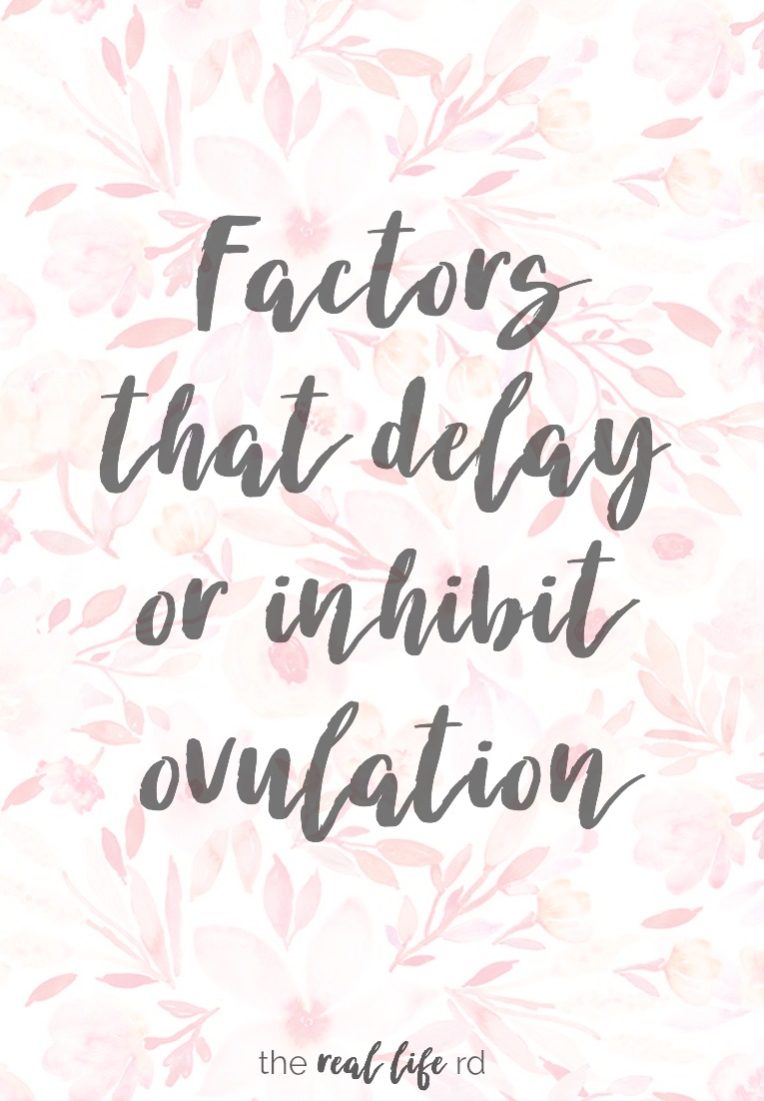 Thyroid health. An overactive or underactive thyroid can affect your period. Just because you feel tired doesn't mean you have a thyroid problem…you probably just need to slow down and rest, but if you do feel concerned about your thyroid or have a family history, go talk to your HCP and they can help you. You can read more about thyroid health in this post I wrote too.
Nutrition. The amount of overall energy you take in (aka calories) and the macronutrient makeup of what you eat (meaning you're getting enough protein, carbs and fats) can have a significant impact on your follicular phase and whether or not you ovulate regularly. Inadequate energy and not enough of each food group (particularly carbs and fats) affects the pulses of a hormone called GnRH from your hypothalamus. If GnRH isn't being released like it should, that's going to affect everything else downstream like LH and FSH release from your pituitary gland….which you need for ovulation. Although more research is needed, these studies provide insight into how important fat is when it comes to our female reproductive health and how full fat diary can decrease your risk of not ovulating. Carbohydrate intake also affects your GnRH pulses.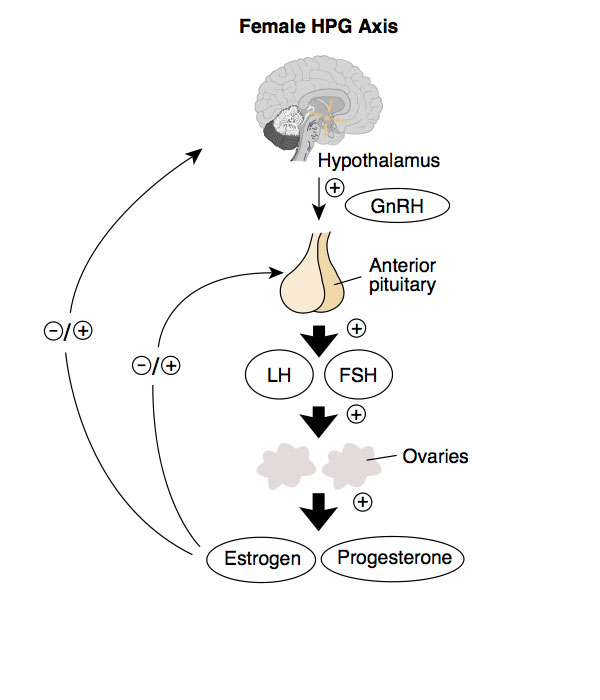 Exercise. Over the past several decades, the intensity of exercise women partake in has increased. Nowadays it's "normal" for females to exercise intensely at cycle classes and bootcamps and to participate in endurance sports like triathalons and marathons. I'm not saying any of these things are off limits or unhealthy…but every woman has a different exercise threshold and often we do these types of exercise far too frequently and without enough nutrition to support our energy expenditure. There's no one size fits all when it comes to movement. I think a good place to start is exploring your motivations for exercise. This post might be helpful for that. Exercise affects our GnRH pulses which again is going to affect everything else downstream. So if you exercised intensely more days one month than the previous month and your cycle is longer, say 37 instead of 31 days…exercise could have been what caused you to ovulate later, therefore you had a longer follicular phase and a longer cycle. You can read more about how exercise affects your hormones here.
Stress. This is essentially the catch all of everything I've talked about above because and having an under or over active thyroid is stressful on the body, poor nutrition is a stressor and too much exercise is a stressor. Not enough sleep is also a stressor on the body. And the way we perceive stress in our lives – meaning our emotional and mental health – can add stress. Did reading that just making you stressed out? Deep breath. This doesn't mean we have to live stress free lives. I think that's impossible. But it is to say…how can we carve out periods of rest, whether that's 5 minutes or a whole day, to balance out periods of stress and keep our bodies at homeostasis? In a nutshell, when a stressor happens, your HPA axis (hypothalamic-pituitary-axis) is activated. This is your stress response. Too much stress happening without enough rest and you have too much CRH (the first hormone to be released in your HPA axis) and that CRH (corticotropin releasing hormone) inhibits again..you guessed it… your GnRH secretion. And therefore those stress hormones inhibit your LH which is needed for ovulation. And your body needs to ovulate in order to go from the follicular phase to the luteal phase.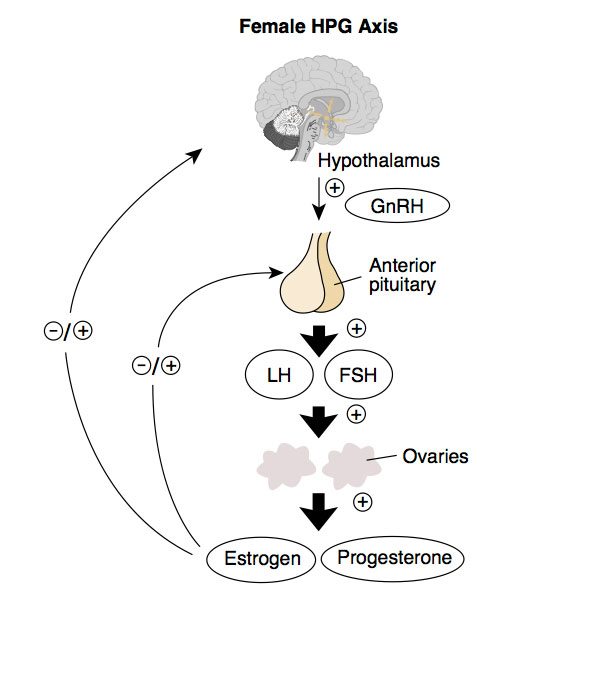 Elevated prolactin. This is a hormone produced by the pituitary gland. Prolactin increases to stimulate breastmilk so it's normal for breastfeeding moms to have high prolactin and this is why often (but not always) women do not ovulate and therefore do not get their period while breastfeeding. This is because high prolactin inhibits GnRH and FSH so ovulation is suppressed. If you aren't breastfeeding, you can still have high prolactin levels from certain medications, thyroid issues and stress. You can also have something called a prolactinoma that is usually a HARMLESS tumor that grows on your pituitary gland and secretes excess prolactin. Your HCP can rule out high prolactin by simply drawing your blood and checking a prolactin level.
PCOS. One of the diagnostic criteria for PCOS is longer periods, what we call oligomenorrhea. So if you have PCOS you might experience this. Your body is experiencing a different hormonal imbalance with PCOS that I won't go into detail with in this post, but here is the short scoop: your body is producing a lot of LH and not enough FSH which inhibits ovulation and causes an overproduction of androgens (like testosterone) that are responsible for symptoms like acne, facial hair and hair thinning on your scalp. There is a lot more to it, but my point is to go see your HCP so together, you two can figure out what might be happening. Here is a helpful video on what you need to be diagnosed with PCOS. And know that there is so much that can be done with lifestyle and supplements to help you heal the PCOS. We've worked with many women at RLWH who have done just that.
There are other less common factors that could affect the length of your follicular phase and ovulation so I always encourage you to talk with your health care provider. But I hope the above is informative and empowering as you learn how to best care for yourself. Since this post is already long enough and the brain can only absorb so much information at once, look out for part two of this post about the luteal phase next week!
And lastly, if any of this resonates with you I also really encourage you to get the help you need from a health care practitioner you trust. Whether that's us at Real Life Women's Health, someone I can refer you to or a health care practitioner in your local area. Although these don't take the place of a health care provider, you can start taking steps today to better care for yourself with my free mini email course on healing hormones and you can also check out my online course on healing hormones and getting a regular period back.