Recent Podcast
I shared this on IG stories last week, but wanted to share the link here since IG stories only stay up for 24 hours. Samara from the Grapefruit and Granola podcast invited me on to talk about Health At Every Size, how women can advocate for themselves to receive the best health care possible, and we also chatted about PCOS. I love doing podcasts and sharing this message so I hope you find it helpful + enjoyable.

Afternoon in Providence, RI
I have a really close girlfriend who lives in New Haven, CT. We actually met about 6 years ago in Charlottesville and then she got married a couple years ago and moved to Connecticut. I was living in New York at that point and it was so nice to have close friend from Charlottesville only be a short train ride away. Thankfully, even though we moved to Boston, we are still less than 2 hours away. On Saturday, we planned to meet halfway and decided on Providence, RI for a meeting spot. I think it's so crazy how we can both drive an hour and end up in a different state. There are so many tiny states up here vs the midwest where growing up, we would drive for 4 hours and still be driving through the same state!
We ate lunch at a cute restaurant that Jess found called the Grange. We split jalapeño hush puppies with maple butter to start and then I got the oyster mushroom po' boy with slaw and pickles on a pretzel roll that was amazing. The food was insanely good and I'd go back over and over. It was raining so we couldn't walk around which was a bummer, but it was still a great afternoon. Seeing Jess made for a happy Saturday.
The Comfiest Leggings Ever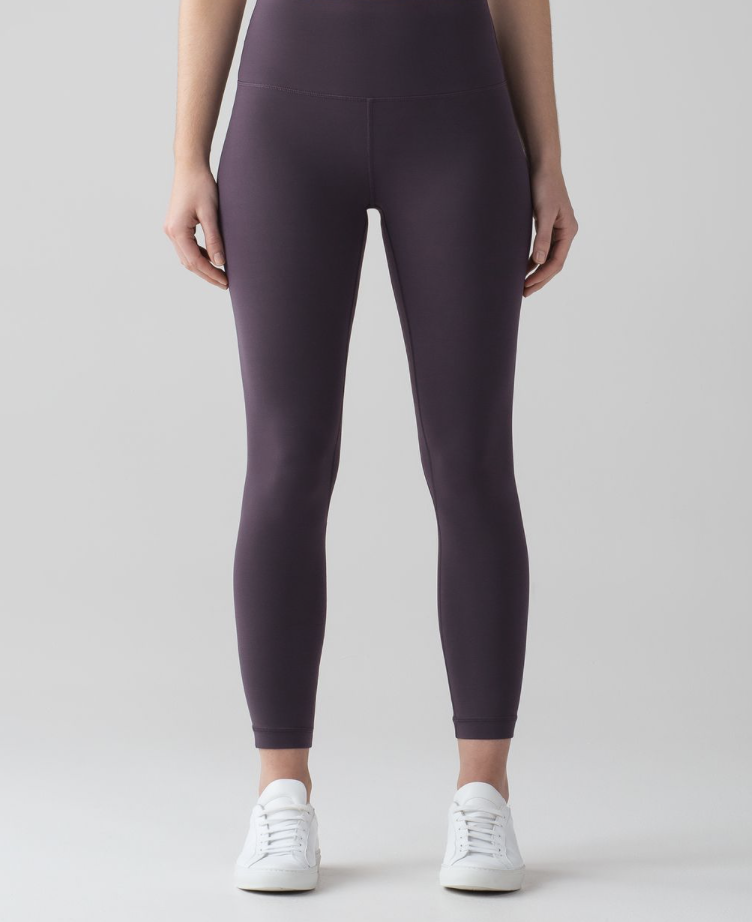 I had resisted buying these leggings from Lululemon for a really long time because I'm not a fan of their marketing. I own a handful of workout tops and leggings, but over the past few years as I got really clear and rooted in my professional practice that centers around Health At Every Size, Lululemon has increasingly pissed me off. I hate how they make their clothing so tiny so that the larger sizes fit "average" sized bodies. What are larger bodied people suppose to wear? And I also hate how their marketing only shows super fit, small bodied women with flat, toned stomachs. I'm  venting here, but it makes me so mad! I realize that aren't many clothing companies (if any?) that are HAES aligned, but I do appreciate how Athleta's sizes are more in line with what's "normal" and that they have plus sizes and larger bodied women in their marketing.
Now that I've just ranted on about how annoyed I get with Lululemon (and I'm over here ranting about overpriced athletic clothing..) I did finally cave and buy the Align legging after several girlfriends raved about them on multiple occasions. I had a gift card from Christmas that I used to buy them and ohhh my goodness they are like butter on my legs. They don't have that compression feeling a lot of leggings have, but instead are super light weight and feel like you're wearing almost nothing. If you want to avoid the store and all that jazz, I'd recommend just ordering them online since you get free shipping.
Post Baby Body and Weight Gain During Pregnancy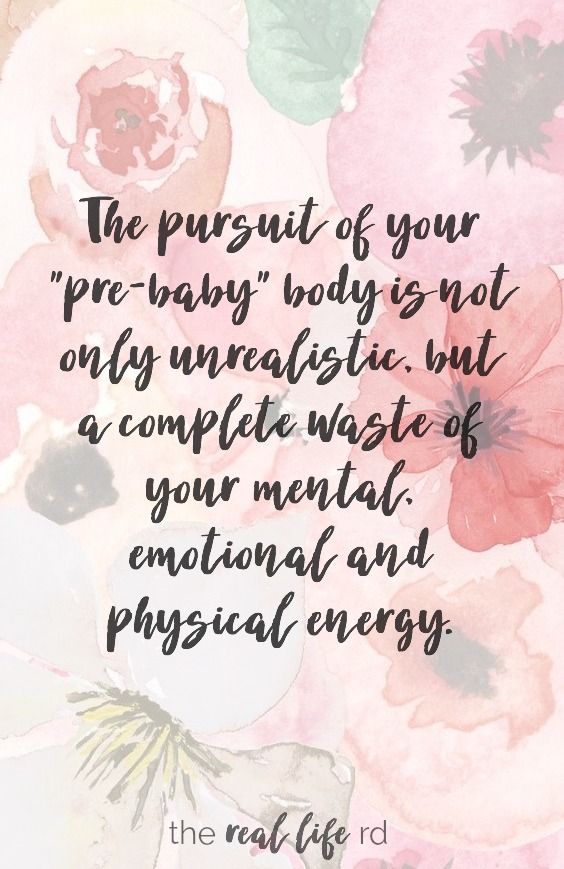 I don't have the personal experience to speak to this yet, but I do think this is an important topic and one I've been thinking about a lot as I work with pregnant and postpartum clients and have friends currently going through this life stage. I had a reader email me last week about pregnancy weight gain her doctor commented on and several readers reach out to me about the pressure to get their "pre baby body" back.
One shared that she is 12 weeks pregnant and at her last doctor's appointment, the doctor brought up her "rapid" weight gain as a concern which led to her doubting herself and feeling a lot of negative emotions. Health care providers have a lot of influence and so what they say to us as patients can have a profound effect on how we think about ourselves. I ended up emailing this reader back with a few sentences of empathy and encouragement because I just felt so much for her. Any woman at 12 weeks pregnant, when she's already highly vulnerable and has so many emotions she's carrying with her, does not need her weight highlighted to her by her health care provider. And in my opinion, I think that sends a really loud and clear message that the health care provider isn't seeing this patient as a whole person. Instead we are zooming in on the numbers attached to her chart and making misinformed assumptions based on a few objective values. Health care providers – whether that's a physician, nurse practitioner, or physicians assistant are well intentioned and they want to do good for their patients. They really do. But unfortunately, we are all trained through the lens of diet culture and weight is heavily emphasized in our training as a measure of health. That sucks.
If you're pregnant, or if you're not pregnant and have experienced a comment about your weight from your doctor that made you feel bad about yourself and/or prevented you from returning to the doctor and getting adequate health care, I'm sorry. To that reader and anyone else reading who is pregnant or might one day receive the gift of pregnancy, know that your body knows exactly what it needs to do to grow your baby. Your job is to care for yourself, not micromanage your body size. And your health care provider's job is to care for you medically and guide you toward behaviors that keep you and your baby as healthy as possible – their job is not to micromanage your body size. I read in one of Kylie's posts a while ago that when her OB brought up her weight at one of her first appts, she replied with something like,  "My body knows how much weight to gain to grow this baby, so I don't think that is a concern for either of us." End of story.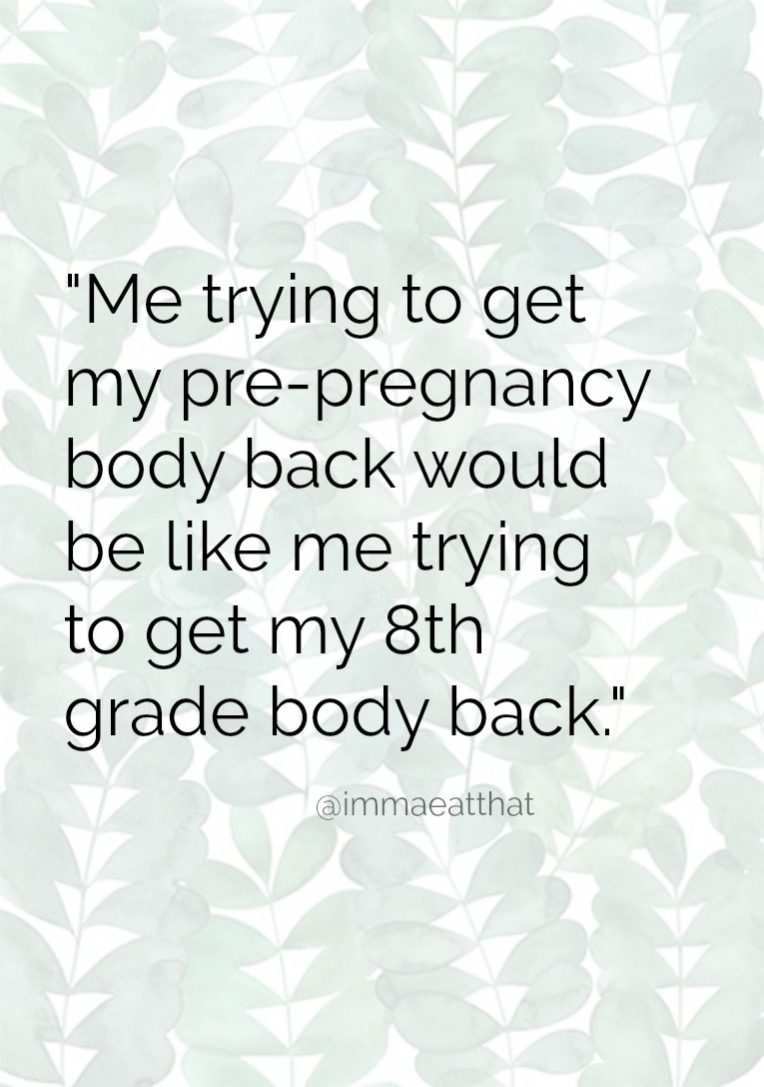 Beyond pregnancy, there is so much pressure and unrealistic expectations created within society about getting your "pre baby" body back. And there's also this false belief that if you breastfeed, "the weight will just fall right off!" I've never experienced postpartum, but I can only imagine how hard this stage of a woman's life is. A mother who has spent the last 40 weeks of her life growing another human and then either pushing said human out of her body or had surgery on her abdomen to bring that baby into the world does not need to be thinking about getting her body back. That's the least important thing. But I can totally see how it could feel like that is really important in our culture. And that makes me really sad. Women's bodies are incredible. I would never want to be a guy because I think female bodies are so much more interesting and can do way cooler things than a male's body lol…I mean we can grow human life inside our bodies. That's crazy and so awesome and how that is possible is beyond my own intellect.
What does getting your pre-baby body back EVEN MEAN? You grew a human life and birthed that human life..how could your body EVER be the same again after going through that experience? It's not suppose to just bounce back to it's previous shape and size like a rubber band. So if you're a mom struggling with body image and living in your postpartum body, that's hard and those are hard feelings to feel. But I really hope you give yourself permission to be kind and compassionate towards your fragile body knowing that your body is meant to change throughout your life. And this idea of a pre-baby body is not only unrealistic, but a complete waste of your mental, emotional and physical energy. Kylie has written so many wonderful and encouraging posts on body image during pregnancy and after birth that I hope you find helpful <3
Favorite At Home Yoga Podcast
I prefer to do yoga at a studio, but I also really love the convenience and $0 price point of doing yoga at home. If you're looking for a good at home yoga podcast I love Yoga to the People podcasts, especially this one by Sofia. The music and her voice, in my opinion, are so on point. I loved going to the East Village studio when I lived in New York and if I dim the lights and light a candle, it almost feels like I'm right back there with these podcasts.
I have a morning full of clients and then some writing + calls in the afternoon. Have a great week!