Happy 4th of July!! I actually ended up not having to go into work yesterday since they didn't need coverage anymore. That meant we headed to Cape Code yesterday morning instead of evening and hit some traffic, but avoided most of it which was awesome. Nick's grandma sold her cottage that she's had for decades so I'm so glad we were able to make it here to visit her – hopefully we'll be able to make one more trip before she moves out in August. I'm seeing a few clients this morning, but will be done by 9am and plan on relaxing on the beach all day, eating a lobster roll and doing nothing productive. What are your fourth plans?
Hopefully it involves lots of delicious food and relaxing whether you're traveling or not. I love July 4th because we get to celebrate America and that's really great and also because it feels like the epitome of summer. Being in New England this year makes it feel even more historic and celebratory. In addition to all the delicious eats I hope you enjoy this week, here's a roundup of some meals and snacks I've eaten over the past couple weeks that I found on my camera roll. I hope these posts inspire you in your own journey with food – I'd love to hear what meals and snacks you're loving lately in the comments!
Breakfasts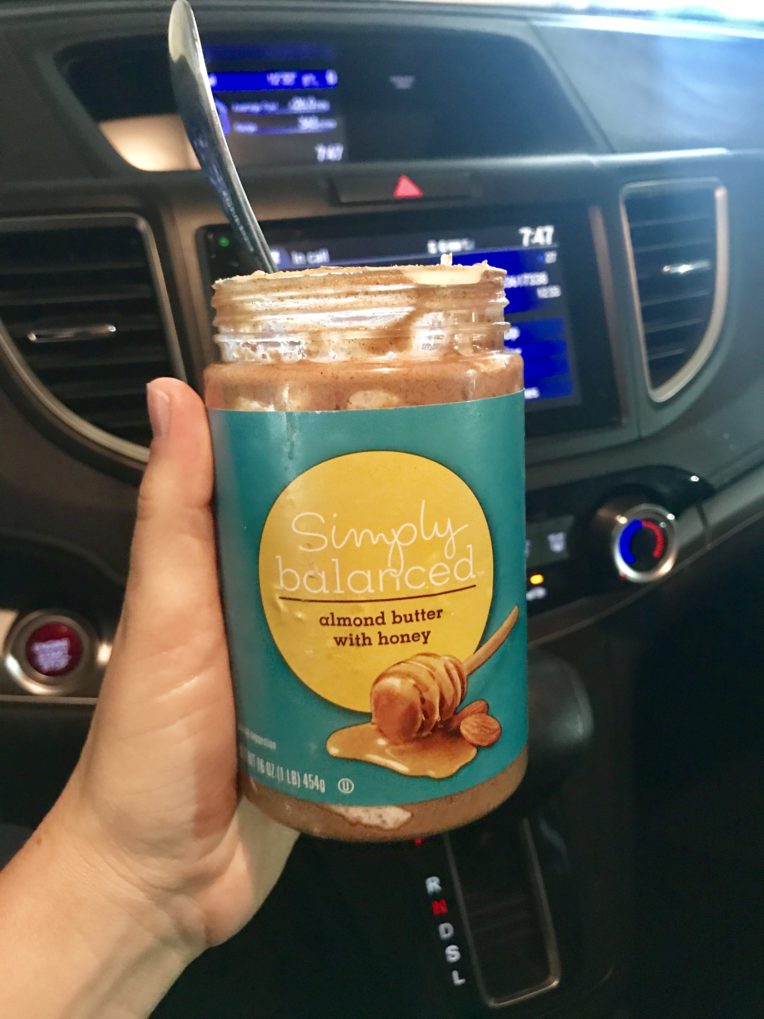 I haven't had overnight oats in a jar in forever so I was pumped about this breakfast that I brought to work on Monday. Also this almond butter from Target is amazing – they also have a chocolate version I highly recommend. You can't see what's in there, but the night before I stirred together about 1/2 cup each of whole milk greek yogurt, almond milk and rolled oats plus a big spoonful of chia seeds to make it extra thick, vanilla and a pinch of sea salt. Then I added a bunch of strawberries that we picked over the weekend and poured it into this AB jar to sit overnight in the fridge. In the morning I just grabbed it as I was running out the door. I got to work a little bit early (shocking for me) so I ate this in the parking garage while I finished talking to my friend Jess on the phone. I think I overestimated how much almond butter was leftover in this jar because by the time I got to the bottom I couldn't finish and left a few big bits in there.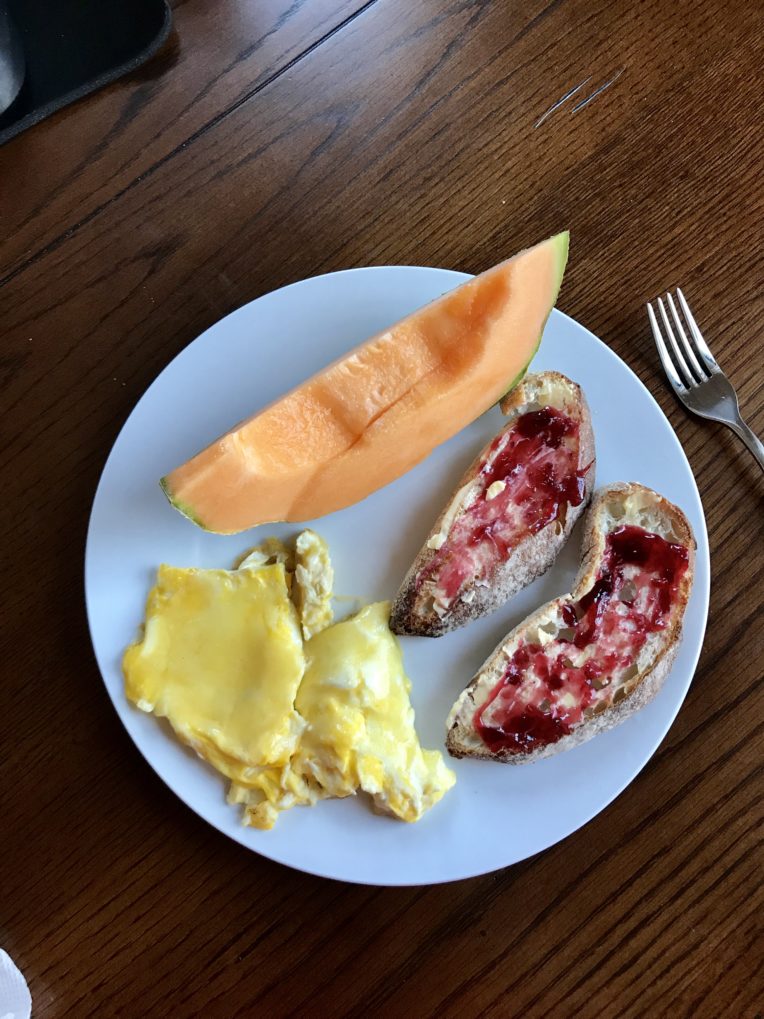 For the past couple weeks breakfasts have been either toast or yogurt in some form. We had so many cheeses in our fridge leftover from Nick's birthday dinner so I melted a bunch of goat gouda over scrambled eggs that we ate with buttered + jammed sourdough toast and cantaloupe. These kinds of breakfasts always make it feel like the weekend during the week.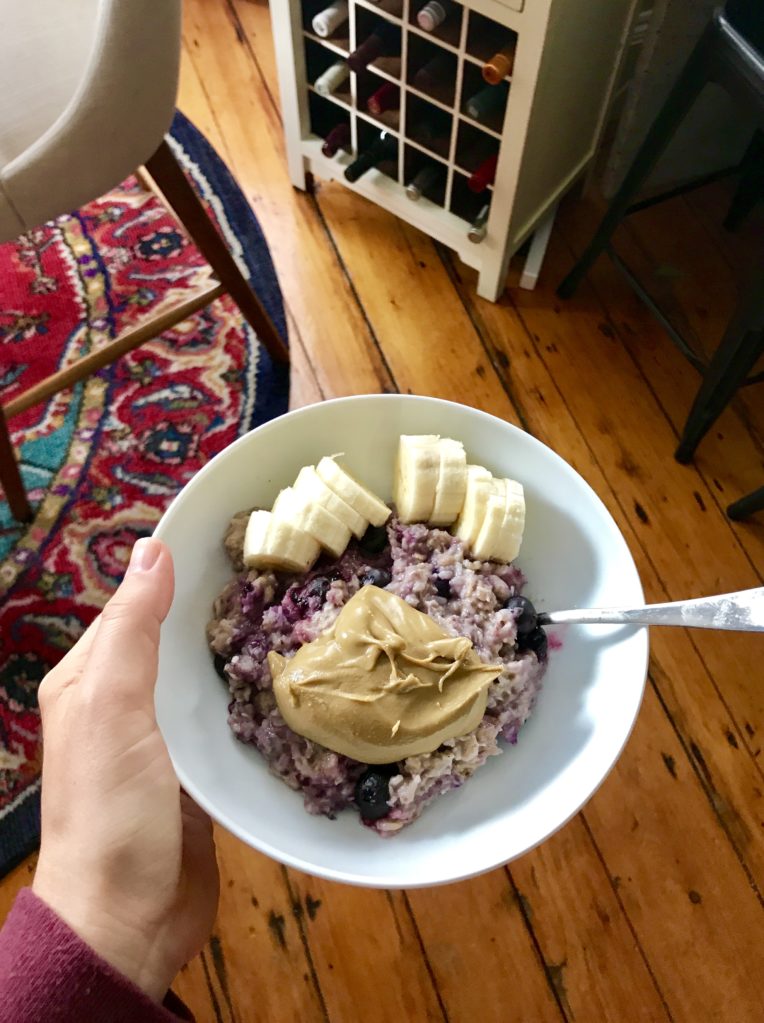 We had a rainy, colder morning last week so hot oatmeal actually sounded good- that never happens during summer. I made enough for two using a heaping cup of oats, a couple cups of almond milk and a spoonful of chia seeds plus a pinch of salt and cinnamon. Stirred in frozen blueberries at the end and topped with banana and sunbutter. I hate mushy bananas in my oatmeal (I know, everyone loves them like that) so I slice them on top.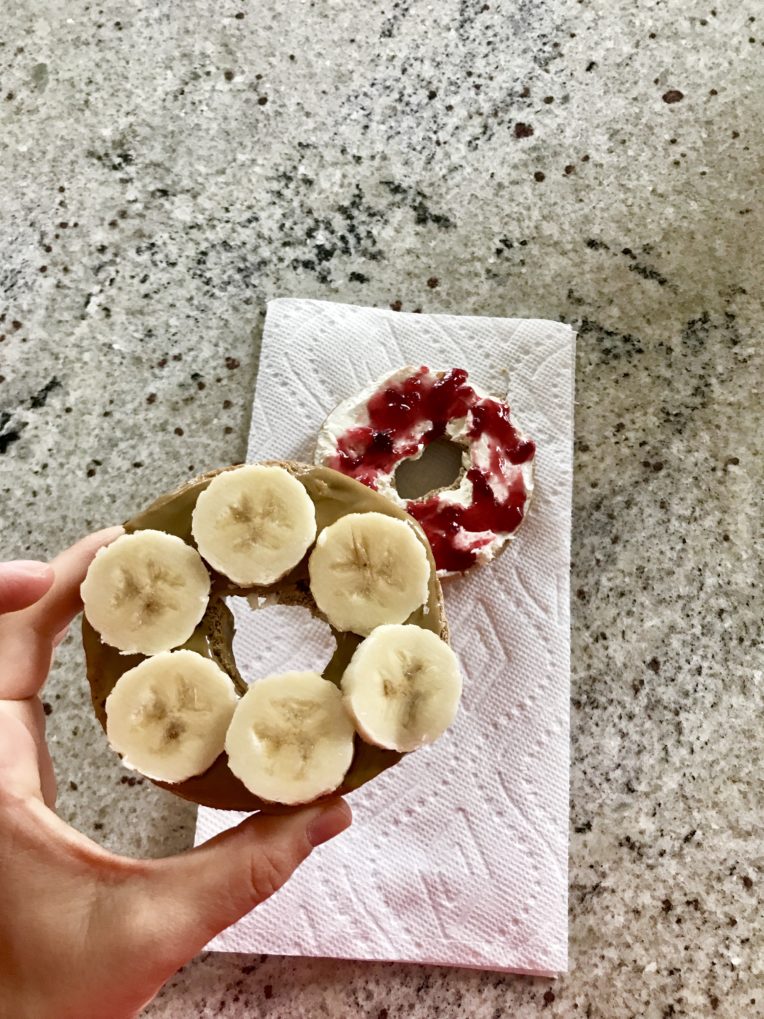 I went on a bagel spree for a week and a half where I was eating a Trader Joe's whole wheat bagel every morning with whipped cream cheese on both sides or cream cheese + jam on half and almond butter and banana on the other. It's quick and easy, satisfying and keeps me full for a few hours.
Lunches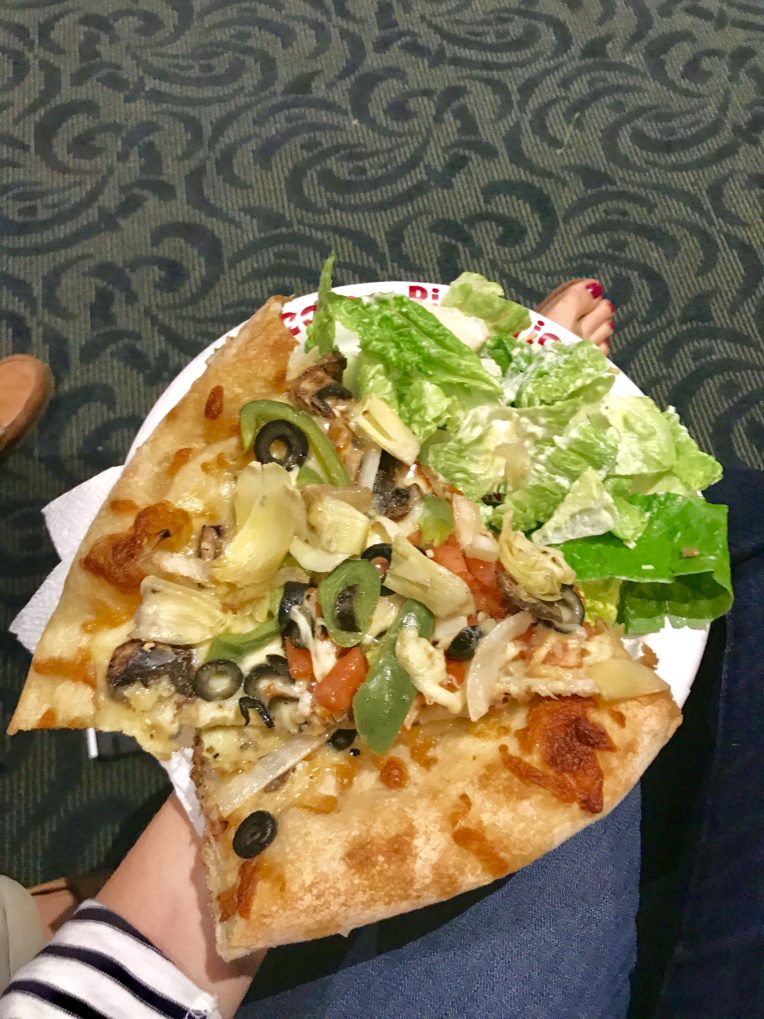 We had a meeting after church last week and they provided lunch. As we were walking into church that morning I told Nick we needed to go our for pizza because I was craving it. And then they ordered pizza for lunch – perfect timing! I had two slices of the white pizza with veggies, which was delicious, along with ceasar salad and lemonade. Craving crushed.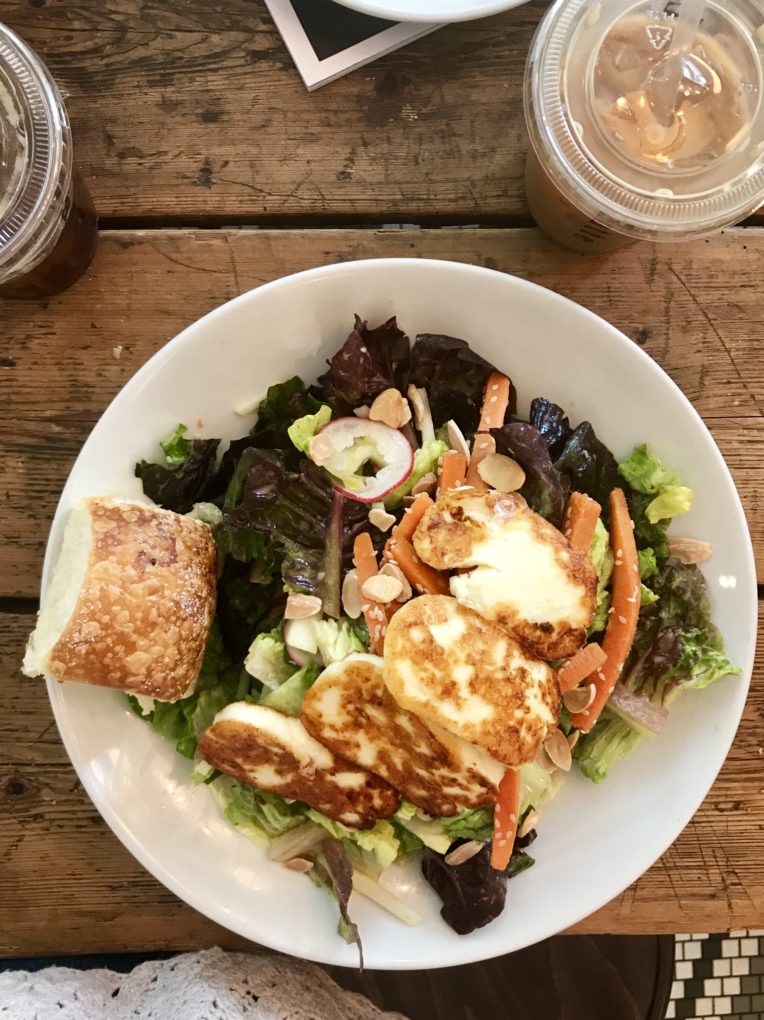 We had Tatte for lunch this past weekend when Nick's mom was in town. Their halloumi salad is my favorite salad there – it's perfect for summer. Halloumi cheese is one of my favorite foods. The salad is a mixture of greens, apples, raisins, carrots, radishes and a tahini dressing. And the roll is also salty and doughy and perfect.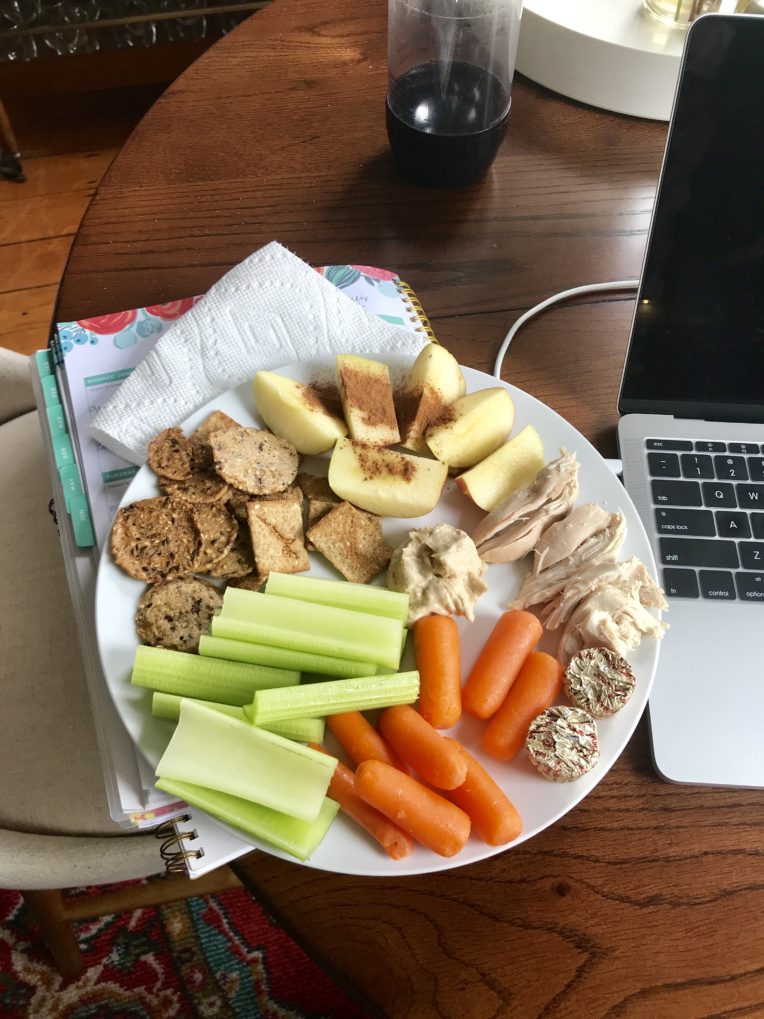 I wrote on Monday about how I'm into snack plates lately for lunch. This variation had leftover rotisserie chicken, hummus + crackers + veg, apple with cinnamon and two TJs peanut butter cups.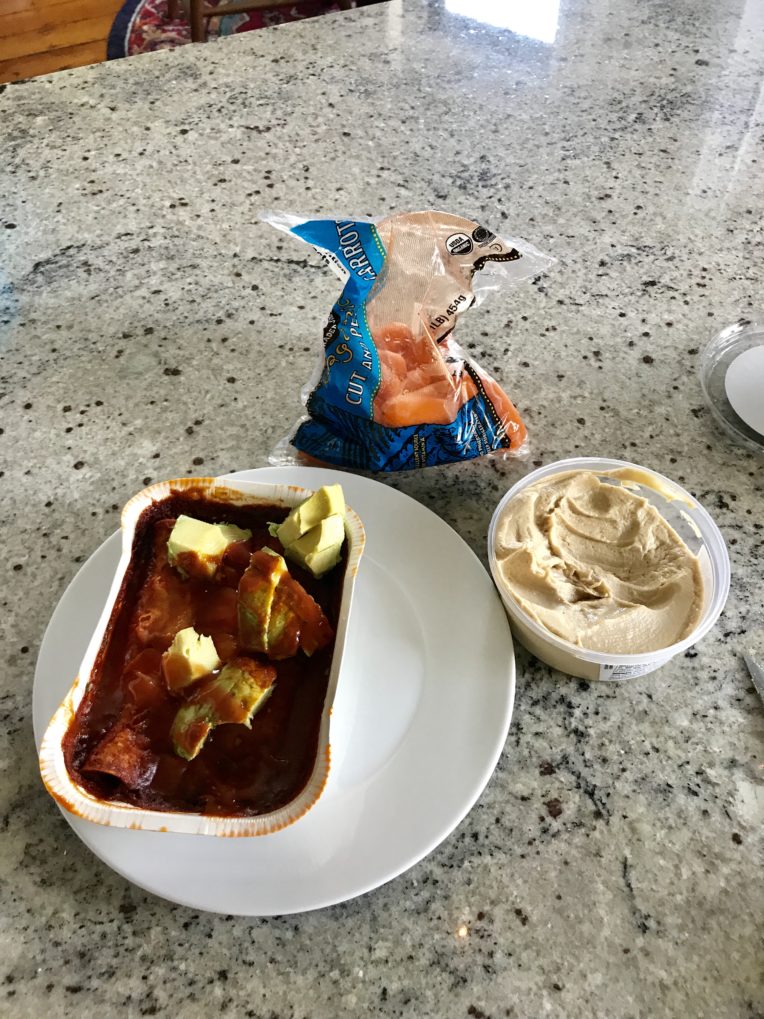 This is one of my favorite go to frozen meals – Trader Joe's black bean and corn enchiladas. If you like doughy tortillas and super saucy enchiladas, buy these! And they're like $2. They wouldn't be filling on their own so I added some avocado for more fat and ate them with carrots + hummus.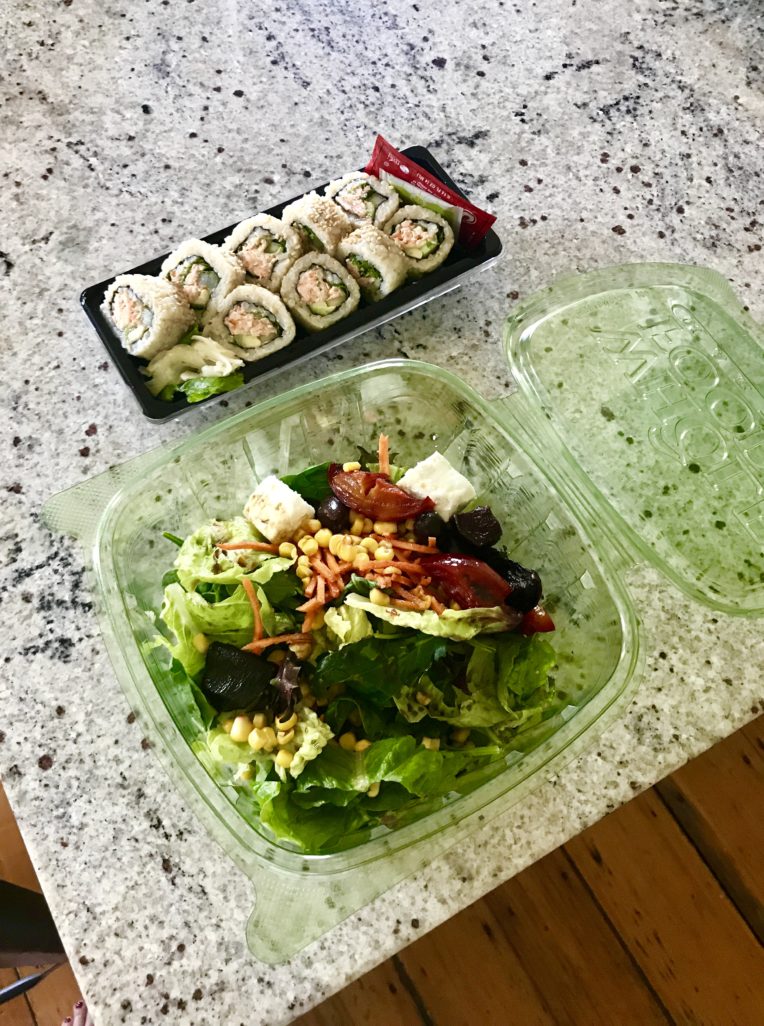 I picked up lunch while grocery shopping one Sunday. My favorite salad combo has been romaine + shredded beets and carrots + feta + corn with olive oil and balsamic. I think I added a stuffed grape leaf in there too because those are tasty. Plus a salmon sushi roll.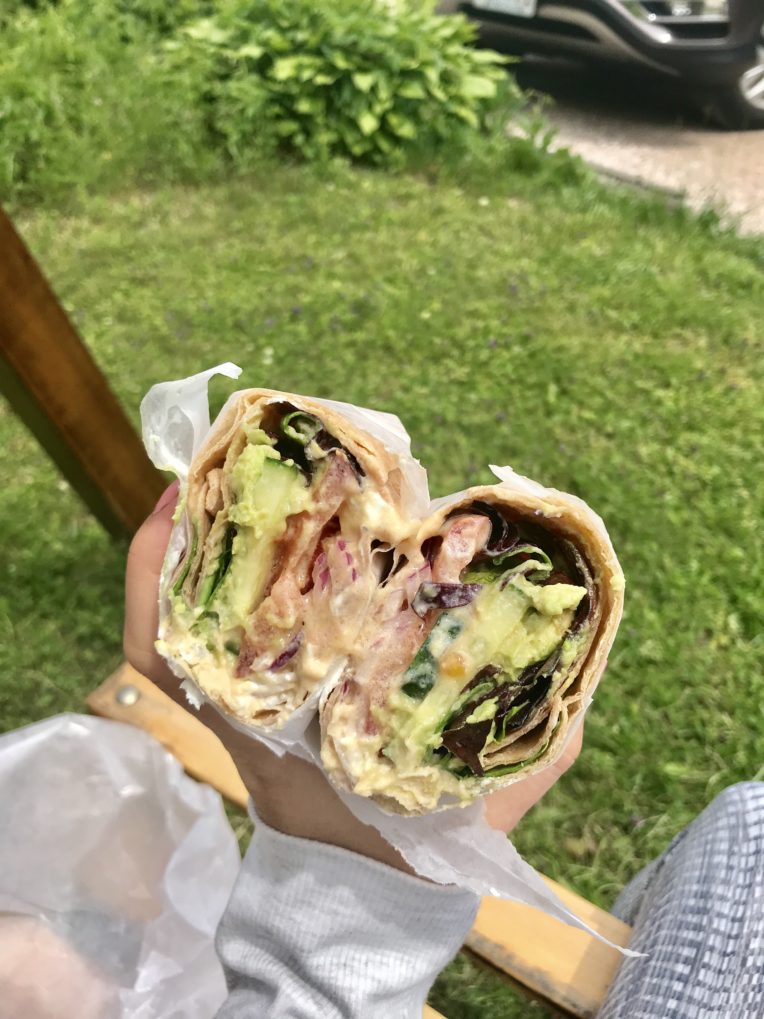 I ate this veggie wrap when we were in Vermont for a wedding a couple weeks ago. We were in the middle of nowhere, but there was a couple general stores nearby that had an awesome lunch and breakfast menu and you could also take out. I ate lunch just an hour or so before the wedding began and I knew cocktail hour (which we knew would have an incredible spread – seriously some of the best wedding food I've ever had!) would be soon, so I didn't want to fill up too much. Along with lots of fresh veggies, this tortilla was also stuffed with local goat cheese, hummus and avocado and was super tasty. I want to remake this at home.
Dinners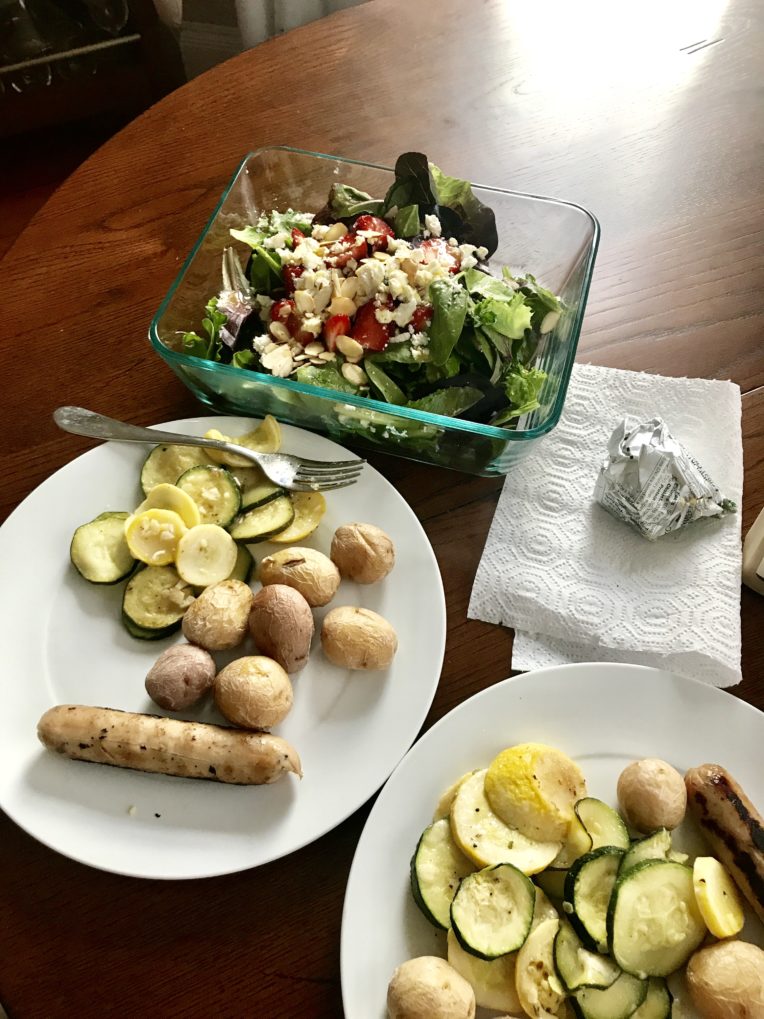 For dinner on Sunday and Monday we kept it easy and simple before leaving town for the Cape. I sautéed up zucchini and summer squash in a mixture of olive oil and butter along with some garlic. At the end I added a squeeze of lemon juice and lots of grated parmesan cheese. This is my favorite way to eat summer squash! Nick cooked up chicken sausages in the cast iron and his Mom threw these baby potatoes into the Instant Pot to cook. The salad with simply mixed greens, sliced strawberries, feta cheese, sliced almonds and honey dijon dressing. Everything was delicious and I think took 15 minutes to throw together.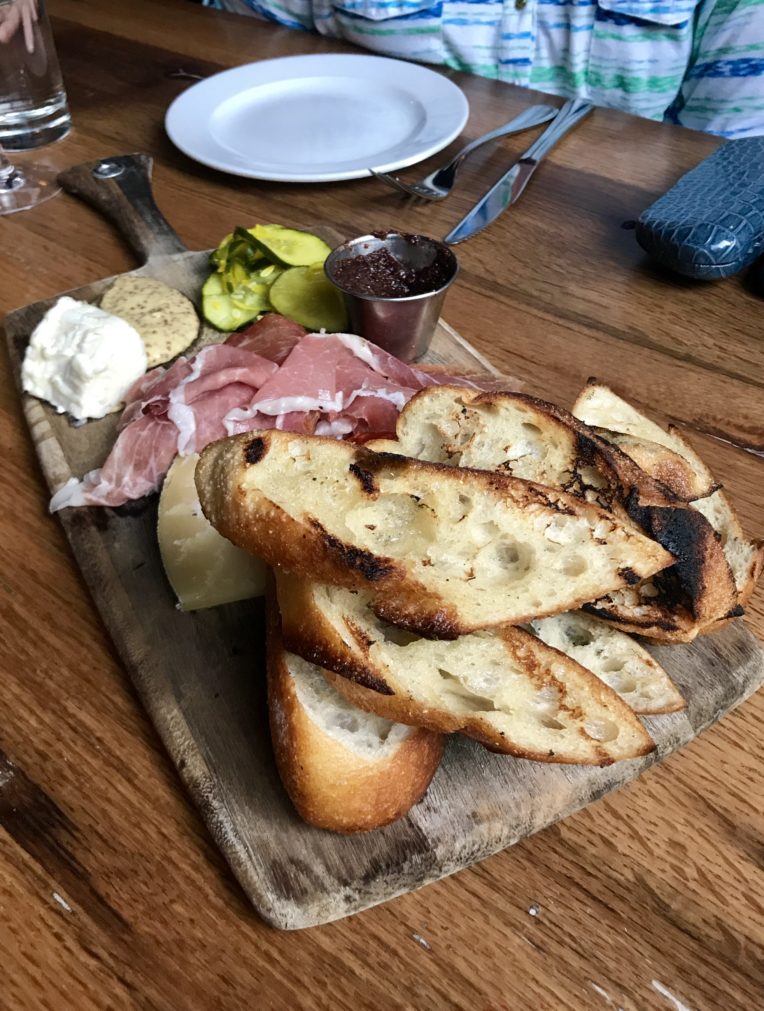 While Nick's mom was here, we went to The Salty Pig on Friday night for pizza. Nick and I tried to go in the winter and it was PACKED so this time we made a reservation. We started with charcuterie – the prosciutto was amazing as was the buttery grilled bread.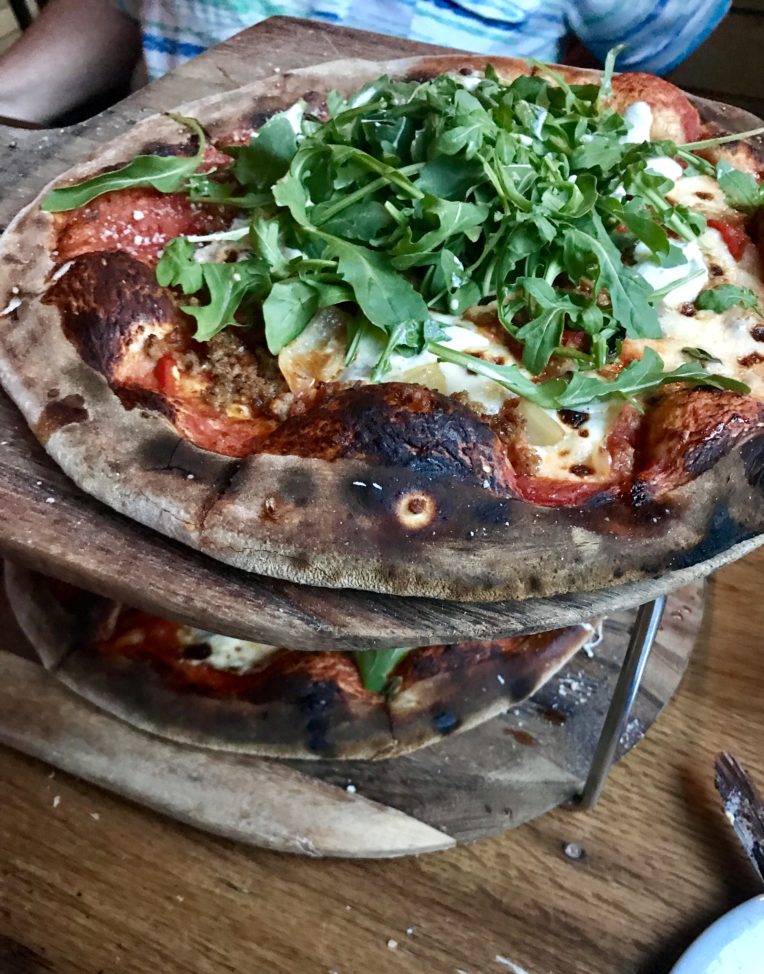 And then we shared two pizzas – a margarita with pepperoni added and a sausage onion arugula pizza that was also really good. I love chewy crust versus crispy so that was the only thing that could have been different. Other than that, we'd definitely go back!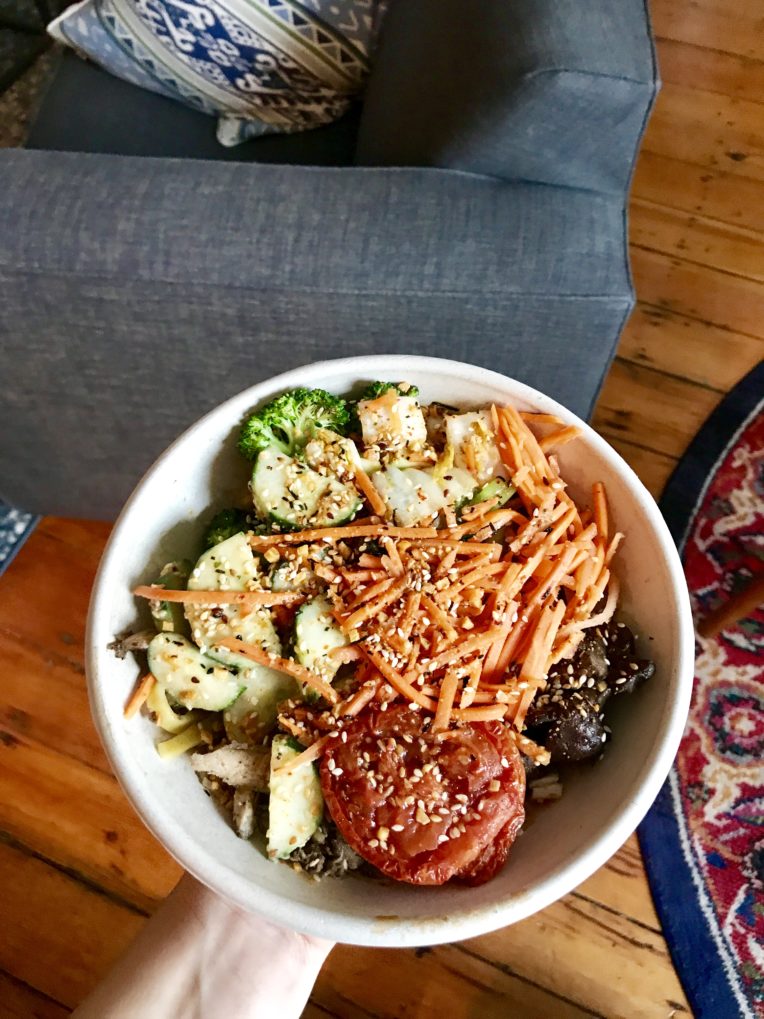 There are lots of fast casual places popping up on Bolyston which is only about a 15 minute walk from our apartment. Last week we tried out Minigrow which is like an Asian noodle place where you pick your base, protein, toppings etc. This was spicy! But I loved the thick noodles (that you can't see buried underneath there) and all the fresh veggies. It is a bit pricier than other fast casual places, but it was fun to mix it up.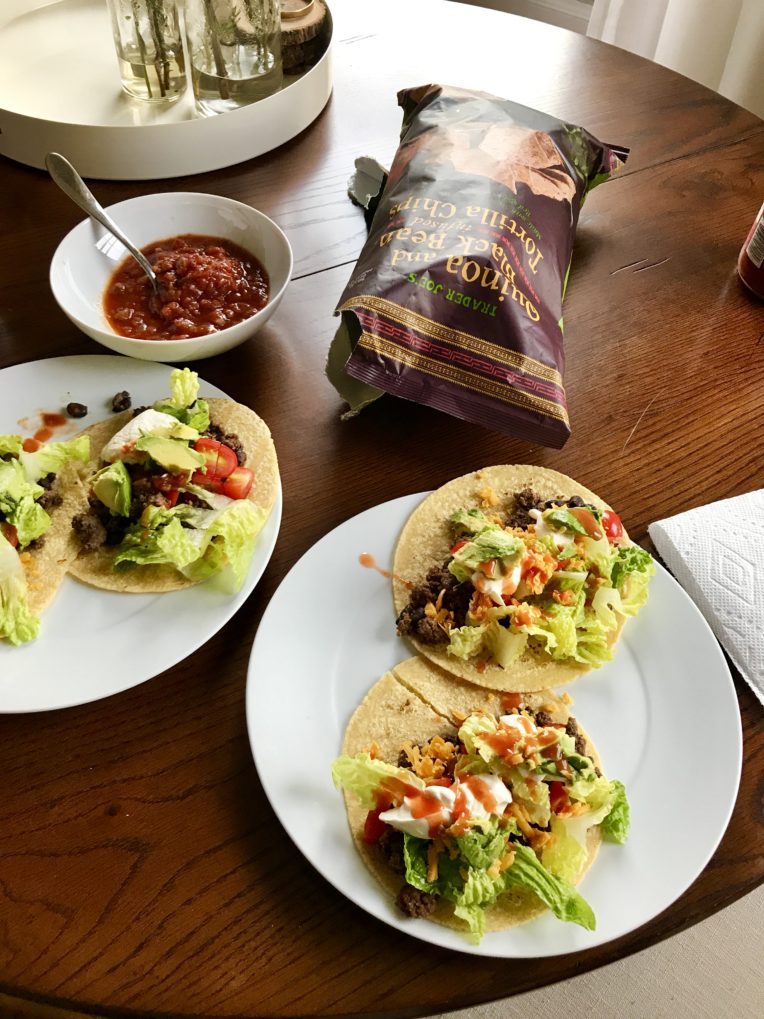 We've also been on a mexican kick lately because throwing together tacos takes minimal cooking and I don't have to turn on the oven. I just cook up ground beef in a pan, add a can of black beans and a packet of taco seasoning and that's it. Then I put out a bunch of toppings and shells. I picked up some tortillas that where a wheat and corn mix from Trader Joe's and I really liked them – they still had the nutty corn flavor I love, but were chewier and held together well – unlike 100% corn tortillas that unless used in enchiladas, I find are dry and crackly.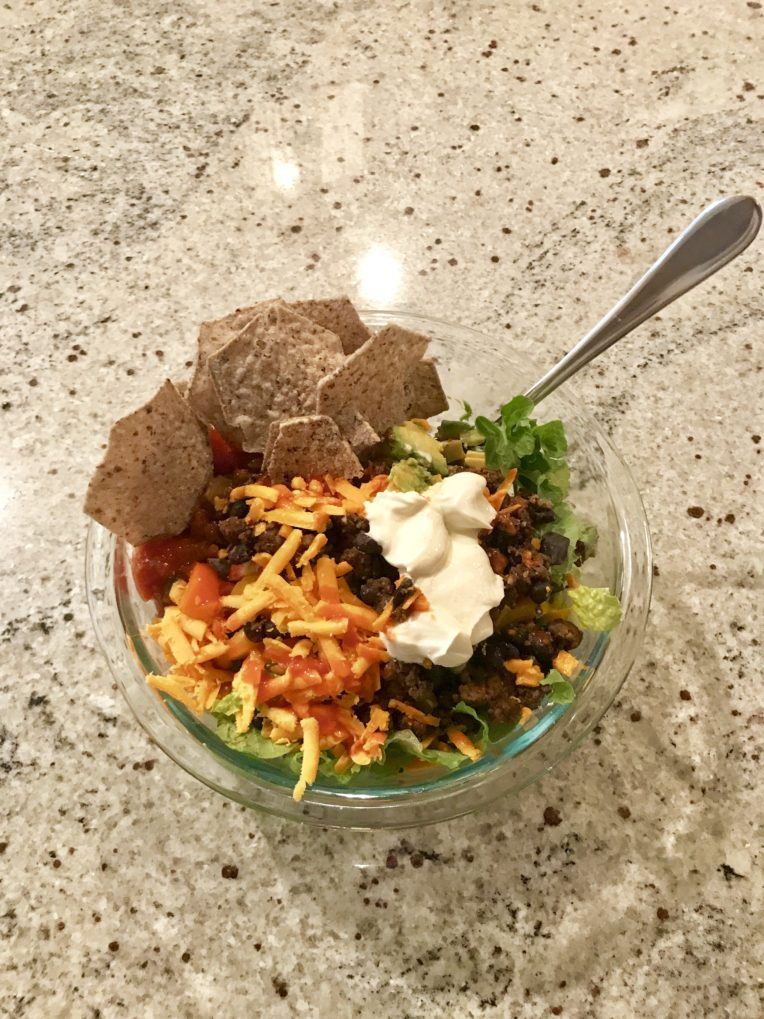 Not to toot my horn, because I did zero cooking here, but the above taco salad with the BOMB. If I cook a bunch of taco meat, we'll rotate between tacos, taco salads and nachos throughout the week to mix it up. On a bed of romaine and the taco meat, I added chopped bell pepper + tomato, grated cheddar, sour cream, avocado, lime juice, salsa, hot sauce and crunched in a bunch of tortilla chips. I'll be eating this all summer. It's all about the toppings.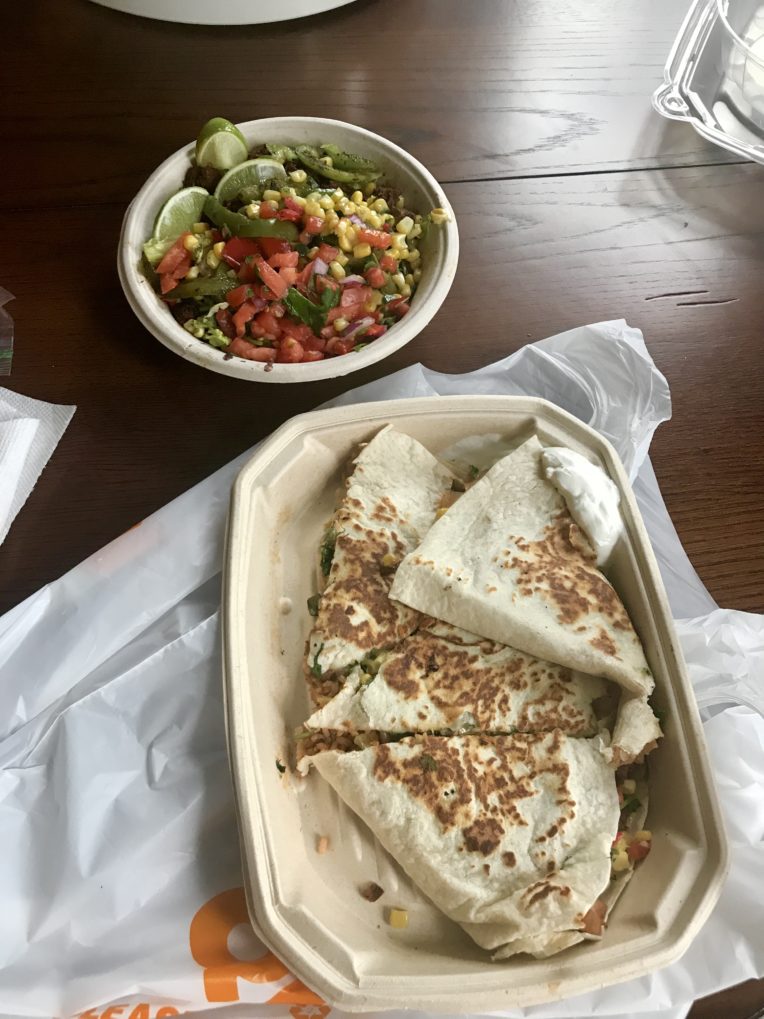 And continuing the mexican theme, Nick picked up Qdoba one night before we left town and we split a steak burrito bowl and chicken quesadilla. Except I mainly ate the quesadilla because it tasted way better to me than the burrito bowl.
Snacks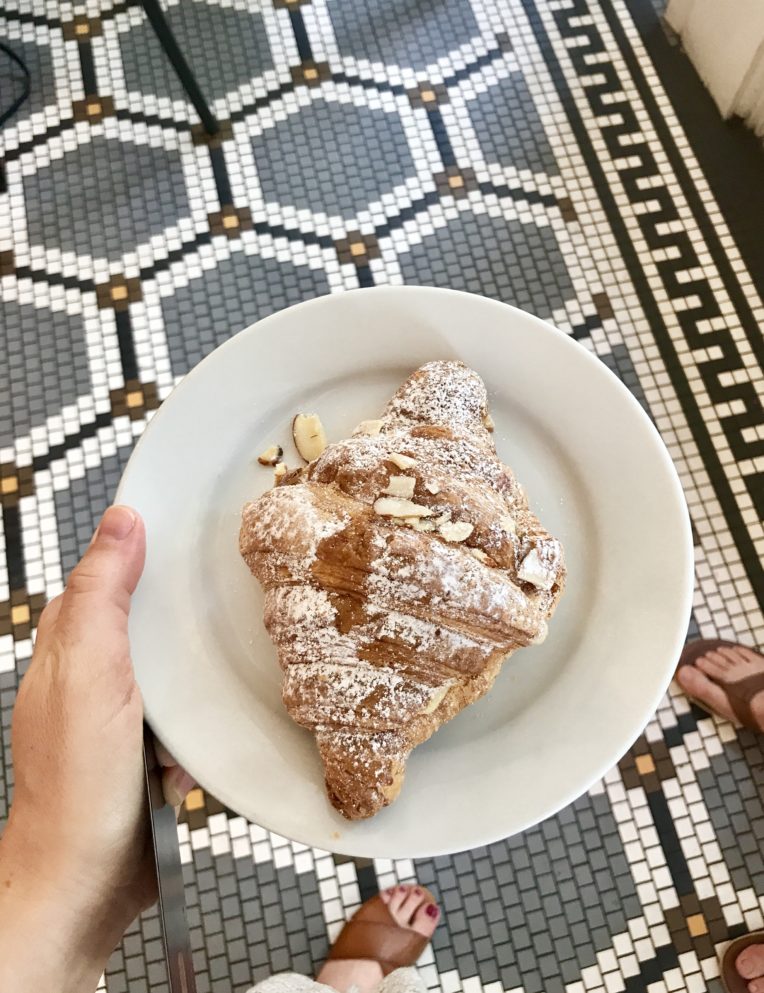 Almond croissant shared while we were waiting for our order to come out at Tatte. Not the best almond croissant I've ever had, but it was still pretty tasty.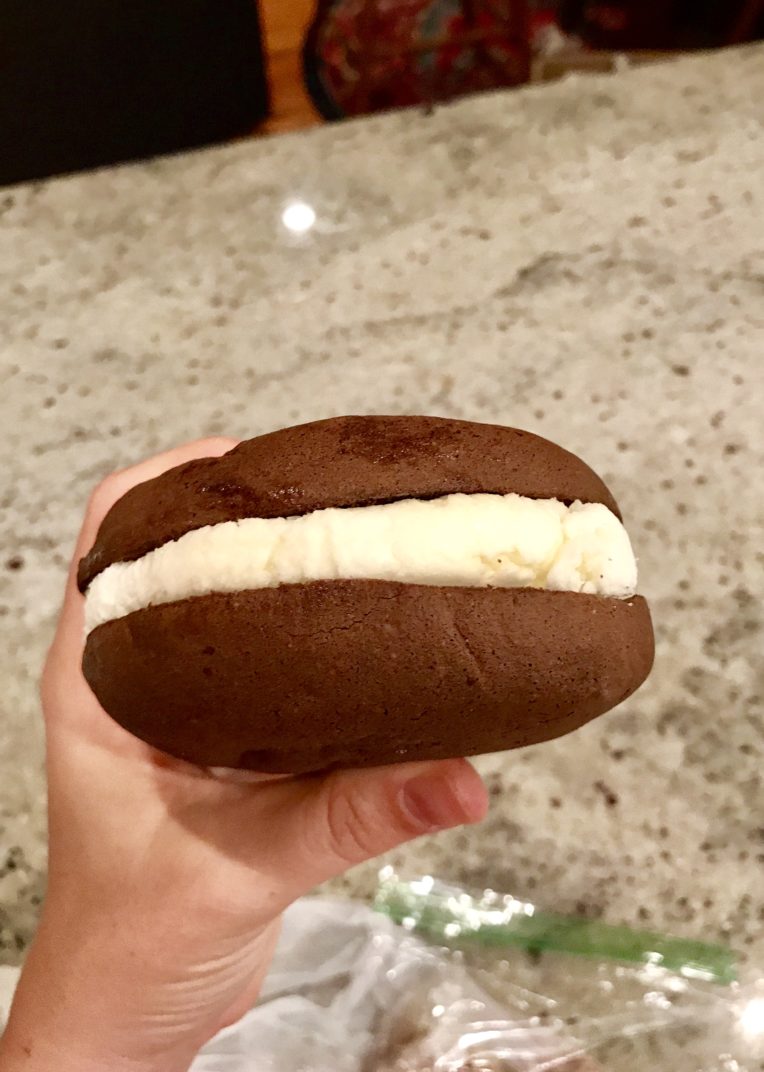 I was on a walk with a friend and we walked by the Copley farmer's market one afternoon and I spotted what looked like amazing baked goods so I picked up a whoopie pie and snickerdoodle cookie. THE COOKIE was epically doughy, buttery and soft and everything I'd ever want in a cookie. It sounds dramatic I know, but the drama is appropriate. The whoopie pie was the size of my face and also very very good.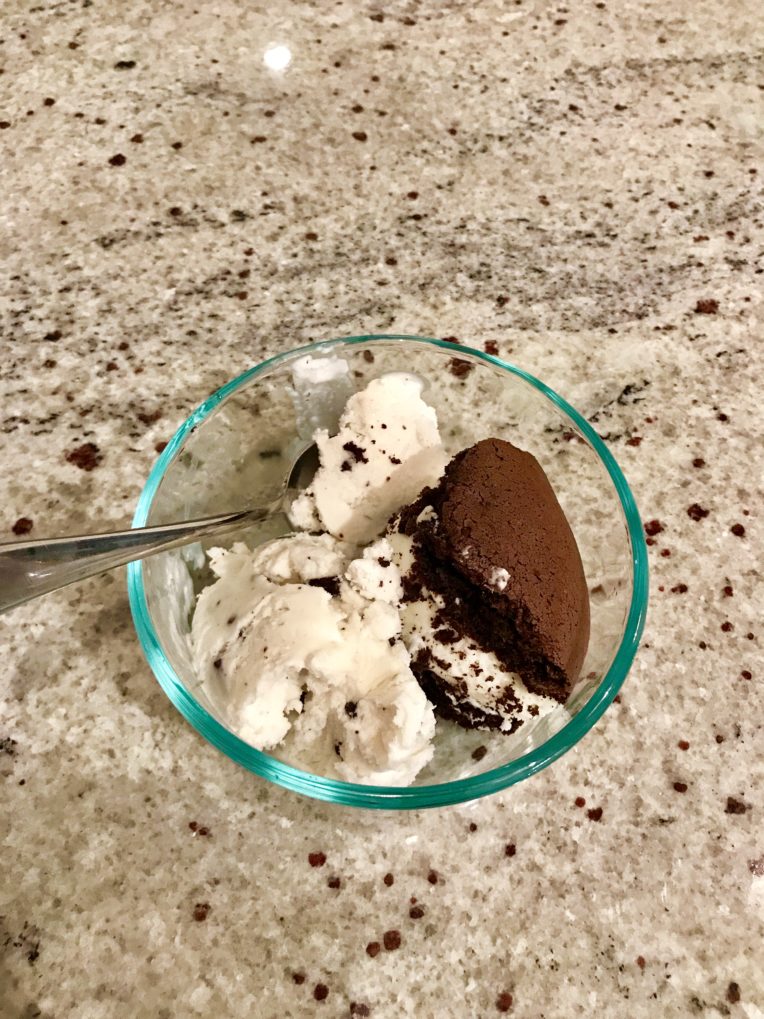 I ate a big chunk of the whoopie pie with Breyer's mint chocolate chip ice cream a few nights in a row for a snack.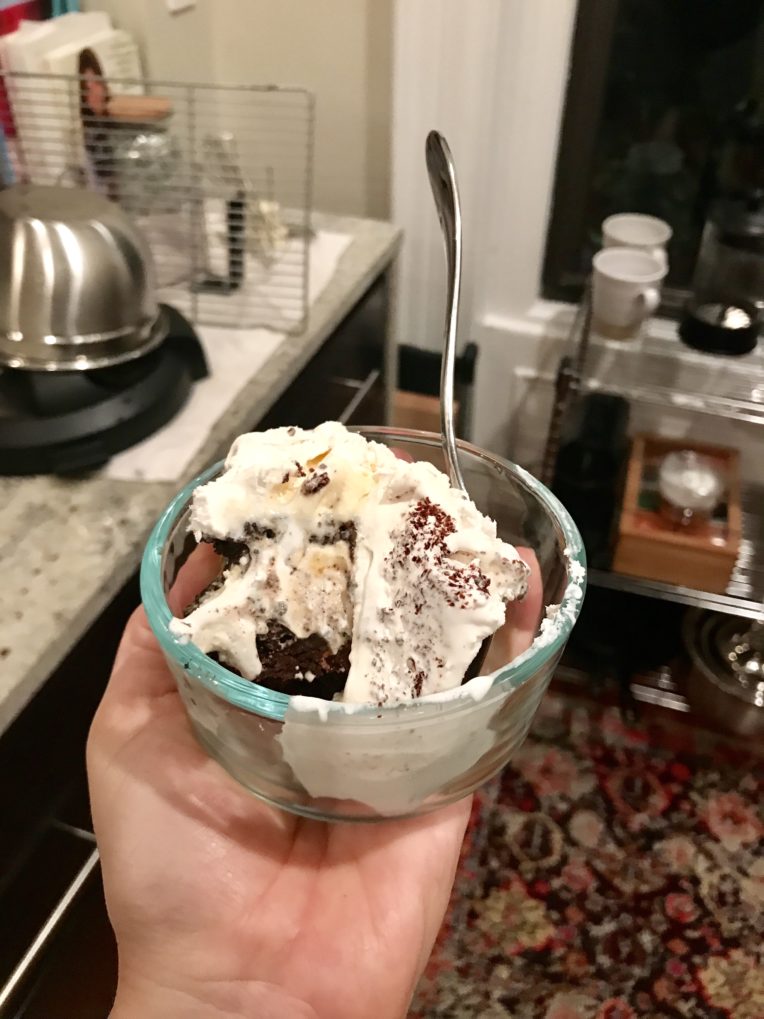 Other ice cream snacks were leftover birthday ice cream cake…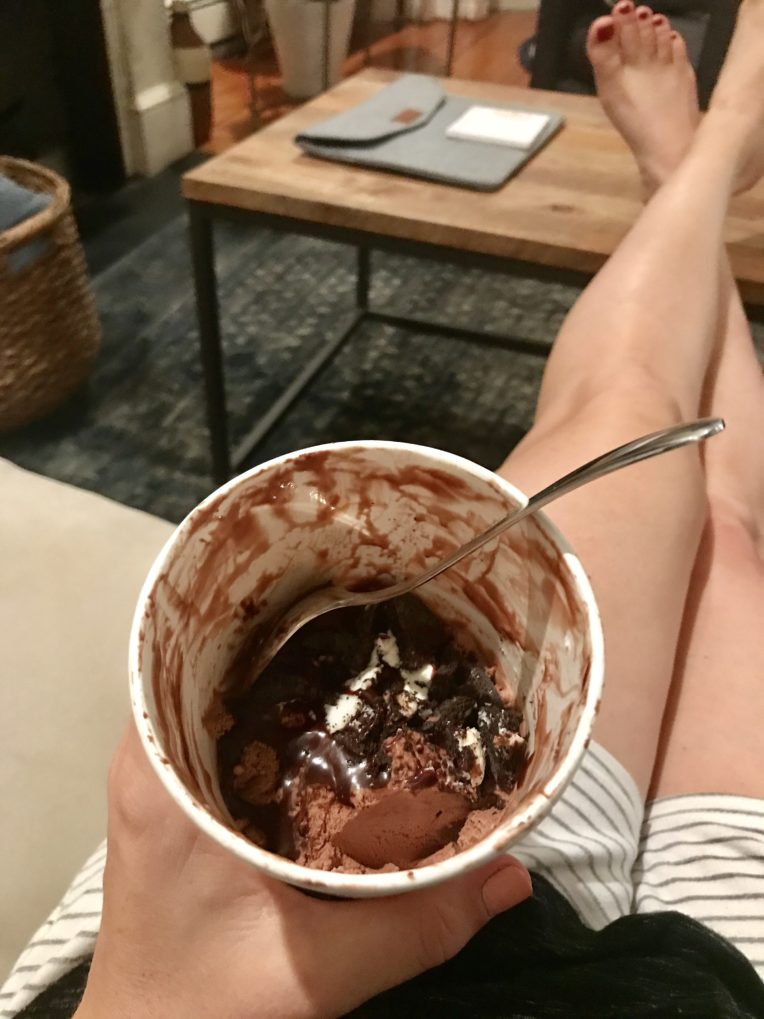 And the last bit of chocolate coconut ice cream with crushed Oreos and chocolate syrup.
Ate a couple cookies before bed one night when we were out of town.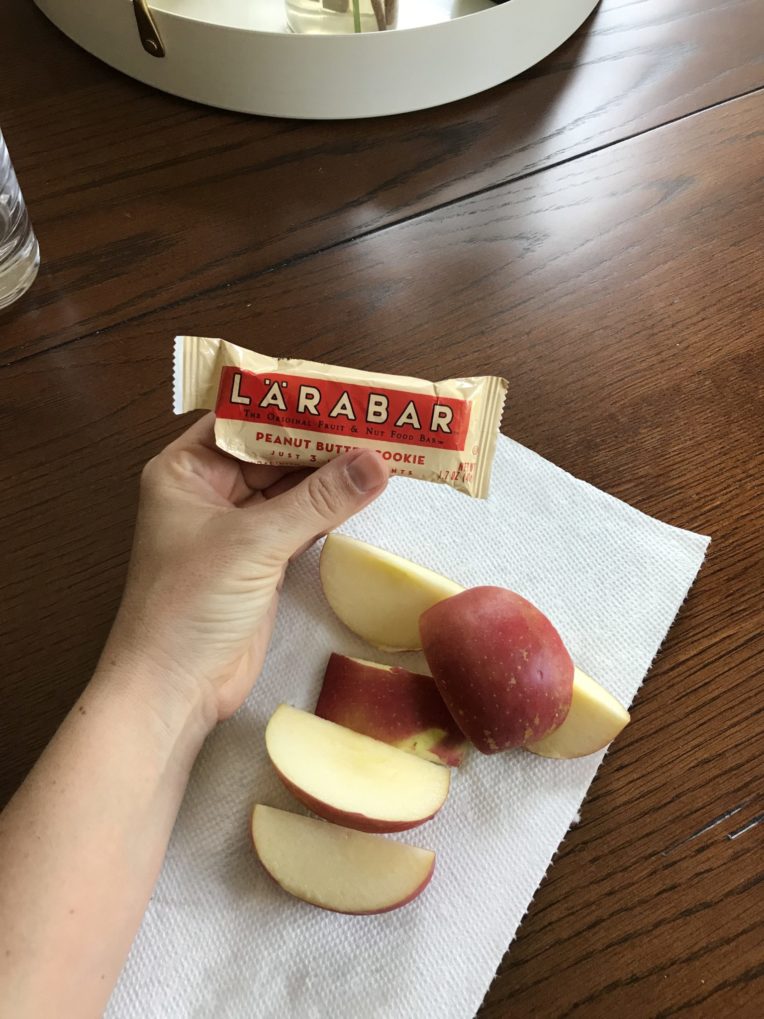 And beyond cookies and ice cream, I also ate Larabars and crunchy apples for snacks.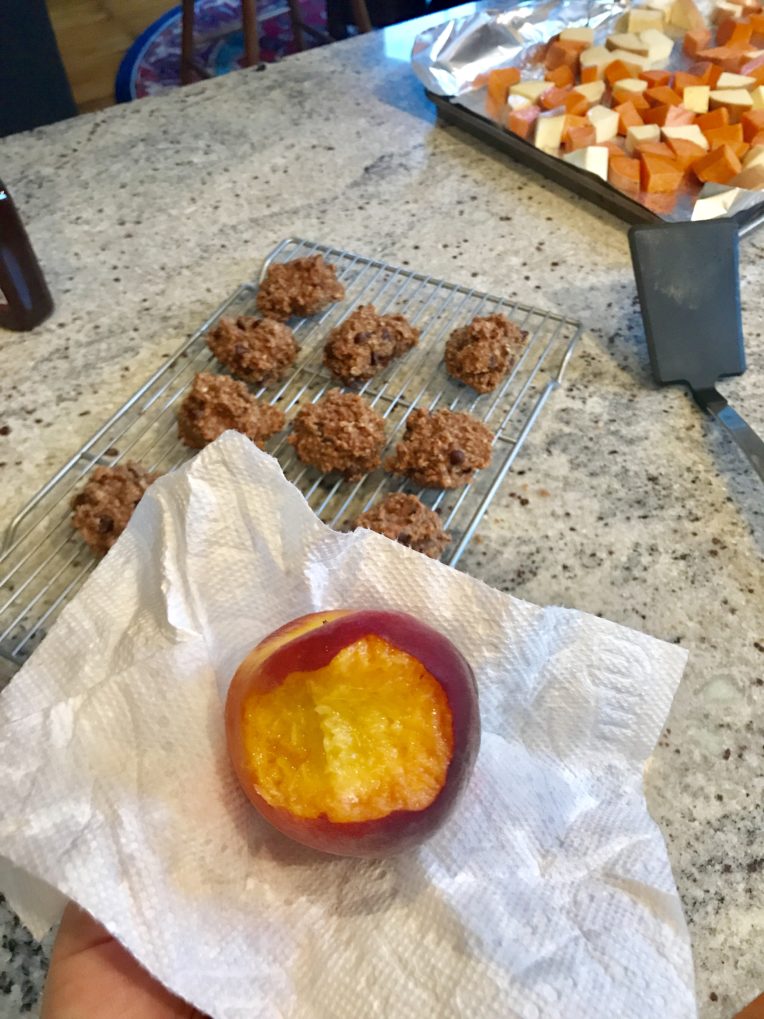 Along with juicy peaches and banana bread muffin tops.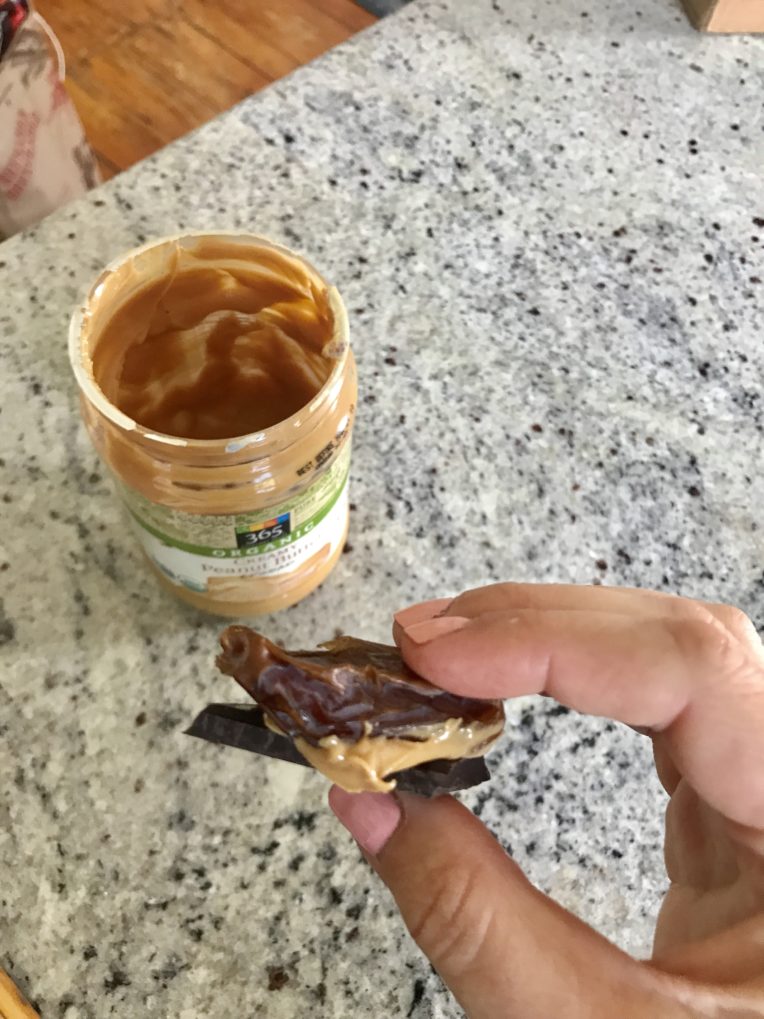 And dark chocolate sandwiched between a date with peanut butter –> this is super tasty.
Have an awesome day and holiday week!