Here are some meals and snacks that I've taken pictures of lately. I don't take photos of everything I eat, but I do take photos of random meals and snacks here and there. I hope these posts help 1) illustrate was normal eating looks like 2) illustrate that healthy, nutritious eating is a mix of satisfying foods that might not be packed full of nutrients, but satisfy cravings and taste delicious + nutrient packed foods that keep the body feeling physically well and energized and also taste good 2) give you easy and practical meal and snack inspiration. I'd love to hear your thoughts in the comments!
Breakfasts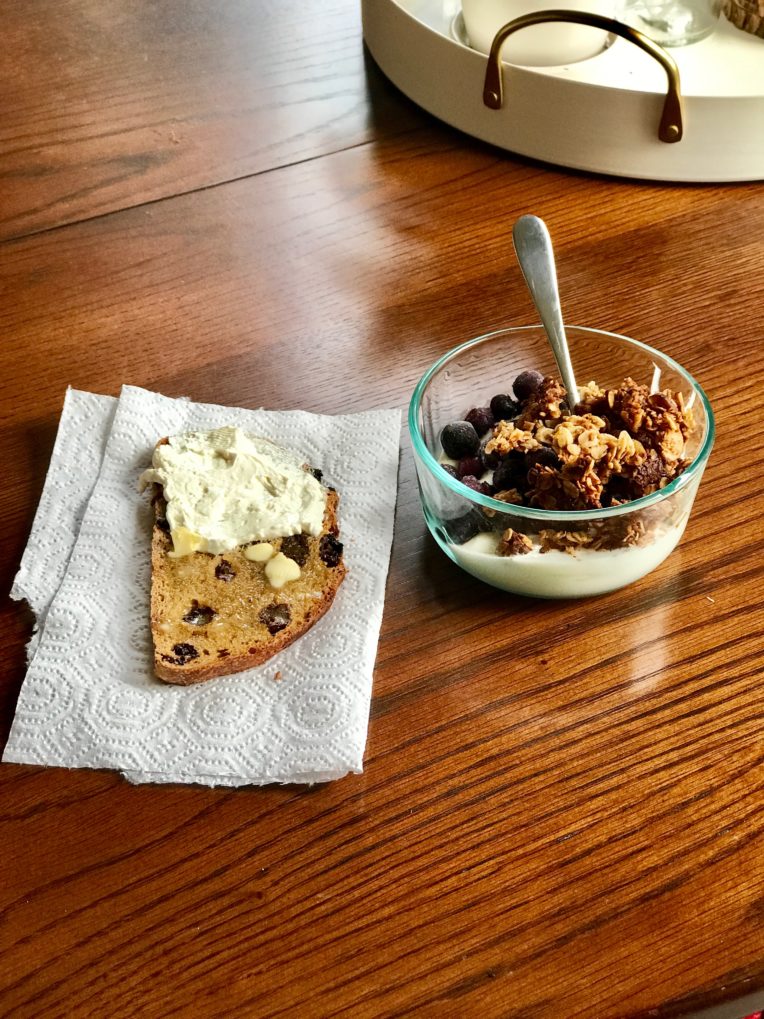 I made a batch of granola and it's been making several appearances in snacks and meals. I've made several granola recipes, but this one I always return to because I think it's the best – ingredients you might already have on hand, not too sweet but also sweet enough and the coconut oil and shredded coconut give it a delicious buttery taste. It also takes less than 10 minutes to throw together. I always double the batch and use whatever sweetener I have on hand – honey, agave or maple syrup – and mix up the nuts based on what I have too. You can't go wrong! I've been eating the granola over blueberries and full fat yogurt for breakfast with one or two pieces of toast depending on whether I'm craving a bigger yogurt bowl or more toast. Monday it was more yogurt bowl so I paired that with a slice of cinnamon raisin toast, 1/2 with cream cheese and 1/2 with butter because I couldn't decide.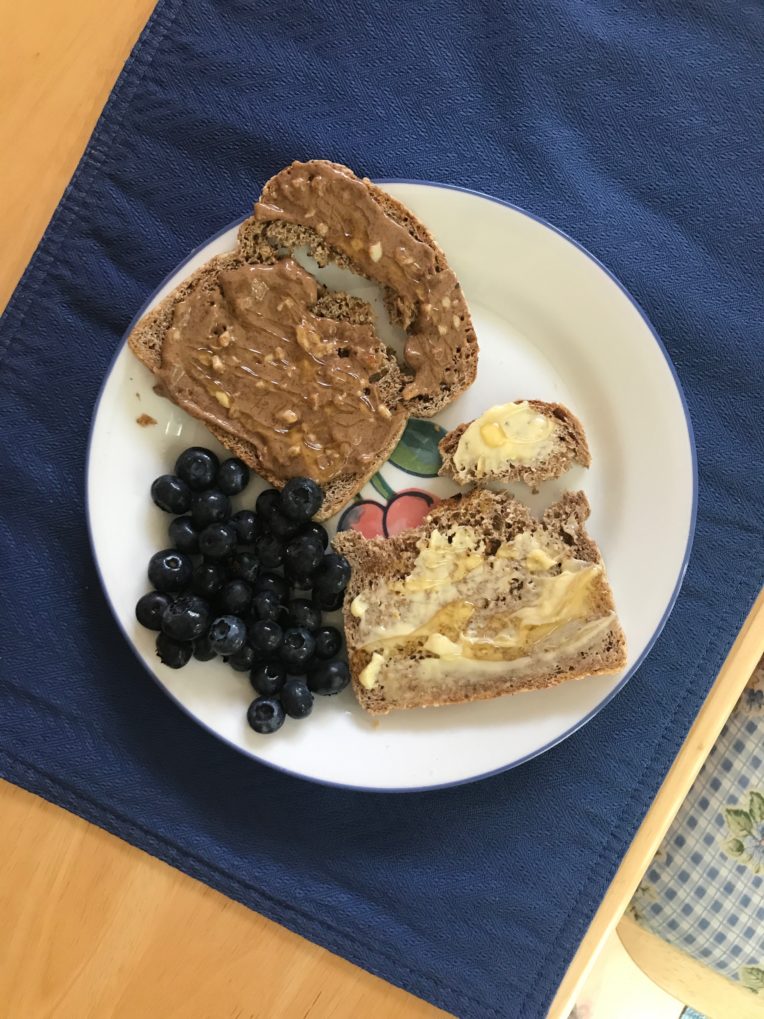 When I'm short on time and need something fast –> toast + fruit. The bread broke apart when I was pulling apart the frozen pieces … 1/2 with almond butter + honey, 1/2 with butter + honey and blueberries on the side. I needed a morning snack a bit earlier this morning since this didn't hold me for long, probably because there wasn't much protein.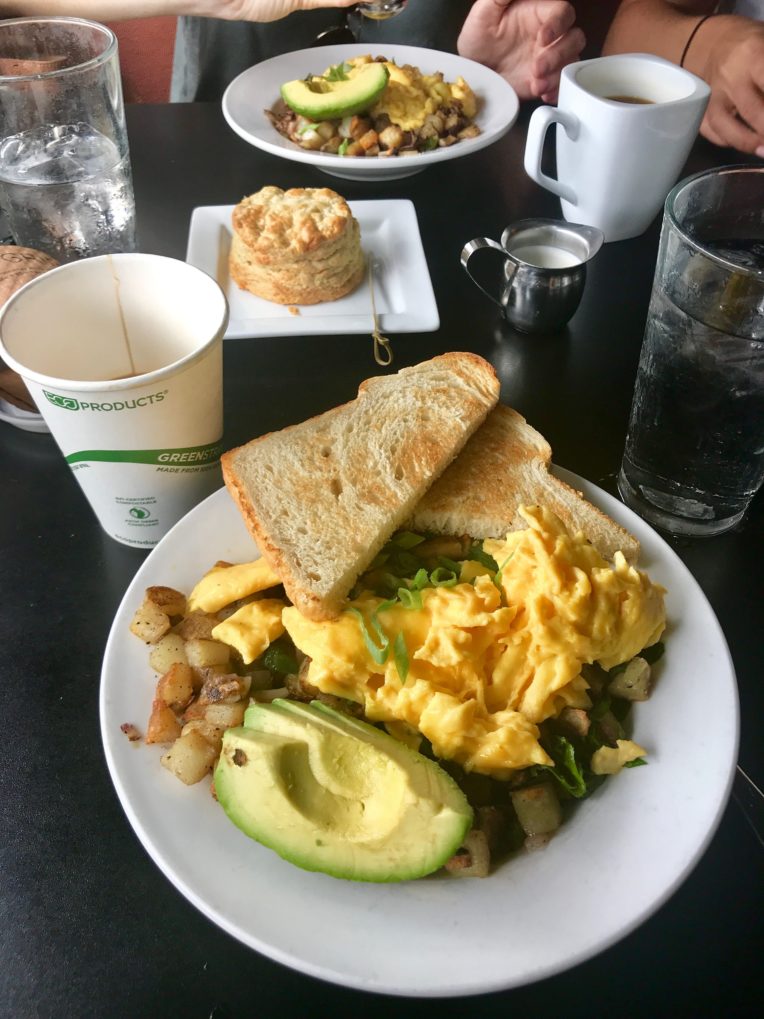 When I was in Austin a couple weekends ago we ate at this amazing brunch spot that I forgot the name of…but the food was great! I got the veggie hash which had peppers, onions, goat cheese, potatoes and spinach with scrambled eggs and avocado. Plus sourdough toast.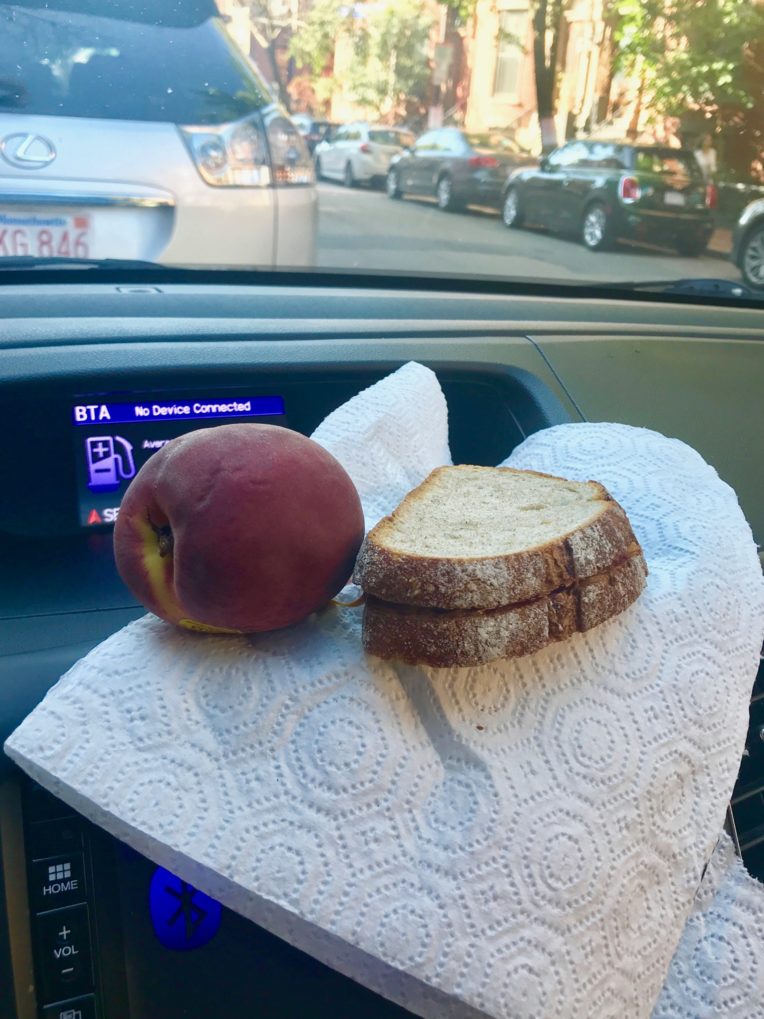 And more simple breakfasts. This was pb & j (favorite jam ever is Bonne Maman) on Iggy's whole wheat sourdough with a juicy peach that I ate on my way to work. Don't worry, my car is parked 🙂
Lunches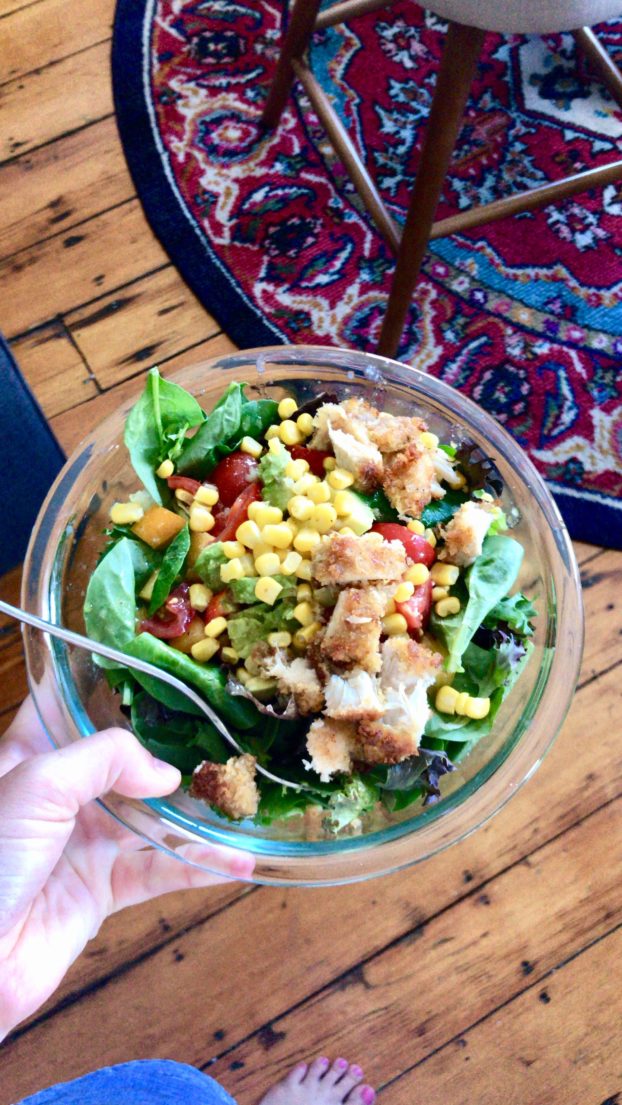 I shared this salad on Instagram stories yesterday because it was bomb. My mom was in town this past weekend which means she always stocks us up with lots of amazing food. I had no idea what I wanted for dinner on Sunday night, but eventually I decided on chicken fingers + potatoes + roasted broccoli and that sounded good to her and Nick too. She made so many chicken fingers so we had a bunch leftover of dinner, lunch and then to put in the freezer for later. I don't know what her secret is, but they are GOOD. I know she breads the chicken in panko, flour, seasoning and parmesan cheese and then shallow fries the chicken. For lunch I made a salad with the chicken, mixed greens, corn, tomatoes, avocado and bell pepper with a honey dijon dressing. I also ate a piece of fruit and bowl of popcorn after since this didn't fill me up.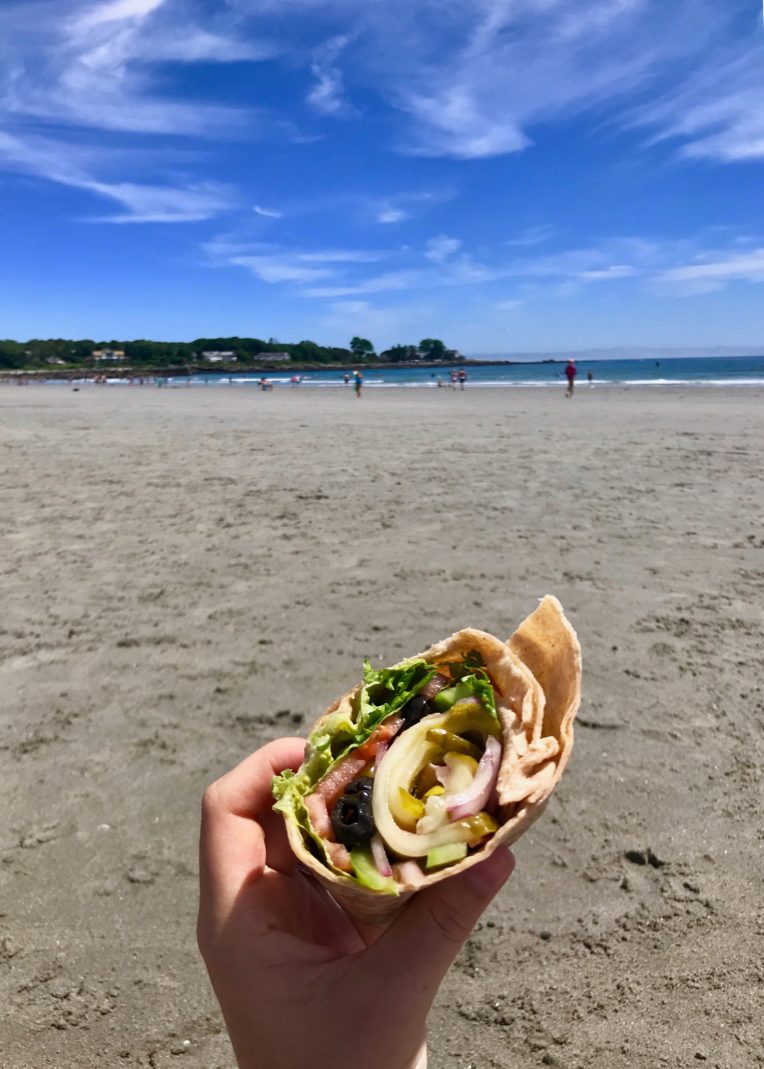 Veggie + provolone + hummus in a whole wheat wrap from the general store when we were in Maine this past weekend. Plus grapes and a few potato chips to round out this meal.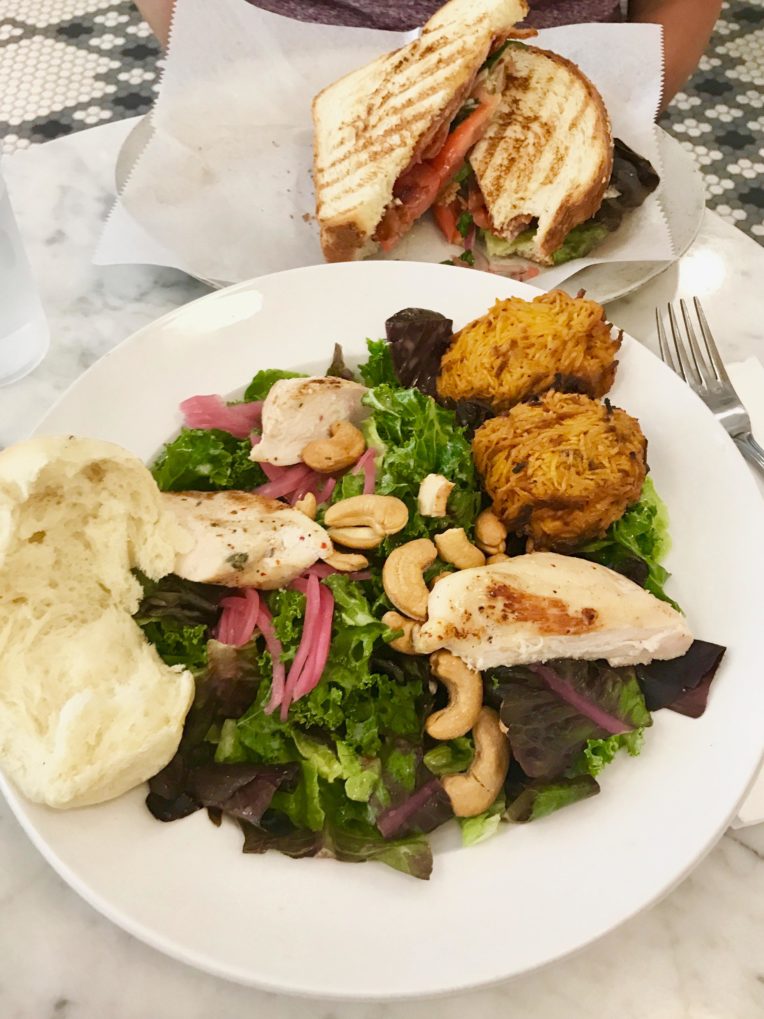 I ate at Tatte twice last week. Once I went with my favorite salad – the crunchy halloumi – but the second time I mixed it up and went with the kale cashew chicken which has kale (obviously), pickled red onions, cashews, sweet potato fritters and chicken. They were both good but halloumi wins…that salty cheese!!
Dinners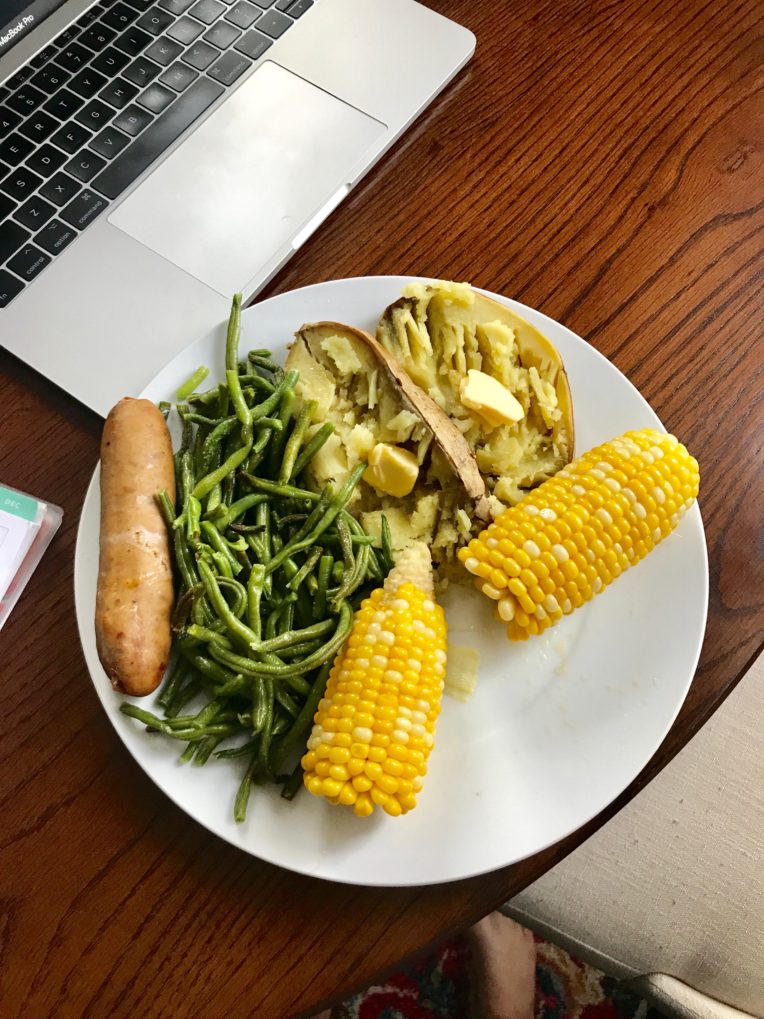 When Nick is traveling for work, I barely cook recipes or anything that takes more than 10 minutes. Real life….last week my appetite was wonky and there were several nights that I made a smoothie with fruit, a ton of nut butter, spinach and Vega and then ate a bowl of popcorn and called that dinner. On the other nights I did throw together a more "normal" meal of chicken sausage (which looks so gross in this photo but it tasted good) corn on the cob with butter + salt, roasted green beans and a baked white sweet potato.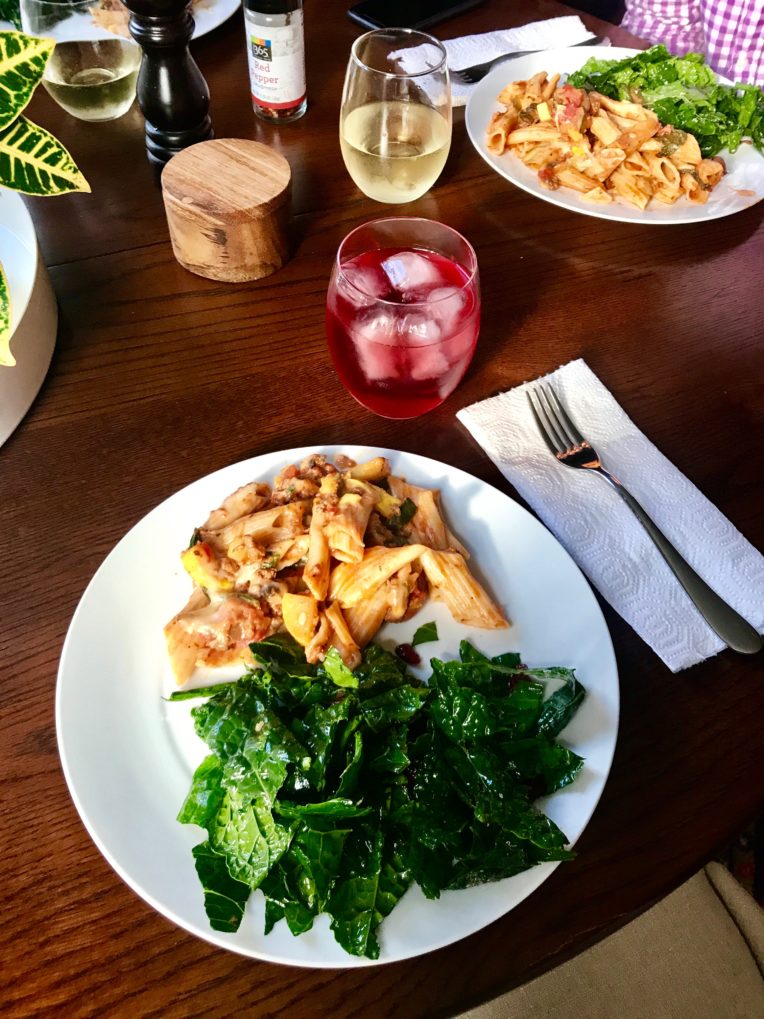 Momma Coale and I made a baked pasta Monday night and doubled the batch so we could stick one in the freezer for later. We didn't use a recipe but just made it up as we went. We sautéed zucchini and mushrooms, then browned up a pound of ground beef, added the veggies to the beef pan and poured in a jar of pasta sauce + a can of semi-drained diced tomatoes plus a lot of italian seasoning and salt to taste. I boiled up some penne until they still had a bite to them so they would finish cooking in the oven. We mixed the pasta with the beef/veggie/sauce and then topped it all with mozzarella cheese and baked it for like 45 minutes. It was delicious and everything I was hoping it would be. We had a simple kale salad on the side – I ate this portion of pasta x 2.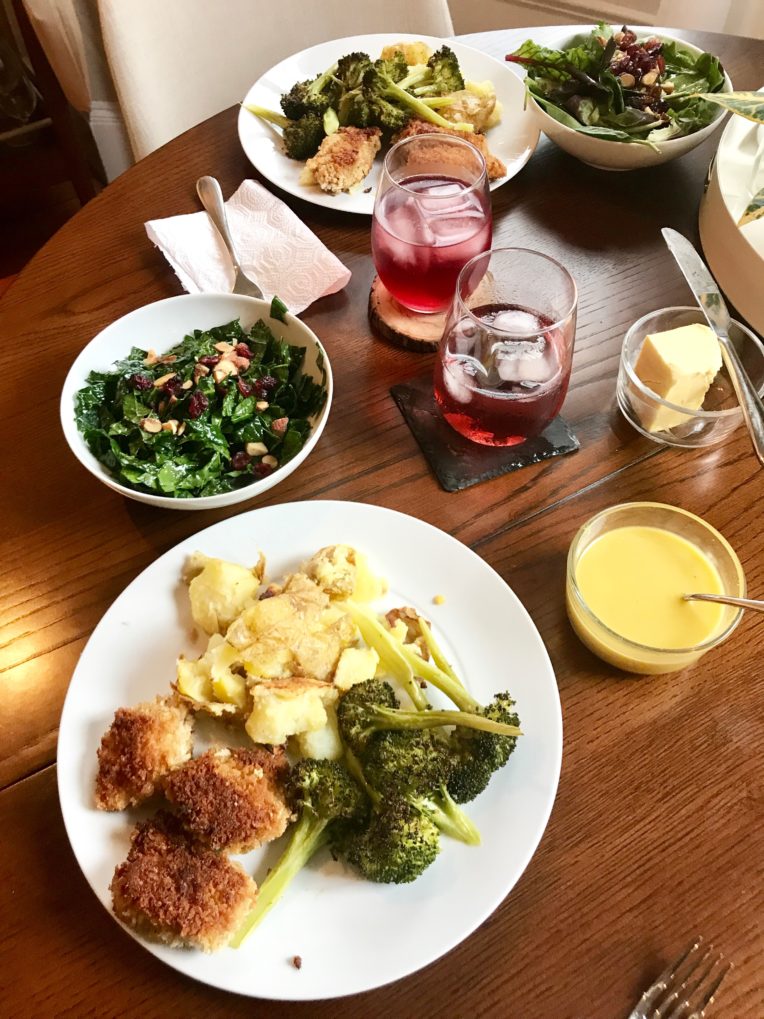 Chicken fingers! Plus baked yukon potatoes with butter, roasted broccoli and kale massaged with olive oil + lemon juice + sea salt topped with cranberries and honey roasted almonds. The yellow bowl of sauce is Momma Coale's homemade honey mustard…also fab.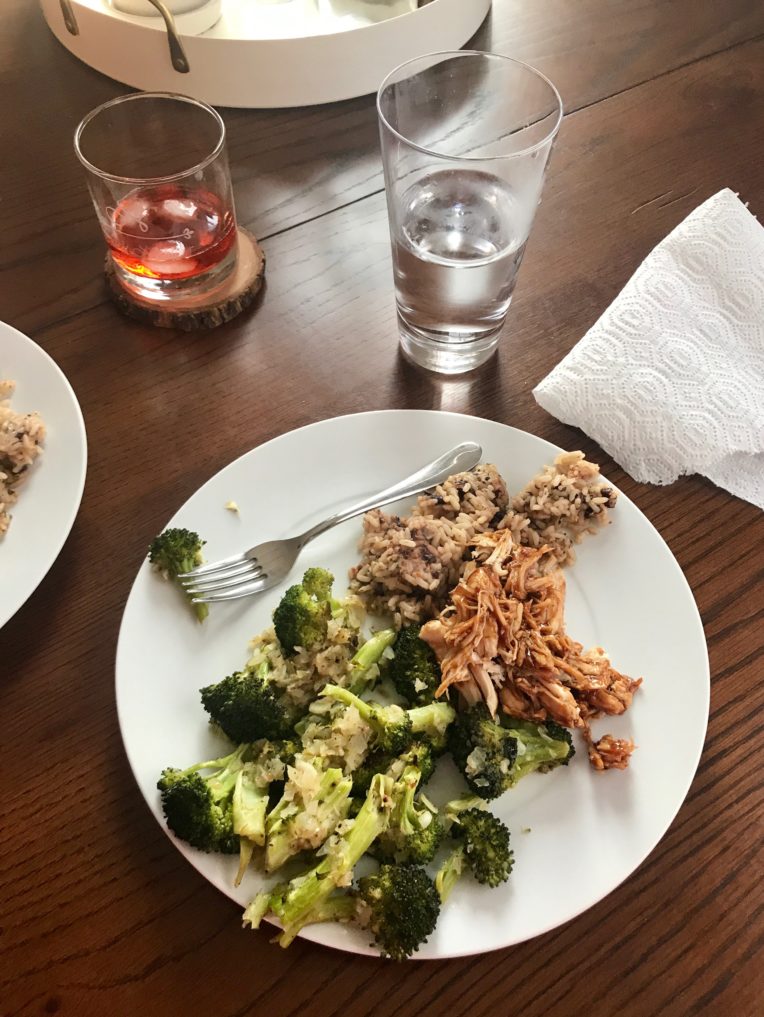 I usually do the grocery shopping + meal planning, but when I was in Austin for the weekend Nick took over. We had roasted broccoli that he seasoned with grated onion + garlic + sea salt (highly recommend)  + shredded chicken cooked in the Instant Pot with bbq sauce and wild rice. Simple yet good and satiating.
Snacks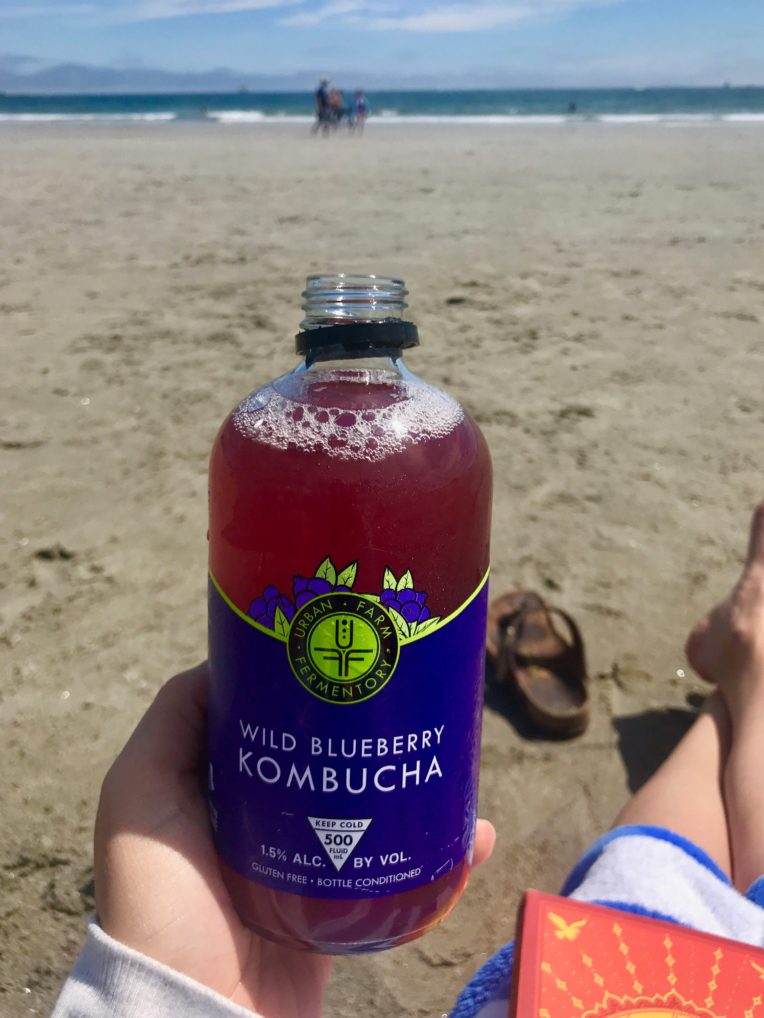 When Simi, Alexis and I took a day trip to Portland, Maine a couple weeks ago we visited Urban Farm Fermentory which makes kombucha, hard cider and beer. The kombucha was so good! When I found it at the general store in Kennebunkport this past weekend I picked up the blueberry. It was delicious, especially enjoyed on the beach with a good book. I received a kind and curious comment from a reader about drinking kombucha in pregnancy. I wasn't sure about drinking it at first, but my OB said it was fine and I'm not concerned about the bacteria either, so I drink it. And although I'm avoiding alcohol, I'm not worried about the small amount found in kombucha. That's just what's working for me.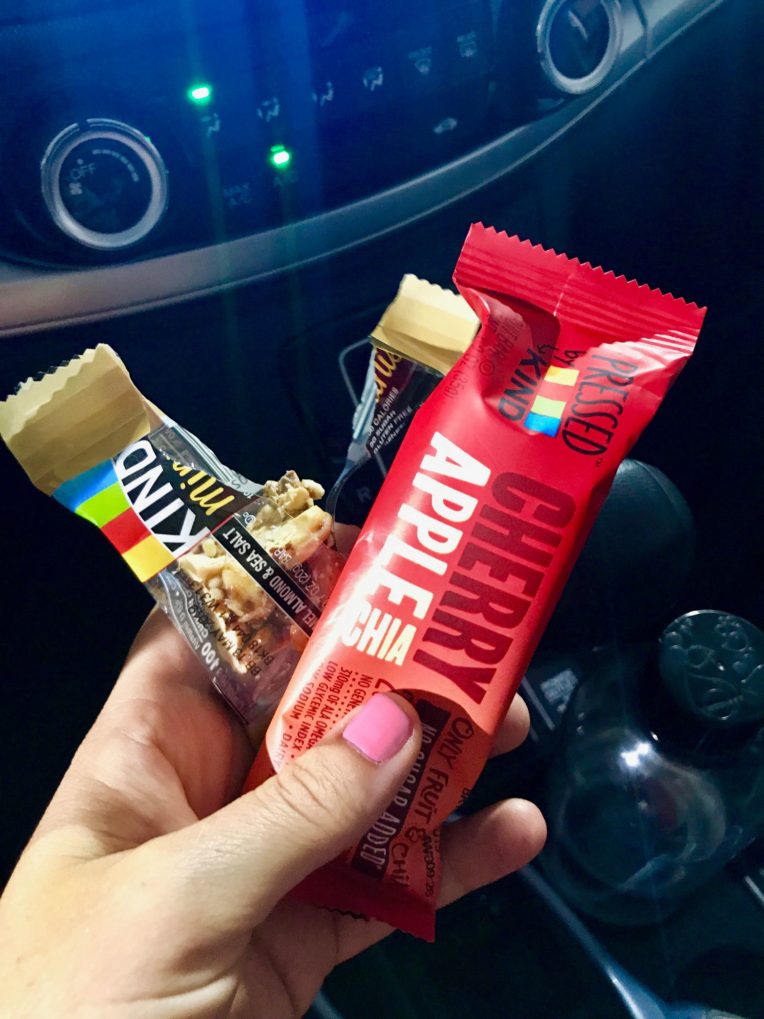 I'm liking this bar combo when I need a snack. Fruity and salty. I LOVE these KIND bars, but they don't hold me over long…if I pair it with a mini KIND bar, the fats + protein in the nuts help hold me longer.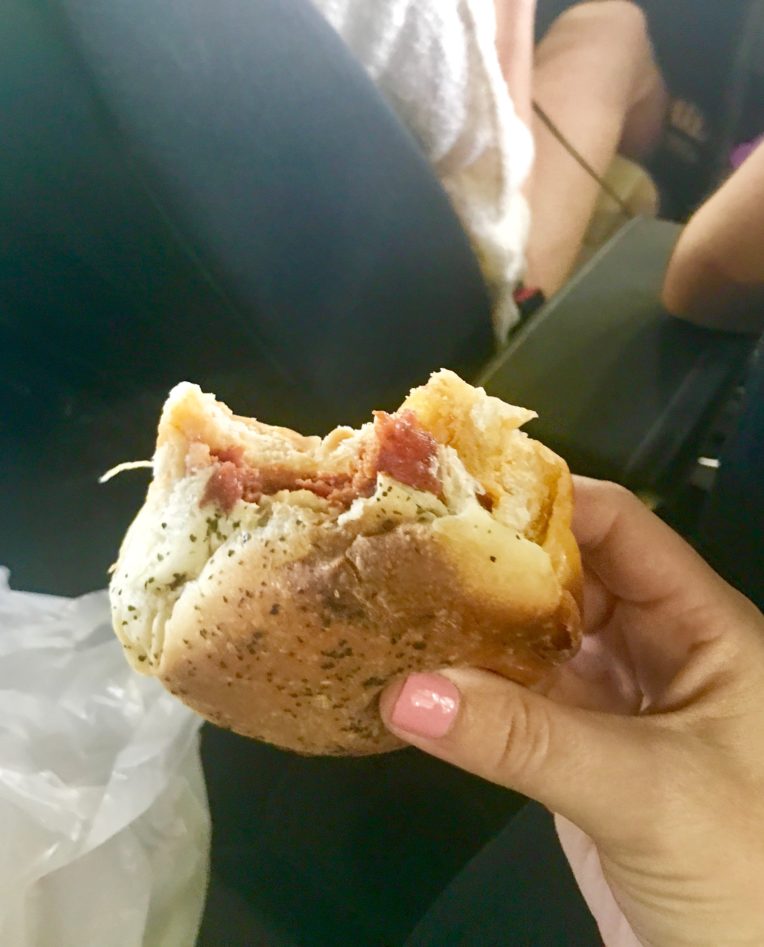 I had my first kolache in Austin and it was amazing. This one was stuffed with pepperoni + cheese which I preferred over the jalapeño + cheddar + sausage. The fruity cream cheese ones are also freaking delicious. My friend Brittany picked these up in Waco on her drive from Dallas to Austin and apparently they are the best kolaches in Texas. Thoughts from you Texans? They tasted pretty top notch to me!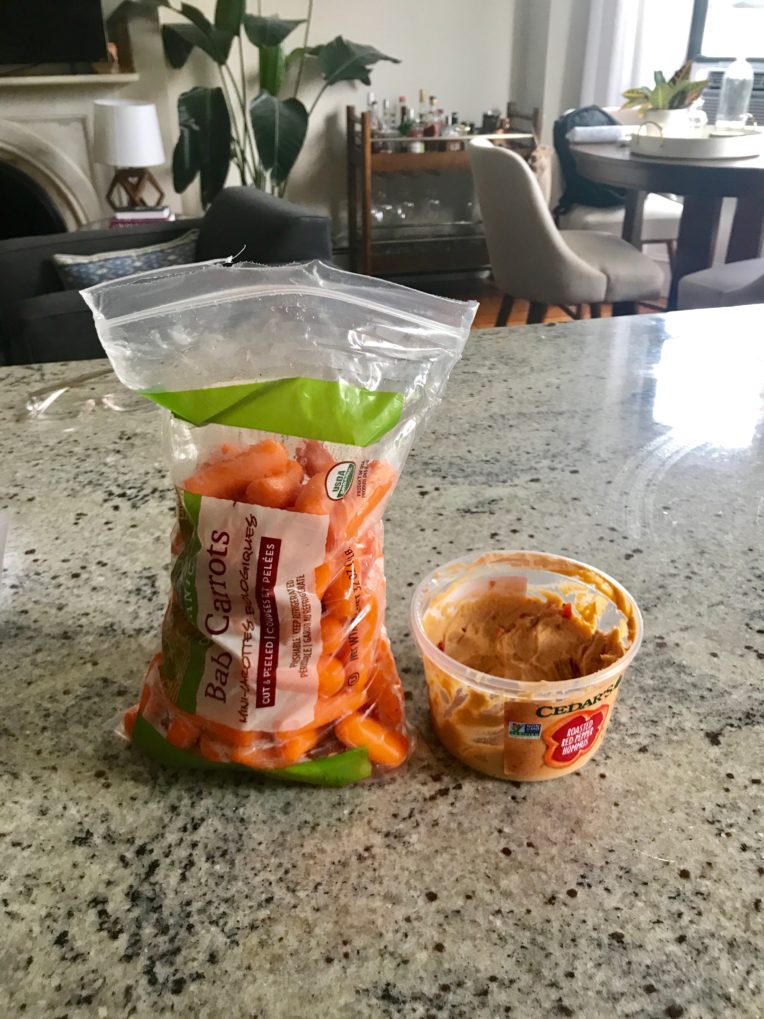 Crunchy veggies + hummus while making dinner one night. I've worked with clients who eat hummus + veg for a snack and expect that to hold them over 2-3 hours before their next meal, so they get frustrated and judgmental towards themselves if it doesn't. If you find that veggies + hummus don't do much for your hunger, there is nothing wrong with your body. You're simply not eating enough for a snack. Veggies + hummus provide a little fat, carb and protein and calories..but not much. Try adding in some crackers too and see how satisfied you feel after that. Probably more 🙂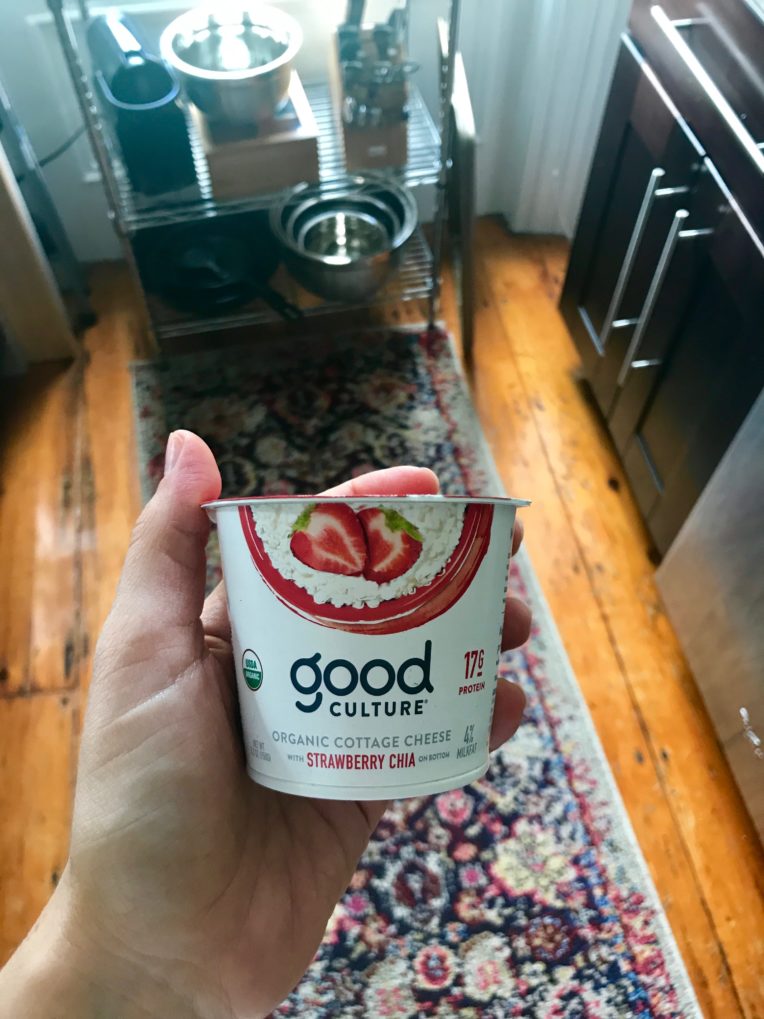 This brand of cottage cheese is my favorite. It's pricey, but I find the texture and taste so spot on that I'm willing to fork over the cash for it. I've been on an intense cottage cheese kick this summer. After buying Good Culture for months myself, the company sent me some of the flavored single serving cups to try. They're good! But I do prefer the plain best. I like my yogurt flavored, not my cottage cheese but these cups are convenient and still tasty.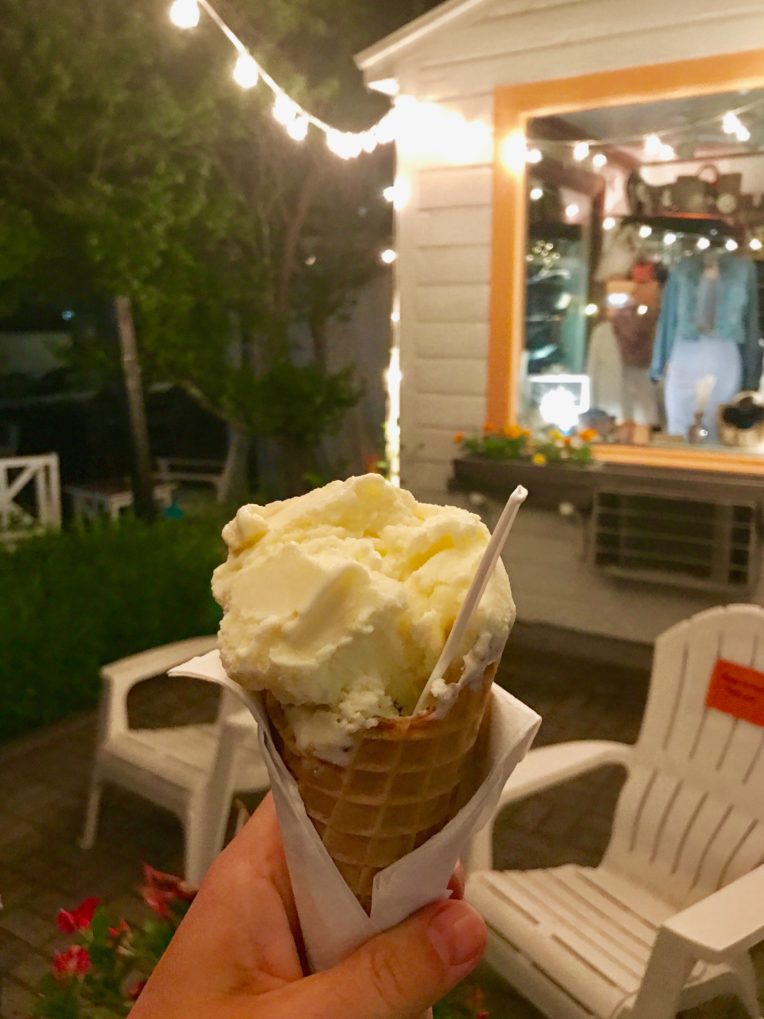 We had Rococo Ice Cream in Kennebunkport and it was just as good as everyone claimed. The salty sweet cream was to die for. So was the Maine whoopie pie flavor.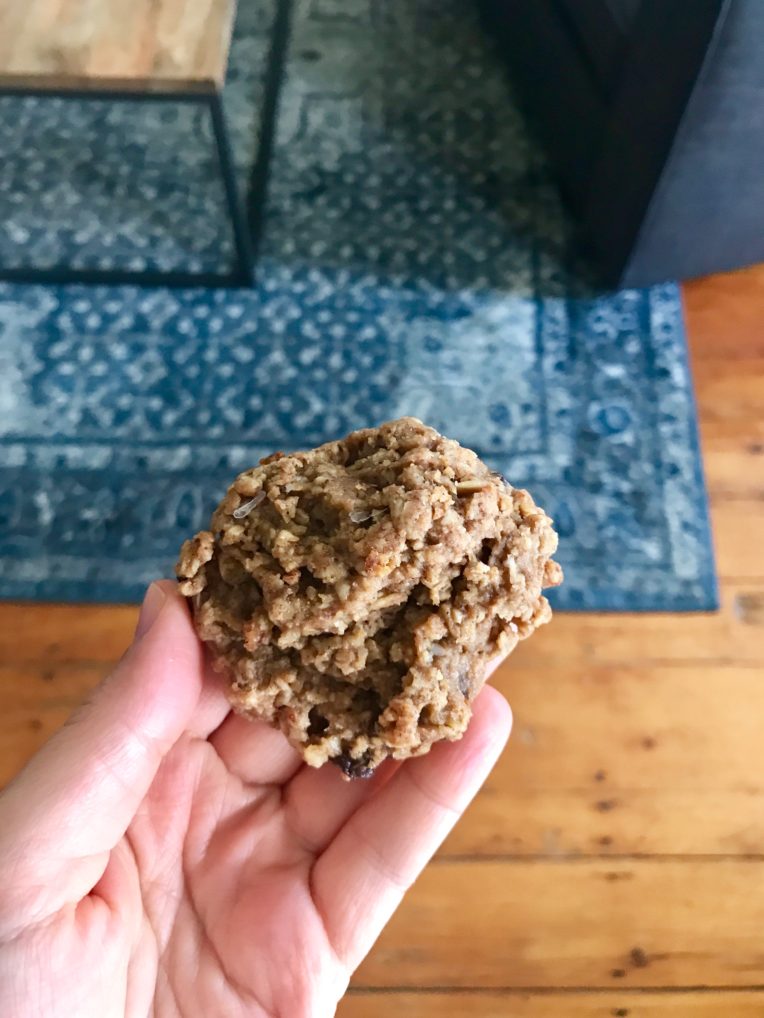 I still have banana bread muffin tops in the freezer I've been snacking on.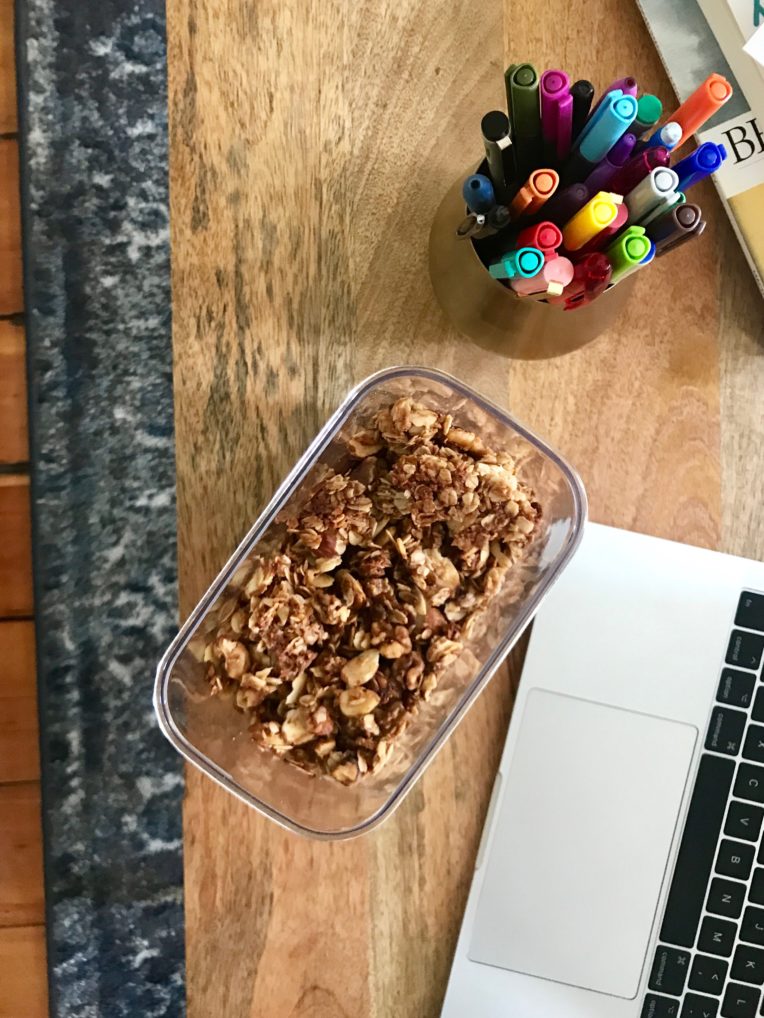 I like the granola I mentioned above on yogurt, but my favorite way to eat it is straight up by the handful.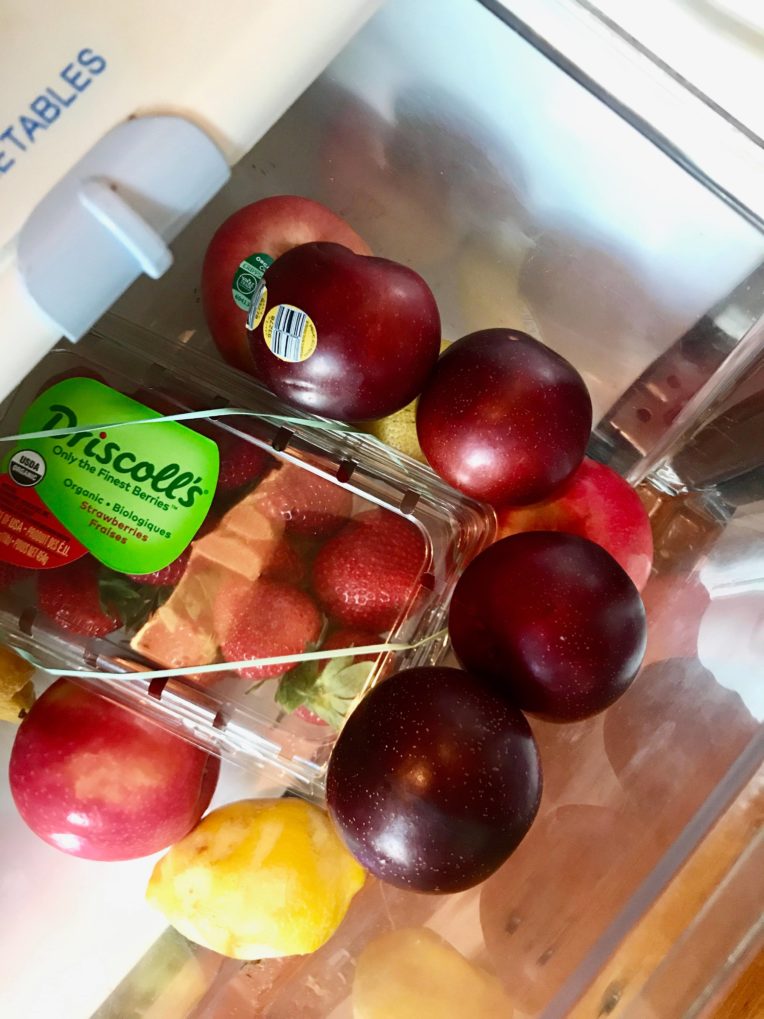 I've been snacking on fruit all summer. Last week we had pluots, apples and strawberries.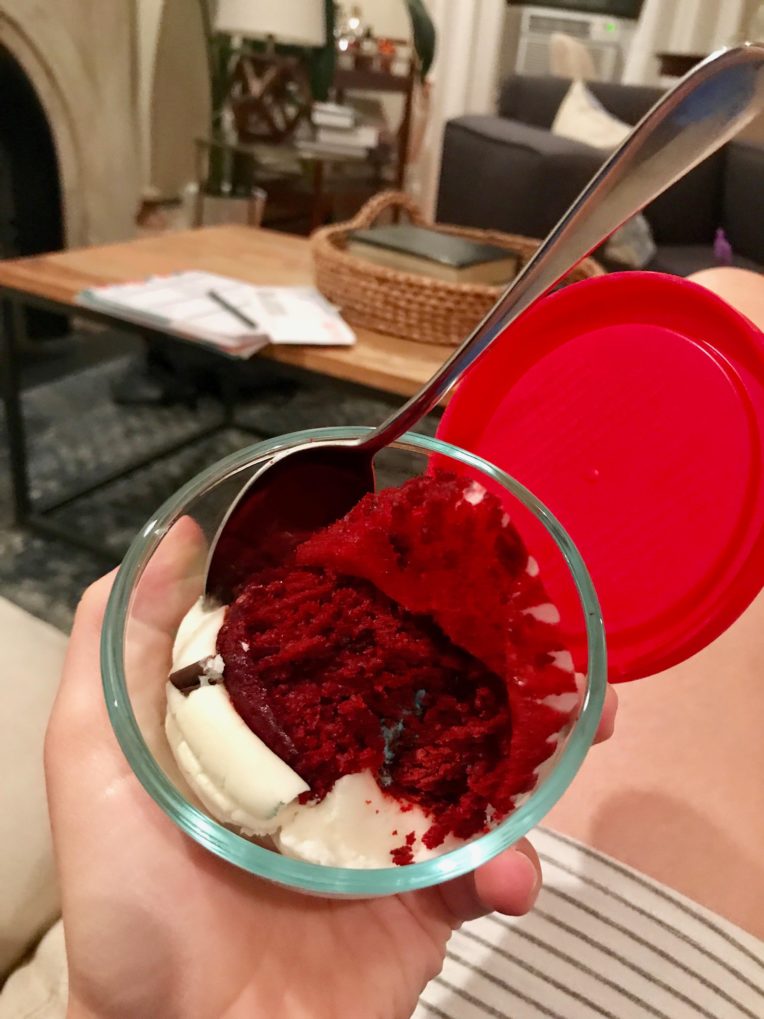 Most nights I'm eating ice cream + a baked good before bed. It helps me not wake up hungry and it's satisfying. I'm rarely hungry when I eat it, but I always have a night snack because it works best for my body and tastebuds. Among the ice cream, I also ate cupcakes a few times for a night snack since we had some leftover.
What are some satisfying and tasty meals and snacks you've eaten lately??