I'm rounding up meals and snacks I've eaten over the past month. I probably take pictures of about 1/3 of the food that goes into my mouth and try to round up meals and snacks that illustrate my normal eating pattern. Normal means a lot of things. What's normal for me, might not be normal for you because we have different bodies, different lives and therefore different nutrition/food needs.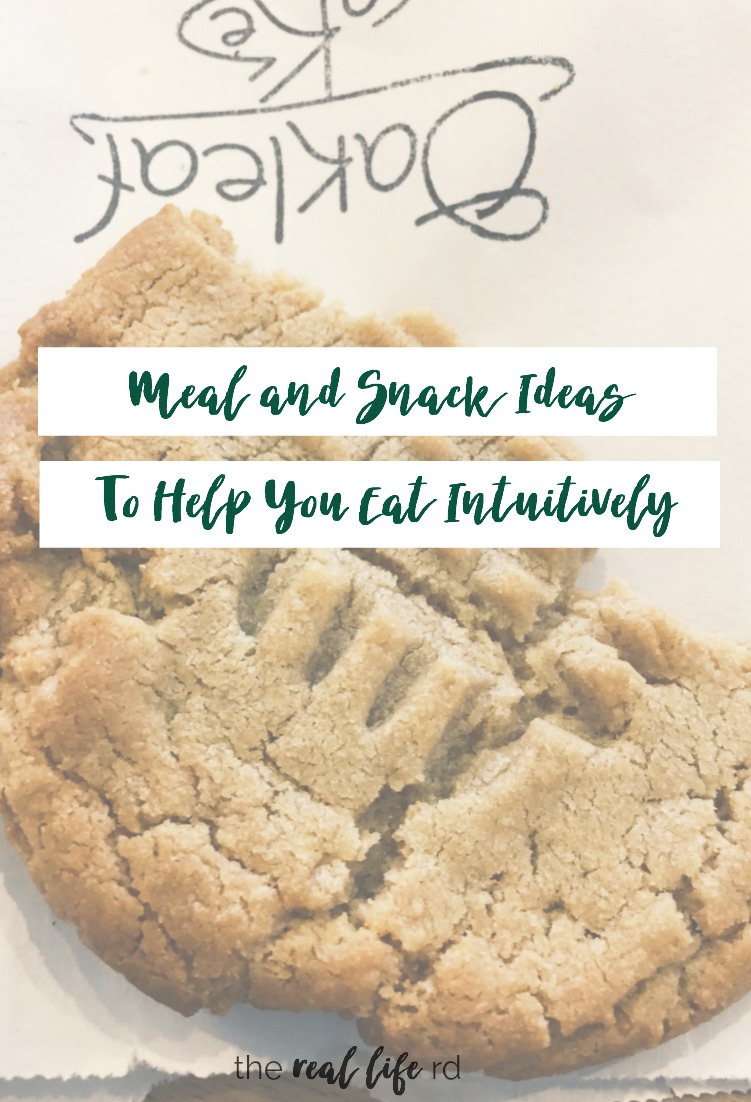 I hope what you take away from these posts is some meal and snack inspiration and an understanding that there is a lot of nuance in nutrition, eating should be flexible and enjoyable, and "healthy" eating means yes, eating foods that have vitamins and minerals, but also eating foods that are satisfying. You need both!
Breakfasts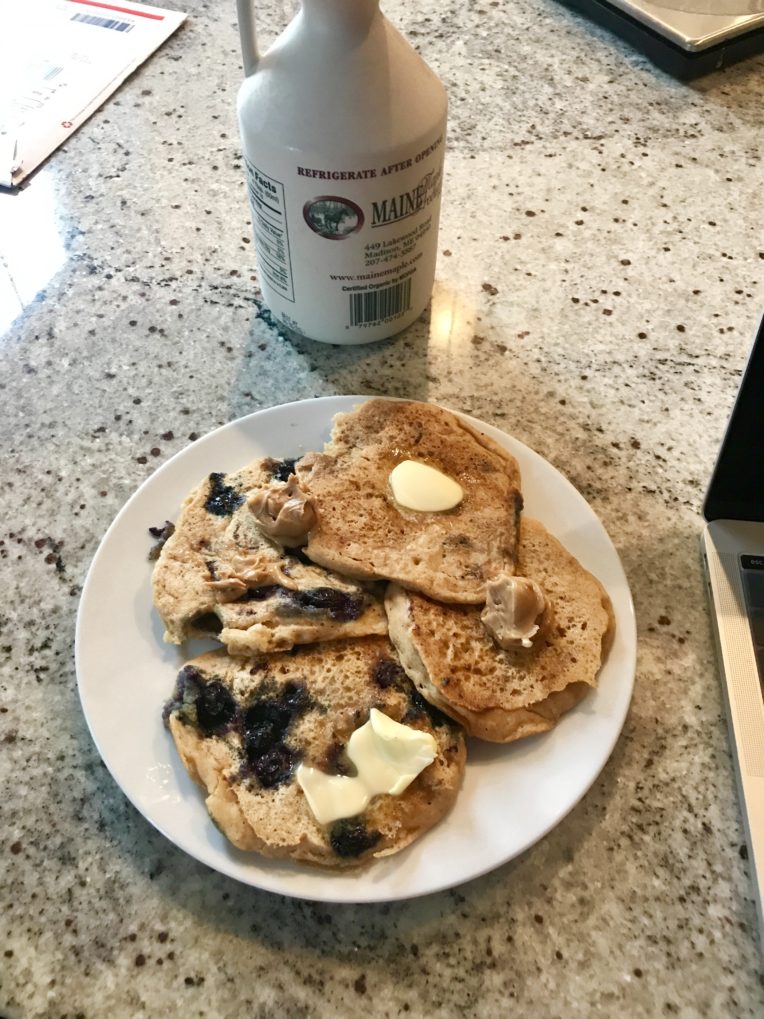 I haven't had pancakes in forever. I use to eat pancakes all the time for breakfast and then I think I grew tired of them and haven't gone back. Until a couple weekends ago when it was raining on Saturday morning and all I wanted was pancakes. I followed this basic recipe and added chocolate chips to some (secret is to bury the chocolate chips in the batter so the chocolate doesn't burn when you flip) and blueberries to some and left some plain. Topped half the cakes with butter, half with pb and dipped in lots of maple syrup. I don't like pouring maple syrup on my pancakes because they get soggy. Dip > pour for me.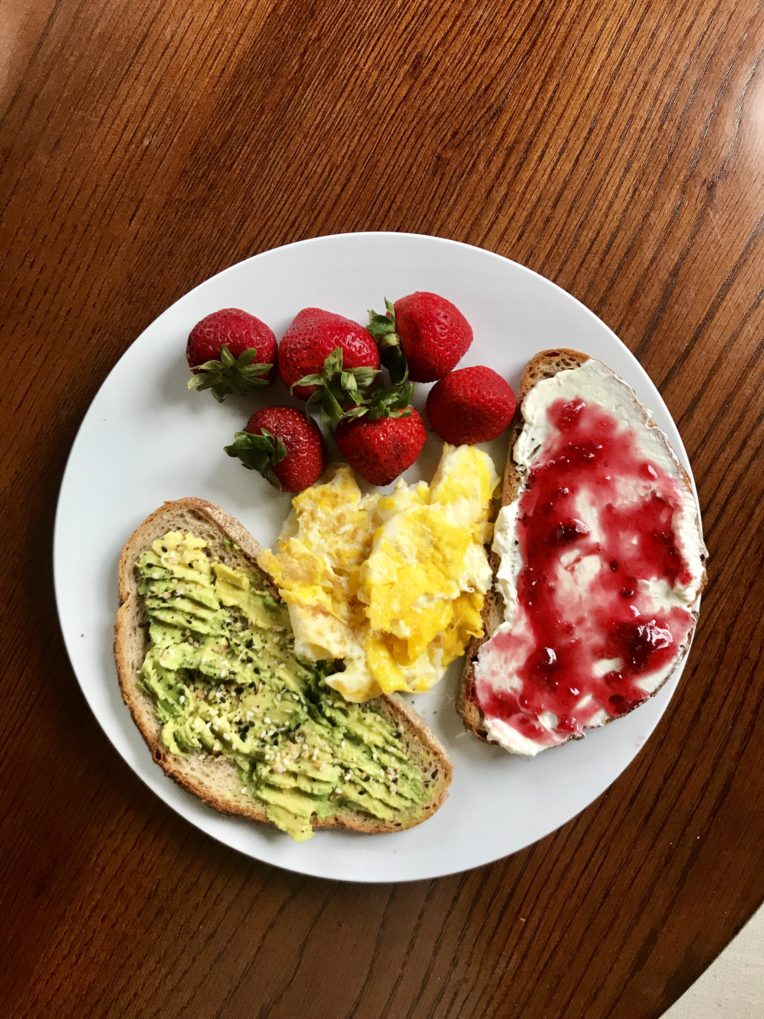 Toast is always in rotation. Although lately I go through phases with bread. Sometimes it's all that sounds good and other times it sounds disgusting. Half topped with avocado, the other half with whipped cream cheese + jam plus a couple scrambled eggs and berries.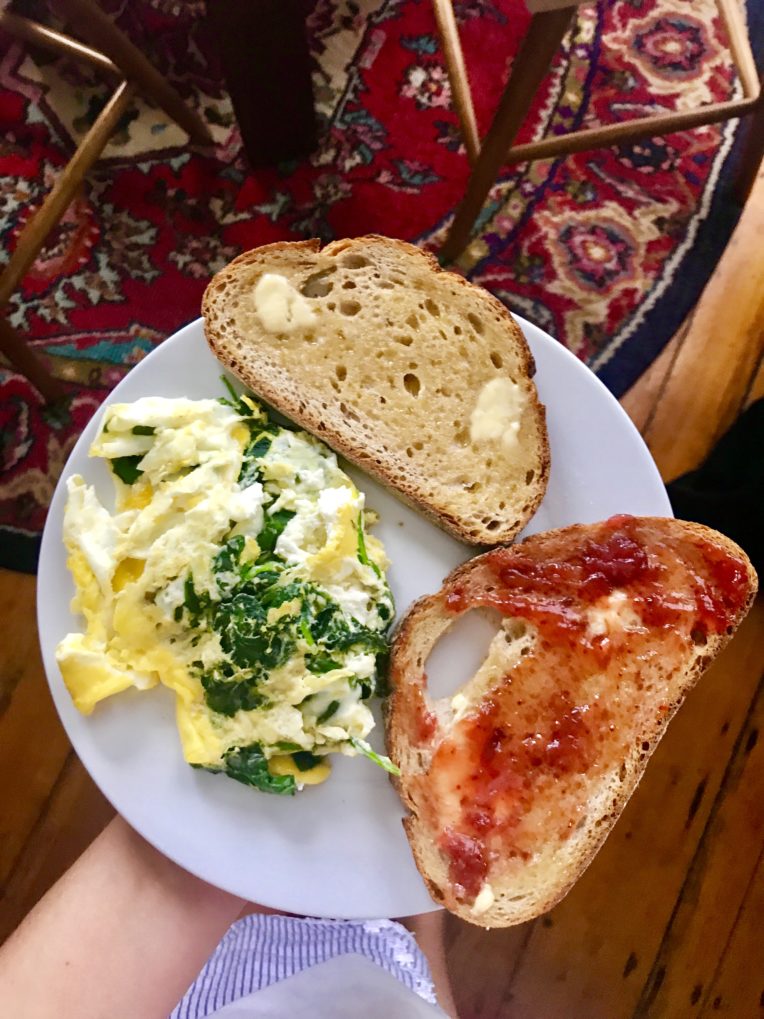 More toast. This time with butter + jam and I scrambled some spinach into the eggs.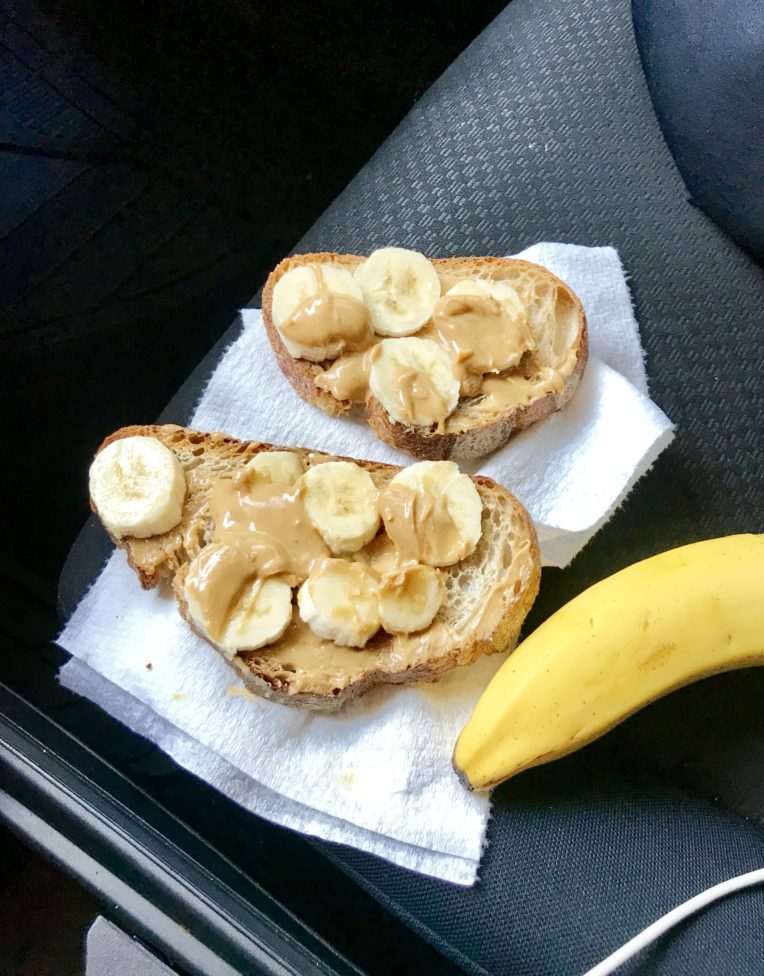 The easiest breakfast for me when I have to go to my NP job in the morning is either overnight oats or toast. I'm not someone who gives myself time to eat breakfast at home in the morning because I feel like no matter how hard I try, I always feel rushed eating and I hate feeling rushed when I eat. Eating in the car is much more enjoyable, but overnight oats I can't really eat in the car so I've been doing toast. Iggy's toast is my favorite. Topped with pb + banana. I ate the rest of the banana on its own. If I'm not eating a carton of yogurt with pb toast it needs to have extra pb to hold me over. Nick made this toast for me while I was rushing around getting everything together, but then I was like "oh, more pb pleaseeee" and then he poured some on top lol.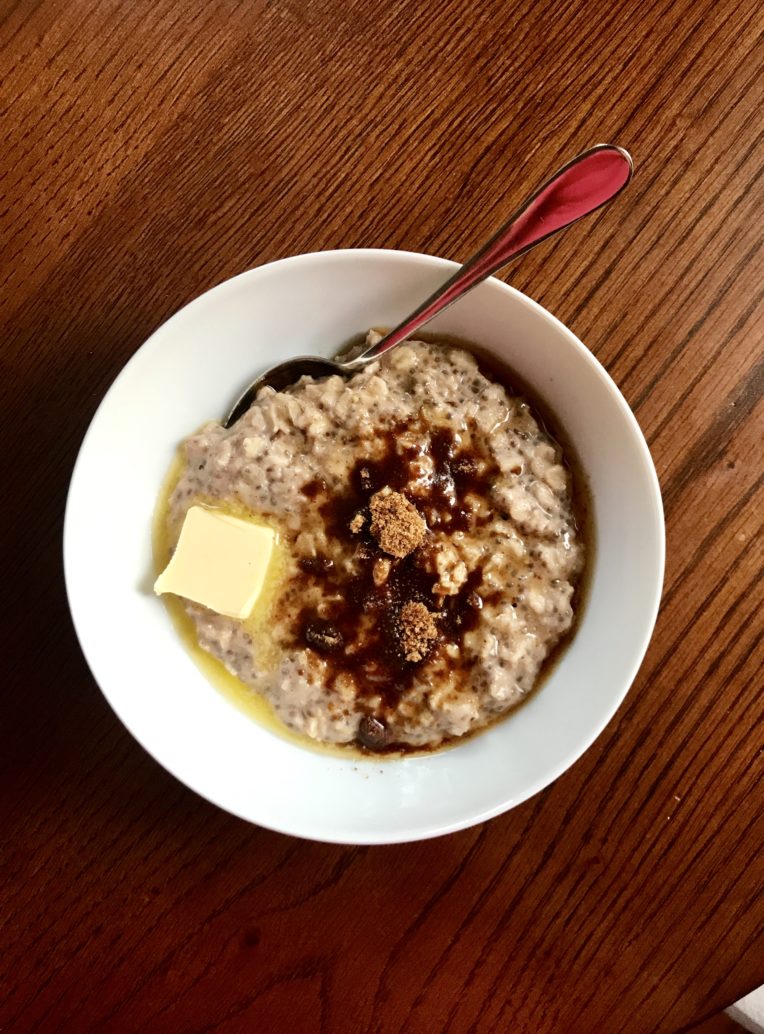 I don't really care for the texture of hot oatmeal made with instant or rolled oats. It's too much fluff and volume for me. But steel cut oats I like, they just take more time so if I don't put them on the stove right when I wake up I'm too hungry to wait. Last week I remembered to put them on right away and was craving a classic version – maple + brown sugar + butter + cinnamon. My mom use to make us quick oats with butter and brown sugar growing up and this is my version of that. Steel cut oats cooked with cinnamon, almond milk and chia seeds. Then topped with brown sugar, maple syrup and butter. So good. I ate some yogurt on the side for satiating protein.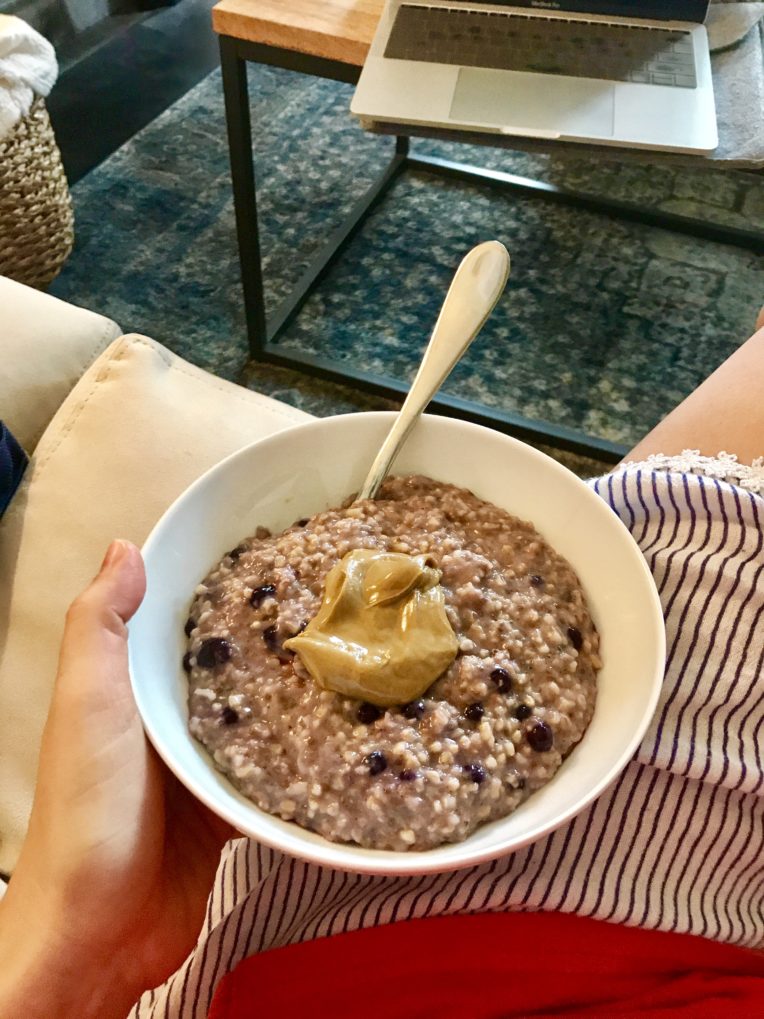 More steel cut oats…this time with blueberries and peanut butter.
Lunches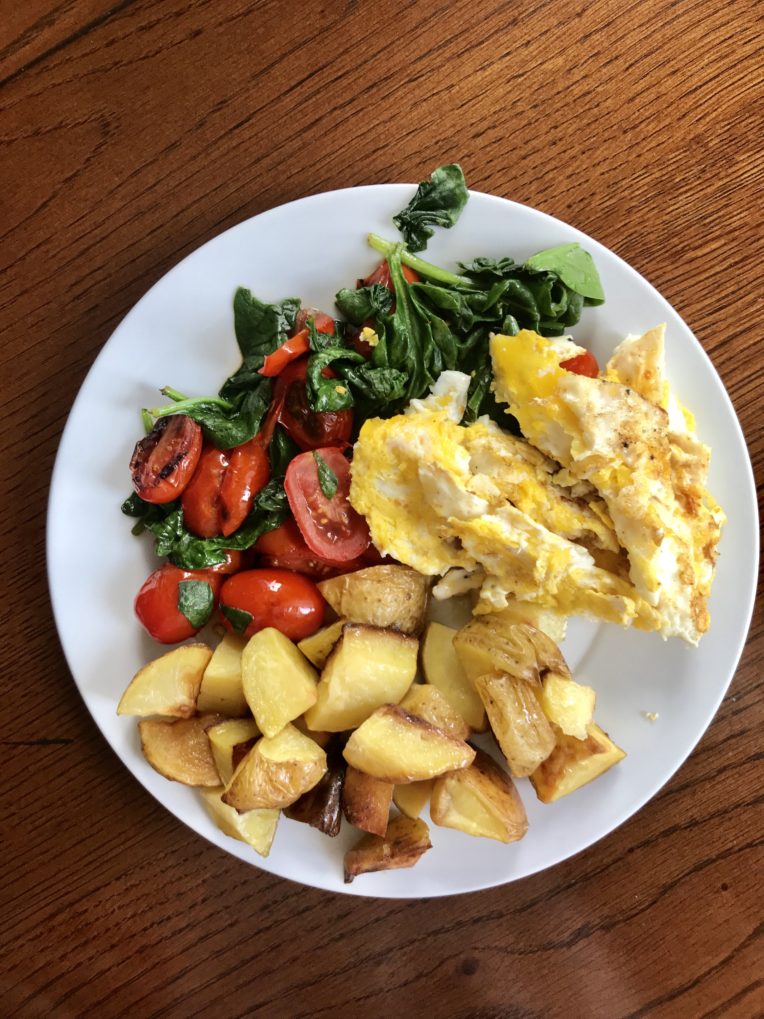 I posted this photo on Instagram last week, but am sharing it again here in case any of you missed it because this lunch for some reason was really satisfying. Probably because lunches lately have been random hodge podges most days so a plate of hot, real food was awesome. I roasted up a bunch of yukon potatoes in avocado oil + sea salt to have for the week and paired those with sautéed cherry tomatoes and spinach (seasoned with sea salt + garlic powder) and a couple scrambled eggs. Looks pretty, but took like 5 minutes since the potatoes were already cooked.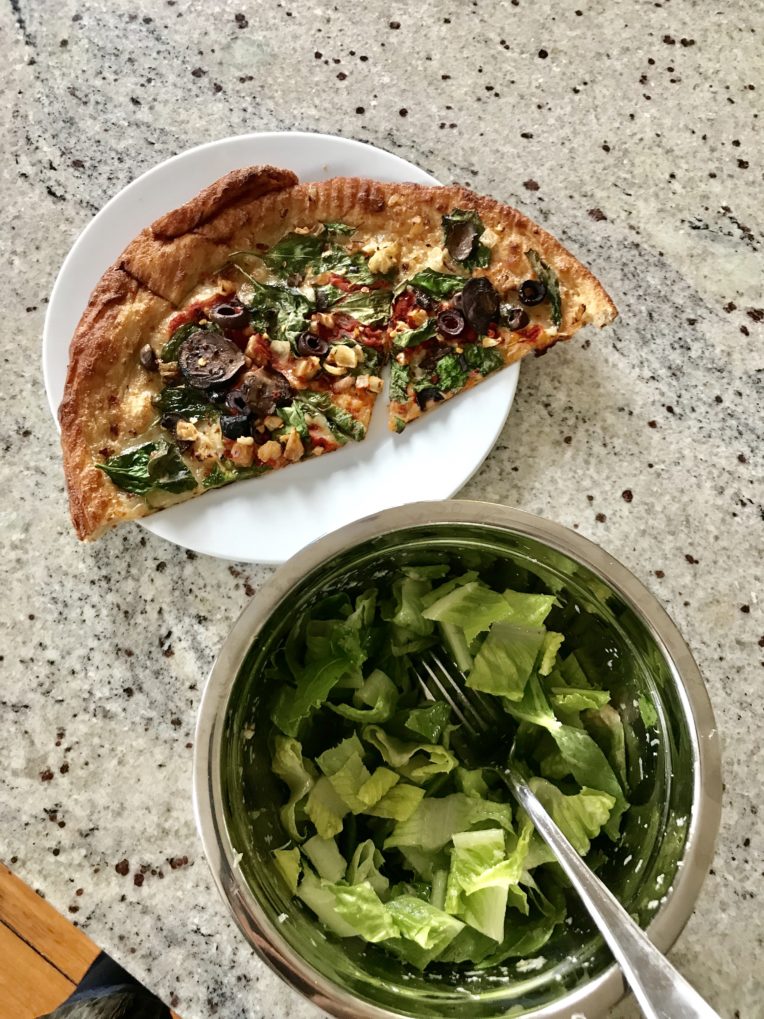 One day I had leftover Oath pizza from the night before with a "salad" aka romaine with parmesan + olive oil + sea salt.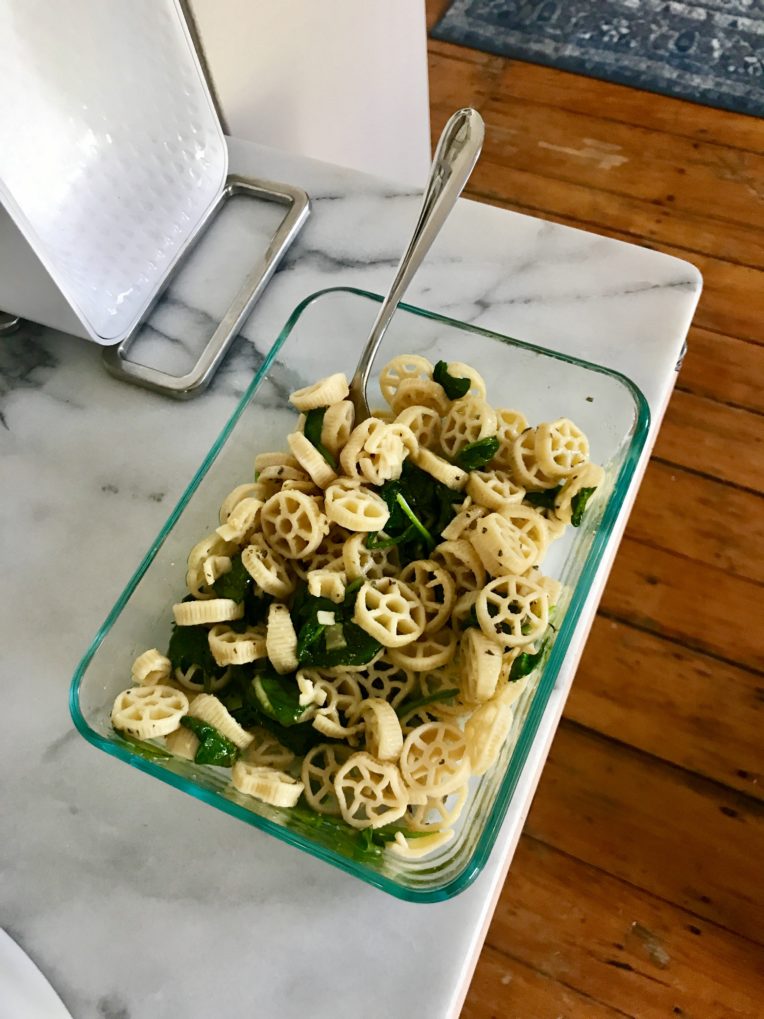 I've been trying to clean out odds and ends in our pantry because we have so many random grains/pastas/boxed things. One day for lunch I boiled up the last bit of chickpea pasta I was sent to try (Banza is the brand I think) and mixed it with wilted spinach, olive oil, parmesan cheese and sea salt. I actually don't mind the taste of chickpea pasta and the protein "built in" to the pasta makes it an easy pantry meal. Just add some fats and veggies and you've got a meal. If I feel like I'm needing more carbs I'll add some bread + olive oil on the side. It's a fun mixup from my usual white pasta or whole grain pasta. If you eat bean/legume based pasta because you think white/whole wheat pasta is "bad" or "unhealthy" I'd encourage you to really explore and challenge those thoughts. Here's some posts on reframing thoughts.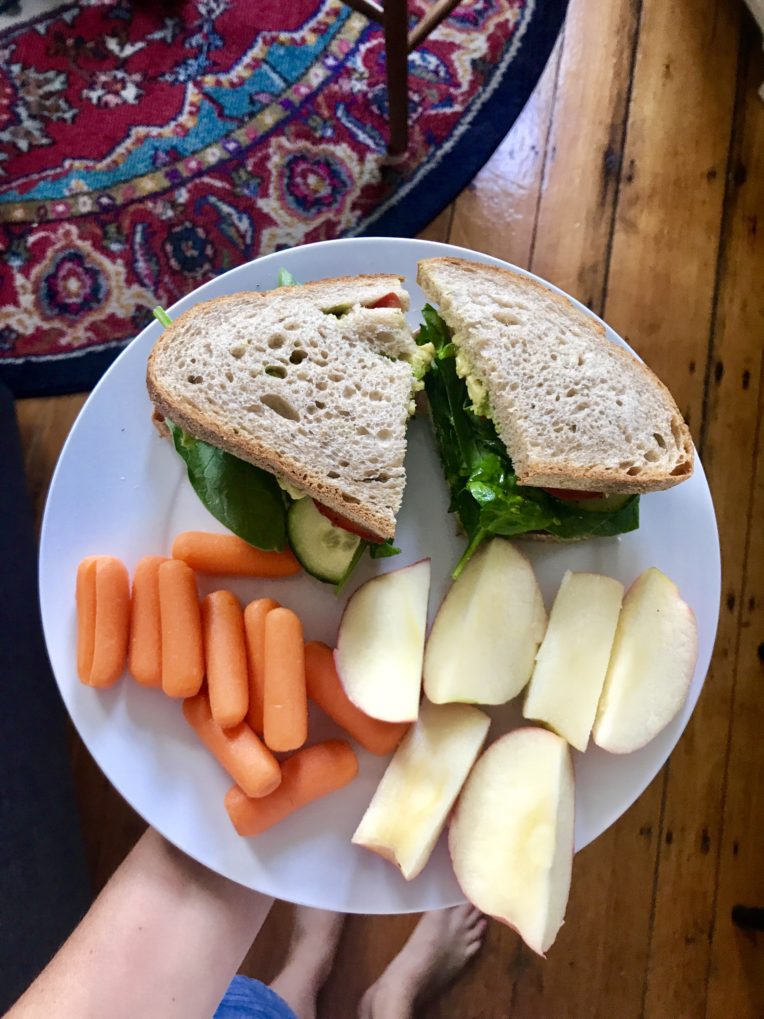 A couple weeks ago I did actually plan out some lunches for the week and by plan I mean I bought ingredients for sandwiches. Sourdough bread from Iggy's, goat cheese, avocado, tomato + spinach + cucumber and seasoned with salt and pepper. It was super tasty.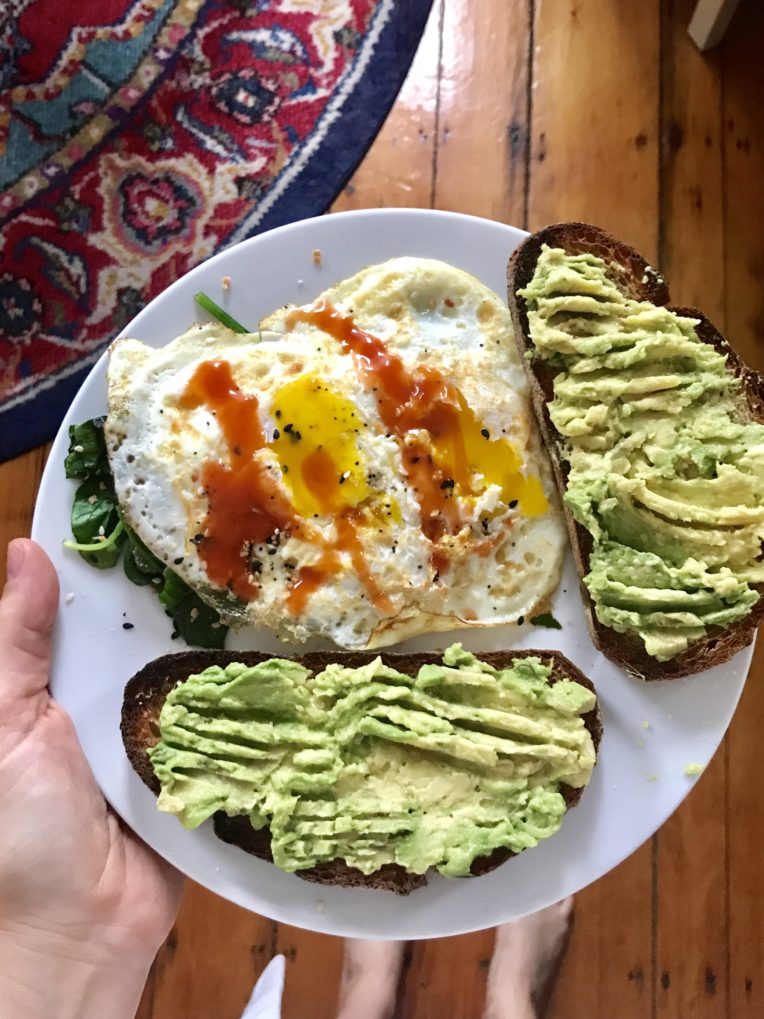 And more eggs on days when I haven't planned. Avocado toast + scrambled eggs and spinach. I could eat this meal for breakfast, lunch or dinner.
Dinners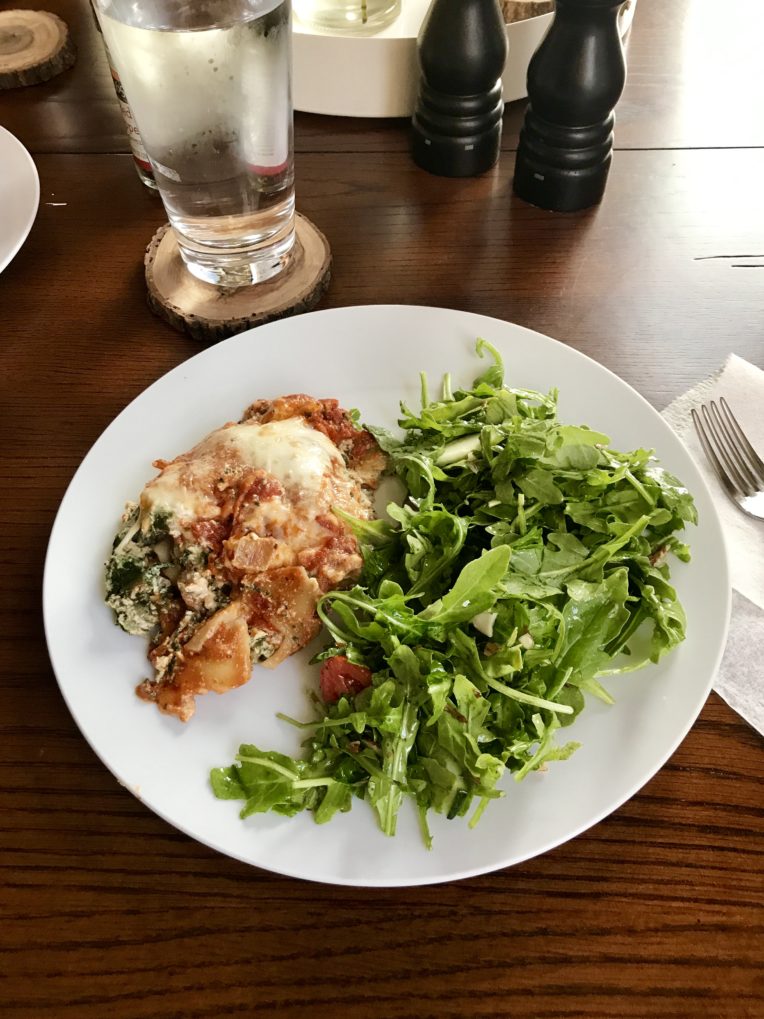 Not to toot my own horn because this isn't my recipe, but I was quite impressed with this veggie lasagna I made last week. Both Nick and I agreed it was SO GOOD. I came across this recipe on Pinterest that looked tasty but when I clicked the link I realized it was a "lightened up" version. It's called "skinny mushroom spinach lasagna" but I unskinnified it usually whole milk ricotta, whole milk mozzarella and a whole box of lasagna noodles. I say that to illustrate that you can take recipes as inspiration and switch up ingredients to make it satisfying for your tastebuds and body. Cutting calories from my lasagna isn't going to leave me satisfied. But using whole milk diary for extra fats and enough noodles to provide adequate carbs will make it satisfying.
Two keys I've found to making a veggie lasagna that isn't soggy is to 1) sauté the veggies before hand and squeeze out the water from the frozen, then defrosted, spinach and 2) use no boil noodles which means you don't pre cook them, just layer them in uncooked.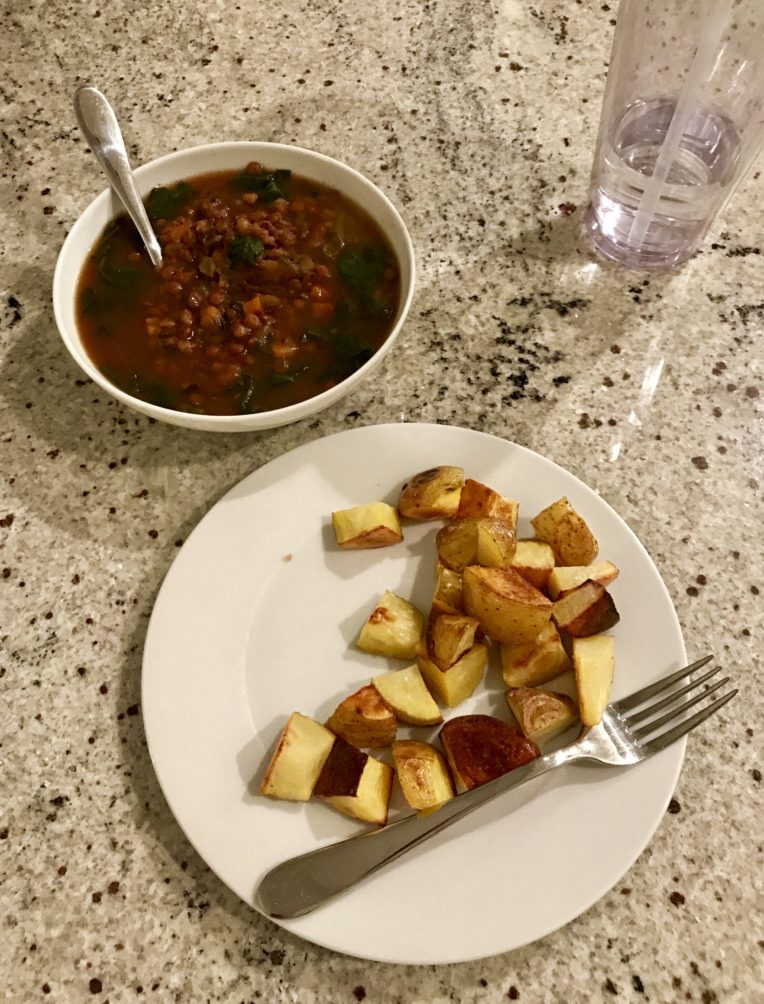 One rainy night when Nick was out of town I ate TJs boxed lentil soup and roasted potatoes. It was easy and cheap and I'd definitely eat it again.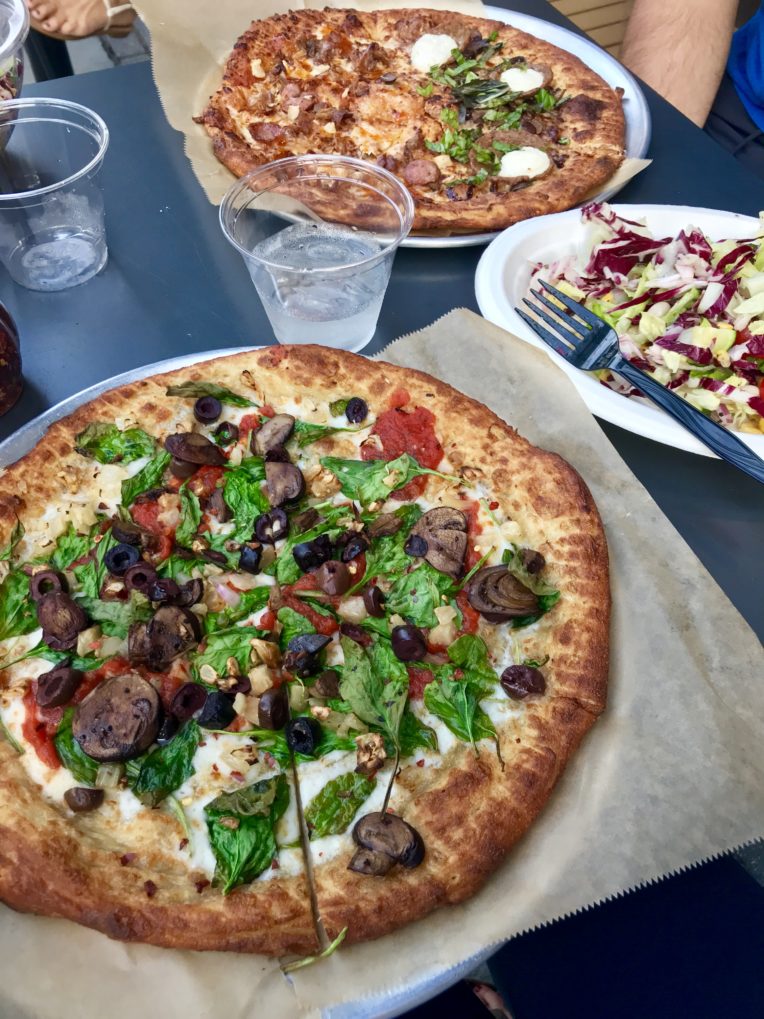 We ate at Oath pizza one night (leftovers eaten for lunch, seen above) I like Oath better than Blaze pizza but I will give Blaze pizza way more points for customer service!
This was a random, yet simple + tasty dinner. Sautéed purple cabbage with onion (Nick cooks the cabbage in both butter and olive oil which makes it extra delicious), chicken sausage and Alexia sweet potato fries.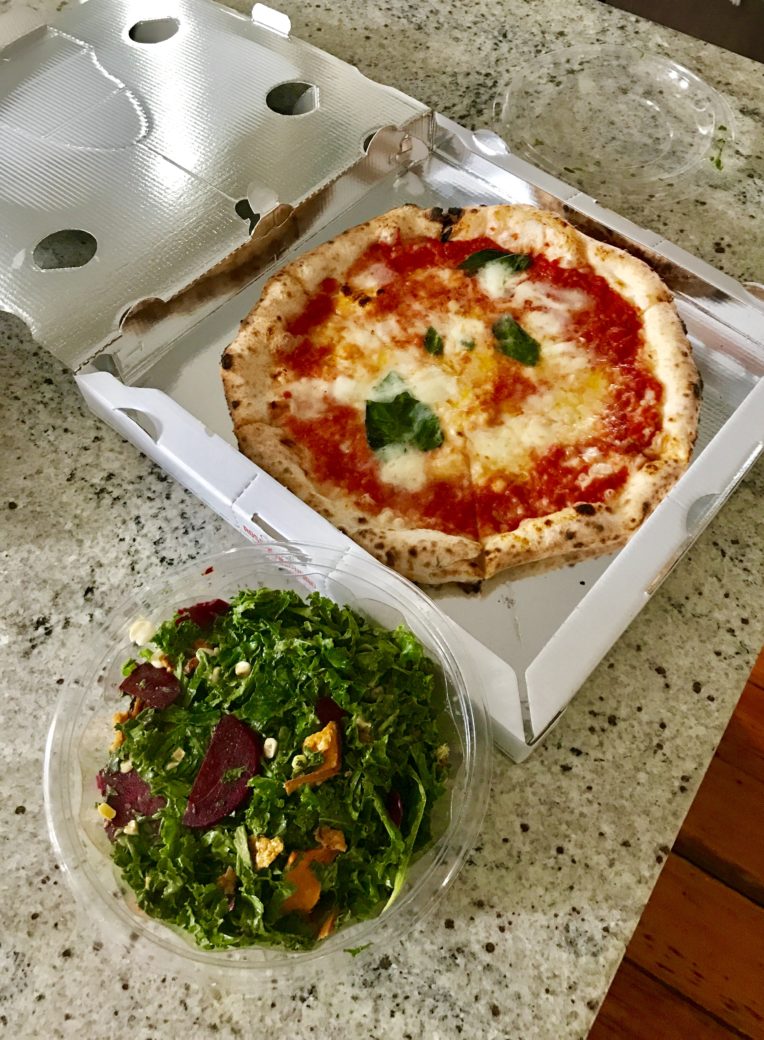 We got home from being out of town one weekend and I couldn't decide between a hearty salad or pizza for dinner so we picked up both. Kale + beet + sweet potato + corn + goat cheese salad from Sweetgreen and margarita pizza from Eataly –> which has the BEST crust and sauce in my opinion.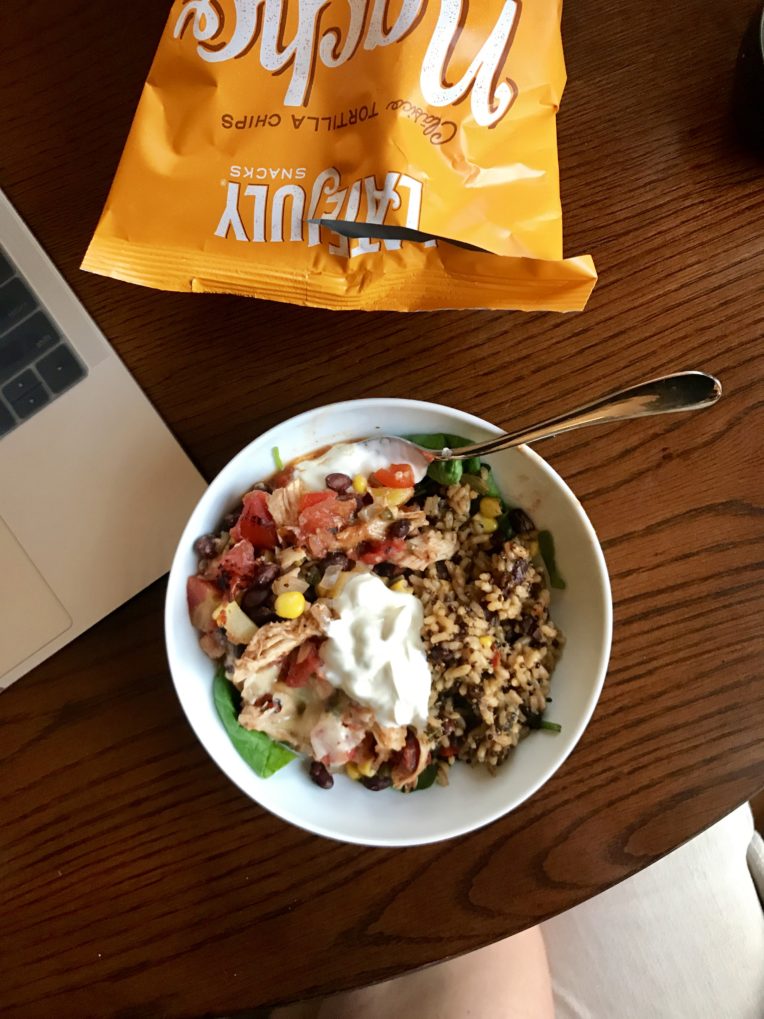 Another easy weeknight dinner idea, Mexican chicken casserole. I just made this up in my head. I threw rotisserie chicken, a can of drained black beans, a 28 oz can of semi-drained diced tomatoes, corn, sautéed peppers and onion and a packet of taco seasoning into a casserole dish and baked it for 30ish minutes at 350 degrees. Then topped it all with cheddar and baked for 10 more minutes until the cheese was melted. We ate it over some cooked spinach with brown rice, topped with sour cream, and used nacho cheese tortilla chips for dipping.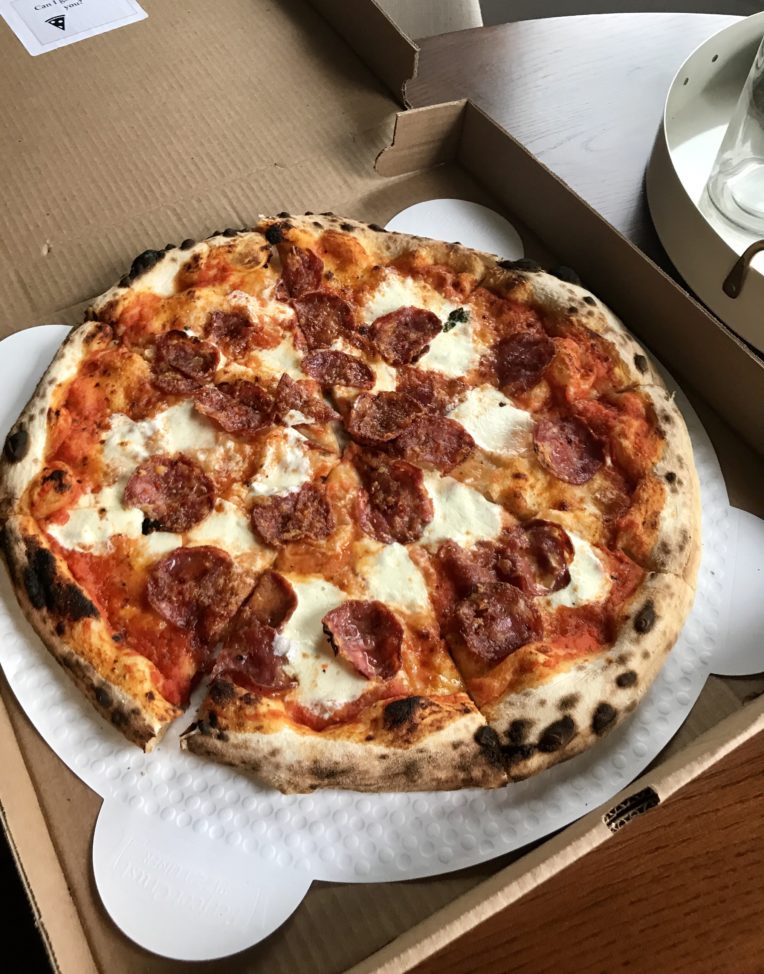 A4 is a really good pizza place in Cambridge and even though it's not in our neighborhood, it's only a 10ish minute drive away and I love getting carry out there on the weekends or a busy weeknight.
Snacks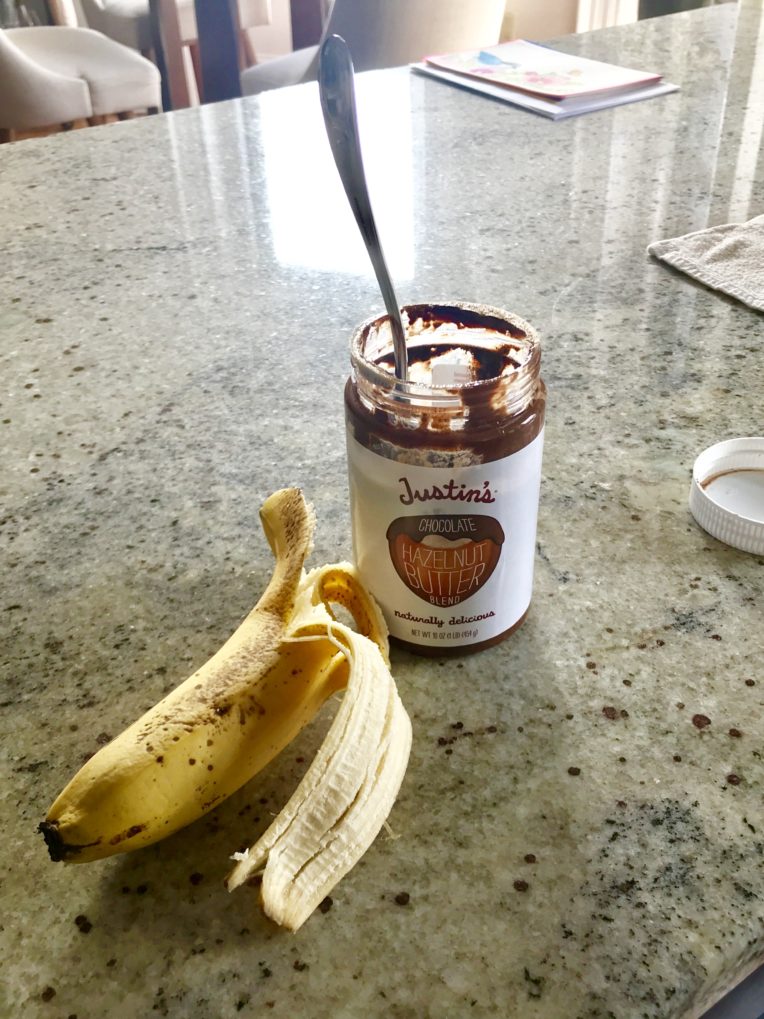 Easiest snack sometimes is a banana and nut butter. Working my way through this jar of hazelnut butter –> which if you haven't had this jar, highly recommend. SO GOOD.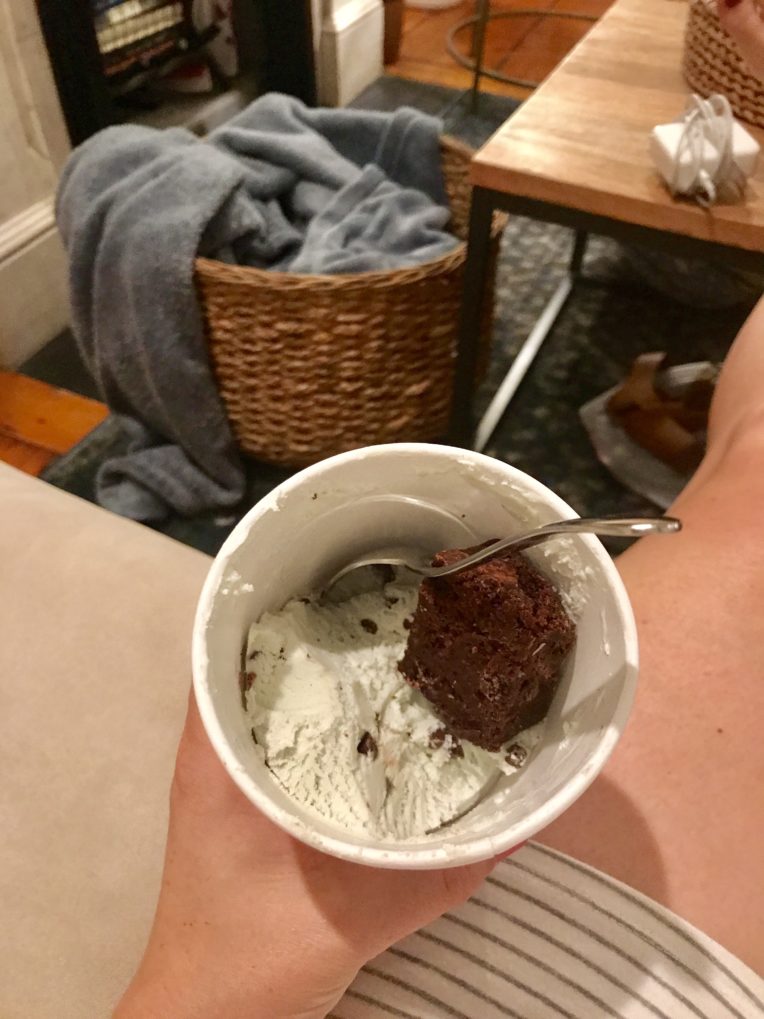 Brownie (made from a box and I swear boxed brownies are the tastiest) + the last of a pint of mint chocolate chip ice cream. I've also been eating this chocolate banana bread with chocolate ice cream + chocolate sauce and it is also super tasty.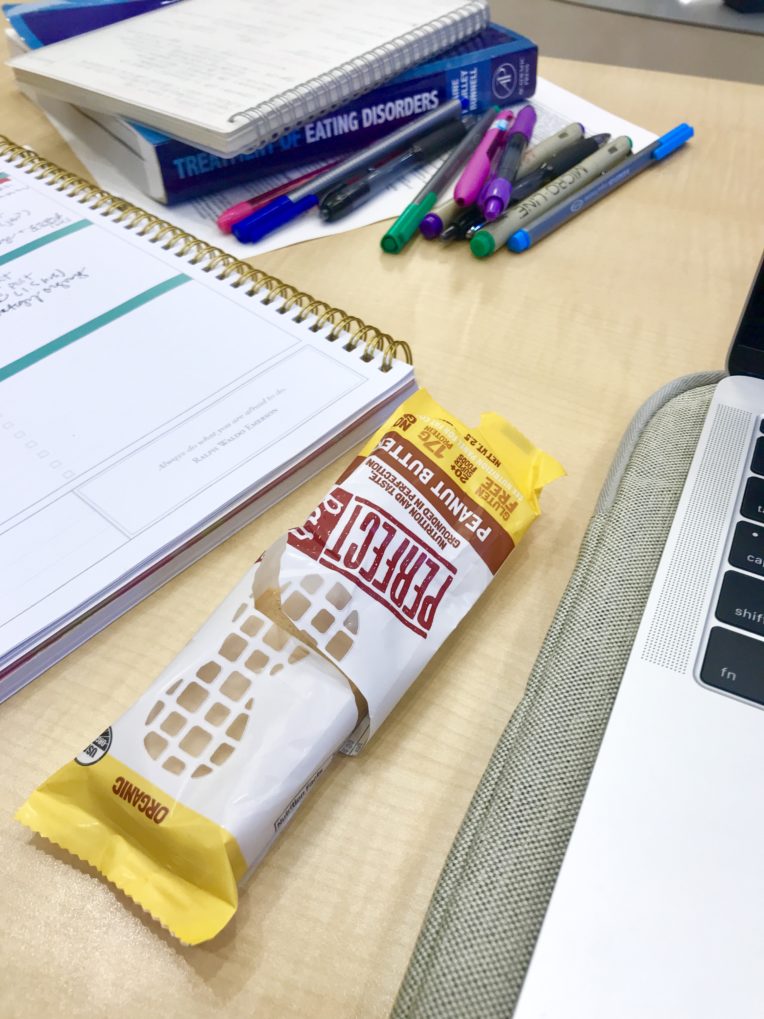 Perfect bars are great for when I'm more "meal" vs "snack" hungry and want to get a couple more hours of work in before heading home for lunch or dinner.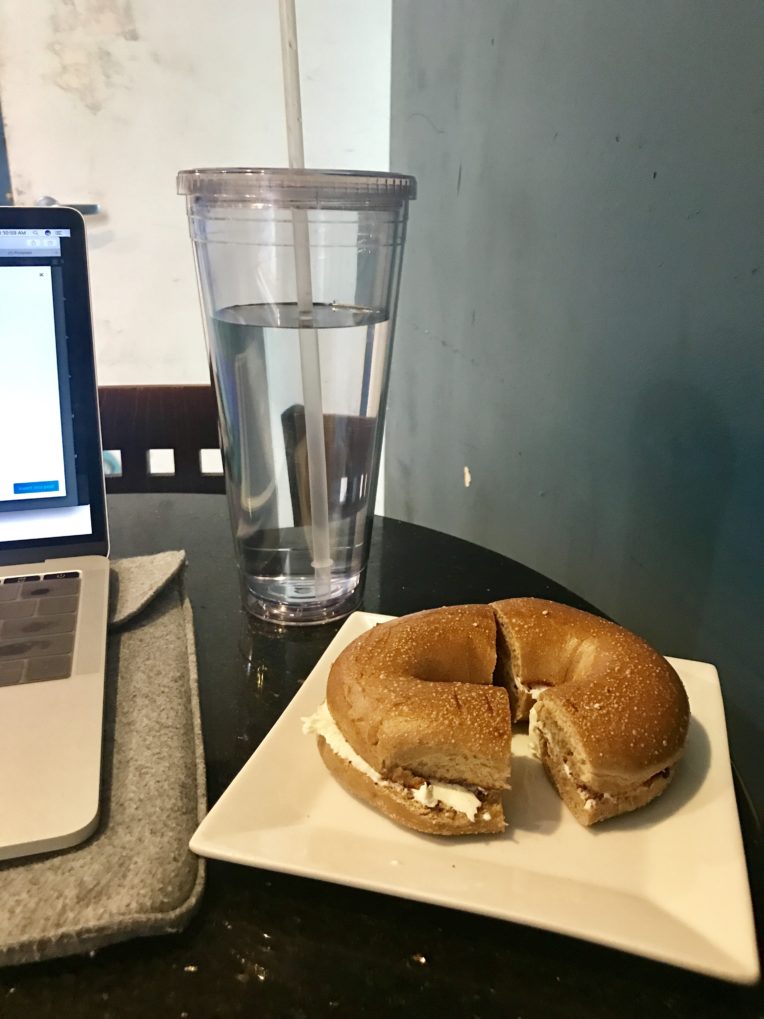 Speaking of hunger, last week I experienced a few days of crazy hunger where I felt like I just couldn't get ahead of it. Holy moly I've never experienced that before. I love food and have no problem eating however much I need to in order to satisfy hunger, but it felt like no matter what I ate nothing was working and my appetite was off so I didn't know what to eat so I was getting frustrated. After the first day, I realized that if I ate a meal and still felt hungry, instead of reaching for a snack, I'd eat a second meal right after which helped satisfying me better than a couple of snacks did.
I feel like so far my hunger in pregnancy has been the same as when I'm not pregnant, but maybe there was a growth spurt or something last week? I was at Render coffee one morning and had a egg + cheese breakfast sandwich (Prior to the sandwich I ate a snack about an hour earlier right when I woke up) and still felt hungry so I ordered a bagel with cream cheese right after eating the sandwich. Afterward I was teetering on a little more full than I usually prefer, but I'd rather be a little overly full than feel lingering hunger all day. I can focus on my work when I'm full, not when I'm hungry. So moral of the story: sometimes we just need a second meal. The body is smart.
I'd love to hear your favorite meals/snacks in the comments!