We know that the body has a genetic set point. Meaning your body has a weight range in which it is programmed to function optimally. Your body will fight under a variety of circumstances, to maintain this set point. That weight range, researchers suggest, is about 10-20 pounds and varies from person to person based on many factors you cannot control. Just like we can't control our shoe size or the color of our hair, we can't control our set point. Our bodies are genetically and biologically driven to weigh within a certain range. Finding and accepting your set point weight can be a long and emotional process. Accepting that it is a range and that this range shifts throughout your life can be an added layer of difficulty.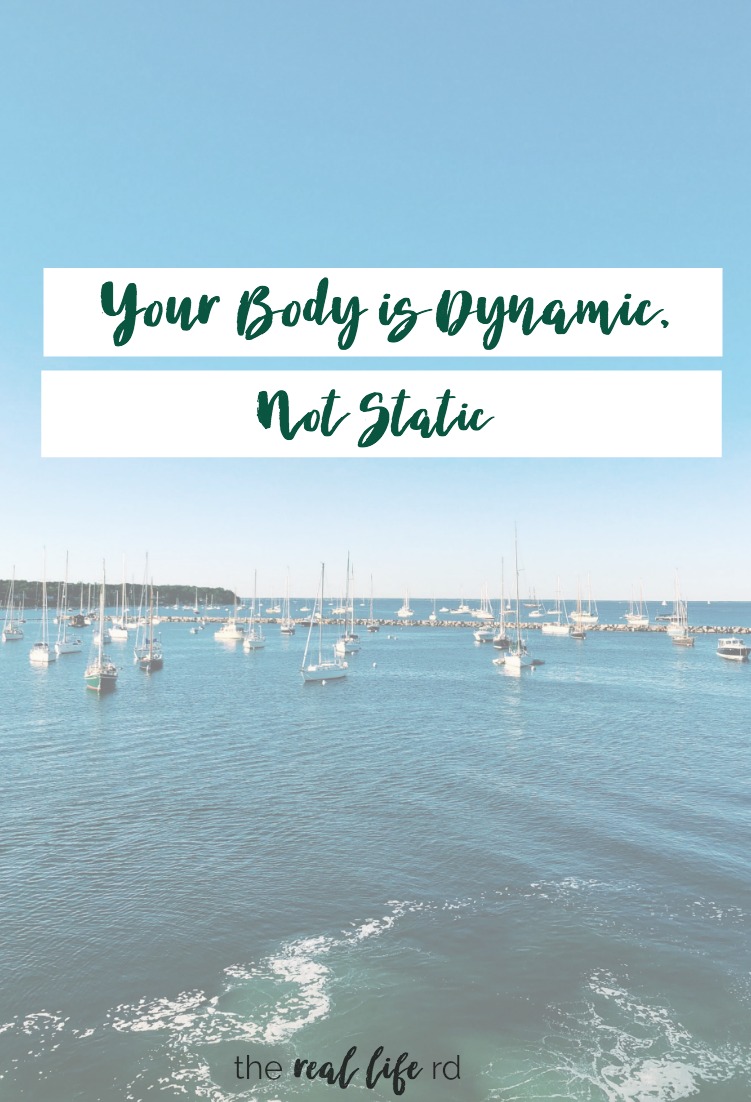 For me at least, I could accept this set point when my body reached a weight that was easily maintainable, a weight where I healthily menstruated each month, and a weight I didn't have to fight to control. That was 5 years ago. The reality of our body's physiology and the biological aging process is that our bodies change over time no matter what. You can't prevent every single wrinkle on your face and you can't prevent the shift in body fat that occurs as we age. It's how the body works. It's hard enough to accept your body at a weight and size that might not be your ideal weight that you have in your head.
There's an added layer when it comes to accepting your body as it shifts and changes within your set point range, as your set point changes throughout your life, and even in seasons of life when we might experience a body weight or size above our set point for many reasons. Can we tolerate and perhaps accept our bodies then? Can we choose to care for ourselves through nourishment, joyful movement and self care, trusting that our bodies know what they are doing and will find and settle into the weight and size they need to be. That is the focus of HAES, choosing healthy behaviors vs a certain weight because weight is an outcome, not a behavior we can actually engage in.
Being at war with your body's size is mentally, physically and emotionally exhausting. Even though your body has a set point range, remember that is a range – your body is going to change and shift within that range and that is what is suppose to happen. Your body's set point range will also change throughout your life. You will not have the same set point at 22 that you will have at 52. Your body is not static. It is very dynamic, ebbing and flowing depending on what your life looks and like and what your body needs from season to season. If you can only accept your body at a certain weight or size, that is not true body acceptance. Because what happens when your body shifts and changes? If body acceptance is contingent on a certain body size, when your body changes it's likely all hell will break lose. You might find yourself become mentally and emotionally undone – and likely participating in self destructive behaviors that don't honor or respect your health or body.
There's no lab values, diagnostic testing or formula to magically tell you if/when you've reached your set point. If you're wondering whether or not you're at your body's set point, above your set point or below your set point, this excerpt from Linda Bacon's website has questions to ask yourself that can help you determine where your body is at right now. Eating based on appetite, hunger/fullness, satiety and satisfaction instead of eating based on external rules and expectations (counting calories, macronutrients, comparing what you ate to what your friend ate, eating at specific times, etc) supports your body in finding it's set point. Exercising for joy, vitality, and to enhance your health (not manipulate your body size) will also help support your body in finding it's natural set point. Caring for your mental and emotional health also helps support your body in finding its natural set point.
There is a very big difference in pursuing health vs pursuing a certain weight/body size. In order to find body acceptance and your natural set point you first have to want to find those things. If you aren't sure if you want to do that, it's okay to be in that place. Take some time to really process through your thoughts/feelings/emotions. You have to want to respect your body's natural body size. And that natural body size might not be your ideal body size – given our thin obsessed culture, your natural set point is probably not your ideal body size. The idea of that alone can be hard to tolerate. Do you want to be healthy or do you want to be skinny/toned/fit? They are very different things.
Weight has very little to do with your actual physical health. Those two things don't matter nearly as much as culture and the media and our minds think they do. Rather it's your behaviors around food, exercise and your emotional/mental health that profoundly affect your overall physical health. I shared this 5 minute video a couple years ago on social media about how our attitudes about food can impact our physical health. How we think about and view food has the ability to determine how effectively our bodies metabolize and process food – even more than the nutrient content itself. I think that's so fascinating and eye opening. I talk about stress a lot and how it affects our physical health because it has such profound impacts.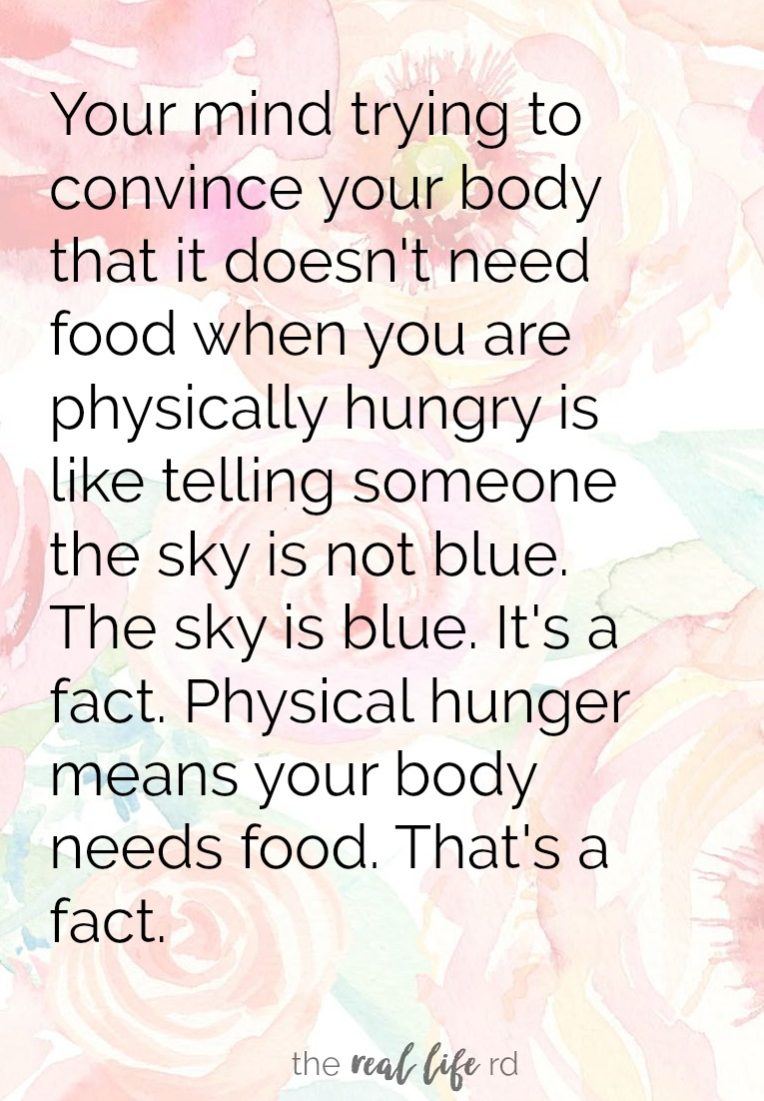 We think our minds know more than our bodies. They don't. At times, there will be things that are happening internally in our bodies (like illness, nerves or indigestion) or externally in our environment that affect our body's ability to send accurate hunger/fullness cues. That is when your mind can come in and you can use accurate nutrition/health knowledge to make food and health decisions that best support your body's needs. But that is occasional, not all the time. Our bodies are smart. They know what they need. The problem is that we get in our own way and we think that our minds know more than our bodies. They don't. Our minds are there to act as an adjunct to our bodies when our body signals are confusing. Your mind trying to convince your body that it doesn't need food when you are physically hungry is like telling someone the sky is not blue. The sky is blue. It's a fact. Physical hunger means your body needs food. That's a fact.
Your body size will change throughout your entire life. You can choose to fight your natural set point and spend your one life overthinking food and exercise and your body, but that means you will miss out on fully living your life. You cannot be fully engaged in your life while also micromanaging your body size. In order to micromanage your body size, you have to give up other parts of your life and who you are. But unlike the illustration diet culture paints, having a thin/toned/fit body that culture portrays as beautiful and worthy and true body acceptance are mutually exclusive. They typically do not occur at the same time. In order to have a body shape like that, you have to be obsessed with your body, food and exercise. Of course, there is a very small percentage of the population with a genetic set point and body size that is aligns with our culture's expectations. But nobody naturally has a six pack.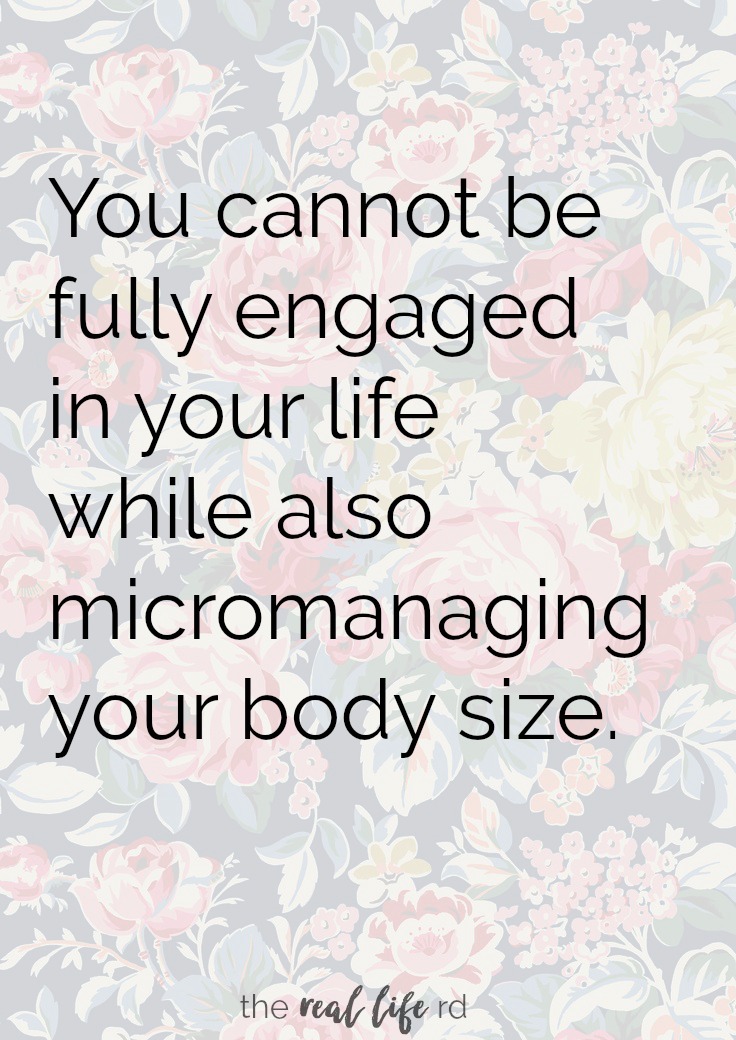 I feel sad when I think about all the moments I missed out on in my teens and early twenties because I was terrified of my body changing. Looking back now, what is most terrifying is missing out on living a meaningful and purposeful life.