1. Serving Sizes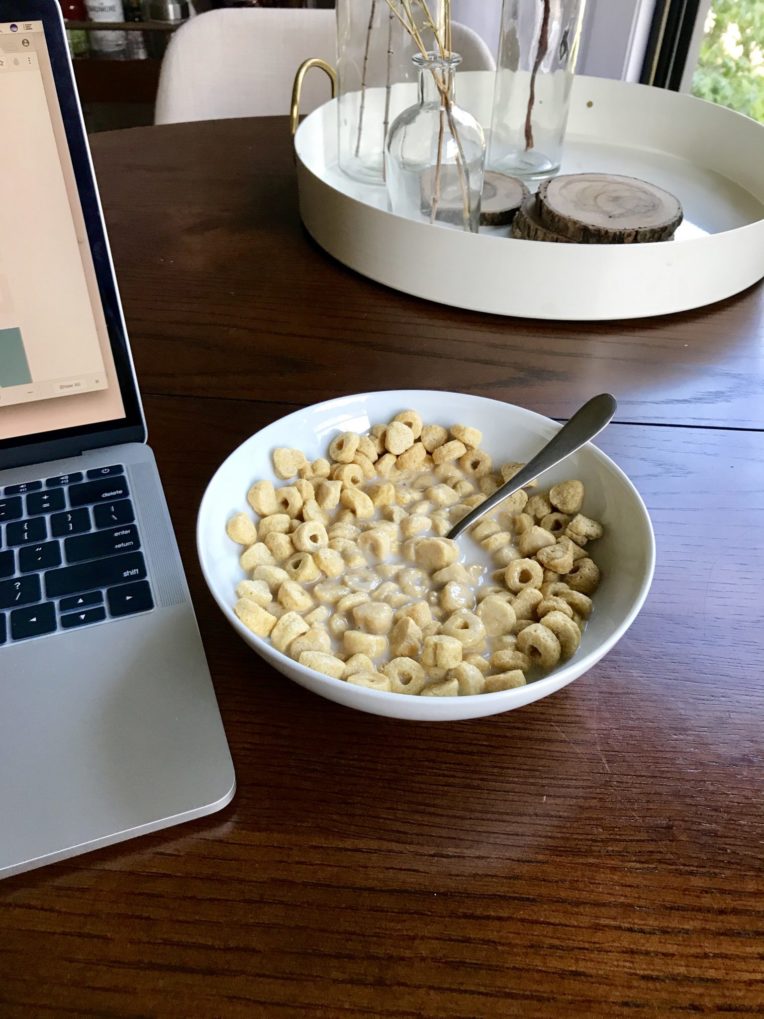 Those serving sizes you see on the back of food labels aren't what determine how much of that food you "should" eat. A serving size is a measurement that allows food manufacturers to generate nutrition labels that are accurate and consistent. A servings size is not a prescription for how much you should eat of a particular food to maintain good health. The serving size for the cereal above was 3/4 cup. That's what a toddler would eat. Relying on external cues (serving sizes, calories, macros etc) to determine our food choices almost always leads to an unhealthy place, disrupting the mind body connection.
Serving sizes make it so food manufacturers can generate a nutrition facts panel – they do not serve as a guide for you to establish a healthy eating pattern. Every body has different needs – we all have different genetics, a different microbiome, different hormones flowing at different times, different metabolisms etc. A serving size, that is the same for every single person in this world buying that food, being prescriptive for how much a person should eat of that food makes zero sense. That would mean every single person's nutrition needs are the exact same and that food manufacturers know our body's needs more than we do. It's simply not true. The USDA and FDA don't know your body's unique needs.
2. End of Summer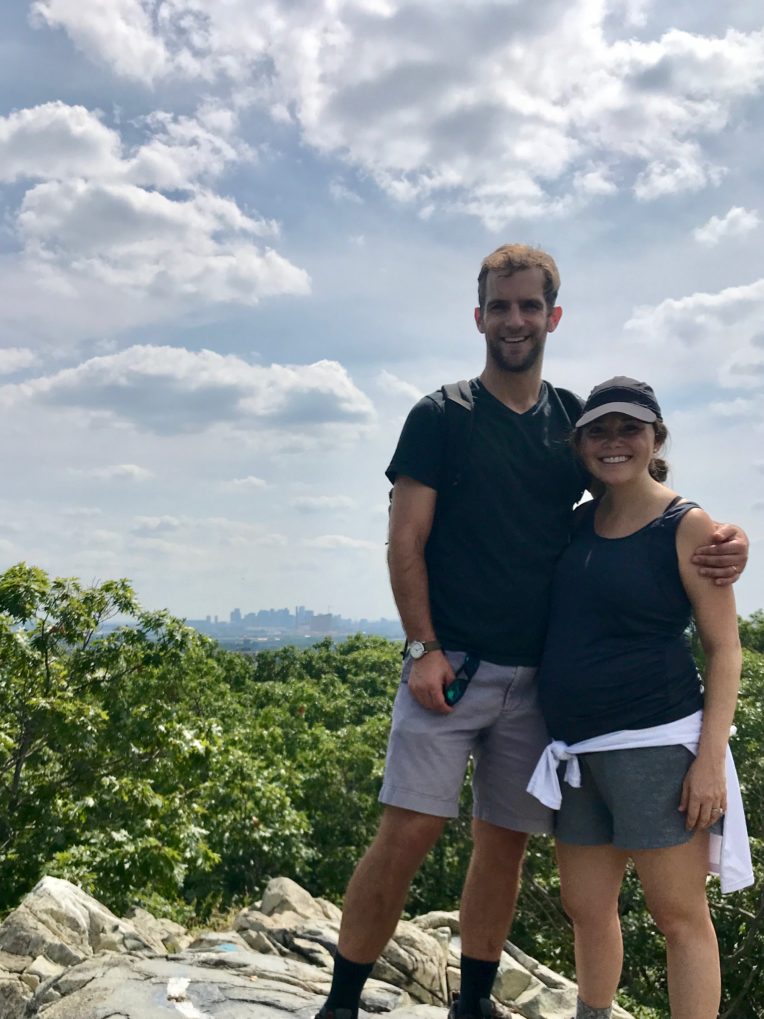 It's September 3rd! Crazy. Those goals (more like intentions) that I shared a couple of weeks ago….I did check most of them off. We didn't get to the beach, but that's okay. Perhaps in September! Nick and I got out of the city and went on a short hike with friends at the Middlesex Falls Reservation and brought some sandwiches from Flour that we ate afterward on a bench. That's my version of a picnic. The views (and sandwiches) were awesome. I went with the smoked turkey + swiss but subbed out the turkey for tofu. The sandwiches were going to be in a backpack for a few hours and warm turkey didn't sound like a good idea. The tofu version was fab though! Chewy bread, tofu, housemade pickles, red cabbage slaw, swiss cheese and 1000 island dressing.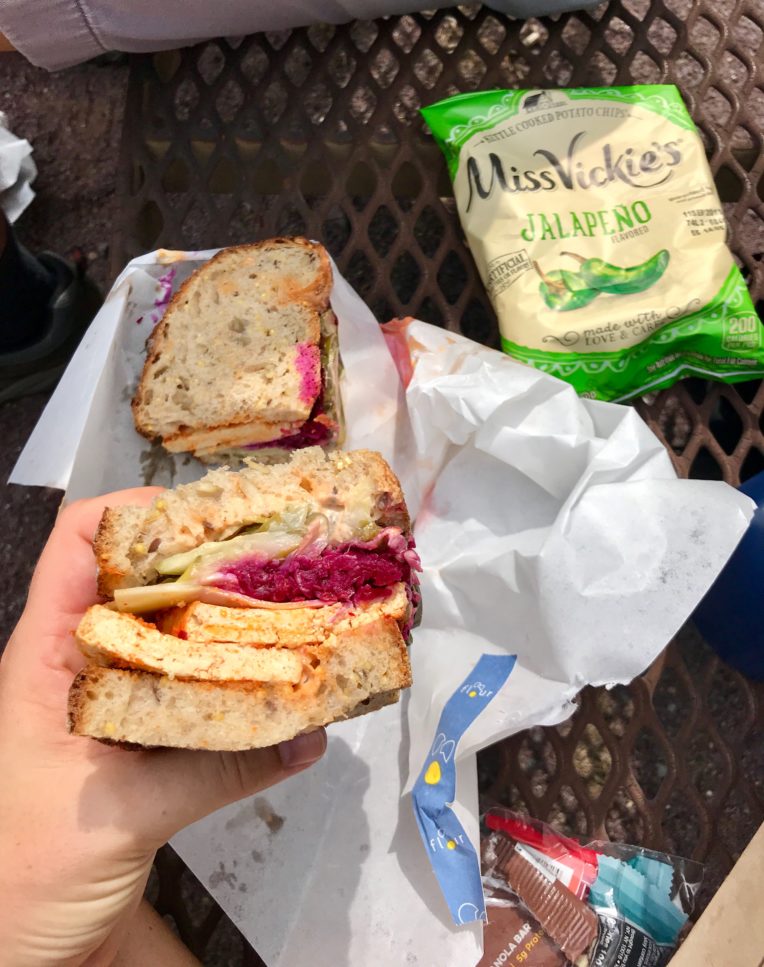 3. Your hormone status on hormonal birth control
The question of hormone health while on hormonal birth control is a question that comes up often in client sessions and in emails I receive so I thought shedding some light on it here might be helpful.
Birth control pills, patches or rings contain hormones, usually both estrogen and progestin. There is also a shot called Depo Provera, "the mini pill" (aka progestin only pill) and an implant that contains only progestin, which is a synthetic form of progesterone. All these methods work in essentially the same way by releasing synthetic hormones into your body in order to…
stop ovulation (meaning an egg does not get released from the ovary)
thicken the cervical mucous so it's harder for sperm to pass through into the uterus
thin the uterine lining so it's difficult for a fertilized egg to implant
Hormonal IUDs (Mirena, Skyla, etc) work similarly as above – primarily in the first two ways. The non hormonal copper IUD called Paraguard works slightly differently. Sperm do not like copper so the IUD prevents sperm from ever reaching the egg. Paraguard can also potentially change the lining of the uterus, making implantation unfavorable. Although Paraguard isn't hormonal, it may still alter your monthly bleeding to be heavier and longer – especially in the first few months after insertion. Note that all these forms of birth control can cause some irregular bleeding — that can be an expected side effect, it doesn't necessarily mean there is an underlying problem.
Ok, so to the point of all this. One of the primary ways birth control prevents conception is that it suppresses ovulation. No egg being released = no fertilization. How does birth control suppress ovulation? The hormones in birth control (except for Paraguard) suppress your pituitary gland's production of follicle stimulating hormone (FSH) and luteinizing hormone (LH). FSH stimulates your ovaries to make and mature eggs. LH surges in the middle of your cycle to trigger ovulation. Suppression of FSH and LH prevents your ovaries from developing and releasing an egg – the goal of hormonal birth control. When you get labs drawn, they are measuring the amount of hormones your body makes in this ovulatory suppressed state so LH and FSH will likely be low. Since birth control blocks the function of your ovaries (by suppressing the pituitary release of LH/FSH) it's common to see estradiol and progesterone levels low as well.
If you're taking birth control to prevent pregnancy, this is exactly how it's suppose to work and you want your birth control to be doing it's job. Because ovulation is suppressed, when you get female hormone levels checked, these numbers won't reflect your natural hormone state, rather they reflect your reproductive hormones when they are altered by hormonal birth control. These altered labs levels are expected.
So in short, if you're taking hormonal birth control and you get labs drawn, those results are not a reflection of your natural hormone status since the role of birth control is to suppress your body's reproductive hormone production.
4. A Really, Really Good Read (more like a must read)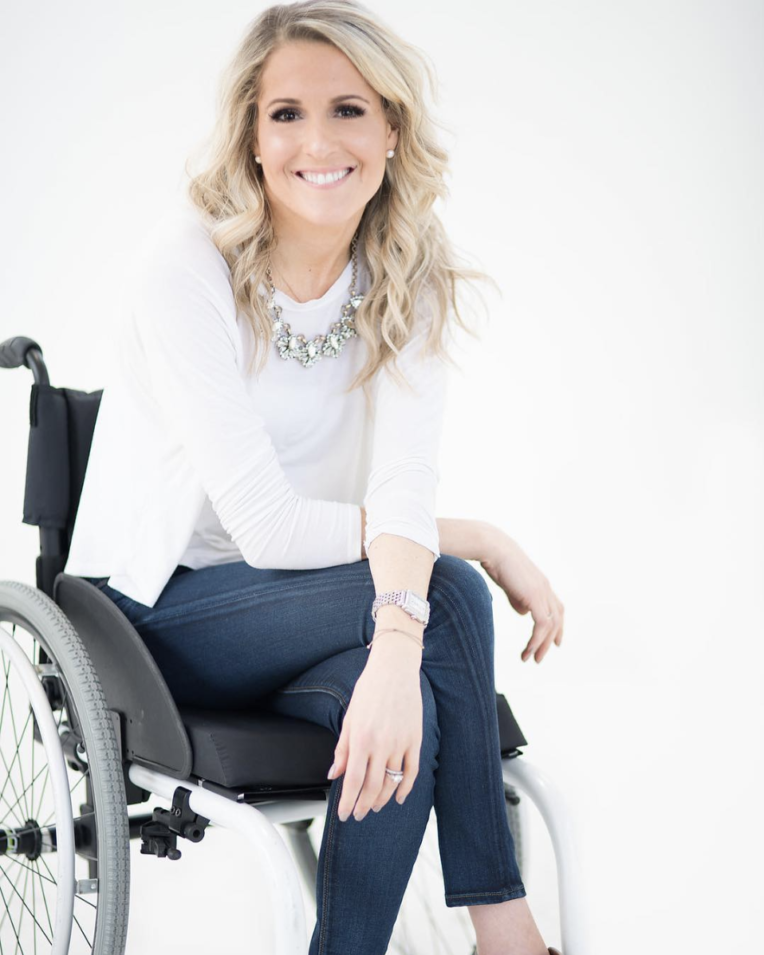 My friend and RD colleague here in Boston, Anna Sweeney, lives with multiple sclerosis. SELF published her beautifully written article on body acceptance and I highly recommend you read it.
When we call a truce in the war between our bodies and the standards we feel we need to live up to, we can use our energy to make room for the ways in which we are different instead of using it to try to push ourselves towards an elusive and unattainable standard.

Acknowledge that acceptance might require a period of grief. If you have been willing your body to be one way for any period of time, transitioning to a new way of thinking about your body might make you sad, might make you angry, and will take time. Body image healing and body acceptance are not a final destination, but rather, a process that will evolve as you move through life. The objective is to be as kind and generous with our bodies as they evolve as we are able to be. This is where and how my clients have healed.
I was so encouraged to see SELF publishing content like this. Read the full article by Anna here.
5. Are we helping or hurting?

A good reminder to health practitioners and for anyone – when we converse with other people are we helping or are we hurting?