Developing positive body image doesn't mean you go from hating to loving your body. And cultivating positive body image doesn't mean you have to love your body. In fact, I think that's quite unrealistic for the majority of people. I don't love my body. Maybe you don't either. But I do appreciate my body and care for my body just as it is today without any intentions of changing it's appearance. To me, that is positive body image.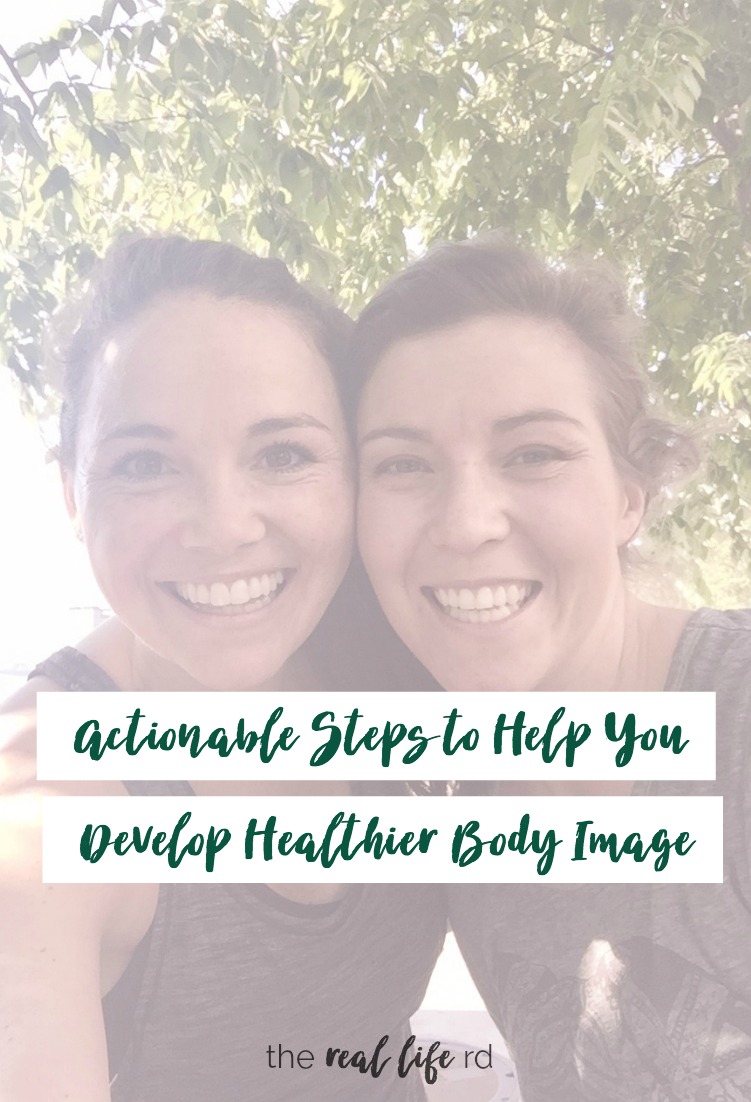 Positive body image can mean a lot of things once you start sifting through the media messages. The diet industry uses it as a marketing tool as they lead you to believe that they want you to love your body. This is manipulation. They are preying on your vulnerabilities by leading you to believe that your body is the problem and if you could fix your body, you would love your body.
Changing your body isn't going to heal your body image. Believing that when all the media messaging (or messaging from your friend or your mom or your spouse) tells you that it will is really, really hard. Negative body image thoughts are an external representation of an internal struggle. There are actual feelings underneath causing those thoughts to bubble up. Fixing your body doesn't truly help you better emotionally cope with your negative body image because your body isn't the problem.
The road to positive body image usually goes like this: you stop hating your body and instead tolerate it –> you move from tolerating your body to actually accepting and respecting your body –> you might, but you certainly don't have to, love your body or parts of your body. The journey towards healthier body image isn't about changing your body, but rather experiencing your body in a less painful way.
And in this journey, behaviors typically change before thoughts change. And thoughts shift and change before your emotions towards your body change. Behaviors are those actionable steps that likely feel most realistic to change. Once behaviors shift, those thoughts begin to loosen up and it becomes easier to shift thoughts. And lastly, with a lot of hard and often emotionally charged work…your emotions will shift too. If this journey seems really long and really hard, you're in the right place. Body image work is HARD.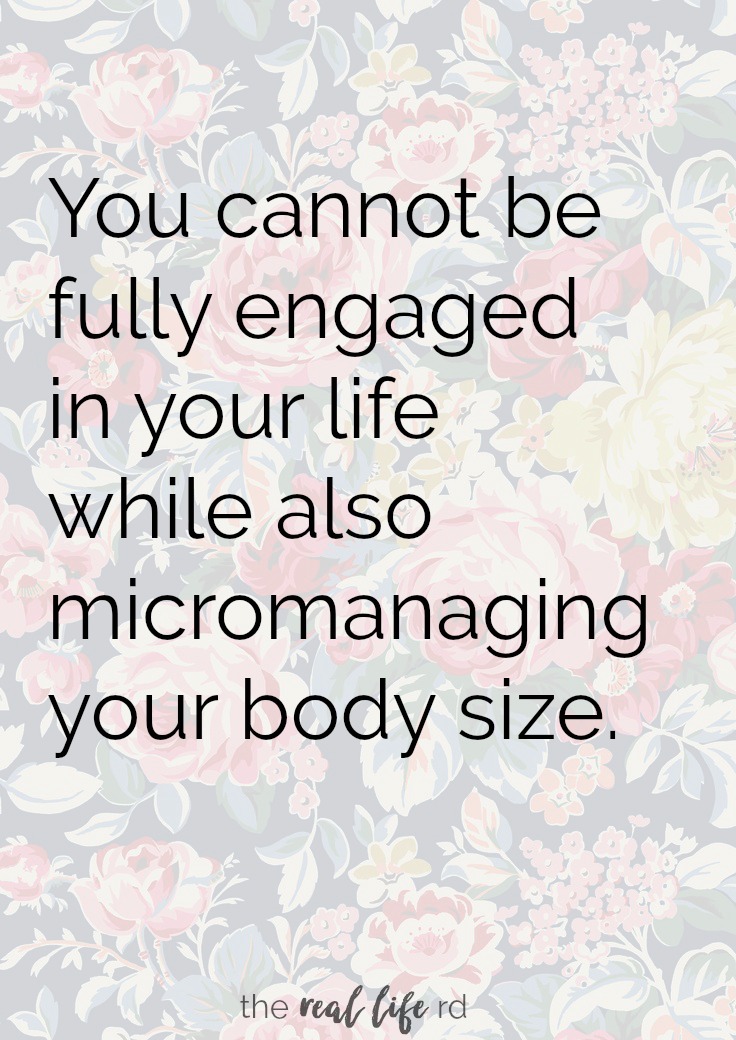 So what are some behaviors you can begin to shift? Here are some that might resonate with you.
Stop body checking. If you need to cover up your mirrors do it. Stop standing in front of the mirror when you get in and out of the shower. Stand in the back of the workout class so you can't see yourself in the mirror. Whatever you need to do to stop body checking, do it. Never seeing your body isn't the end goal, but while you're feeling highly vulnerable in this journey, avoiding mirrors might be really helpful for you. A realistic end goal might be to see your body in the mirror and the majority of the time have neutral thoughts or no thoughts at all towards your body. But in the beginning, it can be really helpful to avoid mirrors. If you find yourself staring into a mirror or window, that's okay – when you become aware of this behavior, shift your gaze elsewhere.
Fill your closet with clothing for your body just as it is right now. Maybe that means you donate all the clothes in your closet that don't fit and/or don't feel good on your body. If you're not quite ready to donate them, perhaps you store them away where you can't see or access them. Buying clothes is a financial investment that isn't feasible for everyone. Can you purchase clothes at a thrift shop? Borrow some clothes from a friend? At the very least, wearing any type of clothing that actually fits can do wonders for your body image.
Social media: if you scroll past something and it doesn't help you live a better life…unfollow. Scrolling through social media can be a knee-jerk reaction where we don't even realize what we're doing until we're knee deep into scrolling and feeling bad about ourselves. A client of mine recently inactivated all her social media accounts, and while she has had to sit with boredom and figuring out how to fill her time instead of scrolling…a clean break was just what she needed.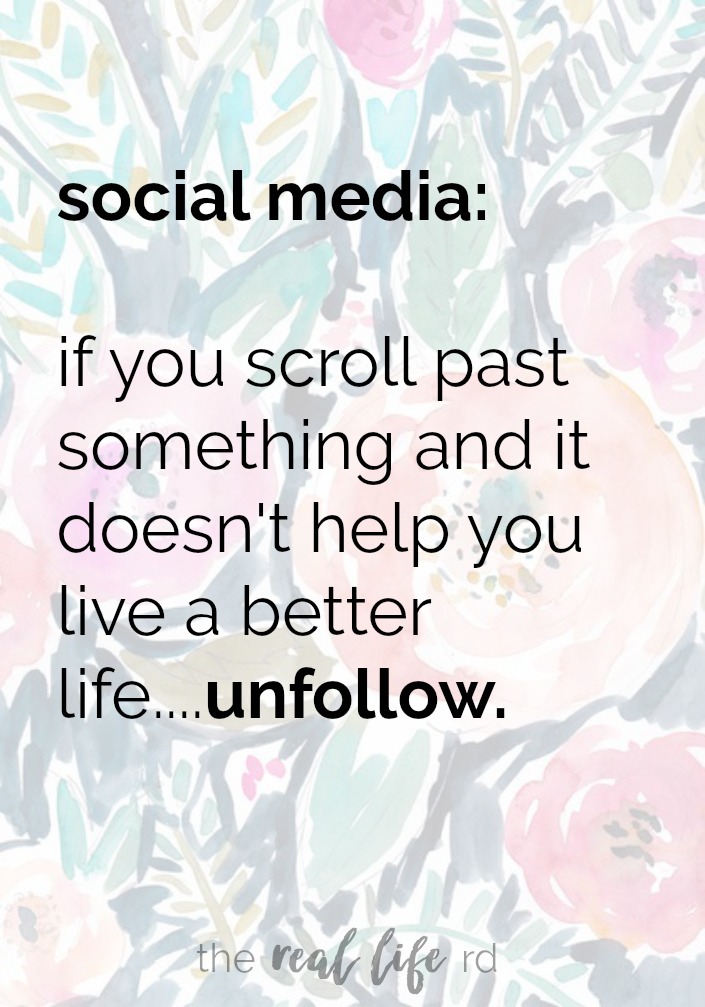 Exercise. If you're choosing exercise with the hope (either subconciously or conscious) of your body changing, cultivating healthy body image will be nearly, if not almost, impossible. I found developing a healthy relationship with exercise to be much more difficult than intuitive eating. It was HARD. Perhaps you need to stop doing any forms of exercise that have the potential to change your body for a period of time. Stretch, do some casual walking, roll out on your foam roller, do some gentle yoga if that feels good…but perhaps you need to take a break completely from all other kinds of movement. You can't exercise with the intention to change your body in a mindful way. Can you have exercise related goals and still be mindful around exercise? Here's more on that.
Create a list of people you admire and respect and think about why you feel the way you do about them. What qualities do you admire about them? Why do you enjoy being around them? I'm pretty confident it has nothing to do with their body size/shape.
Note in a mindful way when you notice yourself comparing your body to others and gently redirect your gaze and/or your thoughts. Can you go engage in a conversation with someone? Do you need to remove yourself from your current environment for a breather? Shifting a judgmental thought to an observation can often be helpful too. For example: Instead of thinking, "Her legs are skinnier and more toned than mine." you could shift that to, "She has long and narrow legs." Try some of these things on and see if they are helpful for you.
Start every single morning with three gratitudes. Starting your day in a place of abundance instead of lack can make a profound difference in how you think and feel throughout your day. Focusing your thoughts, time and energy on changing your body isn't going to allow you to live a happier life.
Positive body image isn't loving your body, it's thinking of your body less because you're directing your thoughts, time and energy towards creating a vibrant, fulfilling life that aligns with your values. I'd love to hear your thoughts in the comments! What are some behavior changes that have been helpful for you? Or what current behaviors would you like to change?