Trello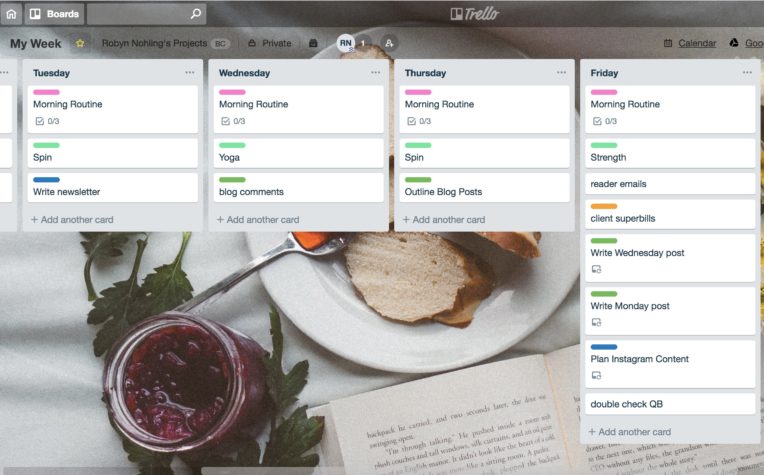 I'm a big fan of a paper planners. I'm also a big fan of Google Calendar. These are the two main tools I use to organize my life. But lately, I've been finding that life had too many moving parts for a paper planner. There were personal tasks, work tasks, baby to-dos, an editorial calendar and all these other things that I was trying to manage that what I wound up with was a jillion lists written in the notes app on my phone. I know I'm way behind on the electronic task manager game…but after doing some searching around I realized a lot of people love Trello and Asana. After reading comparisons of the two, I went with Trello since it seemed like a better fit for me. The best part, it's free!
It took a bit of time to get it all set up and there was a little learning curve, but so far I'm loving it. Everything is in one place. And I can make boards and lists for anything – both professionally and personally. I still use my Google Calendar to schedule appointments, events, etc, but in terms of task management, Trello has been awesome. The image above is all my repeating cards and then I'll fill in all the tasks for the week on Sunday evening as I plan the week out. If you want to check it out and get your toes wet, I read this blog post and this blog post after googling "how to use Trello" to give me a little lay of land if you will. Really, you can use it however you want!
Are you a marathoner or a sprinter?
One of our amazing interns, Hannah, sent me over this article and because I'm a sucker for anything that gives me insight into how I function I immediately read the article. After reading, I've concluded I am 100% a procrastinator because my brain only has so much capacity to think ahead. I tend to get overwhelmed if I think too far ahead and about all the things I need to do. Which is probably why planning out social media posts and writing blog posts weeks and months ahead of time doesn't really work for me. I can jot out some rough ideas, but that's about as far ahead as I get. I need a little bit of pressure to get things done. For me, if I have more time to do something I'll work slower and take more time. That's not always the case, but almost always. Whether it's cleaning the apartment, writing thank you cards, charting, creating content for the blog, or whatever – if I have a certain amount of time…..it will get done in that time. I think there are pros and cons to both. Are you a marathoner or a sprinter?
We hired a VA!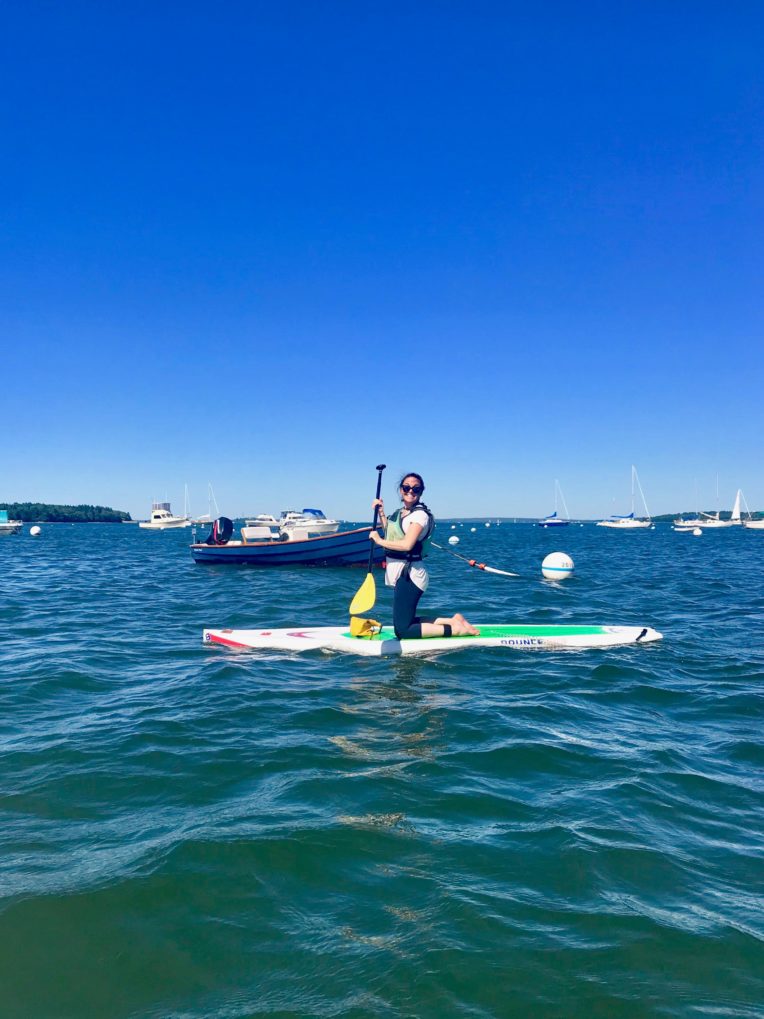 I've been white knuckling hiring a virtual assistant for years. Hi, my name is Robyn and I have control issues. Our two interns, Connie and Hannah are AMAZING. As in, how in the world did I function before them?? I credit the two courses I launched over the past seven months, hiring a therapist, starting intuitive eating support groups and many other areas of growth to them. Because without them I wouldn't have had the time to 1) think about these things and 2) carry them out. They each do a few hours of work per week and are incredibly helpful – but I was realizing that one, their time with me is sadly coming to a close and they will be moving on to bigger and better things and two, I needed more help if I wanted the business to keep growing as life shifts and changes this winter with a new baby. What does the above photo have to do with it? I don't want to end up paddling in circles, getting quickly exhausted but going nowhere which is where I'm headed without some extra hands.
There are a lot of tasks that I do on the back end of the blog/business that somebody else can totally do and quite honestly, do WAY better than I can. I'm not skilled at technical blog stuff, social media strategy, newsletter stuff  and things like that. I will always be the one creating the content, but when it comes to some strategy, editing, publishing, SEO, creating blog and social media graphics and all that jazz….I'm not the best person for the job. My skill set is quite limited in those arenas. And passing that off gives me so much more time to do what I love to do – learn and read research, see clients, invest in my NP career, teach, speak, and those sorts of things. So I realized I could continue white knuckling this and probably end up exhausted and burnt out, or I could simply hire someone to do it better than I can and help the business grow. This is certainly a team effort! I know a lot of other RDs and entrepreneurs who have hired VAs and never looked back so I'm really excited for what's ahead.
Stress and Hunger Cues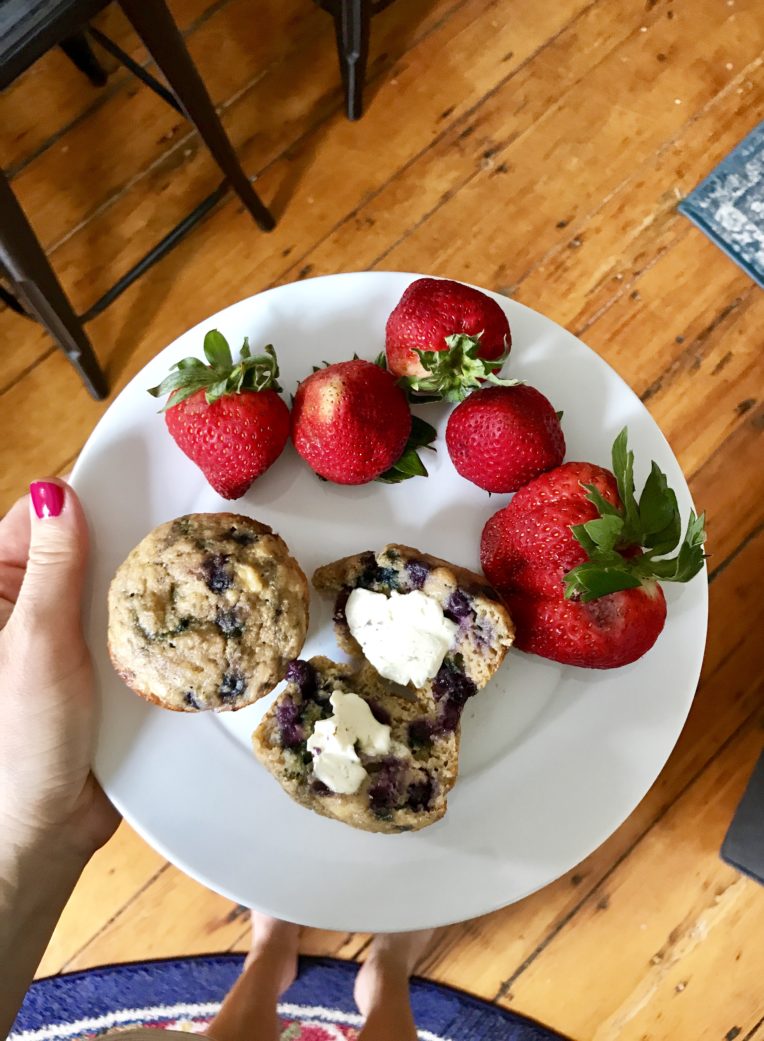 I had a reader email me a question/concern that I thought would be helpful to write about on the blog since I know she's not alone…
Something I've been struggling with that I don't often see addressed is stress and hunger cues. When I'm feeling stressed or overwhelmed I really struggle to feel my hunger cues – or sometimes stress causes my stomach to feel upset so I'm just not in the mood to eat. I've been really working on this body trust piece and it seems sort of contradictory."
There are many things that can affect hunger cues and make attuning to hunger and fullness cues confusing. Stress, lack of sleep, anxiety, certain medications, pain, exercise, dieting and many more. This is why intuitive eating isn't just eating when you're hungry and stopping when you're full. I've written about this analogy before – think of your body as the pilot and your mind as the co-pilot. I like to think of intuitive eating as bridging together body knowledge with mind knowledge. Our body is usually running the show and telling us when, what, and how much to eat. But sometimes, our body signals aren't totally reliable and that's when our mind, the co-pilot, can jump in to assist our body, the pilot. It's a team effort. So when your body signals are confusing you can rely on the mind knowledge you've built up. When I say mind knowledge I mean sound, nutritional advice not diet advice found in a magazine or online or some other random source. Seek out advice from a credible, trustworthy source.
When you're stressed, your fight or flight system kicks on and blood gets shunted away from the GI system so it can be used for more important body systems like your heart and lungs to "get out of danger." Your gut and brain are also connected so your gut is affected by your emotions. All this can result in absent hunger cues and even nausea, bloating and other uncomfy body sensations. Using mind knowledge, we know not eating can dysregulate blood sugar which only adds to stress and anxious feelings. So pulling from what you know about how to nourish yourself, you could choose to eat something plain, yet energy dense, that would give your body some energy and nourishment and digest easily. If you really can't stomach solid food, a smoothie or fruit juice could work too. I can certainly relate to wonky body signals, especially in this season of life. When that happens, soft serve froyo, juices, a muffin, granola, and fruit are foods I can manage to eat and that sit best with my stomach and still give me energy. I'd love to hear in the comments about some experiences you've had with using mind knowledge when body signals are confusing.
Settling back into Boston life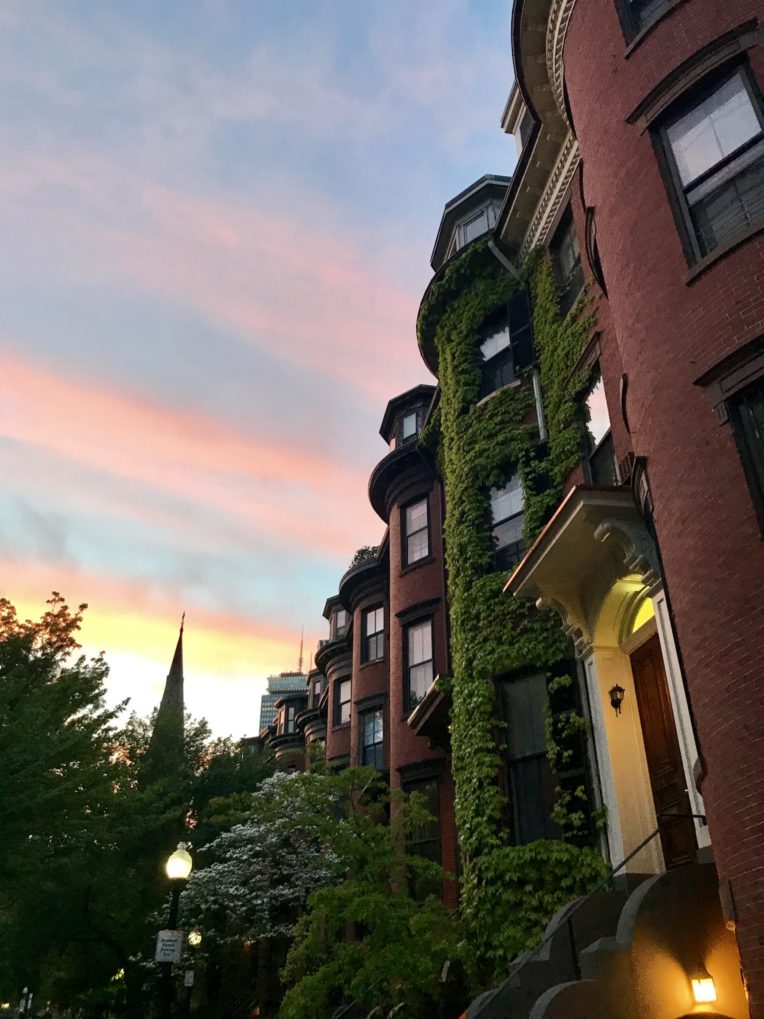 I've been home in Indianapolis for the past couple weeks, which has been wonderful in so many ways. I worked at my NP job yesterday after flying home and then planned out the week in an effort to settle back into some sort of rhythm. I still worked while home and saw clients, but I found it so hard to focus and get my wheels turning. So I took that as a sign and did what I needed to do to keep things afloat and left the rest for later. I realize how lucky I am to be able to be my own boss most of the time and have that kind of flexibility with work.
After I left the hospital yesterday, I stocked up the fridge with groceries, laid out my week in Trello and got into bed early. It's going to be a busy couple of weeks before we leave for Hawaii at the end of the month so I'm using that as motivation to kick things into high gear after a slower couple of weeks at home. What's on tap for you this week??