It's been a bit of an adjustment getting back into the swing of real life after vacationing in Hawaii last week. I am so insanely thankful for that trip. I haven't taken more than a day or two off from work in almost two years. This trip made me realize that is way too long for me! Unplugging and unwinding for 10 days was simply incredible.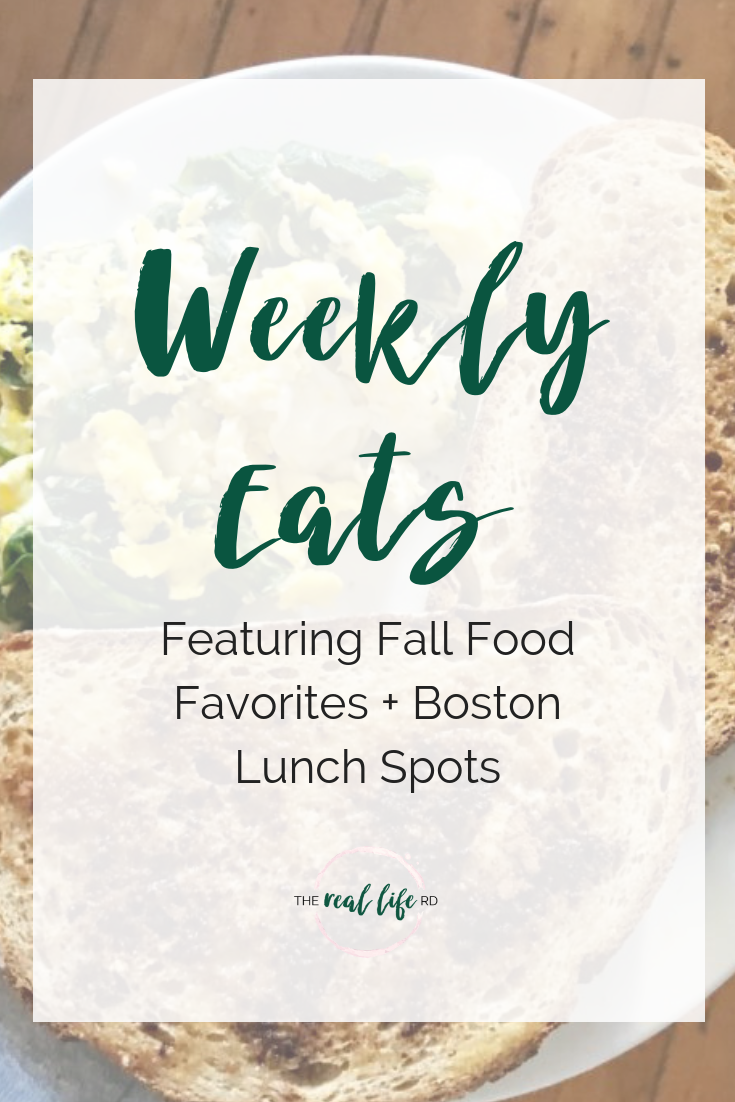 In other news, fall is in full swing up here in the northeast and I couldn't be happier. Give me all the fall food! Here's a roundup of some meals and snacks I've eaten over the past couple weeks before we left for our trip. I hope these posts inspire you on your own journey with food. I'd love to hear what meals and snacks you're loving lately in the comments!
Breakfasts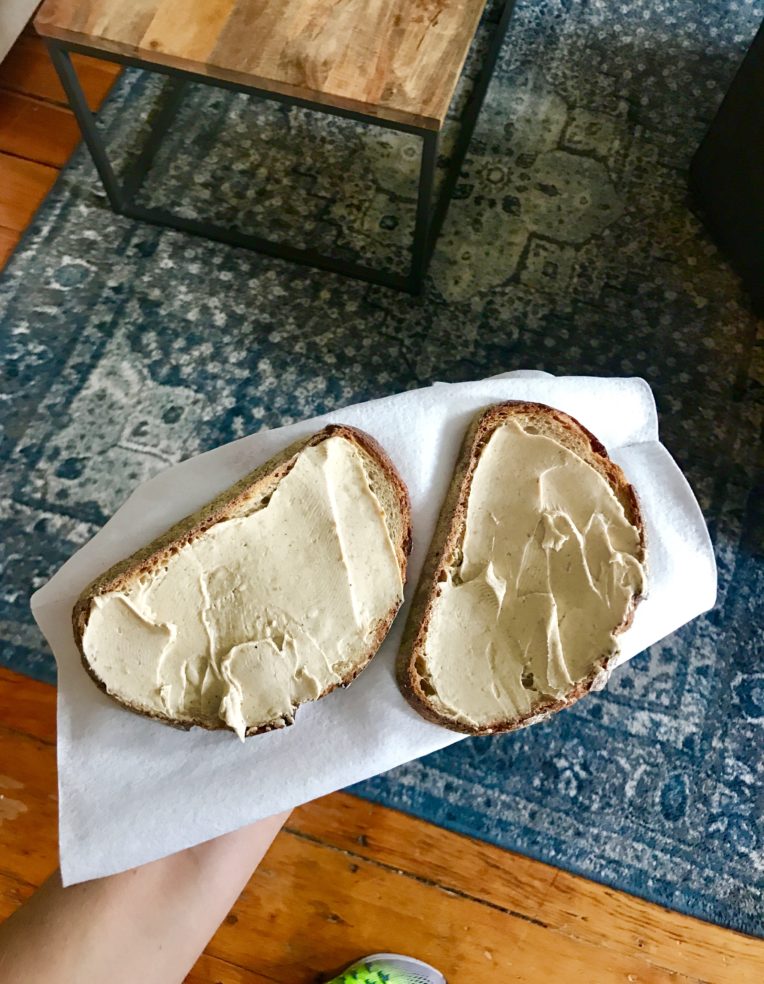 Speaking of fall food… I was "that girl" who bought all kinds of pumpkin things on a random trip to Trader Joe's a couple weeks ago. Needless to say, for breakfast I ate a lot of toast with pumpkin cream cheese. Bagels would have been better, but I'm trying to use up what we have in our freezer because it's overly full. In addition to the toast, I had a carton of Siggi's 4% vanilla yogurt to sneak in some satiating protein.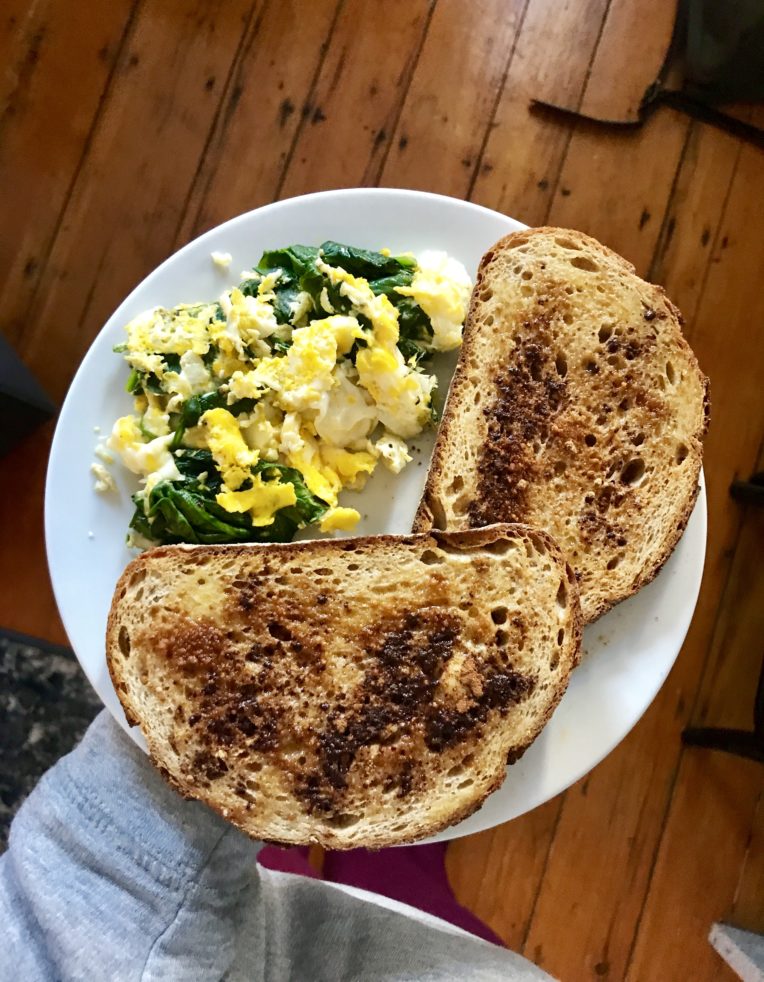 More toast! Do you remember cinnamon toast from childhood? My mom would smear butter on a slice of toasted Wonder bread and then sprinkle a mixture of cinnamon and sugar on top. I lived off that stuff. This is a more "sophisticated" version because I used Iggy's sourdough toast – which is my favorite local bread here in Boston. I also scrambled some eggs with spinach for a little bit of extra protein and veggies.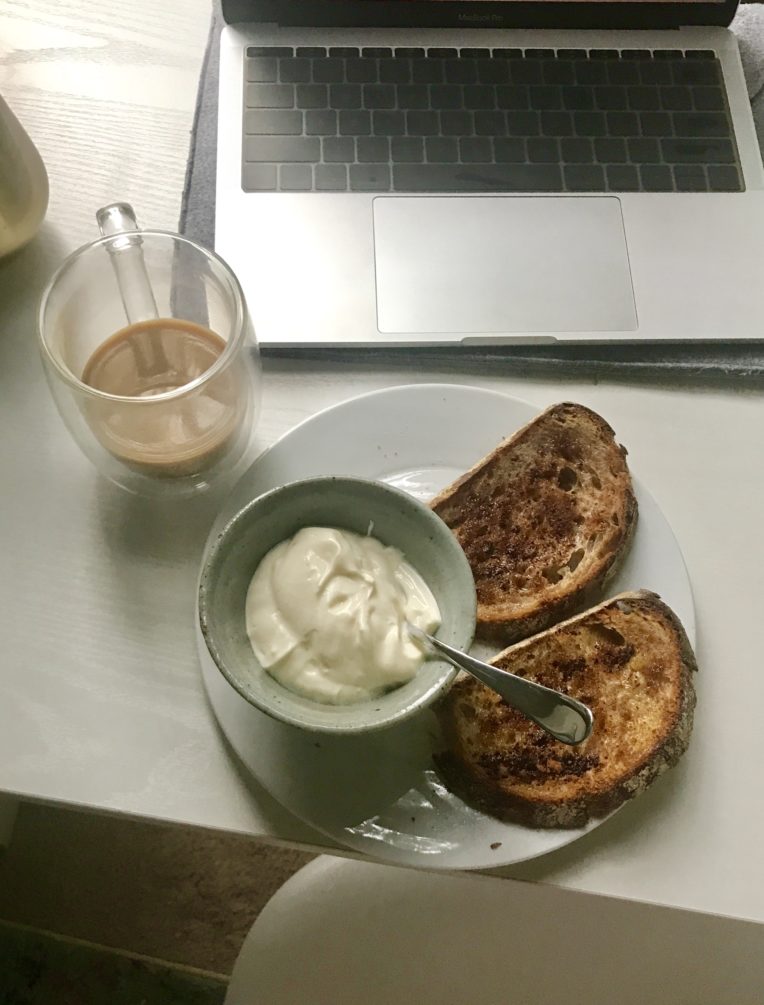 Sorry, but not really… More toast! I had a couple slices of cinnamon toast + a bowl of full fat, plain greek yogurt that I stirred maple syrup into. I will definitely be doing that again because it was amazingly delicious.
Lunches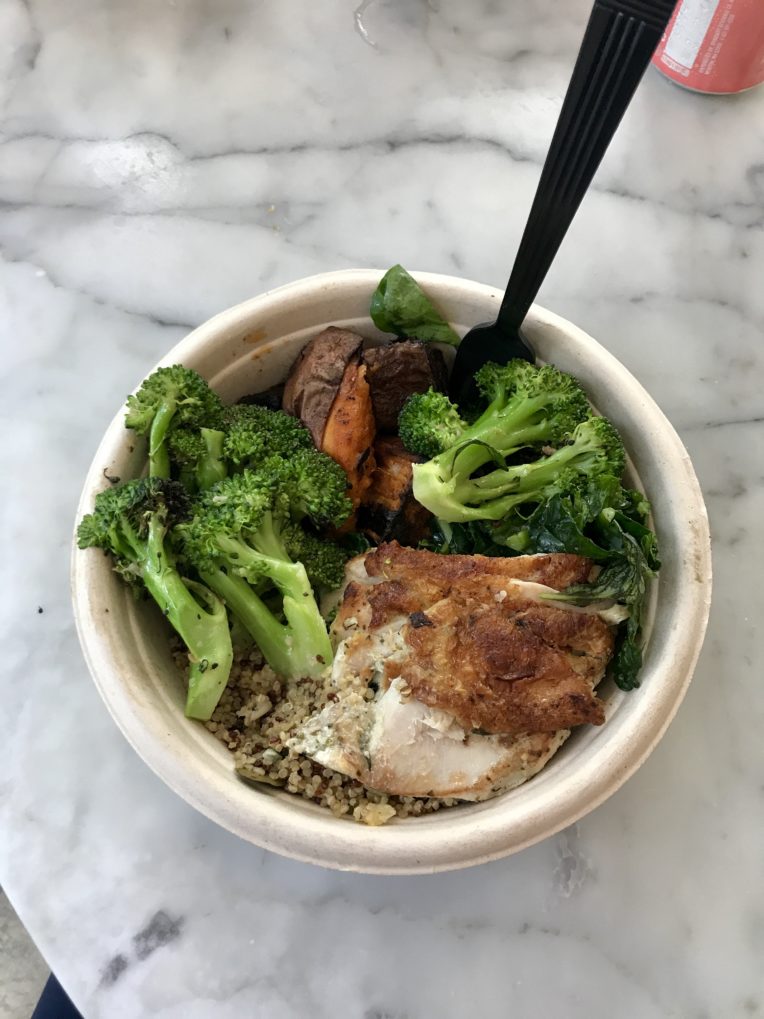 I ate lunch out with a friend one day and she picked the spot. We ended up going to Dig Inn. I love that place for lunch. As the weather gets cooler, I'm not into cold salads as much. Instead, I crave warm lunches like this that fill me up and give me energy for the afternoon. As I'm looking at this bowl of grains, greens, broccoli, chicken and sweet potatoes, I'm realizing I could totally replicate this at home. Maybe I'll do that for next week…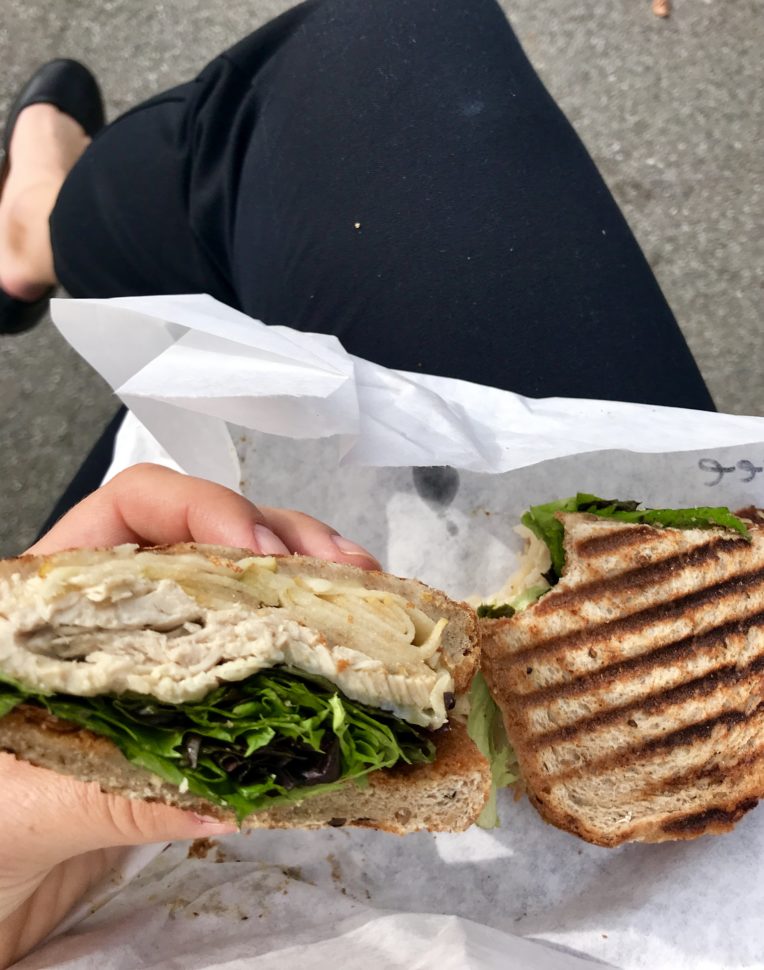 Another day after I got home from my NP job I ate a late lunch with a friend in the park. We picked up sandwiches from Blunch. I went with "the Giving Tree." It has smoked turkey breast (I subbed with chicken breast), cheddar cheese, shaved green apple, house-made honey dijon, and greens on multigrain bread.  It was super tasty. That being said, I was still hungry afterwards so I had a few squares of chocolate and some grapes when I got home.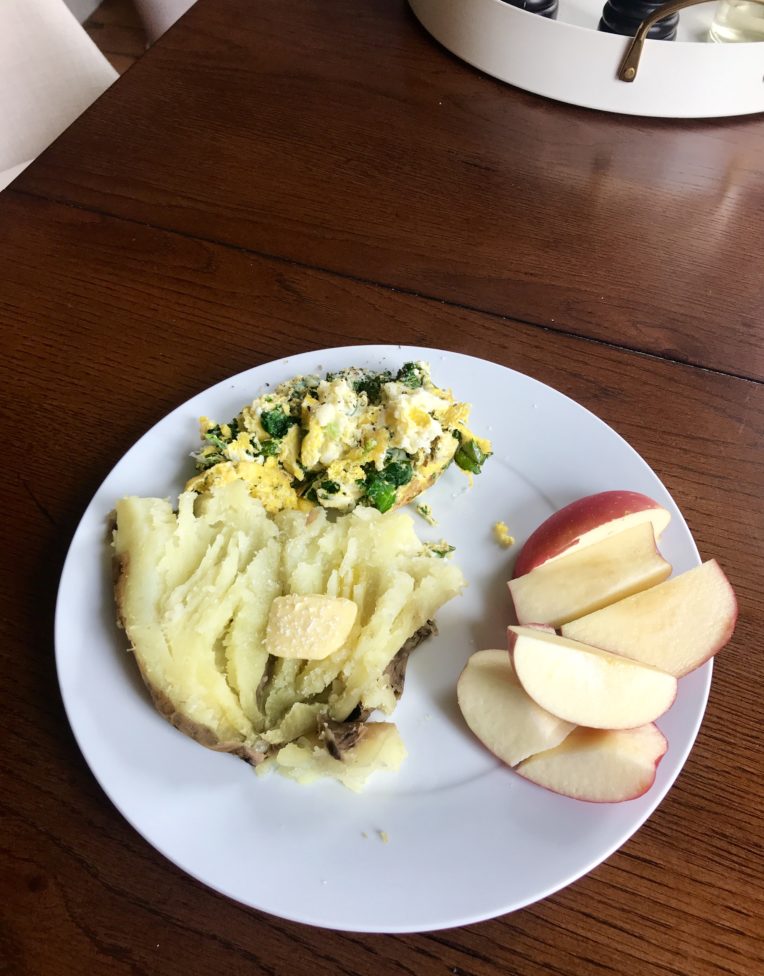 I definitely had some random, lazy lunches while Nick was out of town… My appetite was weird and I didn't know what to make for lunches that week. I ended up with white sweet potatoes (my favorite, they are so good) + scrambled eggs with spinach and parmesan cheese + fruit. It worked.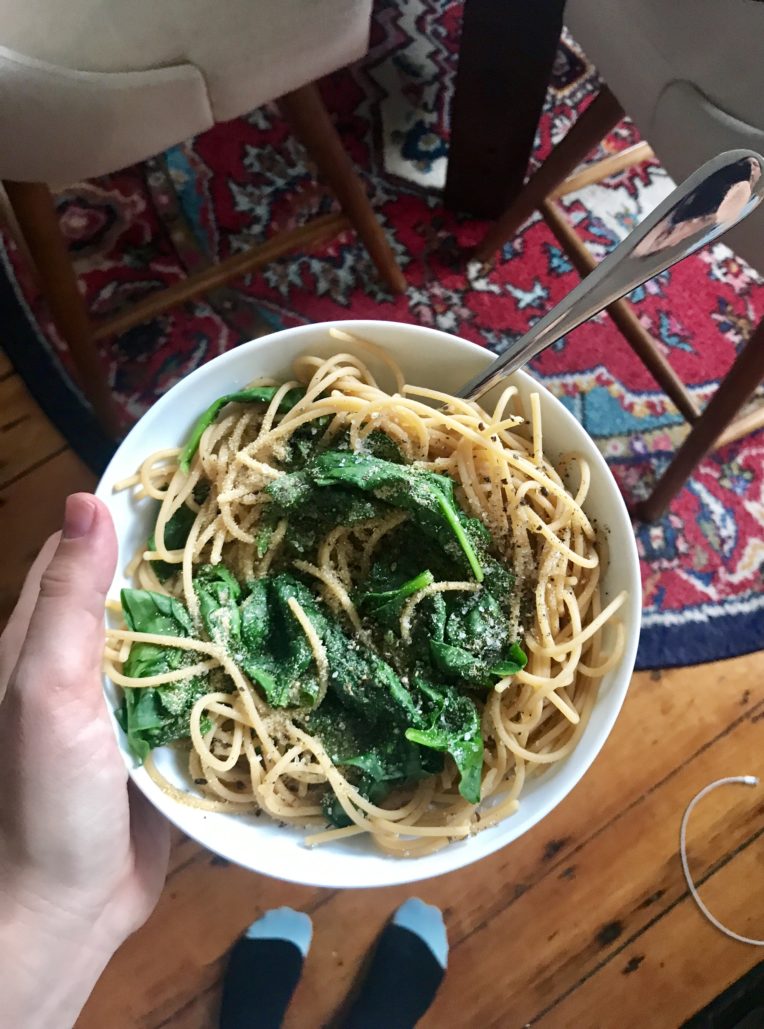 Another lazy, no frills lunch that week was Trader Joe's yellow lentil and brown rice spaghetti with spinach, parmesan, olive oil and s+p. I posted about it on instagram and then showed you how I made it on stories. (It's still in my "food" highlights if you're interested.) This lentil and brown rice pasta really impressed me! It held up after boiling, wasn't mushy at all (that's the worst!) and didn't have a funny taste. I'd totally buy it again.
I love keeping lentil/bean-based pasta on hand because it has protein built right in. I eat all kinds of pasta – white, wheat, brown rice, lentil, whatever. If it tastes good, I'm into it. But there's a time and a place for certain pastas. I wouldn't eat whole wheat mac and cheese because that doesn't taste good to me. And I think white pasta tastes awesome with homemade meat sauce.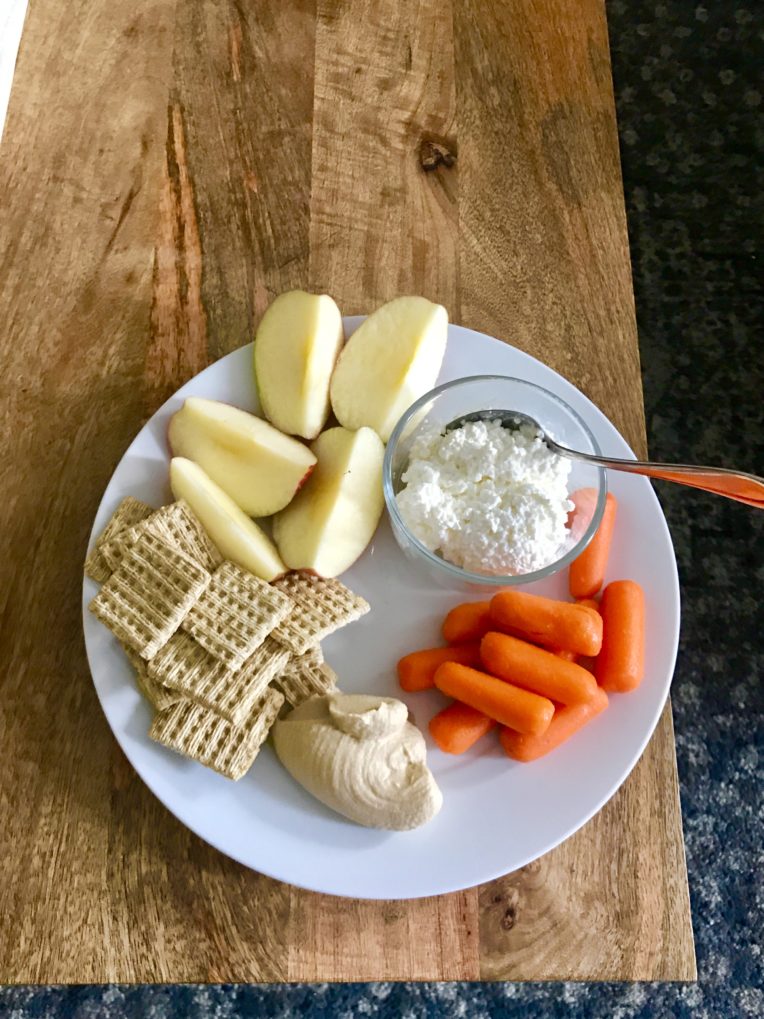 And another easy lunch. I eat lunches like this when I need something quick to throw together and eat while I'm working. I know, I know… It's not ideal to work and eat but sometimes, it happens. This time I had some hummus, triscuits, carrots, cottage cheese and an apple. I'm sure I rounded out this meal with some chocolate. Nick brought home two HUGE bars of milk chocolate with toffee almonds from Norway and I'm going through them at a respectable pace.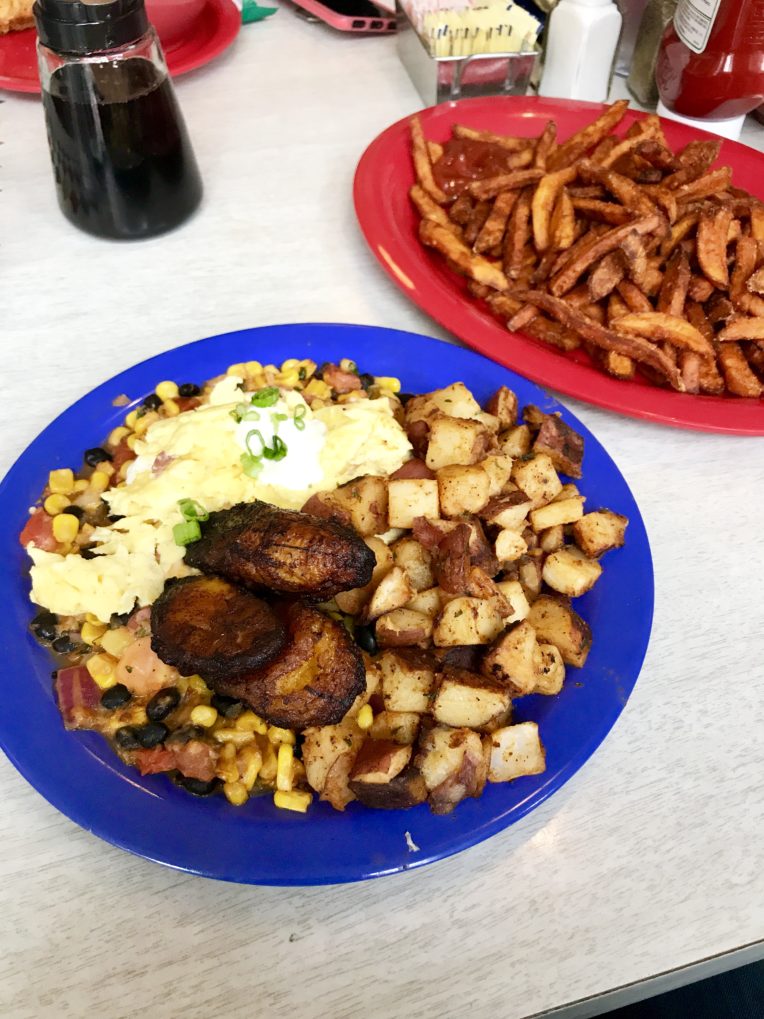 I'm not sure if this is breakfast or lunch….so let's call it brunch! We went out to The Friendly Toast with friends after church a couple weeks ago. I've been wanting to go to this restaurant forever, but it's always packed. The verdict? It was well worth the wait. I totally recommend going if you're in Boston. We went to the one in Cambridge and I ordered the Costa Rican – black beans, salsa, provolone cheese & corn salsa, topped with two scrambled eggs, sour cream & scallions + home fries & fried plantains. It was really good.
Dinners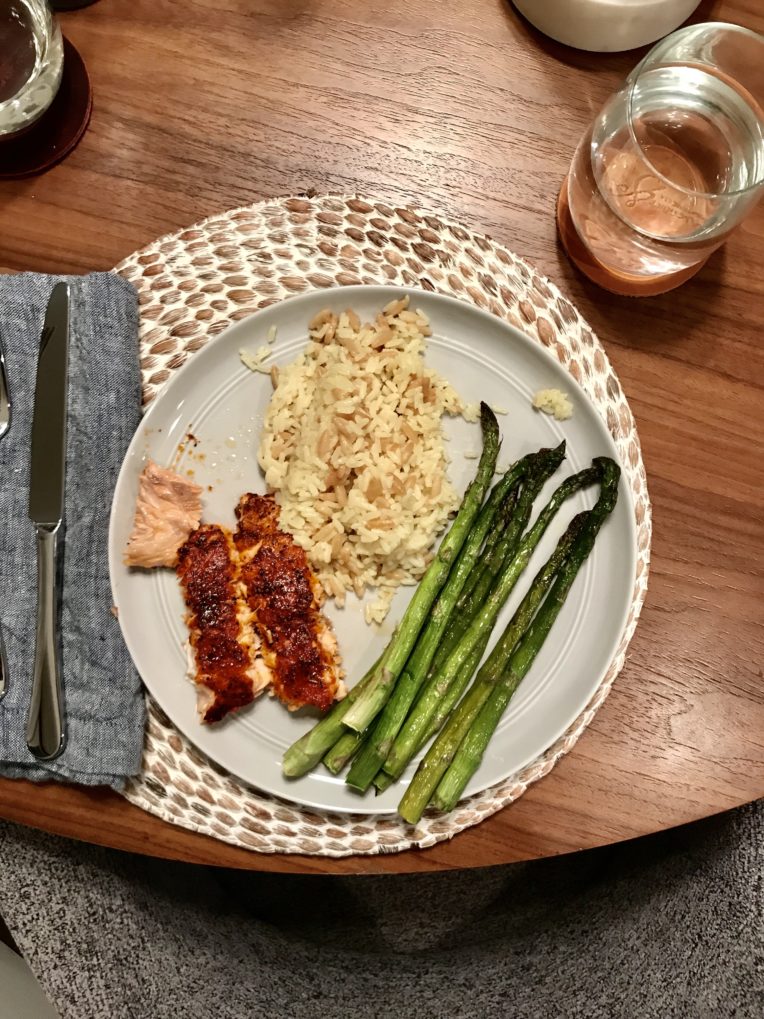 We went to a friend's house for dinner one night and they made this incredible salmon – it was all in the glaze! Plus rice pilaf and asparagus. I definitely went back for more salmon.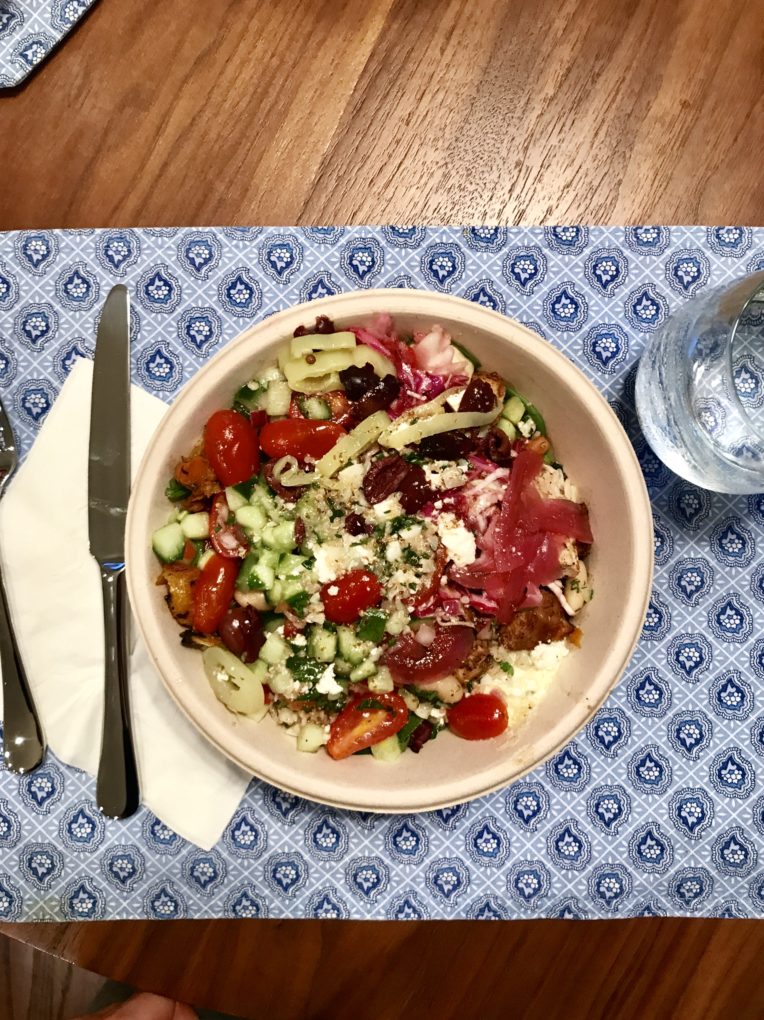 I picked up Cava for dinner with a girlfriend one night. A location just opened near my apartment and I'm really happy about it because this place is really good and they don't skimp on portions. I don't even remember what was in this bowl. It was some combination of rice, veggies, about three kinds of hummus, chicken, feta and other really good things.
Snacks
These yogurts were on sale at the grocery store and they looked fun so I picked up a few to try. I liked this flavor the most because I love muesli. The other flavors I tried were the vanilla with cacao nibs + coconut and the vanilla with almonds + dried cherries. Those were really good too.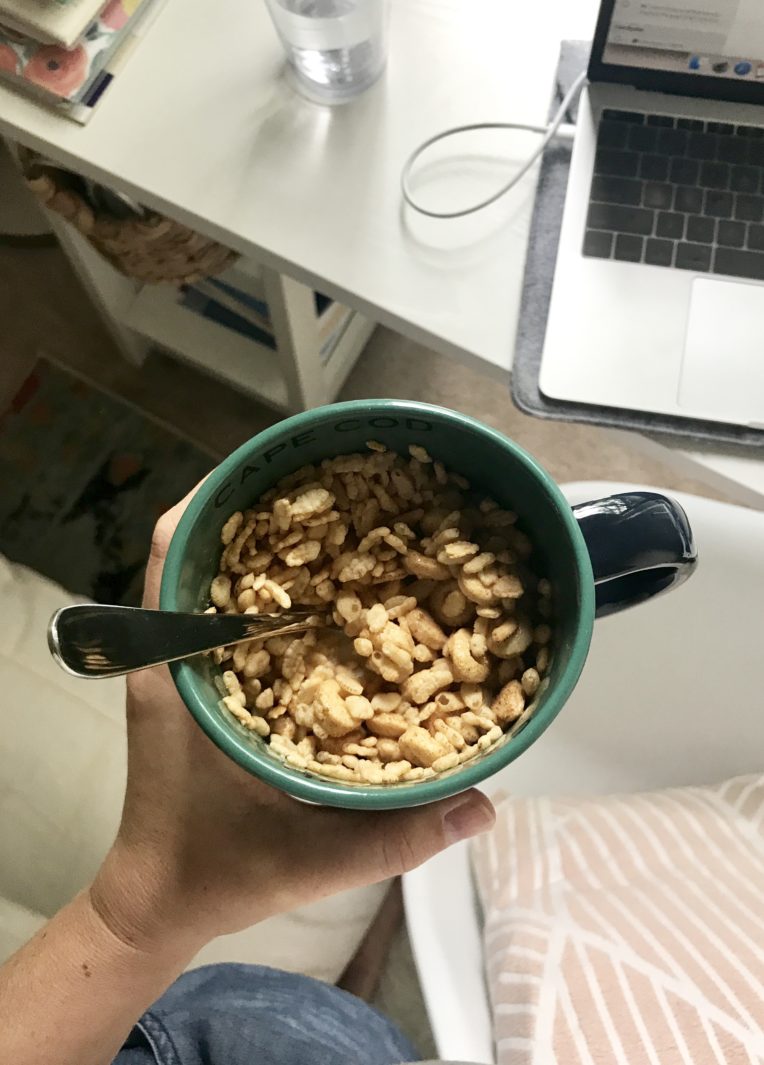 Here I just combined the last bit of two different kinds of cereal. And I ate out of a mug because food just tastes better that way. This was brown rice cereal and Kashi Heart to Heart – I think. I'm really into cereal these days.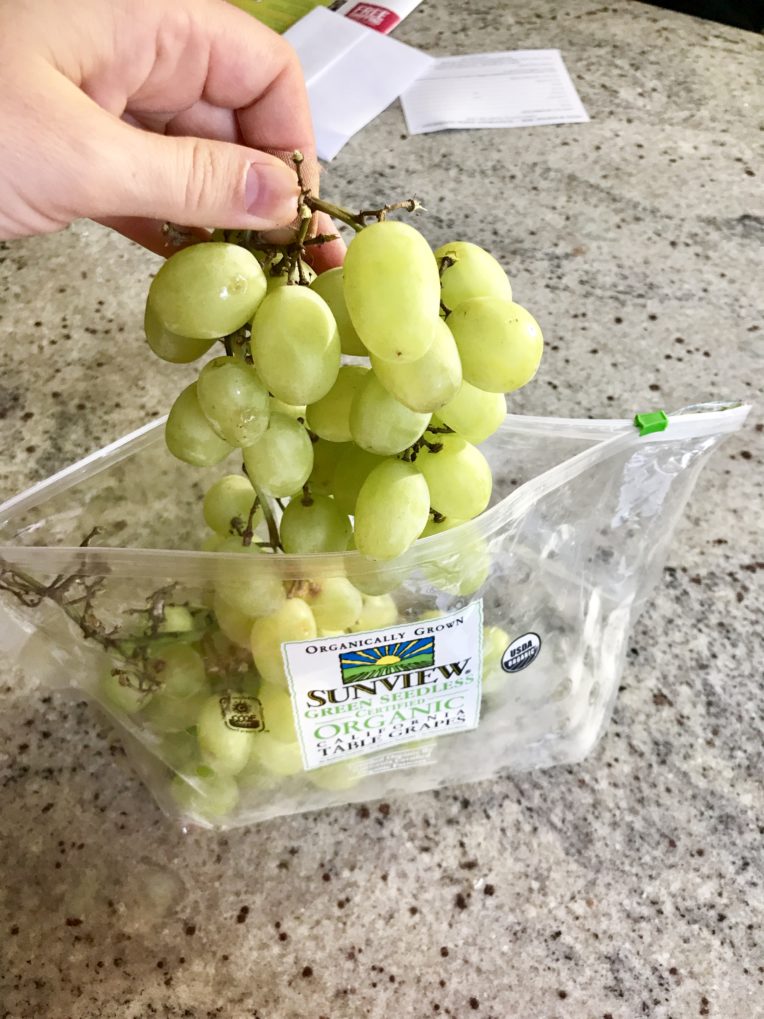 I also had some grapes. Typically, I don't buy grapes because they are $$$ but these were on mega sale at the grocery store so I bought a big bag. I could have eaten the whole bag in one sitting, but I've done that before – even though all those grapes taste good in the moment, I end up with a mega bellyache afterwards.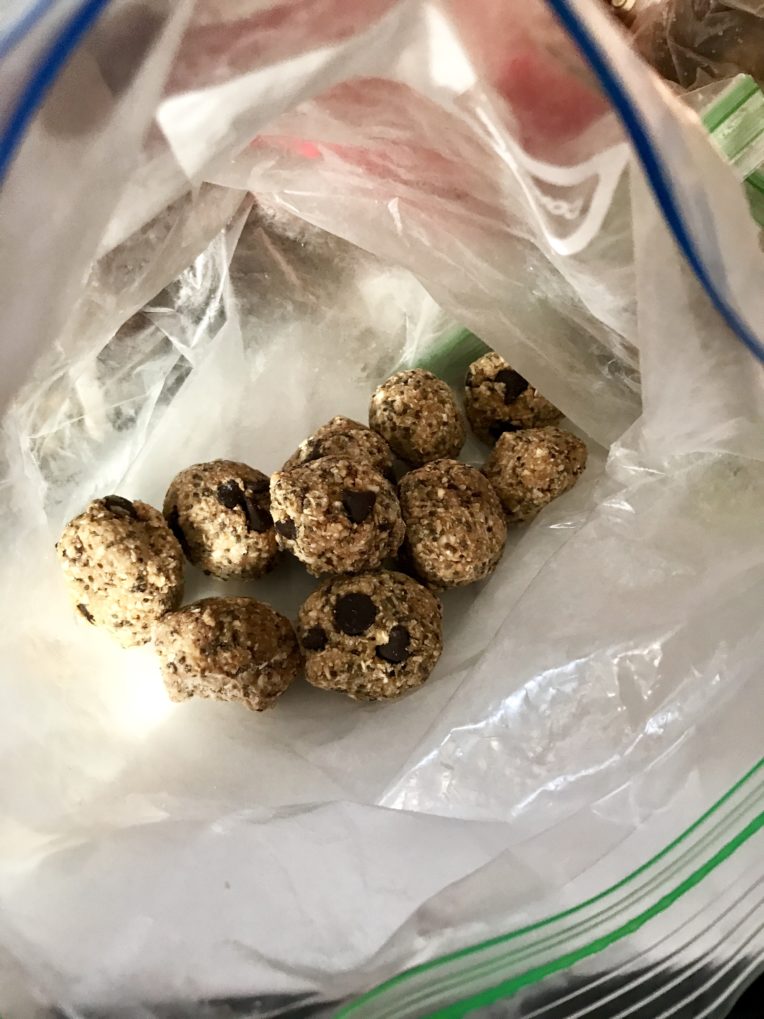 I made a double batch of these cookie dough energy bites last month and I love having a stash of food like this in the freezer. They make for a great, quick snack. And there are no dates in the recipe! Don't get me wrong, I love dates, but not having to buy dates or clean up after using dates is a bonus in my book.
My bedtime ice cream snack included chocolate chip cookies with vanilla ice cream and chocolate sauce. Always a good food choice. The cookies were just break 'n bake.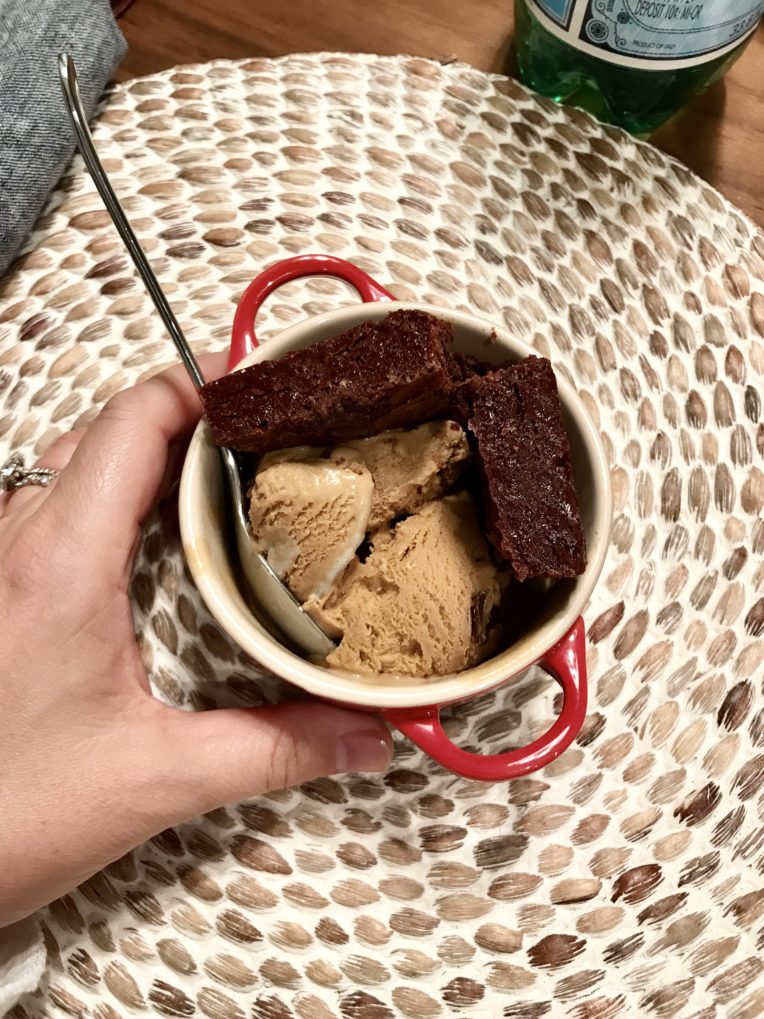 The same friends that made us that delicious glazed salmon made these bomb brownies and paired them with sea salt gelato. YES. I was plenty satisfied with one brownie so I left the second. Three years ago, I never would have been able to leave food like a brownie behind with zero desire to eat it. Intuitive eating, with time and patience, is indeed a beautiful thing.
Share your favorite food in the comments below. I'd love to know what you've been eating lately!