Happy Friday! I had my first day of work at my new NP job and it went really well. It feels good to be back in the clinical setting working alongside other practitioners. I'm excited to learn a lot!
This weekend I've got plans for some girl time, volunteering at the medical tent for a local race, exploring new outdoor spaces where I can walk/hike around Boston and sleeping a lot. My favorite part about the weekend is sleeping in and not having to wake up to an alarm. I'm also hoping to go to a yoga class. What are you weekend plans?
I love how much you all enjoyed the "behind the scenes of IE" post from last Friday! I'm thinking I'll try to do those posts more often – perhaps monthly or twice a month if that feels helpful. In between those posts, I hope sharing these meal and snack ideas inspire you to eat a variety of food that feels satisfying or if you're in a meal rut (totally been there!) I hope these posts spice up your meal planning! Here are most meals and some snacks I ate over the past week.
Breakfasts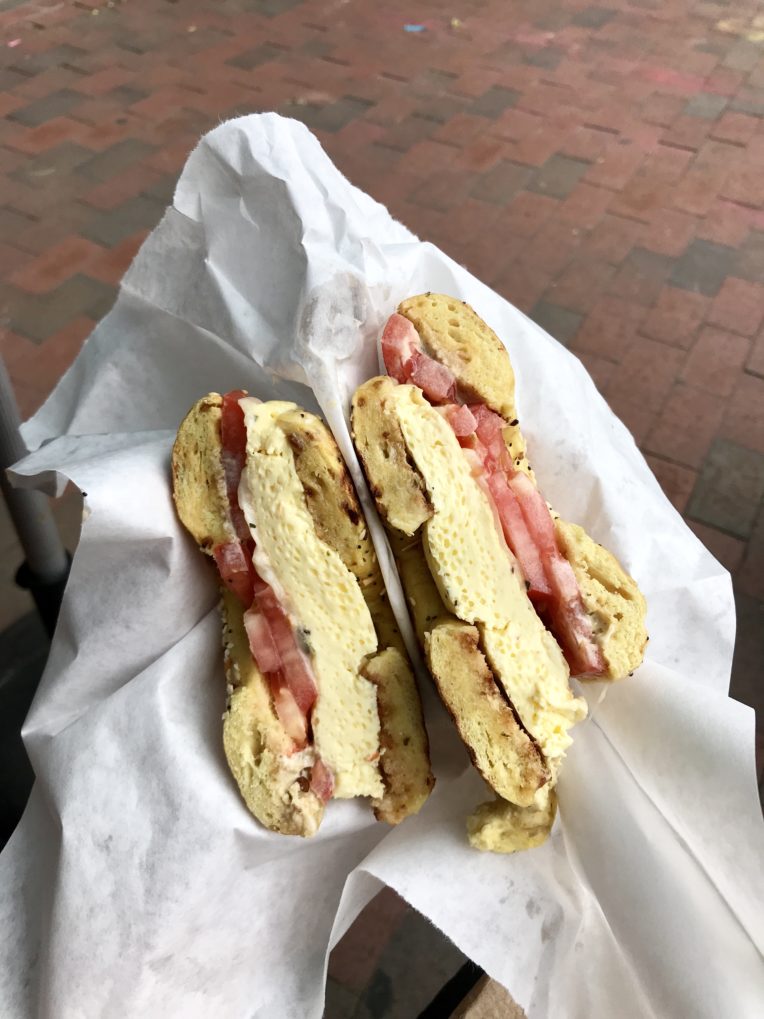 I had breakfast with one of our interns, Hannah, and we met at Blunch for bagel sandwiches and then sat outside in the park to eat them. I love starting Fridays with breakfast dates because it makes it feel like it's already the weekend. I haven't had a lot of really good bagel sandwiches in Boston, but had heard really good things about Blunch. And compared to New York bagel sandwiches, these can hold a candle! I went with an everything bagel with egg, tomato, cheddar and their spicy aoili. It was delicious and super filling.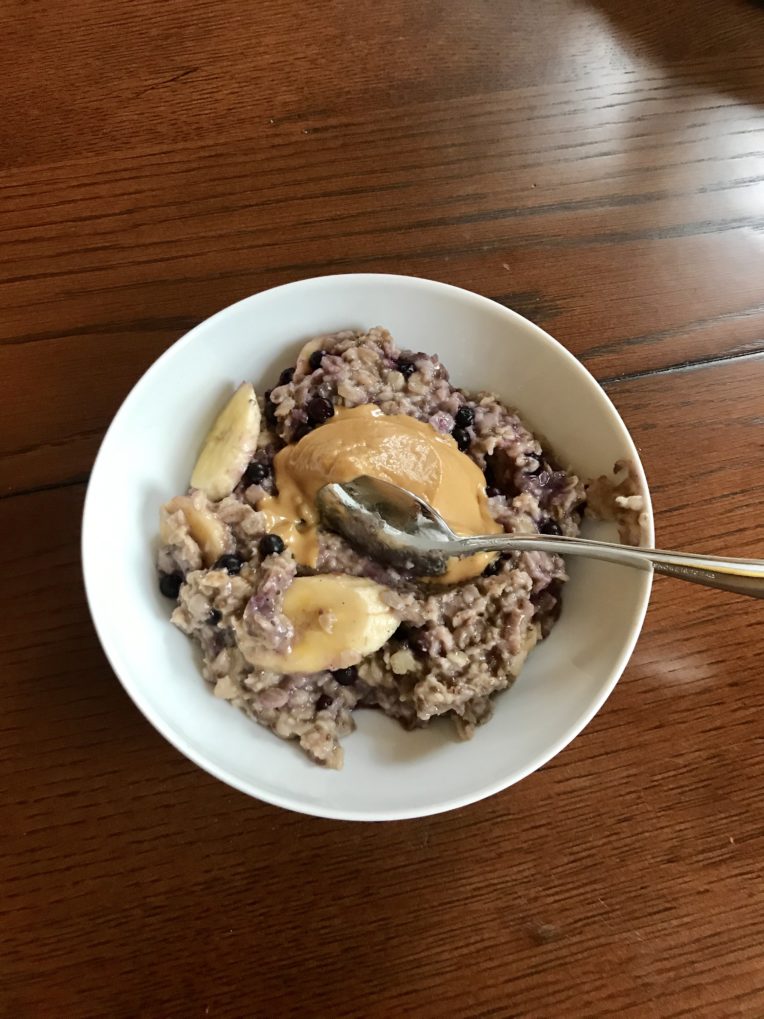 I don't crave warm oatmeal in the warmer months, but it was in the 50s and rainy at the beginning of the week so all I wanted was warm comfort food. Hence the soup and risotto you'll find below. Nick made a big batch of blueberry banana oatmeal (rolled oats, chia seeds, almond milk, vanilla, sea salt) that we topped with peanut butter. I lol'd when I saw the fancy angle sliced bananas in the bowl.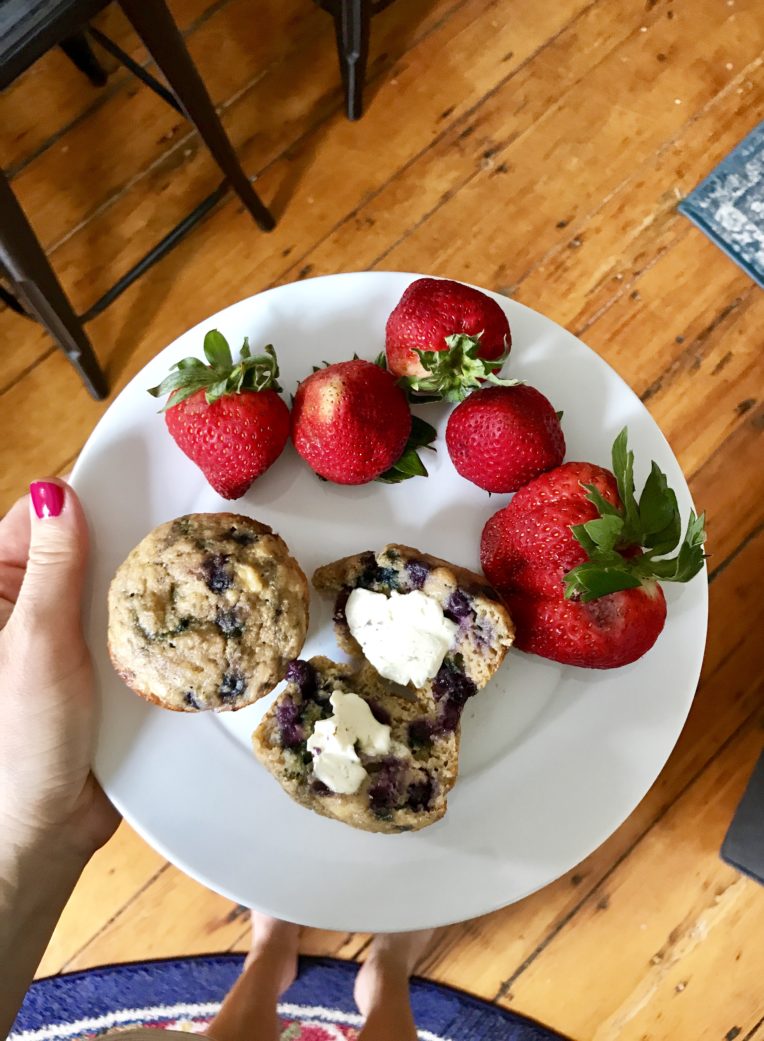 Sunday morning I was in the mood for lemon muffins, but we had bananas that were really black and needed to be used for bread (they were too ripe for smoothies) so I modified this lemon blueberry muffin recipe by swapping the greek yogurt for mashed bananas. I've been eating them for breakfast or snacks. Prior to this plate of muffins + strawberries I ate some cottage cheese while the muffins were baking because I need all three macronutrients in a meal to feel satisfied and satiated. Cottage cheese = protein, muffins = carbs, butter = fat, strawberries = antioxidants + carbs.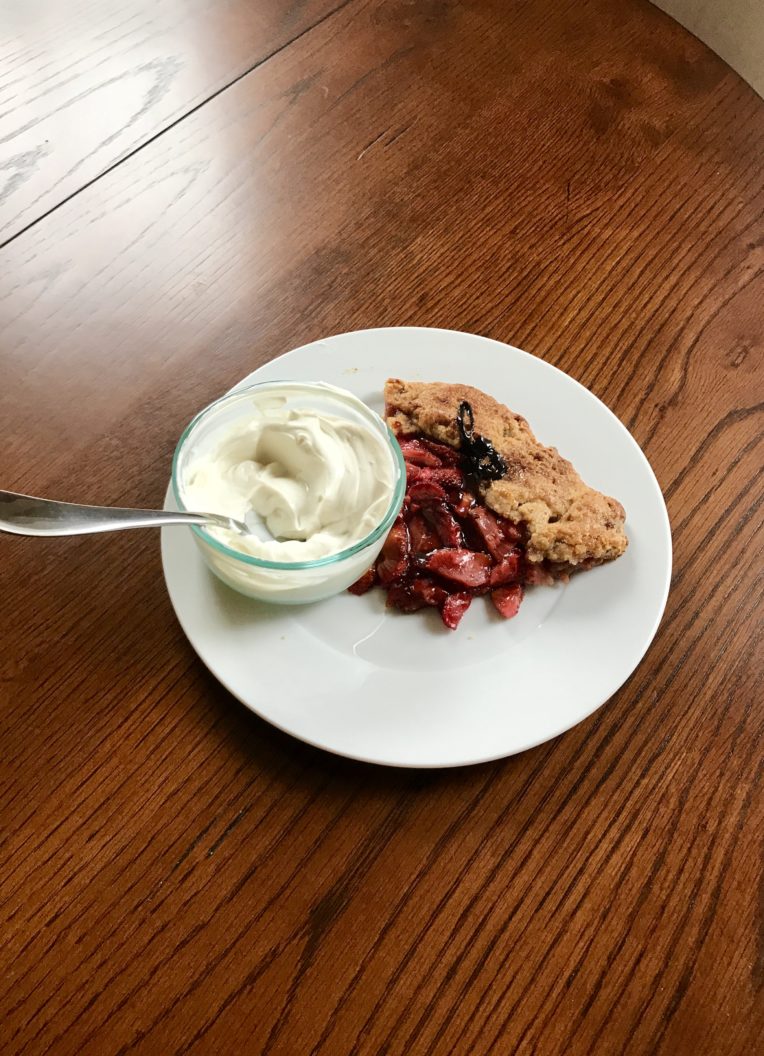 I made this fruit galette when a friend came over for dinner on Monday night and it has been perfect for breakfast too. Totally making this all summer with a variety of fruit! I loosely followed this recipe. I swapped strawberries for the peaches and increased the cornstarch a bit to make sure the filling wasn't watery and added a touch of lemon juice. The whole wheat crust gives it a nutty flavor that I actually prefer in this recipe. I ate a piece with whole milk greek yogurt and honey as a mini breakfast and then ate another slice with cottage cheese a couple hours later. So good!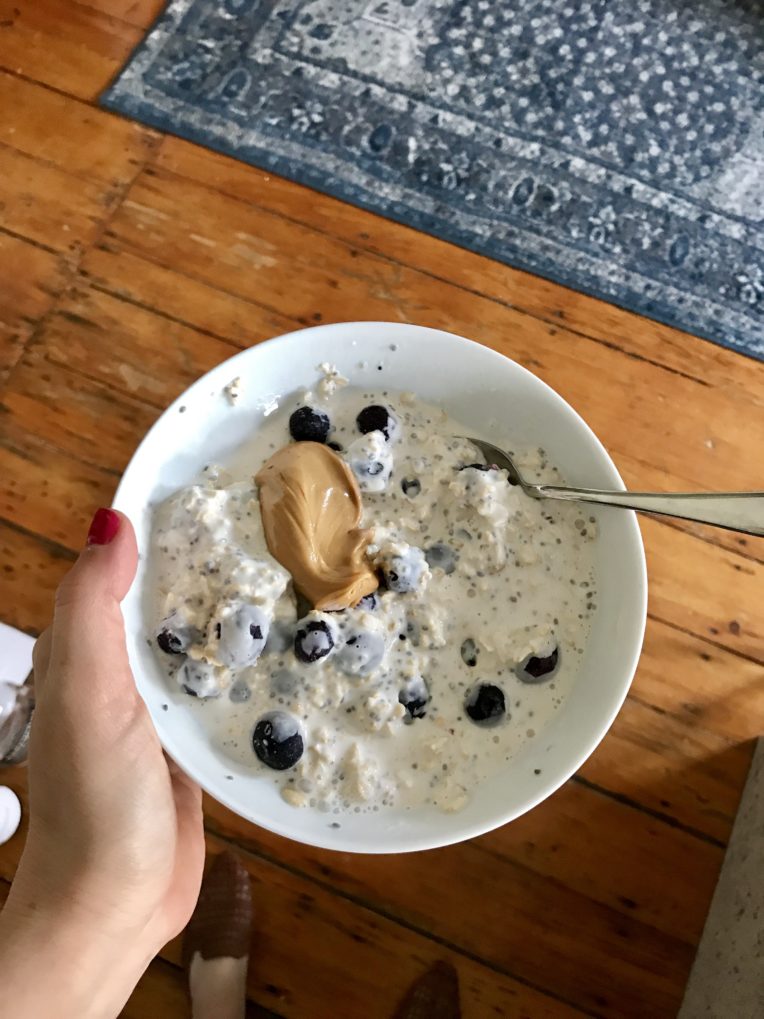 Yesterday I made breakfast the night before so I could grab and go. This is just the regular overnight oats recipe I always use. ~1/2 cup each of rolled oats, whole milk greek yogurt, and milk + spoonful of chia, pinch of salt and squeeze of honey. In the morning I threw in blueberries and peanut butter.
Lunches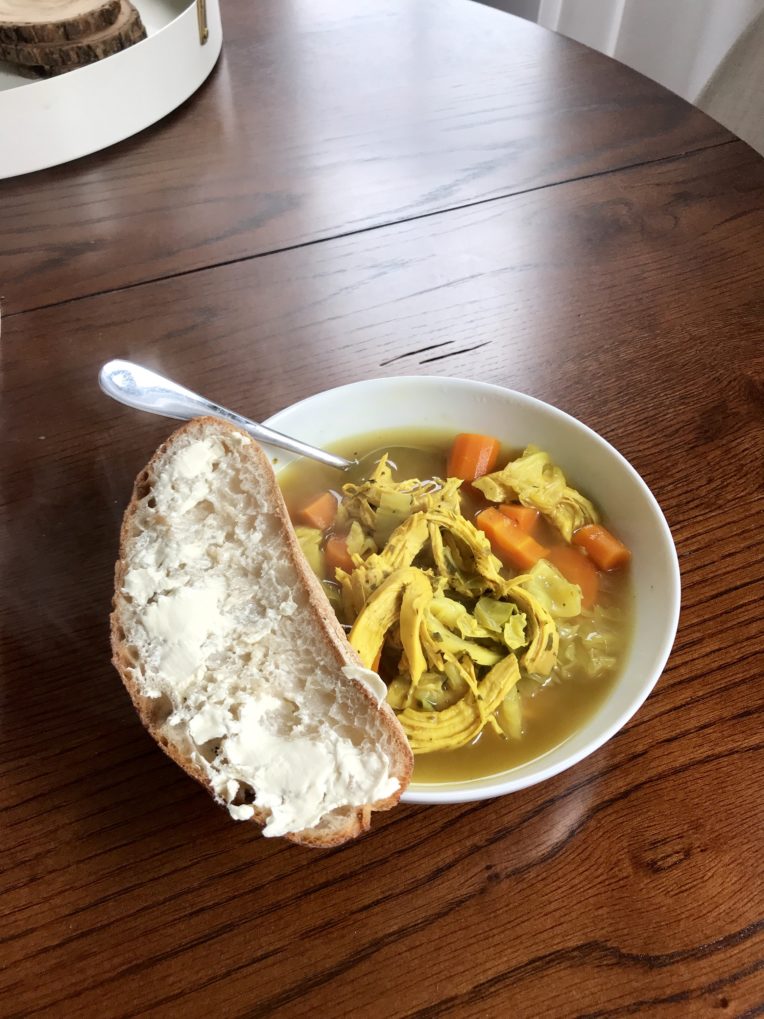 Like I mentioned above, it was rainy and cold on Monday and much of Tuesday so when I saw the weather forecast for the week, I thought of a big batch of soup. I googled a recipe for instant pot chicken and vegetable soup and this recipe popped up. The blog this recipe is from features mostly paleo and whole30 recipes. For me and where I'm at in my food journey, whether it's a recipe without labels or a recipe with a vegan or paleo or whole30 or whatever other label…that doesn't mean anything to me. I like and eat all food. If a recipe doesn't have carbs in it, I just add some. If a recipe calls for vegan butter or a flax egg, I just use regular butter and a regular egg. If you're in a place where seeing a recipe as flexible and unassociated with your body size or morality feels really hard, that is okay. That doesn't mean you won't get there one day. I say all that because I do want to illustrate that if I link to a recipe that is labeled a certain way, that doesn't mean I eat that way, you should eat that way, that type of eating is "good" or "bad" or that recipe isn't modifiable. I just think of these recipes as adding variety to the food I eat. If it's satisfying and nourishes me, I'm into it.
With this soup recipe, I used 1 lb vs 2 lbs of chicken simply to cut costs, used boxed chicken stock and nixed the gelatin since that seemed unnecessary for flavor/texture. Instead of butternut squash I added a head of chopped green cabbage. And then bought a loaf of sourdough bread for dunking because this soup does not have carbs in it and I believe a complete and satisfying meal includes carbs. Even if I added the butternut, I don't think that would have been enough carbs to satisfy me. Let me tell you, this soup was AWESOME! Will definitely be pinning this to make again and again. You could totally serve this over rice, add potatoes or even add cooked pasta before serving.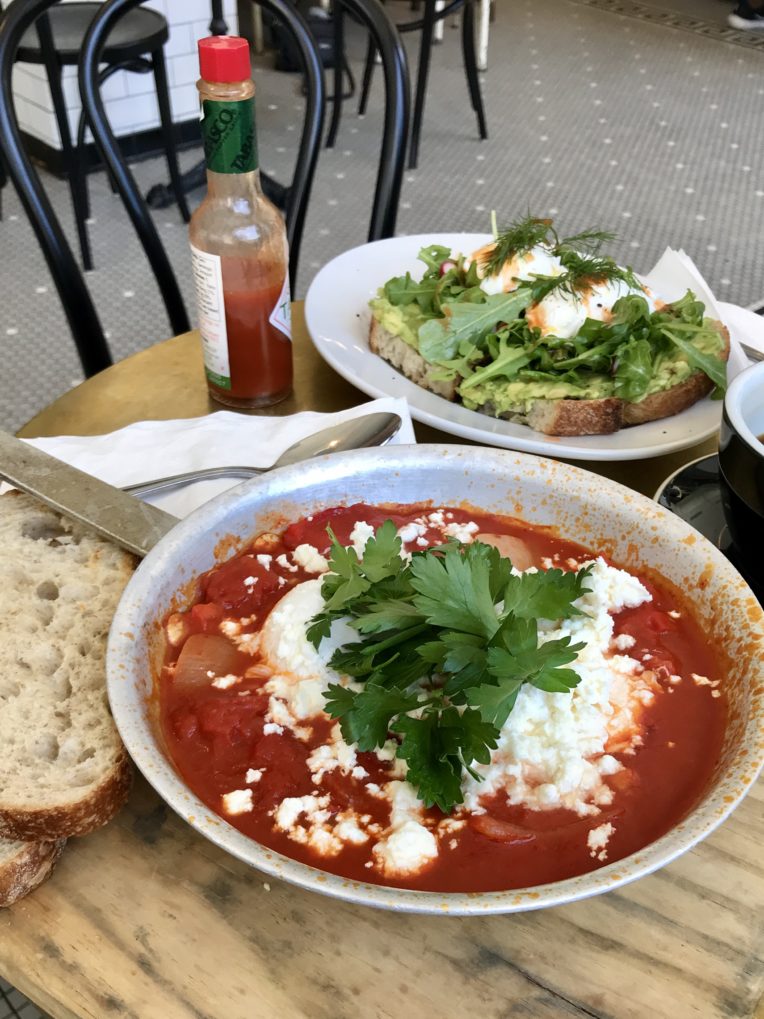 We ate at Tatte after church on Sunday and since it was chilly out, I got the shakshuka which is so cozy and delicious. That and the avocado tartine Nick ordered are my two favorite things on the menu.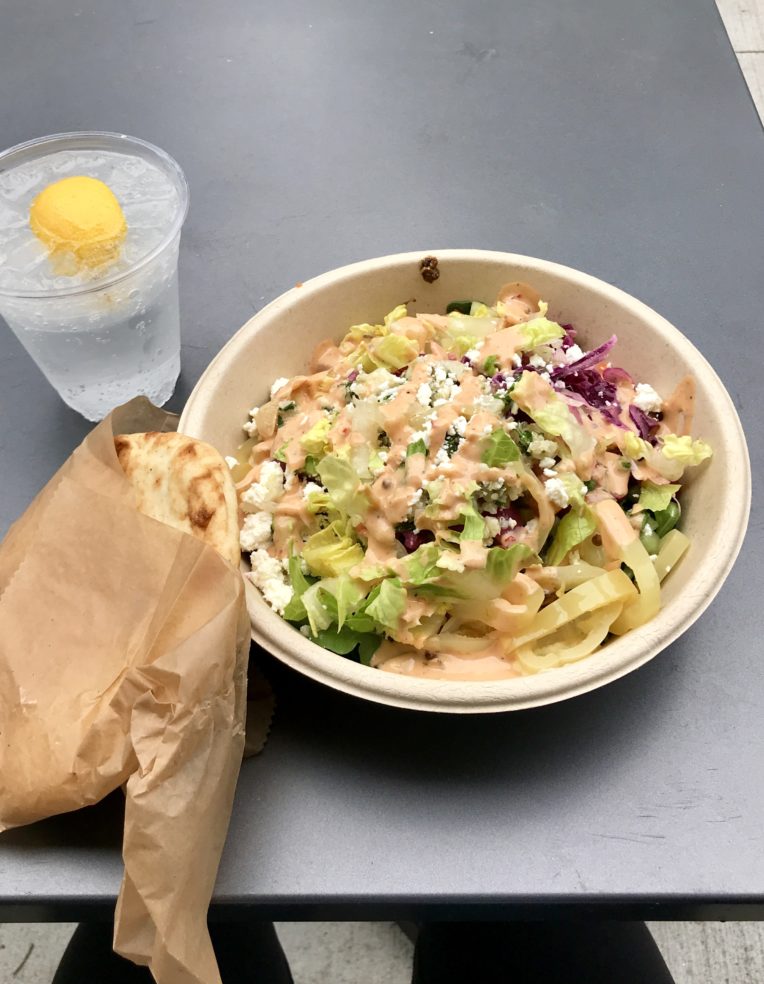 I had lunch with an RD on Wednesday and it went so great that I asked her to join our team. I'm over the moon excited about her joining and what the future holds. We met at Cava in Fenway. I had never been and heard it was pretty good fast casual Mediterranean food. I got the grains + greens bowl and added just about everything plus chicken for my protein. I honestly don't even remember what was in this bowl, but I know there was a good bit of feta, hummus and spicy tahini. It was delicious and filling!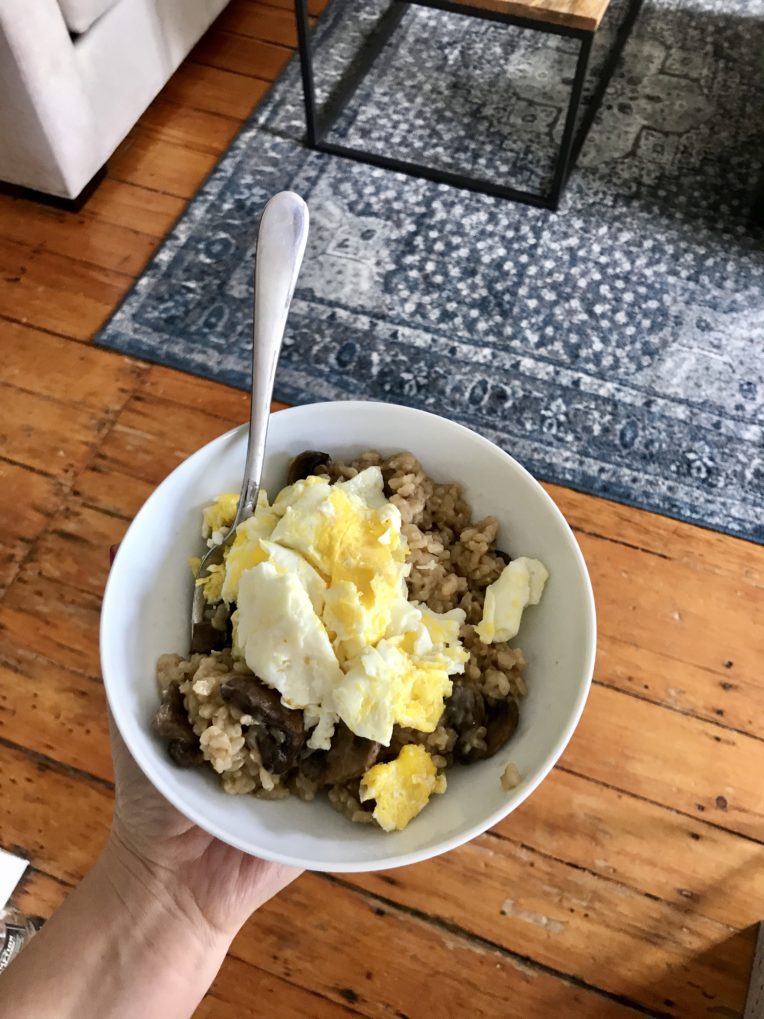 Near the end of the week, I was using leftovers in the fridge. I ate celery with dressing while waiting for the eggs to cook and then heated up leftover risotto and ate it all in a bowl. You could totally eat this for breakfast too.
Dinners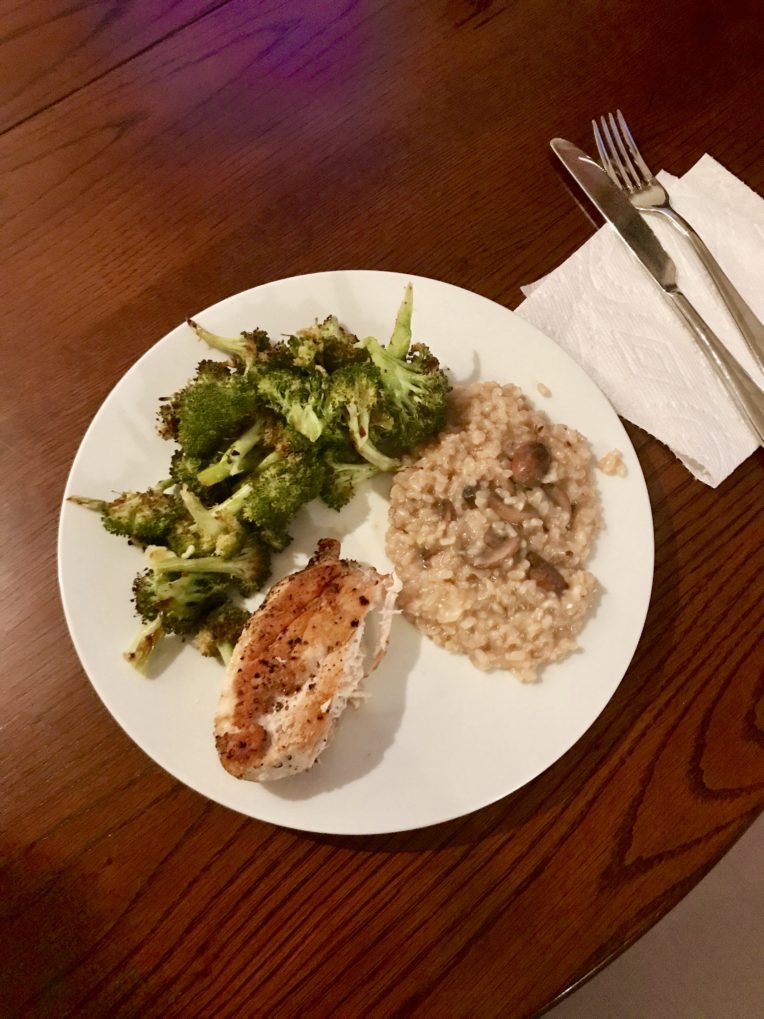 I had a craving for risotto so we made it Monday night and like above, I've been eating it all week. I first learned how to make risotto like five years ago using this recipe and I use this recipe every time I make risotto…which is like twice a year. The store didn't have arborio rice in the bulk bins and since I don't make risotto often I wasn't into buying a whole bag so I used short grain brown rice for this recipe and it turned out great. I LOVE the chewiness of short grain rice so if you like farro, try this rice. Risotto sent' hard to make at all, it just take time. For every cup of rice you use, I'd budget about 45 minutes. Don't be intimidated, I promise it's so easy, you just have to add liquid slowly and stir. I was on risotto duty and Nick made garlic lemon chicken and roasted broccoli that was tossed in avocado oil, sea salt, crushed red pepper and garlic.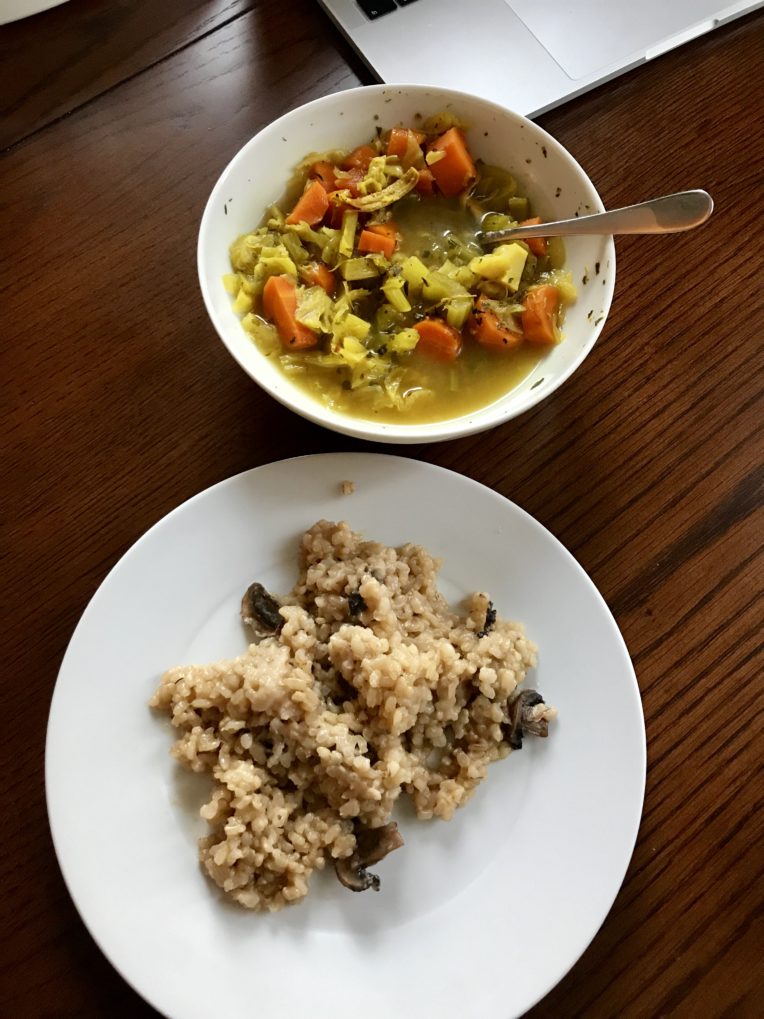 Leftovers heated and eaten for lunch one night. Chicken soup + risotto. Not a usual combo but it was tasty and filled me up.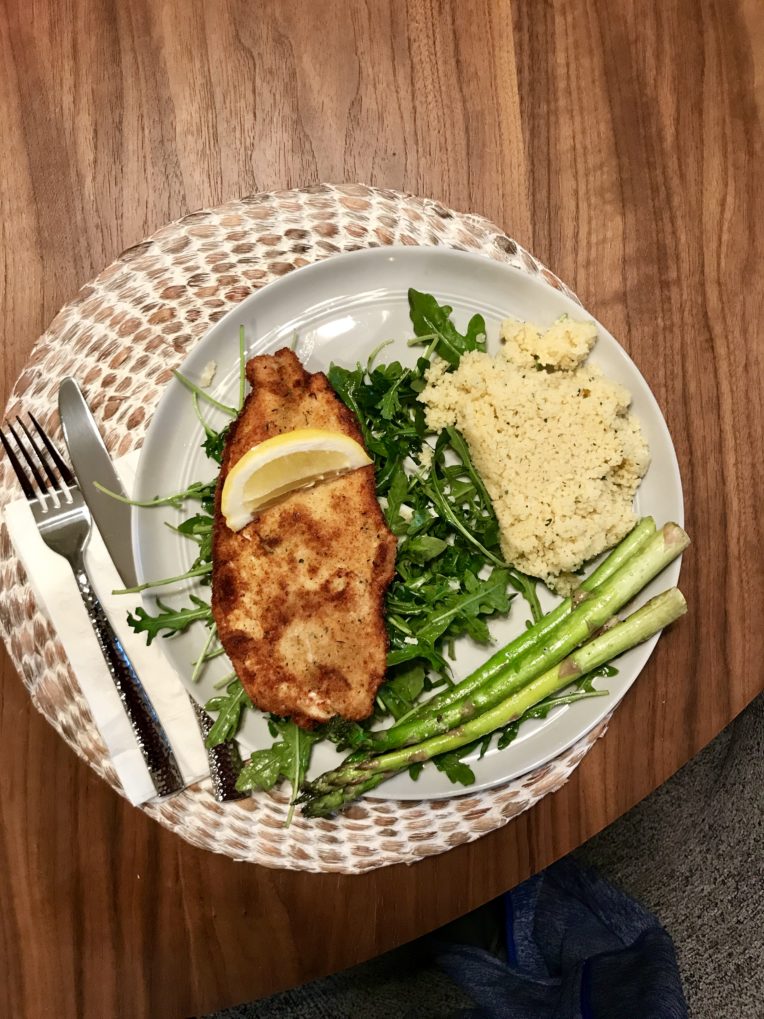 We had dinner at a friend's house on Tuesday and they made delicious chicken over arugula with a lemon dressing. From what I know it was breaded and then pan fried in olive oil and was very good. Plus asparagus and garlic butter couscous.
Snacks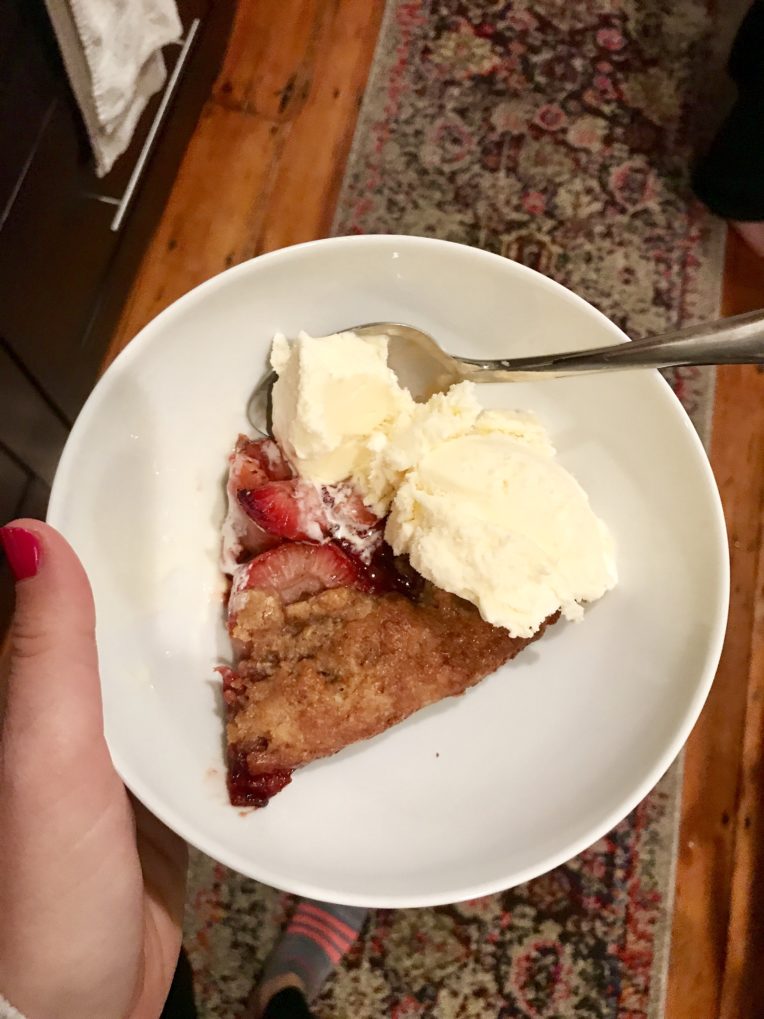 Galette + vanilla ice cream. Breyer's vanilla is my favorite because it tastes so fresh, but I picked up a half gallon of Whole Food's 365 brand this week and that tastes pretty good too.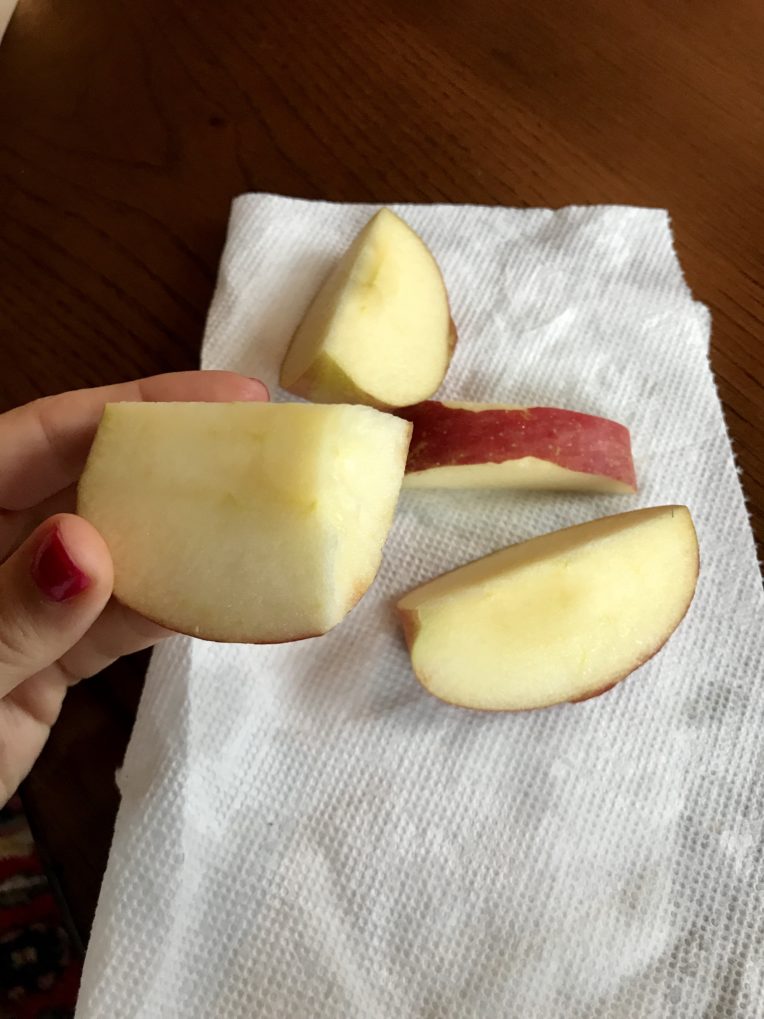 Crispy fuji apples.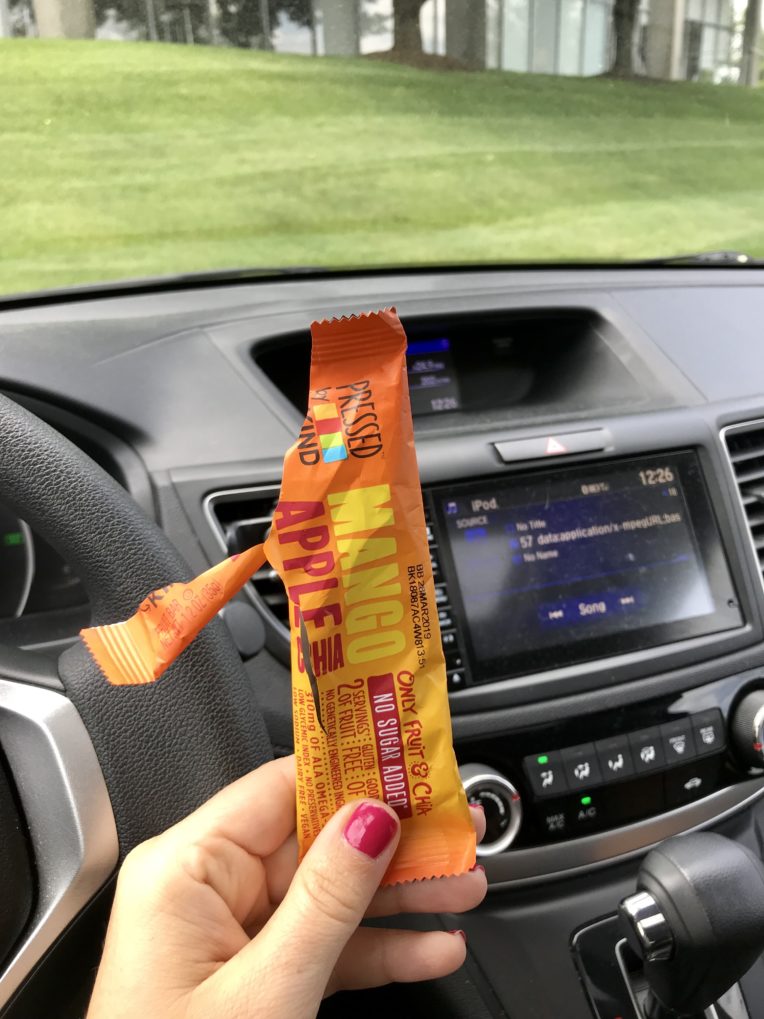 I am loving these KIND bars I was sent. They're similar to a fruit leather but better in my opinion because they're thicker and chewier. If I'm hungry and will be eating in 30-45 minutes, I find this to be a perfect snack because it's basically fruit – meaning it takes away hunger for a short period of time but doesn't fill me up. If I'm hungrier or a meal is in a couple hours, I'll pair it with some nuts or another fat + protein source like yogurt or a cheese stick so it carries me to the next meal. I wouldn't necessarily consider this bar alone a satiating snack.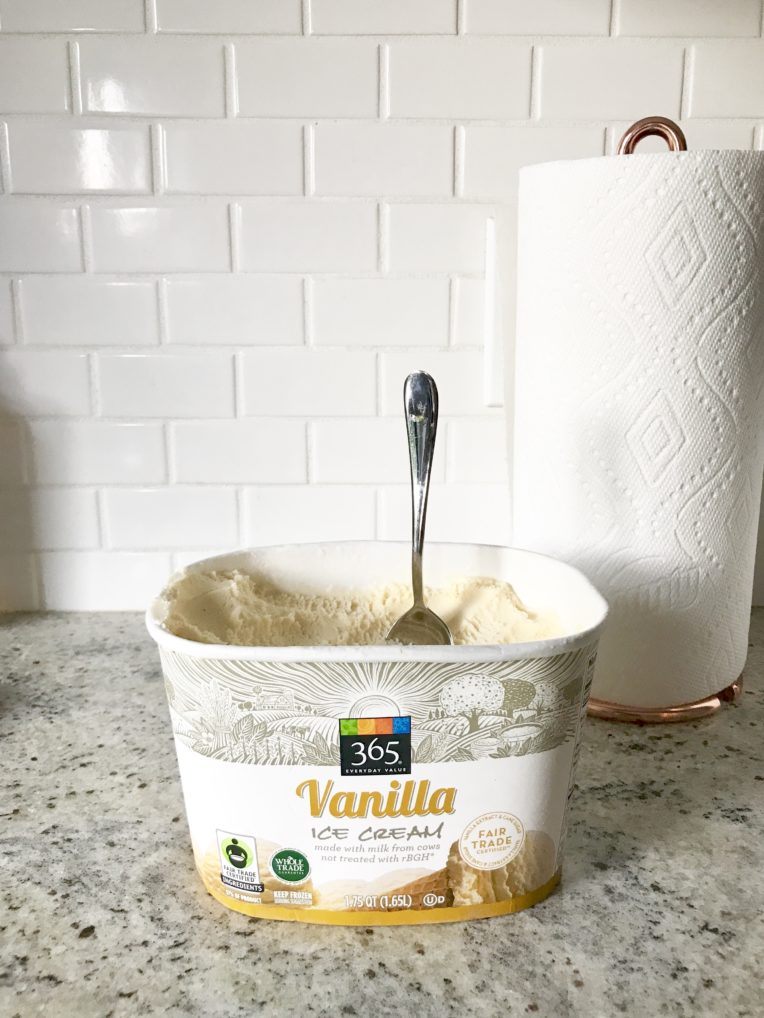 But ice cream I would! Protein + carbs + fat. I like eating ice cream often – sometimes during the day, but usually as a nighttime snack because that's when I crave it. I accidentally let myself get too hungry a couple nights ago (not ideal but it happens), so I ate some ice cream while waiting for dinner to heat up. Are you team vanilla or team chocolate? I won't say no to either, but if I had to choose….vanilla ALL THE WAY.
Share some satisfying eats in the comments below and have a great weekend!